Medium-length hairstyles are starting to become incredibly popular with men. In part, this is due to more celebrities donning this style, but also to the wider range of hair products available for this length. Previously, men who wanted to grow their hair out to a mid or medium length were often worried that it would become flat or worse, greasy.
If you are starting your journey into medium length hair by growing out your hair, then you will still need to visit your barber. In this current climate, we have all been forced to grow our hair out or rely on a loved one to cut it for us. But, as soon as it is safe to do so, we recommend visiting your barber so he can start work on cutting and styling your hair.
So, if you are bored with your shorter cut, looking to chop off longer locks or want to refresh your style, then a medium-length cut could be ideal for you.
What is a medium length hairstyle?
What qualifies for a medium hair length would be anything over 2-3 inches in length. And let's be clear when we talk about medium, or mid-length hair, we aren't necessarily talking about an all-over style. Yes, by all means, that is an option. But, you might only choose to grow out your hair on top and keep the sides shorter. With shorter sides, there is scope to push things further and go for a quiff or pompadour style.
Look out for some medium length hairstyle inspiration further down.
Will this length work for you?
Thankfully, around 80 per cent of men have medium-weight hair. This weight is ideal for growing into this length. Those men that have fine hair might want to opt for a different style, as hair can start to look thin as it grows. For men with thicker hair and are worried about having too much weight, your barber should easily be able to thin it out to make it look less bulky.
How easy is a medium hairstyle to manage?
Relatively easy is the answer. We aren't going to tell you it is as simple as just a towel dry and you are ready for the day ahead. But, some simple grooming and styling tips will give men a fantastic looking cut. The medium style, if done right, could become enviably your best haircut yet.
Medium hair maintenance tips
Towel dry your hair after a shower
Minimise hairdryer use for a more natural look
Apply product to damp hair
Shower daily but use shampoo and conditioner once every 2-3 days
Using a comb will be gentler on your hair
Comb hair into the required style before towel drying or using a hairdryer
Get it trimmed regularly to maintain the optimum length
Best products for medium hair length
If you have a trusted barber, then he will be able to advise on the best maintenance and products for your particular style and hair type. If you feel he is pushing you towards buying their overpriced options, then take a look at our products for medium length hair below
Men's Salt Spray
If your hair needs a bit of a lifeline, then sea salt spray is a great way to add more vigour to it. Apply to damp or dried hair for tousled waves or a more refined, textured look.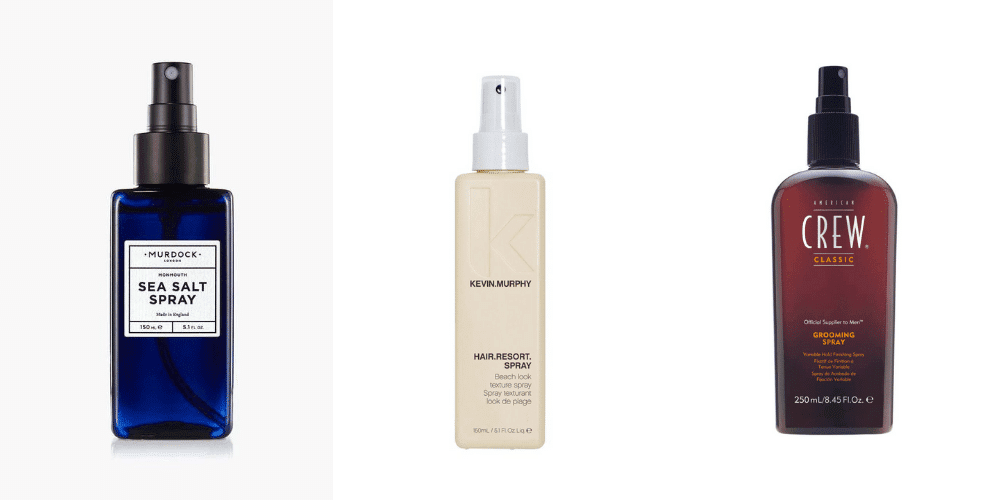 Men's Hair Comb
Using a comb rather than a brush will be gentler on your scalp and hair. If you are looking for a parting in your hair then a comb will give you a razor-sharp line. Kent combs are handmade, will glide through your hair and help stop split ends.
Hair Pomade
Pomades don't have to mean slick with a shine finish. If your hair isn't thick, then you can use a pomade to add volume or thickness. Alternatively, if you already have thick hair, then you might choose a pomade that has light-medium hold like the American Crew classic.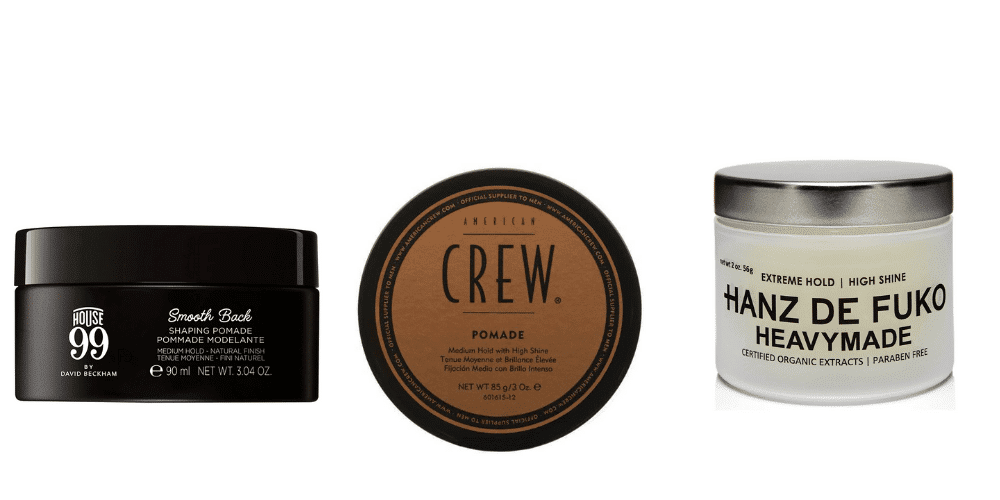 Men's Medium Length Hair Inspiration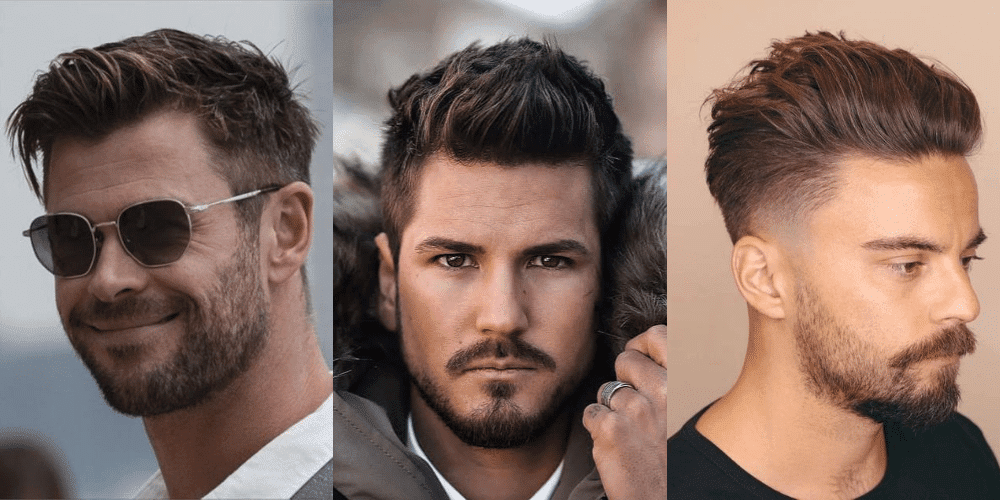 These guys have taken the sides short for their medium hair length, deciding to keep the top longer.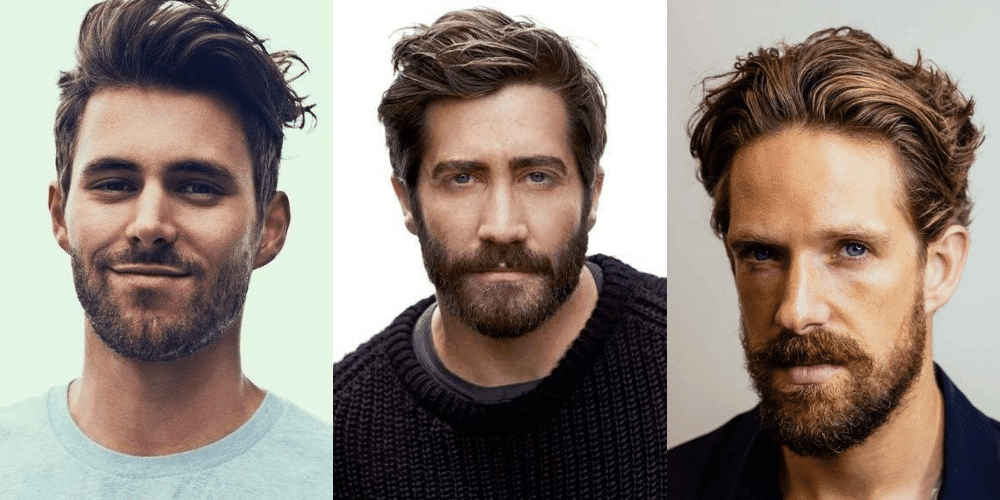 This effortless style is probably what most men think of when imagining having medium length hair. Unfortunately not all men have the natural wave these guys do.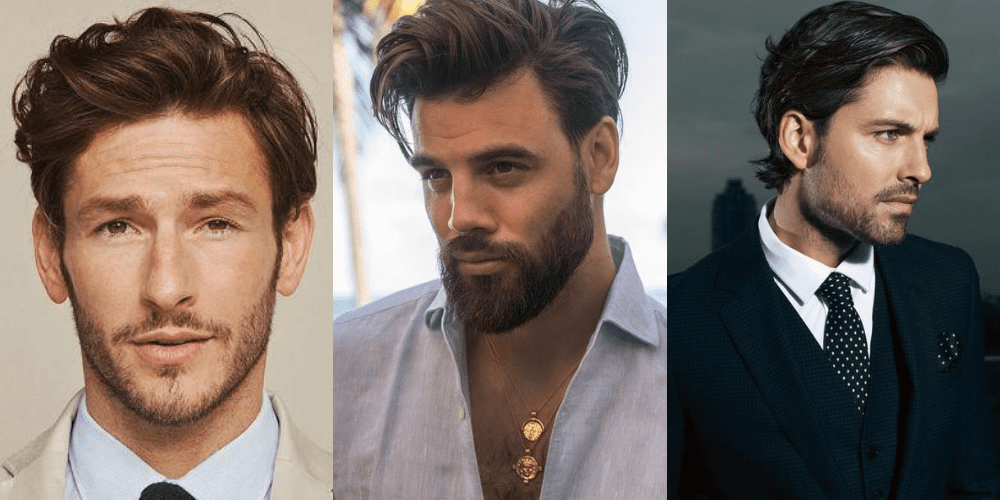 Bordering on longer hair, these men have kept the sides trimmed, especially around the ears. This helps the style from becoming too messy and unkempt.
Made famous by the likes of James Dean and Elvis, it is still popular among men today. It takes a bit of work in the mornings, but if it was good enough for the king of rock n roll its good enough for us.