The humble roll neck was originally a comfortable and stylish way for men to protect themselves from the cold. Somewhere along the way (the 70s we are looking at you) its sartorial credentials were ruined. More recently though, we have seen a welcome resurgence of the roll neck into the wardrobes of the most style-conscious men.
Why the uplift in popularity? It is just too hard to ignore the simplistic elegance of this piece. Versatile enough to be worn with smart or casual ensembles it delivers a refined, masculine look. We urge every man if they haven't already to introduce this key knitwear item into their wardrobes.
Different Types of Roll Neck
The roll neck is sometimes referred to as a turtleneck or polo neck dependent on where you call home in the world. For clarity and consistency, we are going to stick with roll neck. Essentially a very simple piece of menswear there are always nuances in appearance to items that help them take on a new form.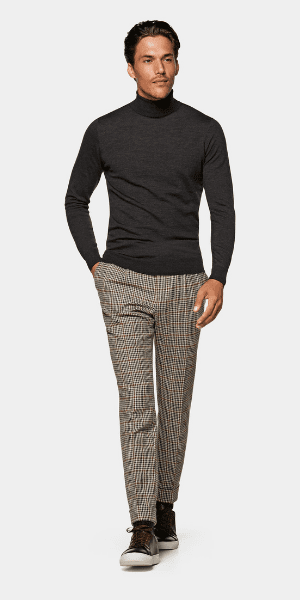 The Classic Neck
The classic roll neck is also the smartest version. Picture Steve McQueen in Bullit or Daniel Craig in Spectre, some of the most stylish men on screen. This fitted roll neck has additional material around the neckline that is folded back down on itself. Due to its smart exterior, it is adept at being worn beneath a suit, winter coat or just paired with slim-fitting denim jeans for a smart-casual outfit.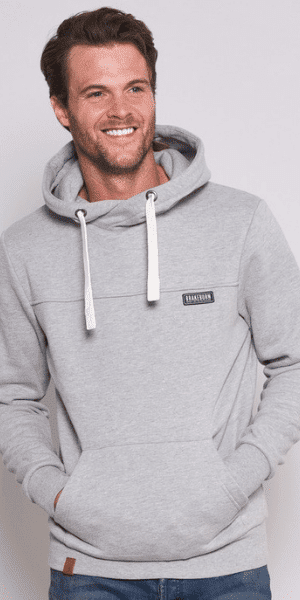 The Cowl Neck
Although less of a timeless style than the classic, this still holds a place in our overview of the roll neck. The cowl neck is normally a thicker material with an exaggerated neck that is rolled back on itself in a looser fit. It has more of a scarf like an appearance and is better suited for more casual or athleisure attire.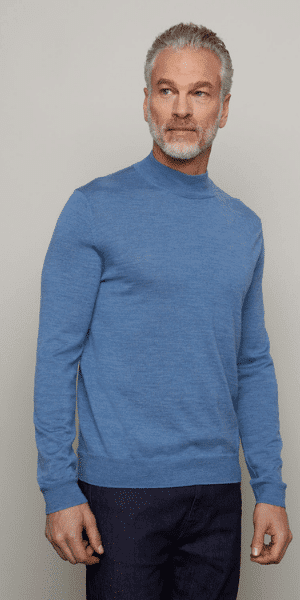 The Mock Neck
This is a key layering piece for winter and will be found in lighter gauges like cotton. The additional material around the neck won't go as high as the funnel. But, it is enough to add more warmth while rising above the shirt or sweatshirt that is being worn over the top of it.
The Funnel Neck
A funnel neck option is designed not to be folded back on itself like the classic version. With less additional material around the neck it typically finishes halfway up the neck or even just below the jawline. Structure comes from thicker materials or even a ribbed effect.
What To Consider When Wearing A Roll Neck
It is important when preparing your outfit to bear in mind two things. First the gauge of the roll neck and secondly the occasion. No one wants to be sitting in the restaurant on a first date sweating profusely wearing a thick woollen jumper.
When we talk about gauges, we are referring to the thickness of the material and the weave of the top. In simple terms, it is the number of stitches per inch of fabric.
A fine-weight gauge is your most versatile option. It still has a lightweight feel so great for layering beneath a suit or winter coat. Your ideal material for a fine-weight gauge roll neck is merino wool which is widely available from a ton of menswear brands.
Heavy-weight gauges are fantastic when the temperature drops and you want to keep the cold at bay. Your inspiration is going to be from the outdoors, think fisherman or explorers. Thicker wool in a cable or waffle knit design is our preferred style this winter.
How To Wear A Roll Neck
To stop yourself from looking like Sean Connery's lovechild, take some inspiration from our picks of the best roll neck outfits to wear. Stick to these and together we can help this once-maligned piece of knitwear get full menswear approval once again.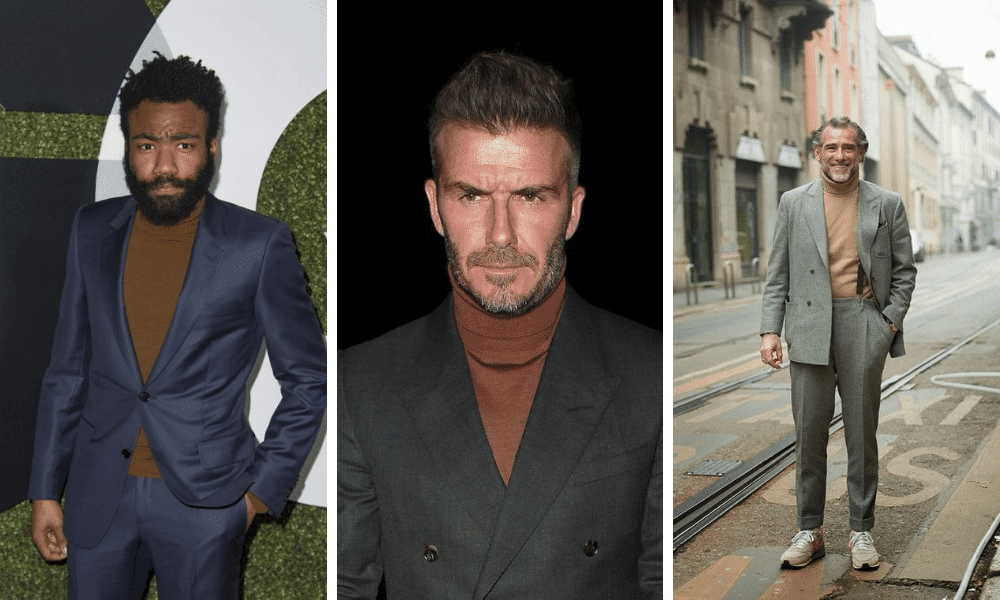 Roll Neck and Suit
A roll neck worn beneath a suit is a great way to remove the shirt either on a more casual Friday work outfit or a date night. It is also an option for keeping formality whilst adding warmth, which will come in useful during the Christmas party scene.
For this look, you want to opt for a fine gauge to keep the structure and silhouette of the suit intact. Keep colours neutral choosing a simple black, grey or navy base palette to ensure it aligns nicely with the suit.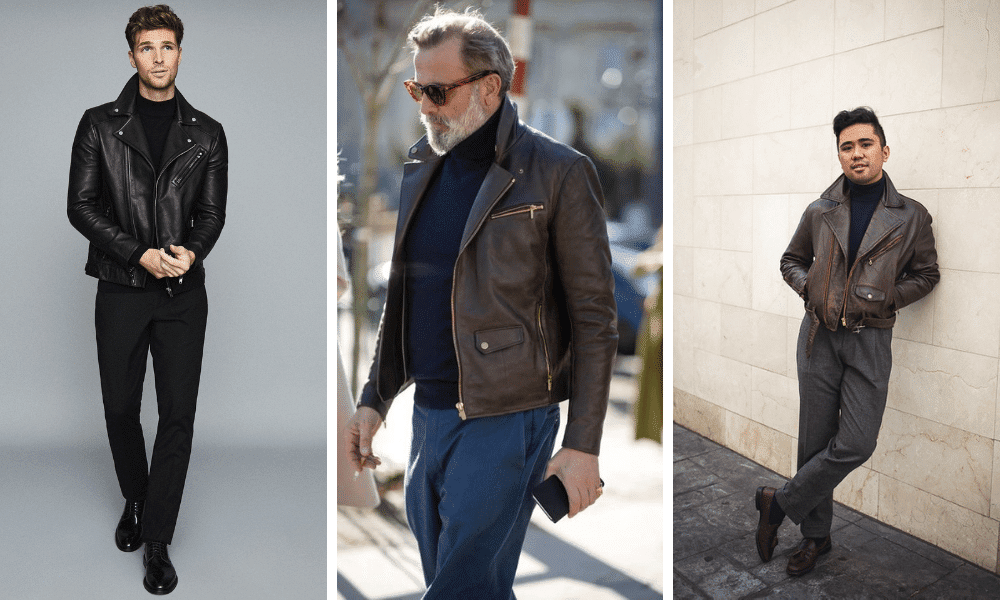 Roll Neck and Leather Jacket
During spring or autumn, it might not be cold enough to wear a thick winter coat. Wearing a roll-neck beneath a leather jacket partnered with formal trousers can ramp up masculinity while keeping in mind the unpredictable British weather. All the while, making sure winter is at the back of your mind.
When choosing the gauge of the knitwear you can opt for thick or fine depending on the weather. A finer gauge might look more refined, but a thicker gauge will do more to keep you warm without taking anything away from the outfit.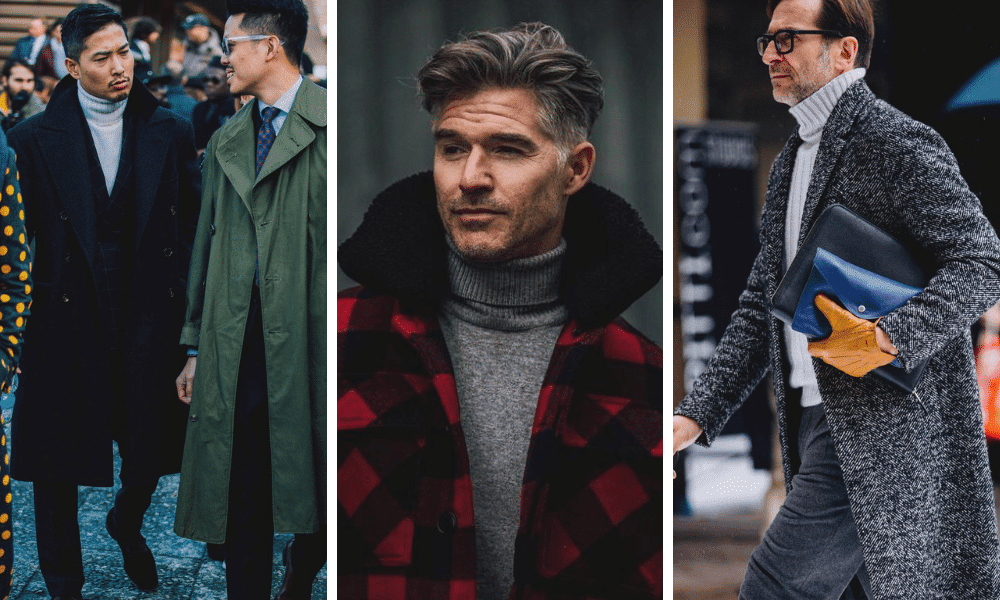 Roll Neck and Winter Coat
The combination that has seen us through many a cold day. Like with the leather jacket if there is no additional layering piece between roll neck and coat then you can go thick or fine with the gauge.
Personally, I prefer a finer gauge, using an overcoat as a replacement for the suit jacket. That way you can account for varying temperatures on your commute to the office, whilst also removing a somewhat restrictive suit jacket.
Roll Neck and Denim Jacket
Perfecting the art of layering doesn't always come with simple execution. By playing with textures and materials you can develop a more interesting outfit. But, that can also create more chances for the outfit to go wayward.
A denim jacket is a prime example of a piece that can be layered beneath an overcoat to compliment your overall look. It adds texture and a variant colour whilst also prolonging the life of one of your summer garments.
Because you are adding more layers the foundation roll neck should be a fine gauge so as not to lead to you getting too hot. Grab some outfit inspiration from the stylish gents in the image above.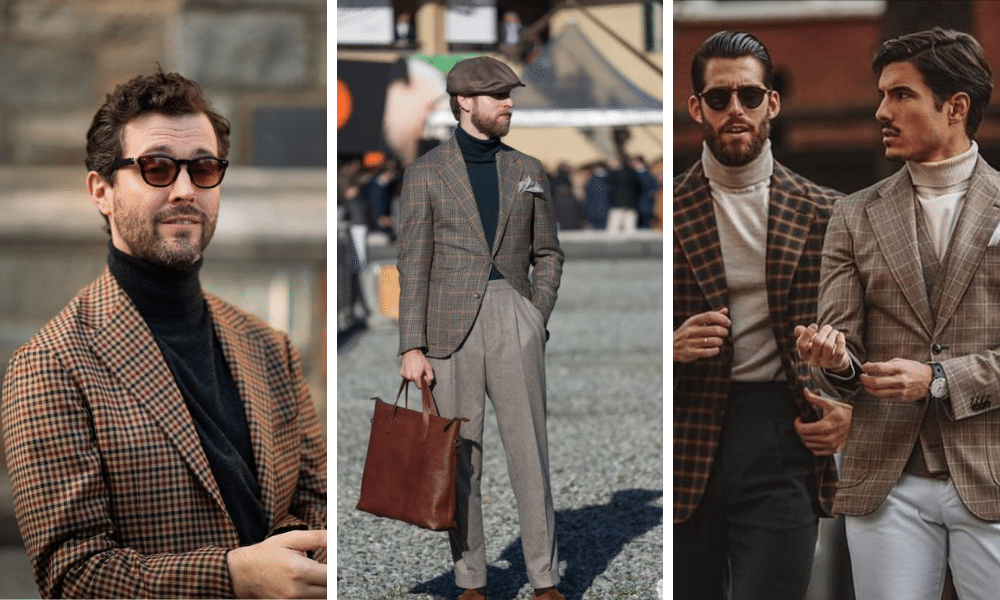 Roll Neck with Check Blazer
Some men who like to wear separates (blazer and trousers) or experiment with bolder patters in their formal outfits can use a roll neck as a great foundation piece. Its simple, smart aesthetic coupled with again a neutral colour choice allows you to go for a stronger pattern like a check blazer.
Our advice would be to pick out a colour from the check and use that as the colour of the roll neck. That way your whole outfit will compliment itself. The same can also apply if you want to wear check trousers with a roll neck.