There is a myriad of different hat styles for men, but none will keep your head warm like a beanie.
Considering a beanies practicalities, we still see it as an afterthought in the fashion world come winter. Why? I guess we have celebrities and some fine examples of how not to style a beanie over the years to thank for that. Their insistence in trying to make it a fashion statement, as oppose to a stylish staple is where we went wrong. It shouldn't be worn bulky and hanging off the back of your head for one.
The beanies redeeming features such as hiding messy hair and keeping your head warm are all finished with stylish aplomb. It is unassuming, going about its business neatly and functionally. This is how we should treat it. A practical foundation of our winter wardrobe year after year. Not a trend-focused piece that we discard come spring.
Over time we have seen different and acceptable styles of beanies come onto the market. Which one you choose and how you style it, will ensure you find the right beanie that suits you.
Beanie Style vs Face Shape
As we previously mentioned, not every beanie will flatter every face shape. With longer faces, you don't want to add too much height, with the opposite important for those with round or square faces.
Longer face shapes should avoid anything like a bobble hat or beanies that sit too far on top of the head. This will add height and make your face look longer. We recommend choosing a close-fitted beanie that has a turn-up cuff.
Those with smaller shapes like round or square faces have room to add height. This is where a bobble style or a looser fit can be adapted to suit your face.
Beanie Style vs Hair Length
This initially might seem like an odd conundrum, but the weight of hair we have under the beanie can alter the shape and fit of a beanie.
Men with short hair should try a beanie that has a more streamlined and classic fit. Without a bulk of hair to fill the beanie short-haired men can often see bulkier styles lack structure and become flat.
Those men who have curlier hair look great with bulkier beanies with less structure like a bobble hat. As your hair can sit over the ears and along the side of the face. A beanie that sits further up the head would also be a nice choice. We think that having curls hanging down from the beanie, rather than hidden gives a better overall appearance.
If your hair is shoulder length or longer then try not to wear beanies that start to cover the face. Roll up the cuff of the hat so it sits slightly higher up. That way it allows your hair to fall and frame your face nicely.
Different Beanie Styles
Keep your bonce warm by trying these favoured beanie styles. They will help to rid the world of bad fashion choices in the past while making you look effortlessly cool.
When thinking about materials we will always opt for wool, cashmere if your budget can stretch to it. Wool can give unrivalled warmth to the weather as well as giving the structure needed to make sure the beanie looks its best.
Cuffed Beanie
This is the go-to look for beanies and probably the style most accustomed with the hat. It can look good on a wide range of men and can be incorporated (as we will show you later) with a mix of different outfits.
This style of beanie can be worn slightly looser creating some bulk at the crown of the head. Or, you can opt for something more streamlined that fits snugly over the ears.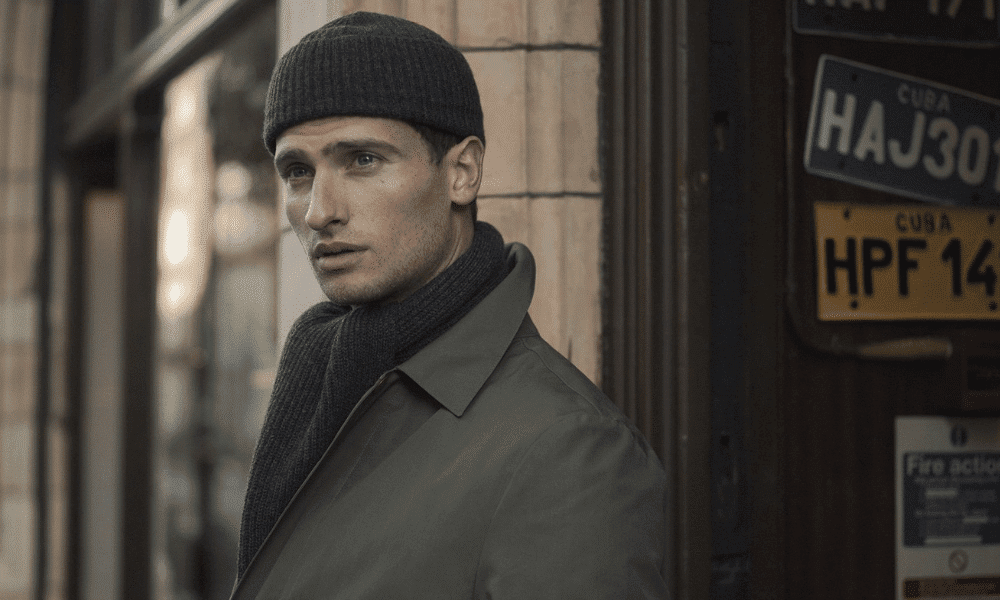 Fishermans Beanie
Unfortunately, this is the beanie style you would most connect with hipsters in winter. Despite this and if you can see past its hipster association the fisherman beanie can sit squarely in the current workwear phenomenon we are seeing within menswear.
The fisherman beanie is a smaller version of the cuffed beanie that sits above the ears.
Bobble Hat
Yes, not just for children, the bobble version of the beanie can be adeptly worn by grown men. Wear with caution though, focus on neutral colours and beanies that have a minimal pattern or none at all.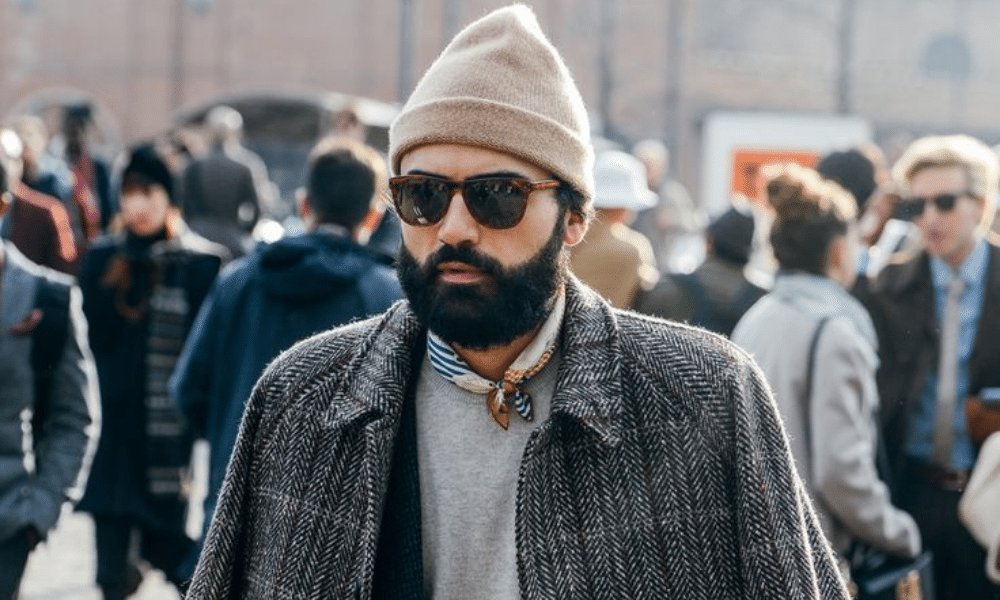 High Top Beanie
This style of beanie has fast become a staple of the street style elite. Fashionistas on the way to shows during fashion weeks have opted for this distinctive option to push the boundaries of the headwear trend.
Approach this one lightly, as it can lead the conservative men looking like they have found a new place to store their sandwiches. But, for those who embrace fashion trends, this could become your favoured style. Just remember this is less about slouch at the back of the head and more about height. So, pick a beanie made from a firm enough fabric to stand up without slouching inwards.
Beanies To Avoid
Like with all elements of menswear there is always a bad version or versions of classic men's pieces. This is largely because of seasonal trends that make items look great one year but be scorned at the next.
For us, there are some classic beanie styles that need to be locked away and forgotten about.
The Visor Beanie - Part of the 00's skater movement it was extremely popular among emo's and teen rockers.
Slouch Beanie - You probably had one, I think we all did. This is the beanie that hung off the back of your head and was popularised by the likes of David Beckham.
Christmas Beanie - Within the same bin we will throw all novelty beanies. Need we say more on the subject.
Beanie Outfit Inspiration
Once you have found the beanie that works well with your face shape and hair length its time to work it into your wardrobe. As previously mentioned, we tend to lean towards timeless style over fashion trends. But, we don't discourage anyone from finding their own fashion style.
With this in mind, we have brought together a collection of different looks to inspire men wearing beanies this winter.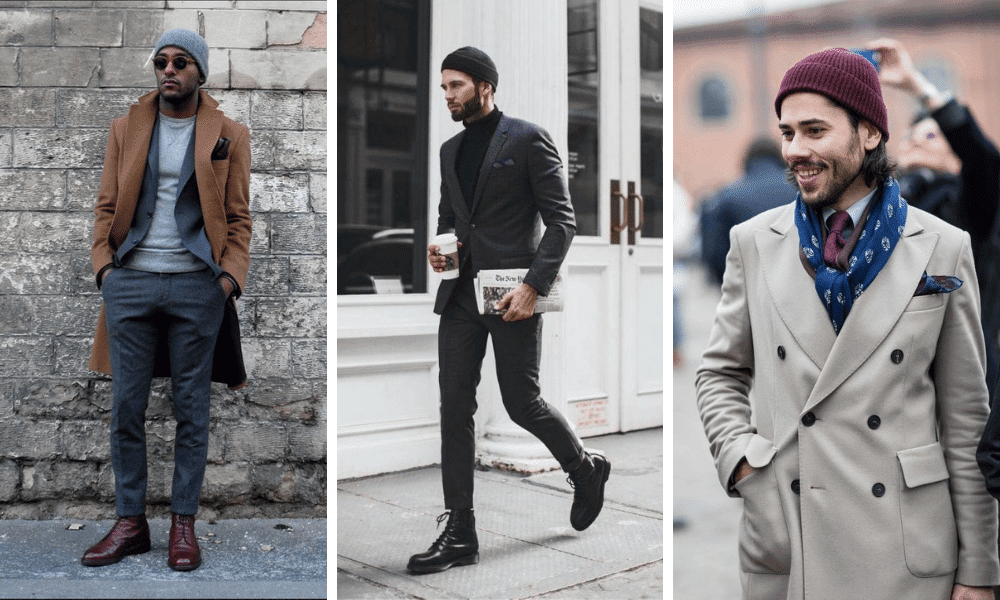 The Work Beanie
Even the smartest of gents get a cold head. The beanie can become a handy winter accessory when travelling to work or going from meeting to meeting. For this look, you want to go for a classic option. That is a simple wool or cashmere beanie with a cuff in a neutral colour. Your smart outfit is the star of the show, let the beanie be a functional supporting actor.
You can mix this look up by wearing a roll neck instead of your traditional shirt to showcase a mixture of textures and winter styles.
The Workwear Beanie
The explosion of workwear and functional utilitarian clothing was all over the catwalks again for autumn-winter. A good beanie fits perfectly into these looks.
An easy element of workwear for men to incorporate into their wardrobes is outerwear. We have seen a variety of multi-pocket jackets and coats that have even given a nod to the military incorporating nuances of jackets like the M65. Being outside, obviously then lends itself perfectly to wearing a beanie.
The Casual Beanie
A beanie in its simplest form is a casual item and so naturally fits within a more casual look. There is really anyway you can go with this. Partner with chinos and a sweatshirt for a comfortable take on colder weather dressing. Layer this with a gilet and wool overcoat to really keep the cold at bay. Alternatively, go more relaxed with a hoodie, on-trend cargo trousers and sneakers or boots for a casual weekend look.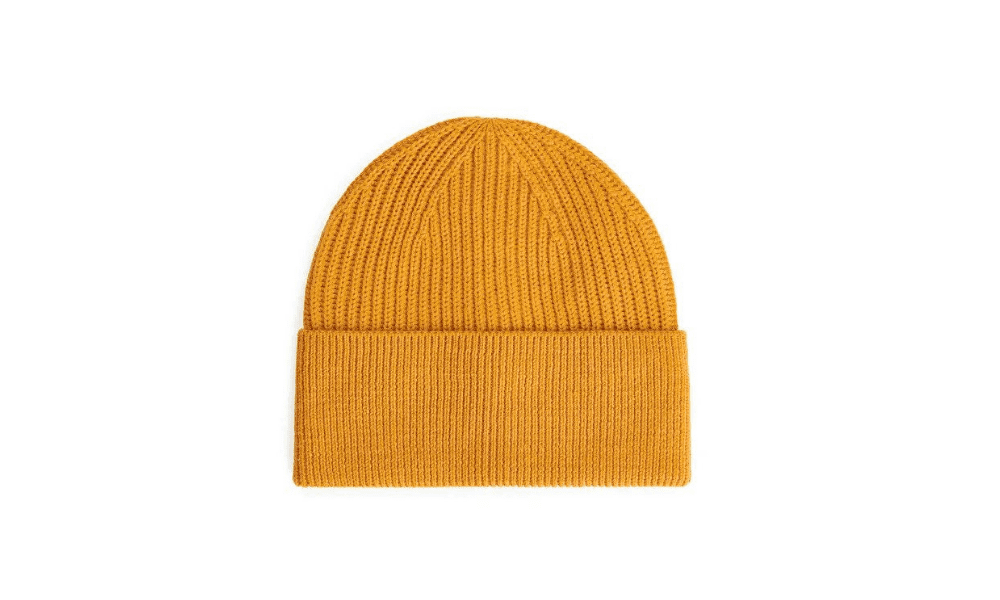 Arket
A favourite for those men who favour functional, well-made basics. The production of this beanie from extra strong, coarsely spun wool makes for a durable and warm menswear staple.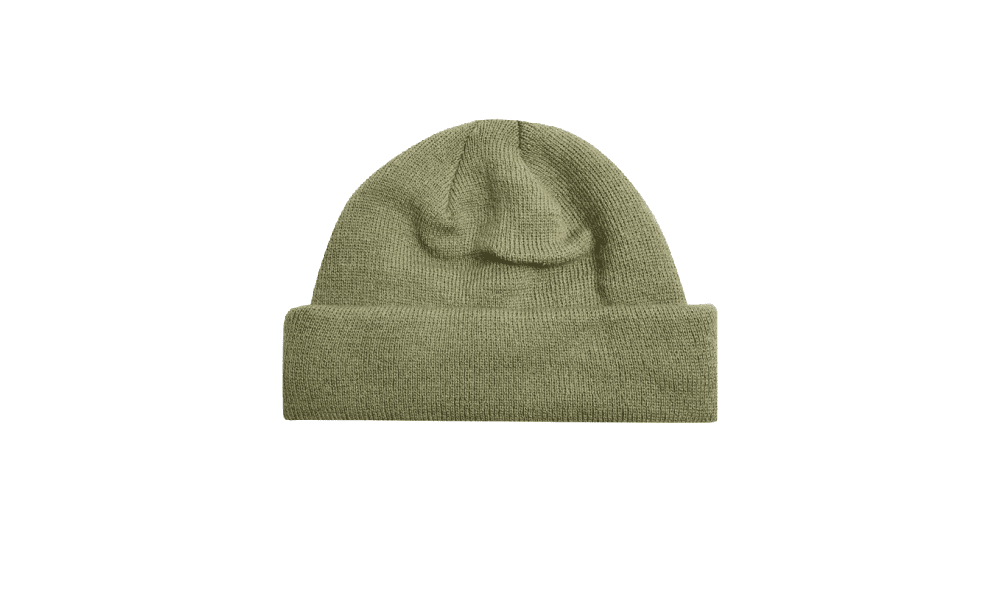 Topman
With Topman you know you are getting value and trend-led pieces. This khaki beanie is bang-on for anyone doing the workwear look. We think this choice has enough about it to see you through the seasons.
Mr P
This staple from the Mr Porter own brand, Mr P comes in a range of four colours. As you can imagine with Mr P it ticks all the style boxes and this beanie will comfortably see you through the turbulent British weather.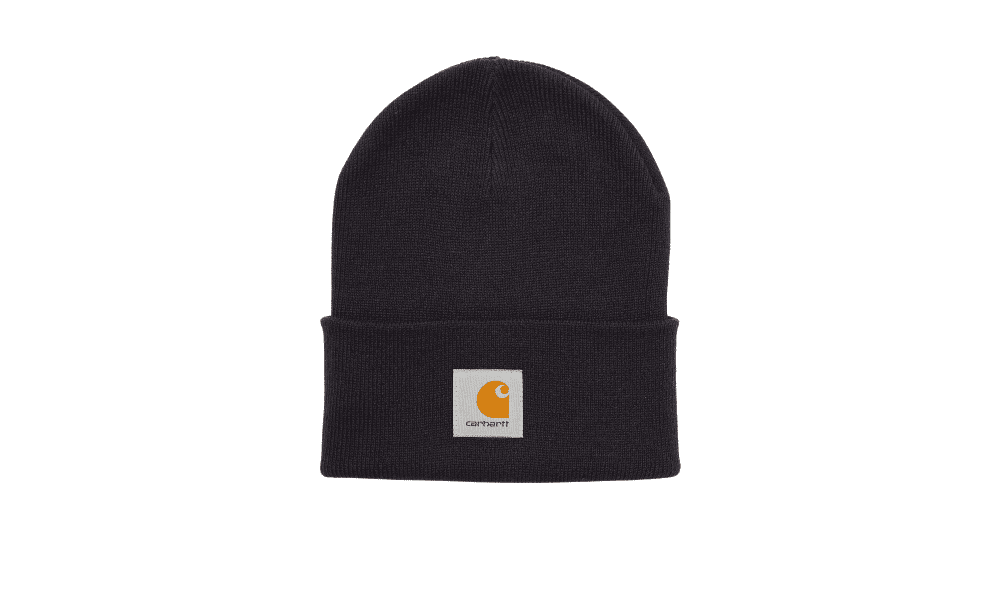 Carharrt
Carharrt are an American workwear staple, built to withstand the harshest climates. So, as a result their beanie fits nicely into current trends whilst delivering on its main function, to keep our heads warm.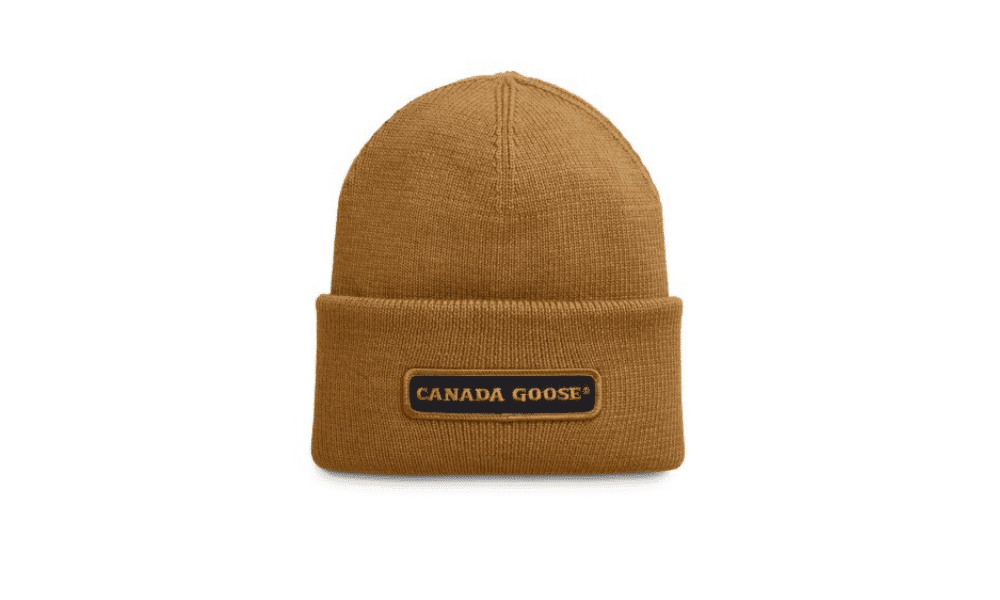 Canada Goose
Granted, this is stretching beanie budgets, but you are guaranteed quality. Canada Goose products are built to withstand the most brutal of cold weathers.
Crafted from Italian merino wool it is double layered for extra warmth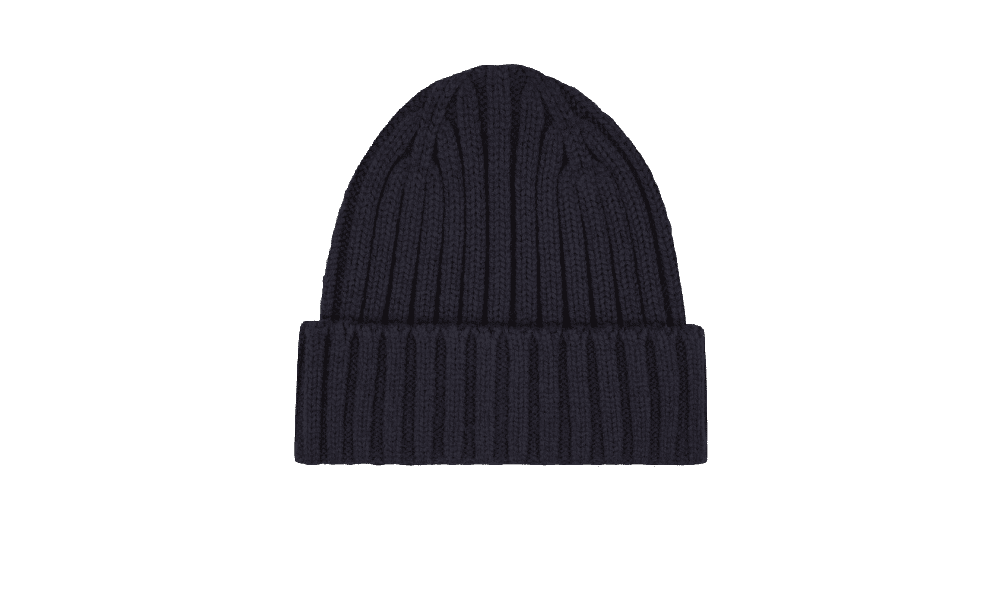 Uniqlo
Made with their heralded Heattech fleece technology, this Uniqlo beanie is an absolute steal at under £10. It will no doubt keep the cold at bay, while its simple, classic design means it can be worn with both smart or casual clothing.