A wallet can say a lot about a man. Due to its nature in keeping safe your money, bank cards and ID, it is often rarely seen by others. But, on appearance, it can quickly uncover a messy, disorganised man who does not pay attention to the finer details.
If you are looking to dress your best daily, don't let something as small as choosing the wrong wallet undo all that hard work.
What to look for when buying a wallet
If you are in the market for a new wallet, you have two main considerations. The first is that the wallet is the right size to fit your cards, money and other information. Secondly, the appearance is presentable and works well with your outfit.
Below are some other points to think about when shopping for a new wallet.
Have a clear-out
Just because you have a certain amount of card slots in your wallet, doesn't mean you have to fill them all. Take everything out of your wallet and get rid of anything you don't use daily. Motoring through life, it is very easy for us to accumulate a ton of stuff - loyalty cards, stamp cards, receipts and store cards to name a few. If you haven't used any of these cards recently do they need to be taking up valuable space in your wallet?
What will you be wearing?
Guys tend to use the same wallet all day every day. But you should be switching wallets dependent on your outfit choice. When wearing a suit, for example, a basic billfold wallet sitting in your trouser pocket can look bulky. Changing to a breast wallet that can sit nicely within your inside jacket pocket without altering the shape of the suit is a much better choice.
Go cashless
As the world we live in evolves into more of a cashless society, do you need a wallet that can hold change? If you need cash for something like a parking meter or spending beneath the minimum card threshold in a shop it can be carried in a jacket pocket or stored in a bag.
Focus on quality
A wallet is not something you re-purchase often. If you hone in on brands providing wallets made from the best materials, you can easily get your hands on one that will last for years, even decades.
The key with quality is remembering that all leather is not created equal. How the leather is treated and coloured, along with the animal it came from, can all affect the longevity of the product.
Choose a timeless style
Like with the quality of the materials, if you look for a timeless, classic wallet style it will negate the need to buy another one once it becomes unfashionable. That means choosing colours like brown, black or navy that will never go out of style.
The most popular styles of wallets are normally the ones that have a simple, functional existence and there is nothing wrong with that.
Popular Types of Men's Wallet
The wallets we are featuring below are our top picks. They have an ageless aesthetic that makes them preferential for the discerning gent. You might want to pick one smart and one more casual option so you can easily use one for more formal attire and another for when you have a relaxed outfit on.
The Billfold Wallet
It is the most used wallet by men. The choice of man and boy alike. If this is your kind of wallet then always look for leather as it will maintain its smart facade longer than other materials.
Its popularity among men is due to its functionality at being able to hold everything you need. Money, ID and cards are all snugly tucked away and if you choose the right slimline option it will sit nicely in your trouser pocket.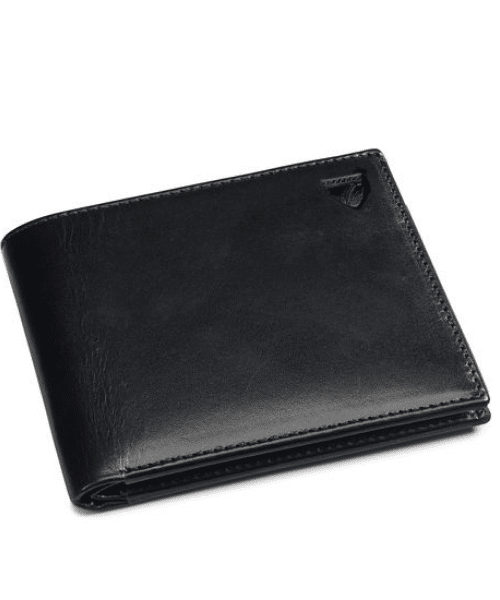 The Cardholder
For men that like a minimalist approach, then a slim cardholder is a great choice. It won't weigh down your trousers and has enough space to comfortably fit all your necessary cards.
This is the pick for a man who doesn't like to carry notes or loose change.
The Breast Pocket Wallet
For men looking to add a touch of timeless, sartorial flair. A larger version of the billfold, the breast wallet is ideal for being stored in the inside pocket of a suit jacket or overcoat.
This style of wallet evokes an iconic vintage twist and you can imagine the likes of James Bond in an Ian Fleming novel resting one beside his martini. If you wear suits on a regular basis then this would be a fantastic upgrade to your traditional billfold and really stand out among your peers.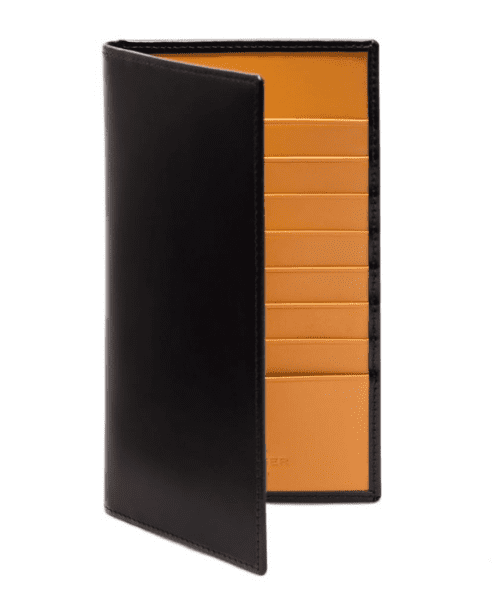 The Money Clip
This is the pure basics of keeping your money secure. The clip will make sure your notes aren't loose in your pocket and easy to hand when you need to pay.
A money clip is as minimalist as you can get and reminds me of gangsters handing out notes in a mob film. So, for those that carry a lot of cash then this could be a great option with the style as timeless as ever.