As men enter their 40s, they might find that their personal style and wardrobe need a bit of a refresh. Some men can find this time a period of reflection, choosing to update their wardrobes and lives. Other men will be doubling down on what they have learnt. Either way, we should be honing our craft and experimenting less than we did in our 30s.
With days of all-night parties behind us, men in their 40s have more disposable income to invest in great menswear pieces. But, when it comes to shopping, men should cast aside fashion trends, instead focusing on timeless items that match their now-finessed personal style. Here are some tips to help you dress well in your 40s.
Style Rules for Men in their 40s
Life is just starting in your 40s, so men shouldn't retreat into cardigans and slippers. Yes, there are items we shouldn't be wearing at this age (more on that later). But there is still plenty of style expression left in the tank for the next decade of your life.
That being said, we believe there are some fundamental style rules men need to follow in their 40s.
Ignore Fashion Trends
We alluded to this earlier. Dressing well at any age is about understanding how far we should push our own personal style. Fashion, for the most part, is a young man's game. Every season it needs to expand its boundaries. It is also notoriously here today, gone tomorrow. In our 40s, we are leaning into timeless, quality items. Your wardrobe and wallet will thank you for it.
Embrace Tailoring
Let's face it. A suit looks great on any guy. Done right, it can conceal and enhance in all the right places. Therefore we would always recommend men expand their tailoring options at this age. We aren't heading to the gym five days a week anymore, so men need a little sartorial help to keep us looking our best.
Nail Off-Duty Style
When removing the suit at the end of the working week, it can be easy to retire into whatever feels most comfortable. But comfort is typically not the most stylish option. Our efforts to look great shouldn't end when we close the laptop. If men can build their foundational pieces, they can have a weekend wardrobe of dependable staples. A suede bomber, jeans and knitwear can all be crucial to this. A tri-facto of refined menswear for whatever your day off brings.
Keep Regimented
In our younger years, men can get away with looking a little slobbish. A late night or just a lack of desire to look well-maintained are all socially accepted. As we get older, time exacerbates these quirks. Receding hairline, wrinkles and general wear and tear can catch up with us quickly. Grooming, though, can be our friend. We can embrace hair loss with a cropped cut or refresh tired skin with a skincare regime. Men can't reverse the ageing process, but we can grow old gracefully while looking presentable.
Note the Details
Admiring older, well-dressed gents like Idris Elba, David Beckham or Patrick Grant can produce a recurring note theme. They have all paid close attention to the details. Aside from being well-groomed, their clothing is tailored to flatter, and they know how additional details like complimenting accessories can make or break an outfit. This might sound tricky, but the more we practice this level of attention, the easier it becomes.
Key Purchases In Your 40s
The Suit
In your twenties, there might not have been the need for you to buy a suit. If there was, money was probably tight, and value for money was crucial when purchasing. Now, with more cash in the back pocket, men can focus on suiting that will look impeccable for the growing number of formal invites.
If you can stretch to a bespoke option, this type of suit will make a great investment if cared for correctly. Not only that, but the elevated fit can be a faithful friend in ensuring you always look your best.
The Footwear
Now you are convinced that the impeccable drape and fit of formal menswear are essential in your 40s, greater focus is placed on your footwear to support this new polished look. We can rely on options like Oxford or Brogue for dependability. But, we prefer to spread our glance further afield and the versatility loafers offer.
The loafer bridges the gap between comfort and formality, so naturally partners well with a suit. Don't stop there, though. Chinos and jeans can equally help men saunter from smart to casual when worn with this shoe style.
The Knitwear
We don't mean chunky cardigans with elbow pads. It's about transitioning from the more youthful hoodie or sweatshirt into something more special. A nice piece of knitwear is grown-up and sophisticated, with enough room to showcase a little flair.
The Watch
The devil is in the details. Yes, that might be adhered to stringently in the fit department. However, it can be just as prevalent when we discuss accessories. A watch is a fine example of the chef's kiss for a pristine look.
Take your time (literally!) and assess the finer peculiars on offer, as the watch we have in mind costs a hefty chunk of change. But, with the potential of kids in the mix, a watch might even become an heirloom that can be passed down through the generations. Or at least that's what you'll tell yourself to justify spending.
Edit Your Current Wardrobe
Before shopping for new clothes, it's important to assess your current wardrobe. Identify the pieces that you wear most often and consider investing in quality versions of those items. This might include a well-fitting suit, comfortable dress shoes, or a versatile jacket.
Consider building a capsule wardrobe, a collection of essential pieces that can be mixed and matched to create a variety of outfits. This can include items like a classic white button-down shirt, a tailored blazer, or a pair of dark-wash jeans.
Quality over Quantity
When updating a man's wardrobe, it's important to invest in quality over quantity. This means buying fewer items of higher quality that will last longer and save you money in the long run. Cheap clothes may seem like a good deal at first, but they will wear out quickly and must be replaced. Paying attention to items' material, cut, and craftsmanship will result in high-quality clothes that will last longer and look better—saving you money in the long run.
Make Adjustments
It might be that a lot of what you already own can be given a new lease of life. Small alterations and adjustments can make a big difference in how your clothing fits and looks. So, consider taking your clothing to a tailor for small adjustments like hemming pants or altering the sleeves on a jacket. It might be a bit of extra cash; nevertheless, the sartorial outcome will make it well spent.
Versatility is Key
As men get older, the variety of occasions we attend makes having a versatile wardrobe crucial. When purchasing new clothing or assessing what you already own, take stock of how the individual pieces work together. That showstopping satin jacket might be a conversational piece. But, if it is going to rarely get an outing, is it still worth buying?
What Not To Wear in Your 40s
Graphic Tees
Whether it is paying homage to your favourite band or a not-so-funny quip, large graphics in any form shouldn't be part of your wardrobe. Approaching this age is about being refined in how we look. Leave the Van Halen tee for the reunion concert and stick to understated, neutral colours.
Athleisure
In the gym, even on the way to the gym, it can be accepted. But walking around Sainsbury's in your joggers is a no for us. Athleisure might be everywhere right now, sidestep it and stick to the classics that flatter and look far better.
Garish Trainers
You know the ones we mean? Weird designs mixed with a lurid array of colours. Ditch these and the hi-tops in favour of a minimalist palette of whites, beige and navy—no big logos, a simple aesthetic that can be blended with formal and casual attire.
A Bad Haircut
We talked about no more experimenting in our 40s, and we are including haircuts in this. Find a barber you can trust and stay with him. He can help find the best trim for your face shape and the products to make it look great.
Men's Style Inspirations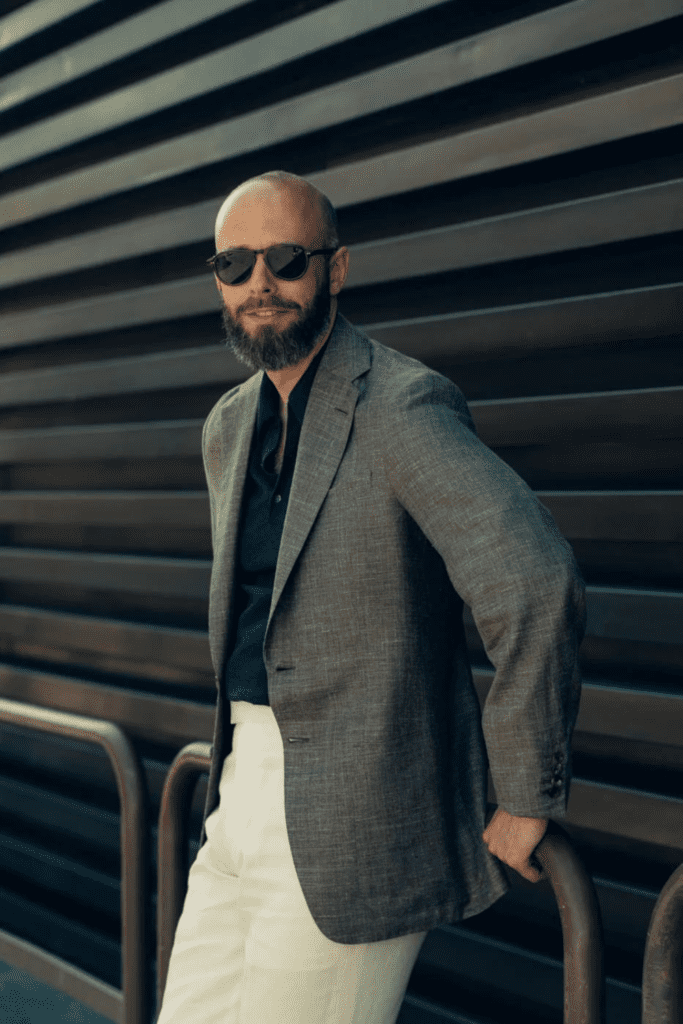 Simon Crompton
Though Simon only just scrapes into this age bracket, his personal style, represented on his site Permanent Style, can definitely be upheld as a blueprint for men of this age to dress. He effortlessly mixes timeless formal and casual elements while always remaining true to his desire to choose brands that offer superior craftsmanship.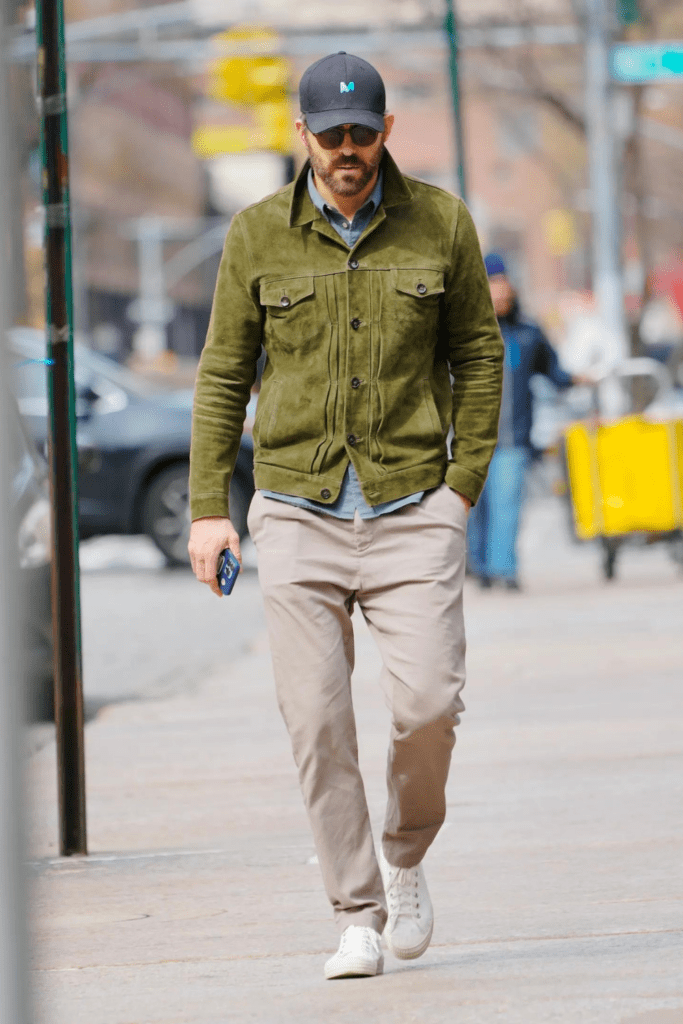 Ryan Reynolds
The Deadpool star constantly delivers a masterclass in off-duty dressing. No big logos, or athleisure here. Mr Reynolds favours uncomplicated clothing that has an understated but well put together aesthetic. Every element is considered and works in harmony, older gents take note.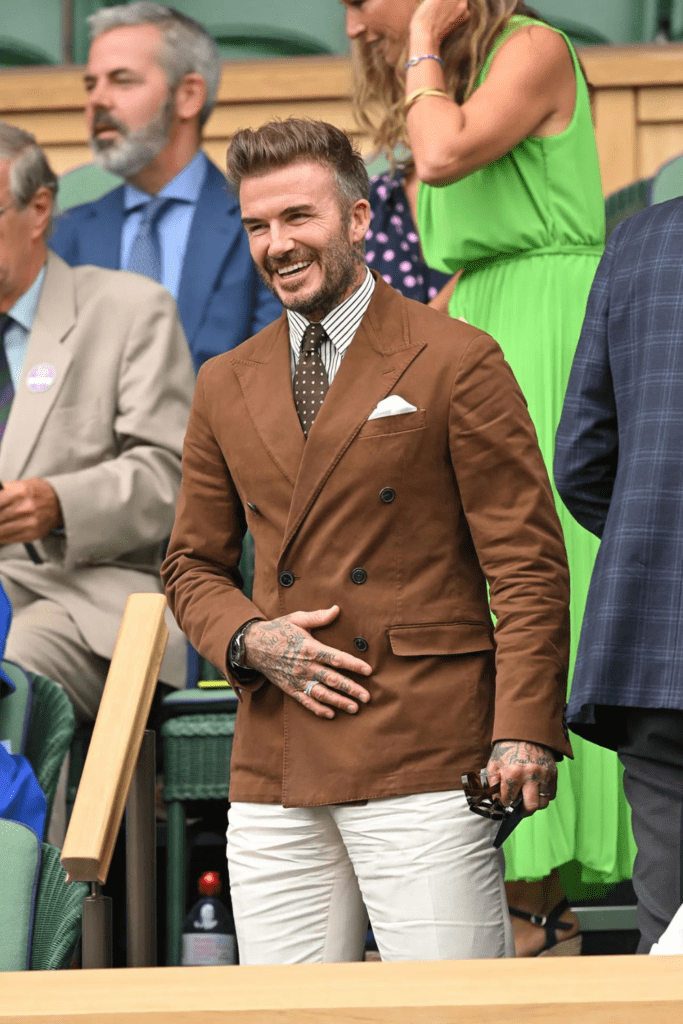 David Beckham
Of course Becks is on the list. No man has had his personaly style evolution played out for the cameras more than him. Gone are the days of pushing fashion boundaries of his youth. Now Beckham consistently opts for coloured hues of tailoring or statement knits to deliver his style in a more refined manner.