We often herald the humble white trainer as an essential item in any stylish man's wardrobe. With a minimalist aesthetic, it is an ideal foundational piece for nearly any outfit, from office suits to summer shorts. The white trainer grounds a look, enabling men to add bolder patterns and colours without the fear of clashing.
But, try as we might, it is difficult to keep these trainers looking box-fresh for a long period of time, especially if worn on the regular. Though, we should never be ditching our footwear before trying to rejuvenate to their former glory. Often with the right products and a bit of elbow grease, we can get them gleaming again in no time.
Let's find out how to accurately clean our white trainers.
What Made Our White Trainers Dirty?
The blessing of a white trainer on our daily wardrobe is also a curse. As a colour, white is prone to showing every scuff, stain or spill, which makes it crucial to tread carefully when wearing them. Furthermore, direct sunlight can also soften the white vibrancy so store out of the light to prolong the sparkle.
Plan your days and take note of any changes in weather. If there is a threat of rain then it might be best to replace with a darker colour shoe that won't succumb too heavily to rainwater or muddy puddles.
What To Do Before Cleaning
The first step is to remove the laces as these are typically a different fabric to the rest of the shoe and therefore can be treated differently. Sometimes all the laces need is a soak in warm water with a little baking soda or oxi-white stain removal powder.
If you have a shoe tree then we would recommend inserting it to keep the trainer's shape during the cleaning process. Worst case, roll up some newspaper and use that instead.
Now find a spot to do the cleaning. For example, a countertop that you can easily wipe down after or you can put a towel on the floor for a workspace.
Before you get started with the deep clean, remove any large pieces of dirt or mud with a brush or cloth.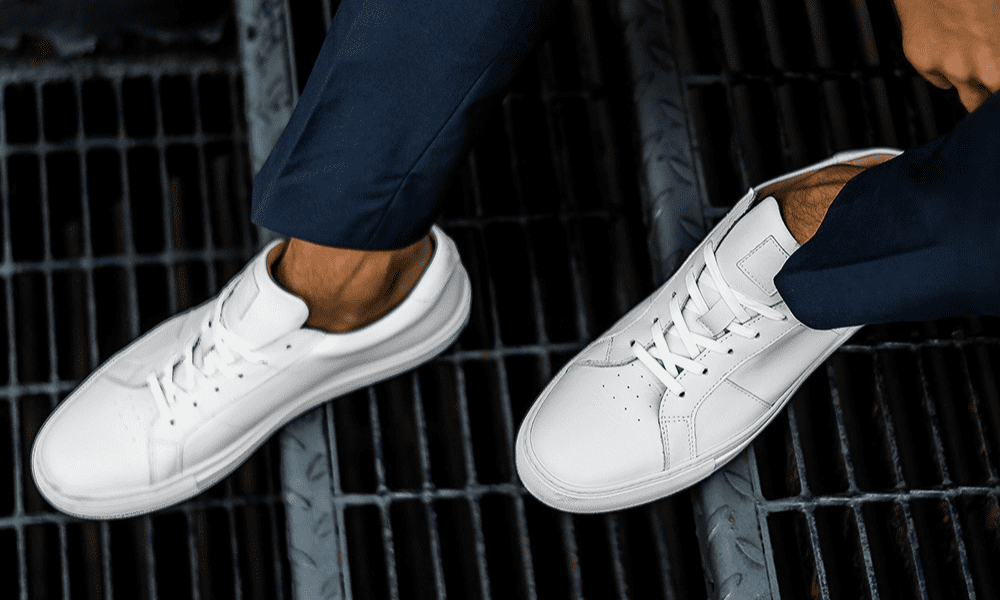 How To Clean Trainers
White Leather
Assuming the pre-clean notes have been adhered to, we can undertake the task of cleaning the leather. Thankfully, of all white trainers, leather is the easiest material to rid of marks and stains.
Get yourself a toothbrush or damp cloth.
Apply a spray of specialist trainer fluid directly to the trainer or add some toothpaste to the damp cloth or toothbrush.
Massage the leather in circular motions
Wipe any excess off with a damp cloth
Leave the trainers to dry naturally overnight
Like we would with our formal leather shoes, post-clean we can nourish the leather and keep it supple by applying a specialist leather balm.
White Canvas
In order to get the maximum clean needed, with fabric or canvas trainers you might need to be a bit tougher. For light staining, soap and water might be all that is needed. With more resilient marks, then turn to household cleaning products that are specially formulated to target stubborn stains.
Get yourself a toothbrush or damp cloth.
Add some soap to the toothbrush or cloth, not directly on the trainers.
Apply baking soda or an oxi-white washing powder to more stubborn stains and leave for a few minutes so it can work its magic.
Clean in circular motions.
Remove the deep cleaning solution or soap with a damp cloth.
Repeat step 3 if the stain hasn't initially disappeared.
Leave the trainers to naturally dry overnight.
How Often To Clean White Trainers?
Excessive cleaning can result in the white colour fading, so assess the task and don't go too severe on the brush where a light wipe might suffice.
What dictates how often your trainers need cleaning, is the frequency they are worn. Although, as a rule of thumb, when a stain becomes visible it should be dealt with the same day. Even if it is just wiped away with a damp cloth.
Can You Machine Wash Trainers?
The simple answer is, no!
It might on the face of it seem like a quick and painless way to get those dazzling whites. But, in reality, it will cause lasting damage to both the trainers and the washing machine.
The wash from a machine is too intense and can lead to more staining (from linings bleeding), glue melting (from heat) and any logos adorning them fading.
What Products Are Best?
As expected, there is an abundance of products available for men looking to clean their trainers. Milk and foams might sound like something we would receive in a coffee shop, but they are specially formulated to target specific stains on different materials.
We don't know the severity of your cleaning job which makes it difficult to offer a product targeted to your specific needs. Though, we suggest seeking out brands like Jason Markk, Famaco, Crep Protect and Tarrago who have been helping to keep the finest trainers in pristine condition.