A men's dress scarf can easily divide opinion. Some might see it is as overkill, while others will see it as a rakish accessory for the most stylish of men. We are definitely the latter.
The dress scarf is a great way to some distinctive personality to your daily outfit choice. A flash of colour or pattern can offer some light relief, especially in colder months when the tones on show become muted.
What material to choose?
The material of choice for your dress scarf will change subject to the occasion and ensemble but can be fairly fluid. When wearing with a tuxedo you should always be wearing a silk version. Other than that, there is movement and it can come down to personal preference.
I believe if you are wearing beneath a coat then it should be cotton or very light wool. Just the idea of wearing a coat implies it is colder, so silk would be too much of a juxtaposition. Silk would work well in the summer months adding a splash of colour beneath a lightly toned linen blazer.
Tips for wearing a dress scarf
The key to wearing a dress scarf with distinction is to abide by its nonchalant movement. It should be worn loosely around the neck, not like your typical wool scarf. Although it has some warming properties dependent on the material choice, it is about an understated hint of sprezzatura.
So whether it is beneath a piece of knitwear or peeking out from the lapels of an overcoat it is unabashedly going about its own business. It may have the name of 'scarf' but it isn't going to be put in the same category as its functional wool cousins.
Sticking with the notion that it shouldn't be tied in knots. I would add that tieing it in a cravat style and wearing beneath a shirt is a no-no. It might seem as though you are fashionably taking notes from stylish bygone eras, when in fact it will look very outdated in our modern world.
Below are some of our favourite ways to introduce the dress scarf into your wardrobe.
Dress Scarf And Suit
It is very easy for a humble suit to quickly become stale. Worn day in, day out without constant evolution of accessories and shirts, the suit will become lacklustre.
Adding a hint of colour or pattern through accessories like pocket squares or ties will elevate your attire. Take it further by bringing a dress scarf to the game.
If you want to combine the dress scarf and formal attire then lose one of the tie or pocket squares as a beginner. All three is going to be difficult to acutely compliment, remember this is about subtlety. Don't overload the senses with colour and pattern, lose one to make your outfit easier to look complete.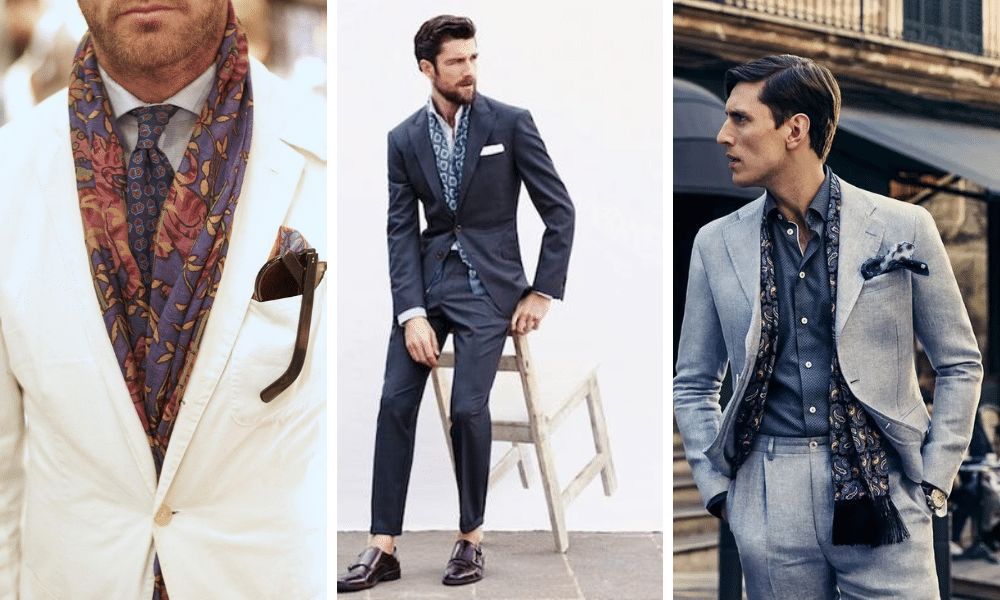 Dress Scarf As A Neckerchief
Not the easiest of looks to pull of. It walks a fine line between a fashionable off-duty Hollywood icon and looking like a fisherman's lovechild.
The dress scarf you pick for this can't be too long and preferably in cotton. When you wear it, let the neckerchief be the item that draws attention. Keep the rest of the outfit a neutral palette so the necktie holds the pattern or bold colour without clashing.
If pulled off, this is a great look, famed by models and stylish elite. Not for the faint-hearted, we would air on the side of caution when approaching wearing a dress scarf as a neckerchief.
Dress Scarf Under Knitwear
Wearing your dress scarf in this manner harks back to the golden era of Hollywood from the '30s, '40s and '50s. Actors were as well dressed off the screen as they were on it and are still the inspiration for countless menswear mood boards
This is a very easy combination to introduce into any gentleman's repertoire. It hits the sweet spot between updating the humble knitwear without being too outlandish.
A dress scarf is draped under the knitwear with the top of the scarf showing around the neck of the wearer. It will only show a couple of inches above the collar of the jumper but is enough to showcase your nonchalant style credentials.
It is understated but elevated.
Dress Scarf Under Coat
With this look, it is not about adding warmth through the colder months. It is style over substance in a good way.
As the temperature cools, we often fall into habits of hiding away from colour and pattern. The additional dress scarf below an overcoat will certainly not keep you warm, but it will show you aren't afraid to stick with patterns.
The perfect way to extend the lifeblood of the scarf across the seasons, it brings with it a certain Italian flair. The scarf embraces movement and character reminiscent of Neopolitan tailoring houses.
For me, the dress scarf and coat combination is the ideal way to stick two fingers up to the drab and grey British weather. I for one will be embracing it this winter.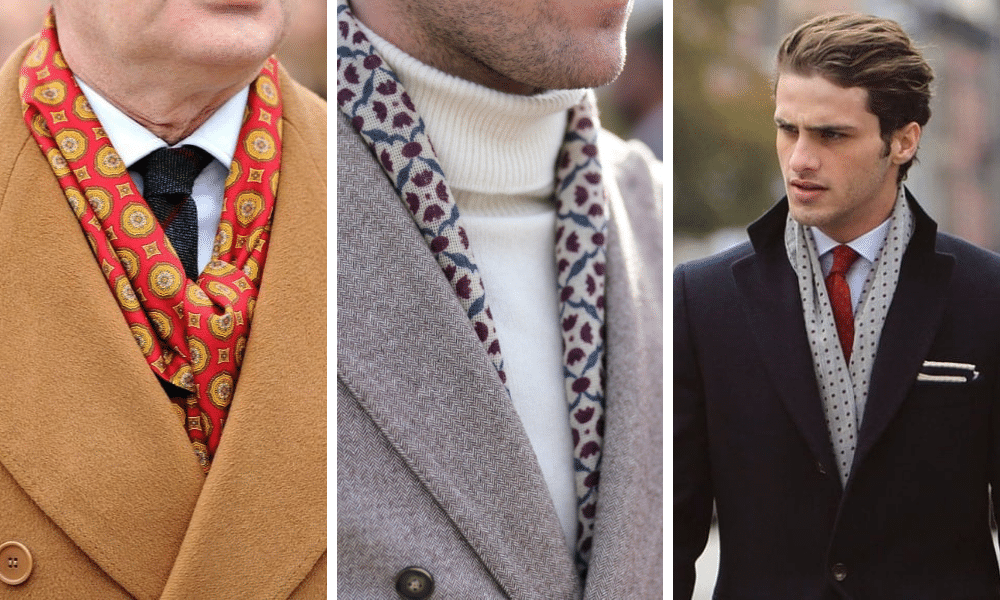 AGR Recommends
Dress scarves come in a range of colours, sizes and patterns. From luxury French fashion houses, to high street favourites there is a scarf for every price point.
As prices increases, men will see the quality of material change. Cotton or silk faced scarves make way for 100% silk or cashmere variants.
Here are some of our favourite dress scarves currently on the market.