55 Ways To Wear a Navy Blue Suit
A blue suit is an essential item in any stylish man's wardrobe. As a versatile colour, blue can be matched with a host of other colours and patterns. It is a firm favourite for men getting married, and with some clever tips and tricks is a suit that will serve you well in the office or on a date.
The darker navy blue colour is a timeless classic, but don't be afraid to look at different hues and materials for your suit to keep it fresh. We have a host of stylish men wearing different blue suits in our gallery further on.
The versatility of a blue suit can also be its downfall. Because you aren't limited to choice, there is more room for error. Men will either play it safe (which is fine) or try and push the boundaries and end up failing miserably. In this article, we are going to run you through the key points to consider when wearing a blue suit, and also how to style it for different occasions.
Style Rules For Wearing A Blue Suit
1. Choose a white shirt
Ok, you can push the boat out a little with a light blue or light pink shirt. But the failsafe option to wear with a navy suit is a simple crisp white shirt.
2. Focus on the fit
As we are always re-enforcing, fit is everything. This is half the battle for men when buying clothes. If the fit is right, it is going to be easier to match it with footwear or accessories.
3. Wear black or brown shoes
Contrary to popular opinion there is no right or wrong answer to the shoe colour debate. If you are wearing a darker shade of blue then black can work. Lighter blues are better suited to browns.
4. Don't buy cheap
A cheap suit is going to look just that, cheap. Pay attention to the finer details, the material, the fit and the construction will all improve if you spend a bit more money on your suit.
5. Go for classic over trendy
Trends are temporary, style is permanent. Focusing on classic style and materials will mean you get more bang for your buck. If you are investing in a quality blue suit you don't want to have to replace it once the trends have changed.
6. Use bold colours in your accessories
Allow your accessories to be the impact. When you have a simple coloured shirt like white. It means you can complement it with a bolder colour or pattern within your tie.
What To Wear With A Blue Suit
To help with the myriad of colour and pattern options available when wearing a blue suit we have brought together our favourites. From the more conservative white dress shirt to the casual look of trainers, there will be a combination that will work with your own personal style.
Blue Suit + White Shirt
This is the bread and butter for wearing a blue suit. White and blue are a perfect match and are the solid foundations for adding any extra colours. Introduce bolder patterns and colours in your tie or pocket square knowing the groundwork has been laid.
Blue Suit + Pink Shirt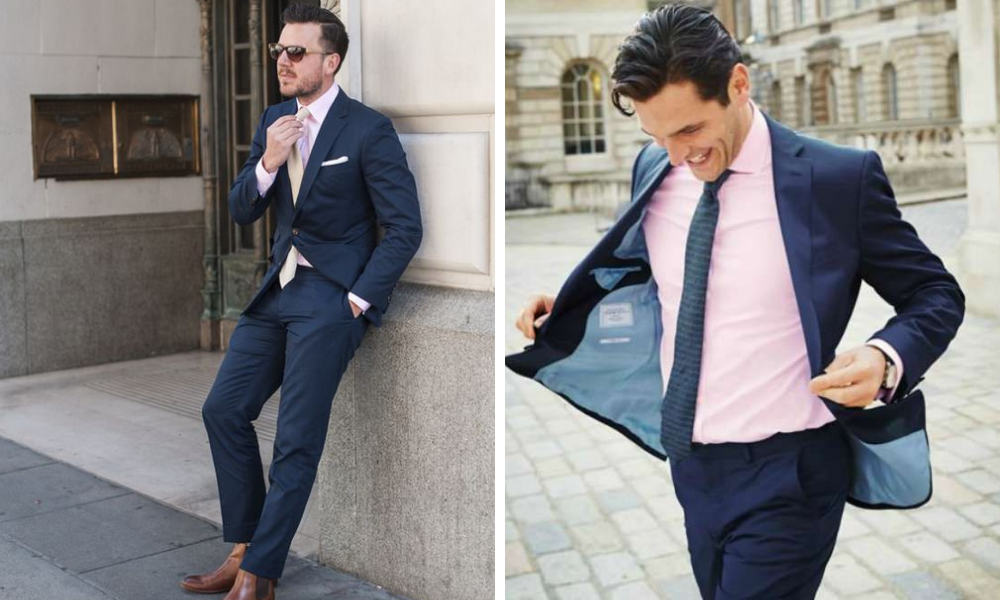 There is no longer disdain amongst men when it comes to the colour pink. It's said that real men wear pink, and whoever said this must have seen it being worn with a blue suit. A light pink shirt with a blue suit is a great way to introduce red through your accessories.
Blue Suit + Breton Top
Want a more Parisian inspired look, then pick up a Breton top. The Breton top is quintessentially French due to it being worn by their navy but is now a staple in any stylish man's wardrobe. The stripes combine perfectly with the blue suit, just try and keep the blue shades as similar as possible.
Blue Suit + Polo Shirt
Like the idea of not wearing a shirt with your suit but finding a t-shirt a step too far? Then a polo shirt could be the ideal middle ground. As it has a collar, it still retains an element of formality but the overall look of the suit and polo shirt is more relaxed than a suit and dress shirt.
Blue Suit + Knitwear
As with a t-shirt or polo shirt, you are making the blue suit look smart and casual. Dependent on the style of knitwear you will move the outfit further towards smart or casual. A merino or cashmere roll neck creates an excellent silhouette with a suit and is more formal, whereby a simple crew is leaning toward casual.
Blue Suit + T-Shirt
We are big fans of this look, especially for warmer months when you want to remove the restrictive shirt from daily outfits. A crisp white t-shirt will complement lighter hues of blue, and you can try greys or even black for darker shades.
Blue Suit + Trainers
Adding trainers to your ensemble when wearing a blue suit can be a great way to remove some of the suit's formal nature. Relaxed offices or a date night are perfect for introducing this outfit. Our go-to is the plain white trainer, but if you feel confident look at a wider selection of footwear choices.
Blue Suit + Red Accessories
Whether it be within your tie or a pocket square, a blue suit with red accessories can be a winning combination. It can be a nice alternative to the safe colours men often fall back to, and we recommend partnering with a blue shirt. The firm base of a blue suit and blue shirt will absorb the boldness of red nicely.
Blue Suit Inspiration Gallery
Please follow and like us: