Bidding a fond farewell to long, hot summer days can be hard. But, men shouldn't be too disheartened, summer can be a tricky time for dressing. On warmer days, we opt for the necessity of keeping cool, often at the expense of looking well put together.
The more we remove clothing to combat the heat, the less inspiration it leaves us with. In fall, men can start to layer again, building up those great looks piece by piece. A key element to this is a transitional jacket. Able to protect from an impromptu shower without being too hot or bulky.
Mastering the art of layering goes hand-in-hand with being able to choose the right items. Nail both and you'll integrate what you buy into more outfits. Thus delivering greater value for money and more daily looks. A win-win situation perfected with the right transitional jacket.
What to look for in a fall jacket?
During the coolers months of fall, we need our jackets to be multi-faceted. Effective at beating the cold and rain, but without losing its style credentials. This can be tricky as most functional outerwear is not the best looking.
When it comes to fabrics there are a few choices. Obviously, as it rains more in fall so we can choose a water-repellent option. This could be nylon or a cotton mix that has been treated to wick away water. Either, should work.
For men who might be spending a little more time outside, then insulating warmth is going to be crucial. Not to be weighed down with a thick overcoat, guys can look at down fillings. They are great at keeping the body warm without being too bulky. Uniqlo in particular has led the way in this with their Ultra-Light Down pieces.
Though it isn't always raining and it isn't always cold. On days like this heavyweight cotton could be the answer. Think worker jackets or overshirts. It is something a little thicker than a typical shirt which can be layered with a t-shirt or jumper.
Here are some of our picks of the best jacket styles for fall.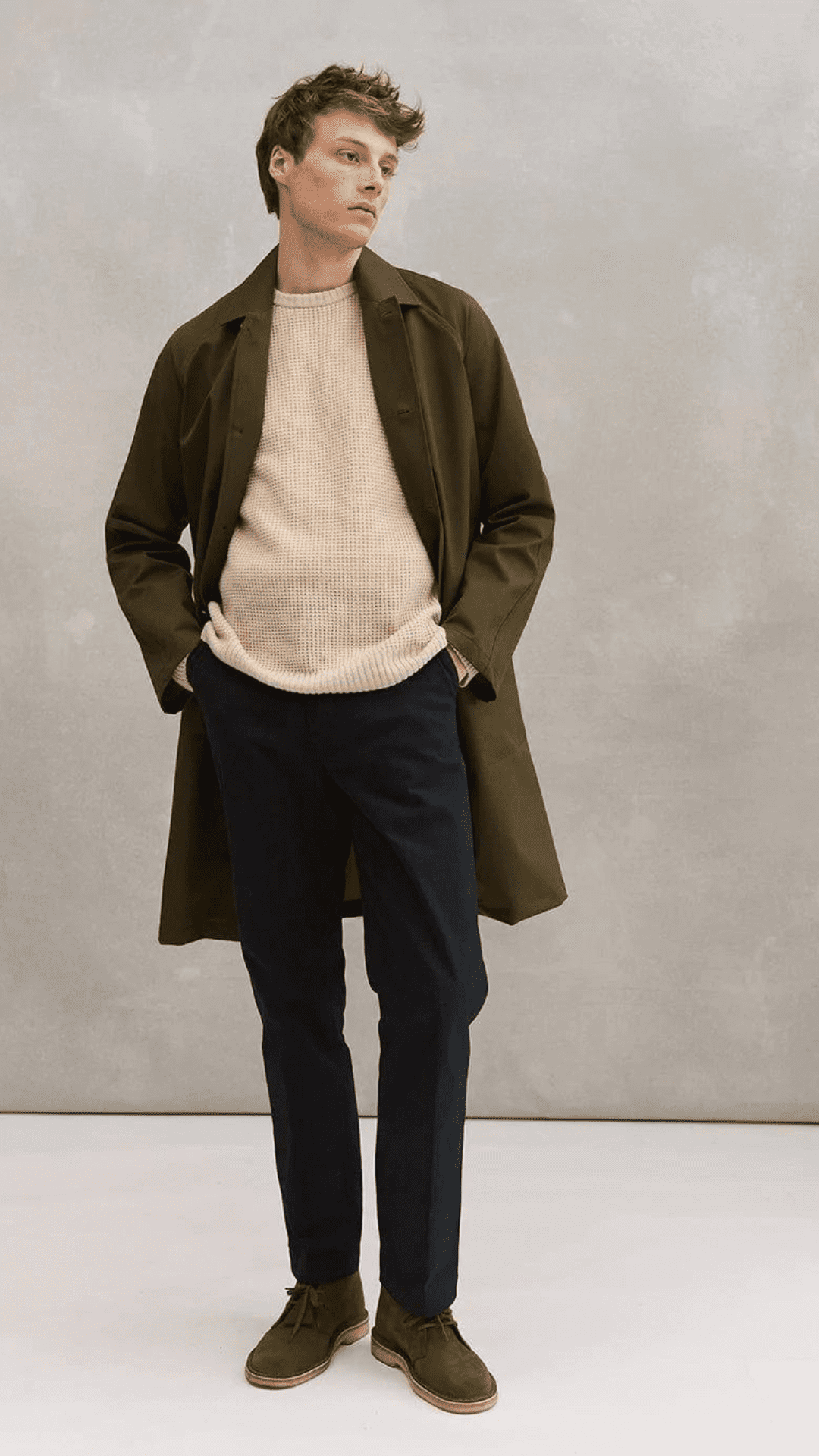 1. Rain Mac
Does exactly what it says on the tin. A classic, timeless style it will see men well year-in, year-out. To get maximum use, try a more neutral colour palette like khaki, navy or beige. These should integrate nicely within most guys' wardrobes.
With regard to length, we are going to leave this to you. As dependent on whether you are taller or shorter can alter what you pick. Although, a nice middle-ground is for your mac to finish mid-thigh.
2. Overshirt
Anyone reading this should be well aware by now that we are big fans of overshirts. They are the pocket-knife of menswear, able to be worn with different looks.
In the fall, we can play around a bit more with textures and colours. Cotton can be replaced by wool, while plain can be switched for a plaid or check print.
The result is still an essential piece of men's kit. This time with a winter twist. Perfect for longevity, as you can wear it beneath an overcoat as the sub-zero temperatures roll in.
3. Worker Jacket
In a similar vein to the overshirt, a worker jacket has come to the fore over the past few years. Its popularity is down to the understated aura. It doesn't try to be anything more than a dependable, everyday essential.
The simple construction of a worker jacket should be mirrored in what men wear with it. Think uncomplicated denim, chunky boots and heavyweight tees.
Just remember, that while the worker jacket is versatile, it isn't the warmest. A supporting thick knit will get you some of the way, but when the cold really hits, it is time to switch it out.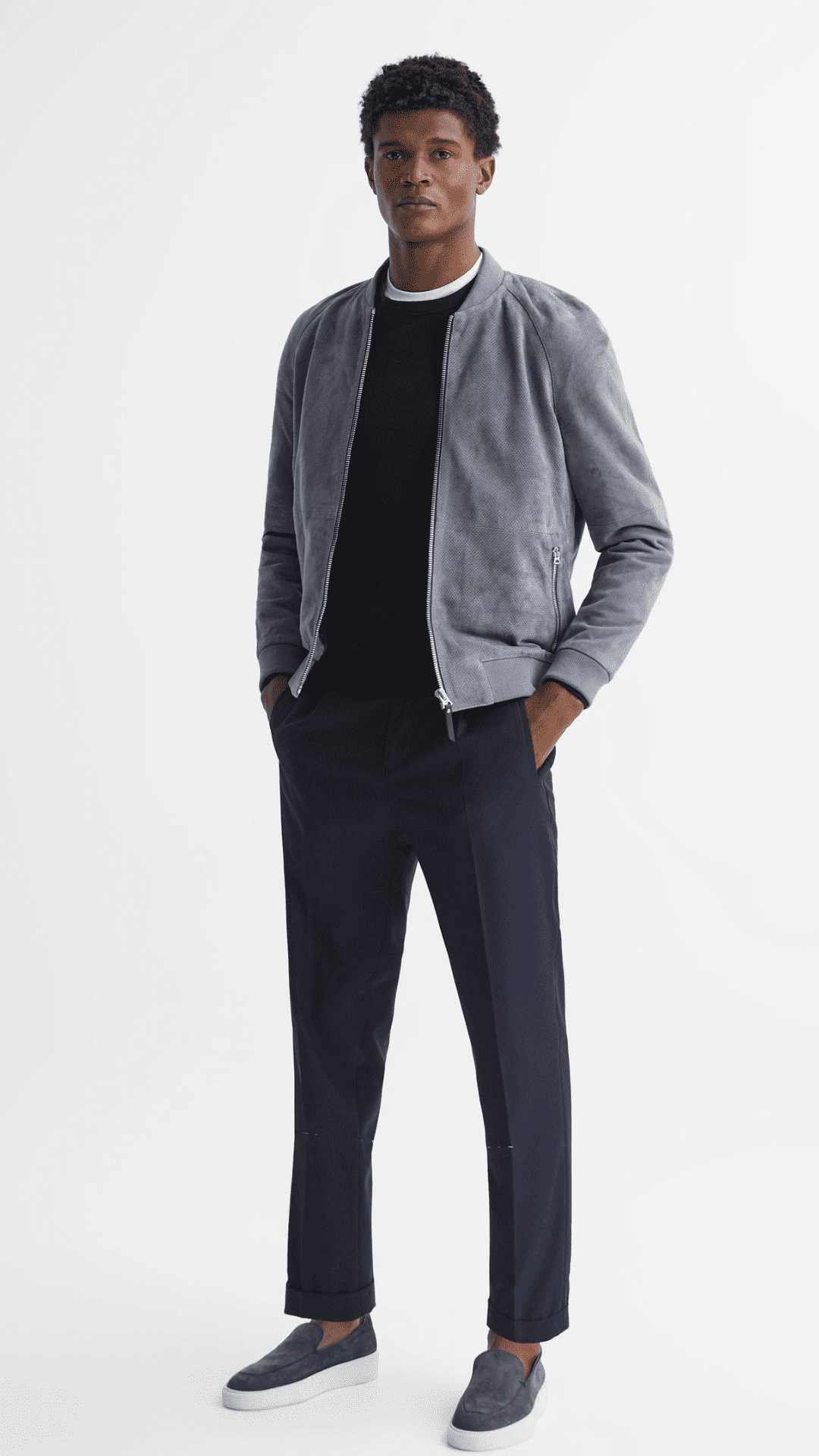 4. Bomber Jacket
With a laidback, throw-on nature, a bomber jacket is ideal for taking away the chill. The shape aligns with casual attire and you'll typically find this option in cotton or nylon.
After checking the weather forecast first, you can elevate this pick somewhat. Suede can add a premium edge to a simple silhouette. It also allows the bomber to become a little more dressy.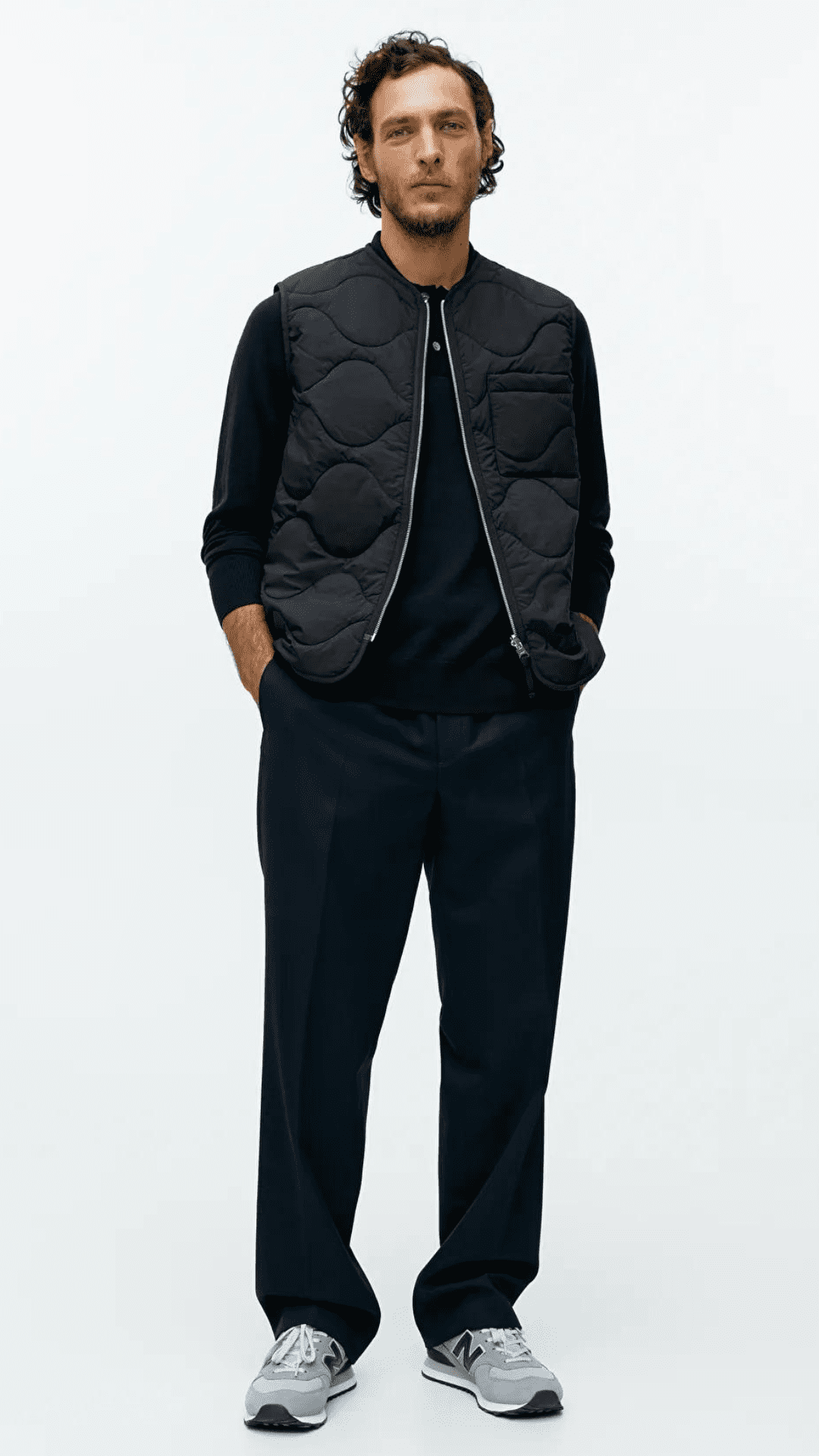 5. Light Down Jacket
When the mercury hasn't dropped far enough to warrant the big puffer, a light down will do an admirable job. The lightweight alternative to the cumbersome puffer is insulating and packable.
If the sun has decided to show its face, a light down can easily be condensed to a fraction of its size. This functionality is hard to beat, especially during rush-hour travelling. Upon re-opening, no shape has been lost and it's ready to be worn again.
We like to layer our ultra-light down underneath an overcoat for maximum warmth. Should you feel on its own it is lacking a style edge seek out a scooped vest for a contemporary twist.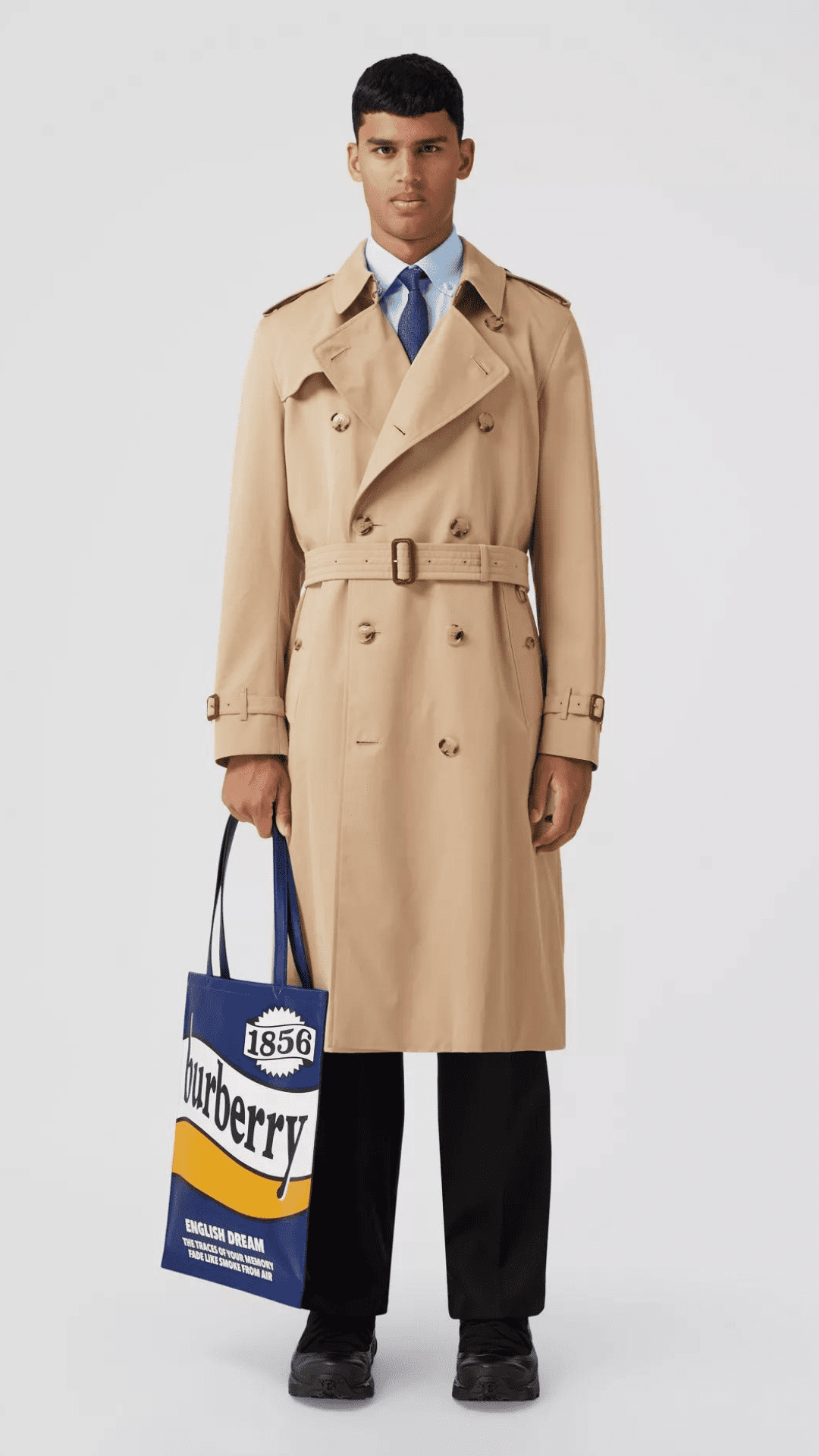 6. Trench Coat
The infamous outerwear of choice for "flashers'. The trench coat has sidestepped this moniker to keep stylish men dry since the 1820s.
Traditionalists opt for a double-breasted trench coat that finishes at the knee. The additional belt is a necessity. Should you require something a little more updated? Brands have played with shape and colour to modernise this classic.
Either way, it's impeccably versatile. Wear over a suit for formal occasions or on top of a hoodie for a weekend vibe. The trench coat knows no bounds, making it a fall outerwear tour de force.