A new year is an ideal time to take a good hard look in the mirror and decide whether we are happy with the person looking back at us. Reevaluate if we are dressing as we desire or need a new approach. Is it a case of getting out of a style rut or a case of emergency surgery?
Dressing and looking better is a skill that any man can learn. If mastered, it can improve one's confidence whilst portraying a more polished exterior. Being our best self doesn't stop at our clothing. Small changes in grooming habits, purchasing choices and taking better care of what we already have will impact how presentable we appear.
Read our tips on how men can upgrade their style over the next twelve months.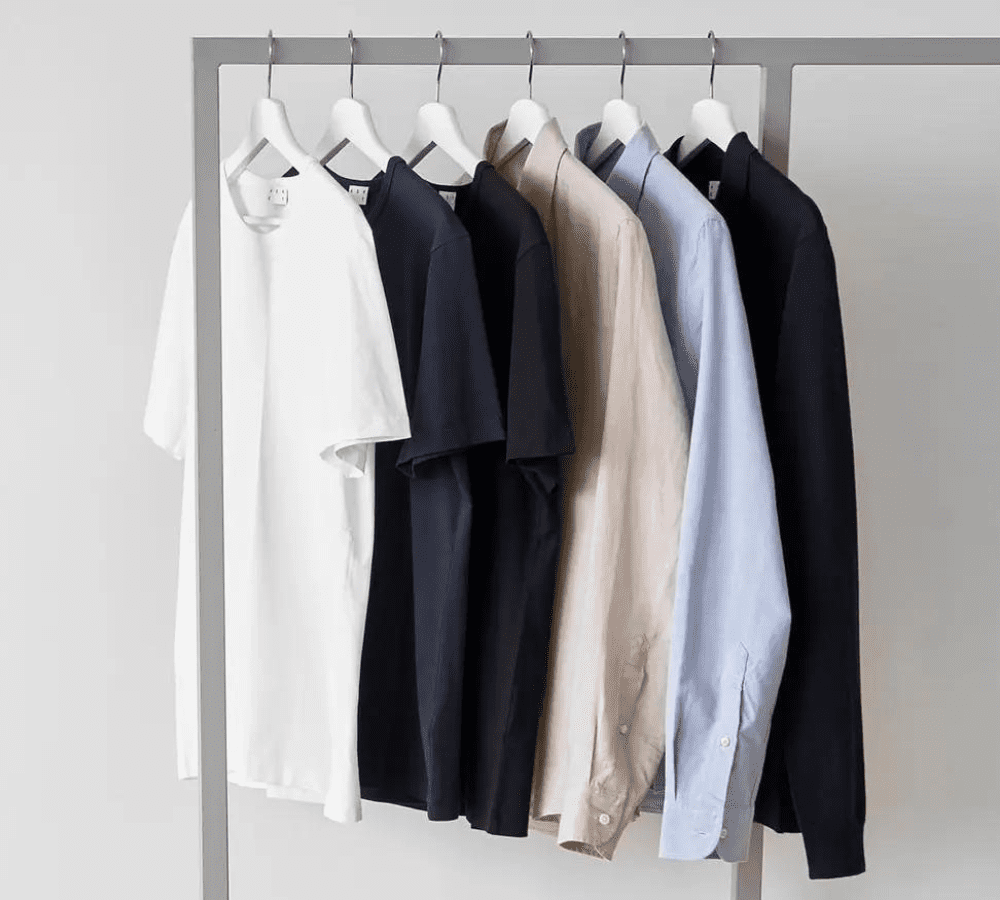 1. Cover The Basics
The timeless staples in any wardrobe are the core foundational pieces that help you build classic outfits. Think pristine white tees, slim-fit jeans or a navy two-button blazer. They work well individually within numerous looks but can also be matched together. The result is a multi-functional wardrobe tailored towards modern life.
Take jeans, for example. Worn as part of a casual ensemble, jeans and a grey loopback cotton sweatshirt might be sufficient for some. But why not take it further and style your jeans with an unstructured blazer or slim-fitting roll neck for something more formal?
Importantly, these foundational pieces aren't trend-led. That means they aren't out of favour 12 months later and need replacing. As such, men need to focus on the quality of the fabric to ensure they last as long as possible. Bypass cheap synthetic materials, as these will likely lose their shape or colour over time. And you'll be back to square one.
Below are just some of our favourite foundation pieces:
Short-sleeved white t-shirt
Slim-fitting blue and black jeans
Brown Chelsea boots
Plain white trainers
Black Oxford brogues
White or blue Oxford shirts
Crewneck merino wool jumper
Navy blue blazer
2. Clear Out Your Wardrobe
Having a wardrobe full of appropriate, usable pieces is essential for men. Often when we have too much stuff, we can fail to see our best pieces and what we never wear anymore.
Our best advice is to remove everything and lay it on the floor. This is the only way you will get a true assessment of what you own. From here, guys should start creating piles of clothing categories you still want to wear. It would help if you were tough. Waiting for that occasion to wear a particular item might never come. Get rid and start fresh.
A cathartic process, clearing out like this, can help destress and make you some money. Why not sell your unwanted clothing on a marketplace like eBay or Vinted.
Be sure to take note of any pieces that may have been cast aside because they need repairing or specialist cleaning. 2023 is the year to either renew or remove. We can all be guilty of putting off hand-washing knitwear items or re-soling formal shoes. Let's take that action.
Post-clear out; your wardrobe will now be full of clothing and accessories you can wear regularly. The result makes it easier to efficiently find and pair pieces together to create better outfit choices.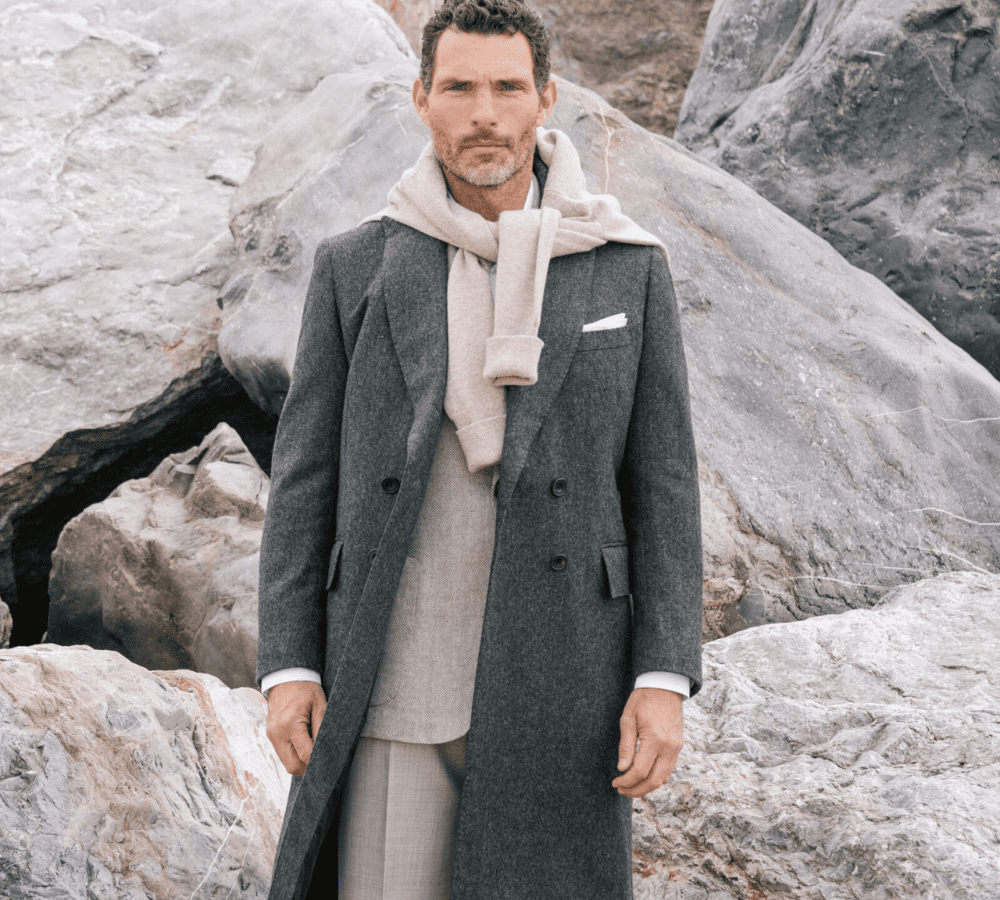 3. Invest In Key Pieces
With a clearer, more manageable wardrobe, it's time to take stock of what you have and need. But before you rush to the high street to fill that shopping void, assess what you truly want out of each piece on your list.
When we take note of a well-dressed individual, we revere the overall polished look. Though, when we break it down, the outfit can be underpinned by some key statement pieces holding it together. How a coat cinches the waist or the cut of formal trousers can transform the final outcome. A statement doesn't always have to be bold and bright.
Take the time to research how different fabrics and styles create varied silhouettes. The fabric (and care thereof), in particular, may be why you spend a little more. Better quality typically comes with a higher price tag. Although spread across the lifetime of that item, it can be much more cost-effective.
As a default, outerwear and footwear will be more of our money spent, aside from, say, a suit. But, considering how much you wear these pieces, shouldn't we spend more, if we will look better?
4. Pay Attention To Fit
Men should always pay close attention to the fit of their clothing to look their best. An ill-fitting shirt, pair of trousers or jacket can easily ruin the entire outfit and make the wearer look sloppy.
As a basic rule, we need our measurements before we go shopping. Not your size from two years ago, right now. Our bodies fluctuate in size and weight. Just take my Christmas break as a good standard for this.
Accurate measurements ensure we can save time by not sending clothing back. No returns make us happier and reduce that purchase's carbon footprint.
Once you have your size down, you are in a good position to pick clothes that flatter your figure. If you are tall, below average or of a fuller figure, there will always be tricks to deceive the eye and create a more presentable look. Learn these, and apply them to your current wardrobe and future purchases.
It is also worth noting that your size may differ from brand to brand. Unfortunately, this results from brands using varied templates when creating products. Head in-store and try on as much as possible. This way, you'll know what brands work best for your shape.
Remember, as a final thought on this matter. Menswear tends to cater for the body average. If you want something more specific, it might be worth introducing the help of a tailor to get the desired look.
5. Make Sustainable Choices
We cannot ignore the effect consumerism has on the planet. Fashion generally uses a ton of resources to produce products in mass quantities. Utilising synthetic fabrics and operating unethically is not something we stylish men should be associated with.
In this regard, we don't mean suddenly hand-making your clothing out of hemp and living off-grid. There are plenty of ways guys can minimise their harm to the planet through making sustainable choices. The first is to look into brands offering sustainable alternatives to mass-market pieces. Companies like Patagonia, Asket, and Veja use ethically sourced materials while paying their workers the correct wages. These brands make it easy for men to pick quality products knowing they are minimising their negative impact on the environment.
However, we can always do more.
Opting for a British manufacturing brand will reduce the carbon footprint of your purchase. While trying to repair loved items before throwing them in the bin can minimise landfill.
To the above, we should always take note of quality over quantity. Fashions come and go, but great style is permanent. Picking timeless pieces as the foundation of our wardrobes will ensure we have clothing that won't go in and out of style. Cared for correctly, they will be dependable year after year.
So, next time you shop for footwear, those Northampton-made formal shoes might be one of the best investments for your wardrobe and the planet.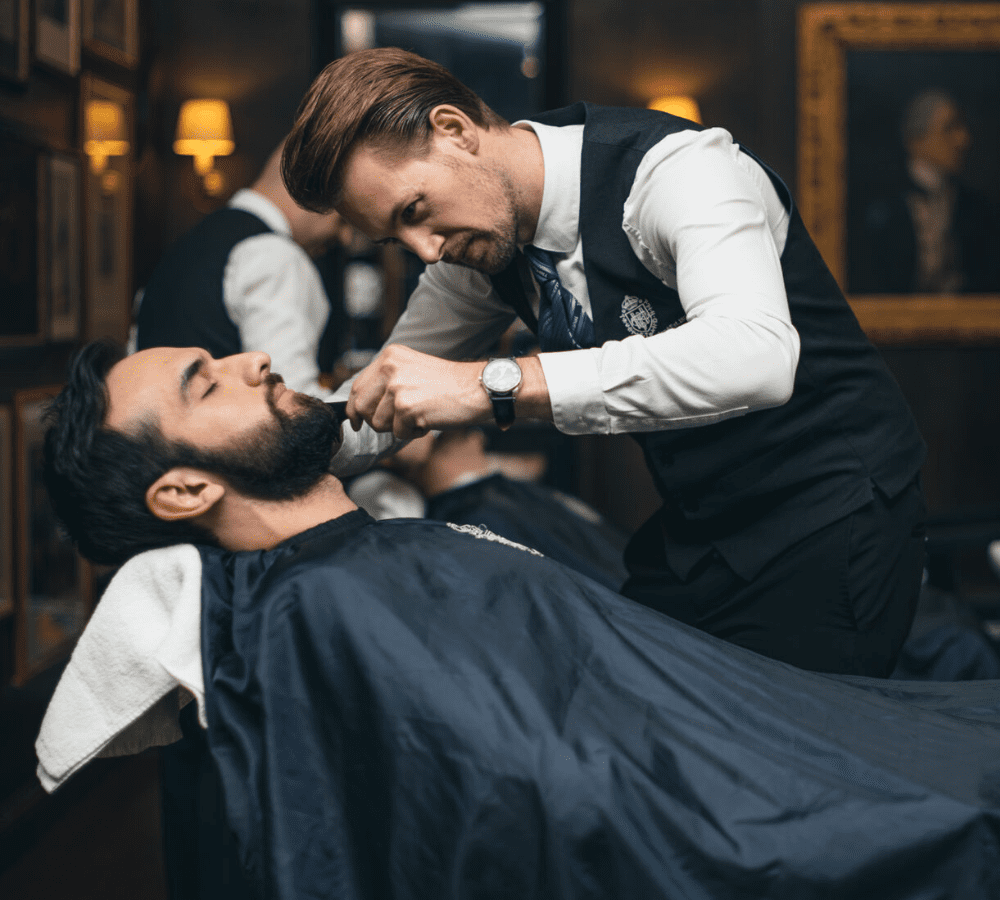 6. Get A Complimenting Haircut
With clothing, our body shapes should drive how we wear most of our clothes. The same could be said for our haircuts. The style and length of our locks ought to be driven by our face shapes.
It can be easy to walk into a barber shop and request a style that imitates your peers or even a celebrity. Though, this might not always be the most flattering. Build up a relationship with your barber on what would look best. They are the experts. Trust them.
Generally, those with long faces shouldn't elongate further by adding height or going too short on the sides. Rounder faces need shorter sides and on top. While there will be nuances, guys can use this as a guideline.
A dodgy barnet or unkempt facial hair can do the same for a look as a badly fitting suit. We want to create a harmonious and presentable facade, including hair and beards. So, pay attention to this and stick to classic cuts that will make you look your dapper best.
7. Decide On A Scent
In caveman terms, the smell is crucial to the attractiveness of men—an invisible weapon in the arsenal of a man's style. Only noticed in close proximity, a great aftershave can lift someone's perception of the wearer.
The smell is a powerful sense, which means a nice fragrance will leave a lasting impression on those you meet. It is also great at boosting the confidence of the wearer. But yet, the majority of men don't wear it.
Not wearing a scent could be due to a lack of understanding around aftershaves and the higher price of entry some brands charge. Combine this with walking any department store's intimidating and "salesy" perfume floor. It is no surprise some men are put off. Though, most mass-produced fragrances from brands like Burberry or Armani are pretty palpable. They are created for a wider market and are not overpowering or offensive for most guys. So, should you want to dip your toe in, you will quickly find a scent you like.
Discovering a more personal scent can be uplifting for the dedicated among you. A perfumer can create a unique fragrance from scratch based on your choice of raw materials. This process can make a nice birthday or even a wedding gift for a couple to identify complimenting scents.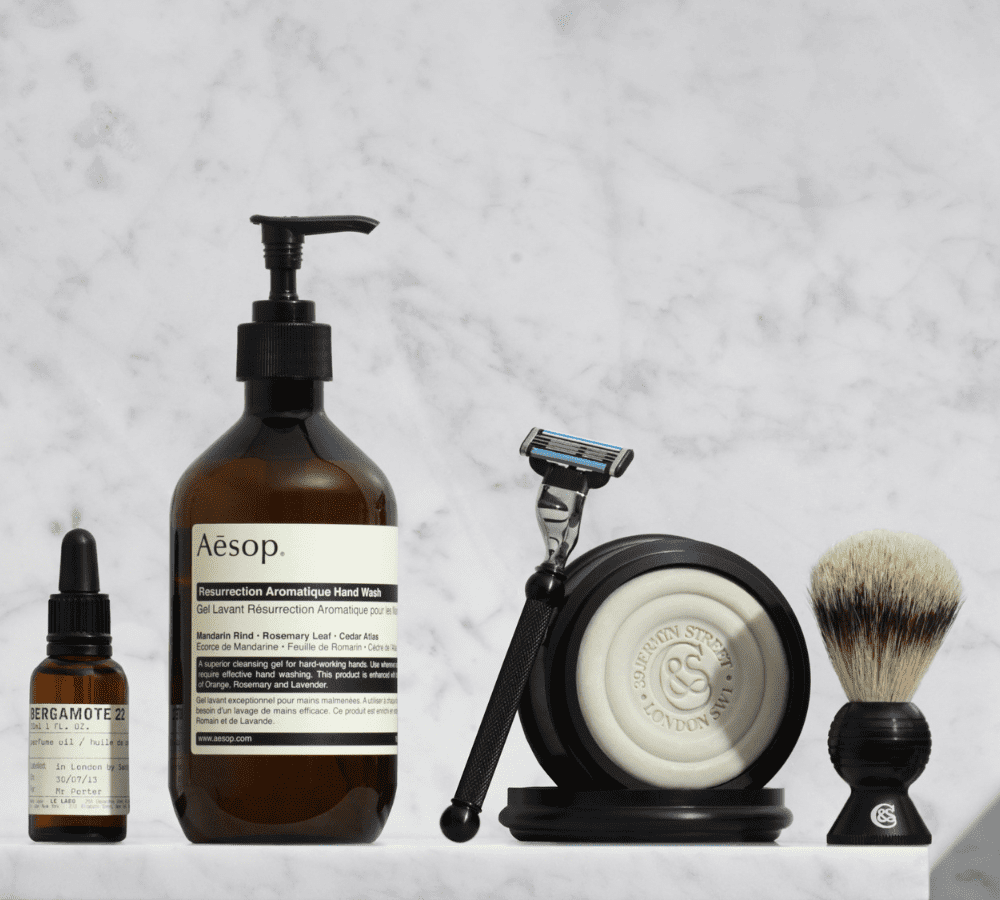 8. Develop A Grooming Regime
No matter your age, it is imperative to have a grooming regime to look your best. Taking care of your skin can help prevent numerous conditions like dull skin, spots and dark circles under the eyes. As men age, we become more aware of skin issues as skin elasticity reduces and fine lines appear. But thankfully, there is always time to make a difference.
Taking action is key, as we can't undo the damage that has already happened. However, we can slow down the ageing process and improve any small issues with some simple steps.
Wash Daily
A deep wash with a cleanser can remove impurities and build-up. Oil and dirt on the skin will lead to breakouts and a shiny complexion. Cleansing the skin is the foundation of your regime, as it creates a blank canvas for other elements to be absorbed by the skin.
Exfoliate Regularly
Where cleansing can admirably wash the face, exfoliating will dig out anything clogging the pores. After using an exfoliator, your skin will become instantly fresher.
This process only needs to be done twice a week post-cleanse. That will be enough to keep on top of any clogged pores and keep your skin looking primed.
Rehydrate With Moisturiser
The skin's ability to hold onto moisture will decline over time. Daily, we should help our bodies by using a moisturiser on clean, dry skin.
A moisturiser can be particularly beneficial for those men with dry patches or skin conditions like rosacea. If you don't have these issues, a moisturiser in the morning and evening can restore nutrients and moisture lost during the day or night.
Use Suncream
We tend to pigeonhole damage to the skin as only sunburn. But harmful UV rays cause premature ageing by weakening collagen, speeding up the effects of growing old that are already inevitable.
Sun cream can be worn daily, at all times of the year. Ludicrous as it might sound, the sun doesn't disappear after summer. The sun's rays can still be harmful without being as strong as in warm months, so seek a moisturiser that includes sun protection—that way, you will get that safeguard against the rays.
9. Ditch The Sweats
Athleisure is seemingly in your face at every turn; it doesn't mean you have to succumb to it. We agree with pushing the boundaries of sartorial rules and mixing mediums, but we draw the line at leaving the house in sweatpants.
"Sweatpants are a sign of defeat. You lost control of your life, so you bought some sweatpants." - Karl Lagerfeld
This quote might be a little extreme from Mr Lagerfeld. However, the simplicity of chucking on a pair of sweatpants does lean towards the lack of a measured approach to the outfit.
Working from home requires a certain level of comfort, and sweatpants can be a welcome choice when there are no Zoom calls. How about we swap them for something more polished before leaving the house in 2023?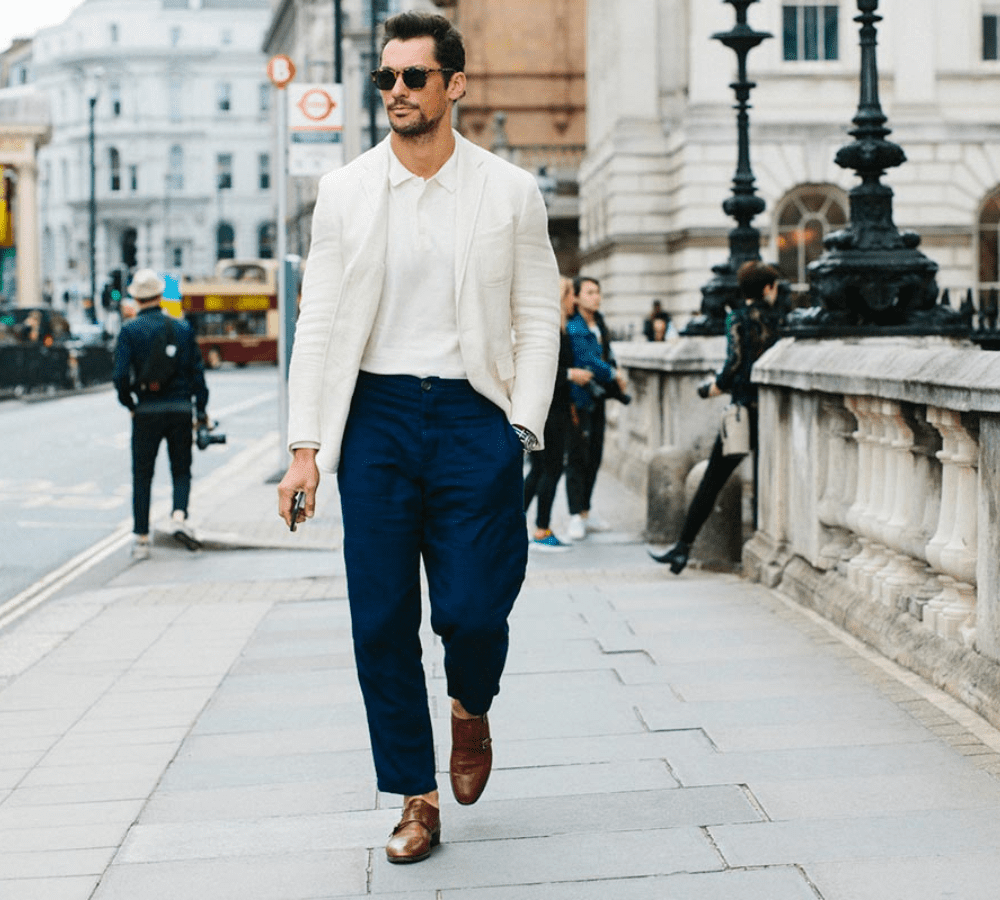 10. Mix Up Your Tailoring
Post-pandemic, men have looked at their outfits and particularly formal choices in a new light. You might only be heading to the office once or twice a week, so getting less wear from your suits. Even in the corporate space, attitudes toward how men should dress have shifted. But that does not mean we must eliminate our "whistle and flute".
By experimenting with how we wear our formal items, we can breathe new life into them—introducing separates, for example, or swapping formal elements like a shirt for something more casual like a polo shirt. These small tweaks collectively can add to a fresh new approach to formal dressing.