Fashion has a funny way of looking at past trends with derision only to then embrace a few turns of the style wheel later. The 1990s is the latest era to get the full designer overhaul.
As someone who grew into adolescence during the 90s, it would be easy for me to shudder at the thought of stepping back into any of my old looks. But, with a zoomed-out perspective, there was much to admire about this decade. From a musical angle, it was the years that brought us bands like Nirvana, Oasis and Blur and it is an aura of rebellious angst that found its way into fashion.
Overall the fit of the clothing in the 90s became much looser. Clothing broke away from the restrictive formal silhouette and fell headfirst into a more relaxed aesthetic. That meant baggy jeans, shirts tied around the waists and oversized tops. Even suiting had wider shoulders and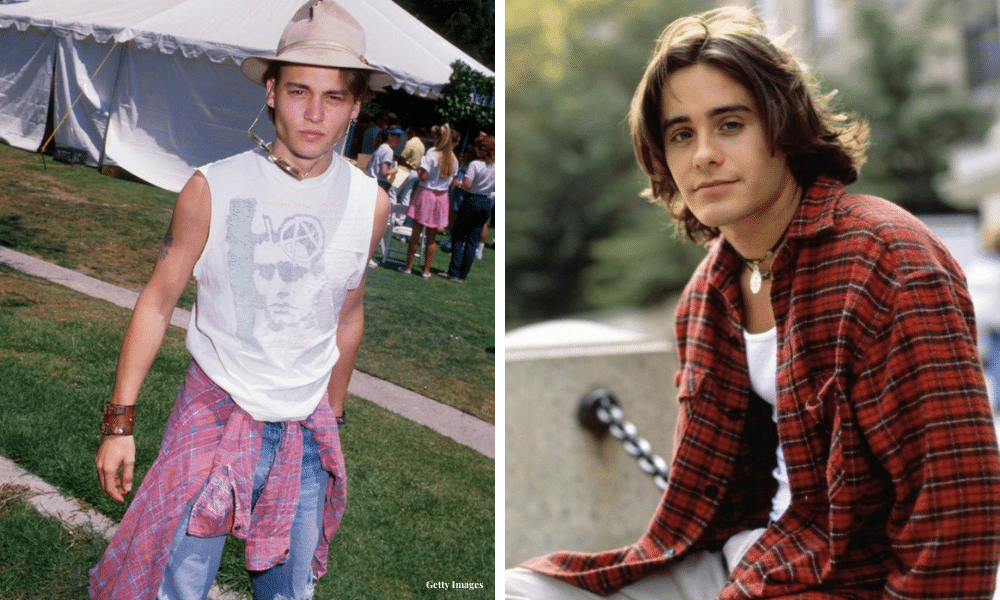 Flannel Shirts
Flannel shirts were a staple of any grunge-obsessed music fan. Worn by bands like Pearl Jame and Nirvana, they were always a size or two too big and tied around the waist for extra grungie style points.
The grunge music and style was a modern rebellious ethos for the youth. Unlike the more aggressive punks or rockers of decades before, the 90s archetypal heroes of grunge were typically musicians or actors. Delve into the style archive of a young Johnny Depp for inspiration.
You will find flannel shirts are still as readily available as they were back then. The style though has become more fitted so go a size up. A flannel shirt would look great with some slim-fit black jeans and a leather jacket.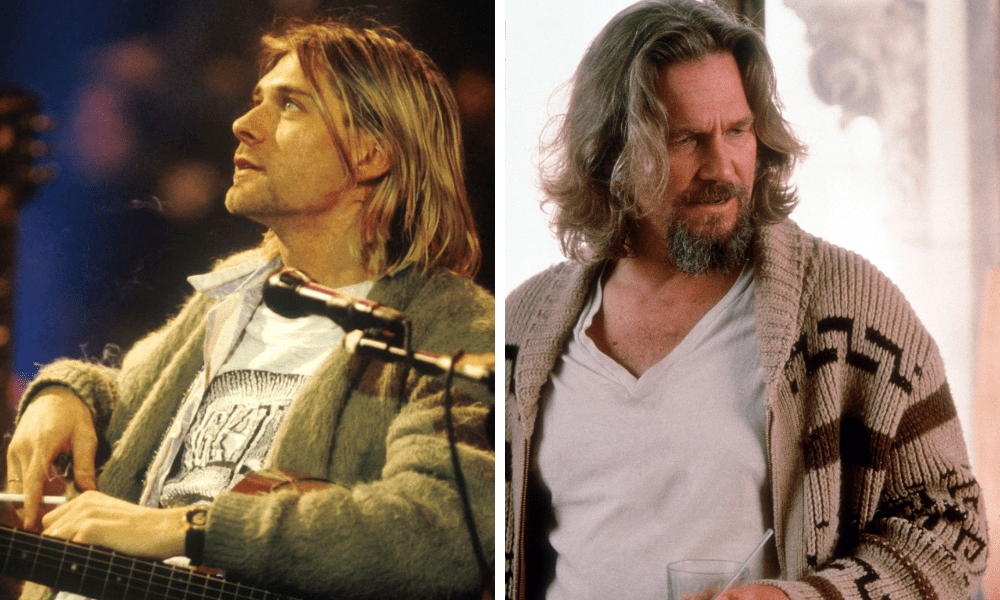 Vintage Cardigan
Nothing gives a grunge-inspired two fingers up to consumerist society than a cardigan that looks like it has been hanging on the rails of a charity shop. You don't buy into brands and this mohair cardigan is proof.
Teenage-angst aside, the cardigan is not something only old people wear. It is versatile and practical, easily integrating into either smart or casual outfits. For true 90s style, we are going more casual than smart.
With most fashion from the time, it was all a little baggy. So something like the Cowichan number made famous by 'The Dude' in Big Lebowski would be spot-on. It is bold and would look great with a pair of light blue jeans and a simple white tee underneath.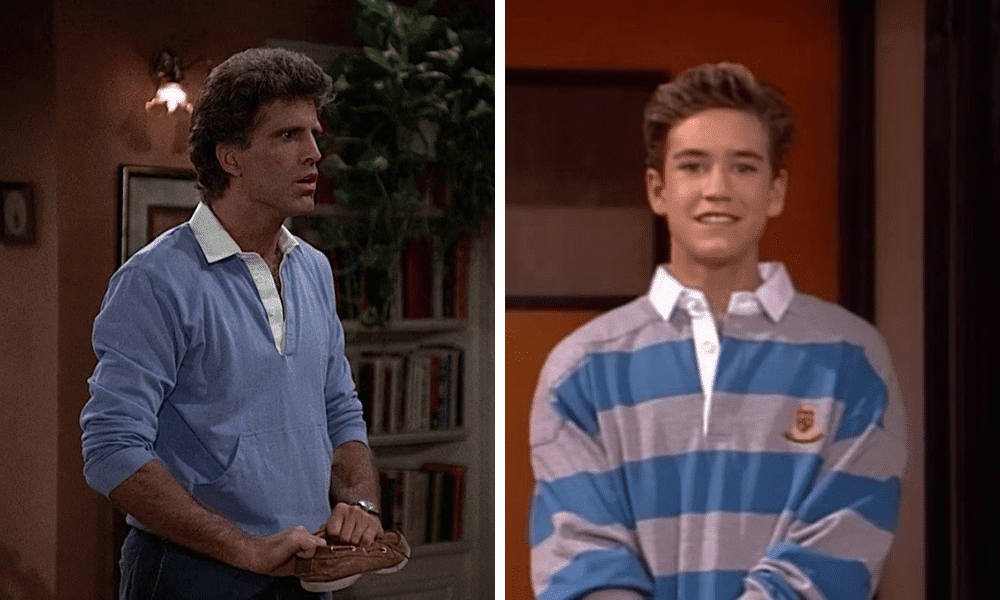 Rugby Shirt
Thankfully brands like Kent & Curwen have made it much easier to get our hands on this relaxed-fit, long-sleeve alternative to a polo shirt.
The typical looser fit of a rugby shirt means it will naturally dovetail in streetwear but it can be worn slightly more fitted if that is more your style. Either way, the traditional bold stripes of the item can elevate your wardrobe without pushing you out of your comfort zone.
We like to pair our rugby shirts with light-wash denim and trainers. Even adding a blazer if the mood takes us.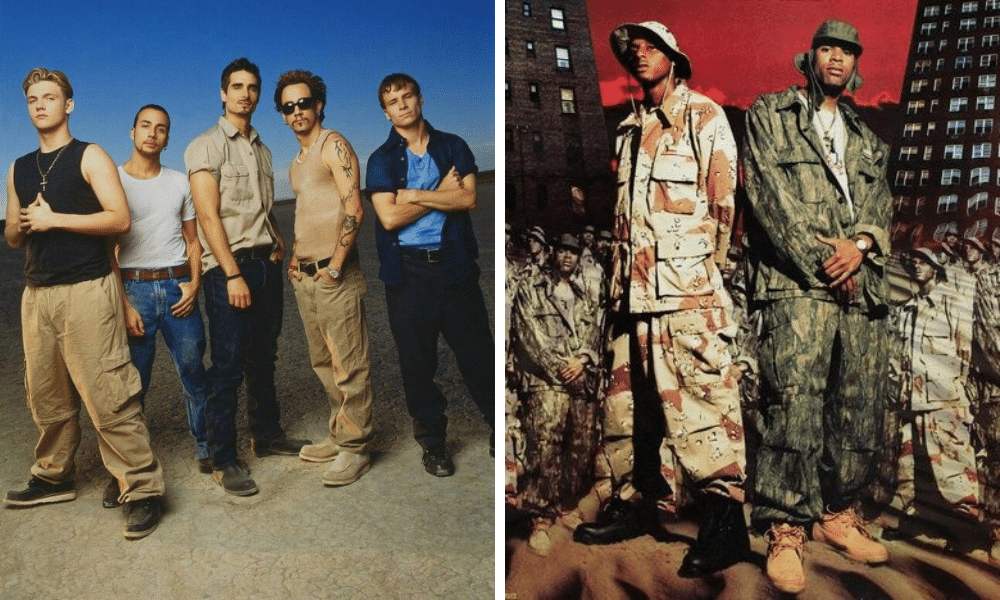 Cargo Trousers
The current menswear mood for utilitarian design has seen a resurgence of late for the cargo trouser. Like with denim, in the 90s, cargo trousers were worn loose and you can look to pop groups like Backstreet Boys or N-Sync to recreate the style.
Recent incarnations are a more favourable fit with tailored designs giving it a contemporary and modern feel. It's the additional pockets on the side of cargo trousers that can offer something different to the majority of bottoms in your wardrobe. As such, they can be a nice alternative to chinos.
Denim
Denim manufacturers must have had a field day during this decade. From double denim to baggy jeans, the material was everywhere and in large quantities. In the 90s, hip-hop and skateboard culture was getting us to embrace a wide-leg aesthetic which was a direct alternative to the more regular-fit designers like Ralph Lauren were pushing.
Although both wide and regular were present, we are leaning towards the latter for our 90s inspo. Lighter washes of blue were the toast of the day, so stick with that and add a fitted oxford shirt on top. If you want to go full-on Jerry Seinfeld tuck the shirt in but approach with caution.
You may be forgiven for thinking that with everything going on in the world, that the fashion world might be taking a break. But, this industry never sleeps. Catwalk shows have been replaced with Zoom presentations and the conveyor belt of menswear trends continues to roll into production.
Thankfully for spring-summer trends in 2020, we can look back to pre-COVID shows for our inspiration. As with all fashion shows though, there are looks for street style aficionados or magazine editors and there are looks for the everyday man. I'm not sure those reading these pages will be too impressed with us recommending sheer tops and leather trousers from the likes of Saint Lauren or Dior.
This list of menswear trends is fresh from the catwalk, but we feel you can seamlessly integrate them into your current wardrobe. Our picks also include trends that we foresee hanging around longer so that you aren't replacing them in three months.
Co-ord Outfits
This trend is about matching the top and bottom in the same print symmetrically or asymmetrically. If you are lucky enough to get away this year then effortlessly embrace this trend with matching swim shorts and a shirt.
We know bold floral patterns might not be for the faint-hearted. So, other incarnations in the shows we saw included matching jogging shorts and sweatshirts. But, this trend can be as simple you want it to be, even just matching plain coloured shorts with the same t-shirt. It's about how it works best with your current wardrobe and style preference.
Cargo Trousers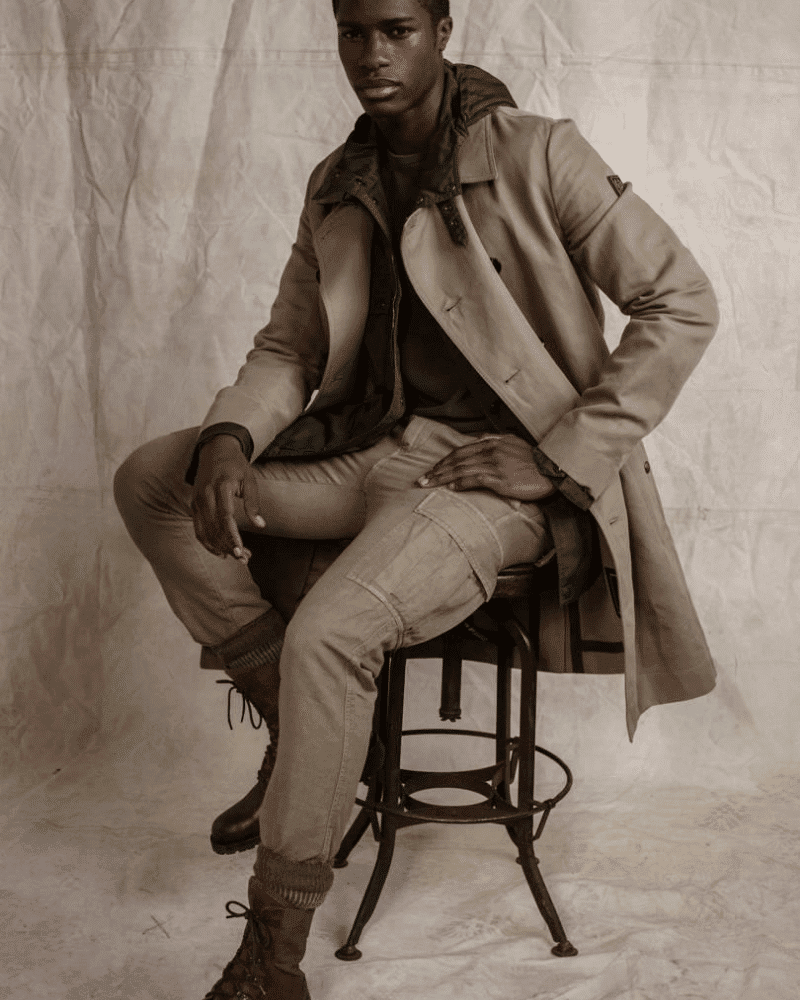 There was a utilitarian theme running through a range of shows. It is a twist on the military trends of the past few seasons and involves pockets, a lot of pockets.
If you don't want to go head-long into the utilitarian trend by rocking a boiler suit the cargo pant is your soft entry. We recommend going for a relaxed feel by wearing with super soft sweaters or a colour block knit.
Camp Collars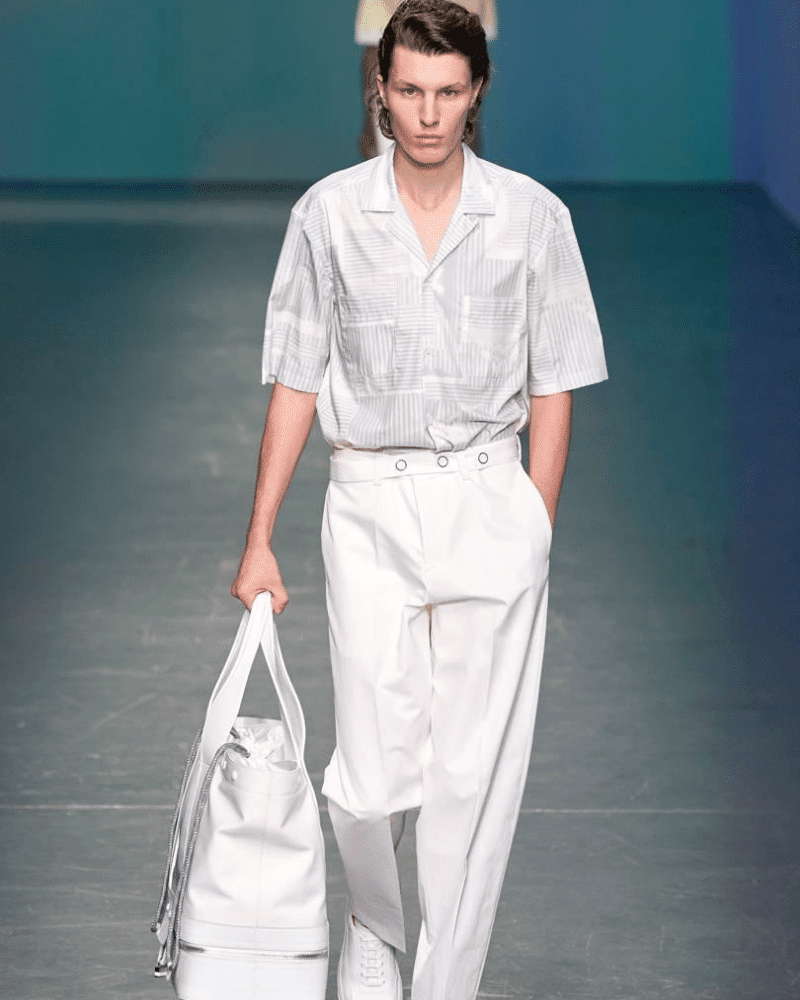 The copious amounts of open collar shirts for men show no signs of waning in these warmer months. Whether it be floral Hawaiian shirts or colour-blocked bowling shirts this movement is everywhere from designer to the high street.
A camp collar refers to the one-piece collar with pointed peaks normally found on short-sleeve shirts. There is no structure and the collar sits flat on the shirt itself.
With so many options on the market for men, you can easily work this into a range of looks. Pair a printed shirt with jeans for a rock n roll style feel or with chinos for something smarter casual.
Pinstripes
No longer the uniform of London bankers and imperious rich financial figures on the big screen a-la Gordon Gecko. The pinstripe is having a resurgence. With designers playing with the fit and normalised styles of suits, it seems only appropriate to modernise the traditionalist pinstripe.
In the menswear shows the stripe was manipulated by being included in wraparound jackets or by simply including a squiggly instead of straight pinstripe. We would still throw out some caution when looking at the pinstripe suit. An alternative is to introduce pinstripes in the bottom or top half of your outfit alone.
Autumnal Colours
Surprising to see, there were a lot of autumnal colours being used. A juxtaposition to the softer shades we are accustomed to in spring-summer shows. The autumn colours took the forms of burgundy and warm oranges.
This should be fairly straightforward to introduce into your summer wardrobe. The likes of Etro and Canali used it through their suiting. But, there were knits and transitional jackets also bearing this trend. These autumn tones can be great for layering pieces so when the inevitable change in weather happens, be prepared with this on-trend colour palette.
Double Breasted
A double-breasted blazer might be the opposite of what you want to wear on a warmer day in summer. But, at the menswear shows, we saw a trend for a softer double-breasted.
Sitting more off-centre, the buttons are different from your more typical double-breasted wrap. The result is a boxier silhouette which allows more movement and aeration. This makes it a better fit for summer than the other double-breasted jackets in your wardrobe.
A natural partner to the softer double-breasted suit jacket is its matching trousers. But, the more style confident among you might want to see how a looser fit trouser in a complimenting colour would look.