We all know men's sunglasses are an essential summer accessory. They come to the fore during the warmer months, of course, but the UV protection shades offer to our eyes all year round should be key no matter the temperature.
As a menswear staple, it means there is expectedly a myriad of styles to choose from. You can stick to classic frames that offer modern men as much timeless style as they did to Steve McQueen or Cary Grant in the past. Think wayfarers or aviators. Or, for the more adventurous gent, sunglasses can transform an outfit through a careful choice of colour or frame design.
Whichever way you are swinging when it comes to sunglasses, some basics need to be covered first.
The UV protection that your new frames deliver on is paramount. Cheap sunglasses or those that are all style and have no substance could have a detrimental effect on your eyes. Always choose shades that offer maximum protection against UV rays no matter whether it is winter or summer.
Next, is making sure that your new sunglasses look good on you.
What Sunglasses For My Face Shape?
The key thing to remember when selecting sunglasses is to seek out those that compliment your face shape. Distinctive elements of our faces should lead us towards the correct frame colours or shape.
With a plethora of online shops to choose from, understanding more about what suits your face type will lead to less buyer regret and wasted trips to the Post Office. Here is a brief overview of what to look out for dependent on your face shape.
Square Face
For this face shape defined possibly by a strong jawline, you want to soften features. Men can do this by opting for sunglasses with soft curves like round frames.
Think about materials as well. A thinner construction made with metal will help to reduce the impact of a broad forehead or cheekbones.
Heart-Shaped Face
A heart-shaped face has the look of being broader at the top and more narrow at the chin. Choose frames that can add a balance to the width of the chin, so avoid top-bar sunglasses which will draw the eye to the top half of the face.
A tear-shaped lens will only mimic the face shape, but rectangular frames with curved edges could look great.
Oval Shaped Face
Oval shaped faces are longer than they are wide. In this case, men need frames that won't elongate or narrow the face. Larger frames like aviators should be avoided as should rectangular sunglasses.
Our pick for this face shape would be to go for more of a tear-shaped lens option.
Round Face
Those men with prominent circular features, need to add some structure and definition. To do this, pick frames in a square or rectangular shape.
Thicker frames will help to deliver that sharpness but you can soften slightly by choosing dark brown or tortoiseshell options. Lenses or frames that are too dark could add harshness and the opposite effect to the required subtle definition. A dark brown frame with a gradient lens could be a winning combination.
Helping you navigate the choppy waters of sunglasses shopping, we have pulled together our favourite eyewear choices for 2022. This list will cover different frame shapes and varied colourways and designs, so there is bound to be a style that fits the bill.
Read on to find your next pair of frames.
Rounded Sunglasses
If you are a man who owns more than one pair of sunglasses, then round sunglasses are a great way to mix up your summer eyewear options. They suit square and even diamond-shaped faces softening jawlines or striking cheekbones nicely.
This style was popular for men in spectacle form in the 30s and 40s. But, round sunglasses hit the mainstream when they were adopted by the music stars of the 60s and 70s.
Get your hands on a metal or acetate version and get ready for a summer of love.
Ace & Tate
Acetate frames in a bold cashew colour accentuate these retro-looking sunglasses. Composing a wider frame style, these shades are distinctive, yet with a minimalist feel. Ideal for lazy summer days in the sun.
Cutler & Gross
Handmade in Italy, these sunglasses are an updated take on a classic round frame. Be prepared for an oversized fit when wearing as the wide temples will swallow the face of those with a smaller head shape.
Taylor Morris
This brand has blazed a trail in the men's eyewear game. These sunglasses have an oversized round frame with a classic keyhole bridge and are sure to be your go-to pair for everyday use.
Ray-Ban
This is a statement pair from the iconic eyewear brand. These shades have a double bridge and flat flash gradient lense helping to create a new classic Ray-Ban design with contemporary appeal.
Coloured Sunglasses
During summer our clothing hues become lighter and we are more inclined to reach for a bit of colour in our outfits. Now there is no reason not to brighten up our eyewear as well.
Protecting the longevity of the products we buy is a very important factor. The kneejerk reaction to colour is that it will soon end up at the back of the closet, never to be worn again. A carefully considered option though could just be the revamp your sunglasses collection needs.
Bold, in-your-face colours can be jarring, not to mention difficult to match clothing with. Try and find similar palettes to stronger primary colours instead. For example, to replace yellow, you might choose honey, or burgundy instead of red. This way you get colour without making too much of a statement.
The Bespoke Dudes
Taking their roots in bespoke clothing and applying them to accessories has enabled TBD to create exquisitely made frames with an Italian flair. Handcrafted by artisans in Cadore, Italy, they offer 100% UV protection and come in a beautiful honey and blue colourway.
Monc
Inspired by the Helsinki arts district, these rounded bio-acetate frames have scratch-resistant lenses. Made in Italy they are the perfect blend of contemporary Scandinavian minimalism with the expert craftsmanship we expect of Italian manufacturing. The dash of green makes them a standout summer pick.
Mango
Made from sustainable materials, these 100% UV protected sunglasses have a frame manufactured from 98% recycled polycarbonate. Lightweight and stylish, Mango's blue shades are bound to be head-turning for all the right reasons.
Garrett Leight
For those familiar with the P3 silhouette, this is a fresh update for 2022's spring-summer collection. A cured cellulose acetate frame houses semi-flat mineral glass lenses with UV protection and AR coating in semi-flat pure Rosewood.
Aviator Sunglasses
The classic aviator style sunglasses have been around for donkey's years. Also known as pilot's glasses they have endured an up and down relationship with fashion. Seemingly in or out of style depending on the year, they still offer men a timeless option if done right.
Modernised tweaks to the classic shape are key to keeping the style contemporary. Play with frames or lens colours to wrestle these sunglasses from Top Gun connotations. Brands have been showcasing aviators in gold or even patterned acetate frames with blue lense tints to freshen things up.
If you want trendier versions, then an additional brow bar can help nail this season's fashions.
Tom Ford
To reduce glare, these Tom Ford shades come with polarized lenses. This improves vision and clarity without succumbing to potentially harmful UV rays. Made in Italy, a rose gold frame juxtaposes nicely with the darker lenses to create a contemporary aesthetic that we have come to expect from Mr Ford.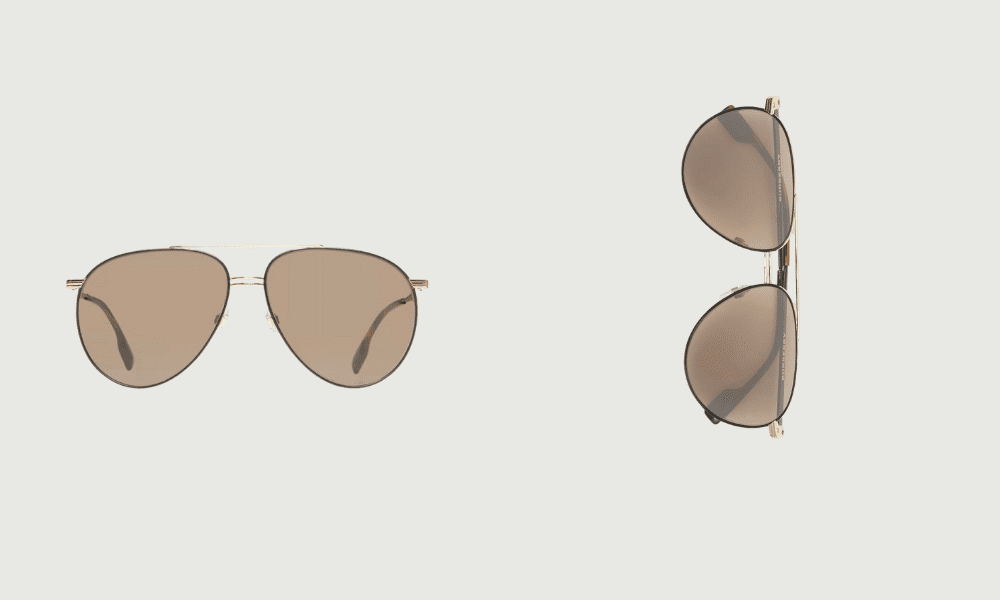 Burberry
With gold tones and handpainted enamel, these Burberry shades aim to refresh the typical pilot frame. The tortoiseshell acetate flows nicely with the metal frames allowing for a comfortable and stylish presentation.
Ray-Ban
The original and iconic manufacturer of pilot sunglasses, Ray-Ban aviators are still as timeless as they were back in 1937. A narrow fit means these frames will fit a wider range of men while the gold metal and black lense ensure these remain modern and fresh.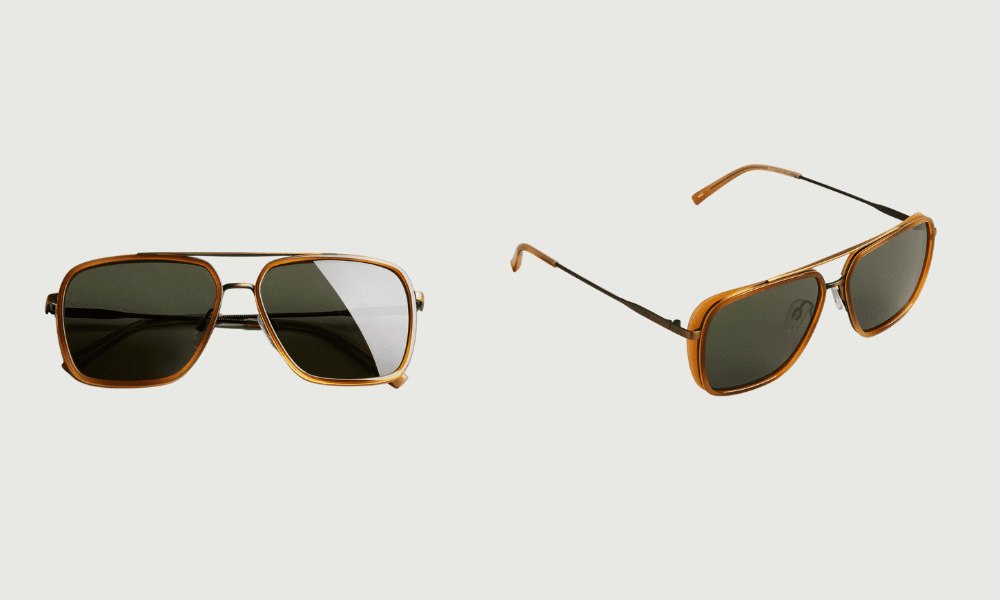 Ted Baker
A nice alternative to the traditional pilot frame shape with a squarer aesthetic, these make for a more streamlined look that would suit those men with slightly rounder faces. Tortoiseshell is always a great colour pick for summer and has us dreaming of lazy sunny days already.
Top Bar Sunglasses
Men who like their eyewear to be a bit different could do worse than look at a top bar pair of sunglasses. Incredibly distinctive they won't suit all guys, but those that can pull it off will give themselves a bold summer choice.
Originally, top bar or brow bar sunglasses were typically all acetate and therefore a daring choice. Now though, brands have softened the look by mixing acetate with metal to create a more palpable pair.
We recommend sunglasses that have a metal temple arm (on the side) and a brow bar with acetate rims. That way you are picking sunglasses that you are more likely to wear with a mix of outfits. But, if bold is your middle name, then smash this look with an all acetate frame for some vintage vibes.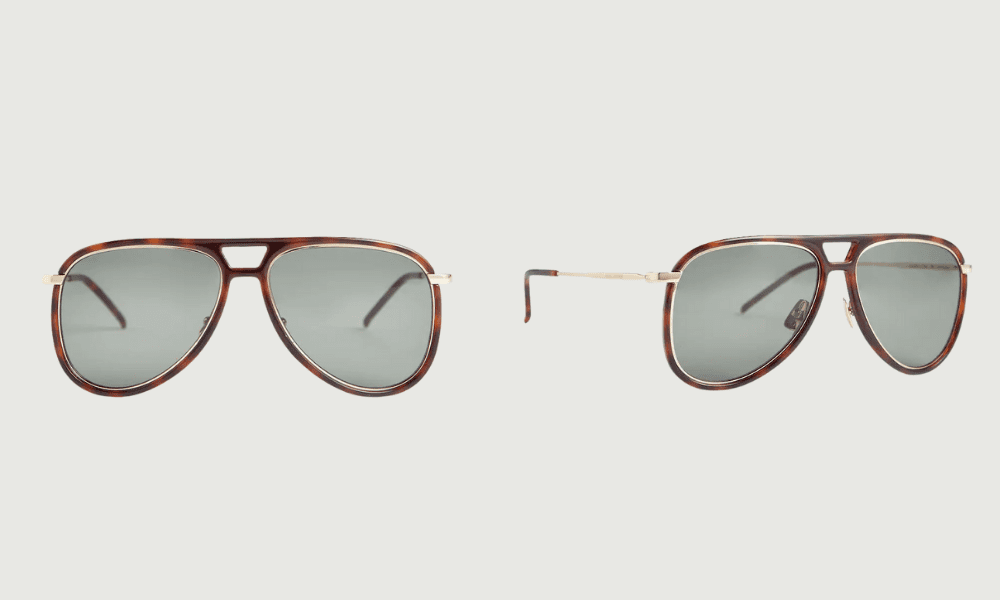 Saint Laurent
The double bar detail of these Havanna brown frames are finished with metal arms. Made in Japan, the green tint of the lenses add a nice contrast to the tortoiseshell and will have you living your best 70s inspired life in no time.
Kirk Originals
With teardrop lenses, Kirk Originals have brought to the fore a statement pair of sunglasses. A raised top brow adds definition while the triangle double-bridge elevates the design and will have your mates asking where you bought them. These are frames that are bold and confident. From a London brand to boot, we salute!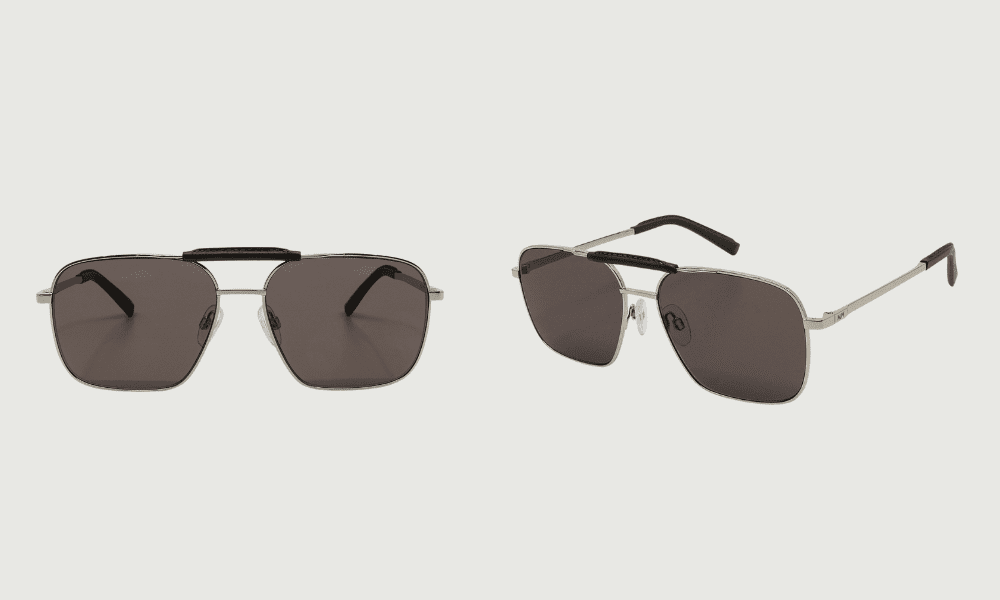 Messy Weekend
Adorned with a brown stitched top bar, the Ari frame from the Danish brand Messy Weekend adds an eye-catching touch to these oversized lenses. A twist on a classic design, they are not too far removed that men would find it difficult to approach.
Bask in the Sun
With the use of ethical materials and production, this casual menswear brand is able to back up its laidback vibe with sustainable pieces. Crafted in premium Italian acetate, the Karma sunglasses have us dreaming of coastal walks in the sun.
Geometric Sunglasses
The angular shape of geometric sunglasses is ideal for men with circular faces. So, if your face is on the round side, you can stand out from the crowd with a bold new pair of eyewear.
To make sure the look doesn't appear too fancy dress, choose thinner frames and keep the colours subtle. Also, don't get carried away with anything oversized as this could add too much juxtaposition with your face shape.
Geometric sunglasses are a fearless choice for 2022. For any men looking to make a statement this summer, these are the frames for you.
Dolce & Gabbana
Ideal for those men with an oval face shape, these Dolce & Gabbana shades are not for the faint-hearted. These though are not a case of style over substance. They featured polycarbonate lenses that are impact-resistant and lightweight while being durable enough to repel water and dust. All while keeping a high clarity.
Ahlem
With a nod to a 1970s style, Ahlem aims to create products that have a timeless connection with the era that inspired them. Made with gold plated frames, the angular shape makes them modern but close enough to an aviator style that men can still wear them season after season.
Oliver Peoples
Manufactured in Japan, we love the vintage feel to these geometric sunglasses. The frame is crafted from titanium for a robust but minimalist look and partnered with photochromic brown colour lenses. Adding a further nod to the past is the adjustable pearl or crystal nose pads that will create a luxurious comfort when wearing.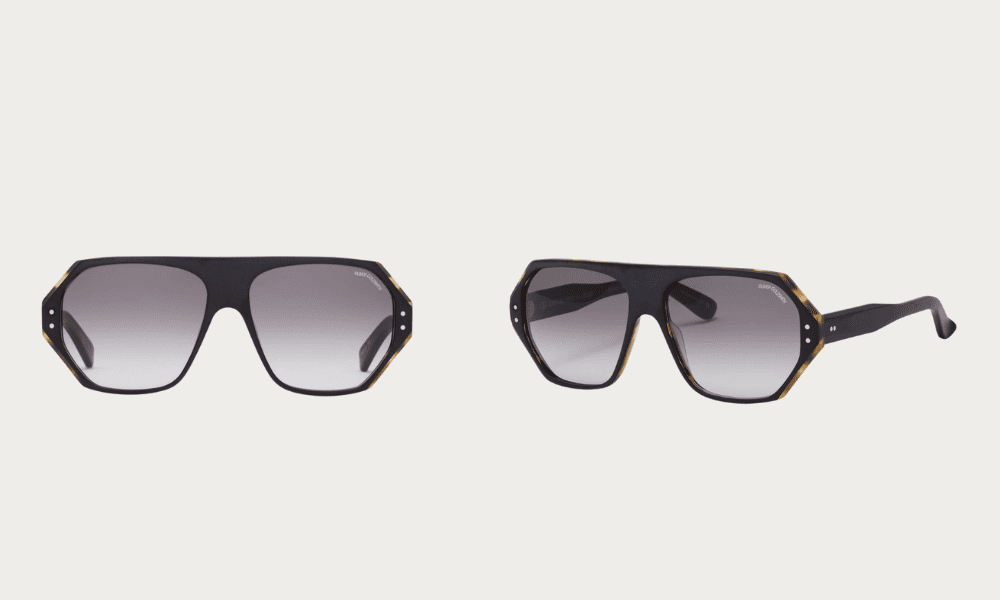 Wolf & Badger
Handmade by artisans in Italy using premium acetate, these sunglasses have all the swagger of 70s celebrity style. The angular frames are accentuated by the linear top line making them a formidable option for the summer months.
Making sure you are adequately prepared for winter is more than just taking the winter coat out of the closet. Men need to invest in additional accessories that are both functional and practical.
The ideal choices should provide great warmth and weather protection but offer an opportunity to either upgrade or complement the clothing you wear with them. Just because winter is here, doesn't mean men should lose any of their style credentials along the way.
Winter brings with it a mix of weather, so have accessories that won't let you down. Our list of must-have winter pieces will stop you feeling the brunt of the colder temperature and shelter against downpours, all while ticking all the sartorial boxes. From ankle hugging thick gauge socks to rain repellent bags, these are our picks of the accessories we have in our cold-weather wardrobe.
The Beanie
Yes, other hats might look more dapper, but a beanie will hands-down offer the best warmth of any men's hat available. And if styled correctly, it can work into any outfit you are choosing to wear.
Not all beanies are created equal. The key is picking an item that suits your face shape and is crafted from breathable material to minimise overheating. Fabrics like merino wool and cashmere will do the job admirably.
Why not take the opportunity to input some colour. A beanie will be a great way to balance brighter outfits or even make a head-turning statement by itself.
The Gloves
When shopping for gloves, there are two main options for men. The traditional wool / wool-blend / cashmere glove or the more demure leather style.
Both wool and leather will deliver insulation to those frozen fingers but their practicalities are varied. Whilst being the warmer, wool gloves can often become restrictive for men using a pen or smartphone.
Leather gloves on the other hand give more dexterity but the style can be jarring to some. The way to make you look more sartorial astute than serial killer is by making sure it works within the overall aesthetic. By nature, leather gloves are more formal so work better with similar clothing like suits and smart overcoats.
The Scarf
Despite being one of the most simple items in a man's wardrobe, we cannot ignore how practical a scarf can be. This modest piece of fabric has the innate ability to help keep us warm whilst giving men a blank canvas to add some much-needed personality on a drab day.
Worn wrapped around the neck or draped just under the lapels of an overcoat why not add a splash of colour or pattern. Its slightly subdued appearance in a layered outfit means it can take onboard colour and pattern without overpowering the overall look.
The Thick Socks
As we move into colder weather we should be adding more depth in all departments and this includes socks. Thin cotton socks are comfortable but they won't offer any protection against a biting wind.
Upgrade to a thicker gauge. Not only will it keep you warmer if you are wearing trainers or formal shoes but chunkier socks will stop boots from uncomfortably rubbing.
The Waterproof Bag
It is not only your body that should be kept dry, the same should be said of your belongings. The last thing anyone needs right now is a rain-soaked Macbook, so keep work or personal paraphernalia dry with a durable waterproof bag.
As with your normal work or weekend bag, the same functionality and comfort credentials apply. The only difference is you are dismissing fabrics like a thinner canvas that disperses rainwater throughout the contents of the bag.
The result, no damp notepads being pulled out during that important business meeting.
The Umbrella
Like day follows night, it is inevitable that we will be faced with downpours during winter. Ensure you are equipped for a surprise rainfall with a good umbrella.
After putting so much time and effort in buying the right clothes and creating the best outfits. It would be a shame to ruin it by trying to protect yourself with a cheap supermarket umbrella.
Spending a bit more money on a better-constructed umbrella will get you an item that will not only keep you dryer in more blustery conditions but can last decades longer than cheaper alternatives. By choosing brands like London Undercover or James Smith you are receiving a statement accessory sustainably made from quality-sourced materials. Also, the price means you will look after it better, so no realisations of it being left in the pub the morning after.
The Lint Roller
With the influx in cold weather, men adapt their wardrobes to use fabrics that will keep us warmer. That means materials like wool, cashmere and shearling become part of our daily ensembles.
Thicker, warmer fabrics used within layering can often leave our other pieces with stray remains. The most stylish men know that the finer details need to be accounted for. So, use a lint roller before leaving the house to keep roaming fibres at bay.
The Shoe Tree
Your finest dress shoes need special attention to keep them in tip-top condition. In winter with rain, mud and even snow, we need to ramp up our commitment to ensure they maintain their presentable best.
Alongside regular cleaning and polishing, men should insert a shoe tree when formal shoes are not in use. Cedar shoe trees are highly absorbent and they will draw out the moisture in the leather that has built up over the day from rain or snow.
The result from using a shoe tree is fewer creases or cracks in the leather while the formal shoes will maintain their overall shape for longer.
The Long Underwear
The functionality of thermal underwear is a god-send in winter. Not only will they keep a larger portion of your body (the legs) warm, they are also very comfortable.
A key art to layering is to not mess with the silhouette and fit of the outfit. By warming out of sight, below your trousers, long underwear is a secret weapon for the most stylish men. When worn with formal trousers, they enable gents to remain smart and warm without having to pile on thick layers on our top half.
The Sunglasses
We are all aware it is important to protect our eyes from harmful UV rays in the summer but, it is just as prudent to protect them in winter. In winter UV rays can still be strong despite the sun sitting lower in the sky, even being reflected of water, snow or ice.
Protect your eyes and the sensitive skin surrounding by picking up a pair of winter sunglasses.
Did you know the tint of the sunglasses is not what protects you?
A chemical layer on the lens is the crucial ingredient for reflecting harmful ultraviolet rays. This is present not only in darker tints but lighter versions as well and it is this more delicate tint that tends to work better with everyday winter attire.
A men's dress scarf can easily divide opinion. Some might see it is as overkill, while others will see it as a rakish accessory for the most stylish of men. We are definitely the latter.
The dress scarf is a great way to some distinctive personality to your daily outfit choice. A flash of colour or pattern can offer some light relief, especially in colder months when the tones on show become muted.
What material to choose?
The material of choice for your dress scarf will change subject to the occasion and ensemble but can be fairly fluid. When wearing with a tuxedo you should always be wearing a silk version. Other than that, there is movement and it can come down to personal preference.
I believe if you are wearing beneath a coat then it should be cotton or very light wool. Just the idea of wearing a coat implies it is colder, so silk would be too much of a juxtaposition. Silk would work well in the summer months adding a splash of colour beneath a lightly toned linen blazer.
Tips for wearing a dress scarf
The key to wearing a dress scarf with distinction is to abide by its nonchalant movement. It should be worn loosely around the neck, not like your typical wool scarf. Although it has some warming properties dependent on the material choice, it is about an understated hint of sprezzatura.
So whether it is beneath a piece of knitwear or peeking out from the lapels of an overcoat it is unabashedly going about its own business. It may have the name of 'scarf' but it isn't going to be put in the same category as its functional wool cousins.
Sticking with the notion that it shouldn't be tied in knots. I would add that tieing it in a cravat style and wearing beneath a shirt is a no-no. It might seem as though you are fashionably taking notes from stylish bygone eras, when in fact it will look very outdated in our modern world.
Below are some of our favourite ways to introduce the dress scarf into your wardrobe.
Dress Scarf And Suit
It is very easy for a humble suit to quickly become stale. Worn day in, day out without constant evolution of accessories and shirts, the suit will become lacklustre.
Adding a hint of colour or pattern through accessories like pocket squares or ties will elevate your attire. Take it further by bringing a dress scarf to the game.
If you want to combine the dress scarf and formal attire then lose one of the tie or pocket squares as a beginner. All three is going to be difficult to acutely compliment, remember this is about subtlety. Don't overload the senses with colour and pattern, lose one to make your outfit easier to look complete.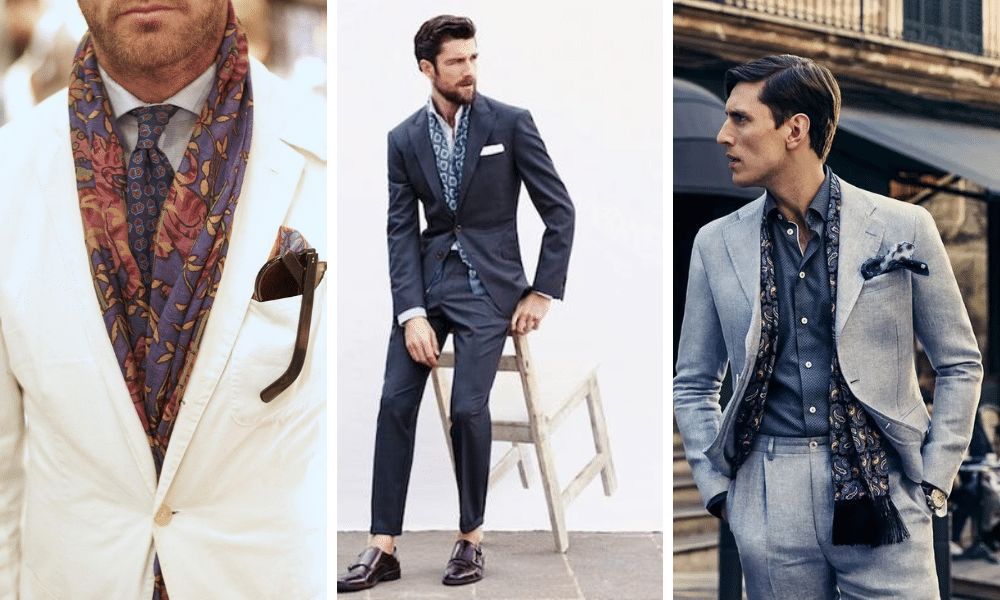 Dress Scarf As A Neckerchief
Not the easiest of looks to pull of. It walks a fine line between a fashionable off-duty Hollywood icon and looking like a fisherman's lovechild.
The dress scarf you pick for this can't be too long and preferably in cotton. When you wear it, let the neckerchief be the item that draws attention. Keep the rest of the outfit a neutral palette so the necktie holds the pattern or bold colour without clashing.
If pulled off, this is a great look, famed by models and stylish elite. Not for the faint-hearted, we would air on the side of caution when approaching wearing a dress scarf as a neckerchief.
Dress Scarf Under Knitwear
Wearing your dress scarf in this manner harks back to the golden era of Hollywood from the '30s, '40s and '50s. Actors were as well dressed off the screen as they were on it and are still the inspiration for countless menswear mood boards
This is a very easy combination to introduce into any gentleman's repertoire. It hits the sweet spot between updating the humble knitwear without being too outlandish.
A dress scarf is draped under the knitwear with the top of the scarf showing around the neck of the wearer. It will only show a couple of inches above the collar of the jumper but is enough to showcase your nonchalant style credentials.
It is understated but elevated.
Dress Scarf Under Coat
With this look, it is not about adding warmth through the colder months. It is style over substance in a good way.
As the temperature cools, we often fall into habits of hiding away from colour and pattern. The additional dress scarf below an overcoat will certainly not keep you warm, but it will show you aren't afraid to stick with patterns.
The perfect way to extend the lifeblood of the scarf across the seasons, it brings with it a certain Italian flair. The scarf embraces movement and character reminiscent of Neopolitan tailoring houses.
For me, the dress scarf and coat combination is the ideal way to stick two fingers up to the drab and grey British weather. I for one will be embracing it this winter.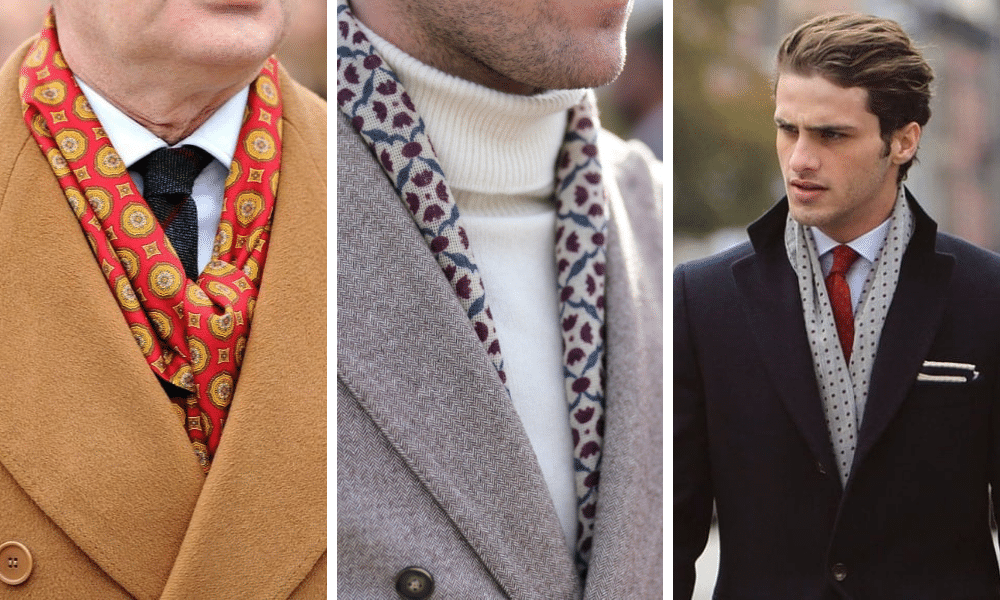 AGR Recommends
Dress scarves come in a range of colours, sizes and patterns. From luxury French fashion houses, to high street favourites there is a scarf for every price point.
As prices increases, men will see the quality of material change. Cotton or silk faced scarves make way for 100% silk or cashmere variants.
Here are some of our favourite dress scarves currently on the market.
Modern life for men can involve a range of tech and lifestyle gear that we take with us daily and our work bags need to support functionality while remaining stylish. There is no doubt our generation is carrying a wealth of accessories. More than our less-digital fathers did. As a result, we need work bags that are practical enough to hold everything. The problem is, that functionality tends not to be stylish.
To decide on what bag to pick you must step back and look at the individual demands. That means segregating our options based on the necessity and the occasion. Men for example should not be rushing around with a work bag full of gym gear. They also shouldn't be wearing a beaten-up old backpack to a corporate meeting.
Which bag we choose for work is typically dictated to us by our varied commutes. Men travelling to work on a bike need a very different bag than those that catch the train.
The perfect synergy of style and function is not easy to find. But, thankfully we are here to help. We have broken down the most stylish work bags for men to get you through your morning commute and the day beyond.
The Backpack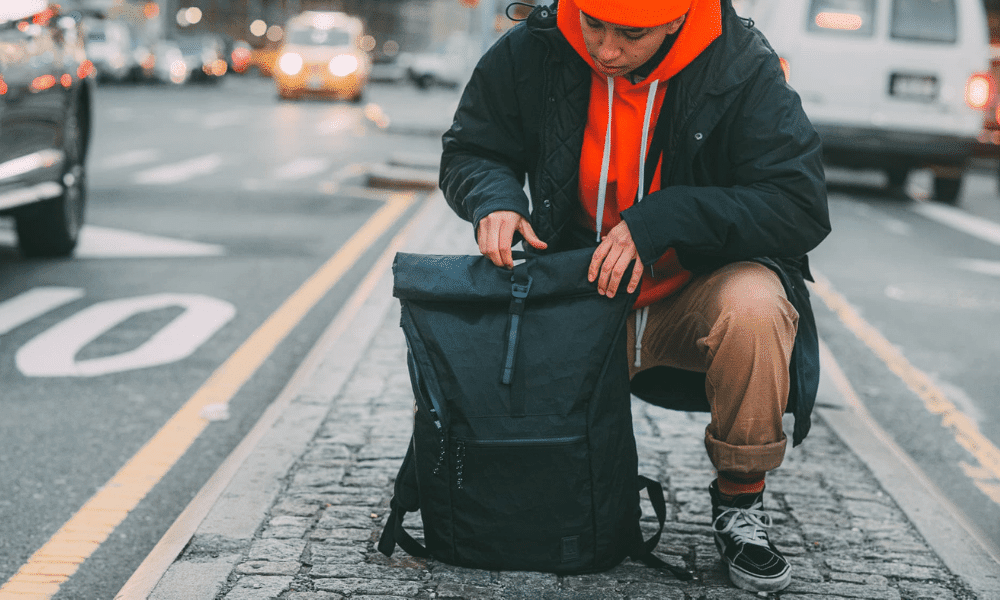 Once a careless afterthought, the backpack has grown in stature due to the emergence of innovative styles embracing a range of materials. There is a reason why it is still the most favoured bag among men. It is versatile, functional and if you pick the right one, it is stylish.
For men who have some heavy gear to carry like a laptop, then the backpack worn on two shoulders evenly distributes the weight, reducing back pain over time. This ergonomic design makes it a good choice whether you are cycling to work or grabbing the bus.
Because of its popularity, there is a wide range of different men's backpacks. Take time to think about how and where you will be using yours. Chosen correctly, it will be a trusted friend from Spring through to Winter.
Materials
If you are exposed to the elements when commuting or even during work, then look for waterproof materials (basically anything but canvas).
Styles
If your work is formal, a backpack can sometimes look casual in appearance. Try and stick with non-sports brands and focus on leather as the key material. This will elevate the bag, making it look more expensive, but also smarter.
Support
Although a backpack does wonders at evenly distributing heavy loads and relieving strain on your lower back and shoulders. If you don't have one with additional padding on the back, it may be uncomfortable to wear. Thicker support will stop items in the bag from jabbing into your back and increase overall comfort.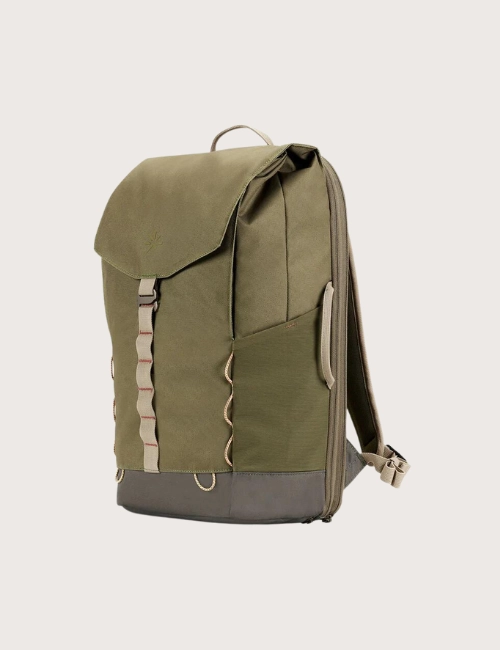 The Briefcase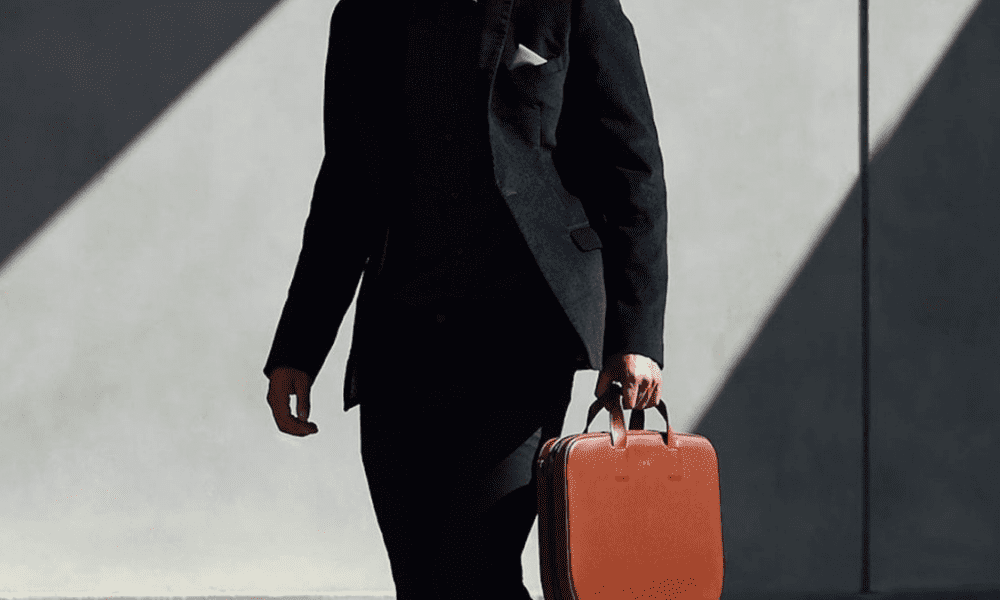 Blow away the stuffy preconceptions of bankers in striped suits carrying a briefcase to the office. Contemporary versions of the briefcase have removed the unnecessary boxy format to account for the modern man's work accessories.
Materials
The updated briefcase is now made from soft and luxurious leather that will patina nicely over time. If looked after correctly, there is no reason a briefcase can't be your chosen work bag for years to come.
Styles
A briefcase is a smart companion for any man who needs to look his presentable best for work. A backpack or crossover will crumple your suit jacket while a briefcase can remove this sartorial issue. With helpful compartments for storing laptops and documents, it is as practical as it is stylish. Definitely the bag of choice for city workers and those donning a suit daily.
Like with other accessories, when wearing a suit it is important to understand how they will match. That is why we suggest pairing your briefcase colour to the colour of footwear you wear most often with your suits.
Support
There are options to get a briefcase with an additional crossover strap. If your briefcase is getting heavy, then this will help ease the burden on your carrying arm. But a crossover can look a little dated. Instead, take a closer look at what is in the bag. Could a matching iPad cover or document holder reduce some of the bag's contents?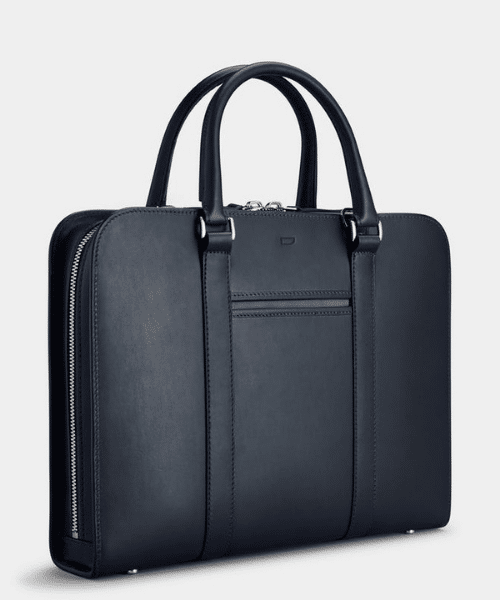 The Tote Bag
If you work in a less corporate environment, then a tote bag could be a great alternative to leather bags. With masses of room, they can hold a lot whether that be gym gear or work bits.
Materials
A tote bag looks its best when crafted from a material like a hard-wearing canvas (thicker than your typical shopper). Canvas is very adept at withstanding the rigours of daily life while maintaining its shape and minimalist design. Other options do include nylon which will come at a cheaper price than the sturdier canvas.
Styles
The style of a tote bag can be deemed as slightly effeminate to the untrained eye. Being worn on the shoulder and sitting in your armpit, there are definitely handbag vibes about it. But, we like to use ours as we would a briefcase, carried in hand.
With a robust, vintage feel about it, there is a place for the tote bag within the current utilitarian trend in menswear. Choose a simple colour like cream or navy and pair with jeans and a workers jacket to perfect the trend everyone is wearing.
As the tote bag can be a somewhat cavernous space, take care of precious technology like laptops by slipping them inside a separate laptop case.
Support
Combining its ample storage space and how it is carried on the shoulder, there is a tendency for it to get heavy, creating back pain.
But, if you manage your bag contents and don't let it get too heavy, then this a great bag for those that want something a bit more trend-led than a briefcase or backpack.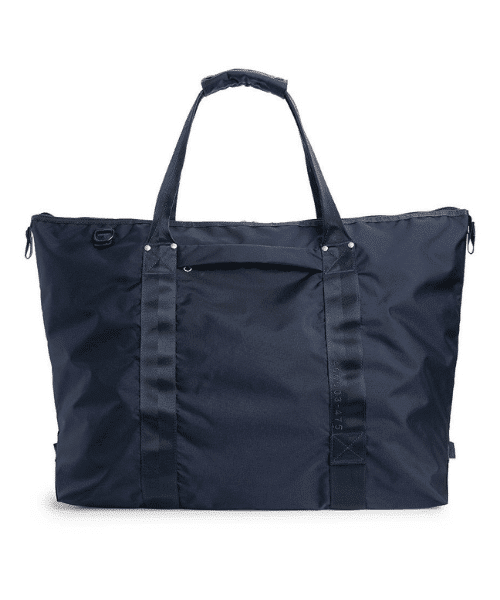 The Weekend Bag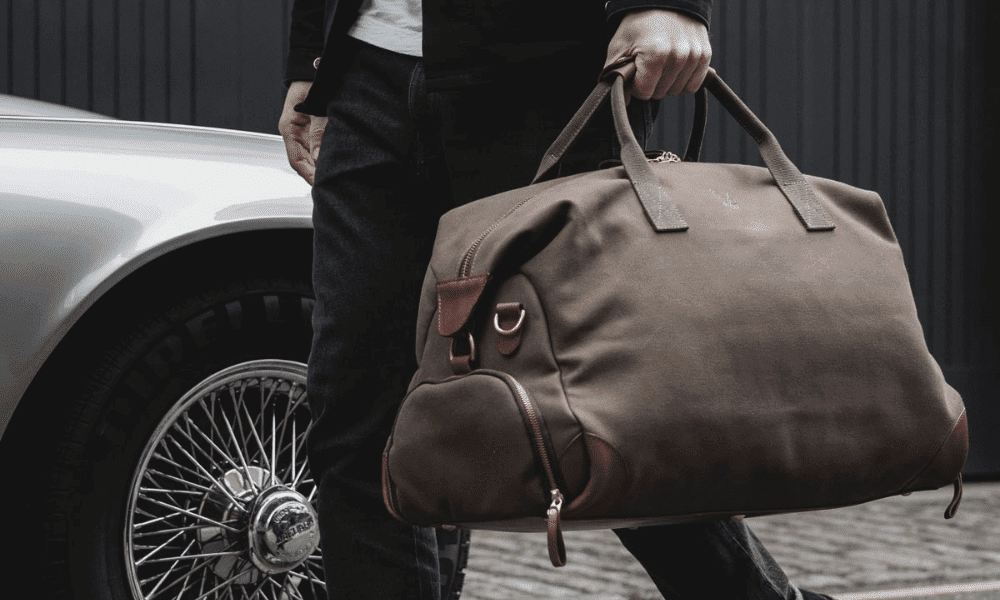 If your working Friday culminates in a trip away for the weekend, then opt for a bag that can handle those additional requirements. Don't try and stuff everything into smaller or multiple bags. A weekend bag will easily allow you to keep folded clothing, accessories and footwear tidy while still having room for work items.
The weekend bag done right will showcase a man that takes his leisure time as serious as his work. A man of taste who wants to looks his best at every occasion.
Material
The material choice is really down to individual preference. Some men might have another bag they will be taking with them so would like to match their luggage accordingly.
As a weekend away will typically involve travelling via car, train or plane, there might be less reliance on waterproof materials. We have picked a few options below available in different materials.
Styles
The key point of consideration with the weekend bag is how much you can fit in it. That means carefully storing your clothing to keep them clean and tidy.
If your weekend away takes in an airport, then in advance to travelling take note of your baggage allowance. Your weekend bag will need to abide by these rules or the cost of your weekend could quickly increase with added chargers.
Inside your weekend bag, you will find additional pockets which are great for storing a laptop charger, phone charger or a notebook from work.
Again, like with material, the colour you choose will be based on personal choice and whether you need to consider the colour of additional luggage.
Support
As a weekend away will involve travel of some sort. There is less need to focus on support unless you are carrying it for long periods of time. Getting to your destination by train or car, for example, can allow you to store the bag away from sight and remove the obligation to carry.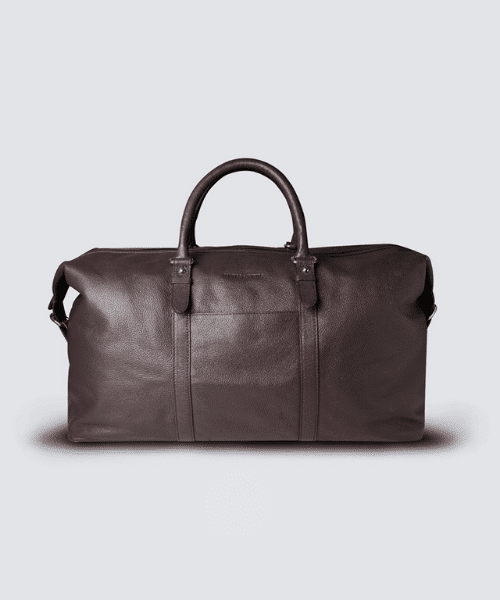 The Gym Bag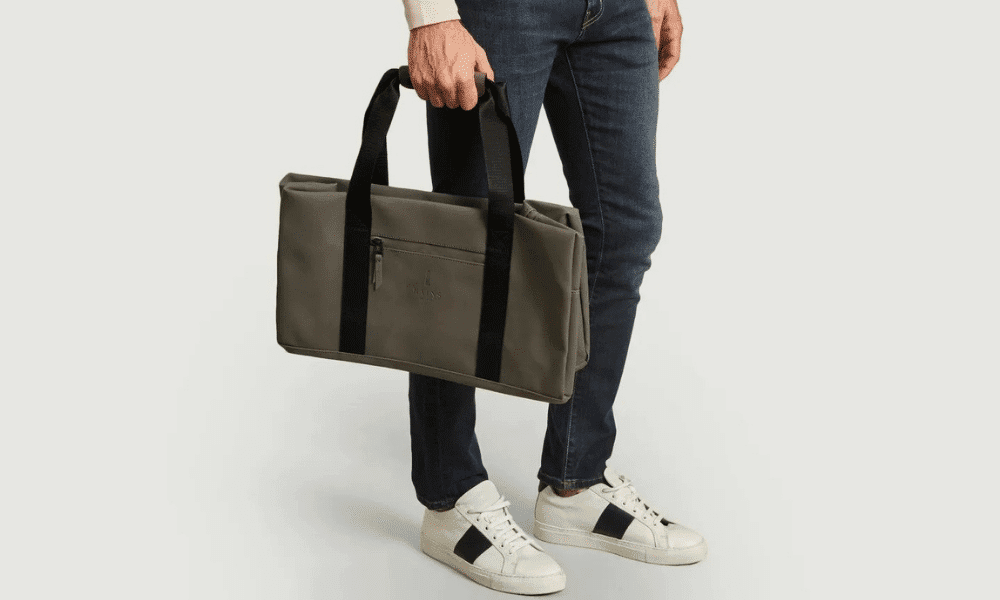 As men who care about your appearance, there is no doubt a necessity to visit the gym once in a while. Without the luxury of a home workout, this might entail bringing your gym kit to work.
What you don't want to be doing is mixing work and gym gear together. There are bags that innovatively have compartments for trainers or sweaty gym gear, but we recommend keeping things separate.
Material
With its core job of carrying both clean and sweaty gym gear, your bag needs to absorb the smells that come with that post-workout clobber. That means if not a nylon exterior at least a nylon interior. It will wick away any residue and won't consume the bad smells.
Styles
Heading to the gym can mean bringing with you additional accessories to just your workout clothing. Save yourself time by fiddling around in a bag for headphones or a water bottle by choosing a style that has separate departments for both.
For those men, that like a post-workout shower then make sure you stick a toiletry bag in your gym sack. Not only will it help you stay organised, keeping everything in easy reach, but it will also be a time saver if your workout is pre-work or during your lunch break.
Support
With workout gear, there is not much need to look for a bag that can carry a lot of weight. We are assuming you aren't taking your own dumbbells to the gym, so trainers and clothing won't be too heavy.
Because of the lack of weight in your gym bag, you can choose a traditional backpack style, holdall or even tote as support shouldn't be a key focus.
The Toiletries Bag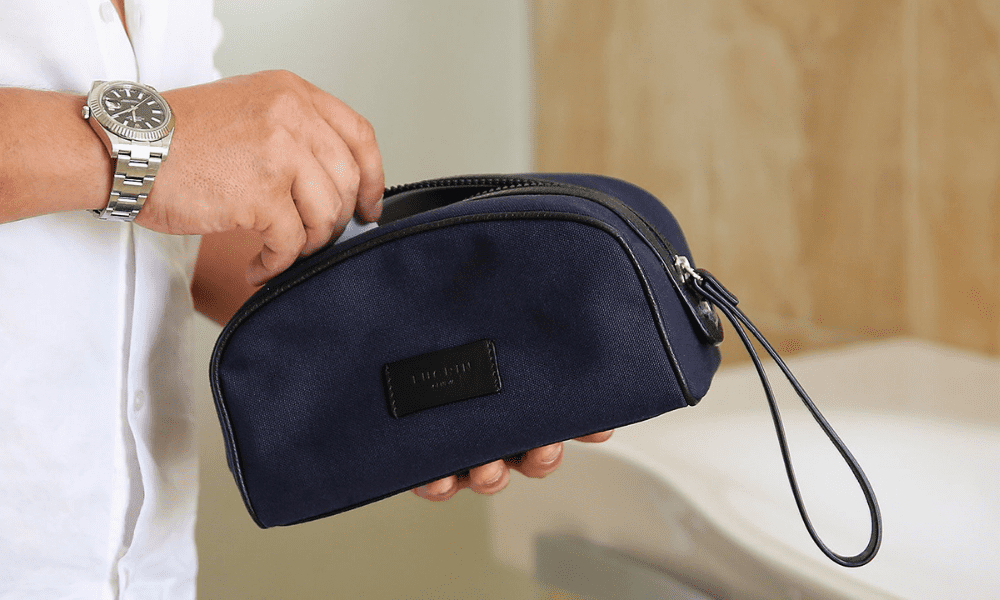 At first reading, this might sound an odd one, but hear us out. For men that run or cycle to work there may be a need to take a quick shower before they sit at your desk. Even if you feel a shower is a step too far, your co-workers will thank you for removing any sweat and preventing bad smells.
A toiletries bag, either taken with you daily or kept at work is a neat way to keep some grooming essentials nearby. So, whether you need to look good for an important meeting, heading to the gym at lunch or just want a freshen up. Having mouthwash, body spray, cologne and other useful items could be a gamechanger for maintaining that stylish exterior throughout the day.
Material
As it typically won't be exposed to a lot of water, it is ok to choose either a canvas, nylon or leather version. Bear in mind if you are sticking this in your gym bag, then canvas could have a tendency to absorb any bad smells.
Should you choose to store this in an office locker or desk drawer then you might opt to go for stylish leather. It will impress any prying eyes and showcase your attention to detail.
Styles
The key with your toiletry bag is that it can neatly store away all your essentials. Take note of the individual compartments available and work out whether what you need will fit snugly away. Larger items like deodorant might be better suited to be carried loose in your bag rather than in a small toiletry bag.
Support
Surely you don't need to be thinking about support with this one. No one has that many grooming requirements. But, if you find it getting too heavy, then take a look at purchasing travel versions of your favourite grooming products to reduce the weight.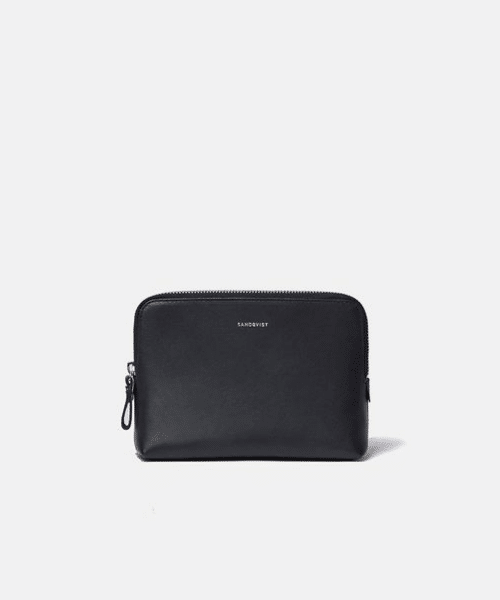 Introducing your new favourite sunglasses brand.
In this current situation, we are all looking to brighter days. We mean this metaphorically, but also nothing beats the end of lockdown like a well-deserved beer in the sun. Which means there has never been a better time to start your search for this summers perfect sunglasses. There is a lot of lost pub time to make up for.
The fundamentals when it comes to shopping for sunglasses is first understanding what your face shape is. Once you know whether you have an oblong, or square face, for example, you can filter your selection down to the right frames.
Spending all your 'hard-earned' furlough money on a pair of pricey designer sunglasses might not seem like the best idea right now. But, there are other brands out there that can deliver on price, quality and have a social conscience at the same time.
This is where Bloobloom steps forward. With a range of spectacles and sunglasses, they pride themselves on the value of their direct-to-consumer model.
Made from Italian acetate, with lightweight stainless steel, an anti-scratch coating makes them robust enough to withstand the vigour of daily life. The frames are handcrafted in a 50-stage (yes 50-stage!) process culminating in 3 days of hand-polishing and wood-tumbling.
One of our favourites is the Parisian model. It comes in a stunning midnight blue colour that is unlike others we have seen on the market currently. But, don't be swayed by the design alone. Skin cancer can form around the eyes in 10% of all cases, so protection via SPF and using the correct eyewear is key. Bloobloom sunglasses come with 100% UV protection.
For those men looking for more of a social conscience approach from their brands - every frame purchased sees Bloobloom give a pair to someone in need through their non-profit partner.
The brand is transparent on its pricing and the costs that go into producing their frames. Removing the costly markups that are prevalent throughout the sunglasses industry the saving is passed onto the customer.
Find out more at bloobloom.com
With your skin, a facial can have a immediate improvement on the look. But, regular maintenance and routine can ensure you look better for longer. It is the same with your footwear.
The fairer sex judge a man by his shoes twice as much as a men judge women's footwear. So, it pays to keep your shoes looking in tip-top condition.
Why is it important?
The act of shining shoes is not purely about making the shoes look as sharp as possible. Regular shining and polishing helps to protect the leather from deteriorating over time, ensuring your shoes last longer. As men should be investing good money in their footwear, it is imperative to make that money go further and extend the life of your shoes.
Remember, if you get a crack in the leather of your shoes, then it is game over, as they will become unwearable.
How long should a shoeshine last?
For the majority of men, you will probably be looking for quick upkeep of your shoes to make them look nicer. In this case, a regular shine should be taking you around 5-15 minutes. If you are looking for something more like a mirror finish, then this will take far longer as it needs longer drying time in-between stages of shining.
How often should you shine your shoes?
This is where I need you to take the lead. There are lots of different factors that might have an effect on your shoes. How often you use them, the weather, and what you might be doing when wearing. Giving your shoes a once-over every week can mean you spot signs of distress to the leather, and prevent any deterioration by not polishing. So, we would always recommend a weekly shine. Now you might be a fortunate man and have an arsenal of shoes to wear. In this case, if they aren't being worn as much, you can leave it longer between polishes.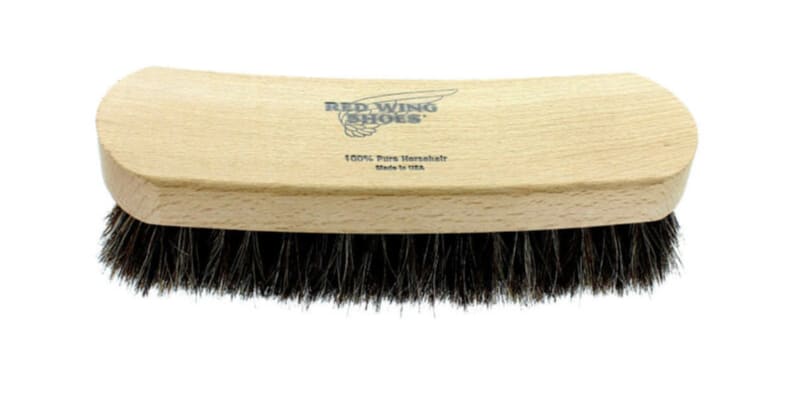 Horse Hair Brush
Why use a horse hair brush and not just a cloth? A horse hair brush creates an ideal foundation to polishing. As they are sturdy, but not too abrasive, they rid the shoe of excess cream or wax, but also raise the fibres in the leather. By raising these fibres, it enables you to get a better shine. That's why we always recommend using the horse hair brush after each step when polishing.
If you have shoes in different colours, say tan and black. Then we would advise having two separate horse brushes and welt applicator brushes. It will make sure you don't make the mistake of darkening lighter coloured shoes by using the same brush for both colours.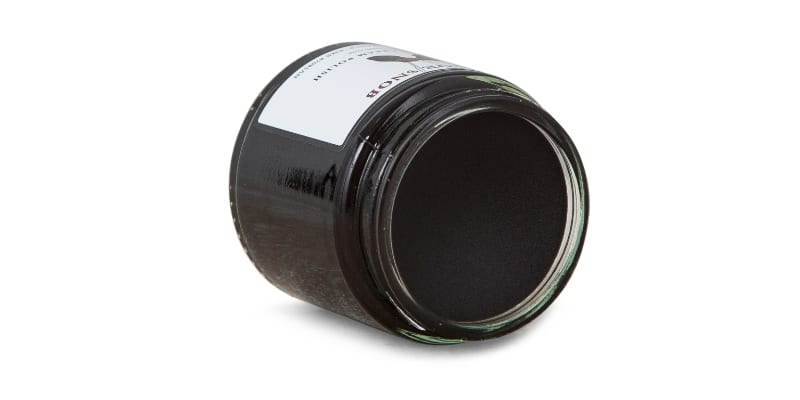 Cream Polish
When it comes to an oil or wax polish, you may have been unsure which to use, so have always opted for old faithful, the wax polish. To highlight the critical difference, think of the oil as nourishment for the leather and wax polish as a top-level finish. Without the nourishment, the leather will show cracks and wear, and no matter how much wax you use, you won't be able to paper over these. On the other hand, using just oil won't give you that shiny expert finish expected when polishing.
The colour of your polish will come from the cream, not the wax. It is tough to get an exact match, but try and get as close as you can. Most brands will have a variety of options to choose from. As with the wax, use it sparingly, a small amount goes a long way.
Welt Applicator Brush
As the name suggests, the applicators core function is to clean out the welt of the shoes. This is the area where the sole is fused with the leather uppers. But, it also helps the cream penetrate the leather better than just with a normal cloth. Without it, the cream can soak into the cloth and make an even application difficult. Not to mention, it can stain your fingers during use.
Wax Polish
Where a cream penetrates the leather, the wax polish will work the top layer of the leather. It has a high concentration of hard waxes, creating a barrier to water, and any light scuffs. As mentioned previously, remember, the colour comes from the cream, not the wax.
The wax you should be looking out for should use natural products like pine, and have a high concentration of beeswax. It will be almost clear, hence why it is just for added protection not for delivering colour. To reinforce this, look for a product that has a lower pigmentation as you don't want it to alter the original colour of the shoe. Avoid ingredients like petroleum which can end up damaging the leather.
Application to the leather should be made with a clean cloth. You should try not to use too much on the vamp of the shoe. This is the area beneath the eyelet (laces piece), to the side and front of the shoe. If you apply too much here, the wax will harden. Then, as this area bends a lot with use, it will crack the wax and will give a bad finish.
The Process
Step 1: Clean the shoes with a cloth
Step 2: Buff with a horsehair brush
Step 3: Apply cream with welt applicator
Step 4: Buff with a horsehair brush
Step 5: Leave to dry
Step 6: Apply wax polish
Step 7: Buff with a horsehair brush
Step 8: Leave to dry (ideally overnight) before use
Editors Note
To protect the leather further, a shoe tree will help maintain the shape of your shoes when they are not being worn. Shoe trees will also absorb moisture which if left, can have an adverse effect on the leather. Of course, in an ideal world, you would have a shoe tree for all your smart shoes, but that isn't always possible. Buy one and rotate as best as possible.