Our 'In Conversation' series aims to bring our readers interviews with key figures within the artisan menswear world. Showcasing luxury and bespoke brands that are commonly overlooked in our fast-paced fashion world, we hope we fuel our readers passion in learning the true meaning of expert craftsmanship.
Continuing this theme, we threw some questions at Tony Gaziano, co-founder of bespoke shoemakers Gaziano & Girling.
Launched in 2006, what was your drive for creating the brand?
Both Dean and I had been working for different shoe makers for some time already but had found that what we saw wasn't up to what had been done in the past. Unfortunately, the quality of craftsmanship had gone down quite a bit over the course of the last decades. This frustration of British shoes being slightly boring and designed for older men going for the repetitive antediluvian designs all of the time was at us both and we thought let us put our heads together. We were desperate to inject some younger designs and sleeker shapes into shoes whilst keeping the beautiful British making. And there was a niche for years for this to happen at the quality end of the market. Being young and full of energy, our drive was to fill this gap by creating a perfectly balanced shoe, incorporating both great design and sublime quality in a new product.
Who is the Gaziano & Girling man?
There is no Gaziano & Girling man, only Gaziano & Girling men and of course some women since we've launched the ladies collection earlier this year. Our oldest clients are well into their eighties while our youngest ones could be their grandchildren. Interestingly enough, most young people go for the classic designs and shapes while older aficionados appear to be more daring.
Regarding the whole company, me and Dean obviously are at the head and steer of the business and also have the advantage of being craftsmen ourselves, so can direct the product to be exactly as we want it to be. But honestly, our whole team is crucial to the product we produce, myself and Dean cannot and do not want to take all the praise.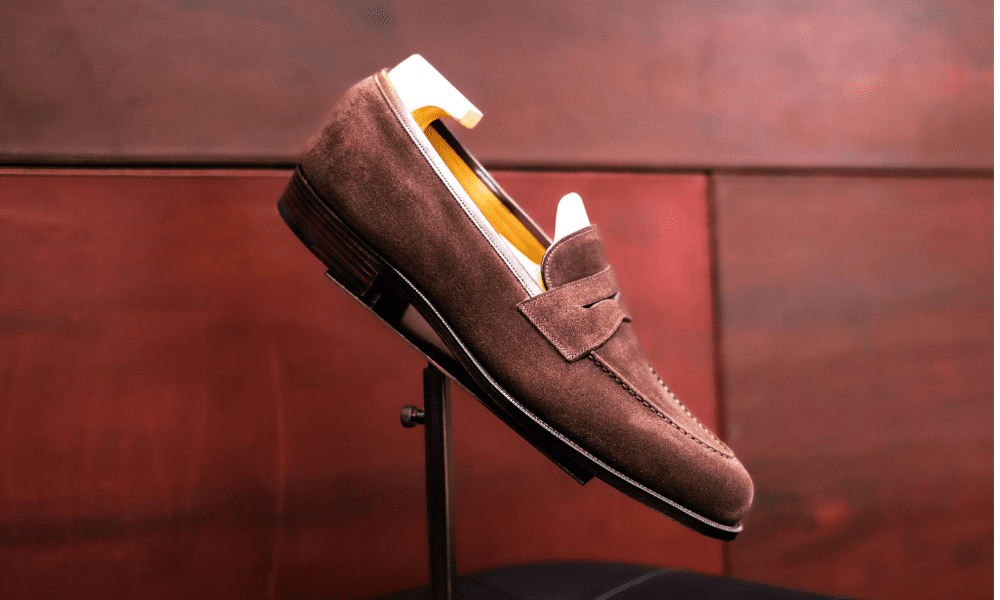 What are the modern day challenges for a bespoke shoe maker like yourselves?
The two most challenging aspects of shoe making in general are finding the right quality of natural raw materials and consistency of craftsmanship. Some people mistake craft work for engineering and expect micro millimeter perfection, which is hard. We cannot ask to a farmer to grow 100 identical calves or expect a craftsman to be on top of his game every single day of his life, so there will always be handcrafted elements and slight imperfections in this kind of product. In an ideal world, a shoe lover would embrace the craft as what it is and understand the work that goes into it.
Do you see an emergence in more men looking for well-crafted products?
Yes, there definitely is a cross over with fashion and luxury at the moment. So many fashion brand buyers are moving over to hand crafted products, whether it is suits, shirts or shoes. And even though this is a trend we do not necessarily rely on, I cannot say we reject it completely as it opens the door for more men to familiarise themselves with the beautiful world of hand crafted products.
How are new technologies playing a part in the industry?
As strange as it might sound, most of the machinery we use is over half a century old. When we set up our own factory, we were fortunate enough to find a lot of old machines on site that were exactly what we needed. There's not a lot that has changed in shoe making over the last decades. However, there are new technologies we use. Our patterns are all designed in the same size and width but then shrunken down or blown up using a computer to keep the proportions. On top of that, we can use laser etching to engrave patterns and designs onto the uppers if someone requests it. Interestingly enough, new technologies cannot replace a holistic knowledge of a craftsman that comes with being and learning in the trade. A 3D scanner can not see what the trained eye sees. Or at least not yet.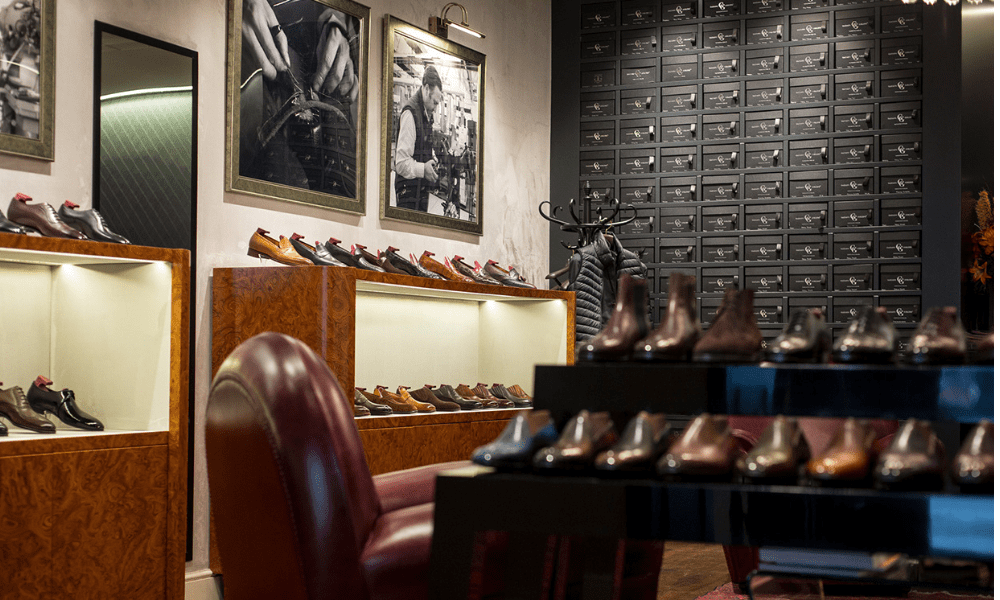 How important is your flagship store on Savile Row in introducing the brand to new customers?
There have been a few stepping stones in our company's young history. The opening of our own flagship store on Savile Row has definitely been one of them. Surprisingly, there's never been a British shoe maker on the Row and we are very proud indeed to be there among the finest tailors in the world. Although we do have walk-in chance customers, the majority of people coming to the shop are loyal friends of the brand that enjoy coming to our shop to have a chat about shoes and enjoy an espresso or tea while taking a break from the buzzing city life around Mayfair.
With the importance in fitting and personal service when it comes to bespoke shoe making. Is e-commerce a secondary thought to a retailer like yourselves?
As all of our different Ready to Wear and Made to Order models and lasts fit exactly the same, the most important thing is to get it right the first time. Once you know your size, you can place order over order online without having the fear of ending up with an expensive item you cannot use or enjoy. This is what most friends of our brand that aren't based in the UK do. So this initial fitting is crucial. On bespoke, there are several fittings. But similar to the RTW and MTO process, you will get an identical fitting pair of shoes with consecutive orders.
What is next for Gaziano & Girling?
The next thing that will happen is that we will put some ladies shoes into the Ready to Wear collection. As of now, the ladies shoes are only available on a Made to Order basis. In some point in time, we will be thinking about another shop as well. But that's in the future's mist. Also, there will be some intriguing specials coming up with Gaziano & Girling's ten year anniversary later this year. So stay tuned for that.
You can visit Gaziano & Girling online at www.gazianogirling.com or head to the store at 39 Savile Row, London, W1S 3QF
Here at A Gentleman's Row we were lucky enough to recently sit down with Richard Harvie, director and a third generation member of the bespoke shirt makers, Harvie & Hudson of Jermyn Street, London. No mass production here. Using the finest fabrics, Harvie & Hudson shirts are expertly handcrafted in small batches to deliver a sense of accessible exclusivity to the modern man.
If you could start by giving the AGR readers a brief history of the brand?
The company was founded by my grandfather, Thomas Harvie and his friend George Hudson who had both worked for the Jermyn Street Shirtmakers. The Great Depression , then the onset of the Second World War had meant their dreams of starting their own shirt making business together had to wait till post-war. In 1949 they had scraped together enough money to open a shop on Duke Street. Due in part largely to the low rent rates kindly given to them by the infamous character in London at the time, 'The Duchess of Duke Street'. The friends were eager to be on Jermyn Street and among fellow professionals, but it wasn't until the 1960's, that number 77 Jermyn Street became available.
The company now with my father and Derek Hudson on board set about moving into their new home. Not too long after, a flagship retail premise was taken on in the late 60's at number 97 with the intention of closing the aforementioned number 77. Due to the success in trading this ceased to happen. Our latest flagship store refit though has enabled us to maximise space and soon move all trading under one roof at number 96/97 Jermyn Street.
When did you join the company?
I joined in the mid-80's and started off working in the stockroom and building my knowledge and expertise from the bottom up.
Was there ever a chance you wouldn't join the family business?
Yes. I knew my calling in life was retail, you could say it was in my DNA. But I wanted to enter the retail space with a larger outfit. My father was never pushy about joining the family business, so I pursued a management course with Harrods, working there for some time. It was only half way through a latter business degree I decided I'd be stupid not give Harvie & Hudson a try. I gave myself a target of two years, and within two months I knew this was the place for me.
Do you feel pressure as a third generation member of this company?
I choose not to think about that very much. The whole point for me is that the company survives, and that we move onwards and upwards – hence the refit, new website and re-branding throughout.
What signature style have you brought to H&H in your time here?
I would say strong, fun colours and interesting trims is my signature. In the summer season it is linens and in the colder months it is tweeds. But importantly these strong colours are interchangeable and easily mixed and matched with all the clothing we have to offer.
The generation before mine was all about the bold stripe (now the company's logo). It became legendary when first created during the 60's and 70's, becoming synonymous with the brand. My generation's client hasn't been as bold in terms of their need for patterns but I would say they are in terms of colours and textures . So I offer punchy colours that set us apart from other shirt makers.
Harvie & Hudson is a classic but fun brand; it isn't high fashion but it is very important that the brand points to a generation in each generation.
How do you portray the history and heritage of a brand like H&H in an e-commerce world?
It is easy to over show it; it needs to be done skillfully so that we don't look like a museum but the forward thinking brand, seated in quality heritage. History is only half of the story. A website can often become a show, with too much information thrown at the visitor. It is a clever line to tread. You need to set the brand apart from other shirt makers but the website has a job to do and that is to make the brand sales.
What has been the impact of your made-to- measure service online?
In-store it is a very big part of the business, and online it has been exponential year on year. It gives that interplay with London made quality that you wouldn't get with off-the- rack.
The rise of pure play businesses in the same space must have helped?
Yes, I think that many people now are aware of the Jermyn Street name that would not have known about it.
I think people have been lured in by the strong marketing of pure play and realized there are higher quality brands like us to enjoy. We offer made-to- measure British shirts that use the finest cloths. Men might look at us and say if it is good enough for a crown prince, then it is good enough for me. Our online MTM service is crucial for us and it will be something we will develop further.
A great example is the attendees of our traveling trunk shows who can use it as a portal to re-purchase their favourite shirts.
Your orders are fairly small, what's the buying process?
Myself and my colleague Matthew have a strong idea of what we want to buy before hand based on research at shows and in store. We will sit work a table at one of the factories with an array of swatches and trims. We make a point of bringing accessories and swatches of other products in the seasons range to that meeting. Then for about two days we move the material around experimenting with linings and buttons. Is the jacket single or double vented? How many buttons does it have? By the end of the two days we have put together the whole next seasons range. It is a completely original way of working with small batches of about 60 -80 items per product.
Each year there might be some staple styles that continue but they have always been tweaked. The buttons, linings or cut may have been changed, because for us it is about keeping the offering fresh to the discerning eye. The outside of a classic navy suit for example may look the same, but understanding the details of classic clothing, will mean you see the change each season.
A lot of non-heritage brands have joined Jermyn Street. Do you see this as having a positive or negative effect?
I'm very positive about it, nobody wants to live in a museum.
Bring it on.
I think it has made Jermyn St more vibrant than it has ever been. I heard a great quote recently:
"There is old fashioned and there is heritage, and old fashioned never sells."
Interest in what we do has soared in popular culture and I'm excited to be able to showcase our history to the readers of GQ, Esquire and sites like A Gentleman's Row.
How have you embraced new mediums of popular culture?
Bloggers are incredibly important to me and to H&H. Magazines want to try and develop a connection with their readers where bloggers offer this connection already for brands.
Some of the shops on Savile Row and Jermyn St can come across as a little foreboding and imposing. It takes people like bloggers to get inside and showcase the brands and the incredible expertise and history that is within them. Bloggers are also a way around big advertising budgets, giving an opportunity to get across the brand in a more poignant way.
Is there a different type of customer coming in because of this?
We re-branded about 2 ½ years ago, and part of that was refitting our flagship store. It was the start of a new world for us. We were in danger of becoming 'not relevant'. A refit meant the store was re-modeled to become more open, bright, and a lot more inviting. Now there is a much more diverse array of customers shopping with us.
In the past, a gentleman's outfitters would have 'a bit of this and a bit of that'. A modern man's wardrobe needs to be functional, and men are now more confident in knowing their style.
The way we build our ranges each season is that if you pick up a jacket you have 5 shirts, 5 ties or 10 handkerchiefs that match with it. From a customer's point of view, they can easily pick their own outfits from around the shop because we buy in a cohesive way. Remember also, there is over 150 years of experience among the sales staff who are waiting to assist should the customer need it.
Do you feel there is enough synergy between Jermyn street and Savile Row?
Without a doubt, we haven't even scratched the service with this. Jermyn St and Savile Row are sometimes seen as two different worlds, when in fact they are heading in the same direction. I have recently made inroads at building stronger relationships with those on Savile Row. The heart of our brands and what we offer can be so different that they can work side by side. We can easily have synergy and help each other.
Has new technology played a part in the craftsmanship of your shirts?
In the past 30 years that I have been here made to measure has barely changed at all. Our bespoke shirts are cut by hand scissors because it is still the best way to produce them.
Off the rack has changed as the factory systems have improved incredibly so there is much less waste.
Has the advancement been then in the fabrics as oppose to the machinery?
Yes, the fabrics have become more refined and luxurious as a result of a lot better milling. Costs have remained competitive because the mills have reduced wastage. A sea island fabric in the past may have had quite a few faults that would have needed to be cut out. Now we see less of this. In addition, off-the- rack during the last 20 years has seen a lot more use of more precise laser cutting for bigger orders.
If you had to pick a shirt style that embodies the British man, what would it be?
That's tough, but it is probably easier to tell you what doesn't. A button down style or a super skinny fit doesn't work for the Harvie & Hudson man. Also mixing natural with man made materials does not yet seem to be in very much demand .
I keep open minded however. Whatever happens quality is important.
Textures are definitely of interest
What makes a great British shirt?
The crucial element of a British shirt is its components.
Mother of pearl buttons - They offer superior durability to plastic alternatives. If attached correctly, they will not fall off or break like a cheap plastic one. Mass producing businesses will often change the buttons to plastic to create a bigger margin. It is the easiest place to save money. I will never kill the button, it could be my epitaph. It immediately removes the integrity of the garment once you do this.
Linings - These are the hidden hero. Within the collar and cuff, these linings are complicated elements that hold a shirt together ensuring they re-enforce the collar and keep it looking good and launders well for years.
Quality of material - To me, there is nothing better than using a good quality 2-fold poplin cotton. It washes, and bounces back with no problem.
Cut – A Jermyn St cut shirt can sometimes be too voluminous because in the past it didn't matter. Men wore jackets and predominantly kept them buttoned. It almost seemed that the more fabric , the more luxurious it was.
H&H operates to a tailored fit. These days there is a big focus on shape as jackets are being tailored more, and as shirt maker we need to stay wise to these changing consumer habits.
Length of tail – It really upsets me that mass producing brands cut two inches of their shirts to make savings. We create a minuscule amount of shirts in comparison with the larger producers, and what matters more to us is that it stays in a man's trousers and doesn't keep pulling out.
I'd much rather it looked good and didn't come undone every time he reached for something.
What does the next 12 months have in store for the brand?
Since the re-branding and re-fitting is now finished, our main focus needs to be on ecomm. The online sales are continually growing and with it, the team size.
We also recently invested in the organisation of our picking and packing hub and this is the area of the business where we will be investing in more depth.
When you know the product is good, and fits well it just makes sense to be able to get it quickly and efficiently in 24 hrs to your door!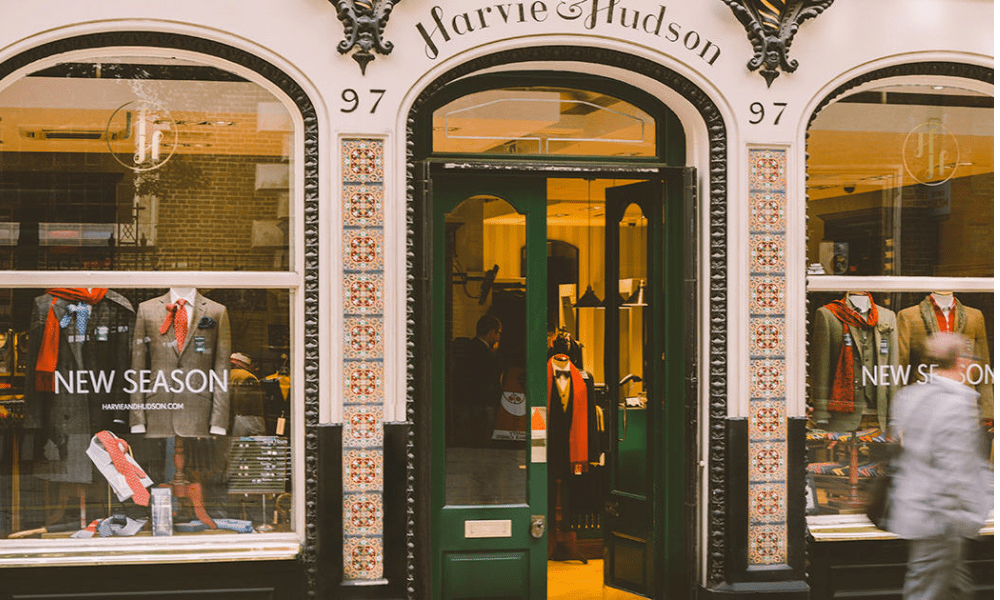 You can visit Harvie & Hudson at 96/97 Jermyn Street, London, SW1Y 6JE or visit the website at www.harvieandhudson.com