A new year is an ideal time to take a good hard look in the mirror and decide whether we are happy with the person looking back at us. Reevaluate if we are dressing as we desire or need a new approach. Is it a case of getting out of a style rut or a case of emergency surgery?
Dressing and looking better is a skill that any man can learn. If mastered, it can improve one's confidence whilst portraying a more polished exterior. Being our best self doesn't stop at our clothing. Small changes in grooming habits, purchasing choices and taking better care of what we already have will impact how presentable we appear.
Read our tips on how men can upgrade their style over the next twelve months.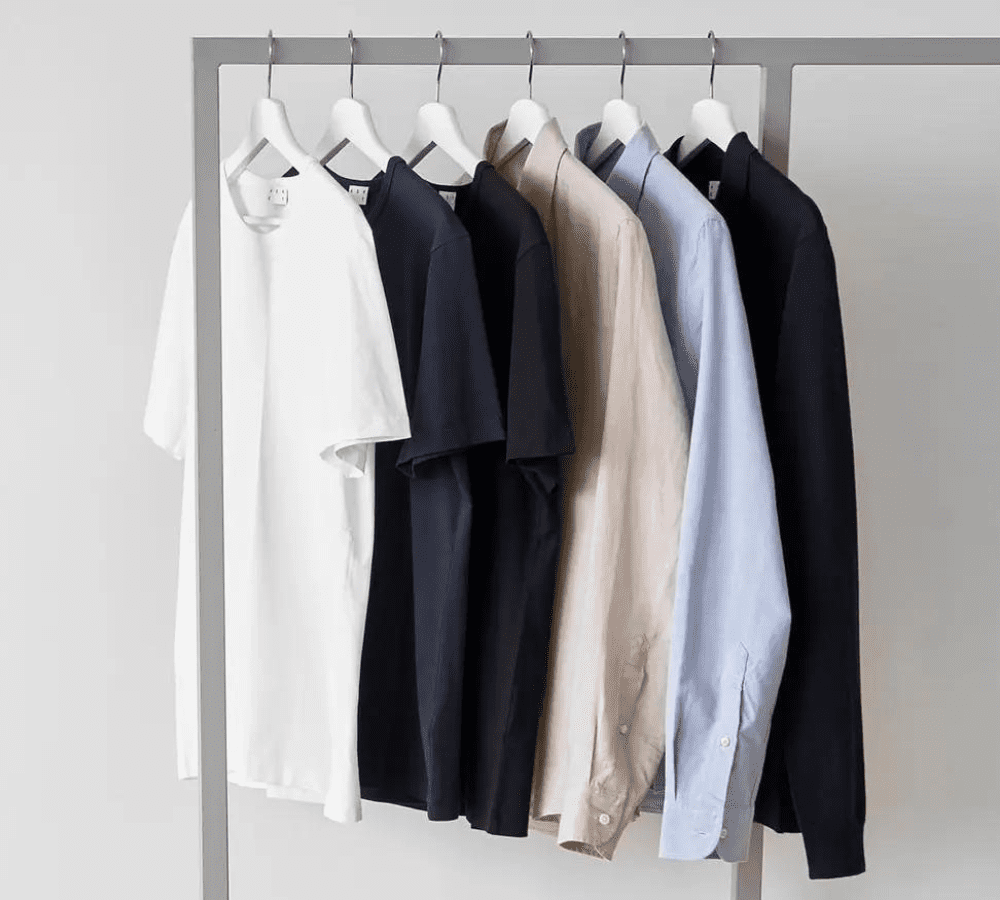 1. Cover The Basics
The timeless staples in any wardrobe are the core foundational pieces that help you build classic outfits. Think pristine white tees, slim-fit jeans or a navy two-button blazer. They work well individually within numerous looks but can also be matched together. The result is a multi-functional wardrobe tailored towards modern life.
Take jeans, for example. Worn as part of a casual ensemble, jeans and a grey loopback cotton sweatshirt might be sufficient for some. But why not take it further and style your jeans with an unstructured blazer or slim-fitting roll neck for something more formal?
Importantly, these foundational pieces aren't trend-led. That means they aren't out of favour 12 months later and need replacing. As such, men need to focus on the quality of the fabric to ensure they last as long as possible. Bypass cheap synthetic materials, as these will likely lose their shape or colour over time. And you'll be back to square one.
Below are just some of our favourite foundation pieces:
Short-sleeved white t-shirt
Slim-fitting blue and black jeans
Brown Chelsea boots
Plain white trainers
Black Oxford brogues
White or blue Oxford shirts
Crewneck merino wool jumper
Navy blue blazer
2. Clear Out Your Wardrobe
Having a wardrobe full of appropriate, usable pieces is essential for men. Often when we have too much stuff, we can fail to see our best pieces and what we never wear anymore.
Our best advice is to remove everything and lay it on the floor. This is the only way you will get a true assessment of what you own. From here, guys should start creating piles of clothing categories you still want to wear. It would help if you were tough. Waiting for that occasion to wear a particular item might never come. Get rid and start fresh.
A cathartic process, clearing out like this, can help destress and make you some money. Why not sell your unwanted clothing on a marketplace like eBay or Vinted.
Be sure to take note of any pieces that may have been cast aside because they need repairing or specialist cleaning. 2023 is the year to either renew or remove. We can all be guilty of putting off hand-washing knitwear items or re-soling formal shoes. Let's take that action.
Post-clear out; your wardrobe will now be full of clothing and accessories you can wear regularly. The result makes it easier to efficiently find and pair pieces together to create better outfit choices.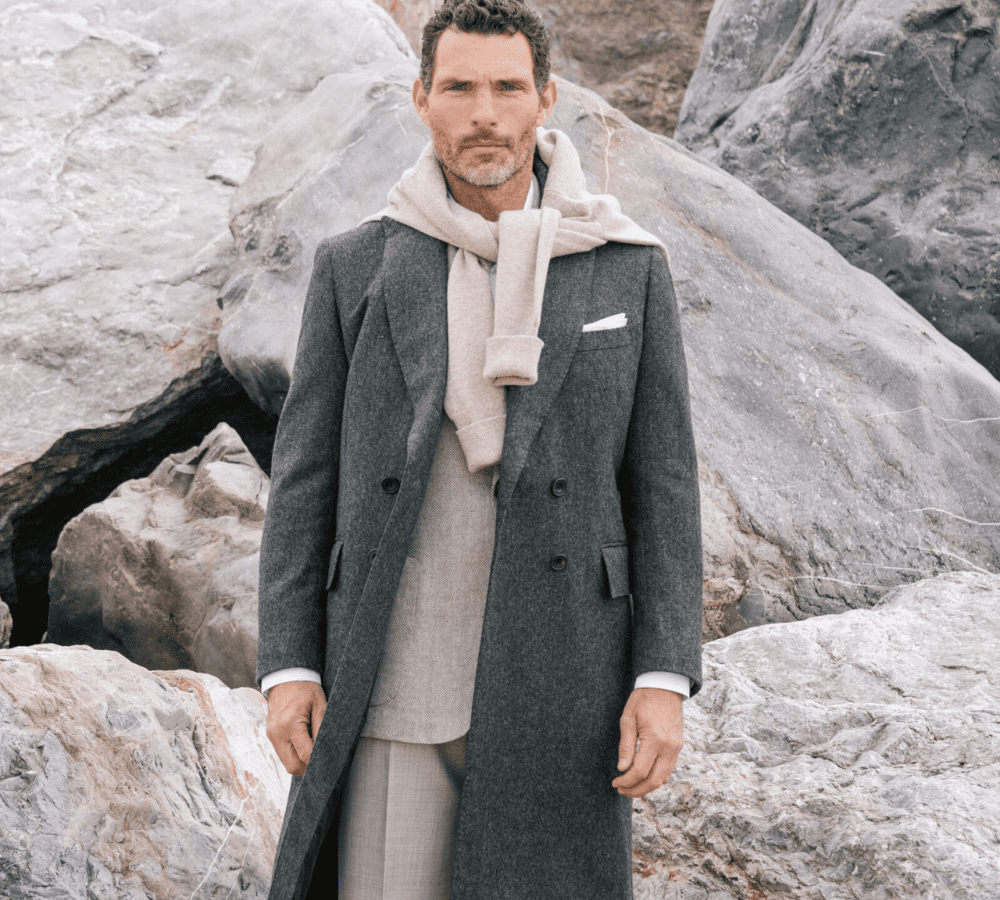 3. Invest In Key Pieces
With a clearer, more manageable wardrobe, it's time to take stock of what you have and need. But before you rush to the high street to fill that shopping void, assess what you truly want out of each piece on your list.
When we take note of a well-dressed individual, we revere the overall polished look. Though, when we break it down, the outfit can be underpinned by some key statement pieces holding it together. How a coat cinches the waist or the cut of formal trousers can transform the final outcome. A statement doesn't always have to be bold and bright.
Take the time to research how different fabrics and styles create varied silhouettes. The fabric (and care thereof), in particular, may be why you spend a little more. Better quality typically comes with a higher price tag. Although spread across the lifetime of that item, it can be much more cost-effective.
As a default, outerwear and footwear will be more of our money spent, aside from, say, a suit. But, considering how much you wear these pieces, shouldn't we spend more, if we will look better?
4. Pay Attention To Fit
Men should always pay close attention to the fit of their clothing to look their best. An ill-fitting shirt, pair of trousers or jacket can easily ruin the entire outfit and make the wearer look sloppy.
As a basic rule, we need our measurements before we go shopping. Not your size from two years ago, right now. Our bodies fluctuate in size and weight. Just take my Christmas break as a good standard for this.
Accurate measurements ensure we can save time by not sending clothing back. No returns make us happier and reduce that purchase's carbon footprint.
Once you have your size down, you are in a good position to pick clothes that flatter your figure. If you are tall, below average or of a fuller figure, there will always be tricks to deceive the eye and create a more presentable look. Learn these, and apply them to your current wardrobe and future purchases.
It is also worth noting that your size may differ from brand to brand. Unfortunately, this results from brands using varied templates when creating products. Head in-store and try on as much as possible. This way, you'll know what brands work best for your shape.
Remember, as a final thought on this matter. Menswear tends to cater for the body average. If you want something more specific, it might be worth introducing the help of a tailor to get the desired look.
5. Make Sustainable Choices
We cannot ignore the effect consumerism has on the planet. Fashion generally uses a ton of resources to produce products in mass quantities. Utilising synthetic fabrics and operating unethically is not something we stylish men should be associated with.
In this regard, we don't mean suddenly hand-making your clothing out of hemp and living off-grid. There are plenty of ways guys can minimise their harm to the planet through making sustainable choices. The first is to look into brands offering sustainable alternatives to mass-market pieces. Companies like Patagonia, Asket, and Veja use ethically sourced materials while paying their workers the correct wages. These brands make it easy for men to pick quality products knowing they are minimising their negative impact on the environment.
However, we can always do more.
Opting for a British manufacturing brand will reduce the carbon footprint of your purchase. While trying to repair loved items before throwing them in the bin can minimise landfill.
To the above, we should always take note of quality over quantity. Fashions come and go, but great style is permanent. Picking timeless pieces as the foundation of our wardrobes will ensure we have clothing that won't go in and out of style. Cared for correctly, they will be dependable year after year.
So, next time you shop for footwear, those Northampton-made formal shoes might be one of the best investments for your wardrobe and the planet.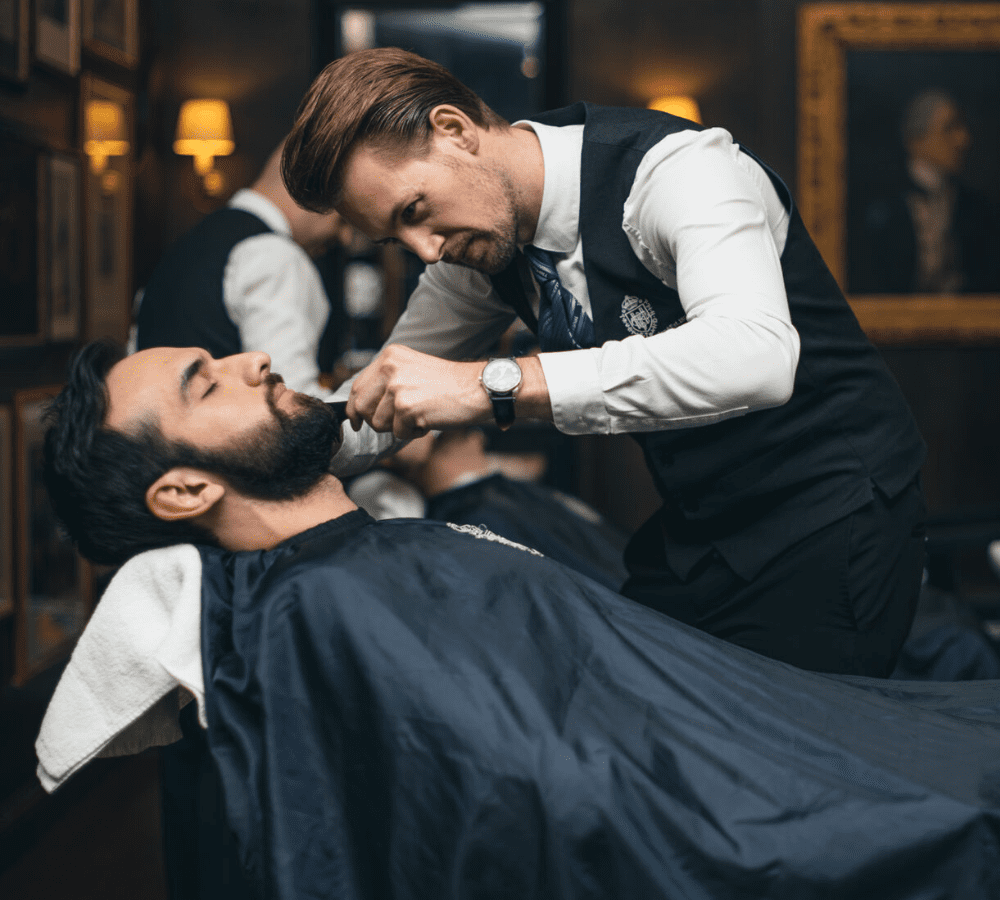 6. Get A Complimenting Haircut
With clothing, our body shapes should drive how we wear most of our clothes. The same could be said for our haircuts. The style and length of our locks ought to be driven by our face shapes.
It can be easy to walk into a barber shop and request a style that imitates your peers or even a celebrity. Though, this might not always be the most flattering. Build up a relationship with your barber on what would look best. They are the experts. Trust them.
Generally, those with long faces shouldn't elongate further by adding height or going too short on the sides. Rounder faces need shorter sides and on top. While there will be nuances, guys can use this as a guideline.
A dodgy barnet or unkempt facial hair can do the same for a look as a badly fitting suit. We want to create a harmonious and presentable facade, including hair and beards. So, pay attention to this and stick to classic cuts that will make you look your dapper best.
7. Decide On A Scent
In caveman terms, the smell is crucial to the attractiveness of men—an invisible weapon in the arsenal of a man's style. Only noticed in close proximity, a great aftershave can lift someone's perception of the wearer.
The smell is a powerful sense, which means a nice fragrance will leave a lasting impression on those you meet. It is also great at boosting the confidence of the wearer. But yet, the majority of men don't wear it.
Not wearing a scent could be due to a lack of understanding around aftershaves and the higher price of entry some brands charge. Combine this with walking any department store's intimidating and "salesy" perfume floor. It is no surprise some men are put off. Though, most mass-produced fragrances from brands like Burberry or Armani are pretty palpable. They are created for a wider market and are not overpowering or offensive for most guys. So, should you want to dip your toe in, you will quickly find a scent you like.
Discovering a more personal scent can be uplifting for the dedicated among you. A perfumer can create a unique fragrance from scratch based on your choice of raw materials. This process can make a nice birthday or even a wedding gift for a couple to identify complimenting scents.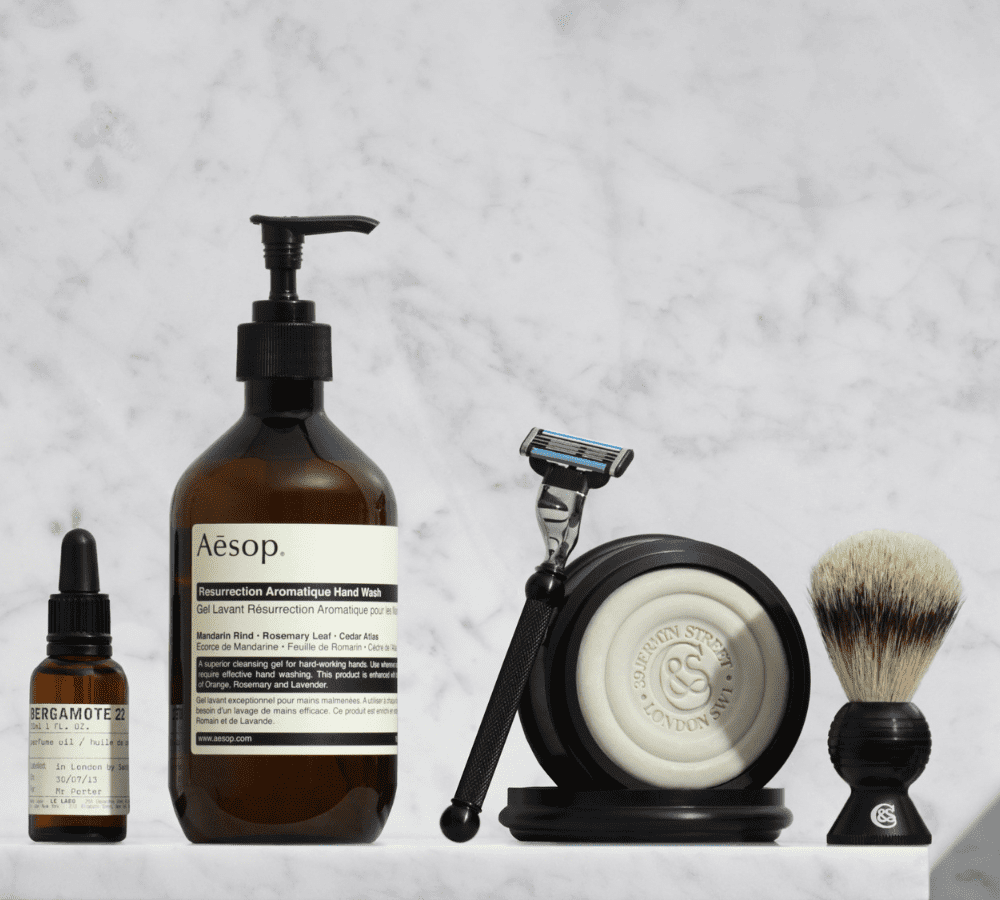 8. Develop A Grooming Regime
No matter your age, it is imperative to have a grooming regime to look your best. Taking care of your skin can help prevent numerous conditions like dull skin, spots and dark circles under the eyes. As men age, we become more aware of skin issues as skin elasticity reduces and fine lines appear. But thankfully, there is always time to make a difference.
Taking action is key, as we can't undo the damage that has already happened. However, we can slow down the ageing process and improve any small issues with some simple steps.
Wash Daily
A deep wash with a cleanser can remove impurities and build-up. Oil and dirt on the skin will lead to breakouts and a shiny complexion. Cleansing the skin is the foundation of your regime, as it creates a blank canvas for other elements to be absorbed by the skin.
Exfoliate Regularly
Where cleansing can admirably wash the face, exfoliating will dig out anything clogging the pores. After using an exfoliator, your skin will become instantly fresher.
This process only needs to be done twice a week post-cleanse. That will be enough to keep on top of any clogged pores and keep your skin looking primed.
Rehydrate With Moisturiser
The skin's ability to hold onto moisture will decline over time. Daily, we should help our bodies by using a moisturiser on clean, dry skin.
A moisturiser can be particularly beneficial for those men with dry patches or skin conditions like rosacea. If you don't have these issues, a moisturiser in the morning and evening can restore nutrients and moisture lost during the day or night.
Use Suncream
We tend to pigeonhole damage to the skin as only sunburn. But harmful UV rays cause premature ageing by weakening collagen, speeding up the effects of growing old that are already inevitable.
Sun cream can be worn daily, at all times of the year. Ludicrous as it might sound, the sun doesn't disappear after summer. The sun's rays can still be harmful without being as strong as in warm months, so seek a moisturiser that includes sun protection—that way, you will get that safeguard against the rays.
9. Ditch The Sweats
Athleisure is seemingly in your face at every turn; it doesn't mean you have to succumb to it. We agree with pushing the boundaries of sartorial rules and mixing mediums, but we draw the line at leaving the house in sweatpants.
"Sweatpants are a sign of defeat. You lost control of your life, so you bought some sweatpants." - Karl Lagerfeld
This quote might be a little extreme from Mr Lagerfeld. However, the simplicity of chucking on a pair of sweatpants does lean towards the lack of a measured approach to the outfit.
Working from home requires a certain level of comfort, and sweatpants can be a welcome choice when there are no Zoom calls. How about we swap them for something more polished before leaving the house in 2023?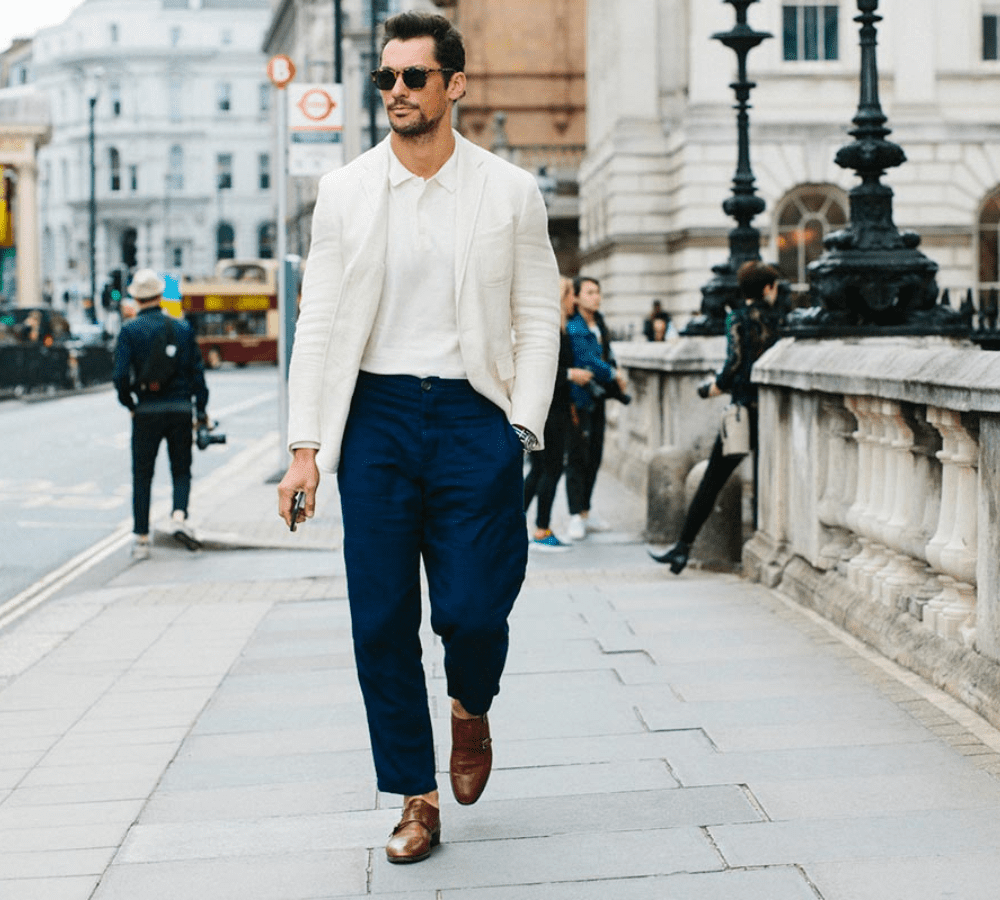 10. Mix Up Your Tailoring
Post-pandemic, men have looked at their outfits and particularly formal choices in a new light. You might only be heading to the office once or twice a week, so getting less wear from your suits. Even in the corporate space, attitudes toward how men should dress have shifted. But that does not mean we must eliminate our "whistle and flute".
By experimenting with how we wear our formal items, we can breathe new life into them—introducing separates, for example, or swapping formal elements like a shirt for something more casual like a polo shirt. These small tweaks collectively can add to a fresh new approach to formal dressing.
In a previous article, we brought you a list of applauded sustainable clothing brands that men should have on their radar. Though, it shouldn't start or stop with what we wear. If like this writer, you put as much care into your face and body as you do your clothing then there should also be a focus on the grooming brands you buy.
Nothing brings climate change to the fore like an unseasonable weather and the current heatwave is a prime example. Yes, it is nice to bask in sun for an extended period of time, but we need to be frank about the reasons for this heat. Climate change brought on by mankind's impact on the world around us has to be challenged.
Pioneering activists like David Attenborough have commendably brought to our attention how our seas are populated with plastic waste and how ecosystems are being destroyed by humans. Though our own choices should go further than just ditching the plastic straws in our drinks.
The traditional men's grooming market is chock-full of plastics and harmful ingredients. Marketing masks this with grandiose claims on how "insert grooming product here" can make you more attractive or cure the signs of ageing.
Education is key.
Sure, governments can take tougher measures such as banning microbeads - these plastic beads found in exfoliators couldn't be filtered out of water systems and made their way into lakes, rivers and seas.
But, by shopping around and broadening the brands you know and taking greater note of the ingredients in our products, men can make better consumer choices.
In this article, we have brought you a range of skincare brands that challenge the status quo of chemical-laden grooming in place of natural, ethically sourced ingredients and packaging without sacrificing quality.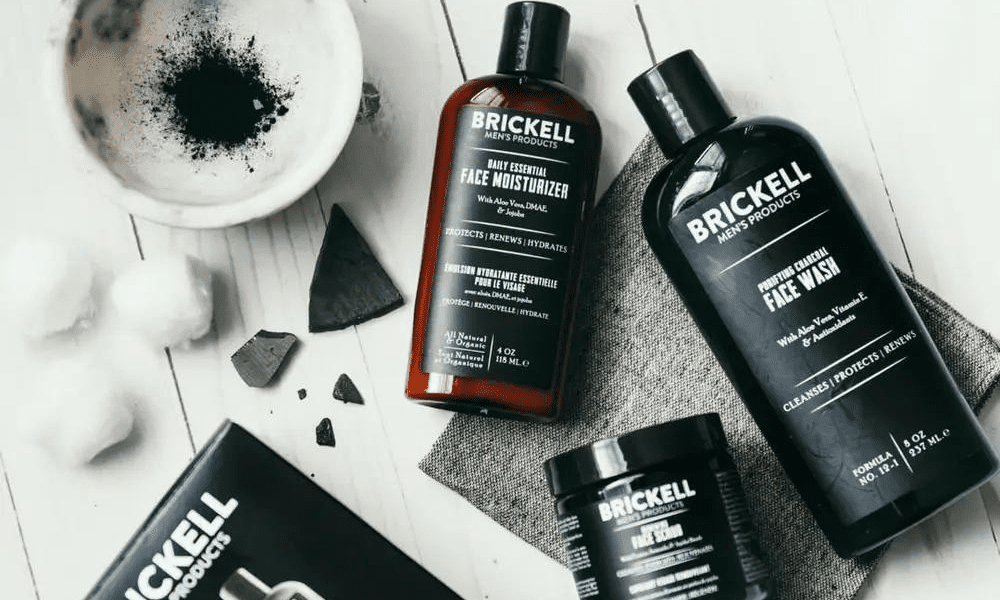 1/16
BRICKELL
Made in the USA, Brickell grooming products were born from the founder's frustrations about the level of toxins and synthetic chemicals in modern skincare for men. They set about crafting a range of natural and organic skincare products that are even more powerful than chemical-filled alternatives.
By introducing advanced science into the formulation process they are able to strip out harmful ingredients and replace them with natural, kind-to-skin substitutes without sacrificing results.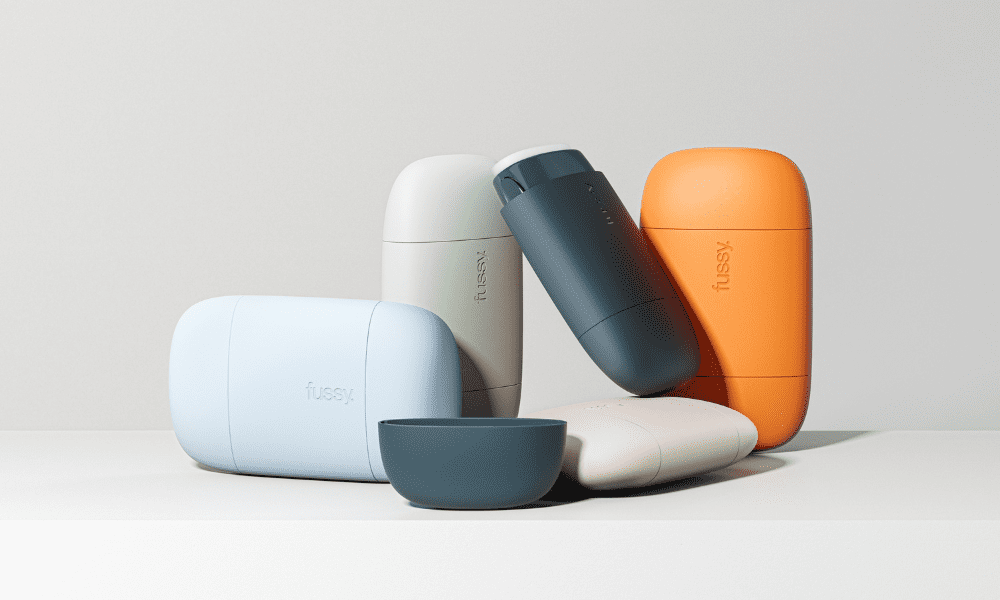 2/16
FUSSY
Fresh from a successful pitch on the UK's investment show Dragon's Den (like Shark Tank), Fussy is on a mission to banish single-use plastic from men's bathrooms.
Fussy deodorant is backed by science with all-natural ingredients making it free from aluminium, parabens and 100% vegan.
The deodorant cases are achingly aesthetically pleasing and you can book a subscription to have refills delivered monthly, straight to your door. Any leftovers are compostable helping to keep mother nature very happy.
3/16
GRUUM
Looking to strip the beauty industry of its outrageous marketing claims and bloated, chemical-filled products are UK based brand Gruum
There has been special focus into all aspects of the brand including the bottles themselves. The flatter shape makes better use of space in storage and transport, while being able to be conveniently posted through your letterbox.
In addition, though they make all their packaging as recyclable as possible, Gruum knows that razors are difficult which is why they have launched the UK's first (and only) razor cartridge recycling scheme for their customers.
Products that are chock-full of simple, natural ingredients that are kind to your skin and with a clear focus on reducing landfill it is a winning combination in our eyes.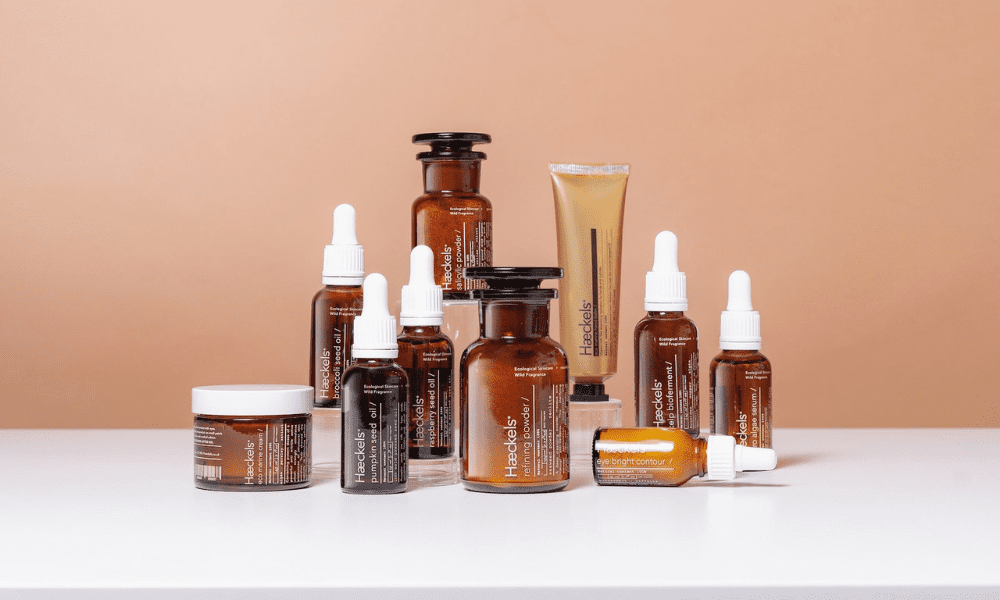 4/16
HAECKELS
Founder Dom Bridges spent hours volunteering on UK beaches and seeing the impact of waste on them he set about harnessing coastal ingredients to create grooming and homeware products that can help slow the destruction of UK shores.
Seaweed is a key ingredient in a lot of their products and is picked by hand on beaches around Margate where their shop is based. This coastal hub stems from the belief that we are intrinsically linked to the sea and that we need to care for it with the brand also organising beach cleans and taking part in marine conservation surveys to further help the surrounding coastline.
The brand doesn't stop at just natural ingredients in its products. Key packaging utilises mycelium and seed paper wraps, both of which are 100% biodegradable helping to encourage new plant life.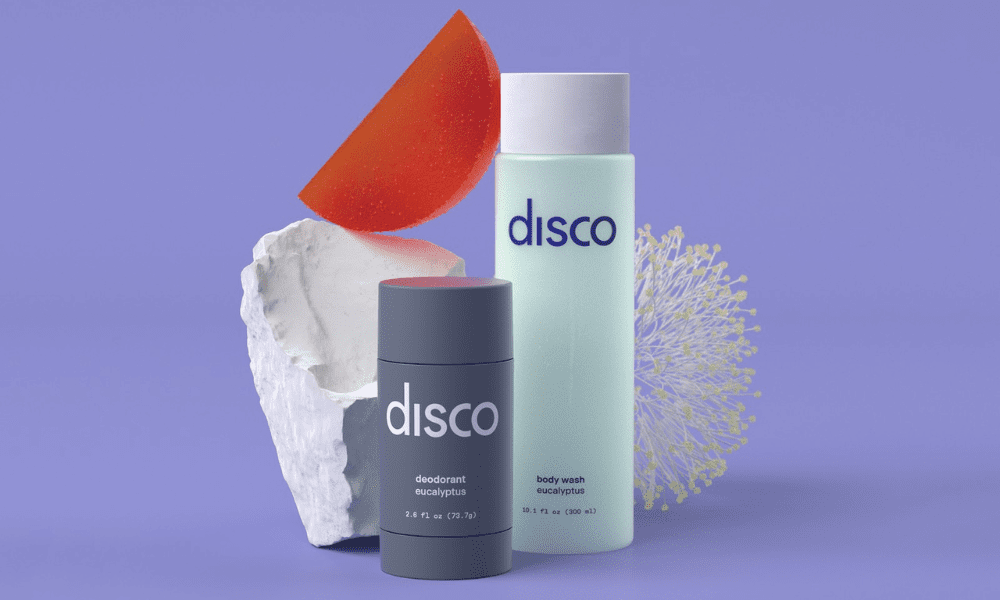 5/16
DISCO
Disco values clean ingredients, manufacturing all products naturally and responsibly.
The key ingredients in the Disco products either on their own or in combination with others serve the purpose to care for and enhance men's skin. Backed by a Harvard dermatologist, the brand looks to give men a one-stop shop for all their skin and hair needs no matter their specific requirements.
6/16
BULLDOG
Probably one of the more well-known brands on the list due to being stocked in multiple supermarkets and pharmacies across the UK. But, what shouldn't be lost in its rise in popularity is Bulldog's commitment to fuss-free skincare products manufactured right here on our shores.
There is a strong use of natural ingredients alongside a few man-made picks with all products suitable for vegetarians and vegans due to the zero use of any derivatives from animal sources.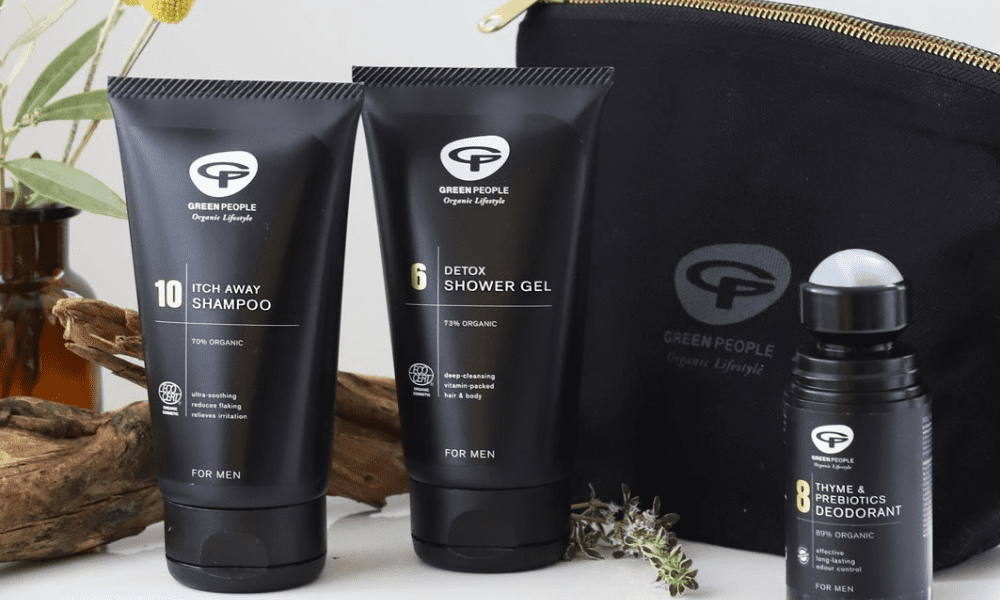 7/16
GREEN PEOPLE
Upon discovery back in 1994 that companies only needed to include less than 1% of natural ingredients to call their product "natural", a spark was lit inside Green People founder Charlotte Vøhtz to create a truly natural range of skincare.
A family business, the brand carefully selects its natural ingredients to be bursting with benefits for both skin and hair. Prioritising certified organic and ethical sources, the extensive range of products covers a vast range of needs for both adults and children.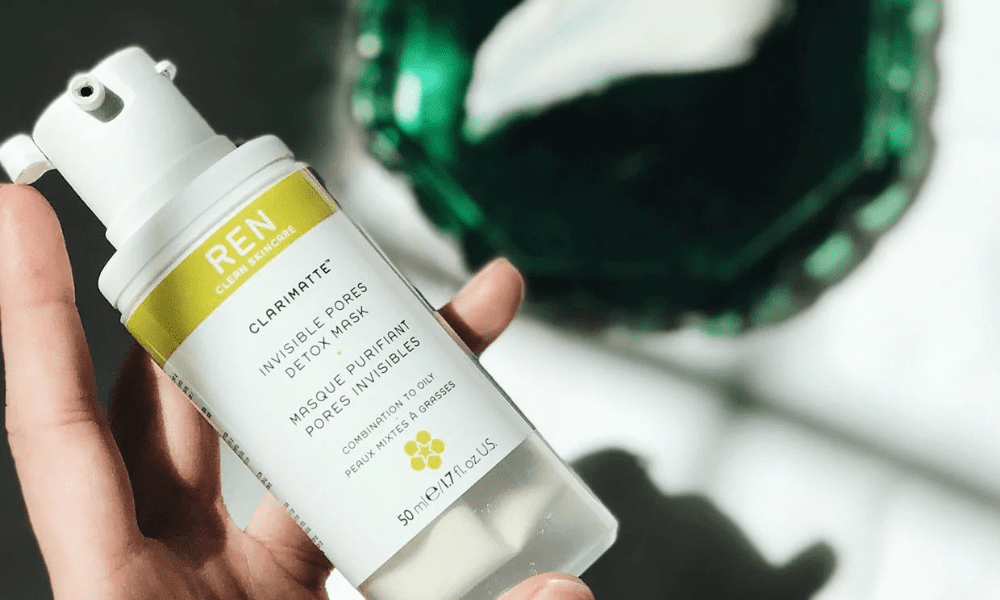 8/16
REN SKINCARE
This skincare titan is effectively working towards a waste-free future by the inclusion of 100% recyclable packaging from reclaimed ocean plastic. REN also uses 100% plant- or mineral-derived ingredients. None of this has stopped them from winning countless men's grooming awards for the high calibre of their products.
From moisturisers to sunscreen, the UK brand always has sensitive skin in mind when creating high-performance products that include nature's most powerful and skin-kind bioactive ingredients.
9/16
DOERS OF LONDON
With a fully vegan approach, this London brand aims to deliver premium performance skincare for men without the extortionate price tag.
As you can expect, there are no harmful chemicals with only naturally derived ingredients proudly going into every piece. It has earned the approval of the Vegan Society and they are certified cruelty-free.
Doers of London produce in small batches allowing them to constantly evolve formulas and try new products. This strive for innovation comes from their entrepreneurial founders who desired to create a men's skincare brand that truly has substance in a crowded market.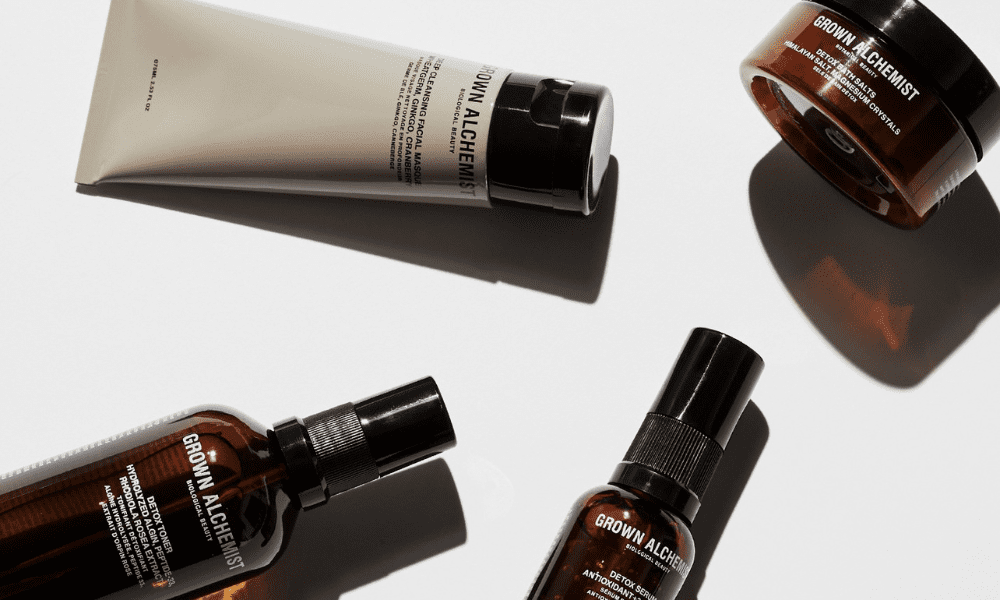 10/16
GROWN ALCHEMIST
The Australian brand, Grown Alchemist carefully crafts natural and sustainable products in eco-friendly packaging.
They are strong believers in how scientifically–innovative formulas are capable of influencing the way the body repairs and regenerates the skin. Their research proved that omitting ingredients like parabens or artificial fragrances in place of natural active ingredients directly imrpoves skin cell health, optimising skin function and consequently reversing the signs of ageing.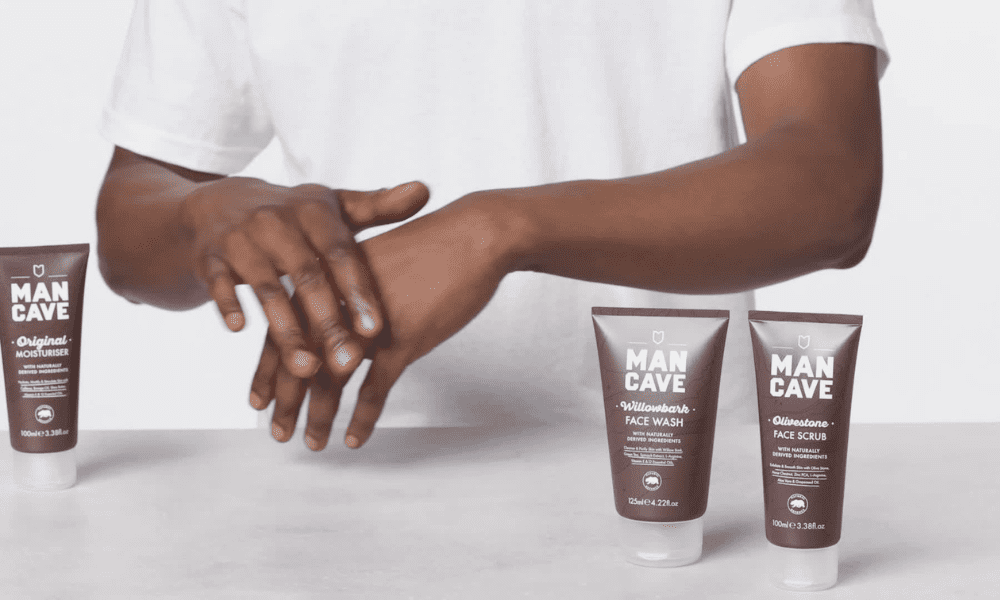 11/16
MAN CAVE
Both cruelty-free and vegan-friendly, Man Cave aim to provide men with a range of natural performance-based personal care products.
Without compromising on quality, the brand carefully selects ingredients to help provide the best that clean and natural has to offer. Taking onboard feedback from their customers, Man Cave has ever-evolving formulas that utilise ingredients like ginger root, olus oil and peppermint to maximum effect.
Taking their commitment to mother nature even further, they manufacture 100% recyclable and BPA-compliant plastic bottles to encase their products. This material takes fewer fossil fuels than glass to create and isn't as heavy which would add an additional fossil fuel burden during fulfilment.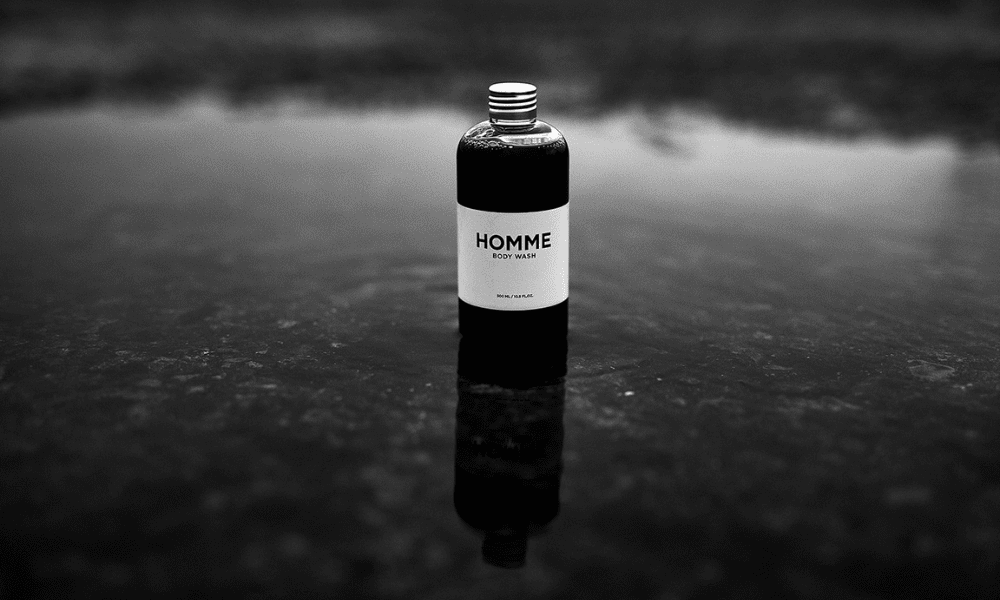 12/16
HOMME
The product formulas used in Homme skincare are developed and made in Sweden, the mecca for minimalism. This no-frills methodology transcends to the products, stripped of chemicals and including only natural ingredients presented in low-key packaging.
Utilising a team of experts in the fields of skin therapy, make-up and barbering the team works on creating face creams, serums, hair products and beard oils that can be trusted to stand up to rigorous testing.
Designed specifically for men, Homme's range of products is ever increasing, so always check back for new lines.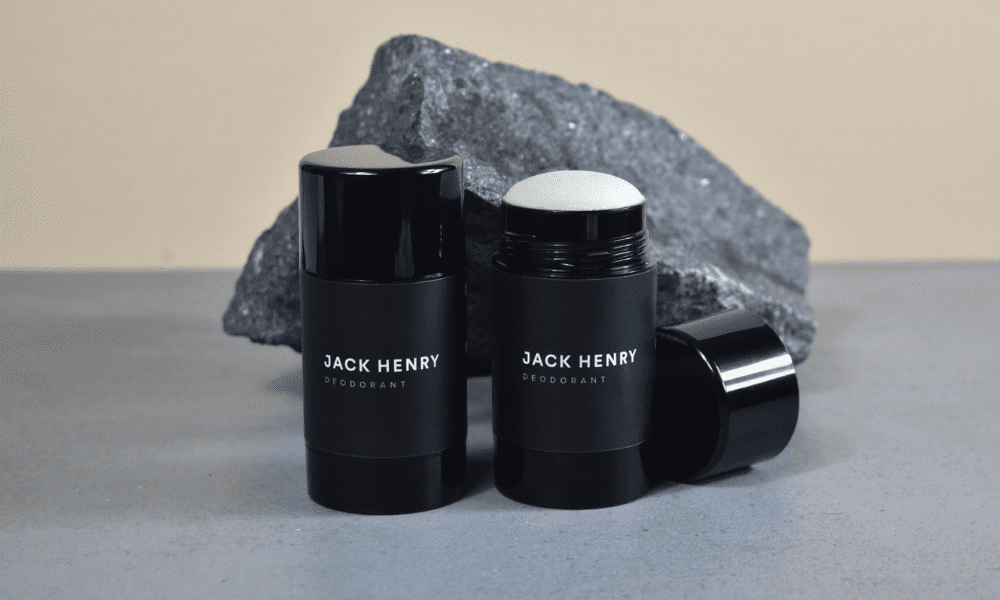 13/16
JACK HENRY
Named after the founder's son, the Jack Henry range is produced in-house using proprietary, plant-based formulations that include only natural ingredients.
Jack Henry Studios is a wellness club located in California and this ethos of not only looking but feeling good is what inspires their collections.
The result is minimal but functional body care that supports a healthy microbiome. All packaging and design are considered to have the least impact on the earth while maintaining the product inside. For example, they use an amber tint that keeps out harmful UV rays that can prematurely damage ingredients at a molecular level.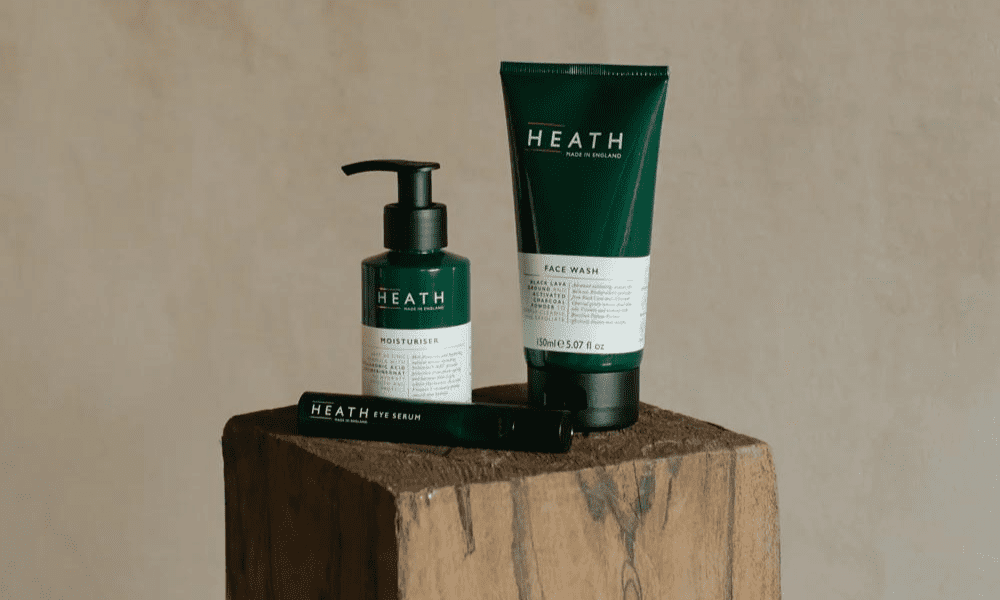 14/16
HEATH
Inspired by the urban natural lifestyle, Heath is a UK brand creating products packed with high-potency, natural ingredients to provide men with an elevated skincare routine.
Pioneering new formulations that smell good, look good and achieve great results, all skincare products from the brand are artisanally manufactured with 90% natural ingredients. Free from parabens, sulphates and microbeads the range is suitable for vegans and nothing has been tested on animals.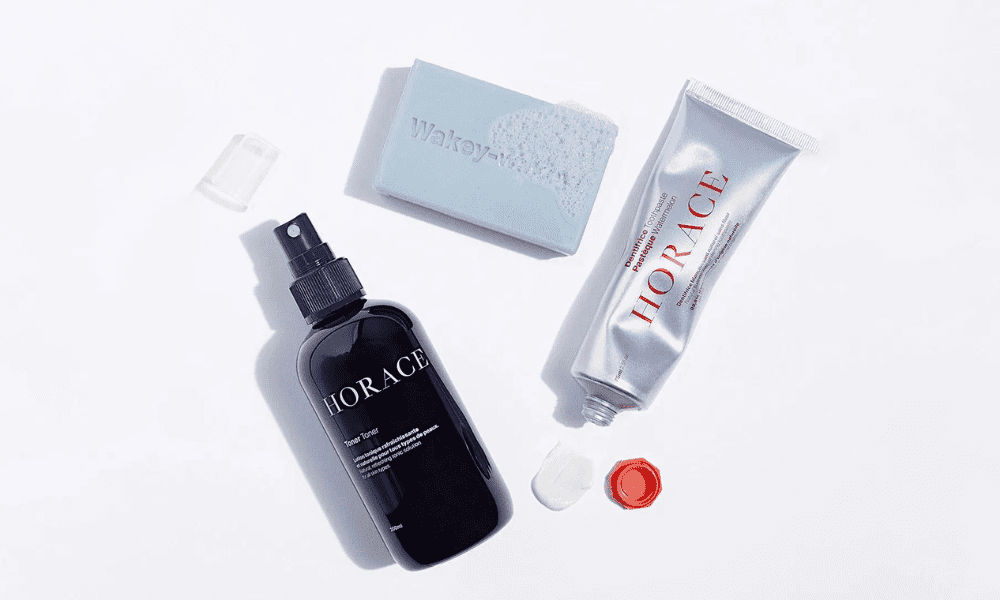 15/16
HORACE
This French brand only picks and uses ingredients that have been scientifically proven to get results in the ideal quantities. Not inflating ingredients based on trends or public opinion but what will be most effective.
All the products from Horace are between 95% and 100% natural, cultivated in no-frills formulas that suit all skin and hair types. That means a simplified shopping experience that gets expert pieces in your hand at an affordable price point.
If you need more convincing, just check out the tons of positive reviews from happy men on their site.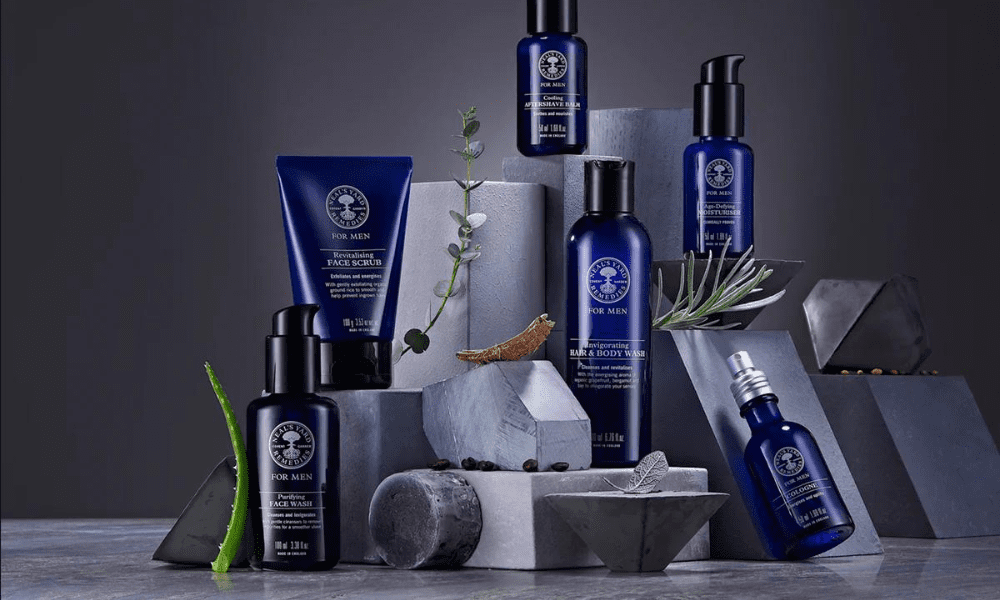 16/16
NEALS YARD REMEDIES
The OG of natural skincare, Neal's Yard have been doing it for over 30 years.
Based in Devon, UK, the brand ethically sources the finest herbs, botanicals and essential oils to be used in their extensive range of products. During sourcing, Neal's Yard takes part in countless initiatives to ensure they enrich the lives of the people living where the ingredients come, from Uganda to Australia.
Winning countless awards, the brand is a global leader in sustainability aiming to become a Net Positive business that benefits all aspects of environmental, social and economic sustainability.
Sustainability is a word thrown about a lot in the menswear industry. Typically it is superseded by a large fashion brand looking to minimise the impact they are currently having on the environment. There is though a growing number of brands that are leading the way in producing sustainable menswear. Not as a PR stunt, but through a genuine passion for crafting. It is great men's clothing and accessories that minimise the impact fashion has on our planet.
Making a real difference in the fashion industry starts with ourselves. Putting a greater value on the clothing we buy will ensure we are purchasing smarter. That means not buying for just a single occasion. But by building an interchangeable wardrobe promoting well-made garments manufactured from fabrics that have longevity.
Throughout this site, we try and give a voice to new menswear brands producing these kinds of items. We believe that trends are temporary, and style is permanent. By helping our readers to understand the construction of elevated pieces and how to style them. This hopefully leads to our readers buying less often, but with better quality.
This sustainable method of production and promotion of considered purchasing is evident through the brands in our list. Through initiatives like avoiding unnecessary discounts or reinvesting profits back into environmental causes, they are making a difference.
You might just discover your new favourite menswear brand.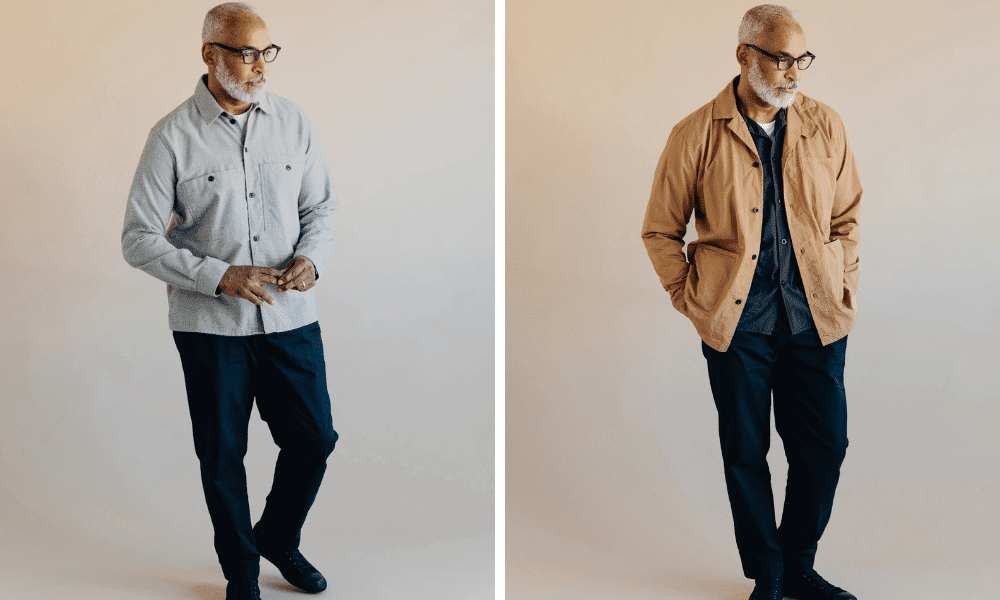 1/30
Form & Thread
Paying special attention to everything from their fabrics and factories to the bio-degradable and recyclable packaging they deliver in. This is a modern, sustainable menswear brand, top to bottom.
Form & Thread's Essential collection is seasonless which allows Form & Thread to take a more considered approach to every piece
Their factory partners in Portugal align with their passion for outstanding quality menswear without compromising their workers. Form & Thread are transparent on all costs. That way you know exactly what you are paying removing typical industry markups.
2/30
Community Clothing
Patrick Grant, best known for presenting 'The Great British Sewing Bee' is the man behind Community Clothing, a social enterprise. Patrick builds on a strong pedigree in textiles having turned around the failing fortunes of not one but two menswear brands.
This enterprise provides employment and pathways to employment in areas decimated by the decline of British textile manufacturing. They partner with factories in six deprived areas and fill capacity through quieter periods. This creates a virtuous circle of rising volumes, rising efficiency and rising employment.
Obsessed with excellent fit, function, material and make. Community Clothing products are classic style iterations, not redesigns and made through a local supply chain. What's not to like?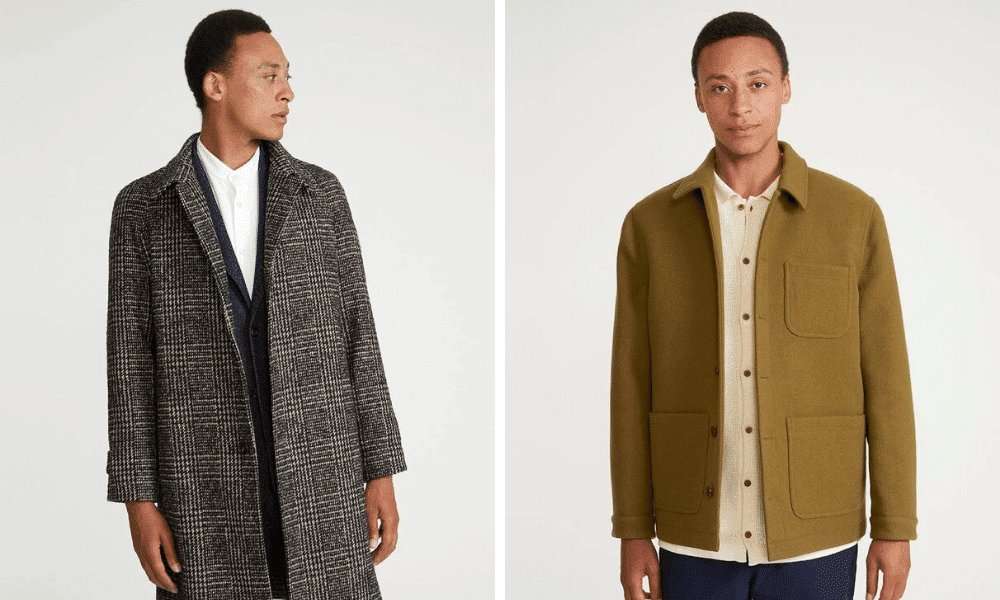 3/30
Sirplus Clothing
This is a British menswear brand, born from the repurposing of unwanted fabrics, hence the name. Originally it was using excess material from Savile Row and Jermyn Street shirtmakers to craft underwear.
The brand has grown from a market stall to multiple stores and now sells a range of sustainable menswear staples and Sirplus is still true to that original concept. The surplus cord from Italian designers is used in suits while overstock cashmere is woven into winter knits.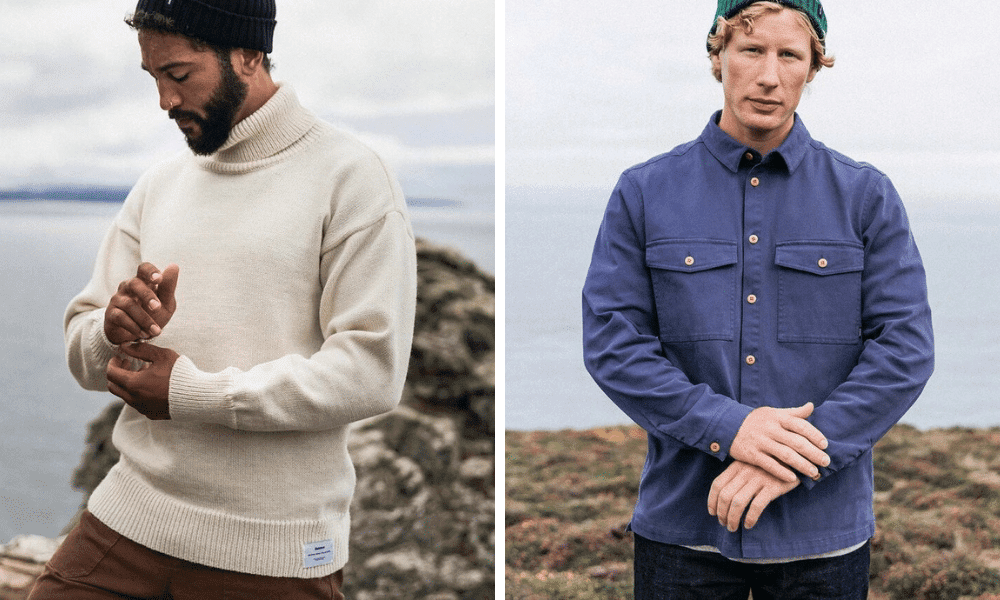 4/30
Finisterre
Finisterre creates functional and sustainable menswear for those that share a love of the sea because it was founded for surfers, by surfers.
Since they launched back in 2003 the customer base and product range have expanded, but, Finisterre remains true to that original ethos. They craft innovative products with longevity.
Operating from a clifftop workshop in St Agnes, this is a British brand doing great things.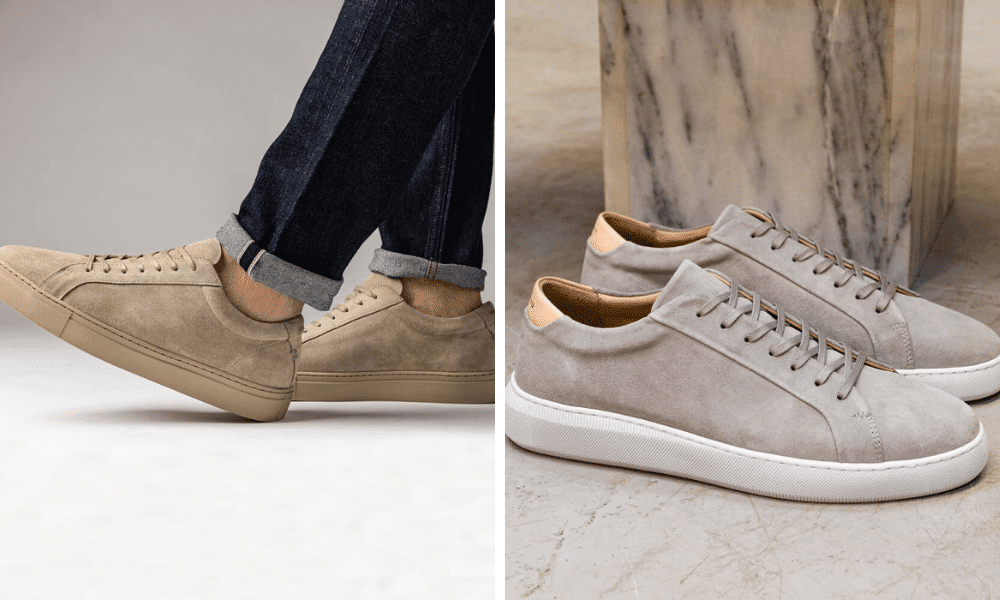 5/30
Uniform Standard
Having spent 15 years designing for other brands, the team behind Uniform Standard launched in 2018 from their East London studio. The brand since its launch has been committed to a sustainable approach to product development. This includes using European recycled components to enhance their designs.
The trainer's outsoles, footbeds and insoles, are constructed with recycled materials. These are then partnered with premium Italian leather for a holistic, sustainable shoe. Delivered in plastic-free packaging they even lessen environmental impact by working with DHL to create a carbon-neutral delivery footprint.
With multiple designs to choose from, these men's trainers are durable and well-made. If cared for post-purchase, these will be robust enough to last year after year.
6/30
Patagonia
A band of surfers and climbers founded Patagonia. This group had relied heavily on clothing to be durable and functional and this idealogy became a founding pillar for the brand they created. Prioritising durability means consuming less energy, wasting less water and creating less landfill. Patagonia makes everything with a 100% guarantee, which means they will repair, replace or refund anything that is not up to their high standard.
Patagonia knows everything they make impacts the planet and that is why they have built robust environmental and animal welfare programs as well as being fully transparent regarding its supply chain. Skilled workers manufacture all products within safe, fair, legal and humane working conditions
7/30
WAHTS
An innovative menswear brand, WAHTS merges luxury menswear with contemporary sportswear. As a result, their comfortable men's fashion is interchangeable no matter the occasion.
The brand sources the highest quality fabrics and manufacturers in limited productions to minimise their impact on the environment. Using expert partners in Portugal they require the Oeko-Tex® Standard 100 certification from all their suppliers and production partners.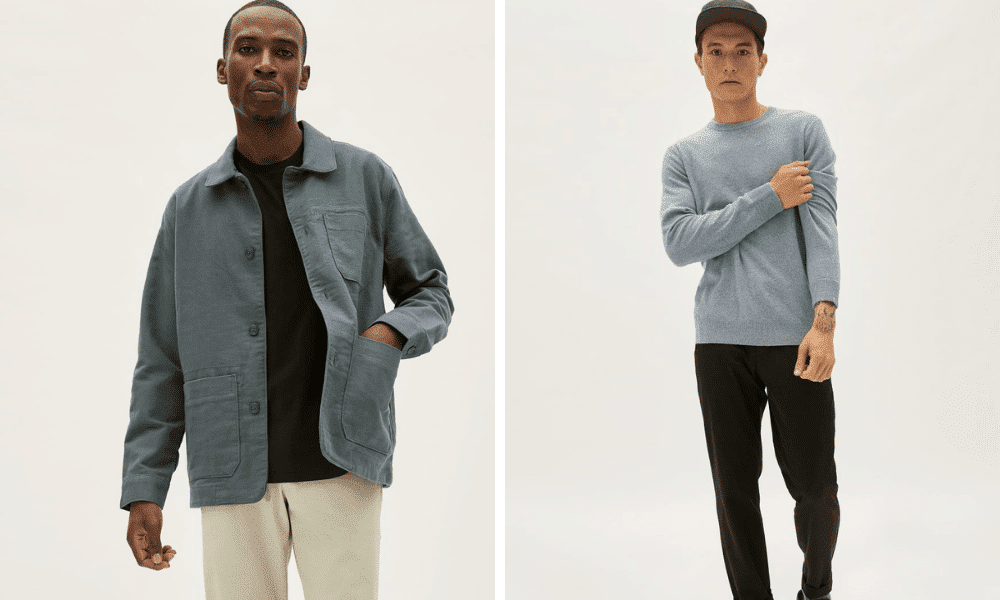 8/30
Everlane
Exceptional quality, ethical factories and radical transparency are the three pillars Everlane is built on.
The brand sources the finest materials and only partners with the most ethical factories across the world to create every product. A working agreement is only reached once a factory hits an audited score of 90 out of 100.
Steering away from trends, the brand manufactures timeless pieces that they want you to wear for years to come. But, the concept only works thanks to skilled workers using premium fabrics like their Grade A cashmere.
One of the first to show the full cost of every product including production and transport, Everlane has pioneered a transparent customer/brand relationship. You see the real price without paying the typical high markups.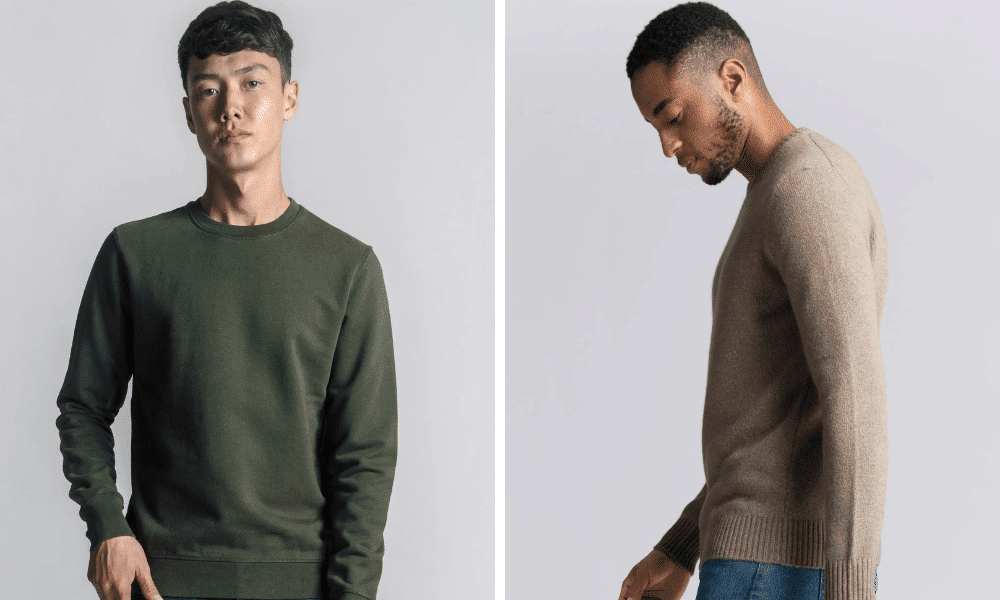 9/30
Asket
Within the fashion industry, garments have lost their value, or at least this is what Asket believe. They see people buying more and wearing less, resulting in wasted clothing ending up in landfills or in incinerators.
Asket wants to end this perpetual cycle of clothing consumerism, so creates clothing, not for seasons but forever. The brand uses the best materials to manufacture sustainable menswear that generates better value.
Asket removed standard sizing because they understand everyone is built differently and believe if your clothes fit better you are more likely to wear them.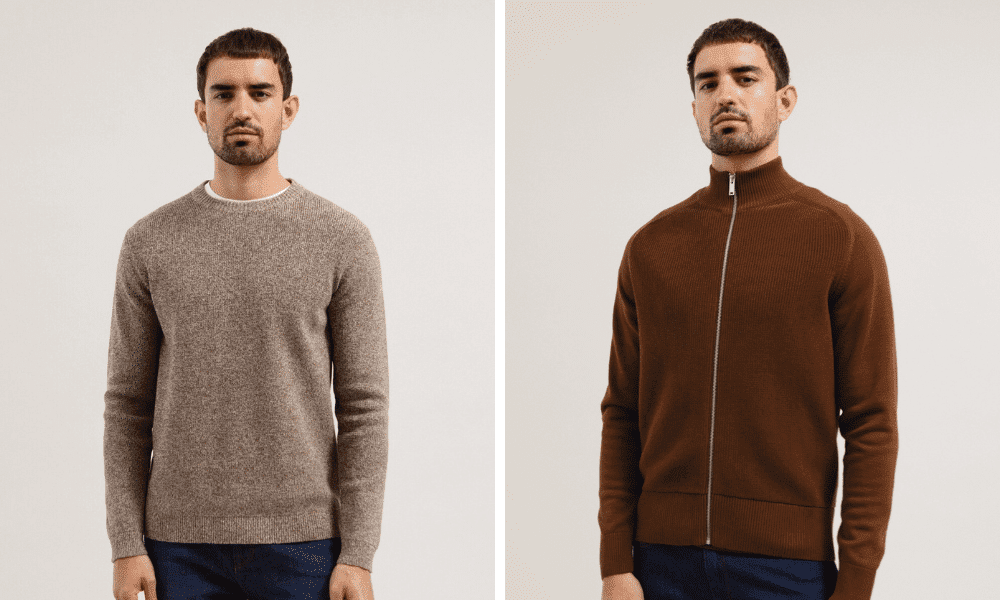 10/30
Armed Angels
Timeless, sustainable and fairly priced, Armed Angels don't chase trends because they focus on modern, contemporary collections.
The brand only uses sustainable & regenerative materials such as organic cotton, organic linen, organic wool, recycled cotton, LENZING™ ECOVERO™ and TENCEL™ Lyocell. The result is they have been GOTS certified since 2011.
Armed Angels take on the responsibility to make sure that all of their workers are working in fair conditions. They work with organisations like Fairtrade or Fair Wear Foundation to help implement those high standards.
To them, fairness is never out of fashion.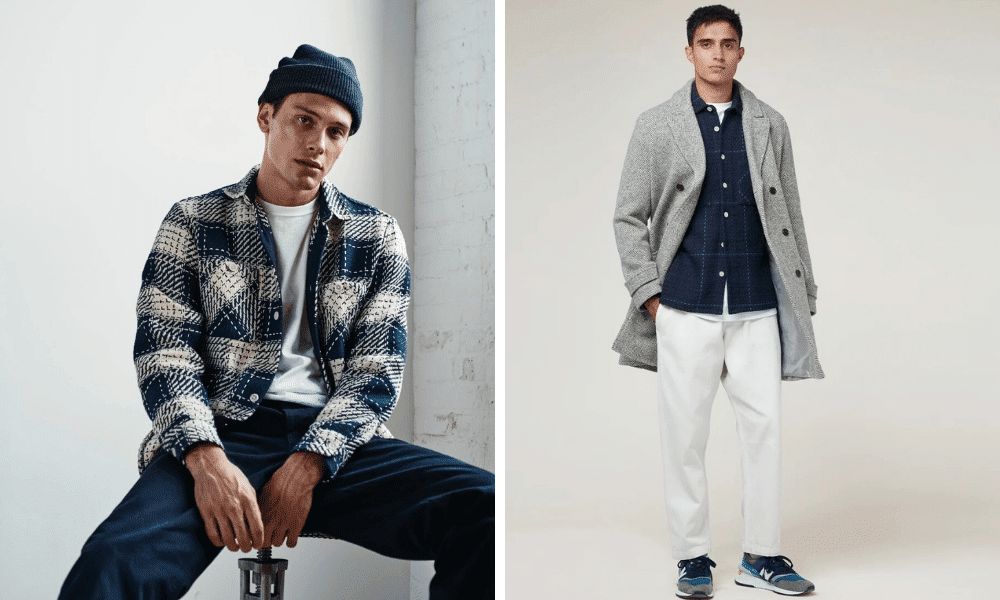 11/30
Wax London
Wax London is a premium clothing brand for men that has sustainability at its core. Manufactured in London, we applaud their commitment to supporting the capital's textile industry.
They keep a close eye on all aspects of production for every item they sell. That means sustainably produced fabrics, adapted using natural dyes and manufactured as close to home as possible.
Wax London goes further, looking at everything from the energy used in transporting goods to water management during production to ensure it is as environmentally efficient as possible. Then even creatively upcycle leftover material to minimise anything ending up in a landfill.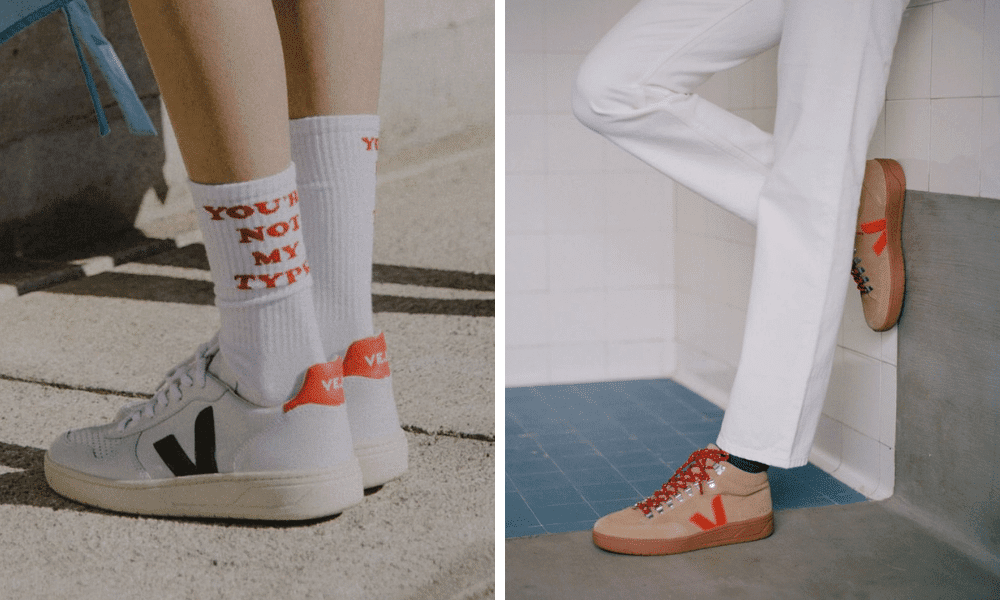 12/30
Veja
It has been hard to miss the distinctive Veja 'V' popping up on the feet of stylish men and women over the past few years. Focusing on an iconic item like a trainer was no mistake. The trainer is a symbol of mass production and the challenges of globalisation. We have all become aware of the poor working conditions of those making some of the world's most popular sporting sneakers.
For the two founders, it all started with a visit to manufacturing factories while working for a non-profit charity and the appalling conditions they witnessed. By creating a transparent production model they set about designing footwear using the most ecological materials and involving ethical suppliers. The slightly higher price point of their trainers is a result of using the best materials while paying a fair wage to the workers.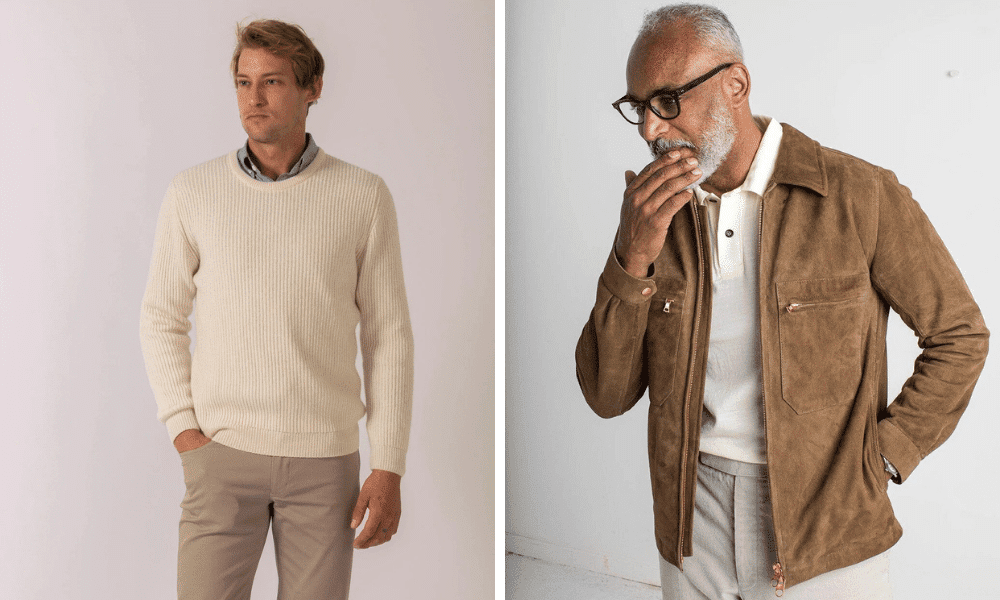 13/30
Private White VC
In the past, Manchester was a thriving hub of clothing manufacturing in the UK. Over time that has almost disappeared with dramatic effects on livelihoods and communities. Private White VC want to do what they can to revive that industry in their hometown.
Named after Private Jack White, who won the V.C. (Victoria Cross) in World War 1, the company since 2007 is now back in the hands of his family.
The company does not outsource any part of their clothing production, designing and manufacturing everything in-house, reducing its carbon footprint.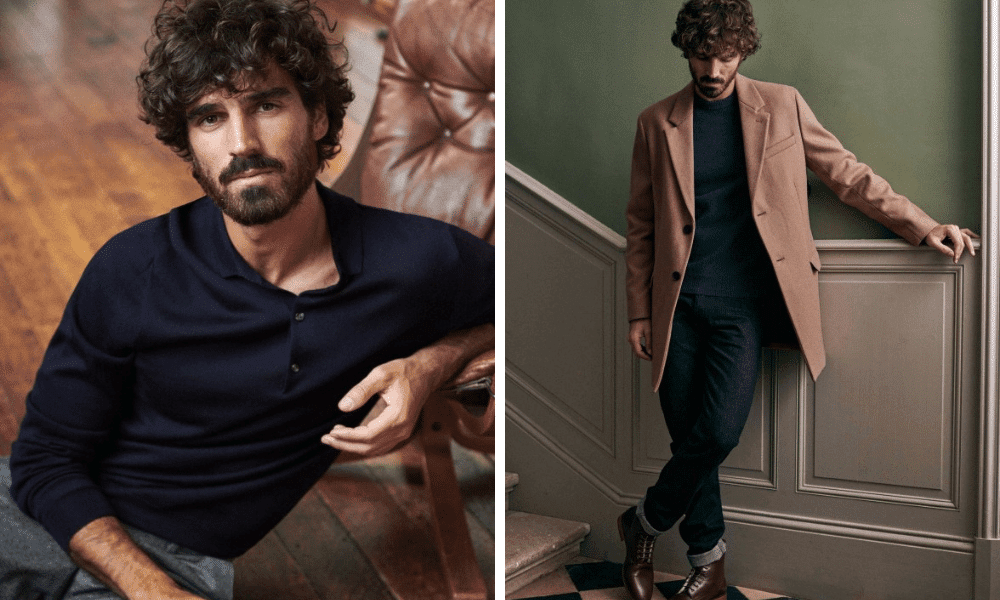 14/30
Octobre Editions
Octobre Editions regularly audits all its manufacturers to ensure they respect their ethics and standards. To keep things local around 95% of the brand's pieces are crafted by European ateliers.
For Octobre Editions it is all about creating a sustainable menswear wardrobe inspired by Paris. Their pieces are composed to be worn easily and revisited season after season
They follow a lean production model which reduces any potentially wasted overstock and the ability to offer fair accessible prices all year round.
If you shop with them on the 21st of every month, they give 10% of profits to projects that provide access to education, culture & equal opportunities to children around the world.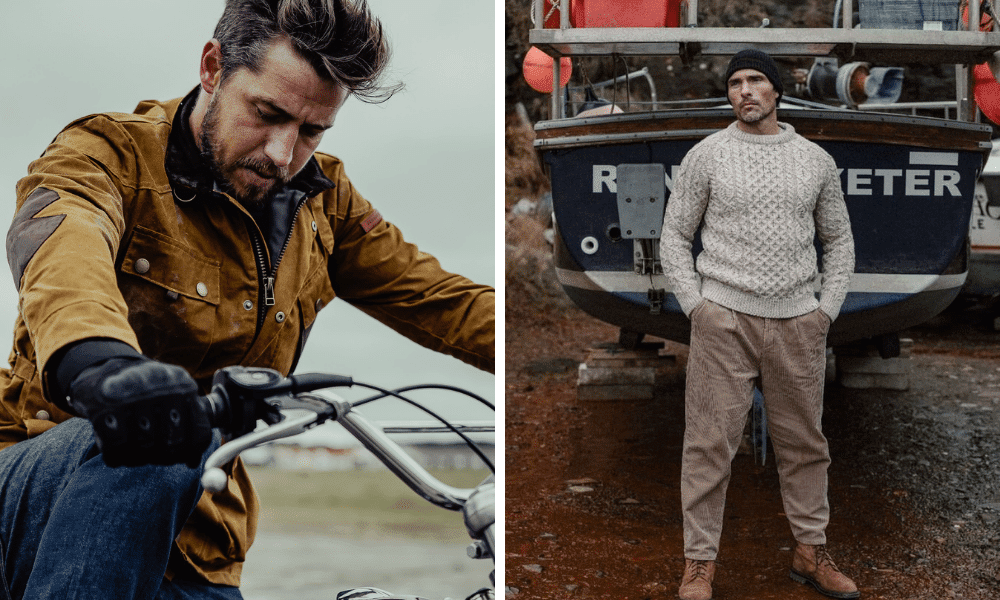 15/30
Peregrine
For a company that has been making clothing and accessories in England since 1796, they have seen their fair share of fashions come and go. Although they understand that by being a producer of clothing they cannot truly call themselves a sustainable menswear brand, they work hard to reduce their impact on the environment.
Peregrine aims to use the best, sustainable materials to manufacture its products in England using heritage techniques. This, alongside their direct-to-consumer model and long-lasting design process, enables them to be as sustainable as possible.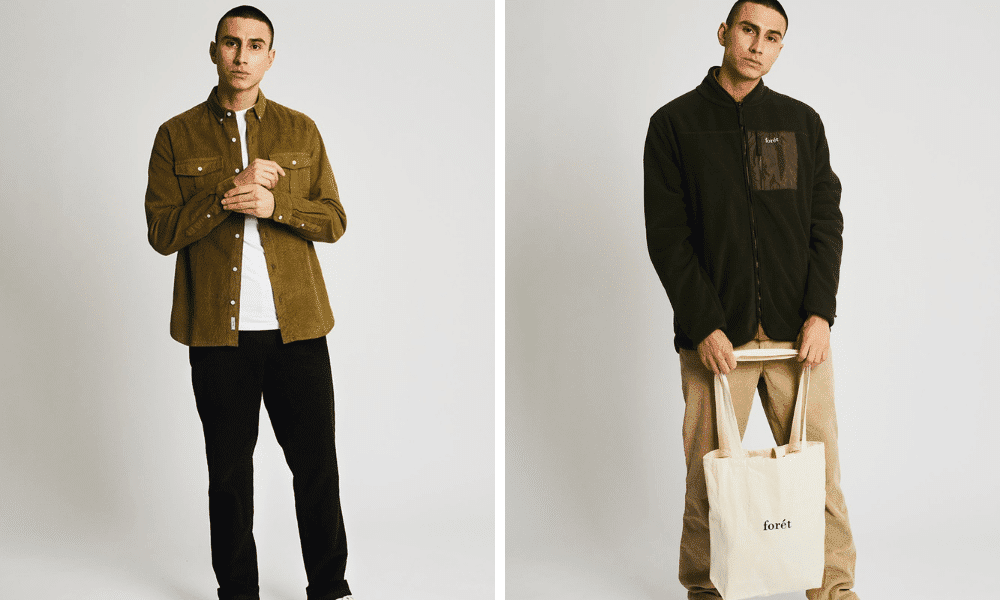 16/30
Foret
Foret Studios wants you to go offline and enjoy your surroundings. The Danish friends behind the brand were inspired by their childhood adventures and wanted to provide slow goods for that whimsical journey.
The brand thinks about the impact it has on the environment and what it can do to preserve the planet for future generations. They are working towards being 100% sustainable, using GOTS-certified cotton and partnering with factories in Portugal to manufacture long-lasting clothing.
Offering advice on the care of products can also make sure that items aren't prematurely damaged. Foret recommends washing all their pieces at 30 Celcius and repairing any damages or passing on any clothing you no longer want.
17/30
Far Afield
Far Afield are a contemporary sustainable menswear brand. Inspired by global travel they create collections that marry the unique with expert craftsmanship.
High standards of ethical production are maintained by visits from the two founding brothers of the brand. The team also runs a fine-tooth comb over the materials any factory is using. Woven and jersey fabrics must use Organic (GOTS) or Better Cotton Initiative (BCI) accredited cotton only.
The brand hopes to be fully recyclable or non-plastic by the end of 2020 which will mean everything from packaging to collar straighteners won't be plastic. A positive outcome for the planet.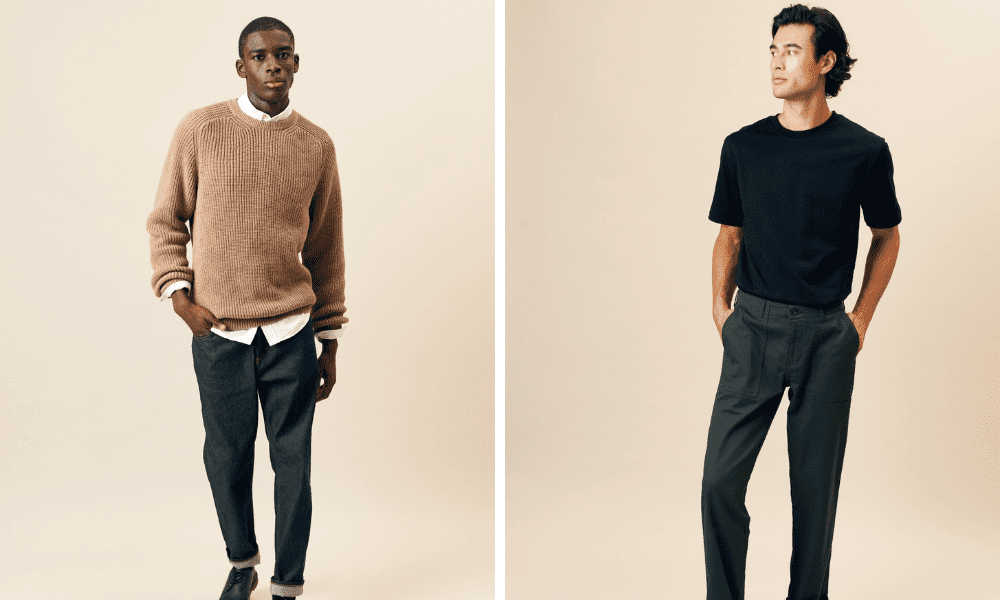 18/30
Kotn
The principles of considered design, relentless quality, honest value, and positive impact are influential for every Kotn product.
Kotn, creates quality essential menswear items ethically made from sustainable materials. But, they go further, knowing that fair labour prices can help build thriving communities. They have helped to fund several different social impact projects, including building schools and providing resources to smallholder farms in impoverished communities.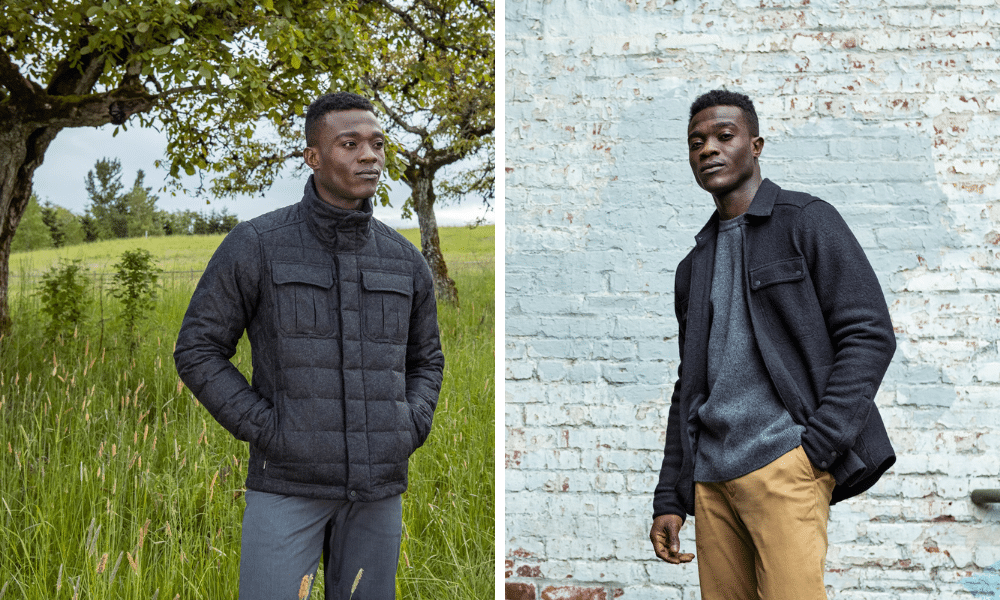 19/30
Nau
Nau is the first sustainable performance wear brand. Before, men had to choose eco-friendly or high-tech, but now they can have both.
Originally they started by making coats using 100% recycled down. Now the brand has developed its own textile treatments and applied them to a honed list of just 10 sustainable materials for everything they make.
Pieces by Nau are designed and produced with a sustainability mindset. It means manufacturing through a combination of timeless style with high performance to create items that will last years.
20/30
Komodo
Sustainability is not a new fad for Komodo. Eco-friendly clothing has been a commitment for them since 1988, a lifetime in fashion years. This has enabled them to spend years innovating, creating fabrics such as green PU coating and recycled PET, from plastic bottles.
A large percentage of their products are vegan and all are cruelty-free. Their overall goal is to minimise the impact that clothing production has on the environment. Within their use of natural materials, you will find familiar options like linen, wool and organic cotton. Though, they go even further than other brands with a range that includes Tencel and Rayon (made from tree cellulose), Hemp and even Bamboo.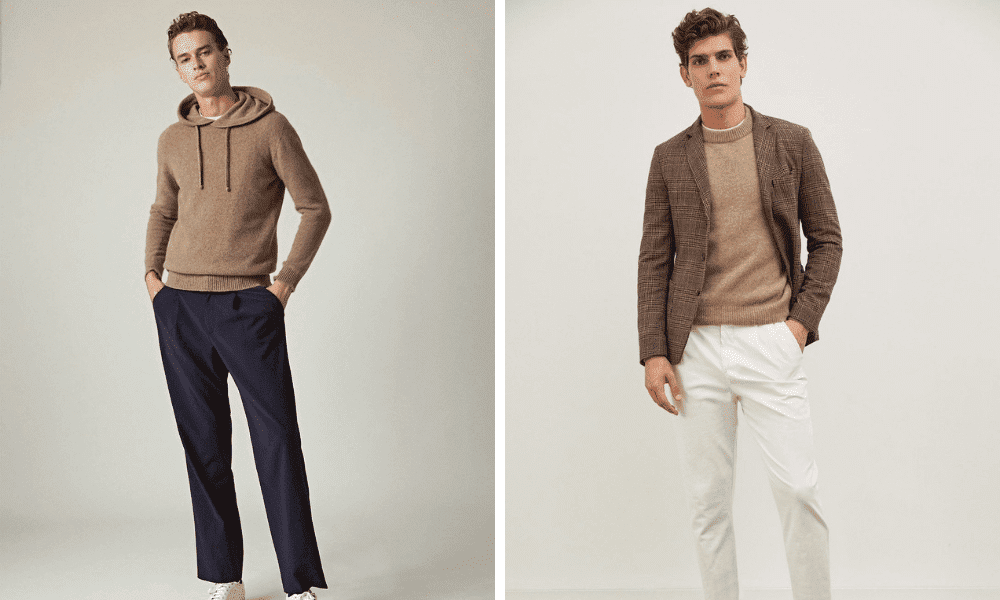 21/30
Artknit
Another company that embraces a direct-to-consumer model, Artknit only works with manufacturers in Italy to reduce their carbon footprint.
The brand believes the design of products shouldn't be restricted by focusing on sustainability. By removing seasonality, locally sourcing materials and being committed to zero waste, they produce a seasonless collection of elevated pieces.
Artknit is uncompromising when it comes to the quality of its products. They have removed middlemen and multi-brand stores to reinvest potential cost savings into using better materials and manufacturers. With their expert craftsmanship tasked with only using natural fibres, these are products that will not let you down, year after year.
This is a sustainable menswear brand with an Italian flair.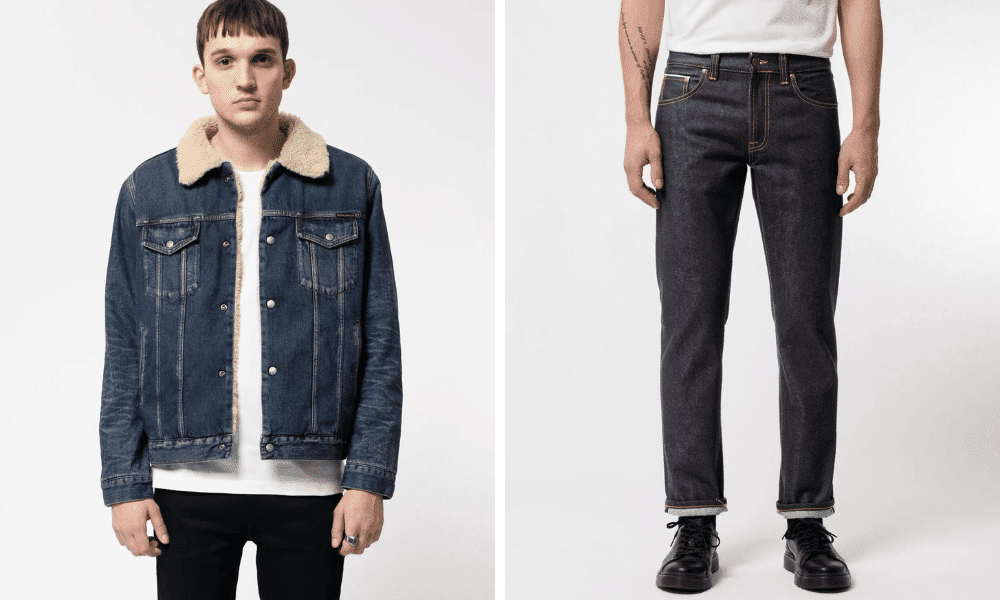 22/30
Nudie Jeans
Several concepts, beliefs, and a good portion of old-fashioned fighting spirit drive Nudie Jeans forward. They want their 100% organic denim in its raw state to become like a well-worn skin whoever owns them.
93.8% of all the fibres used in their garments are cotton and they only work with organic, fairtrade or recycled cotton. Also, by not treating their denim, they are removing the use of harmful chemicals during the manufacturing process.
The brand has won numerous sustainability awards over the years and even removed leather from its logo back patches to create vegan denim jeans.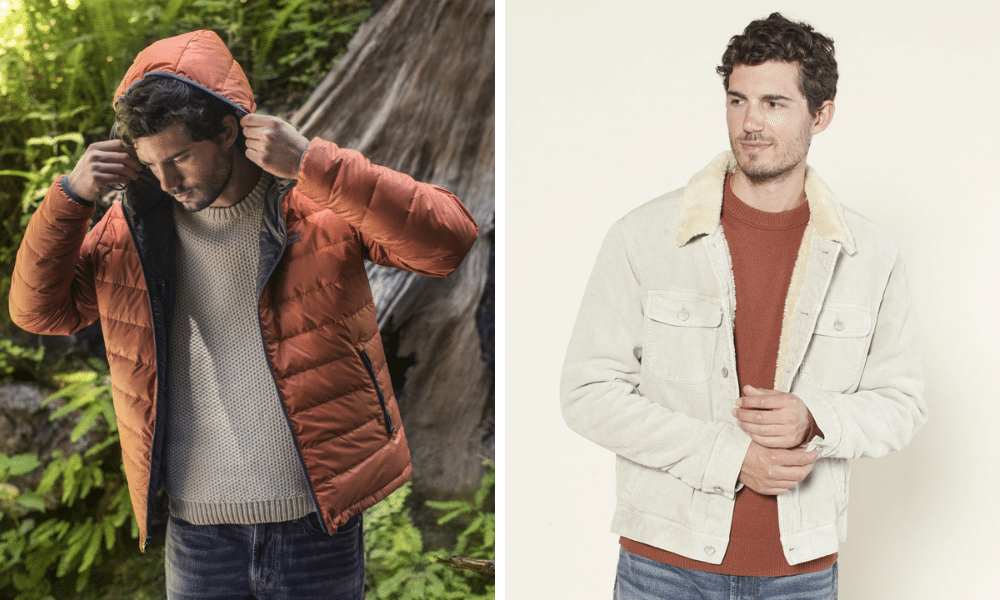 23/30
Outerknown
In 2015, professional surfer Kelly Slater and creative director John Moore set out to change the clothing industry. They aimed to make great clothes with a radical commitment to sustainability. The result was Outerknown.
Through Fair Trade USA, Outerknown invests in the livelihoods of over 5k workers and 90% of the fibres they source are organic, recycled, or regenerated.
Outerknown is so sure of the quality of their products that they guarantee their jeans for life. The brand will repair, replace, or recycle any pair to keep them out of the landfill.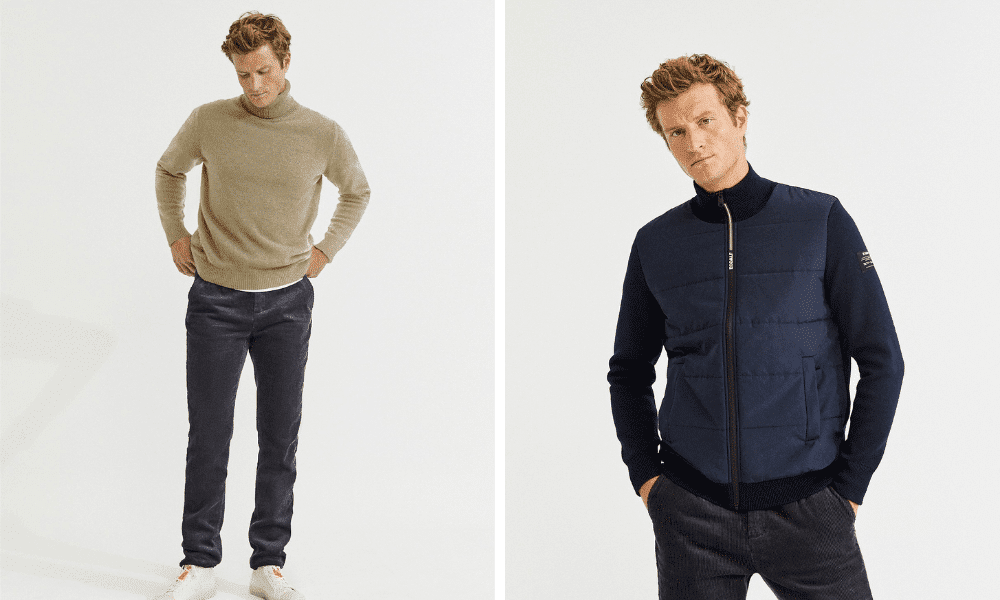 24/30
Ecoalf
Ecoalf is the first fashion brand in Spain to become a member of B-Corp, a corporation set up to redefine success in business and build a more inclusive and sustainable economy. B-Corp only works with businesses that meet the highest standards of verified social and environmental performance.
The brand believes through evaluation everything should do less harm to the planet and local communities. This means sustainable materials, quality craftsmanship and timeless design.
By using materials like recycled PET (polyester) they are helping to reduce water consumption by 20%, energy consumption by 50% and CO2 emissions by 60%. Ecoalf has also launched a foundation to help remove marine debris from the bottom of the oceans the world over. Materials if possible are gathered, sorted, recycled and reused within Ecoalf's products.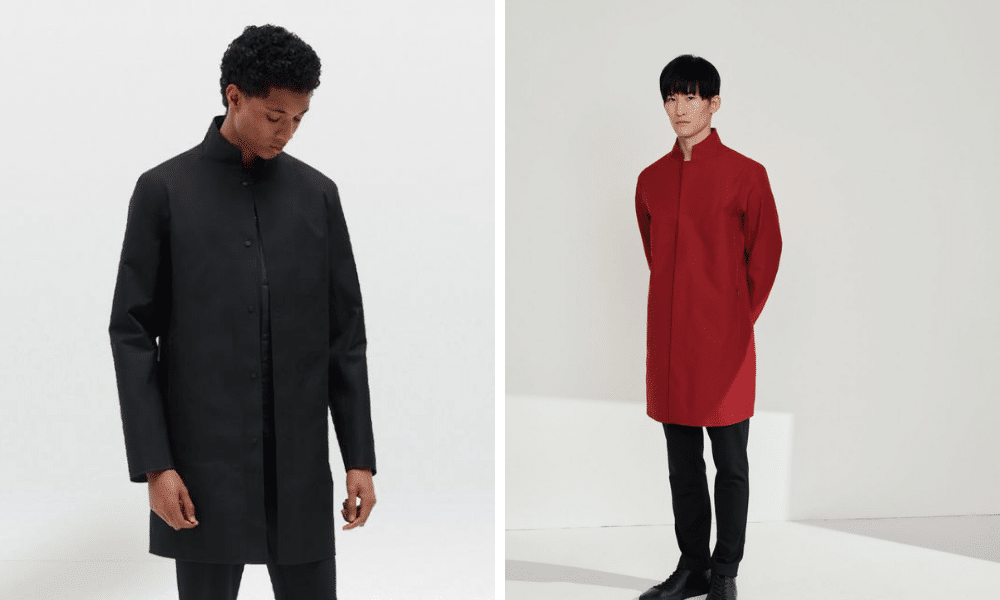 25/30
Aeance
Aeance follows the mantra 'Nature is our Future'. It is an ethos that the German brand uses to create style-conscious performance apparel, ideal for city or country living.
Performance pieces combine technology with an atemporal design. Sustainable supply chains are then used by Aeance to support this with a less but better aesthetic.
Aeance sources its fabrics from Switzerland, Germany, Italy, Japan and New Zealand. All comply with the strictest eco-standards such as bluesign®, OEKO-TEX®, GRS (Global Recycle Standard) and ZQ Merino.
When shopping their sustainable menswear they encourage you to only buy what you need. Becoming part of a positive change in fashion consumerism.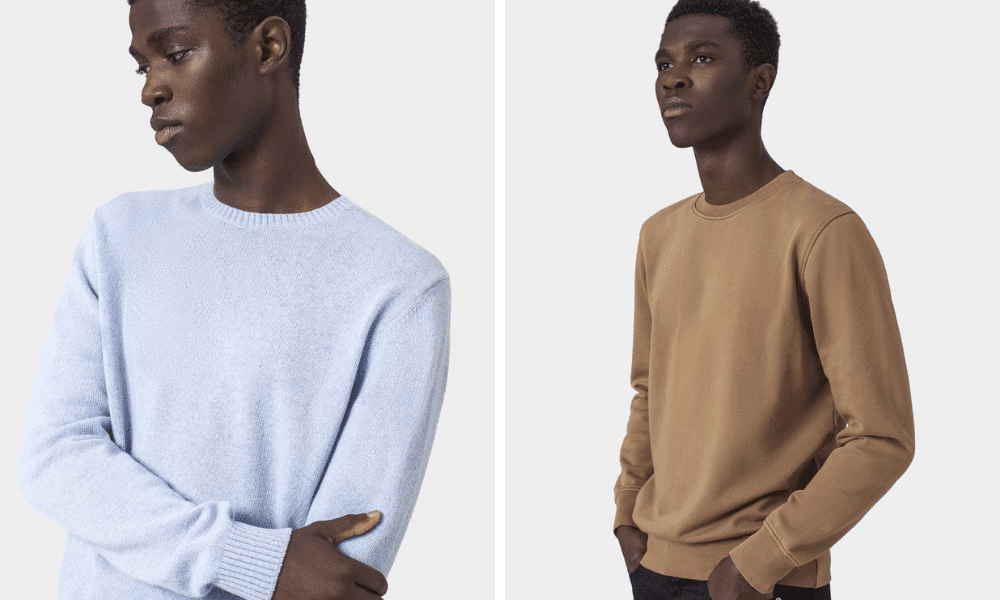 26/30
Colorful Standard
This is a brand that loves colour and they combine this with simple, timeless design to create their sustainable menswear pieces. Colourful Standard reduces its carbon footprint by using regional Portuguese factories and 100% organic cotton.
To craft the perfect fit for their items, Colorful Standard spends hours testing and reviewing customer feedback. Garments are pre-washed to prevent shrinkage. This ensures customers receive products that fit them better. Clothing that lasts longer and fits better means less landfill waste.
Ultimately, the brand's goal is for its customers to buy less but buy better. To them, colour has no season.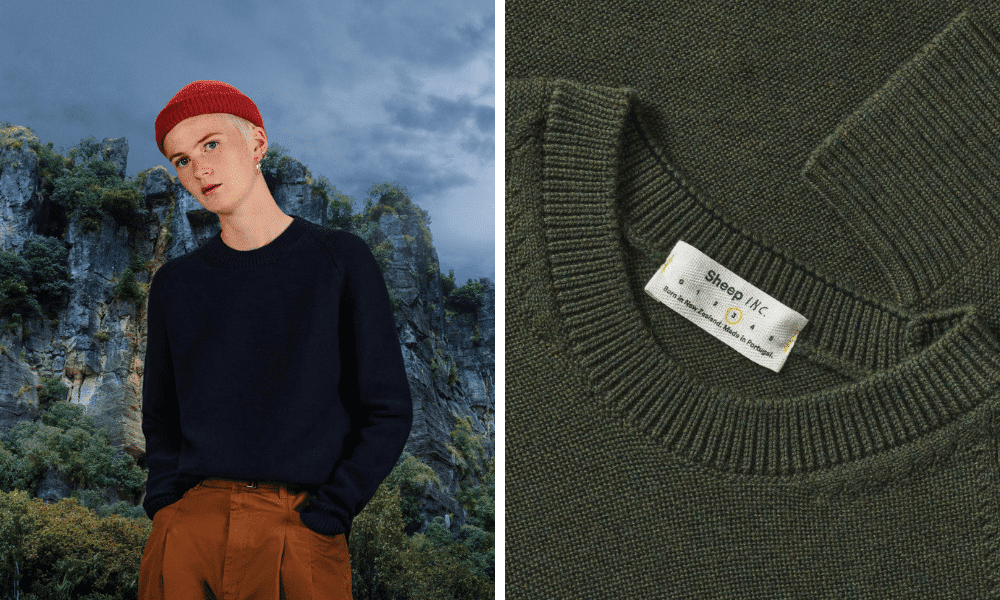 27/30
Sheep Inc
Sheep Inc is creating products for a new fashion future. Designed for life, their pieces are traceable, with uncompromised origins. They see the traditional model of fashion as flawed with their clothing becoming part of the solution, not part of the problem.
Considering the impact fashion has on the planet, it is refreshing to come across Sheep Inc, a brand that is carbon negative. This is a result of their supply partners naturally offsetting more than they produce, coupled with the use of renewable energy throughout all manufacturing.
Every super-soft jumper bought from Sheep Inc comes with its own sheep. No, not a physical one sent in the post. But, the adoption of one from the same New Zealand farm your sweater's wool came from
28/30
Riley Studio
Riley Studio creates a wardrobe of gender-neutral pieces through carefully considered design. Waste materials and natural fabrics are used to make items with a sustainable approach.
By utilising extensive research and development they source the most innovative and sustainable materials available. The design process then incorporates these materials through simplicity and versatility. The outcome is sustainable, timeless garments.
Limited runs are used to keep control of inventory and reduce overproduction. The brand will also offer a lifetime guarantee, should your product need repair.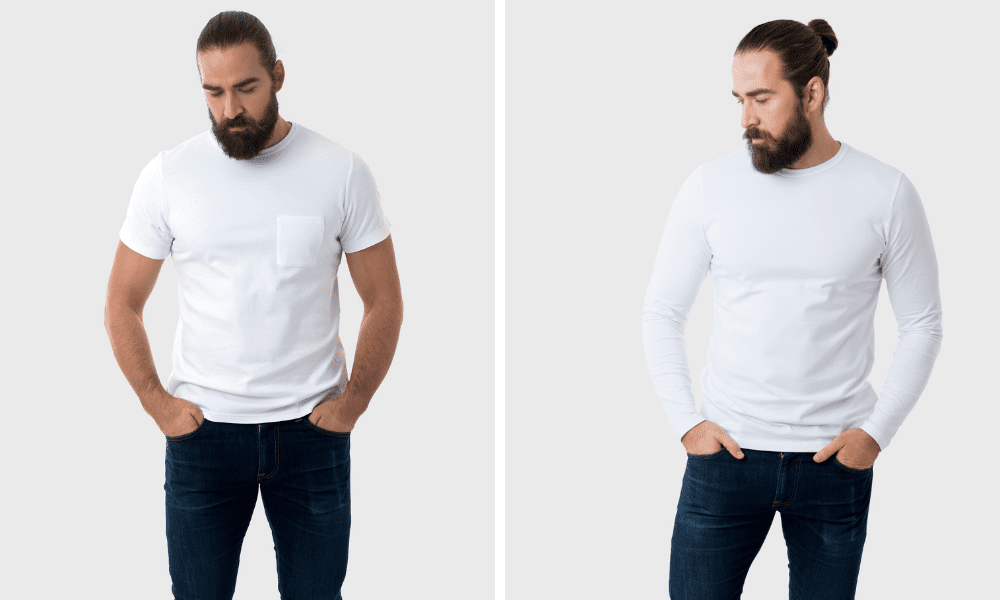 29/30
The White T-Shirt Company
Like a lot of companies, this brand was born from the frustrations of the founder. They couldn't find a great fitting white t-shirt. So, set about creating their own.
White Tshirt Company, since its inception in 2004 has been passionate about using only the finest, ethically sourced cotton available to make its men's t-shirts. So much so, that the entire brand took a hiatus when their supplier stopped producing. Only to restart operations once a suitable replacement could be found.
WTSC products are notably durable, with an enviable fit. It means they are built to withstand the rigours of daily life and look great doing it.
30/30
Knowledge Cotton Apparel
Built on three founding principles - knowledge, action and respect. Knowledge Cotton Apparel was launched in 2008 to offer a sustainable menswear alternative. Back then, sustainable was not a word on everybody's lips and the brand suffered acceptance in the market and their own self-confidence.
Fast forward to the present day and the brand is constantly on the lookout for innovations to minimise their impact on the environment. Sustainability is part of their DNA and they continue to try and change conventions of the textile industry.
Knowledge believes in sharing a common responsibility for the future of our planet. Inspired by their Nordic roots they have created a truly sustainable fashion brand.