During winter, the fabrics men choose to wear have important parts to play in how you stay dry and warm. You want them to be able to wick away the rain and deflect wind on the top layer while underneath, keep you warm but not overheat.
Layering efficiently is crucial in winter. Building upon a strong, insulated foundation the additional layers must complement not smother the wearer. Coming together in a symphony of warmth to beat even the coldest of days.
The key to getting the layering spot-on is choosing the right fabrics. Too thick and it won't allow air to circulate, while too thin won't trap the right amount of heat.
This is where our handy guide to winter fabrics becomes essential reading. We will breakdown the most common materials featured throughout this seasons clothing and accessories. That way you will be better educated to make the right choices when building your cold-weather outfits.
Shearling
Now more than ever with the current utilitarian trend, the influences of military clothing are woven through menswear. Just like the examples of field jackets and bomber jackets came from the military, so did shearling. It was added to bomber jackets to keep pilots warm in the chilly skies.
Shearling is the skin of sheep with the wool left attached. The skin side is tanned and leathery while the other side remains fluffy and warm. Because there both sides are still adjoined the warming properties are elevated.
Like its origins, it is best applied with outerwear, but its warmth can do wonders for a nice pair of slippers.
Mohair
The luxurious Mohair wool comes from the Angora goat. Much softer than sheep's wool it is regarded as the 'diamond -fibre'. Its crease-resistant nature coupled with its added elasticity makes it a sought after fabric.
Mohair was previously very popular in the 1960s due to its implementation in the trend of two-tone suits by music stars of the day. Its popularity has wained of late as questions have been raised over the ethical farming methods used towards the goats.
But the reduced mass-market appeal has only led to it becoming a more niche fabric, now with a higher price point
On a similar scale of warmth as other wools like merino, it is its soft shaggy exterior that makes it distinctly desirable. Currently, in menswear, you are more likely to see it mixed with cotton, cashmere or another wool in your usual winter clothing pieces.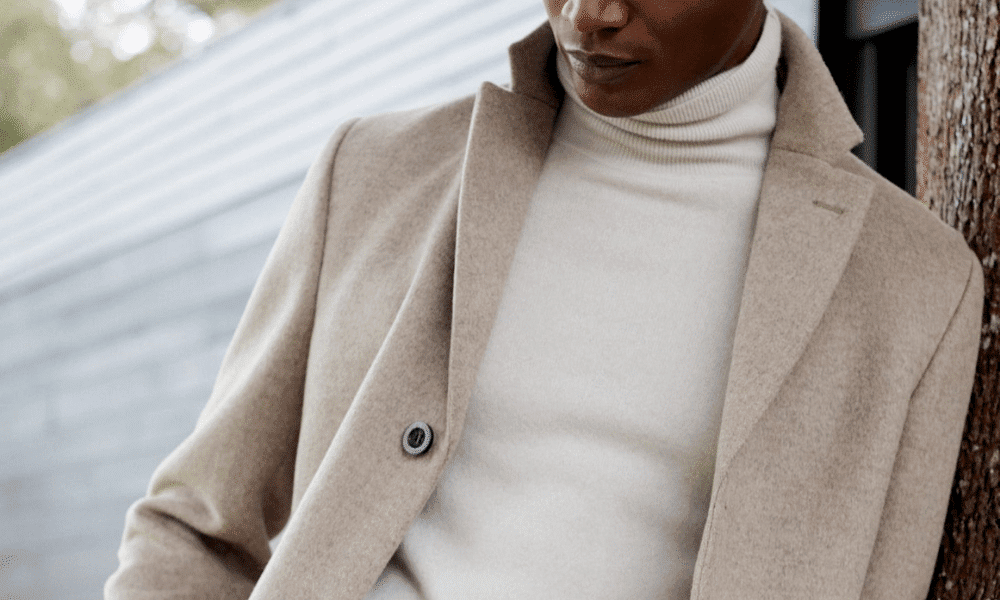 Cashmere
Although this might seem like a steep investment for an item only worn part of the year, it can be well worth it. Cashmere is expensive, but it is three times warmer than typical sheep's wool and is incredibly soft to touch. Meaning it can be worn without a t-shirt underneath.
To make sure you are getting your money's worth, use your fingers. If it is oily to touch, then it will likely have been mixed with another material.
Cashmere's super-soft fibres and matte finish make it an ideal layering piece. The textured look can offer a welcome point of difference to other items you might be wearing as part of your outfit. But, if the price of a cashmere jumper is a little out of your budget seek out accessories in the same material.
Merino Wool
Merino is the lightest of all sheep's wool. The eponymous breed of sheep has possibly the finest wool, making it ideal for use in clothing.
Merino's goat wool counterpart, cashmere has always been widely recognised as the softer and more luxurious of the two. But, years of innovative breeding of sheep has led to merino wool being produced that is finer than cashmere.
The positives for this fabric is that it's very good at regulating body temperature, making it a key layering piece during winter. Typically the gauge is light-medium which makes it easy to wear in jumper form on top of a shirt or t-shirt.
Lambswool
As you imagine, lambswool is wool quite literally from lambs and the first shearing of a sheep will always produce the finest and softest wool.
Unlike merino or cashmere that is wool from a particular animal breed, lambswool can be from any breed of sheep. So, there can often be inconsistencies in micron count (the gauge for softness) from brand to brand.
Despite the warming properties of lambswool, its softness means it doesn't have the strength and durability of merino. This shows in the looser drape it has when compared to merino or even cashmere.
But, when comparing lambswool to typical wool from older sheep (not the merino breed), lambswool will still provide warmth but won't itch like normal wool. Great if you have sensitive skin.
Tweed
Made from wool, tweed has no consistent outcome from production, meaning this tightly woven fabric can come in a range of weights and weaves.
Originating in Scotland in the 18th century, tweed was a thick fabric ideal for braving the harshest farming winters. It became more mainstream after it was adopted by aristocrats and to this day still has somewhat of a stuffy, posh association.
Harris Tweed is regarded as some of the best versions of tweed available. For it to be authentic Harris Tweed it has to be handwoven by islanders at their homes in the Outer Hebrides from pure virgin wool and dyed on the same island.
The different weaves used by varied manufacturers is what gives tweed contrasting patterns. Honing in on a check or stripe you like could even link back to the factory that makes that signature style.
Fleece
Fleece was invented as a cheaper option to wool back in the 1970s. Crafted from polyester, the fibres are brushed and woven into a light fabric. As with a lot of fashion from that period it has often been vilified despite its consistent presence in menswear ever since.
The black mark against fleeces style credentials was never to do with its functionality. It can retain heat but wick away any moisture unlike a lot of natural materials. Fleece's problems were that it was embraced by the rather unfashionable outdoor clan of hikers and walkers.
Over the years, hiking boots and related attire have slowly made it into mainstream menswear. For this reason, alongside a more tailored silhouette, it has meant that fleece is remaining as contemporary as ever.
Flannel
Flannel is a fabric accustomed to hard work, worn by those whose job is traditionally outdoors. It has fantastic insulating properties as well as being hard-wearing and robust in nature.
The fabric is made by brushing wool fibres with a fine metal brush to create a nap. Similar to how suede is created from leather. The result is a soft fabric whose raised fibres help to trap heat.
As men, we are most familiar with flannel being used as a plaid or checked shirt. But, we recommend introducing it into your smarter attire. A flannel suit can be a great addition and provide some much-needed warmth to a formal outfit.
Corduroy
Much maligned in the past, corduroy has had a menswear resurgence of late. It is made by using pile-cut cotton yarn that's been woven and cut into cords, or wales. The wider the wales, the sturdier the material.
The production method makes it warmer and more durable than traditional cotton whilst retaining the softness we expect from the fabric.
A thicker fabric with a good helping of texture it can rejuvenate tailoring with its distinctive look and feel.
Gabardine
Invented by Burberry and synonymous with their world-famous trench coat, gabardine is a tough, twill-woven cloth. Any excess fabric after the tight weaving is singed off to leave a dense and durable waterproof fabric.
The Burberry application in their coats would have used wool, although most gabardine in menswear nowadays is made from cotton. But, it's functionality is still as useful as ever.
Gabardine's durability means it won't crease like normal cotton while its breathability will allow air to circulate, reducing overheating. Combine this with its waterproof properties and it makes for a favoured material for jackets and coats.
Waxed Cotton
Waxed cotton refers to cotton that has had paraffin or natural beeswax coating applied to the entire surface or the individual fibres. This waxed coating originated in the sailing world and has become a mainstream technique for waterproofing outerwear.
An early adopter of this method of waterproofing was J.Barbour & Sons, who at the time specialised in outdoor clothing for farmers and gamekeepers. To this day Barbour is still one of the foremost manufacturers of the waxed jacket.
Waxed cotton although ideal at braving a downpour is heavy and not very breathable. So, keep any layers worn underneath to a minimum and in a lighter fabric gauge.
Down
This one is not a fabric per se, more of a filling for winter garments. Down uses the softest feathers from a bird, those closest to the skin and has a fantastic ability to trap heat.
You will see down filling used in anything from outdoor jackets to bedding due to it being insulating but also light. Uniqlo, for example, expertly uses it within their range of Ultra Light Down products.
As it is light and warming, down can be a great choice for a transitional jacket. Offering all the warmth you need, but also adept at being tightly stored away when not needed, it is ideal for the morning commute.