Sustainability is a word thrown about a lot in the menswear industry. Typically it is superseded by a large fashion brand looking to minimise the impact they are currently having on the environment. There is though a growing number of brands that are leading the way in producing sustainable menswear. Not as a PR stunt, but through a genuine passion for crafting. It is great men's clothing and accessories that minimise the impact fashion has on our planet.
Making a real difference in the fashion industry starts with ourselves. Putting a greater value on the clothing we buy will ensure we are purchasing smarter. That means not buying for just a single occasion. But by building an interchangeable wardrobe promoting well-made garments manufactured from fabrics that have longevity.
Throughout this site, we try and give a voice to new menswear brands producing these kinds of items. We believe that trends are temporary, and style is permanent. By helping our readers to understand the construction of elevated pieces and how to style them. This hopefully leads to our readers buying less often, but with better quality.
This sustainable method of production and promotion of considered purchasing is evident through the brands in our list. Through initiatives like avoiding unnecessary discounts or reinvesting profits back into environmental causes, they are making a difference.
You might just discover your new favourite menswear brand.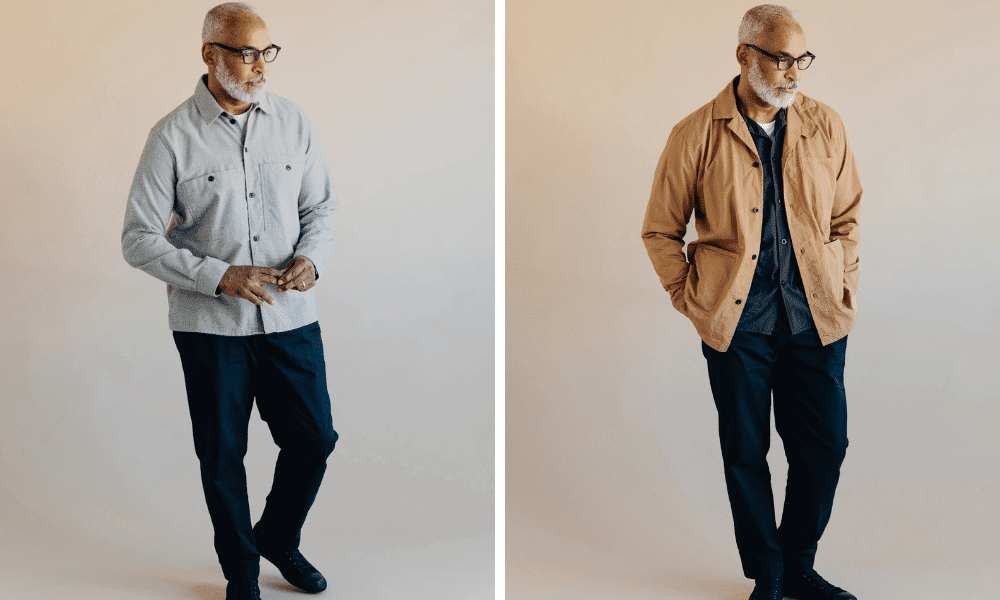 1/30
Form & Thread
Paying special attention to everything from their fabrics and factories to the bio-degradable and recyclable packaging they deliver in. This is a modern, sustainable menswear brand, top to bottom.
Form & Thread's Essential collection is seasonless which allows Form & Thread to take a more considered approach to every piece
Their factory partners in Portugal align with their passion for outstanding quality menswear without compromising their workers. Form & Thread are transparent on all costs. That way you know exactly what you are paying removing typical industry markups.
2/30
Community Clothing
Patrick Grant, best known for presenting 'The Great British Sewing Bee' is the man behind Community Clothing, a social enterprise. Patrick builds on a strong pedigree in textiles having turned around the failing fortunes of not one but two menswear brands.
This enterprise provides employment and pathways to employment in areas decimated by the decline of British textile manufacturing. They partner with factories in six deprived areas and fill capacity through quieter periods. This creates a virtuous circle of rising volumes, rising efficiency and rising employment.
Obsessed with excellent fit, function, material and make. Community Clothing products are classic style iterations, not redesigns and made through a local supply chain. What's not to like?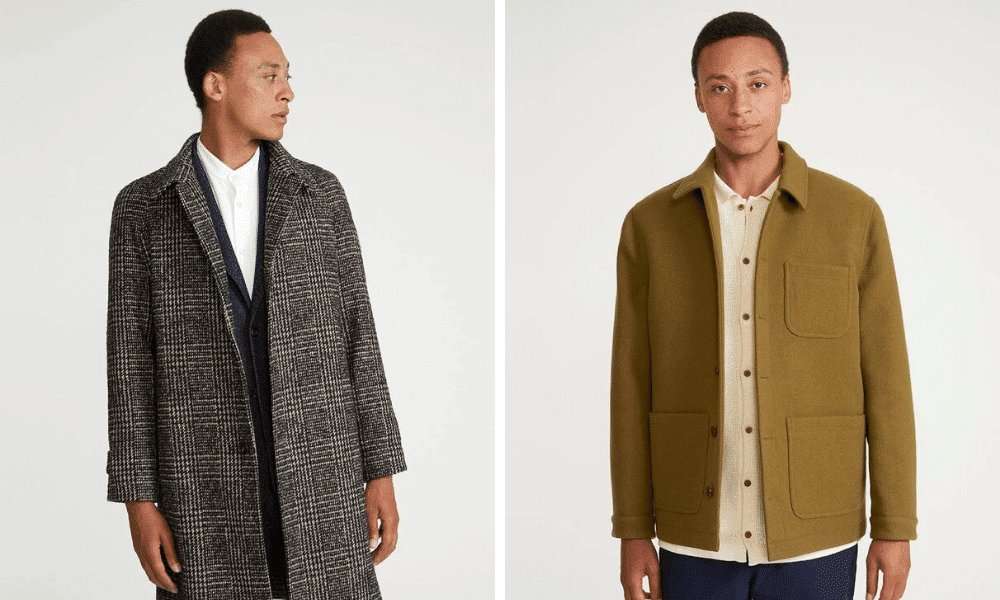 3/30
Sirplus Clothing
This is a British menswear brand, born from the repurposing of unwanted fabrics, hence the name. Originally it was using excess material from Savile Row and Jermyn Street shirtmakers to craft underwear.
The brand has grown from a market stall to multiple stores and now sells a range of sustainable menswear staples and Sirplus is still true to that original concept. The surplus cord from Italian designers is used in suits while overstock cashmere is woven into winter knits.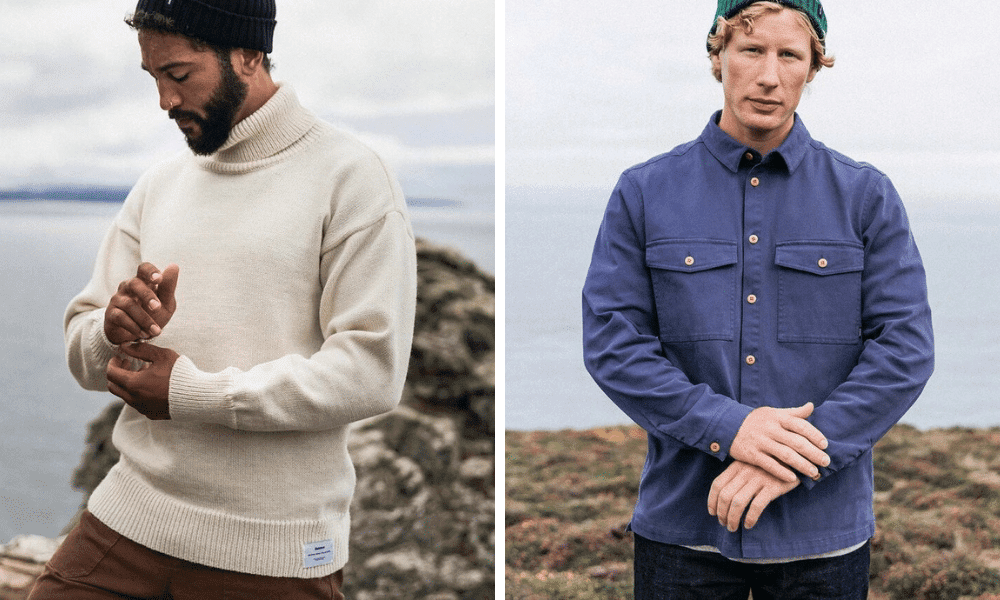 4/30
Finisterre
Finisterre creates functional and sustainable menswear for those that share a love of the sea because it was founded for surfers, by surfers.
Since they launched back in 2003 the customer base and product range have expanded, but, Finisterre remains true to that original ethos. They craft innovative products with longevity.
Operating from a clifftop workshop in St Agnes, this is a British brand doing great things.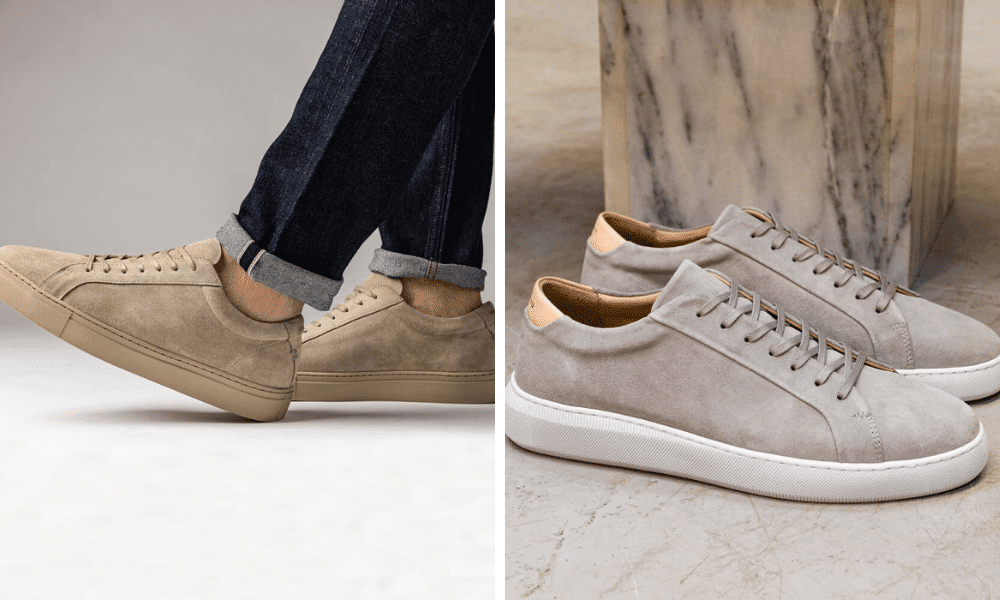 5/30
Uniform Standard
Having spent 15 years designing for other brands, the team behind Uniform Standard launched in 2018 from their East London studio. The brand since its launch has been committed to a sustainable approach to product development. This includes using European recycled components to enhance their designs.
The trainer's outsoles, footbeds and insoles, are constructed with recycled materials. These are then partnered with premium Italian leather for a holistic, sustainable shoe. Delivered in plastic-free packaging they even lessen environmental impact by working with DHL to create a carbon-neutral delivery footprint.
With multiple designs to choose from, these men's trainers are durable and well-made. If cared for post-purchase, these will be robust enough to last year after year.
6/30
Patagonia
A band of surfers and climbers founded Patagonia. This group had relied heavily on clothing to be durable and functional and this idealogy became a founding pillar for the brand they created. Prioritising durability means consuming less energy, wasting less water and creating less landfill. Patagonia makes everything with a 100% guarantee, which means they will repair, replace or refund anything that is not up to their high standard.
Patagonia knows everything they make impacts the planet and that is why they have built robust environmental and animal welfare programs as well as being fully transparent regarding its supply chain. Skilled workers manufacture all products within safe, fair, legal and humane working conditions
7/30
WAHTS
An innovative menswear brand, WAHTS merges luxury menswear with contemporary sportswear. As a result, their comfortable men's fashion is interchangeable no matter the occasion.
The brand sources the highest quality fabrics and manufacturers in limited productions to minimise their impact on the environment. Using expert partners in Portugal they require the Oeko-Tex® Standard 100 certification from all their suppliers and production partners.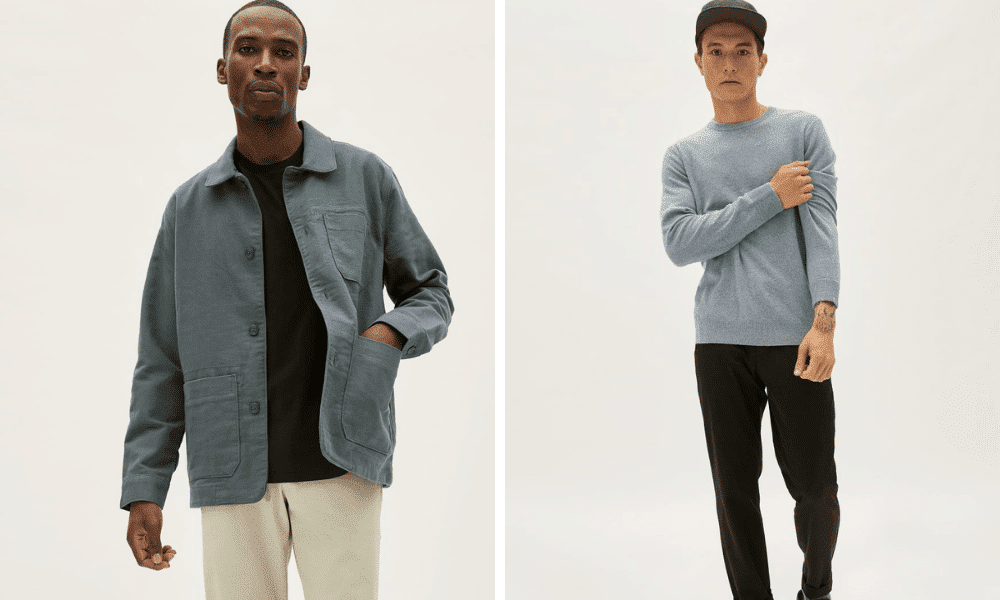 8/30
Everlane
Exceptional quality, ethical factories and radical transparency are the three pillars Everlane is built on.
The brand sources the finest materials and only partners with the most ethical factories across the world to create every product. A working agreement is only reached once a factory hits an audited score of 90 out of 100.
Steering away from trends, the brand manufactures timeless pieces that they want you to wear for years to come. But, the concept only works thanks to skilled workers using premium fabrics like their Grade A cashmere.
One of the first to show the full cost of every product including production and transport, Everlane has pioneered a transparent customer/brand relationship. You see the real price without paying the typical high markups.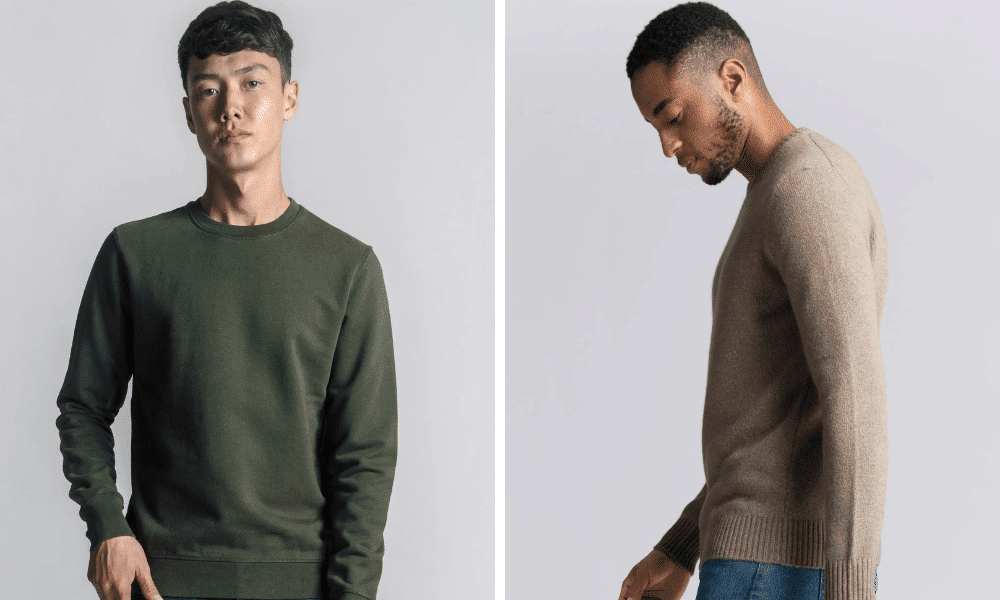 9/30
Asket
Within the fashion industry, garments have lost their value, or at least this is what Asket believe. They see people buying more and wearing less, resulting in wasted clothing ending up in landfills or in incinerators.
Asket wants to end this perpetual cycle of clothing consumerism, so creates clothing, not for seasons but forever. The brand uses the best materials to manufacture sustainable menswear that generates better value.
Asket removed standard sizing because they understand everyone is built differently and believe if your clothes fit better you are more likely to wear them.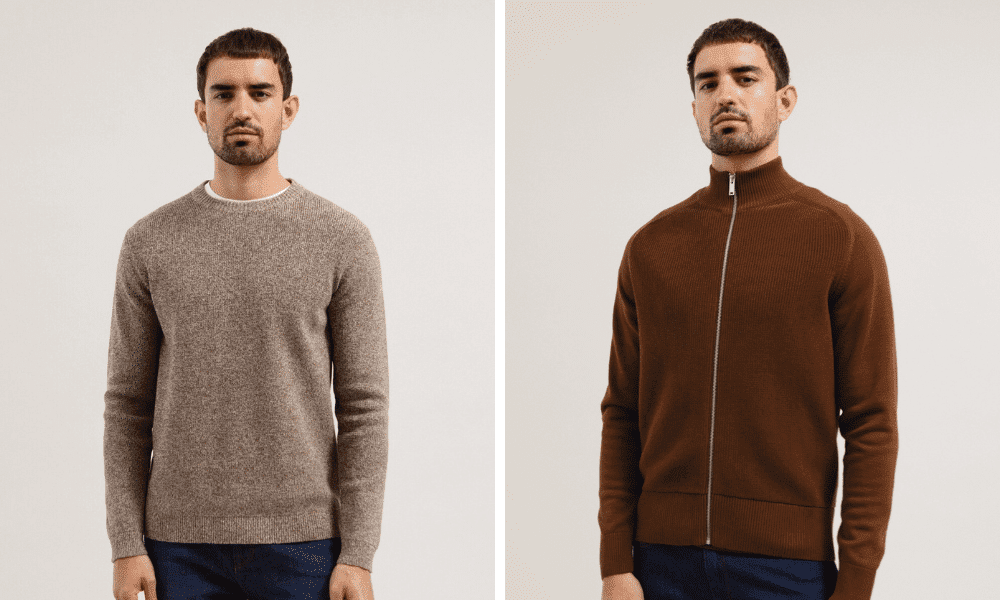 10/30
Armed Angels
Timeless, sustainable and fairly priced, Armed Angels don't chase trends because they focus on modern, contemporary collections.
The brand only uses sustainable & regenerative materials such as organic cotton, organic linen, organic wool, recycled cotton, LENZING™ ECOVERO™ and TENCEL™ Lyocell. The result is they have been GOTS certified since 2011.
Armed Angels take on the responsibility to make sure that all of their workers are working in fair conditions. They work with organisations like Fairtrade or Fair Wear Foundation to help implement those high standards.
To them, fairness is never out of fashion.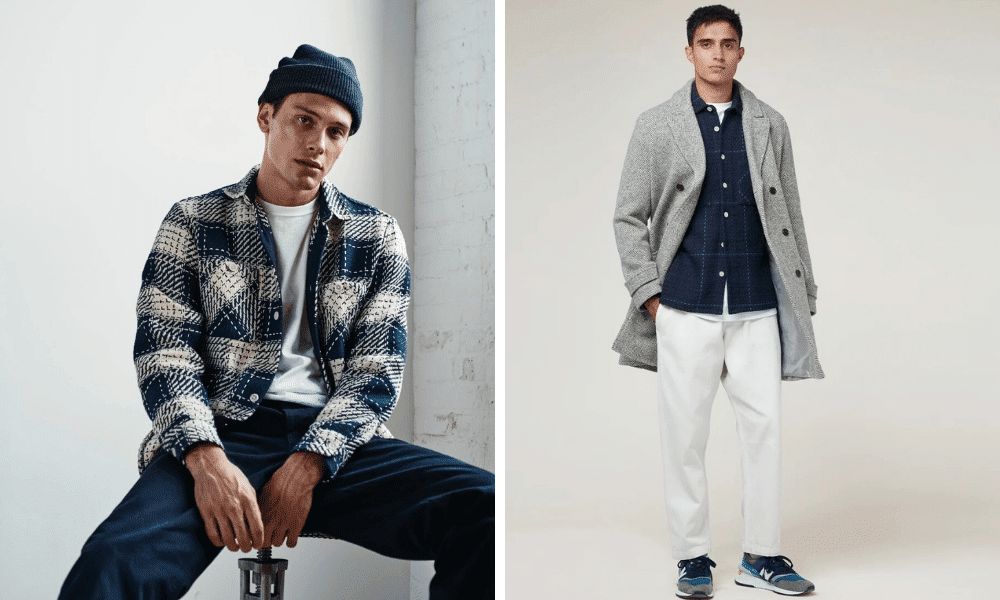 11/30
Wax London
Wax London is a premium clothing brand for men that has sustainability at its core. Manufactured in London, we applaud their commitment to supporting the capital's textile industry.
They keep a close eye on all aspects of production for every item they sell. That means sustainably produced fabrics, adapted using natural dyes and manufactured as close to home as possible.
Wax London goes further, looking at everything from the energy used in transporting goods to water management during production to ensure it is as environmentally efficient as possible. Then even creatively upcycle leftover material to minimise anything ending up in a landfill.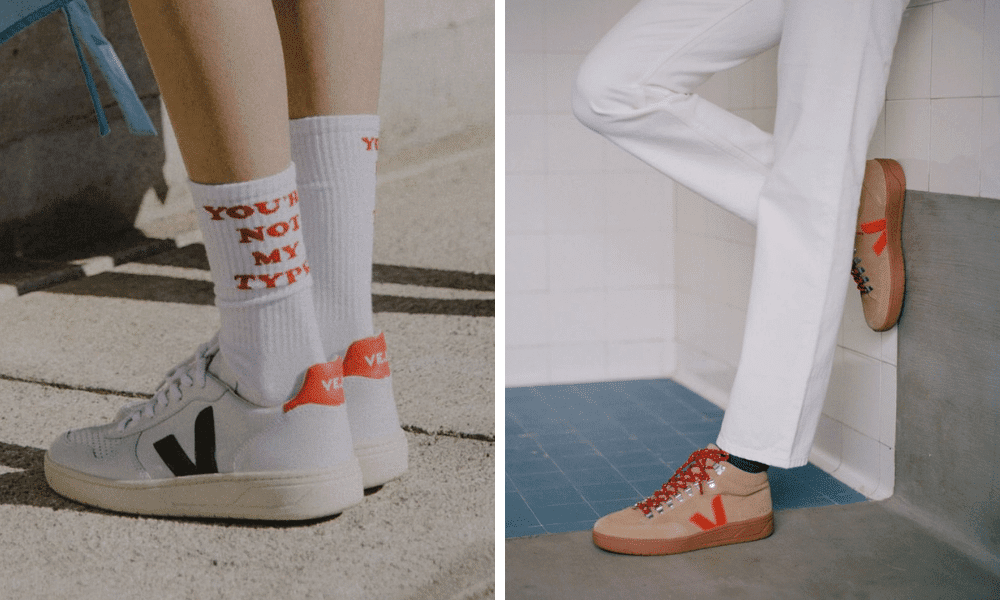 12/30
Veja
It has been hard to miss the distinctive Veja 'V' popping up on the feet of stylish men and women over the past few years. Focusing on an iconic item like a trainer was no mistake. The trainer is a symbol of mass production and the challenges of globalisation. We have all become aware of the poor working conditions of those making some of the world's most popular sporting sneakers.
For the two founders, it all started with a visit to manufacturing factories while working for a non-profit charity and the appalling conditions they witnessed. By creating a transparent production model they set about designing footwear using the most ecological materials and involving ethical suppliers. The slightly higher price point of their trainers is a result of using the best materials while paying a fair wage to the workers.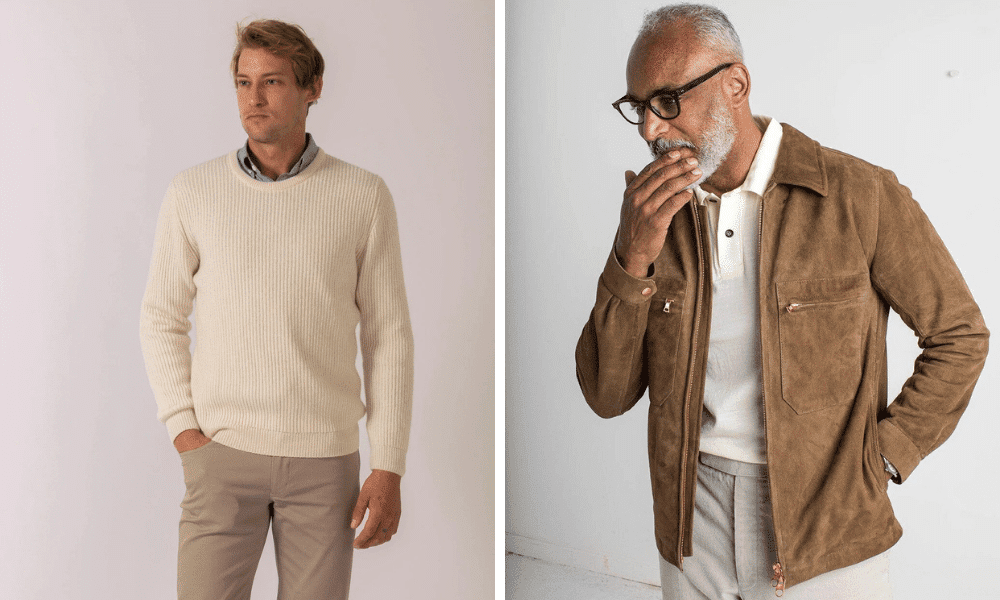 13/30
Private White VC
In the past, Manchester was a thriving hub of clothing manufacturing in the UK. Over time that has almost disappeared with dramatic effects on livelihoods and communities. Private White VC want to do what they can to revive that industry in their hometown.
Named after Private Jack White, who won the V.C. (Victoria Cross) in World War 1, the company since 2007 is now back in the hands of his family.
The company does not outsource any part of their clothing production, designing and manufacturing everything in-house, reducing its carbon footprint.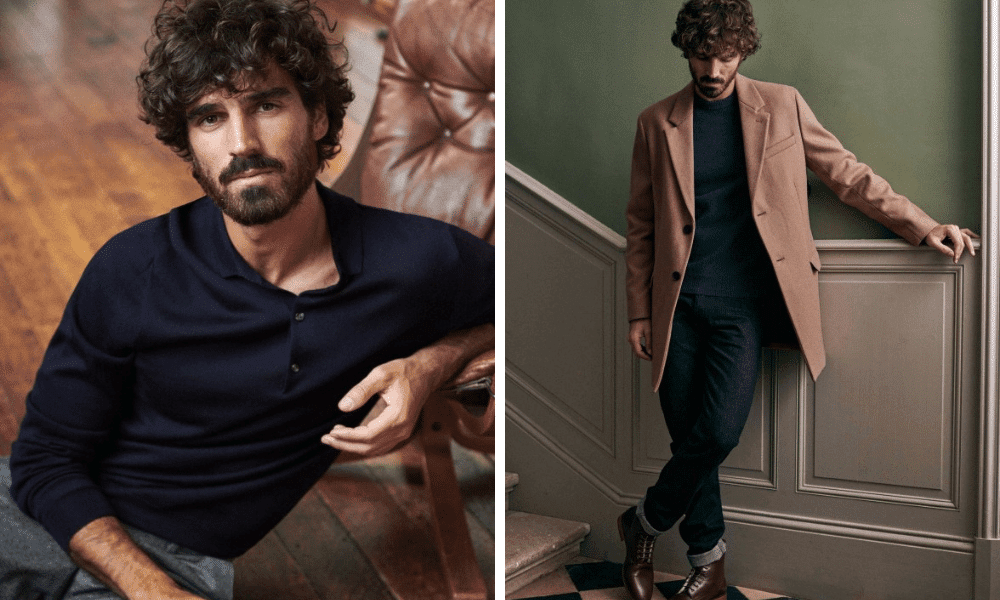 14/30
Octobre Editions
Octobre Editions regularly audits all its manufacturers to ensure they respect their ethics and standards. To keep things local around 95% of the brand's pieces are crafted by European ateliers.
For Octobre Editions it is all about creating a sustainable menswear wardrobe inspired by Paris. Their pieces are composed to be worn easily and revisited season after season
They follow a lean production model which reduces any potentially wasted overstock and the ability to offer fair accessible prices all year round.
If you shop with them on the 21st of every month, they give 10% of profits to projects that provide access to education, culture & equal opportunities to children around the world.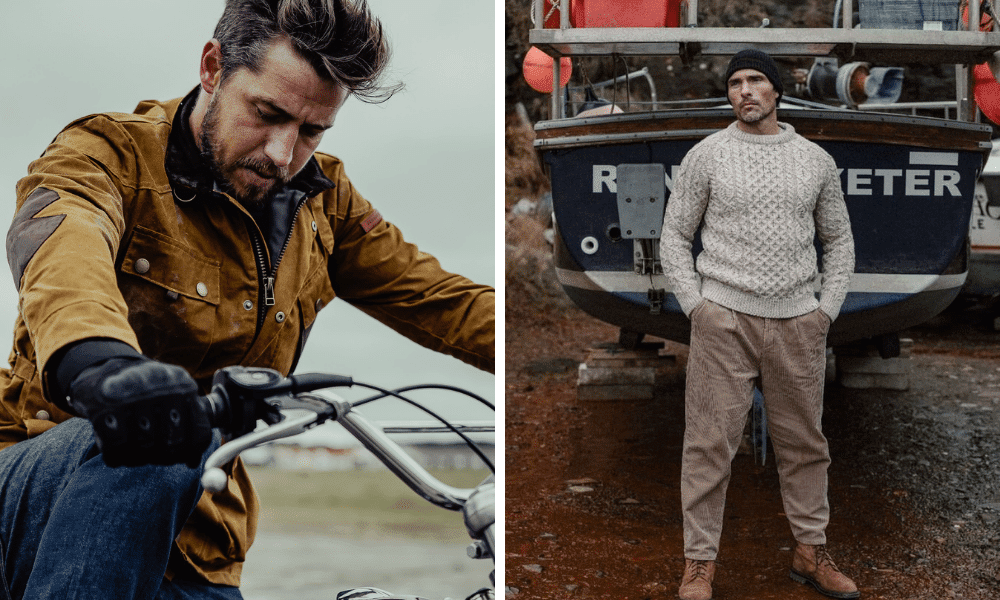 15/30
Peregrine
For a company that has been making clothing and accessories in England since 1796, they have seen their fair share of fashions come and go. Although they understand that by being a producer of clothing they cannot truly call themselves a sustainable menswear brand, they work hard to reduce their impact on the environment.
Peregrine aims to use the best, sustainable materials to manufacture its products in England using heritage techniques. This, alongside their direct-to-consumer model and long-lasting design process, enables them to be as sustainable as possible.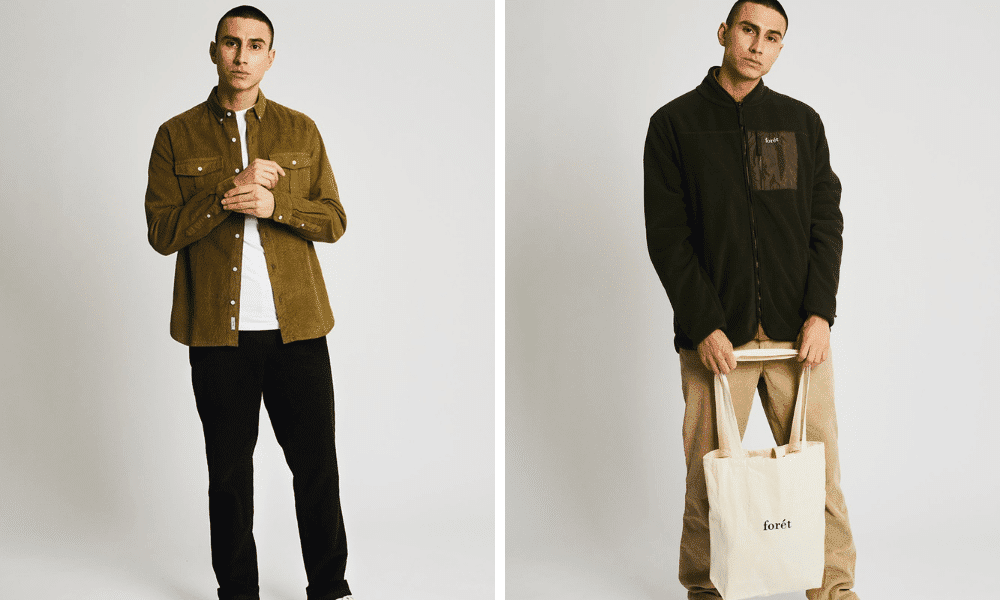 16/30
Foret
Foret Studios wants you to go offline and enjoy your surroundings. The Danish friends behind the brand were inspired by their childhood adventures and wanted to provide slow goods for that whimsical journey.
The brand thinks about the impact it has on the environment and what it can do to preserve the planet for future generations. They are working towards being 100% sustainable, using GOTS-certified cotton and partnering with factories in Portugal to manufacture long-lasting clothing.
Offering advice on the care of products can also make sure that items aren't prematurely damaged. Foret recommends washing all their pieces at 30 Celcius and repairing any damages or passing on any clothing you no longer want.
17/30
Far Afield
Far Afield are a contemporary sustainable menswear brand. Inspired by global travel they create collections that marry the unique with expert craftsmanship.
High standards of ethical production are maintained by visits from the two founding brothers of the brand. The team also runs a fine-tooth comb over the materials any factory is using. Woven and jersey fabrics must use Organic (GOTS) or Better Cotton Initiative (BCI) accredited cotton only.
The brand hopes to be fully recyclable or non-plastic by the end of 2020 which will mean everything from packaging to collar straighteners won't be plastic. A positive outcome for the planet.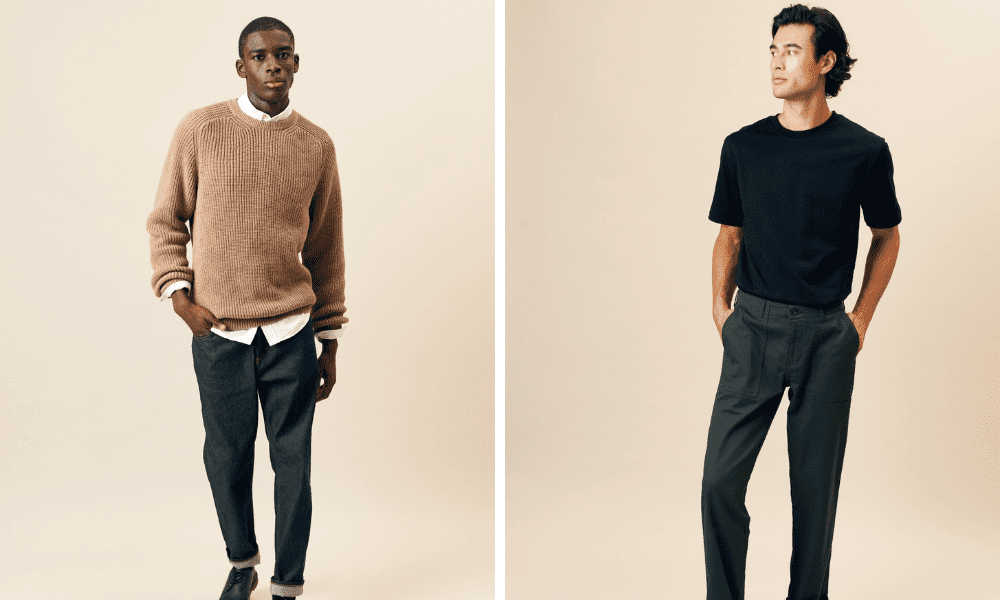 18/30
Kotn
The principles of considered design, relentless quality, honest value, and positive impact are influential for every Kotn product.
Kotn, creates quality essential menswear items ethically made from sustainable materials. But, they go further, knowing that fair labour prices can help build thriving communities. They have helped to fund several different social impact projects, including building schools and providing resources to smallholder farms in impoverished communities.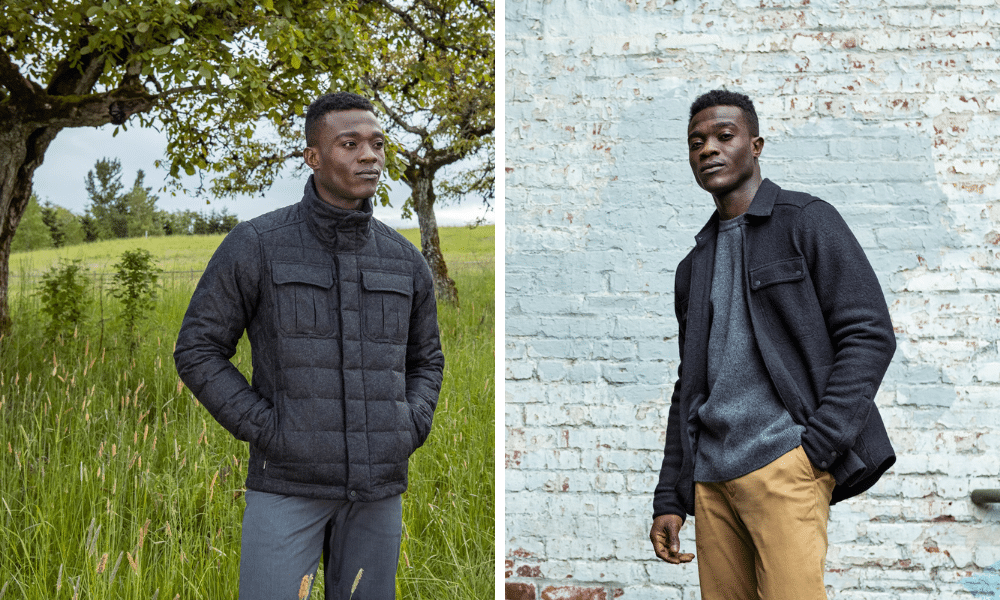 19/30
Nau
Nau is the first sustainable performance wear brand. Before, men had to choose eco-friendly or high-tech, but now they can have both.
Originally they started by making coats using 100% recycled down. Now the brand has developed its own textile treatments and applied them to a honed list of just 10 sustainable materials for everything they make.
Pieces by Nau are designed and produced with a sustainability mindset. It means manufacturing through a combination of timeless style with high performance to create items that will last years.
20/30
Komodo
Sustainability is not a new fad for Komodo. Eco-friendly clothing has been a commitment for them since 1988, a lifetime in fashion years. This has enabled them to spend years innovating, creating fabrics such as green PU coating and recycled PET, from plastic bottles.
A large percentage of their products are vegan and all are cruelty-free. Their overall goal is to minimise the impact that clothing production has on the environment. Within their use of natural materials, you will find familiar options like linen, wool and organic cotton. Though, they go even further than other brands with a range that includes Tencel and Rayon (made from tree cellulose), Hemp and even Bamboo.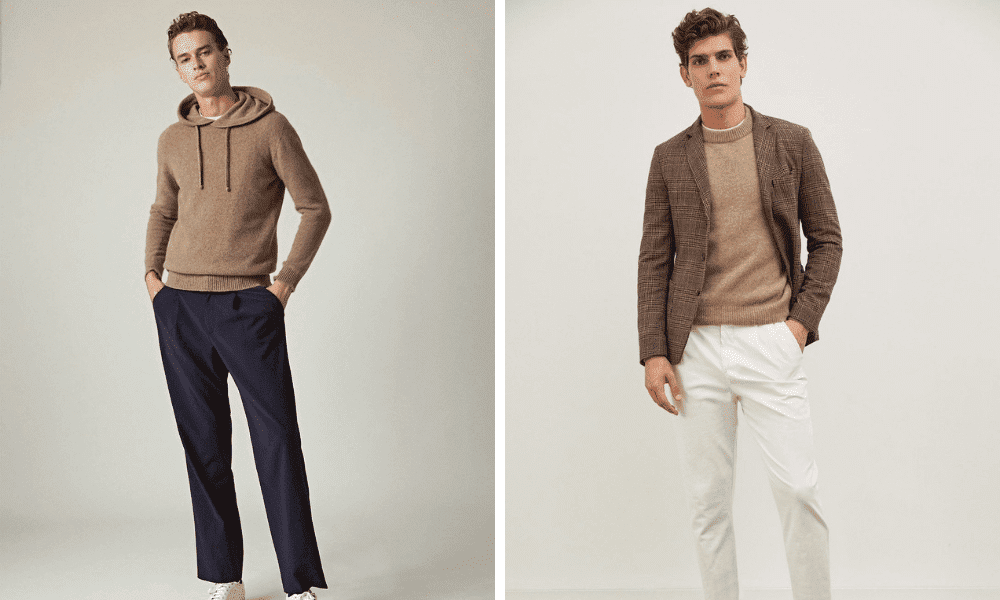 21/30
Artknit
Another company that embraces a direct-to-consumer model, Artknit only works with manufacturers in Italy to reduce their carbon footprint.
The brand believes the design of products shouldn't be restricted by focusing on sustainability. By removing seasonality, locally sourcing materials and being committed to zero waste, they produce a seasonless collection of elevated pieces.
Artknit is uncompromising when it comes to the quality of its products. They have removed middlemen and multi-brand stores to reinvest potential cost savings into using better materials and manufacturers. With their expert craftsmanship tasked with only using natural fibres, these are products that will not let you down, year after year.
This is a sustainable menswear brand with an Italian flair.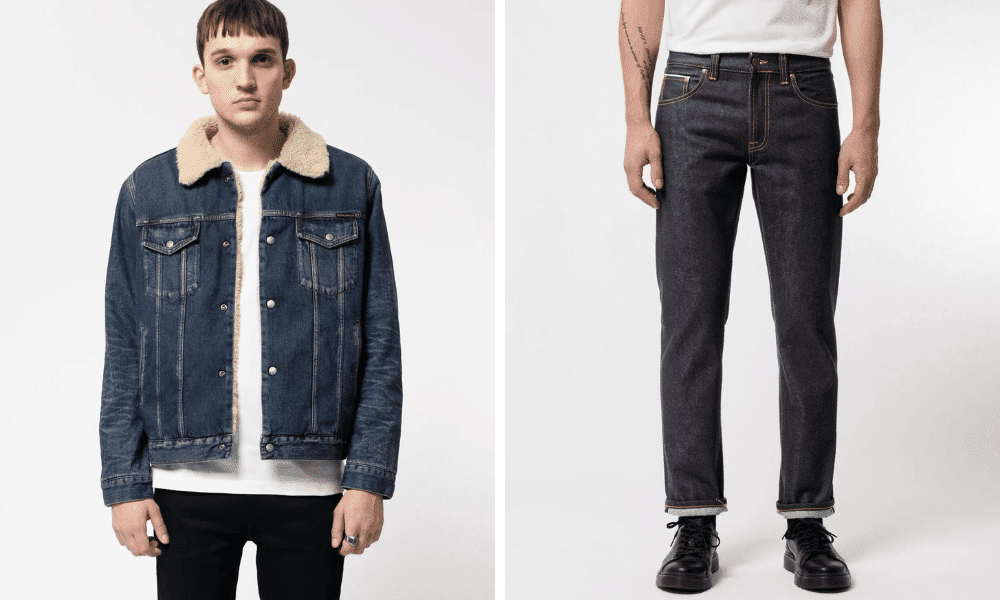 22/30
Nudie Jeans
Several concepts, beliefs, and a good portion of old-fashioned fighting spirit drive Nudie Jeans forward. They want their 100% organic denim in its raw state to become like a well-worn skin whoever owns them.
93.8% of all the fibres used in their garments are cotton and they only work with organic, fairtrade or recycled cotton. Also, by not treating their denim, they are removing the use of harmful chemicals during the manufacturing process.
The brand has won numerous sustainability awards over the years and even removed leather from its logo back patches to create vegan denim jeans.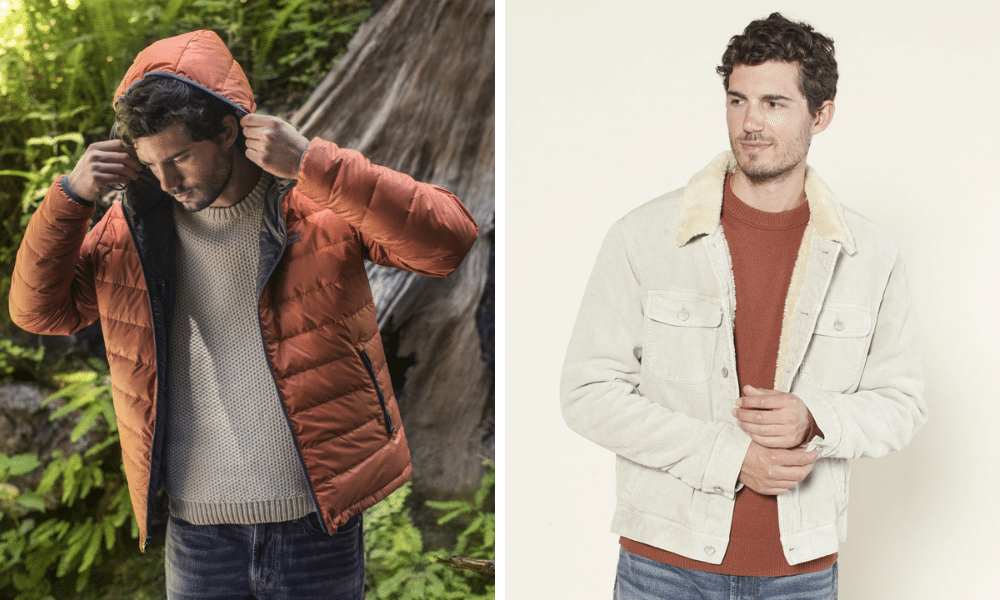 23/30
Outerknown
In 2015, professional surfer Kelly Slater and creative director John Moore set out to change the clothing industry. They aimed to make great clothes with a radical commitment to sustainability. The result was Outerknown.
Through Fair Trade USA, Outerknown invests in the livelihoods of over 5k workers and 90% of the fibres they source are organic, recycled, or regenerated.
Outerknown is so sure of the quality of their products that they guarantee their jeans for life. The brand will repair, replace, or recycle any pair to keep them out of the landfill.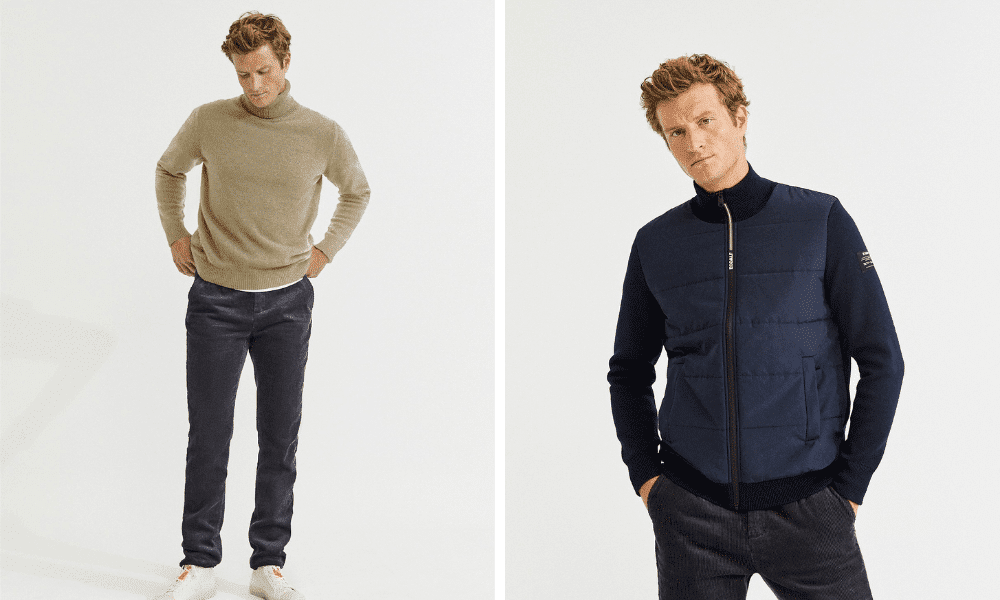 24/30
Ecoalf
Ecoalf is the first fashion brand in Spain to become a member of B-Corp, a corporation set up to redefine success in business and build a more inclusive and sustainable economy. B-Corp only works with businesses that meet the highest standards of verified social and environmental performance.
The brand believes through evaluation everything should do less harm to the planet and local communities. This means sustainable materials, quality craftsmanship and timeless design.
By using materials like recycled PET (polyester) they are helping to reduce water consumption by 20%, energy consumption by 50% and CO2 emissions by 60%. Ecoalf has also launched a foundation to help remove marine debris from the bottom of the oceans the world over. Materials if possible are gathered, sorted, recycled and reused within Ecoalf's products.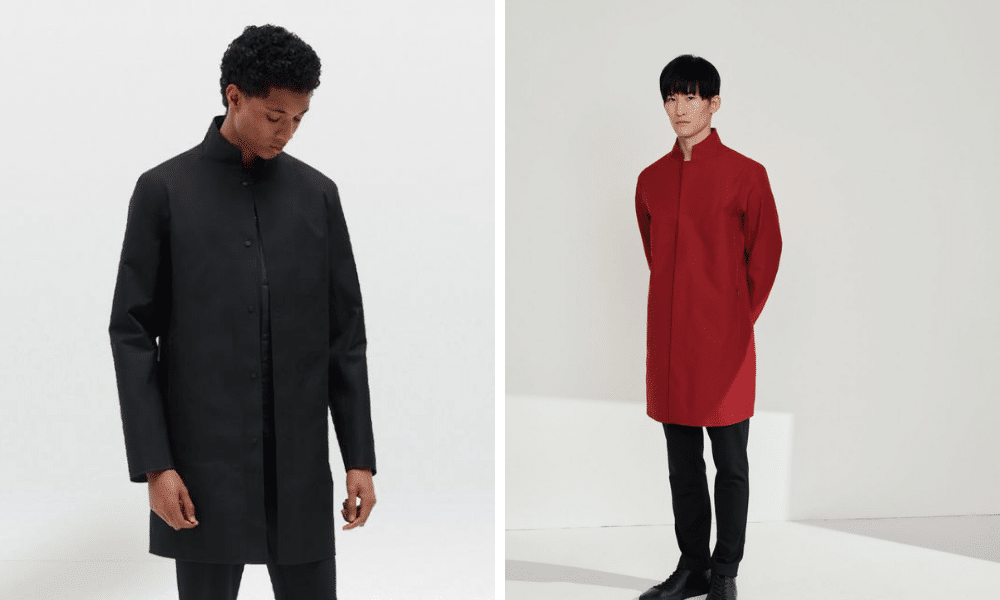 25/30
Aeance
Aeance follows the mantra 'Nature is our Future'. It is an ethos that the German brand uses to create style-conscious performance apparel, ideal for city or country living.
Performance pieces combine technology with an atemporal design. Sustainable supply chains are then used by Aeance to support this with a less but better aesthetic.
Aeance sources its fabrics from Switzerland, Germany, Italy, Japan and New Zealand. All comply with the strictest eco-standards such as bluesign®, OEKO-TEX®, GRS (Global Recycle Standard) and ZQ Merino.
When shopping their sustainable menswear they encourage you to only buy what you need. Becoming part of a positive change in fashion consumerism.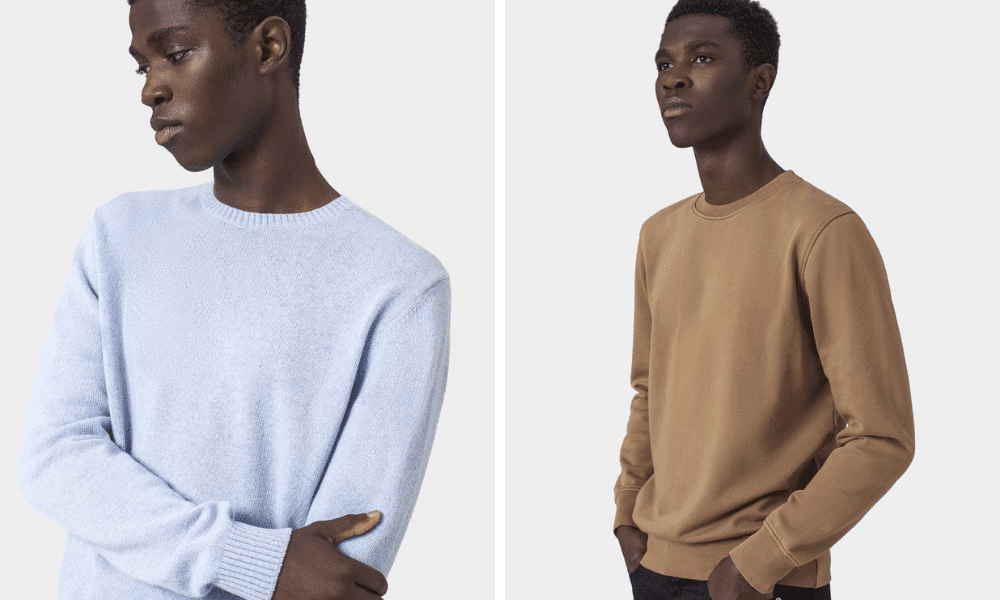 26/30
Colorful Standard
This is a brand that loves colour and they combine this with simple, timeless design to create their sustainable menswear pieces. Colourful Standard reduces its carbon footprint by using regional Portuguese factories and 100% organic cotton.
To craft the perfect fit for their items, Colorful Standard spends hours testing and reviewing customer feedback. Garments are pre-washed to prevent shrinkage. This ensures customers receive products that fit them better. Clothing that lasts longer and fits better means less landfill waste.
Ultimately, the brand's goal is for its customers to buy less but buy better. To them, colour has no season.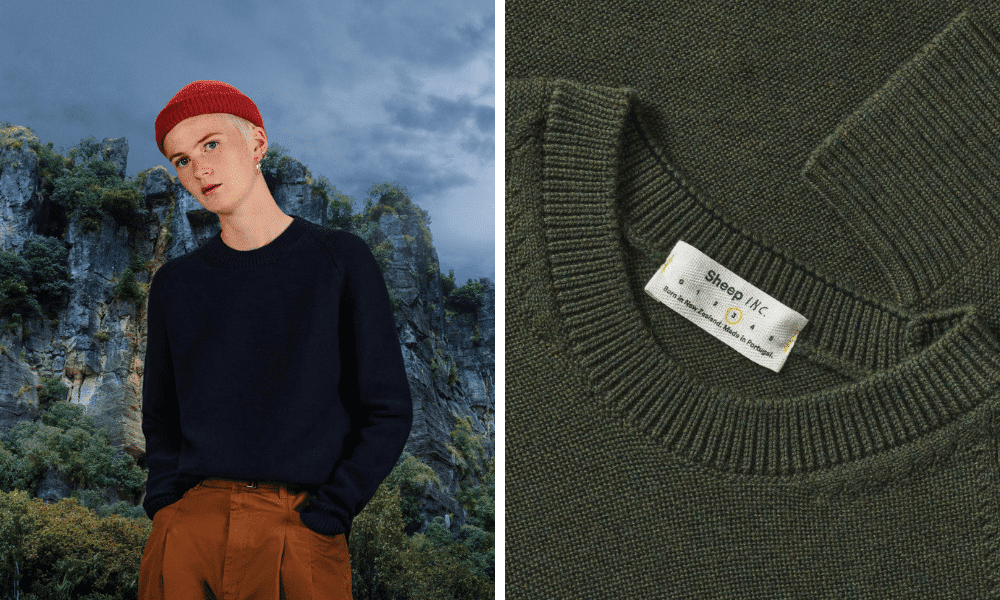 27/30
Sheep Inc
Sheep Inc is creating products for a new fashion future. Designed for life, their pieces are traceable, with uncompromised origins. They see the traditional model of fashion as flawed with their clothing becoming part of the solution, not part of the problem.
Considering the impact fashion has on the planet, it is refreshing to come across Sheep Inc, a brand that is carbon negative. This is a result of their supply partners naturally offsetting more than they produce, coupled with the use of renewable energy throughout all manufacturing.
Every super-soft jumper bought from Sheep Inc comes with its own sheep. No, not a physical one sent in the post. But, the adoption of one from the same New Zealand farm your sweater's wool came from
28/30
Riley Studio
Riley Studio creates a wardrobe of gender-neutral pieces through carefully considered design. Waste materials and natural fabrics are used to make items with a sustainable approach.
By utilising extensive research and development they source the most innovative and sustainable materials available. The design process then incorporates these materials through simplicity and versatility. The outcome is sustainable, timeless garments.
Limited runs are used to keep control of inventory and reduce overproduction. The brand will also offer a lifetime guarantee, should your product need repair.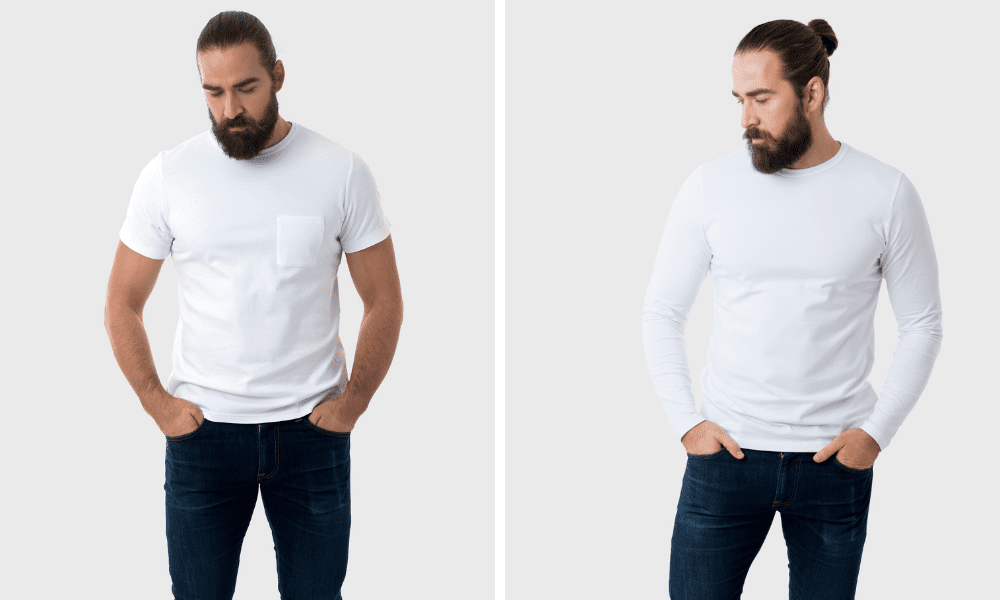 29/30
The White T-Shirt Company
Like a lot of companies, this brand was born from the frustrations of the founder. They couldn't find a great fitting white t-shirt. So, set about creating their own.
White Tshirt Company, since its inception in 2004 has been passionate about using only the finest, ethically sourced cotton available to make its men's t-shirts. So much so, that the entire brand took a hiatus when their supplier stopped producing. Only to restart operations once a suitable replacement could be found.
WTSC products are notably durable, with an enviable fit. It means they are built to withstand the rigours of daily life and look great doing it.
30/30
Knowledge Cotton Apparel
Built on three founding principles - knowledge, action and respect. Knowledge Cotton Apparel was launched in 2008 to offer a sustainable menswear alternative. Back then, sustainable was not a word on everybody's lips and the brand suffered acceptance in the market and their own self-confidence.
Fast forward to the present day and the brand is constantly on the lookout for innovations to minimise their impact on the environment. Sustainability is part of their DNA and they continue to try and change conventions of the textile industry.
Knowledge believes in sharing a common responsibility for the future of our planet. Inspired by their Nordic roots they have created a truly sustainable fashion brand.