The shawl cardigan has been ever-present in men's style for decades, swaying in and out of the contemporary fashion zeitgeist. Like so many timeless wardrobe icons, it has many connotations – some positive, some not so.
Its origins can be traced back to a certain James Brudenell, 7th Earl of Cardigan, who, aside from giving his name to this classic button-front knit, is most famous (perhaps infamous) for leading the disastrous Charge of the Light Brigade in the Crimean War. According to myth, Cardigan designed the garment to keep his hair unruffled while getting dressed.
The shawl collar is one such iteration of this sartorial legend that we are here to discuss today. As well as providing all of the essential layering, comfort and practicality that you'd expect, the right shawl collar cardigan also comes with assured maturity and elegance. It's a piece you can keep in your repertoire for whenever or wherever it is required – offered across many brands and fashion Houses in various colours, constructions and silhouettes.
1. Peregrine Waffle Cardigan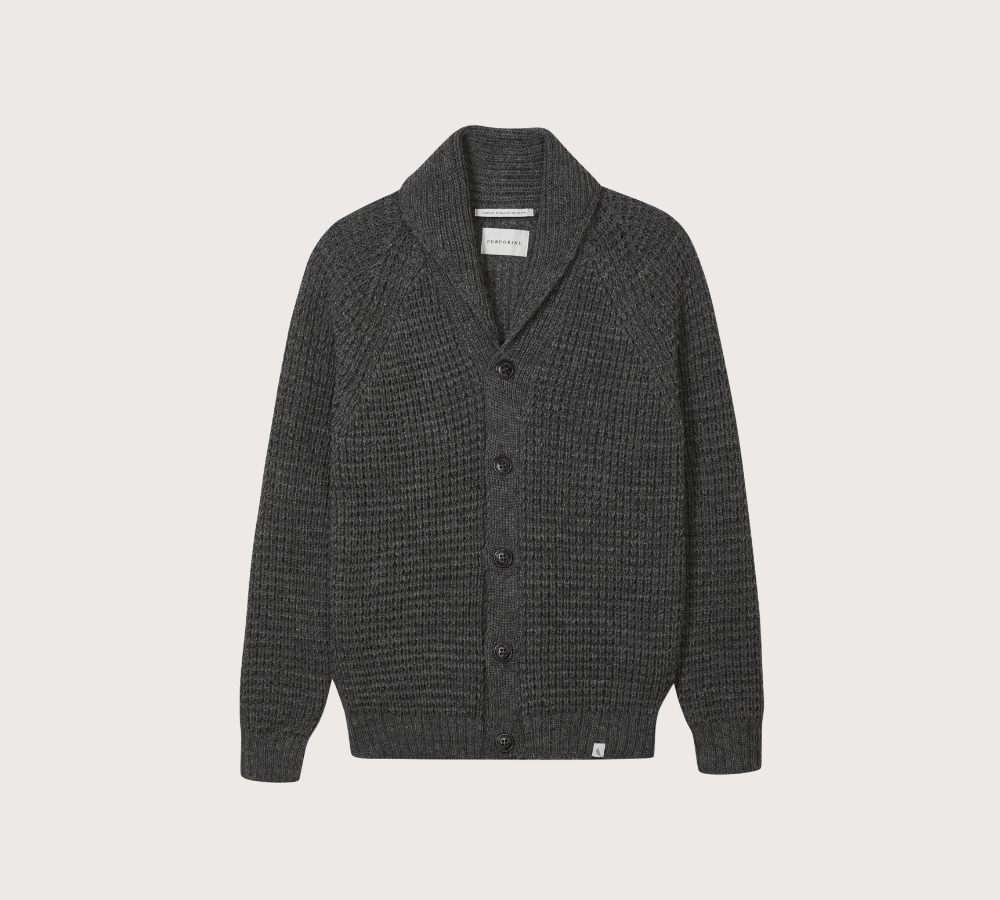 Made in Peregrine's factory in Manchester, England, this classic chunky cardigan has a slouchy, relaxed quality but could easily be layered under a smart overcoat with tailored trousers or chino. Its heavy gauge construction in 100% British wool also provides ample warmth on those particularly cold days – so there's sophistication as well as practicality. Peregrine is also a brand that values and champions Britishness and sustainability, causes this writer can gladly get behind.
2. Oliver Spencer Orkney Shawl Cardigan
Another British brand with an eye for beautiful homegrown design. A chunky, slightly relaxed fit, this Orkney shawl collar cardigan (named after the Scottish isle's knitwear heritage) oozes effortless masculine style. There's also the slightest hint of the bohemian workwear about it – a kind of touch we've all come to expect from Oliver Spencer. We'd suggest keeping things casual with a pair of blue denim jeans or lightweight chino, with a complementary tee or polo.
3. M&S Ribbed Shawl Cardigan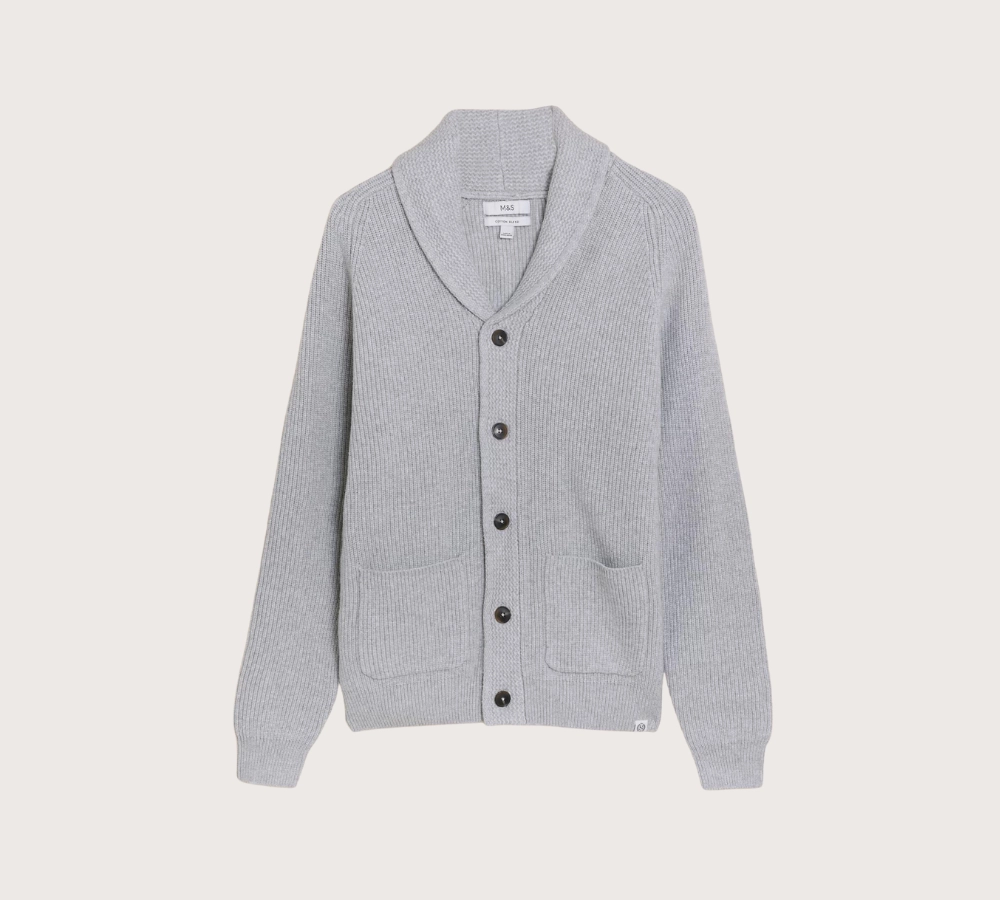 An accessible yet refined choice from British stalwart Marks & Spencer. Cut from recycled polyester and cotton. This grey shawl collar cardigan has a ribbed knit design that elegantly hugs the contours of the body in a flattering way. A great everyday style with a crisp white crew neck t-shirt and a black denim jeans or tailored trousers. Pairing this with a black leather boots or a black trainer provides an appropriate finishing touch.
4. New & Lingwood Shawl Cardigan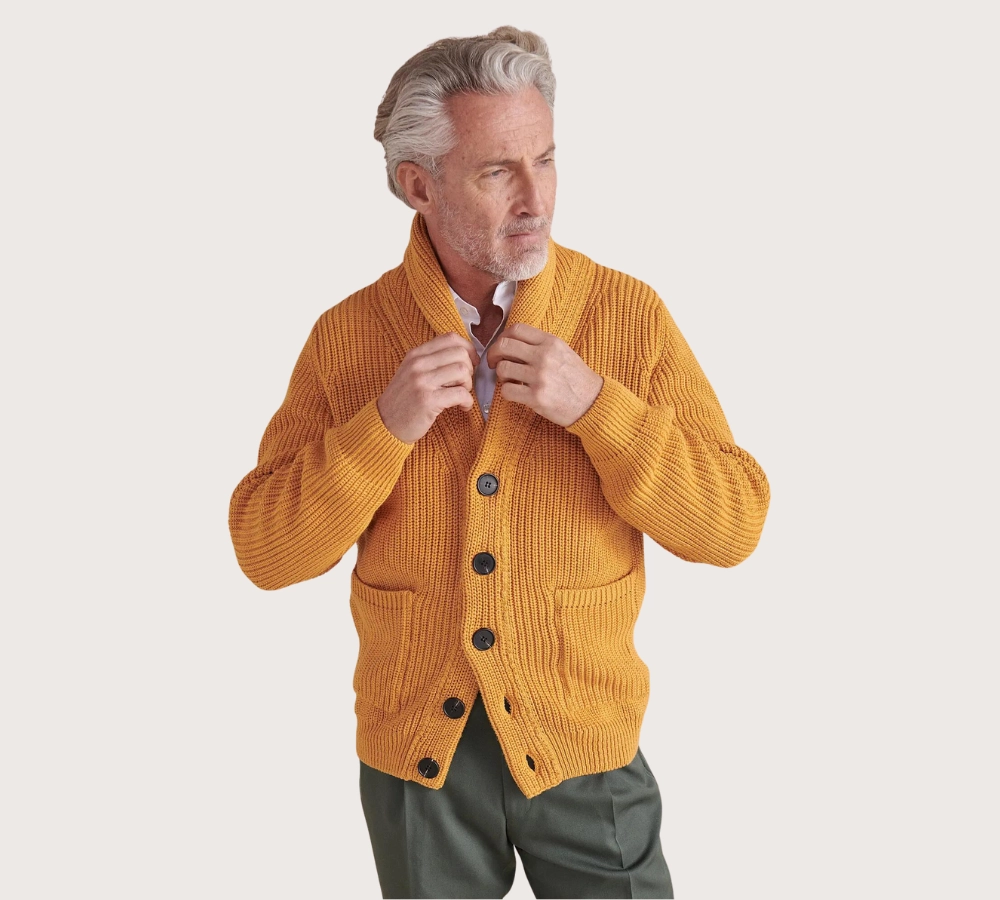 Beautifully crafted in Italy from lightweight organic cotton, this luxurious shawl knit from New & Lingwood is offered in a range of rich seasonal tones. An elevated take on the classic cardigan that can be worn as a substitute for a blazer, or as an elegant standalone style statement. As an added plus, if you live in London, you can get your cardigan hand-delivered to you.
5. Charles Tyrwhitt Shawl Jumper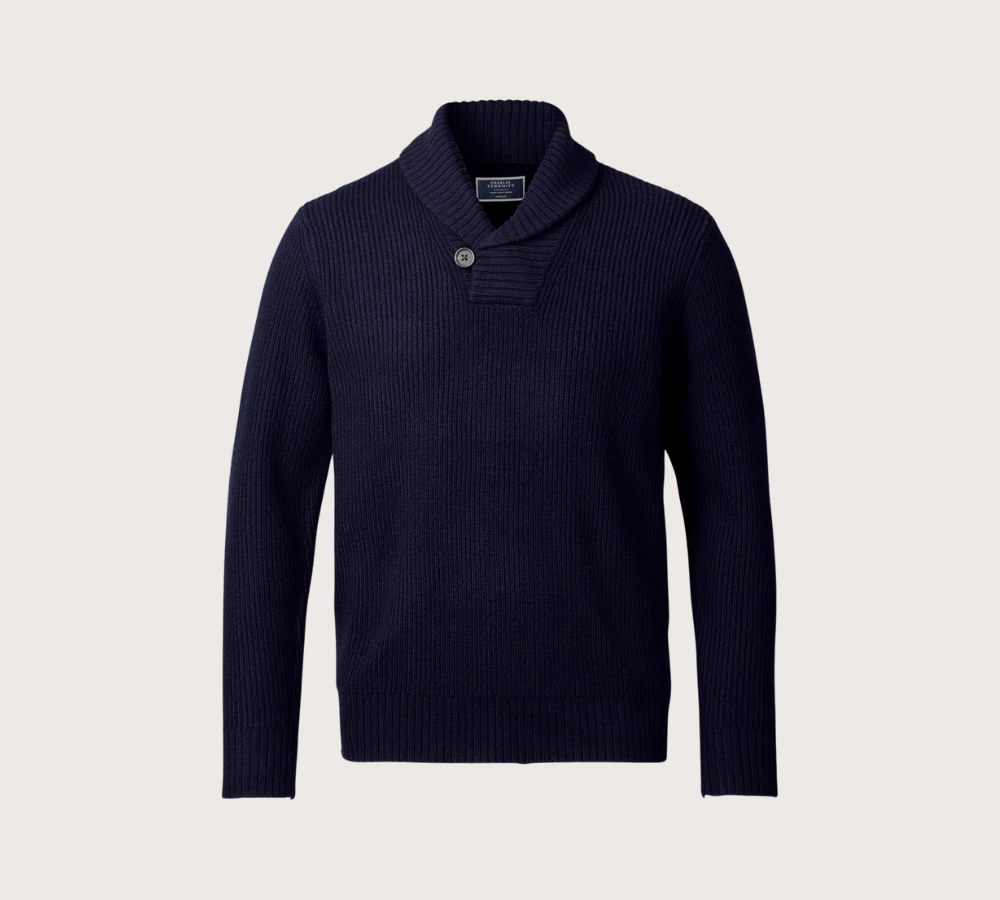 A classic navy blue knit is a stone-cold must-have in your wardrobe. This sophisticated shawl collar option from Charles Tyrwhitt is offered as a jumper in 100% merino wool. Elegance personified, this is one of those rare knitwear pieces that move easily up the sartorial scale from casual to smart. Looks great over a pristine white crew neck t-shirt or a button-down Oxford shirt.
6. Paul James Cardigan
An understated offering in black cotton knit from Leicestershire-based brand Paul James, who – in their words – strive to deliver the purest knitwear experience. Concentrating as they always do on materiality and naturalistic approaches to manufacture, they created this shawl collar cardigan. With a slightly higher break and with real horn buttons, there's a sense of formality here that could easily replace a jacket as a transitional season wardrobe option.
7. Ralph Lauren Cashmere-Wool Cardigan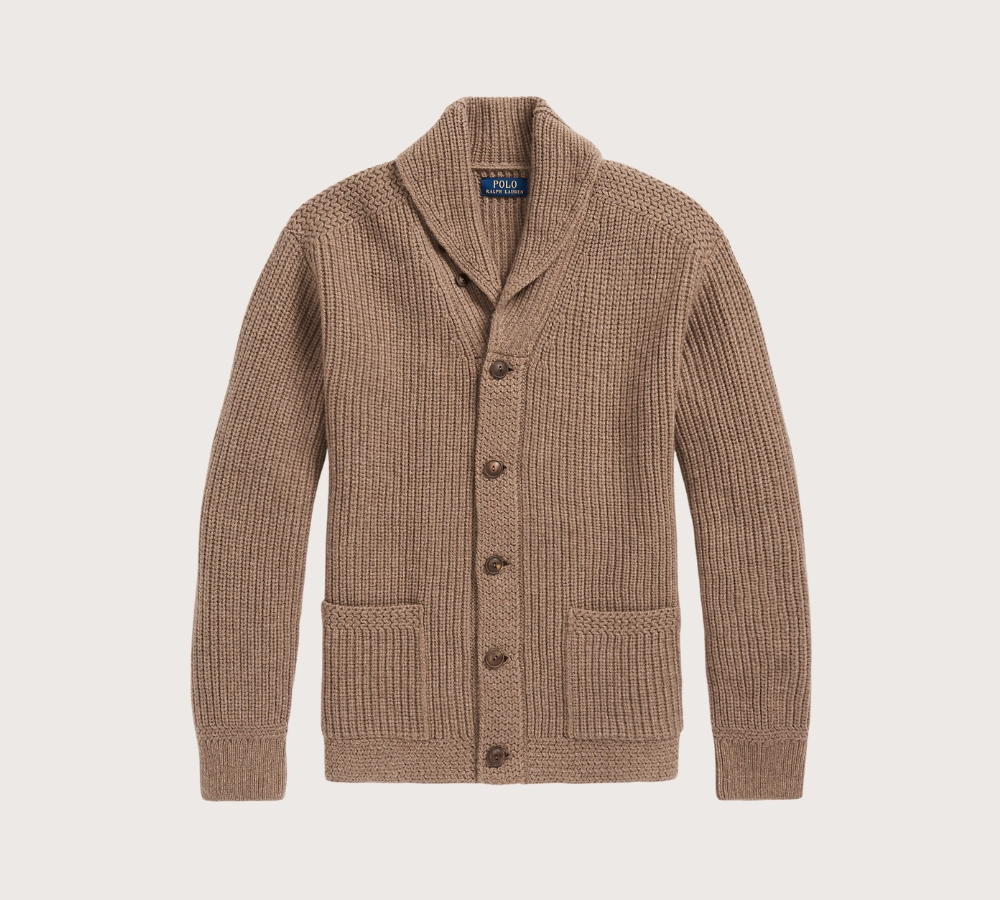 You could easily imagine yourself pulling this number off during a breezy late afternoon in the Hamptons. The wool-cashmere construction, sumptuous colour palette and strong Americana vibes make this a high-end high-style choice on our list. Ralph has suggested a coordinated grey marl crew neck and tailored grey trousers for a very elevated look. Add the right kind of watch and a smart-casual shoe and it becomes the perfect dinner or date ensemble.
8. Jamieson's of Shetland Fair Isle Cardigan
This shawl collar cardigan taps into a rich Scottish heritage of knitwear expertise. Upon deeper reading, I'm told that "Jamieson specialises in creating colourful and well-crafted designs from its native Shetland Isles sheep" – sounds good to me. In the right conditions and the right scenario, this tradition-inspired knit offers something practical and learned. Dress it up with a crisp white button-down shirt, or keep things casual and throw it over a tee.
9. Brunello Cucinelli Shawl Cardigan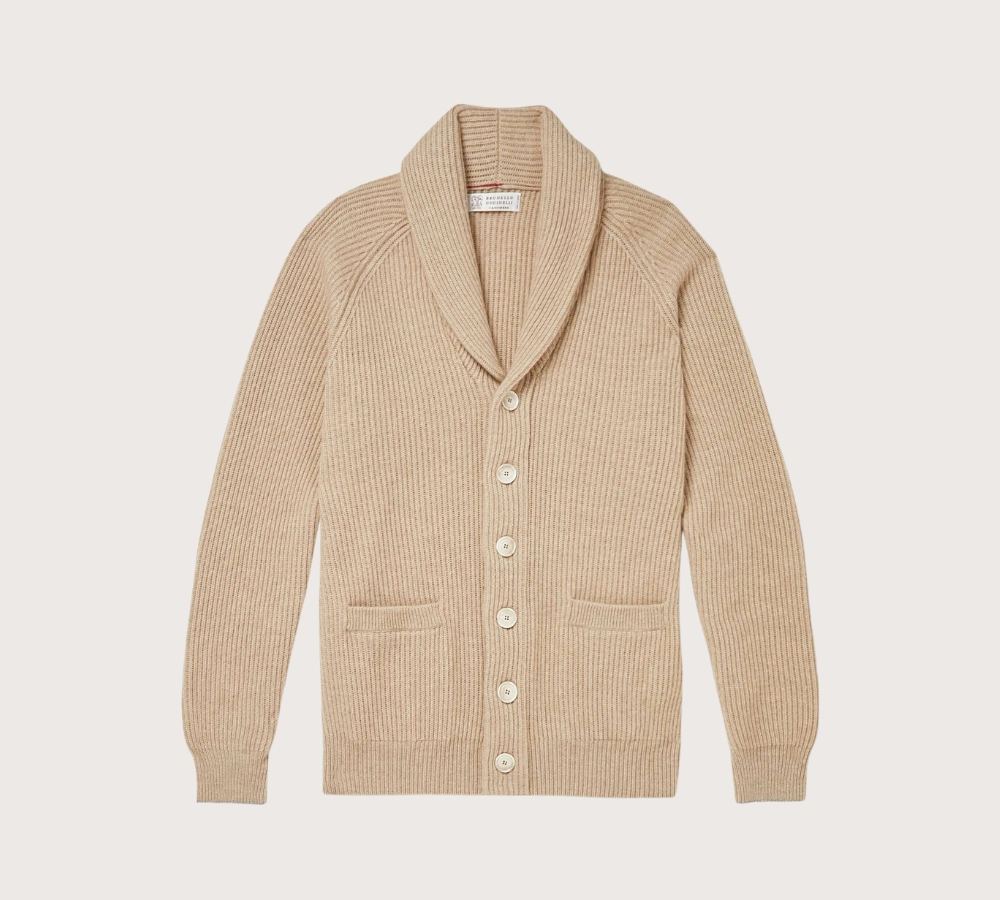 A taste of Italian-made gorgeousness from Brunello Cucinelli is offered here as a beautiful, sumptuous cardigan in a slim-fit silhouette. Constructed from pure cashmere, it gives serious, quiet luxury Succession vibes and could be teamed with a very considered ensemble that works from boardroom to bar. Superior warmth and comfort are also guaranteed, as well as refined details such as horn buttons and a ribbed design that gently moves with the contours of your body.
10. Elder Statesman Italian Cashmere Cardigan
Cut to a relaxed, soft drape in brown camel cashmere, this shawl collar cardigan is done a little differently. It's been crafted as a louche, comfortable alternative to the classic smoking jacket by cool LA brand The Elder Statesman – new gen West Coast style personified. We'd propose keeping things very, very casual and slouchy. You're stylish and expensive, but it's effortless. Imagine if 'The Dude' from The Big Lebowski had a serious bank balance.
11. Inverallan 6A Shawl Cardigan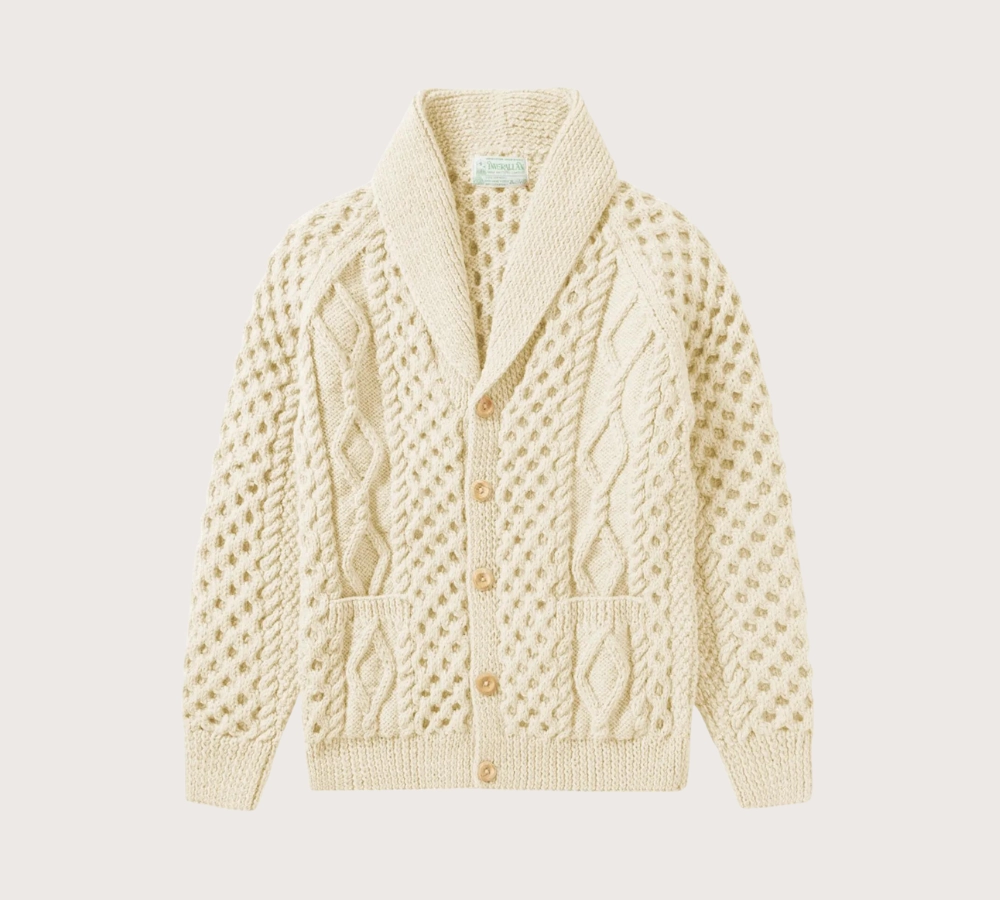 Inverallan has been hand-crafting knitwear for Scotland's fishermen for generations, their expertise is almost unrivalled – true 'cottage' knitters. This tactile chunky knit shawl collar cardigan is offered in natural ecru wool, with beautiful handstitched signature wooden buttons. For this writer, channelling a traditional workwear sensibility could easily work – think well-worn denim or utility trousers with a simple crew neck t-shirt. Similarly, an elevated smart-casual look with a chino or formal trouser easily changes things up.
12. Margaret Howell Shawl Rib Cardigan
Representing the best of timeless British design, Margaret Howell offers simple, elegant pieces that every man needs in his wardrobe. This charcoal grey shawl collar rib cardigan is constructed in a warming, soft merino wool cut to a regular silhouette that's easy to wear and looks great. Stay true to the brand's discreet approach and pair with a wide or straight-leg navy chino trouser and a lightweight crew neck tee in a complementary tone.
13. Faherty Shawl Cardigan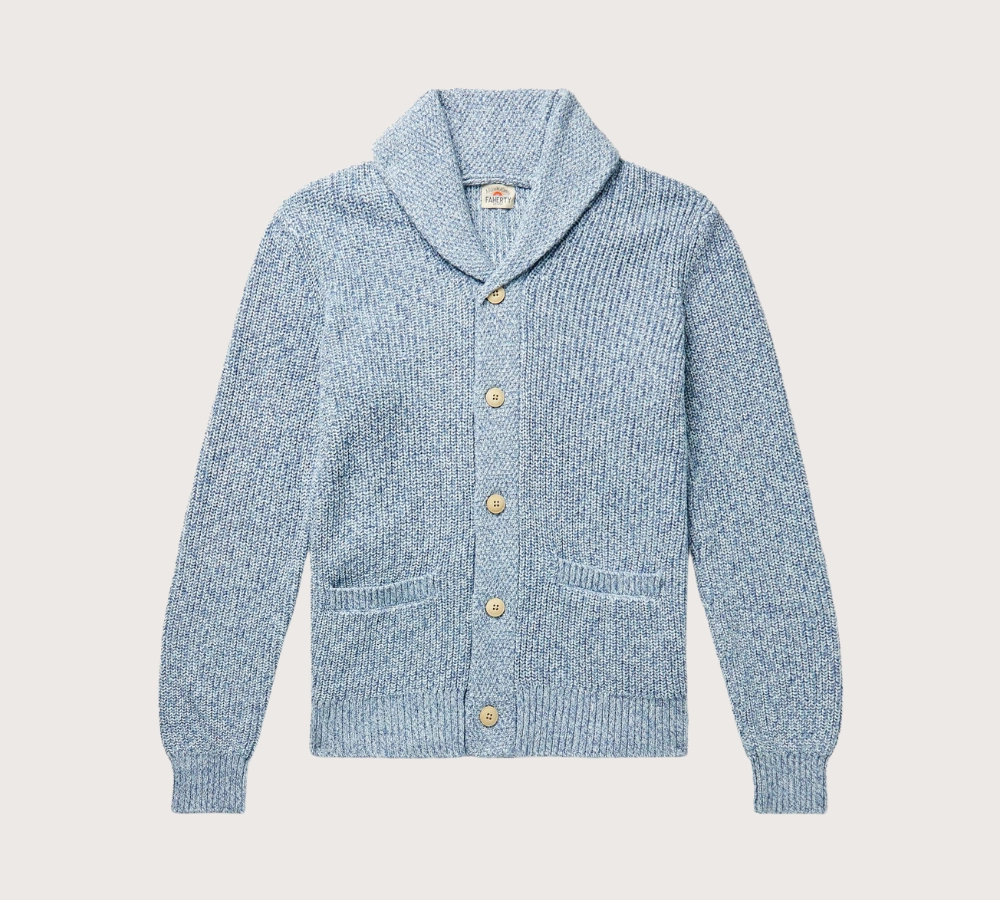 Shawl collar cardigans for men could seem like a bit of a minefield. Hopefully, this curated shortlist is doing its job. For this writer, it's opened up many sartorial opportunities. This offering from Faherty in a light cornflower blue melange has a fresher trans-seasonal appeal when compared to the usual autumnal colour palette you'd expect. The hint of cashmere adds softness and sense of luxury alongside its obvious visual appeal.