The men's peacoat has been flying under the menswear radar over recent years. After earning its spurs as the fisherman's final protective layer against the harsh elements, it hit fashion prominence for men during the 70s. Who can forget the ever-debonair Robert Redford in the spy thriller 'Three Days of The Condor'. Though, another spy showed how enduring this style is. Daniel Craig wore his Billy Reid version to aplomb in 'Skyfall' years later.
Why You Need A Men's Peacoat
The timeless silhouette of the peacoat is what makes it so appealing. Largely untouched since its inception, the waist-length finish and large lapels make it distinctive but contemporary.
Because of its cropped nature, the coat exudes a smarter aesthetic. While the shorter length also makes it ideal for wearing when driving or travelling.
Big, solid lapels are a welcome deflection turned up against biting winds, especially if we pick a peacoat crafted from thick wool as nature intended. This hearty material kept sailors warm at sea, so modern land living shouldn't be an issue. In addition, wool helps keep the peacoat's structure, nipping in the waist and keeping that uniform silhouette.
What To Wear With Your Peacoat
The working class man adopted the peacoat, like much military-inspired clothing. Its robust nature and shorter style made it ideal when working outside. So, it was used by dock workers and construction workers who needed dependable, hard-wearing outerwear. As such, the coat lends itself well to this aesthetic. Think jeans and chunky knits topped off with thick-soled boots.
Looking at its military history, men can see formal uniforms worn beneath a peacoat, making the coat adept at being partnered with smarter clothing. However, it probably needs to be without a suit jacket. In this case, keep the formal trousers but switch the jacket and shirt for a roll neck or statement knit.
Whichever way you wear it, the peacoat is versatile and dependable. So to make it easier to get your hands on this great menswear piece, we have pulled together our list of the best peacoats for 2023.
Reiss Cork Peacoat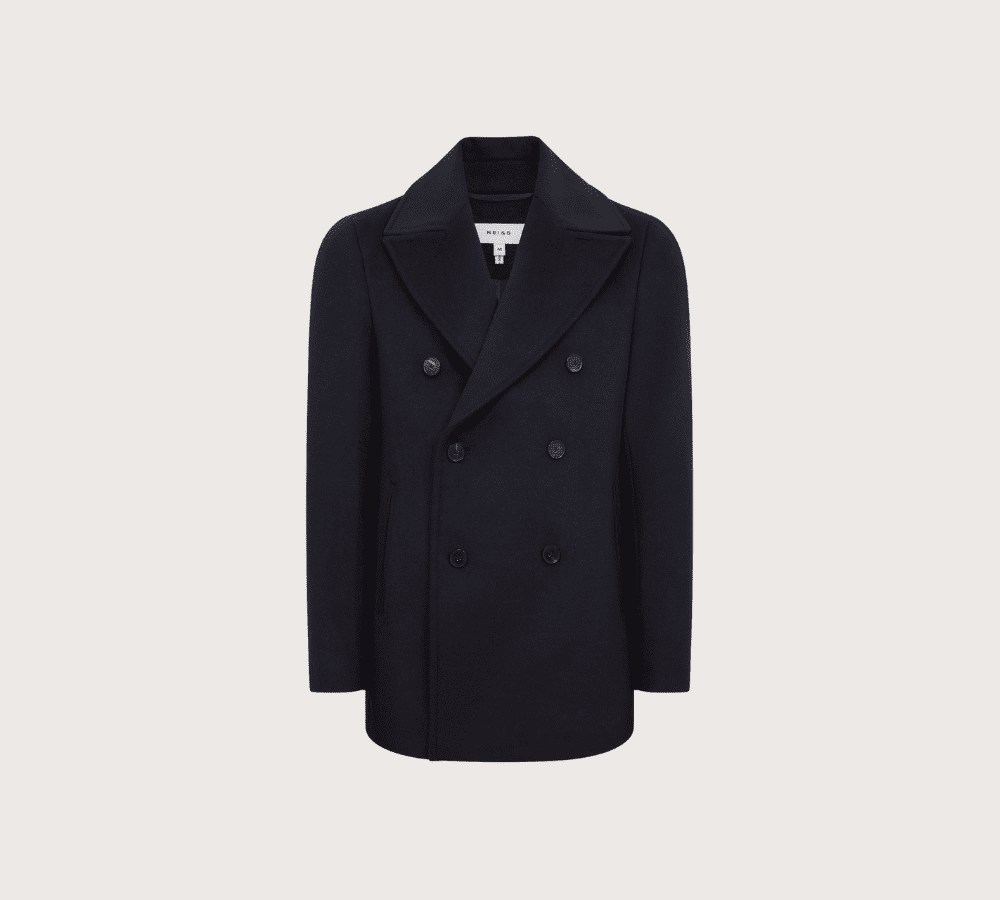 This double-breasted navy peacoat from Reiss has all the paired-back tailored silhouette we expect from the brand. Big, wide lapels are in-your-face eye-catching, just the way they should be. While the lack of additional details on the front only enhances the smart figuration.
Schott NYC Melton Wool Peacoat
Schott might be more familiar to some as producers of high-quality leather jackets, but there are more strings to their bow. We applaud this naval-inspired peacoat manufactured from a 32oz Melton wool blend. A quilted lining is just the ticket in biting cold winds, while the vintage feel is great for pairing with a pair of selvedge jeans. Note the nod to the peacoat's heritage with accompanying anchor buttons.
Turnbull & Asser Redford Peacoat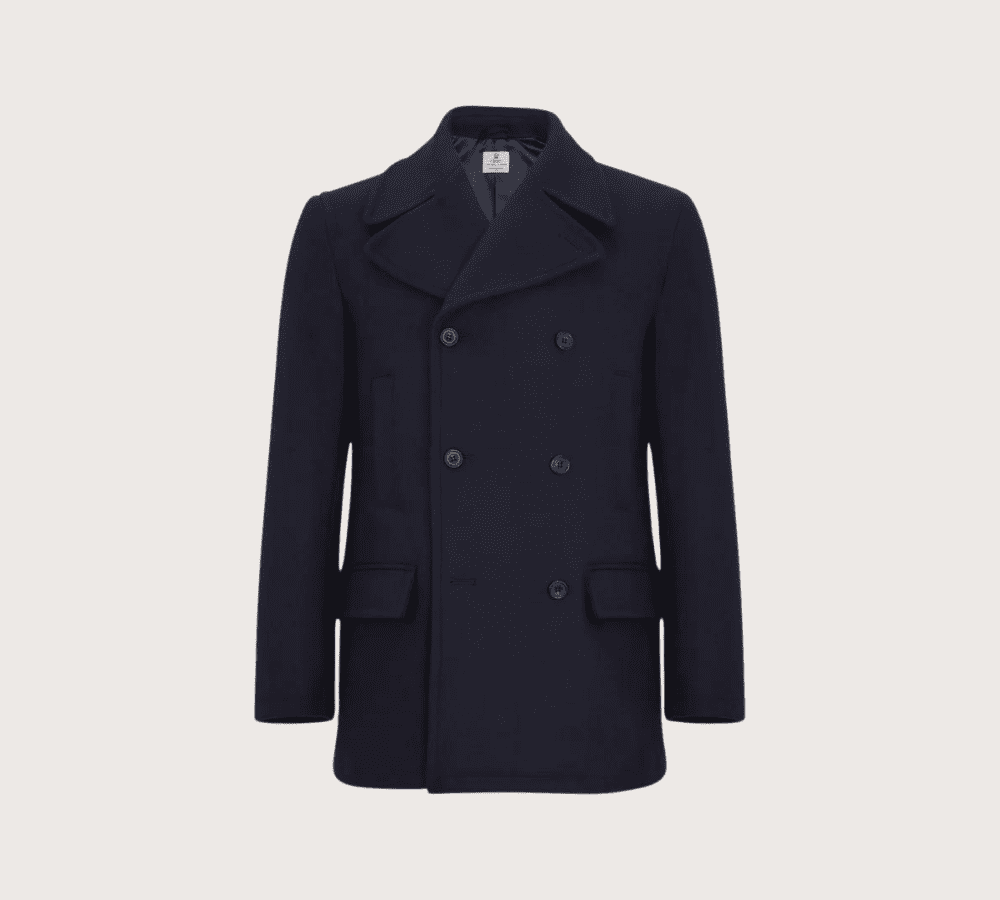 Weighing in with a hefty price tag, this Turnbull & Asser pick isn't for the faint-hearted. For those who can afford it, you'll get a coat crafted from pure lambswool for a super-soft touch. A fully lined construction provides extra warmth with an overall tailored silhouette dovetailing nicely with your formalwear of choice.
Billy Reid Bond Peacoat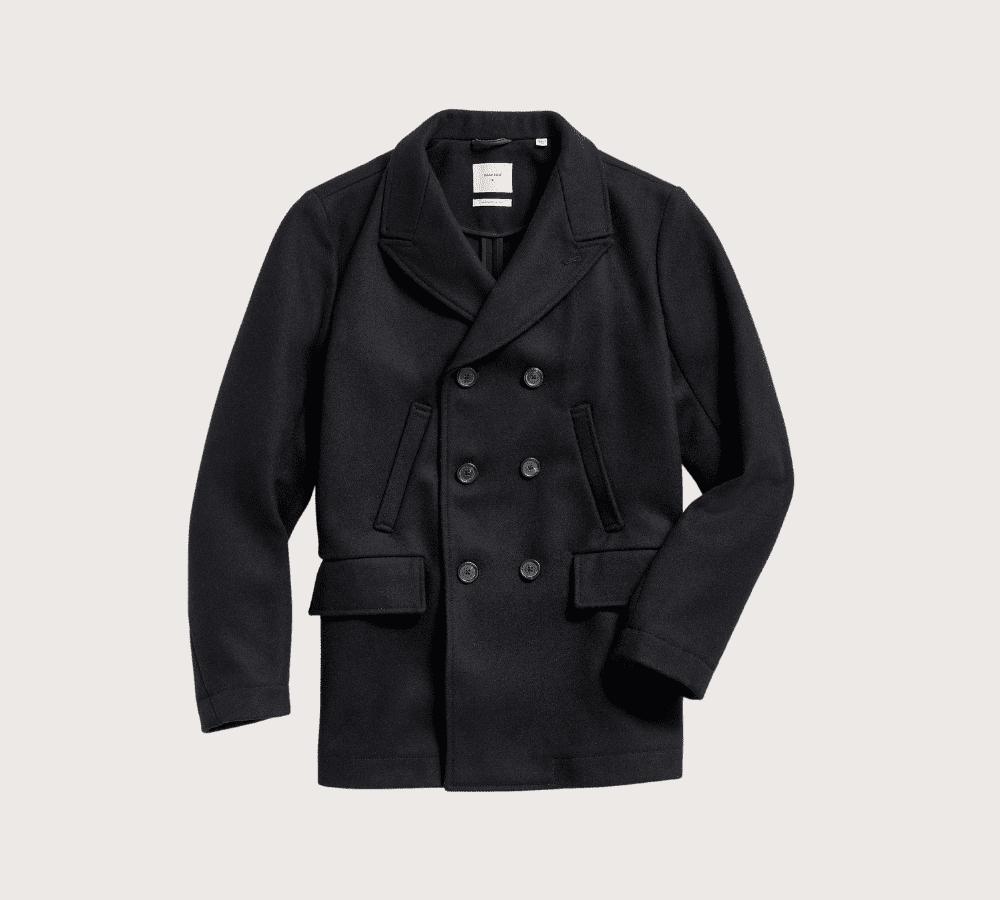 The original Billy Reid peacoat was created two decades ago and named after the street in London, not the spy. Ironically, the latter (Daniel Craig in Skyfall) brought global wide attraction to this iconic piece and the brand itself. Made in Italy from sturdy Melton wool, it is as classic as they come.
Suit Supply Men's Navy Wool Peacoat
Wool is the natural choice for peacoats due to its warmth and durability. This Suit Supply coat is made from 100% wool, and we think you will appreciate the adjustable back belt. The turned cuff on the sleeve gives us 'sprezzatura' vibes which only adds to this elevated classic.
Mackintosh Wool and Cashmere-Blend Peacoat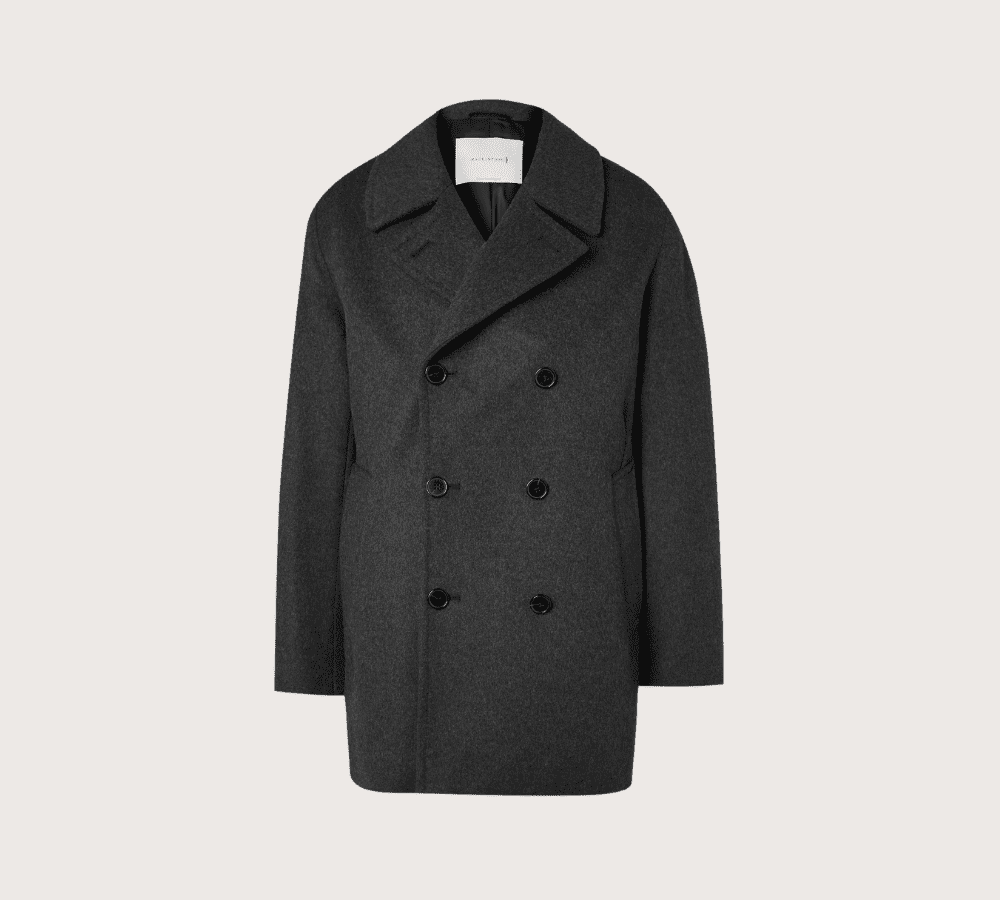 Mackintosh might be more famed for their trenches. But, they know how to turn their expert hand to various outerwear, with all the luxury and class you would expect from the brand. This wool-cashmere blend coat features structured shoulders and wide lapels. Elegance personified.
Private White VC 'The Peacoat'
As the name might suggest, Private White VC know a thing or two about the history of military menswear. The peacoat was adopted by the US and British military in the 20th century and it has created a core piece in this brand's range of coats. Big kudos to the brand's use of a robust 30oz Melton wool woven in England. The overall silhouette is smart but modern.
Rag & Bone Men's Navy peacoat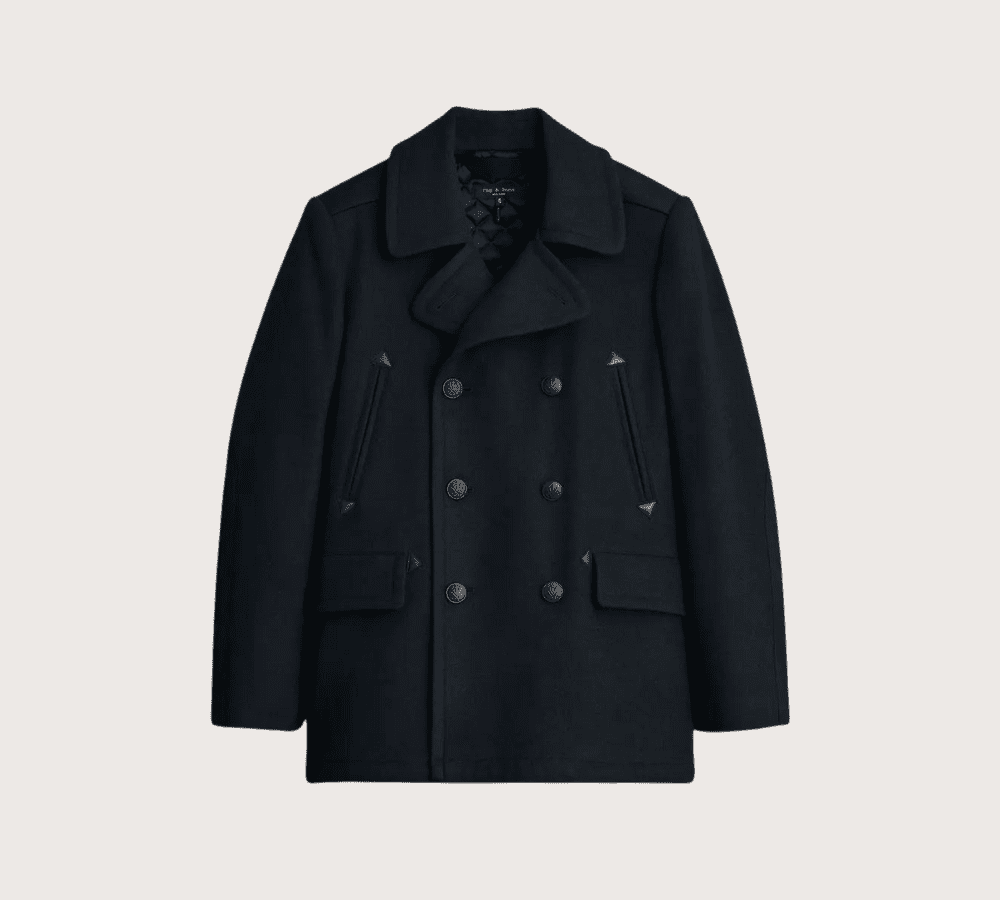 Fine margins can make a big difference in menswear. The men's peacoat has added details of back yokes and elbow patches crafted from a British Mellerin wax combo for a nice touch. On the inside is a warming cupro lining, and the exterior is 100% wool. Additional flap pockets on the front add interest and draw the eye.
Paul Smith Wool Cashmere Peacoat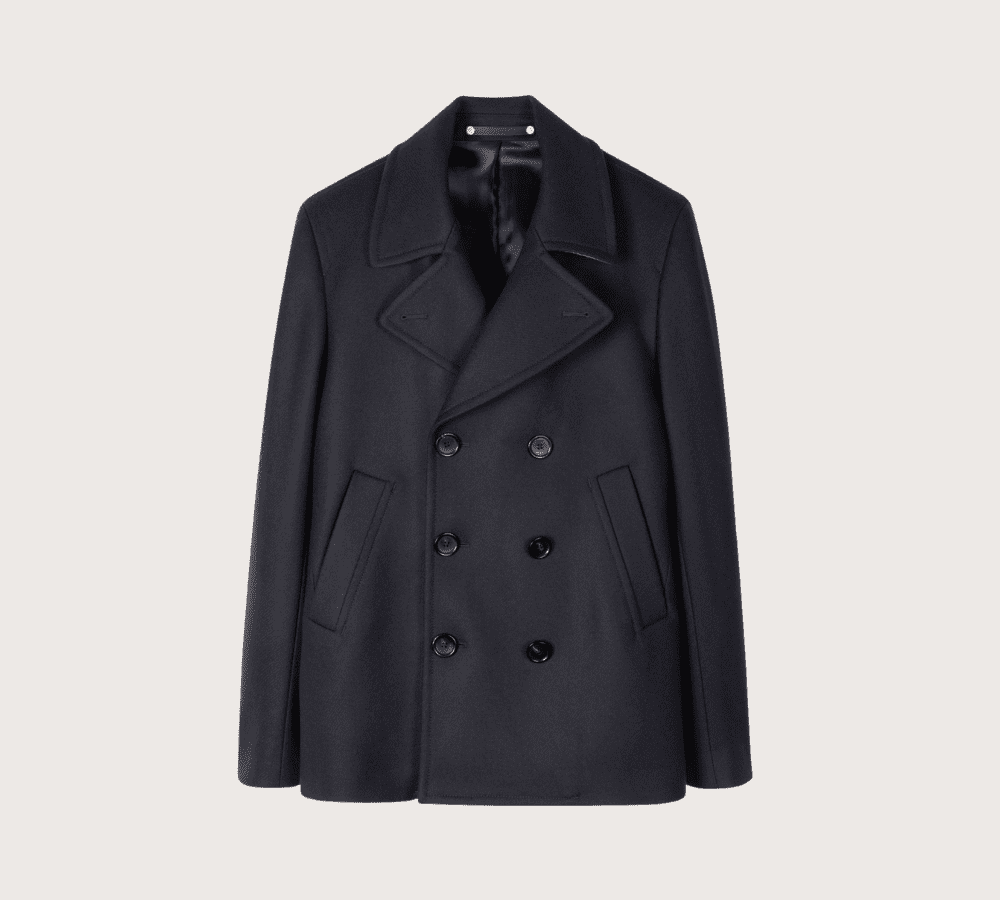 As we have come to expect from this British brand, there is always a slight twist on the classics. Poking out from under the lapels is a subtle dash of tonal orange colour to add some additional interest. Manufactured in Portugal from a luxurious wool-cashmere blend, this is a fresh approach to an endearing style.
Ralph Lauren Melton wool Peacoat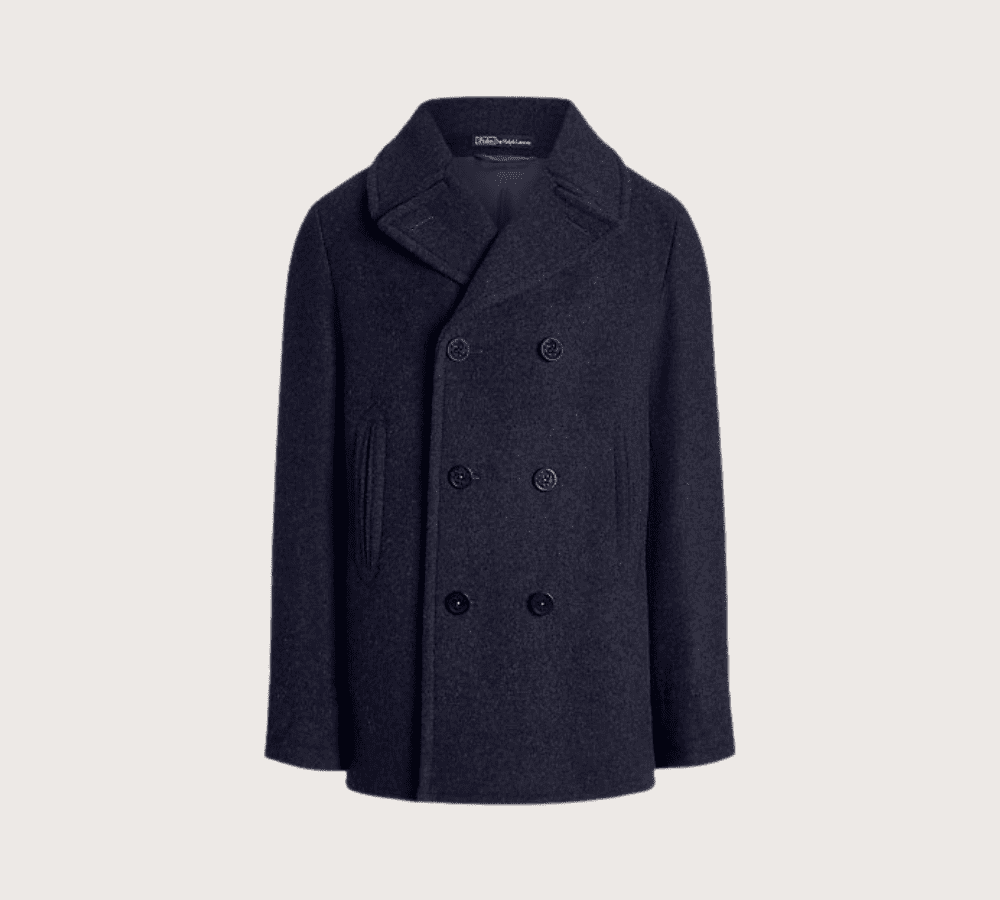 Hitting all the right notes, this peacoat from Ralph Lauren will make you want to embark on a naval voyage in no time. Solid construction is critical for showcasing this Melton Italian wool the correct way. The brand does this and adds a fully lined interior to increase the wearability value of this piece. For us, this is a snip at its current price point.