Every style-conscious man needs a fresh pair of white trainers in their wardrobe. As tastes and agreeable work attire have evolved, the white trainer is now perfect for both work and play.
How To Style White Trainers
The key to a white trainer's success is its versatility. Worn with a suit, it shows a more relaxed version of a work uniform that is great for the warmer months. But, equally, it's natural home is in a more casual comfort zone.
Adaptability is crucial in menswear, and white trainers are the footwear sweet spot. They look great with a multitude of options and if cared for correctly and dependent on material, will see you through rain and sunshine throughout the year.
If you prefer the minimalist, timeless aesthetic, there are many choices. But why not try something more contemporary that might fuse style and comfort in one trainer?
Related Post: 40 Of The Best White Trainers For Men
An essential menswear piece, the humble trainer has been coveted from high street to designer with fluctuating price tags to match. For men looking to shop on a more affordable budget, we have brought you our list of the best men's white trainers available right now for under £100.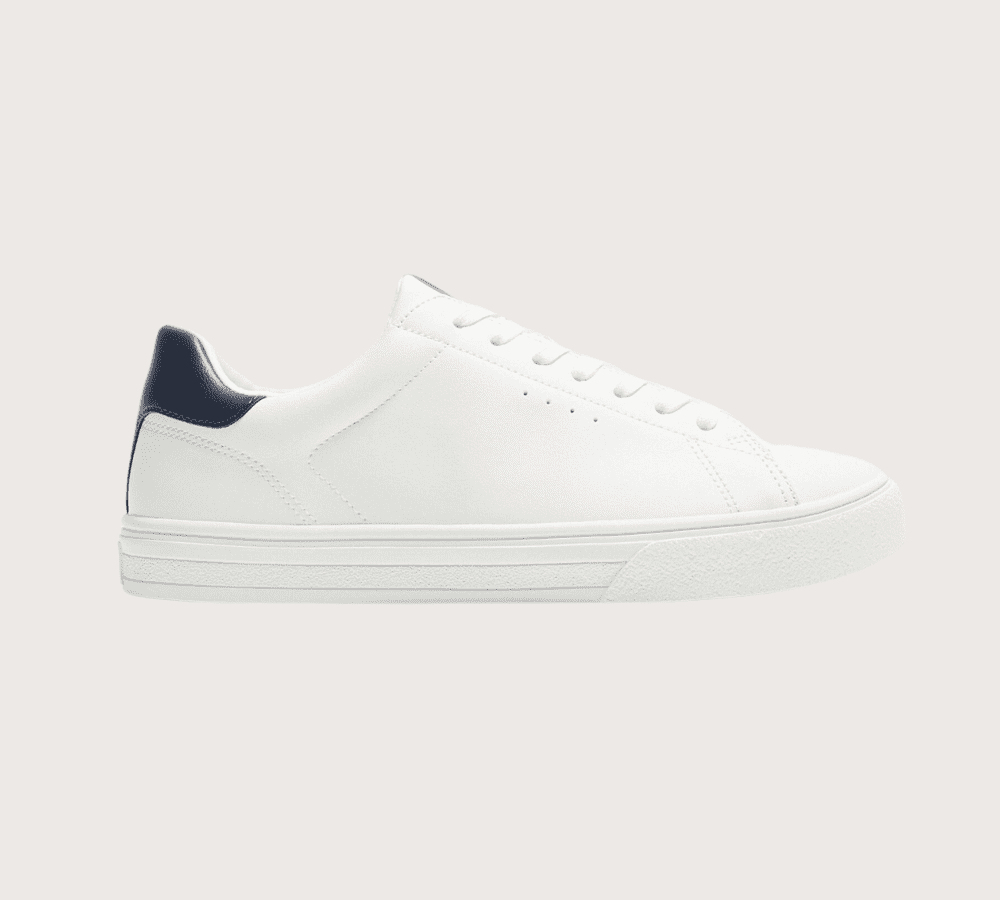 1. Zara Contrast White Plimsolls
If you are looking for a conveniently priced pair of white trainers that can do the daily grind, look no further than Zara. These minimalist sneakers are built for everyday wear.
Price: £25.99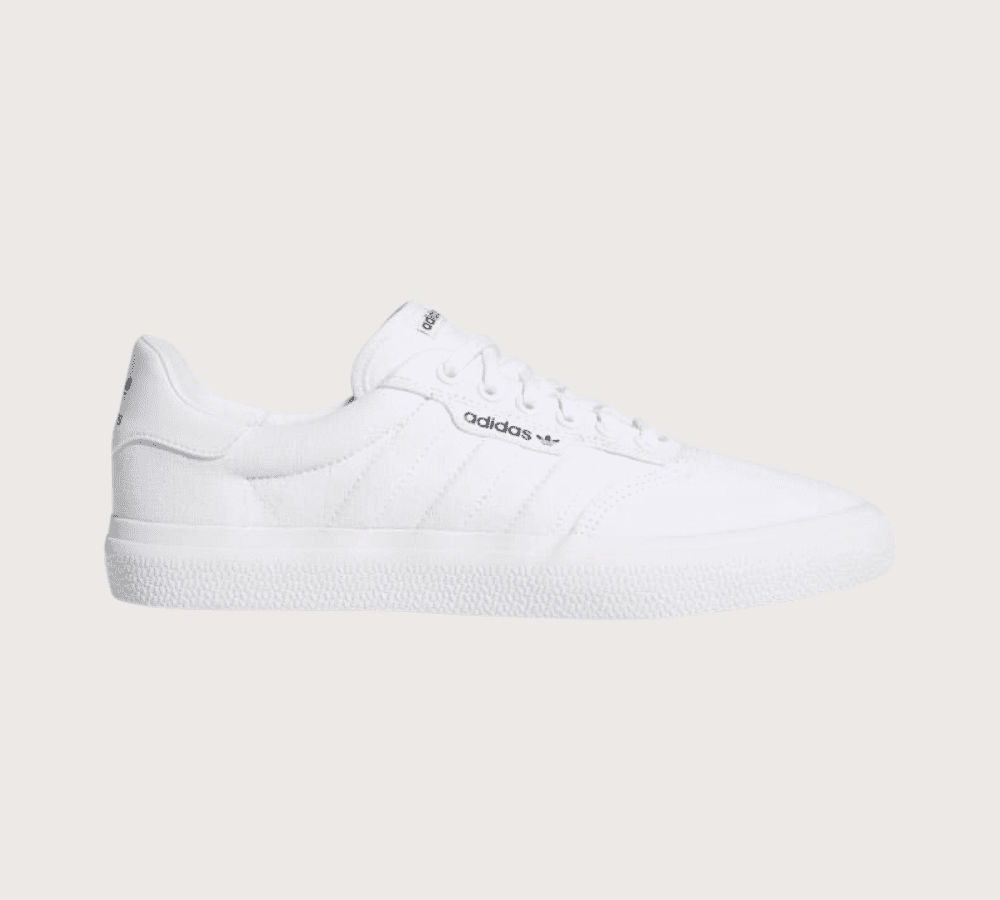 2. Adidas Originals 3mc White Trainers
When you don't want to spend a fortune on trainers, there are great alternatives, like these Adidas Originals. Cheaper than Stan Smith's they deliver a different take on your casual trainer game.
Price: £60
3. Walk London Kensington Trainers
Covering all the basics, Walk London has crafted the ideal casualwear companion. Understated and timeless, these neat and tidy trainers are dependable for all occasions.
Price: £70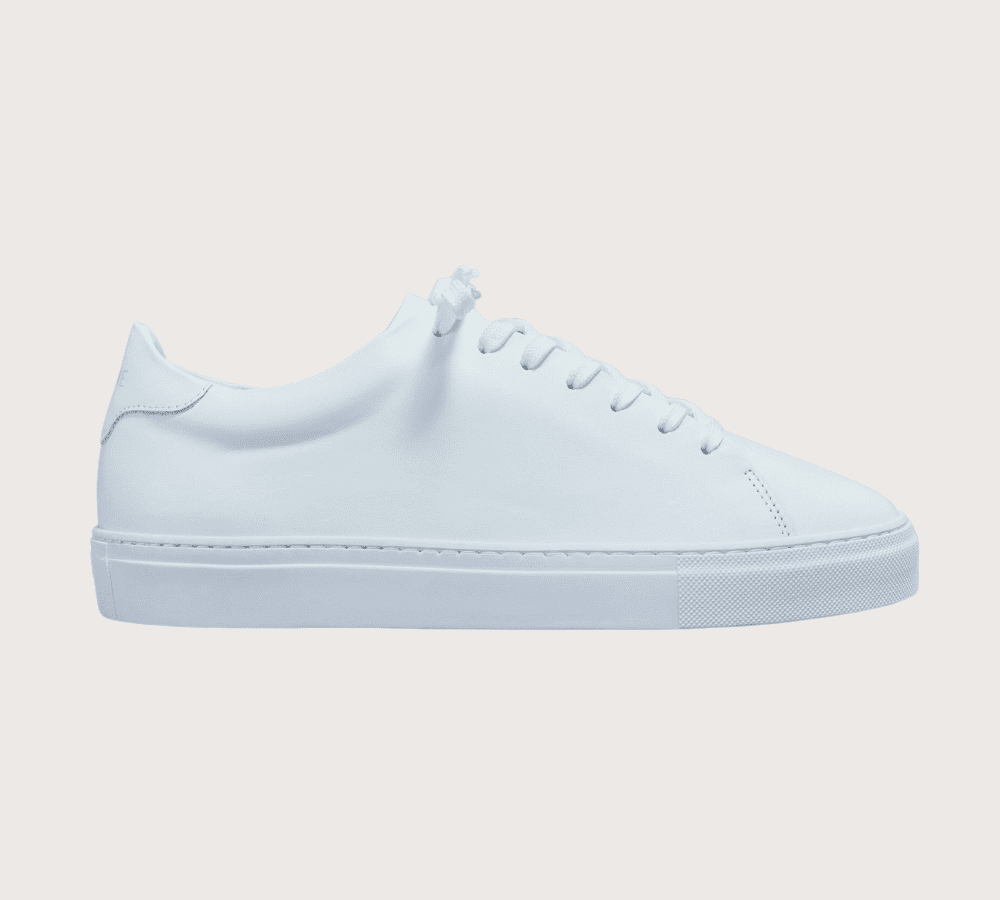 4. Arne Low Essential Leather Trainer
A slight update to the essential trainer from Arne, this one comes with a chunkier sole. Handcrafted in Portugal using premium Italian leather, this pair comes with a lot of bang for its £85 price tag.
Price: £85
5. Mango Monocoloured Leather Trainer
These Mango trainers are clean, simple and just what you need from a pair of white trainers. The key to great footwear is picking a style that can integrate with multiple outfits at a whim—a big tick in that box for this pair.
Price: £49.99
6. Dune Tezzy White Trainers
Ideal for those off-duty days, Dune has included perforated uppers for an updated twist to the humble white trainer. Throw them on with some blue jeans and you are ready to go about your daily business.
Price: £75
7. Aldo Introspec White Sneakers
The ideal, everyday trainer, Aldo has included its pillow walk technology. This innovative design supports the foot with padded insoles and heel-to-toe comfort. No matter what you choose to wear, this slim-lined style will always look great.
Price: £70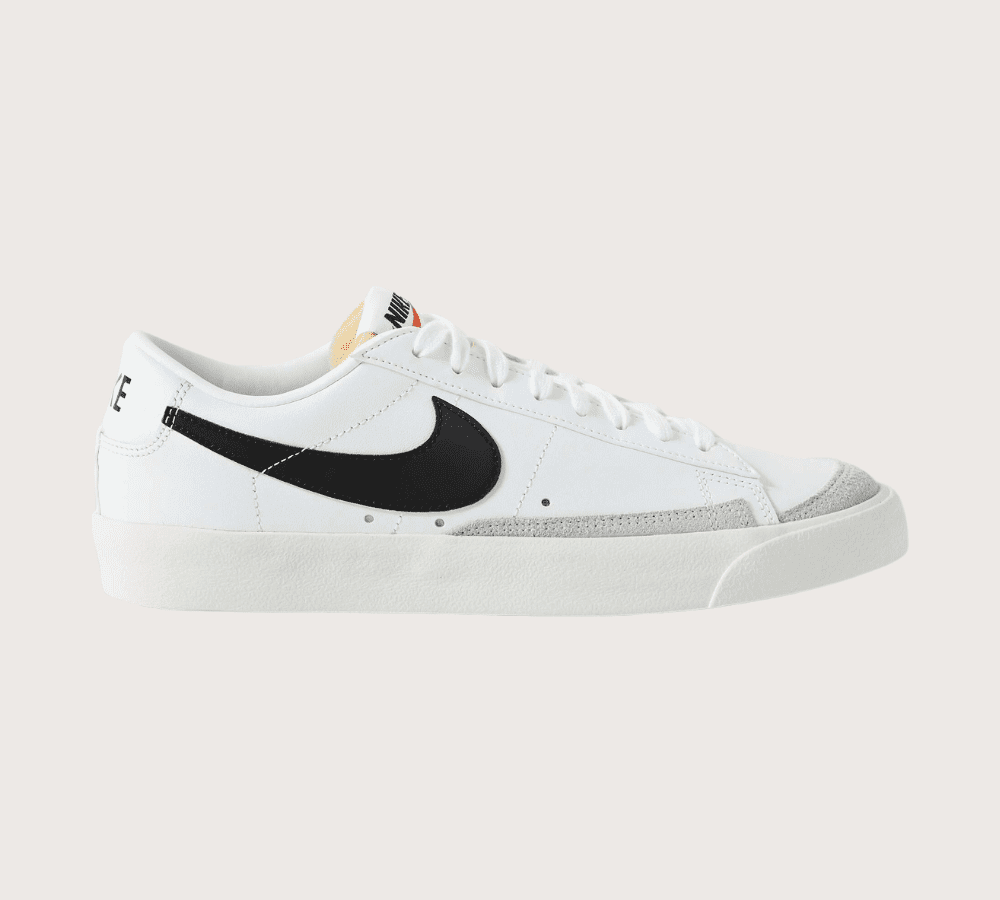 8. Nike Blazer Low '77 Leather Sneakers
Chock-full of retro charm, this trainer was inspired by the original sneaker from the 1970s. Adorned with the familiar swoosh in an oversized format, these have been tenderly trimmed with suede.
Price: £90
9. M&S Leather Lace Up Trainers
An everyday pick from this stalwart of the British high street. Ideal for all ages, M&S menswear has come on leaps and bounds over recent years. Don't just take our word for it; check out their extensive range of clothing and accessories for an affordable take on classic menswear.
Price: £60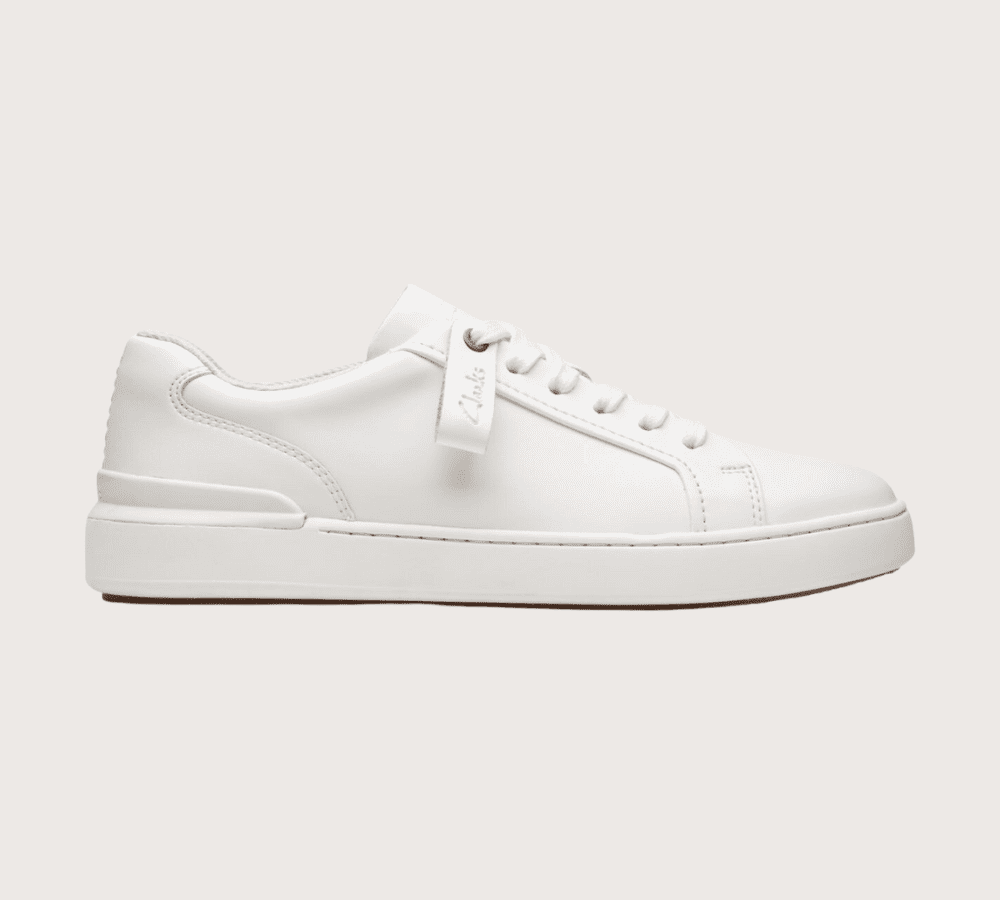 10. Clarks Court Lite Move White
When worn, the supreme comfort these trainers give comes from the MI-X layers of clever foam. They combine to offer arch support and extra padding at the heel and foot centre that assists the foot as you walk.
Price: £85
11. Superga 2750 COTU Classic
This timeless classic trainer from Superga is crafted from fully breathable, pure cotton uppers. The brand has been worn in the past by style icons like Steve McQueen, and these trainers will give you a ton of off-duty panache.
Price: £65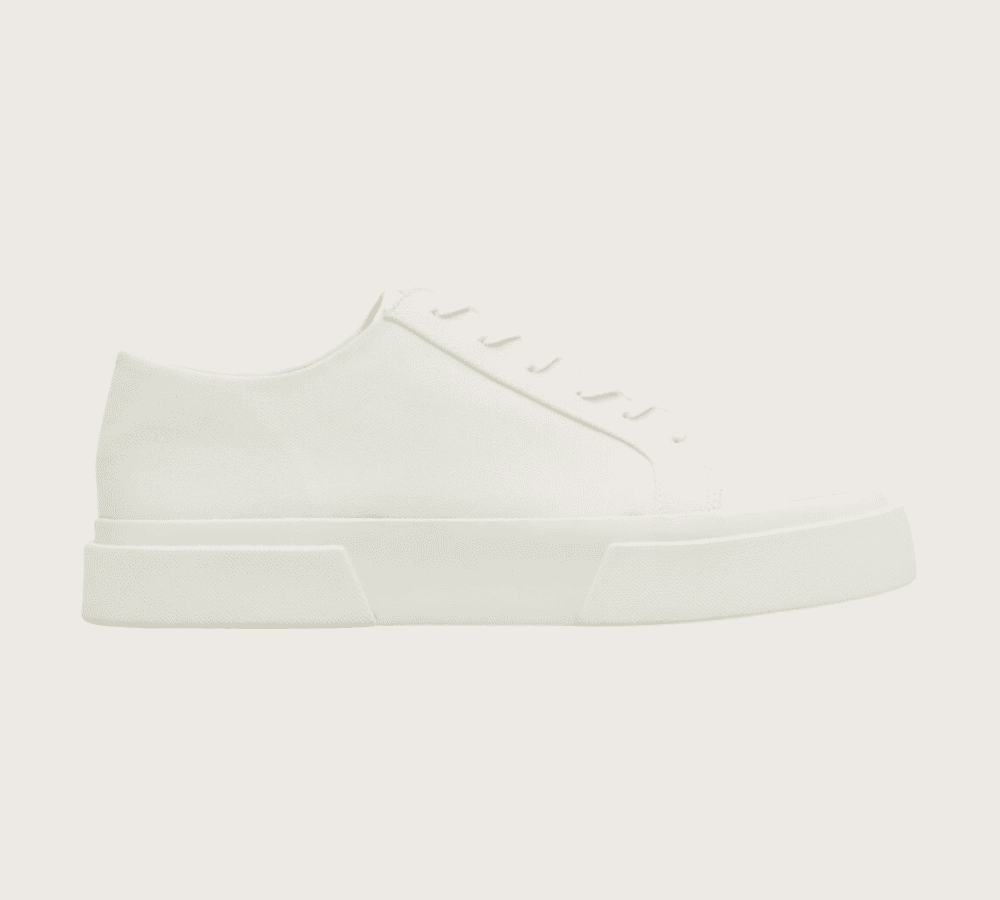 12. COS Canvas Lace-Up Trainers
Sometimes in the warmer months, our feet can benefit from canvas over leather. Though it doesn't give the polished finish of leather, your toes will benefit from the canvas' ability to allow more air to circulate. As we have come to expect, COS has created these canvas white trainers with all the sleek, paired-back charm we love from this Scandinavian style spot.
Price: £89
13. Massimo Dutti Leather Trainers
A streamlined look for the guy that needs a versatile trainer in their arsenal. From formal to casual, this clean silhouette is a match made in heaven. Added points for the Nappa leather used for the uppers while still coming in sub-£100.
Price: £99.95
14. Stepney Workers Club Dellow Sneaker
Delivered in a clean, minimalist aesthetic. Stepney Workers Club has a combined smooth leather up top with a chunky sole. Perfect for wearing with your favourite suit this summer.
Price: £89
15. Calvin Klein Recycled Trainers
Consciously made using 100% recycled materials, these are more than a PR stunt. They benefit from a comfortable foam in-sock and are nicely partnered with a suede trim. If you don't mind the heavy branding on the sole, this pick is a great contemporary choice.
Price: £90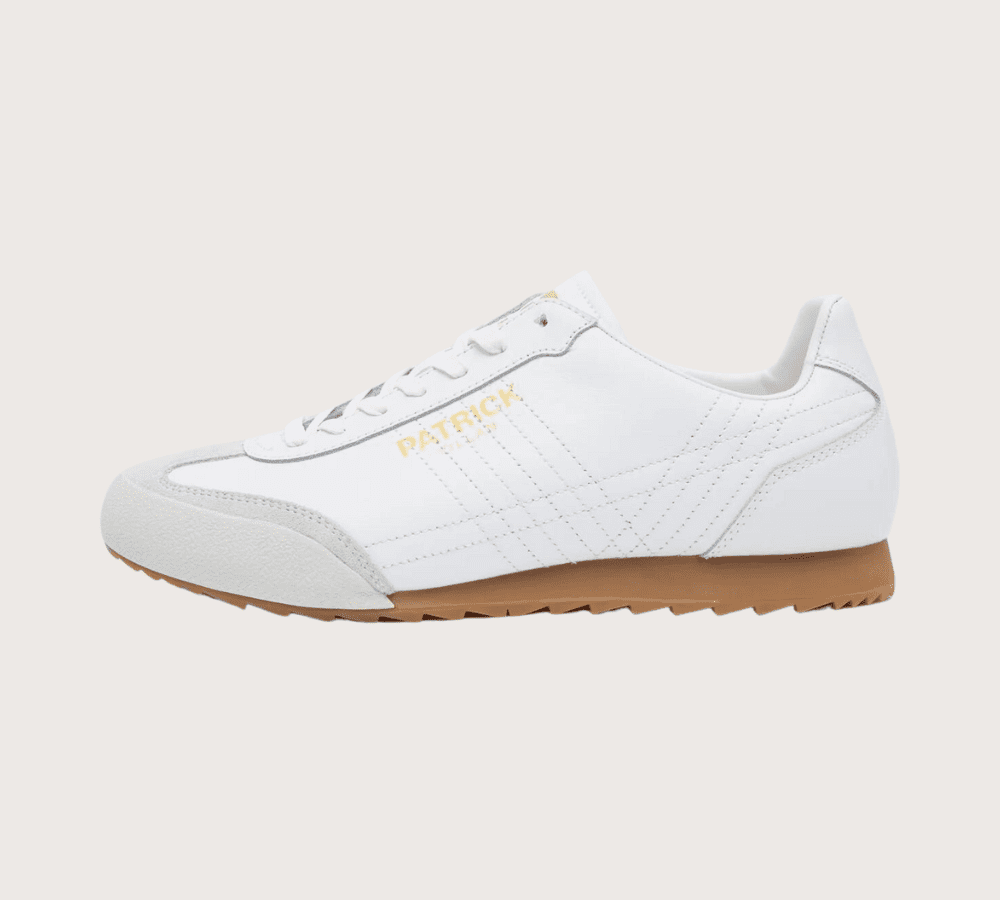 16. Patrick Villain Trainer White
With a distinctive design, these won't be to everyone's taste. But we like how the volcanised rubber adds interest and a contemporary feel to a menswear classic.
Price: £80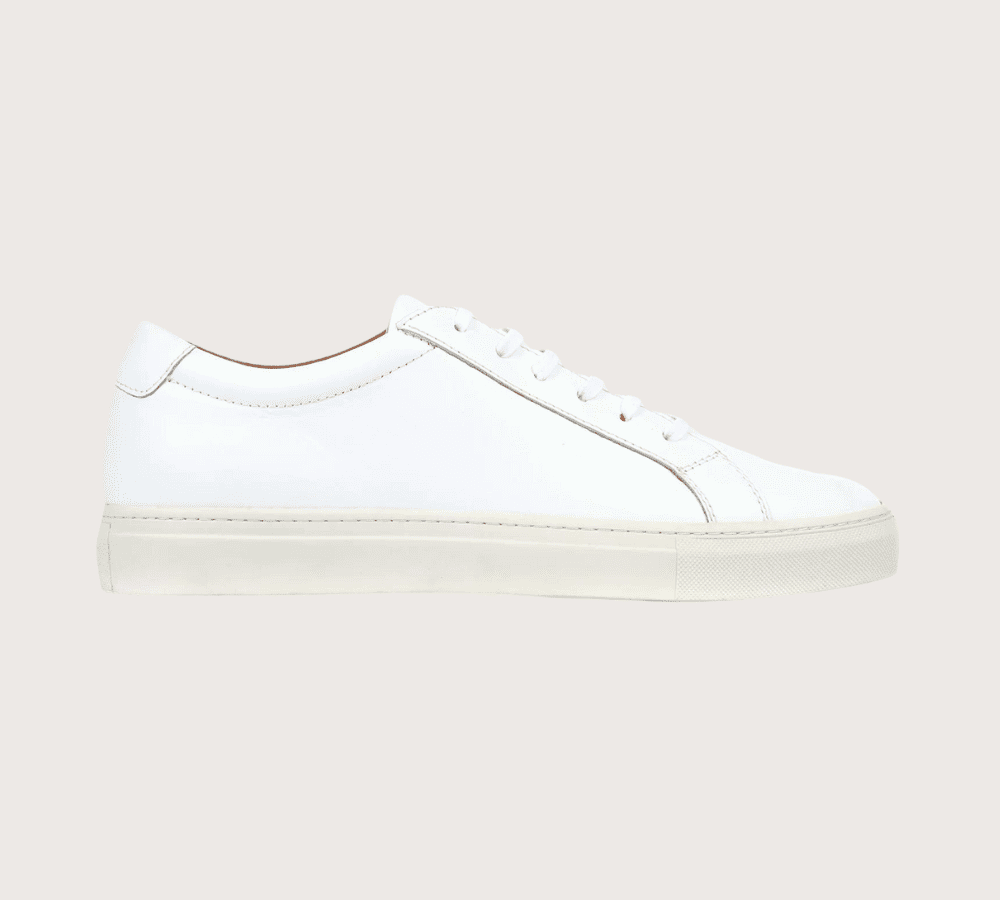 17. Jones Bootmaker Leather Lace-Up
Probably more familiar to most men as a destination for formal footwear, Jones Bootmaker has applied its expertise to a casual option. A timeless design, these are a goes-with-everything style that won't let you down.
Price: £99
18. New Balance Bb480 Trainers
Look to New Balance for a sportier aesthetic for your white trainers. Complete with a touch of burgundy. These are a strikingly simple piece of footwear that should integrate nicely into a casual ensemble.
Price: £89.99
19. H&M Canvas White Trainers
If you need a budget-friendly option, look no further than H&M. They don't deviate from a simple design that makes these good for your wallet and your wardrobe.
Price: £19.99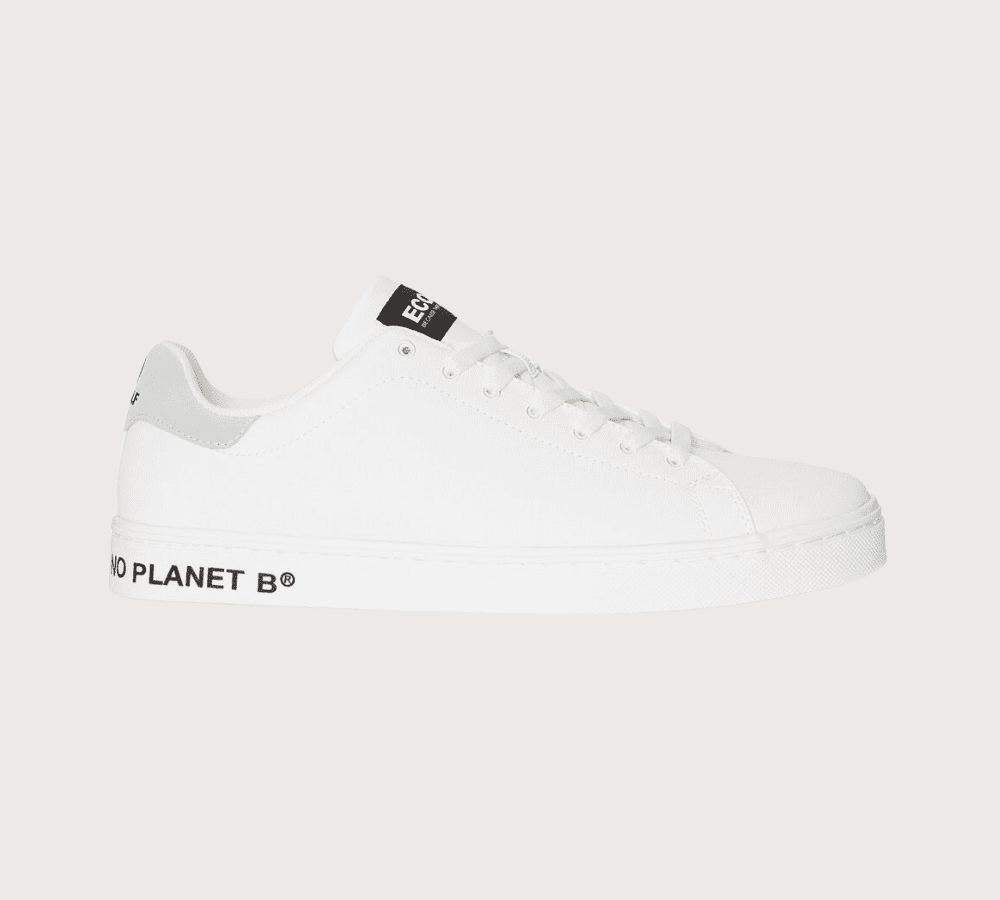 20. Ecoalf Sandford Basic White Trainer
Made from recycled nylon, these white trainers from Ecoalf are helping prevent waste from ending up in landfills or being burnt. They are vegan and impactfully showcase their opinion on fashion's current impact on our planet with their 'No Planet B' motif on the sole.
Price: £95