The humble men's fleece jacket has been gaining popularity over the past few years. Guys have changed their opinion on these historically unfashionable outdoorsy items in the search for warming winter clothing that is both practical and stylish. Possibly a hangover from our enforced work-from-home spell during COVID, at its heart is this cosy, soft choice.
To help us pick, our high street faves and their designer counterparts have taken to elevate the fleece jacket. Now you'll find options in a mix of patterns and colours, adorned with multiple zips and patch pockets. For the traditionalist, look no further than the granddaddy of outdoor fleece in Patagonia or its more modern sustainable alternative in Pangaia. We feature both alongside more familiar (and unfamiliar) fashion favourites to showcase the range on offer for men.
Remember that material weight is the key to picking a fleece that skillfully suits your needs. Heavier material is best for outerwear, while lighter fabrics are ideal for layering. However, we must make educated decisions to hit the sweet spot between cold-weather cosiness without losing style points. Let's face it, no one under 50 wants to look like they are heading to the Peak District for the weekend. So no matter whether you need a fleece for the slopes or daily errands, stay stylishly comfortable in one of the picks below.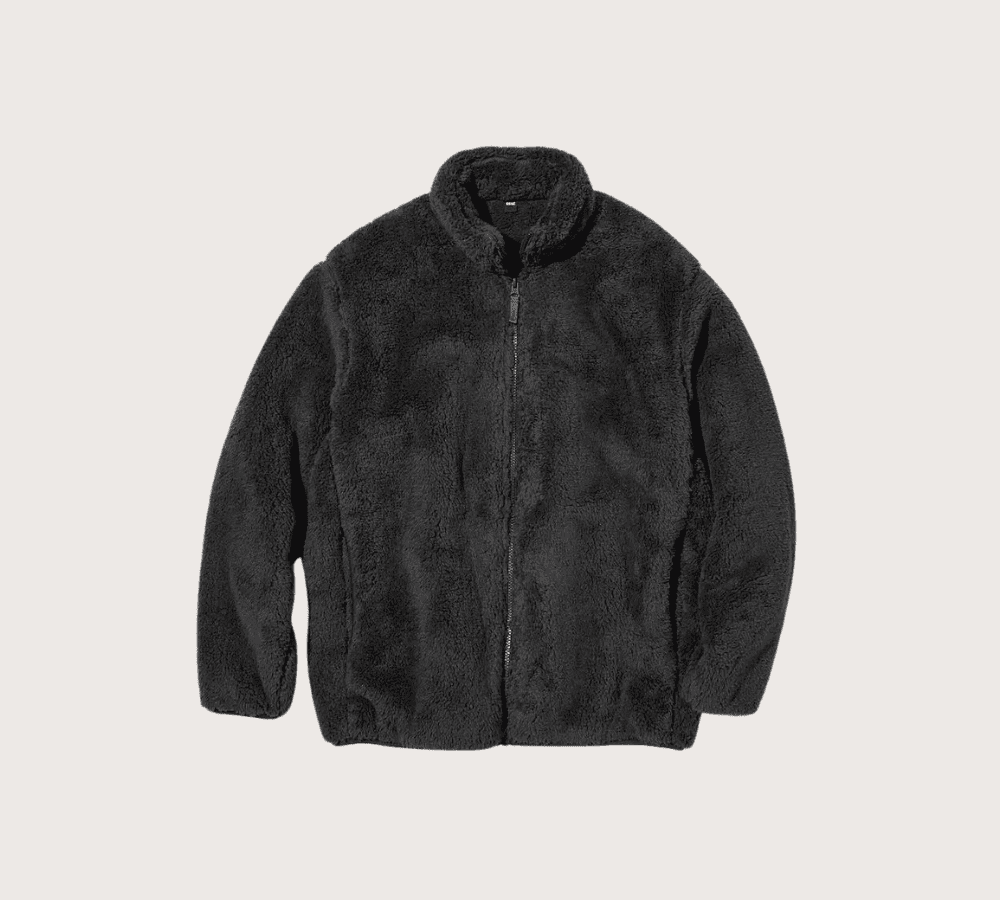 1. Uniqlo Fluffy Men's Fleece Jacket
Uniqlo has created this Fluffy Fleece Jacket with innovative style and sustainability in mind. The Japanese brand has utilised recycled plastic bottles to create a lightweight material that exudes warmth, comfort and hug-like cosiness. It's eco-friendly and stylish, coming in a classic beige with a roomy fit on the shoulders for incredibly comfortable wear. Long gone are the days of restrictive, bulky jackets – this cosy fleece jacket is sure to keep you both chic and warm.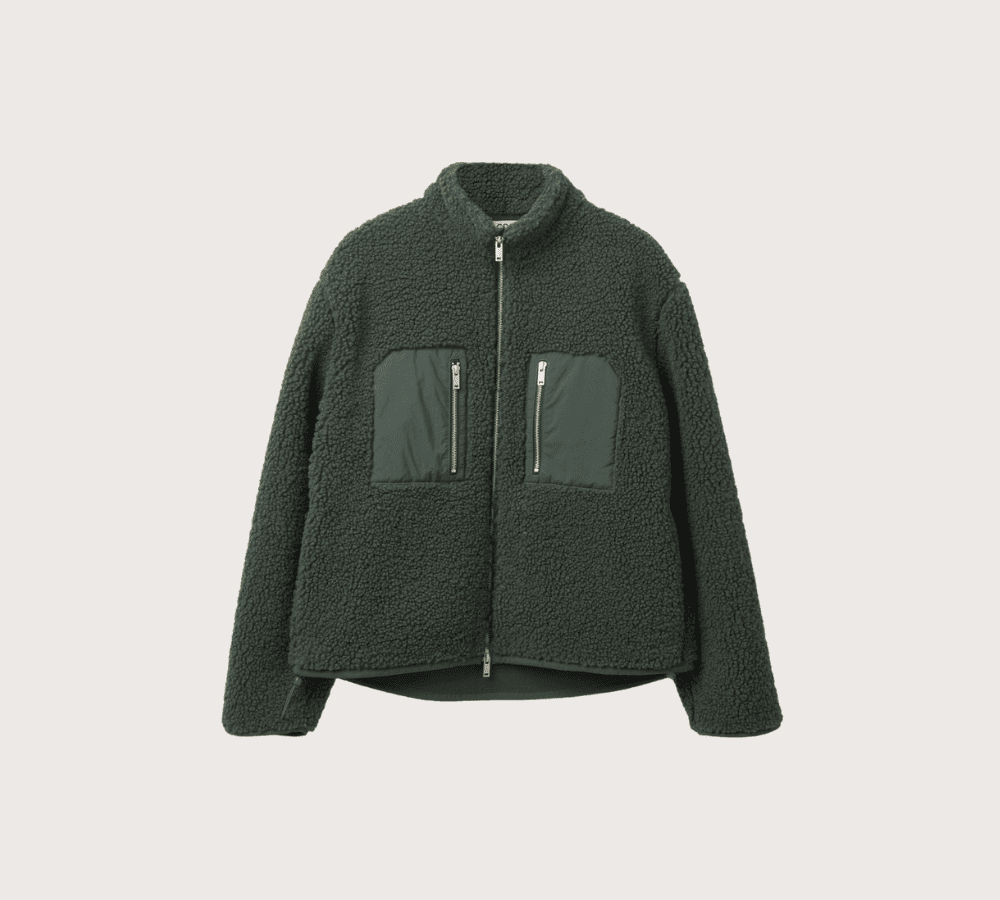 2. COS Teddy Patch-Pocket Fleece
Crafted to perfection, COS' Teddy Patch-Pocket Fleece is the ideal addition to your wardrobe. This recycled polyester fleece features a patch pocket front, side seam pockets, and dropped shoulder seams for a relaxed fit. Whether you're keeping warm on a crisp day or need a piece for a lazy Sunday in front of the TV, this fleece from COS has you covered.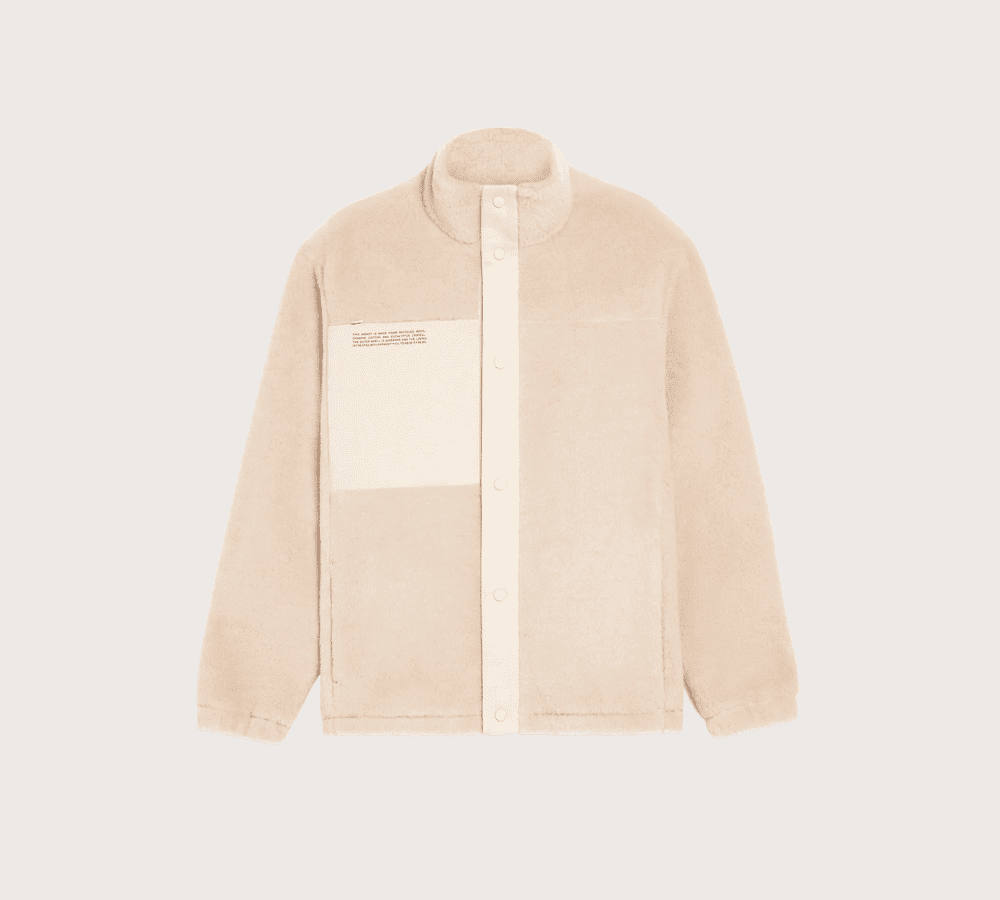 3. Pangaia Wool Men's Fleece Jacket
Pangaia is known for its sustainable products in a range rainbow of colourways. But, this time, we have gone for a more muted Wool Fleece Jacket. What it lacks in colour, it makes up for in pillow-like softness. With a luxurious feel and high-end look, it is fast becoming our go-to layering piece this winter. Coming at a price tag for the more dedicated fashion followers, this fleece is an investment that will see you through many a cold season.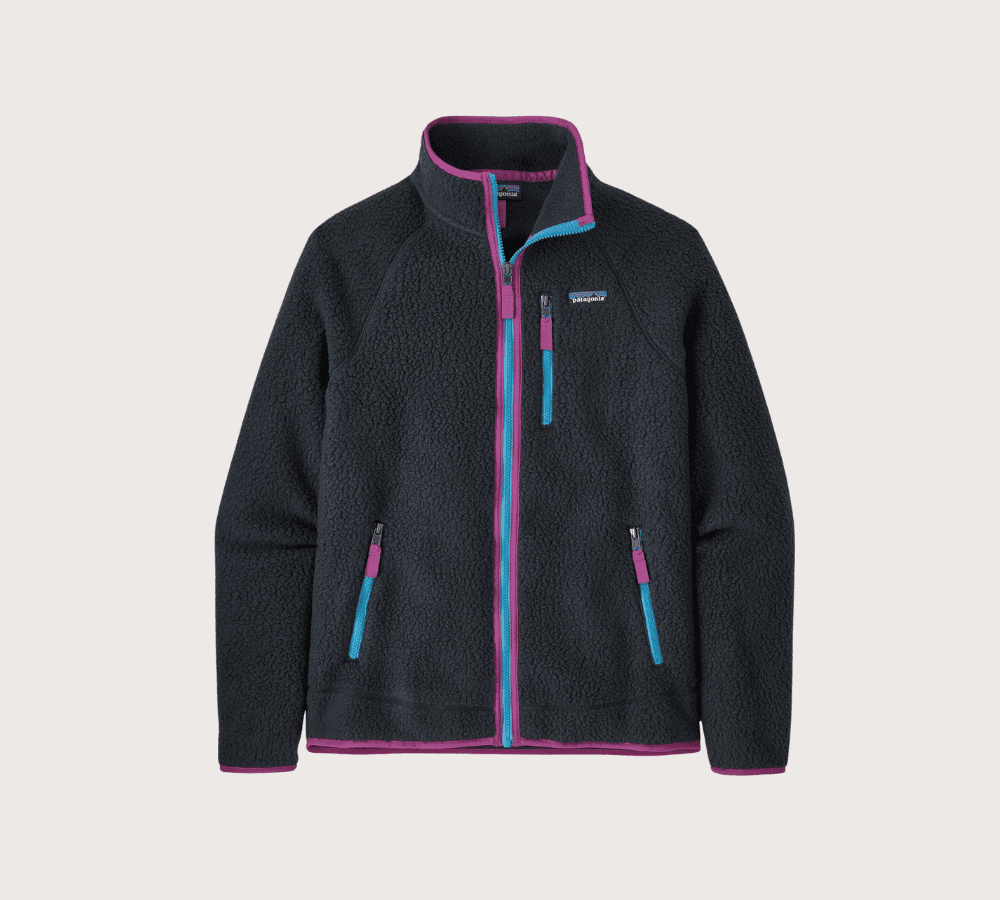 4. Patagonia Retro Pile Fleece Jacket
This excellent all-rounder from the OG's of fleece jackets, Patagonia, has a suitable 90s retro vibe. They have been making clothing and accessories for climbers since the 70s and invented the synthetic fleece fabric many brands use to date. Patagonia has developed a loyal following from the outdoor activity community to mainstream menswear. We aren't surprised with weather-repellent products like this, delivering comfort and style.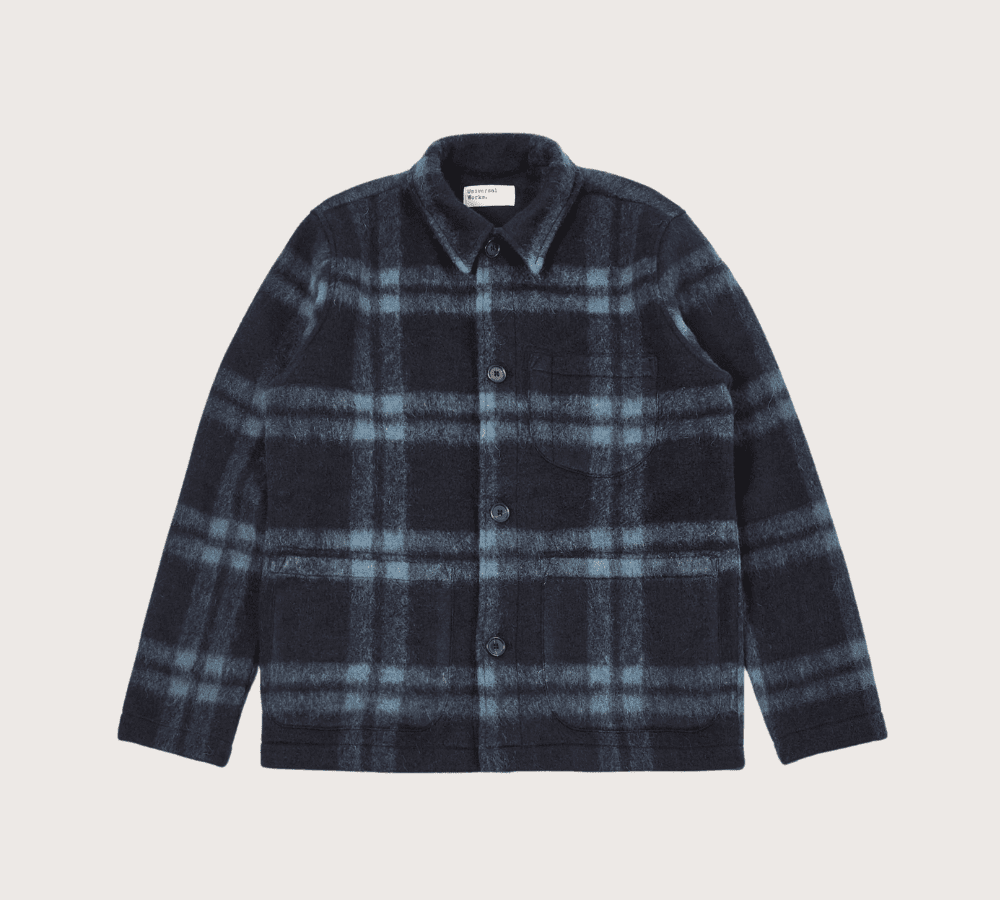 5. Universal Works Field Jacket Fleece
This jacket is for the guys looking for a fleece that is more than your hill-walking essential kit. Universal Works ticks many boxes by transcending the outdoors trend and the interest of the ever-popular worker jacket. The result is a piece with all the properties needed to beat the cold without looking out of place on a date night. We would style this under an overcoat with slim-fit jeans for a relaxed, rugged feel when the temperature goes south quickly.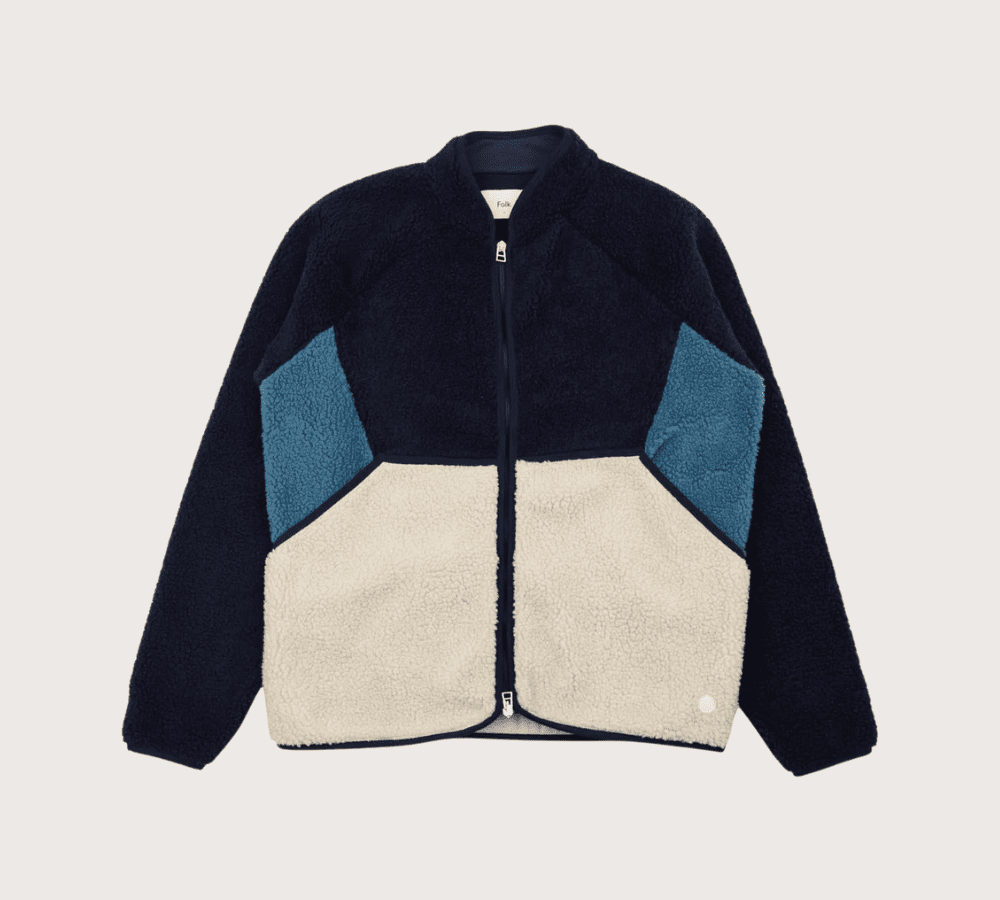 6. Folk Puzzle Zip Fleece
A bold take on the fleece jacket, Folk pair a raglan sleeve with an eye-catching patchwork design. Reach for it if you are a guy that wants to make a statement this winter but wants to stay cosy and warm while doing so. Not for the faint-hearted, this is a real winner.
7. Axel Arigato Billie Fleece Jacket
Some might be mistaken for thinking Axel Arigato only know how to do achingly chic men's footwear. But, they have slowly expanded their minimalist Scandi aesthetic into various clothing categories. The Billie Fleece Jacket is a fine example. An ideal fleece jacket made not only from soft teddy fabric but also has enough details and design interest to make you want to wear it daily.
8. KAPITAL Sashiko Boa Reversible Printed Fleece
Now, did someone say head-turning fleece jacket? This reversible printed option from Kapital is daring enough without becoming too gaudy. The fact it is reversible immediately doubles your wearing potential, and both sides have their positive notes—one a cosy envelope of softness, the other featuring a water-resistant fabric. So, no matter what mother nature throws at you, this fleece jacket has the answer.
9. MR P. Shearling Fleece Jacket
Get premium comfort and warmth with the MR P. Shearling Fleece Jacket. The outerwear garment is crafted from ultra-soft premium shearling and will become your go-to men's coat when the weather turns cold. The exterior is in an effervescent camel shade that never fails to make a stylish statement. Its cosy feel is perfect for layering with other pieces on those chilly days.
10. Carharrt Hillock Fleece Jacket
Carhartt is a workwear brand known for its classic, timeless style adept at repelling outdoor elements. An example of their signature look is the Hillock Fleece Jacket. The jacket's material is a robust poly-cotton blend with a nylon lining. Handy side pockets and zips are a nice feature, while the overall look maintains a traditional 90s aesthetic. Carharrt has developed this with a mid-weight bulk making it versatile for colder days while also seeing you through the more transitional seasons.
11. Maap Thermal Pro Fleece Jacket
It was initially developed for cyclists to keep them warm with performance-led capabilities. However, this Maap Thermal Pro Fleece Jacket is a great pick, even if you are a bike-adverse guy. The shallow crew and warming properties make it a fashionable choice on and off the bike. And not a whiff of lycra in sight.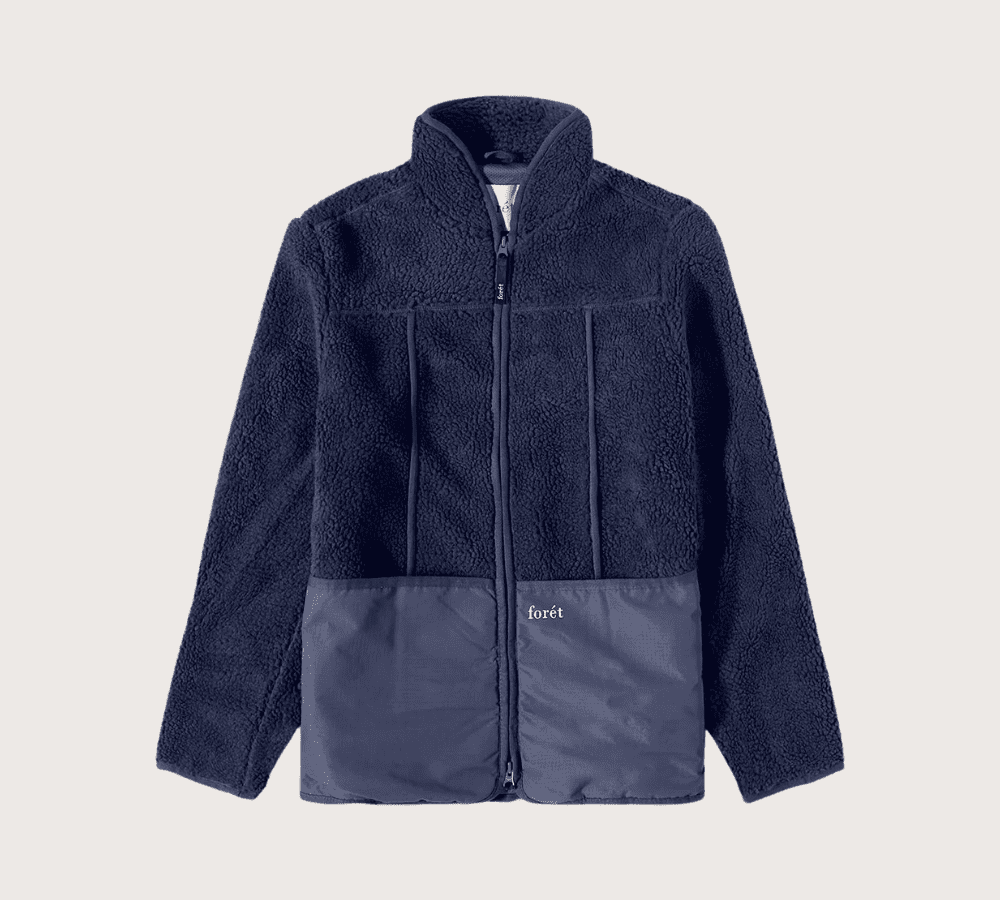 12. Foret Mountain Fleece Jacket
The Foret Mountain Fleece Jacket is the perfect choice for stylish menswear that's comfortable, easy to wear and insulating. This 100% recycled polyester zip closure jacket features a unique fabric composition that provides softness, lightness and insulation. The look is updated with quality finishing touches, such as reinforced pockets and seams - making it great for everyday activities or more hardy enterprises. Plus, you can feel good about choosing an eco-friendly option that helps reduce environmental footprints.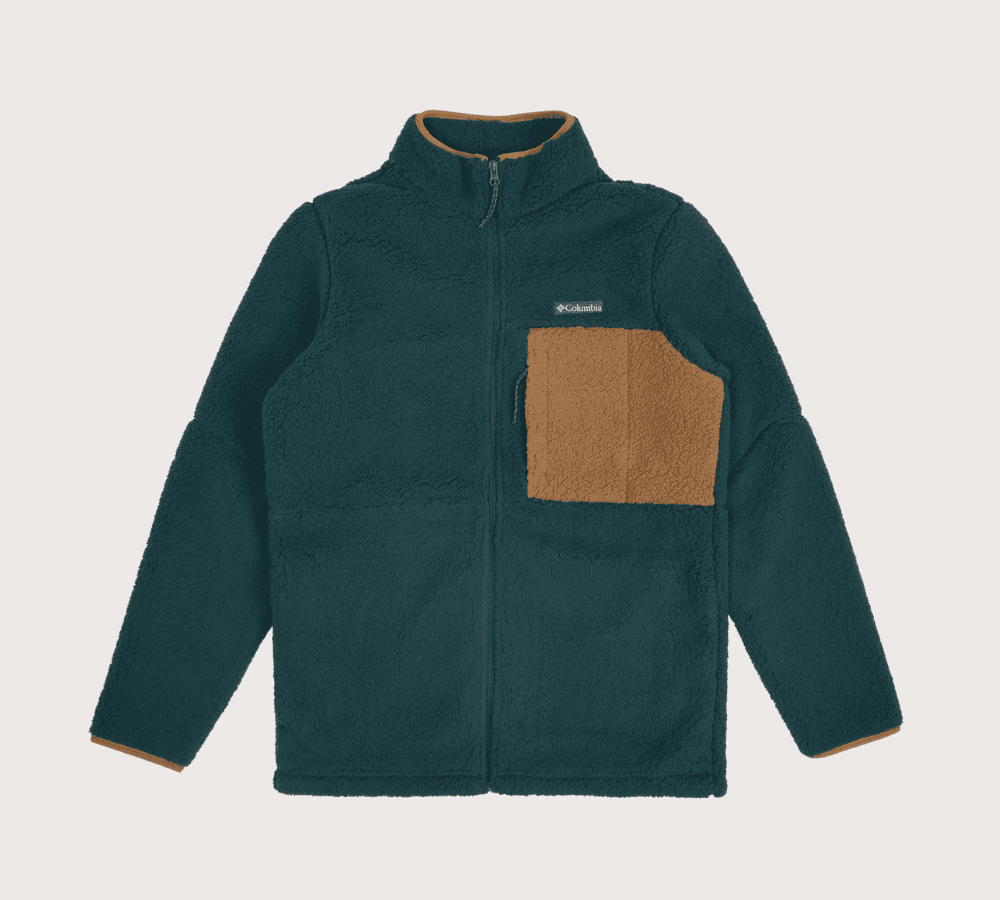 13. Columbia Men's Mountainside™ Heavyweight Fleece Jacket
If you want a fleece jacket that won't let you down in the cold, you can do worse than turn to a specialist brand like Columbia. They've kept men covered in the harshest conditions for over 80 years. We like the spruce colour of this Mountainside fleece that features a heavyweight material. Easy to throw on and off, it is sure to become a staple of your cold-weather wardrobe.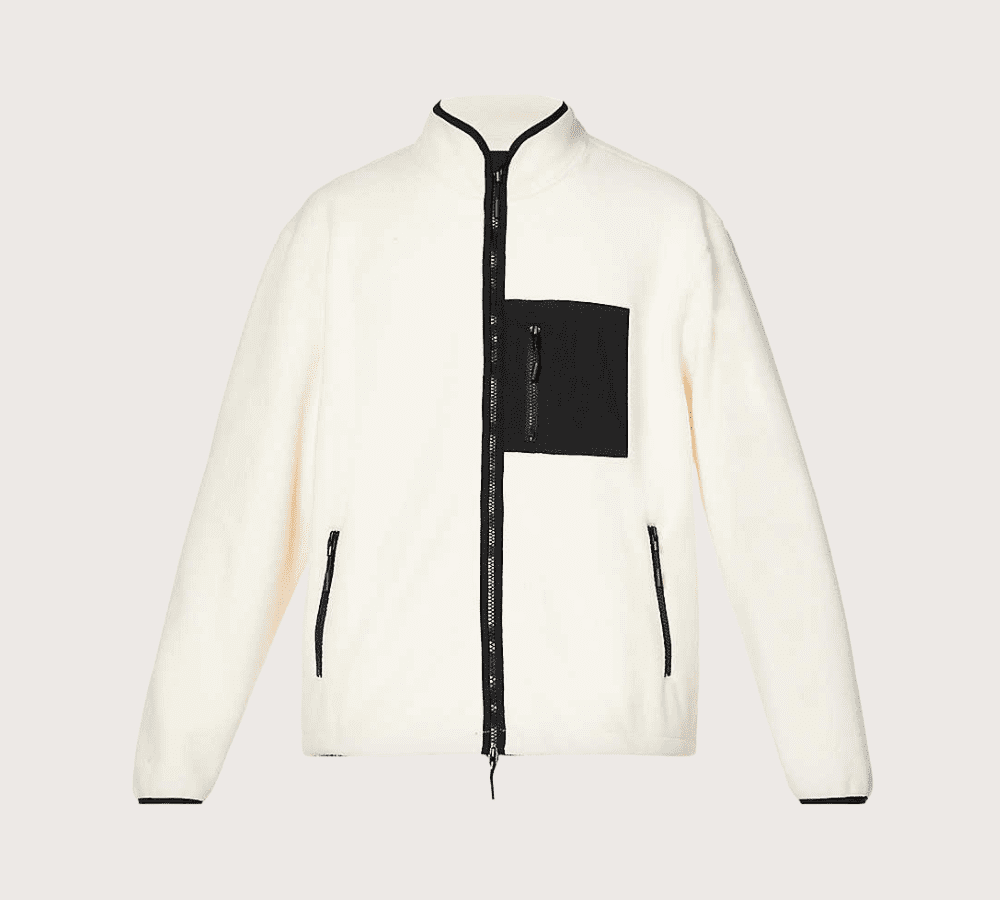 14. MKI MIYUKI ZOKU woven jacket
This jacket meets the core requirements of any fleece - comfort, warmth and simplicity. Mki Miyuki-Zoku angled the collar to develop more interest and create a contemporary twist on the menswear staple. Combine that with the exposed zip fastening and contrast panel for an elevated winter favourite.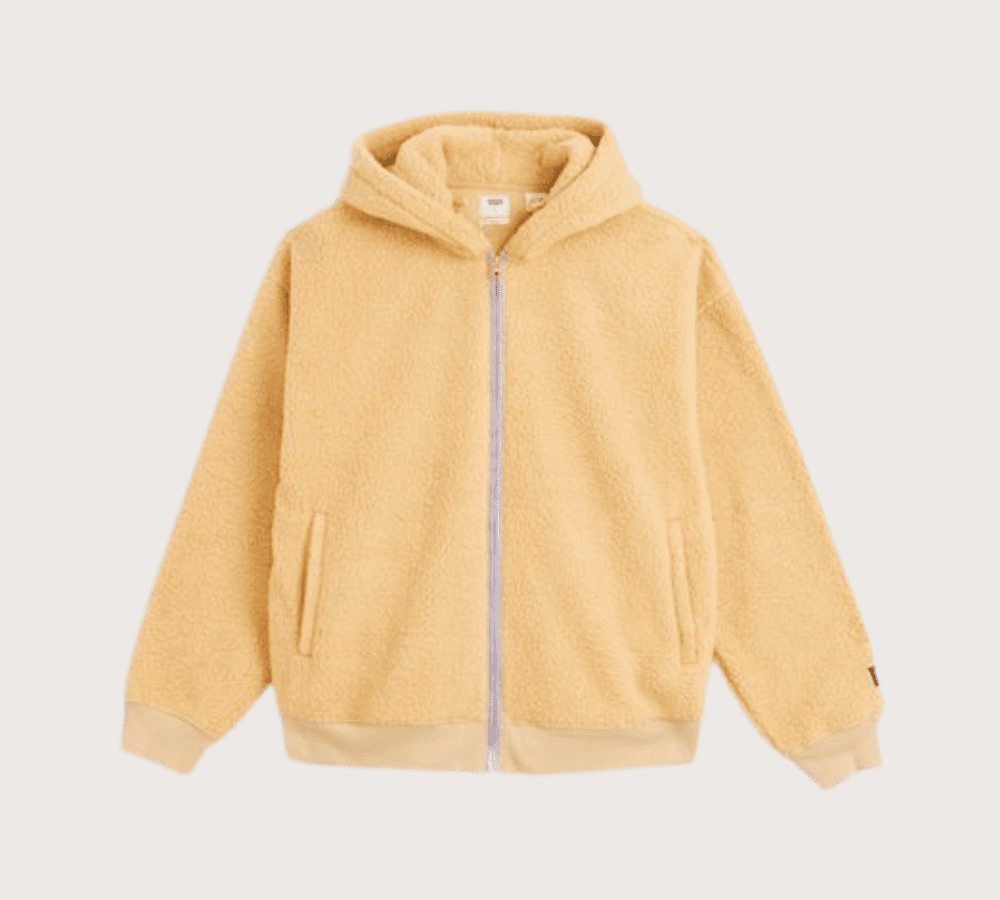 15. Levi's Sherpa Hoodie
Denim favourites, Levi's, do more than just jeans. Their additional product categories transcend menswear trends, though we like that they have a vintage twist a lot of the time. This men's fleece jacket gives us 70s California vibes and would look great partnered with a pair of Levi's stalwart 501s.