When considering a double-breasted suit, there's often hesitancy at first, mixed with a genuine yearning for this timeless, iconic men's tailoring silhouette. Will I look like the late, great Sir Roger Moore? Good style connotations. Or will I look like Alan Partridge? Amusing connotations, but perhaps not what you were going for. It brings with it the weight of a rich cultural and fashion heritage, but worn right, it can be incredibly elegant.
We might be heading (slowly) into spring with warmer weather (slowly) appearing on the horizon, but that doesn't mean we need to abandon our DB temptations just yet. In fact, there's an elevated brand of versatility to modern double-breasted tailoring that makes it very adaptable for the season.
From the formality of traditional business wear and wedding attire to relaxed office dress codes and restaurant dining, today's tailoring allows for true flexibility when it comes to styling. To whet your sartorial whistle, we've pulled together inspiration from AGR'S favourite luxury Houses and British high street heavyweights.
1. Reiss Prince of Wales Double-Breasted Suit
THE CITY-APPROPRIATE OPTION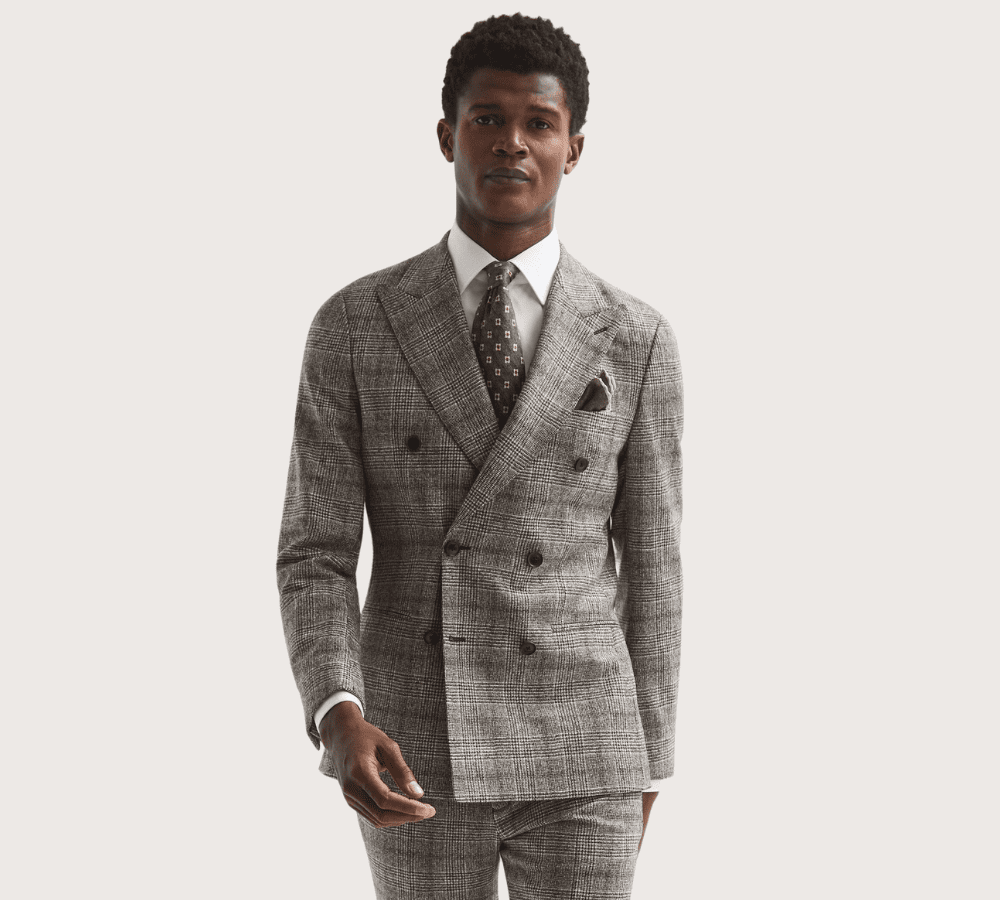 This Prince of Wales check from Reiss offers a real dose of British classicism perfect for the city. This option gives you timelessness in the colour, pattern and jacket features. The slim fit, shorter drop and clean finish provide a necessary modern update. A crisp white formal shirt and tie complement well but could easily be worn with a crew neck merino in charcoal grey or navy. Shoes and accessories? We'd propose keeping it classic – simple leather lace-ups should suffice.
2. Suit Supply Striped Havana Suit
THE SUMMER EVENT OPTION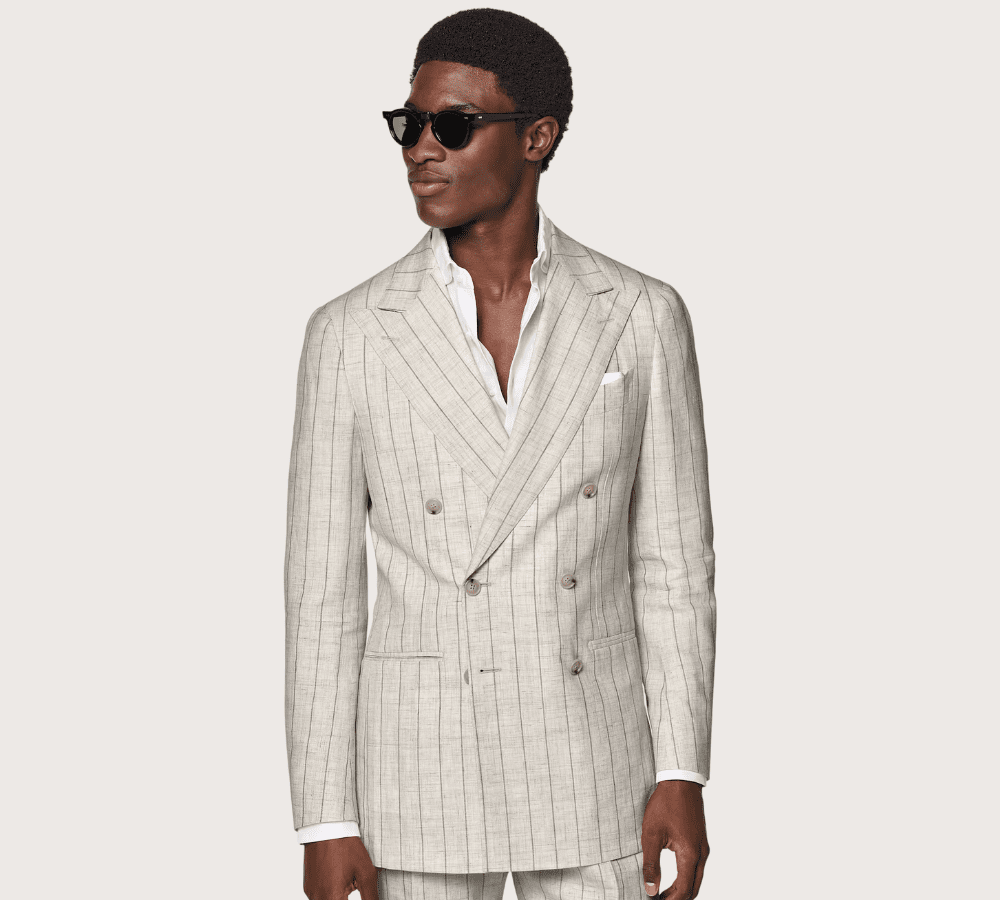 Something here with lashings of summer elegance from Suit Supply. What's to be learned here is probably two things: 1) The double-breasted suit needn't feel wintry or layered up, and 2) don't be afraid to keep things light – in material and colour. For event dressing in the heat, this is the perfect inspiration. With a breathable two-piece like this, we'd suggest an open white shirt or relax with a white or ecru cotton crew neck t-shirt or polo. A loafer or espadrille is the ideal footwear pairing.
3. Turnbull & Asser Bertie Blazer
THE BROWN-IN-TOWN OPTION
There was an old saying that you should never wear brown in town. Thankfully, it seems we've moved passed such unnecessary rules when it comes to codes of dressing. This beautiful rust-brown blazer - from British shirt-maker Turnbull & Asser – proves the point. It's what we'd call a measured statement. For a set-up like this, you'd want to let the suit do the talking and keep everything else understated. Here we see a tonal crew neck tee as an ideal seasonal choice, but you could easily add a white shirt for an injection of formality.
4. Hawes & Curtis 1913 Collection Suit
THE CLASSIC WITH A TWIST OPTION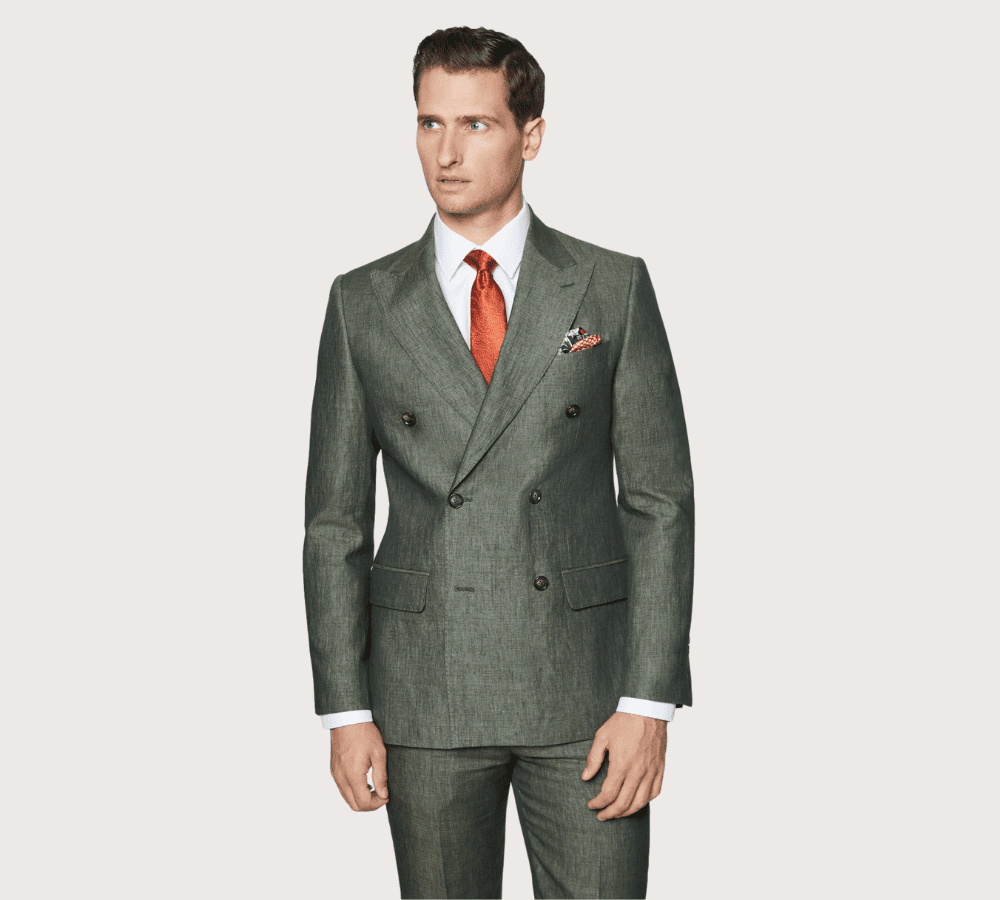 Woven in Italy, this tailored fit suit offers a discreet twist on the classic double-breasted format. The soft-structured, dark green linen and clean, masculine shape gives you the ability to dress it up or down. As Hawes & Curtis have done here, you can blend a British sartorial sensibility with Italian elegance. As temperatures rise it's important to look and feel comfortable. Double-breasted tailoring often has a reputation for stiffness or a lack of movement, but that needn't be the case – as this example attests.
5. Ralph Lauren Purple Label 'Kent' Suit
THE TIMELESS FORMALITY OPTION
Prince of Wales check in grey with a pronounced peak lapel and refined silhouette. Traditional British tailoring codes with a touch of Ralph Lauren Americana. A luxurious option that feels understated. We'd say this one is for the finest occasions. For a jacket and trouser like this, we'd keep the colours simple and complementary – black or charcoal grey in a light merino knit or perhaps a formal white shirt. Shoes for this one should be black in either a Chelsea boot or derby lace-up.
6. Umit Benan B+ Jacques Marie Mage Suit
THE ALTERNATIVE EVENING OPTION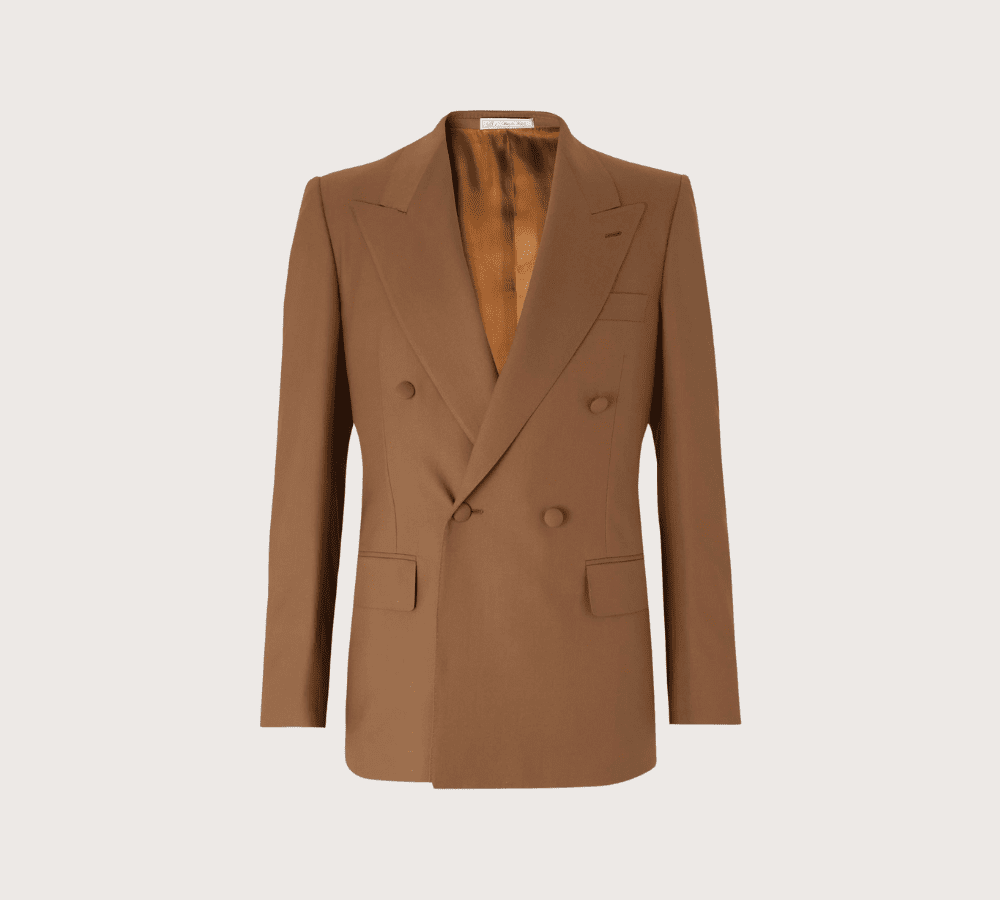 This beautifully-engineered suit in tobacco brown proves there is an alternative to traditional black tie for eveningwear. This piece comes from Umit Benan B+ and Jacques Marie Mage's luxurious capsule inspired by the American West – with wide peak lapels, self-fabric horn buttons and Western-inspired back stitching. For a formal occasion or cocktail dress code, we'd fully recommend a set-up like this. There's a hint of retro elegance we could all take notes from. We'd suggest a formal black leather boot to finish the look.
7. MANGO Regular Fit Suit
THE ALL-ROUNDER OPTION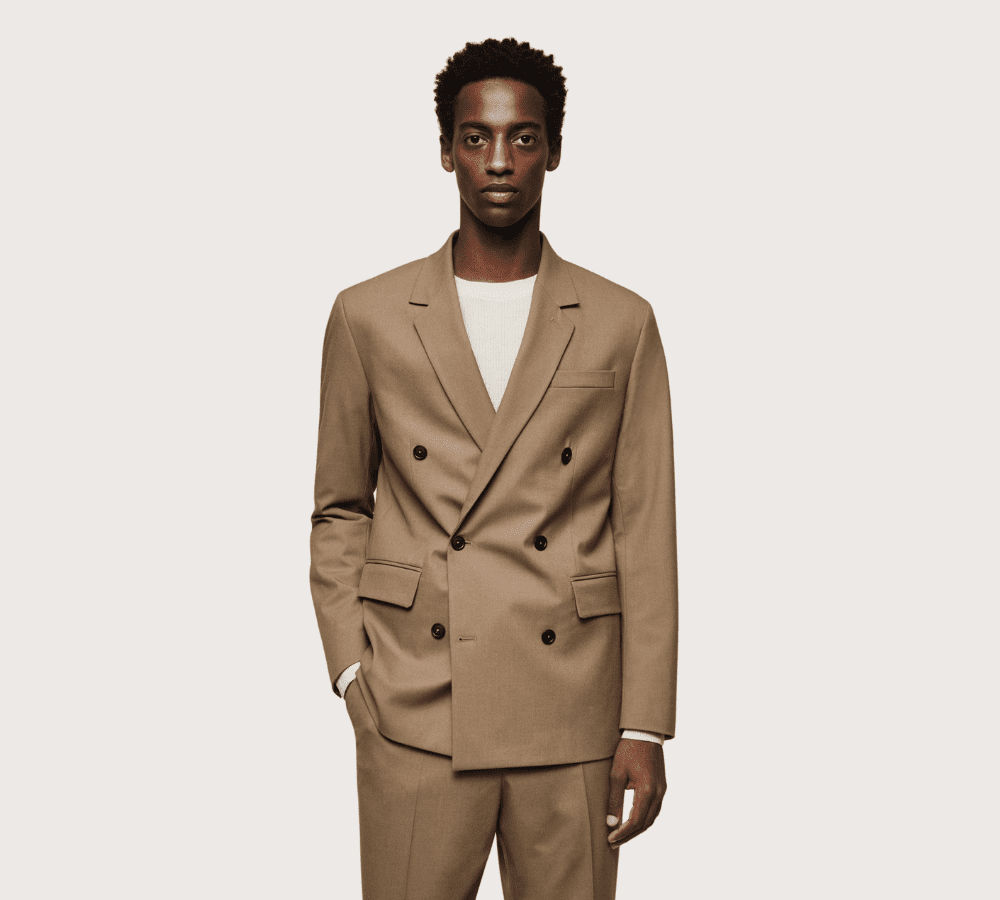 A versatile option for the modern man's wardrobe from Mango. This light brown DB has the kind of silhouette that makes it perfect for work and play. A jacket like this can also be worn as a separate with a complementary colour trouser for yet more styling flexibility. There's an ease by which you can wear this suit with a plain crew neck tee in white, navy, or neutral tone. For a more Mediterranean feel, why not try a Breton stripe top and white lace-up trainers?
8. Marks & Spencer Italian Linen Suit
THE WEDDING OPTION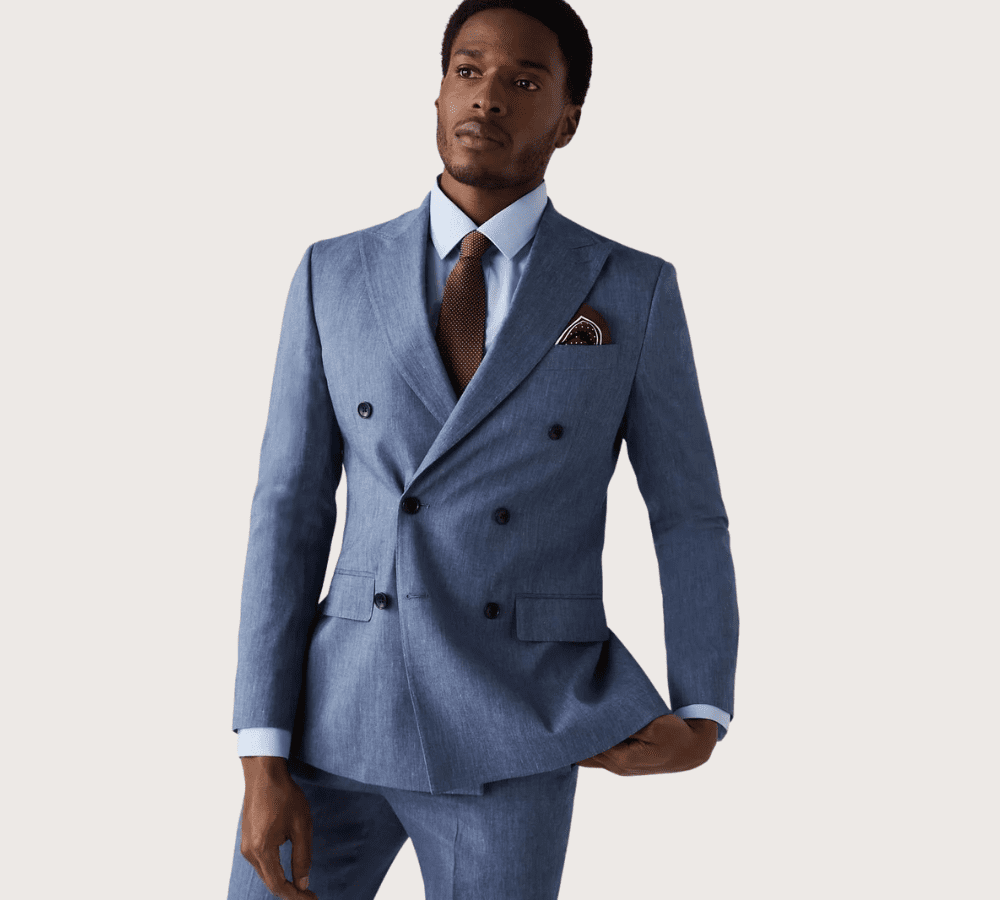 It's that time of the year when you start thinking about that wedding you're attending in a couple of months. This chambray blue Italian linen suit from Marks & Spencer offers some British summer elegance perfect for a big occasion. This jacket is made from a crease-resistant fabrication with a hint of stretch - practical and stylish. A tonal blue or crisp white formal shirt would work well. A smart brown loafer maintains a warm weather vibe, but a straight up lace-up works just as well.
9. New & Lingwood Wool Double-Breasted Flannel Suit
THE DECONSTRUCTED CLASSIC OPTION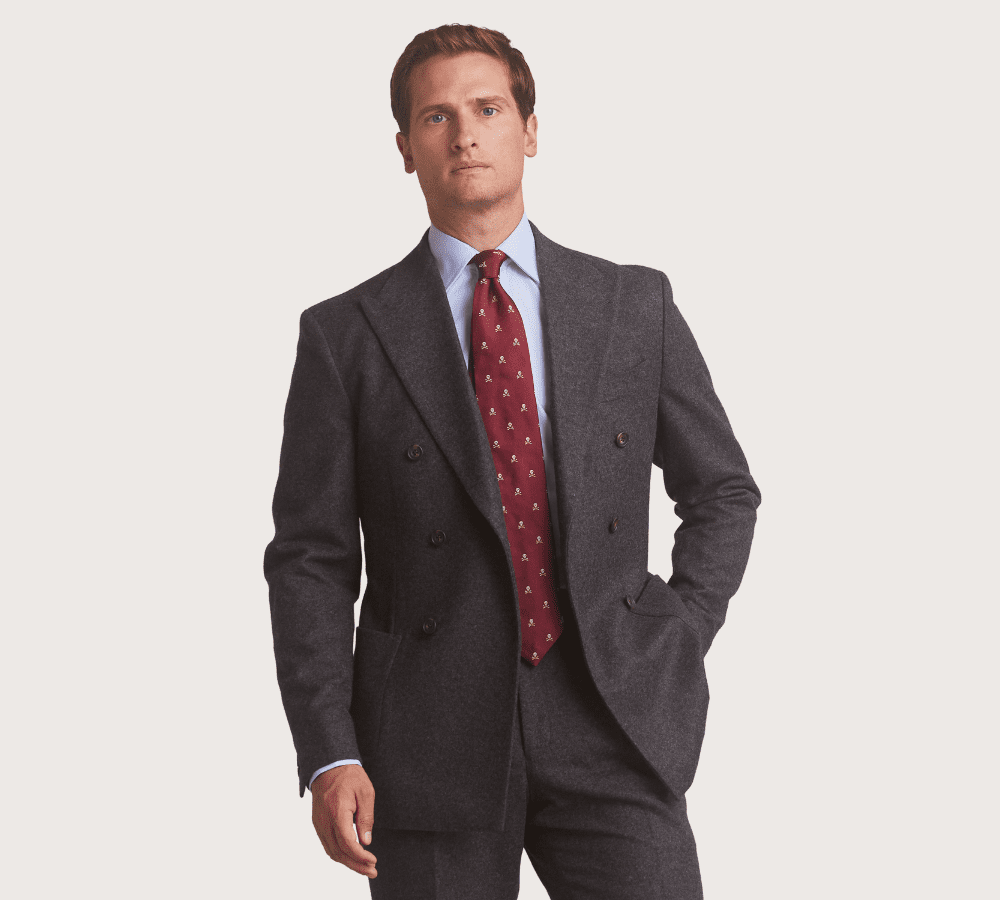 The perfect type of suit for that trans-seasonal period. The soft deconstruction of this wool flannel jacket from New & Lingwood lends itself to a shirt, shirt and tie and a more contemporary, relaxed feel. A navy blue merino crew neck and a smart black or dark brown leather derby shoe would be our choice for an alternative to the usual formality.
10. Drake's Prince of Wales Check Flannel Suit
THE PREPPY OPTION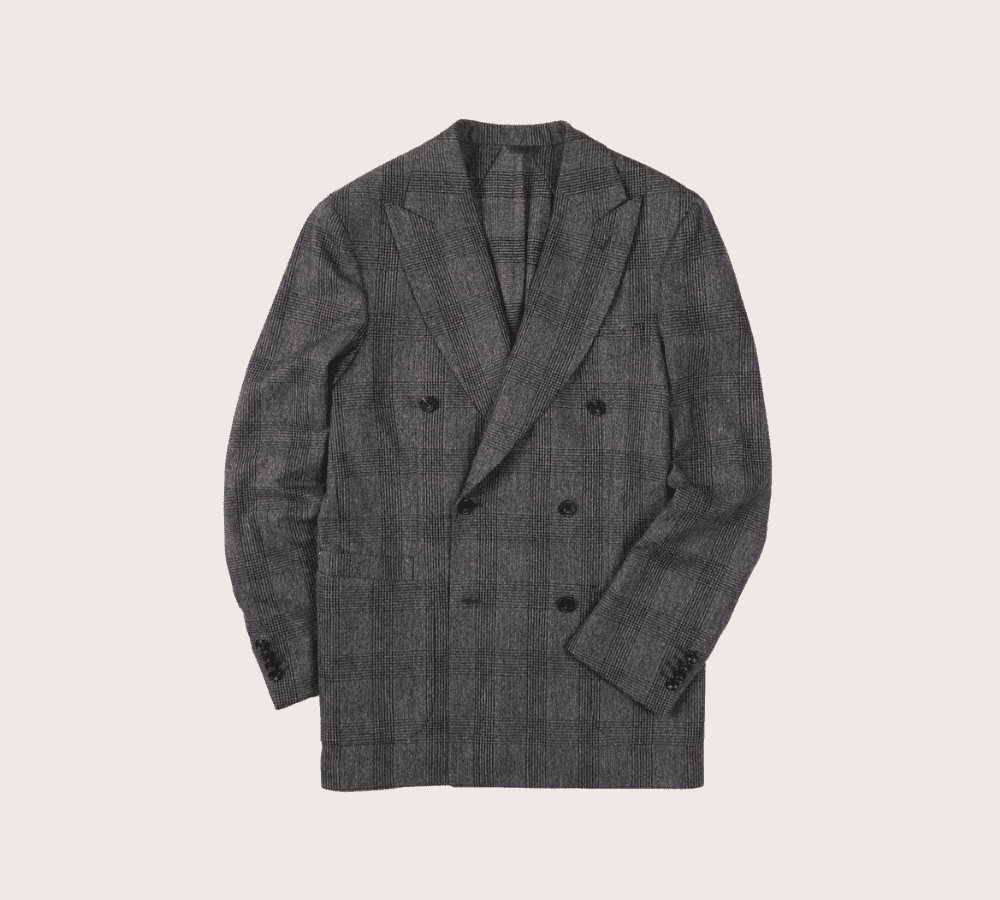 British brand Drake's has the modern preppy aesthetic nailed, mixing elements of Ivy league styling with the iconic codes of English tailoring. This unlined piece in Prince of Wales check flannel can stand alone with a minimal pairing of a plain polo or crew neck tee; it can also work layered up in full Drake's form with a collegiate-style knit and dark brown suede loafers.
11. Loewe Double Breasted Wool Suit
THE PRECISE OPTION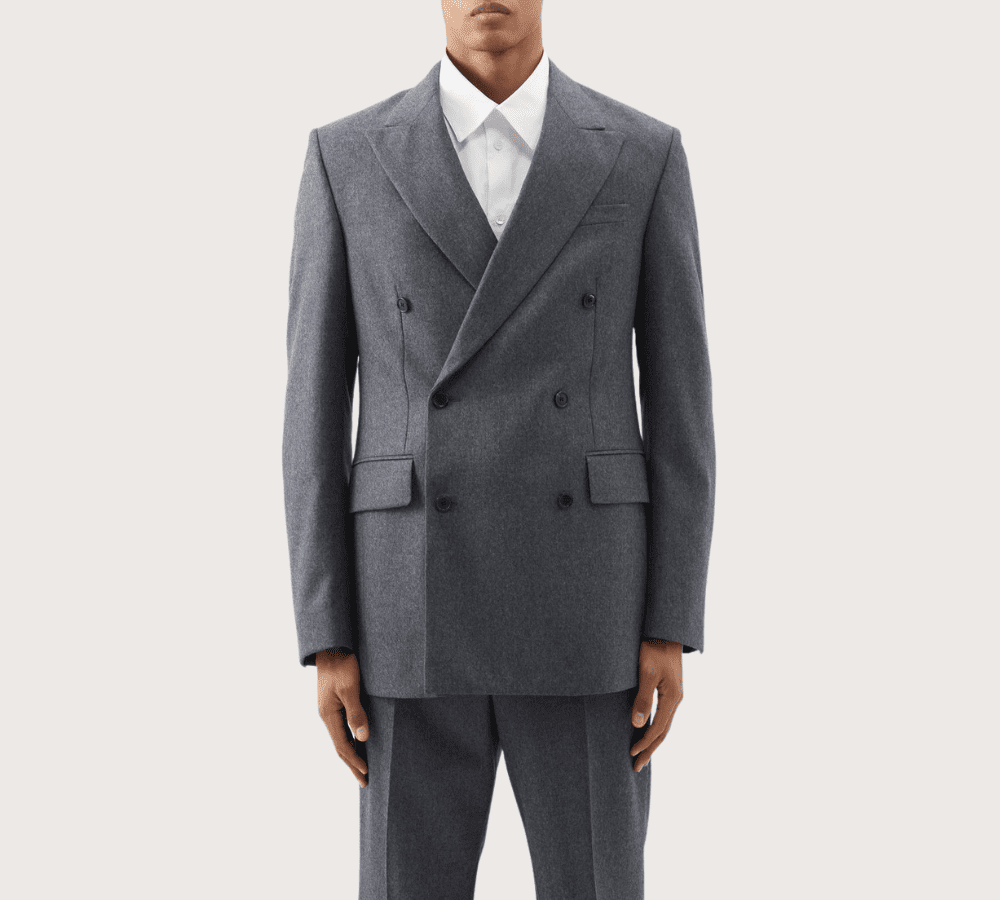 This Loewe double-breasted suit in graphite grey represents luxurious minimalism. The precision of the tailoring and the exacting standards of the Spanish House suggest keeping things clean when it comes to styling. You can also embrace a more fashion-forward silhouette with a wider leg and structured shoulder. The pristine white shirt and 'air tie' works well for this aesthetic. You could also easily pair it with a simple black crew neck merino or cashmere knit.
12. Tom Ford Wool Mohair & Cashmere Suit
THE LUXE OPTION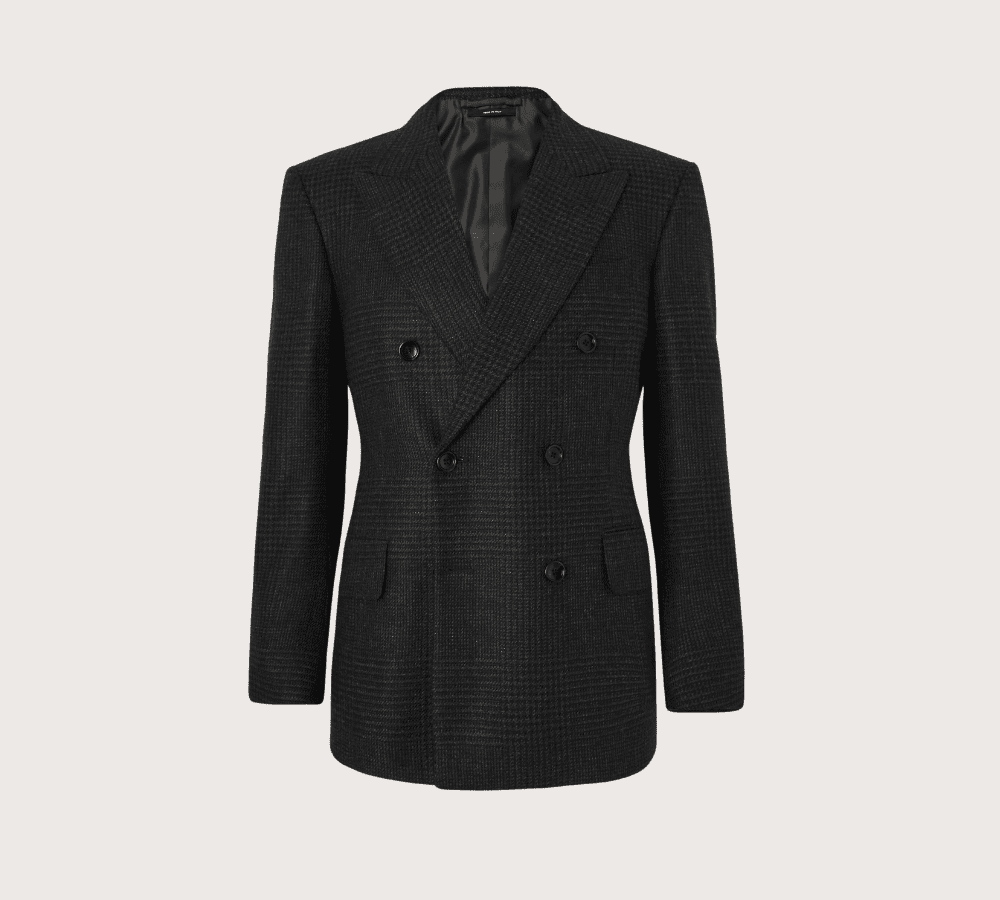 American luxury brand Tom Ford knows a thing or two about after-dark tailoring and how to create a mood. This DB jacket's textures, colour and subtle check would bring gravitas and elegance to any wardrobe. To complete a look like this, team it with a black fitted roll neck knit if the weather permits or a beautiful black cotton formal shirt to keep things luxe and elevated. A refined, flattering combination for most men.
13. MOSS Slim Fit Check Suit
THE BUSINESS OPTION
There's a bit of boldness about this slim fit check DB from Moss Bros. There's also a feeling of 80s-inspired executive style too. This suit is perfect for the city or the office, especially where stricter office dress codes are required. This option won't break the bank, but it certainly hits the mark. Your best bet here is definitely to go smarter in the styling – cutaway or point collar shirt, well-tied tie and formal leather lace-ups in dark brown or black.
14. De Petrillo Wool Double-Breasted Suit
THE NEOPOLITAN OPTION
We feel that every man should own at least one navy double-breasted blazer in his wardrobe. It won't go out of style and is exceptionally versatile. This De Petrillo jacket is made in Napoli and has all the finesse, cut and finish you'd expect from traditional Italian tailors. This type of suit is timeless and flexible across the seasons – roll necks, crisp white shirts and crew neck tees all fit the bill.
It's time to channel La Dolce Vita!
15. TM Lewin Fitzrovia Barberis Suit
THE SHARP OPTION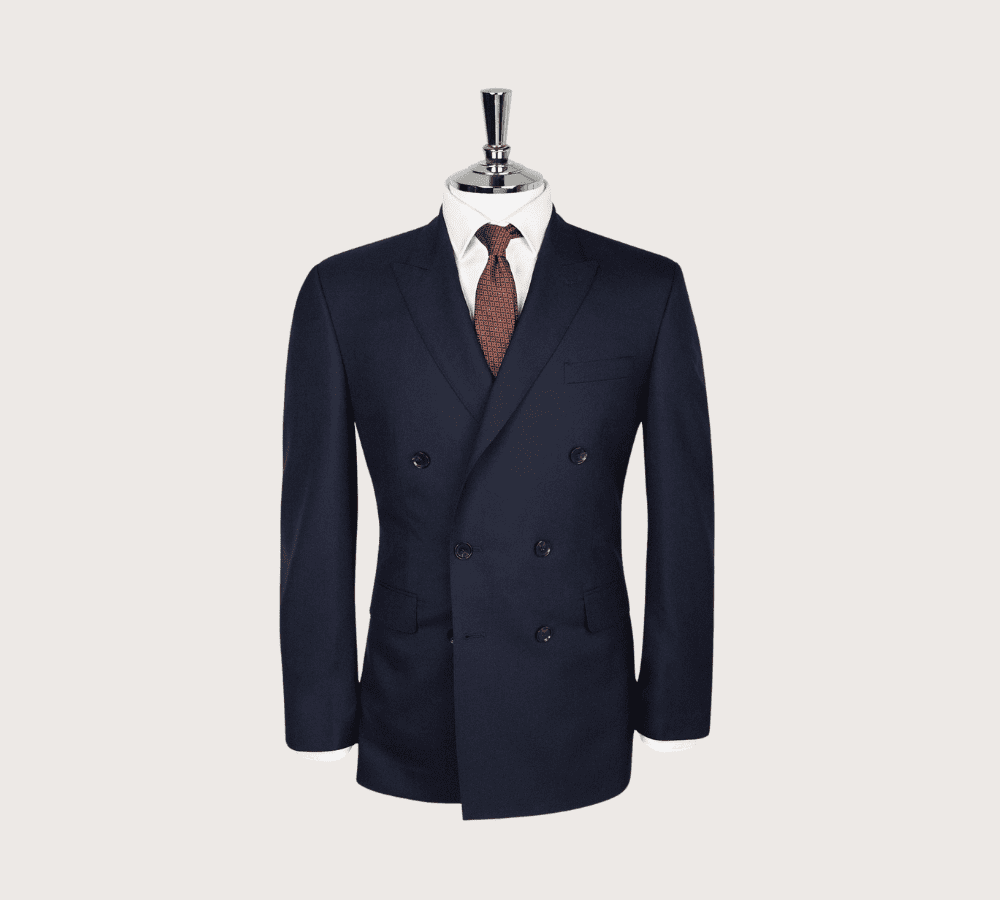 If you like your tailoring to have a precision-cut English silhouette then this TM Lewin offering should get you going. The deep navy, higher break and slim fit of the jacket and trousers have a distinctly modern presence. If you work in The City then it's the perfect inspiration. We also think with some adjustments it could work for a wedding too – maybe soften the approach to footwear and shirt-tie combination and it's a winner that's sharp as a tack.