The Oxford English dictionary defines the shoe as, 'one of a pair of outer coverings for your feet, usually made of leather or plastic.' I think we can all agree that things have moved on a little.
Across all four seasons of the year, men face many style dilemmas – hot, cold, rain or no rain, colour, trends, practicality, and formality. If it's a personal passion, then these conundrums and quandaries are enjoyed, part of the evolution of one's individual style journey. There's always that sense, at least for this writer, that the search for the complete wardrobe (shoes very much included) never ends – perhaps that's the beauty of it.
As human beings, we want to feel we are prepared for every eventuality. When it comes to style choices, especially if you live in the UK, the need for a varied, sliding scale of elegant, functional footwear at your disposal - no matter the weather or occasion - is imperative.
When it comes to footwear, it can sometimes feel as though the options are endless. With such abundance at our fingertips, it can be difficult to cut through the noise and take a step back (no pun intended).
What we are hoping to achieve today is a guide, some helpful direction on the essentials. Now, by essentials, we don't mean basic or run-of-the-mill – it's those styles that can slot into your lifestyle at a moment's notice and make an outfit or add that final practical touch. From formal occasions, dining out and the office to shopping trips, country pubs and warm weather sojourns, it's all here.
Without further ado, let's begin:
1. The Penny Loafer
A timeless icon in leather, the penny loafer refers originally to the most famous of Ivy League shoes – the "Weejun." Founded in 1876, American brand G.H. Bass & Co. debuted Weejuns (a clever bit of homage wordplay based on the original inspiration) in 1936, basing the style on slip-on shoes worn by 19th-century Norwegian fishermen.
Embraced by countless subcultures in the modern era and oozing heritage, the penny loafer is, quite simply, a classic that always feels fresh. Those clean lines, that unmistakable silhouette. This shoe has that uncanny skill of being able to look just as stylish dressed up with a suit or tailored ensemble as it does down with chinos or blue denim jeans.
Incidentally, the nickname "penny" was coined (again, no pun intended) when youthful wearers of the time started slotting coins into the conveniently sized slot at the front of the loafer.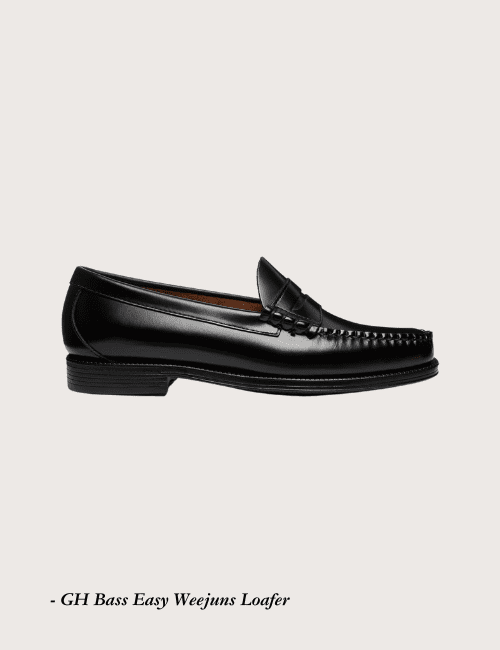 2. The Smart Trainer
A contemporary move when it comes to men's style, the notion of the smart trainer is something that fits well with the evolution of the modern wardrobe. The most notable illustration is the pristine white, low-profile lace-up, an elegant, souped-up take on the classic tennis shoe. Famous examples we all recognise come from the likes of Common Projects, Axel Arigato and the Adidas Stan Smith – but you can find a pair that fits this remit across many brands, from luxury Houses to the high street.
In terms of styling, there's so much on offer here, and they don't just have to be white in colour – the smart trainer also comes in black, navy, high-shine brown patina leather and more. Partnered with tailored separates or a suit, it can bring an on-trend relaxed elegance perfect for heading into town, whether for work or play.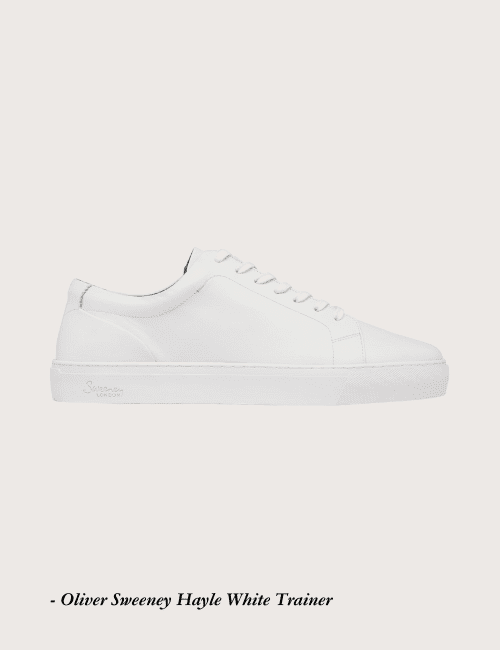 3. The Oxford Shoe
A timeless formal leather footwear style that imbues a palpable sense of English sophistication. With a rich history and some gentle debate around the exact origins of the shoe, we know that the Oxford has been around for centuries. Characterised by its decorative broguing, punched eyelets and closed lacing system, it's usually offered in regal browns or classic black leather.
The Oxford shoe is the perfect black tie or formal occasion option when the dress code requires it. There's something intelligent, something mature about a decision to own and wear a pair. It never has and never will go out of style, which is yet another valid reason to always have them in your repertoire.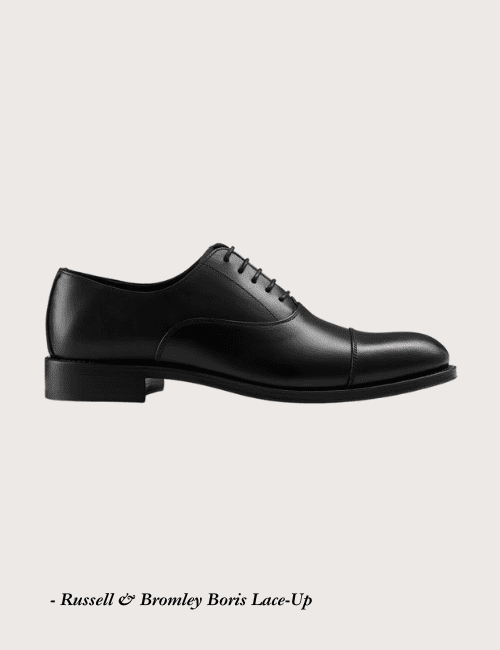 4. The Winter Boot
With the proliferation of outdoorsy, gorpcore trends hitting more of the mainstream fashion consciousness, the notion of owning a pair (or two) of winter boots in 2023 and beyond doesn't feel like too much of a stretch.
There's something out there for all tastes, from the highly technical, trek-like examples from Merrell, North Face and Salomon to robust, workwear-inspired kicks from brands like Red Wing, Grenson and Sorel.
If you select the right boot, it can offer durability, comfort, cold-proofing, and the obvious style kudos.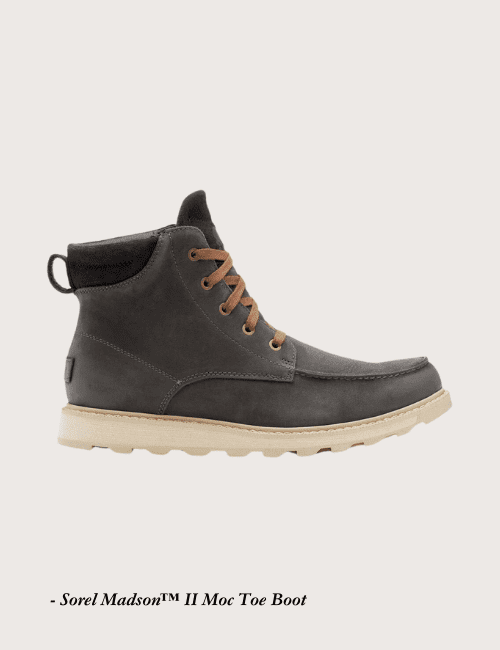 5. The Driving Shoe
Softly-constructed and resembling the classic moccasin, driving shoes have a refined slipper feel about them, but don't be fooled. Originally developed in the 1960s in Italy in the 1960s, this seminal style was designed for driving comfort and performance but also for elegance.
When this writer thinks of the driving shoe, the mind wanders to beautiful places – 1980s Michael Douglas wearing Tods or dreams of cruising the Riviera in a suitably vintage open-top sports car.
As a lighter, more flexible alternative to the traditional loafer, the driving shoe (usually offered up in various tones of suede) is the ideal vacation shoe - particularly for warmer climes paired with a relaxed wide-leg trouser, stonewash denim or a simple, tailored short.
6. The Chukka Boot
Characterised by its ankle-high profile, crepe rubber sole and minimal, open lacing system, the "chukka" boot originates from World War II – a form of desert boot originally worn by British soldiers in the Western Desert Campaign.
Worn regularly by the King of Cool himself, Steve McQueen, there's an effortlessness to the chukka (or desert) boot that transcends generations. Easily worn with jeans and a simple crew neck tee for that roguish air, or dressed up with tailored separates or a roll neck knit in winter.
A casual classic that's been adopted by subcultures and laced by many a famous face for decades since their inception, this boot is another that doesn't seem to ever go out of style.
Note: Google 'Steve McQueen wearing Chukka boots' for full inspiration.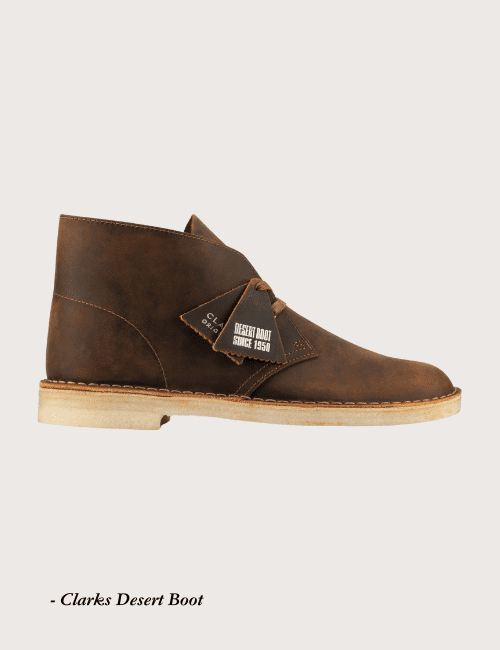 7. The Espadrille
A simple summer must-have with a rich, storied legacy. The story begins in 14th-century Spain, where the espadrille (or espardenyas in ancient Catalan) was an essential piece of utilitarian workwear worn by peasants and soldiers of the day. Over time, the different regions of Spain developed their own unique styles, colours, and features, but the essence of the espadrille remained true to its origins. From those early iterations to the present era, there's a deep and intriguing tale to discover – for anyone that's interested in further reading.
As it stands today, this casual, roped-sole canvas shoe is the epitome of Mediterranean chic. Worn with a relaxed chino short or wide leg trouser (in linen perhaps), the scene is set for the wearer.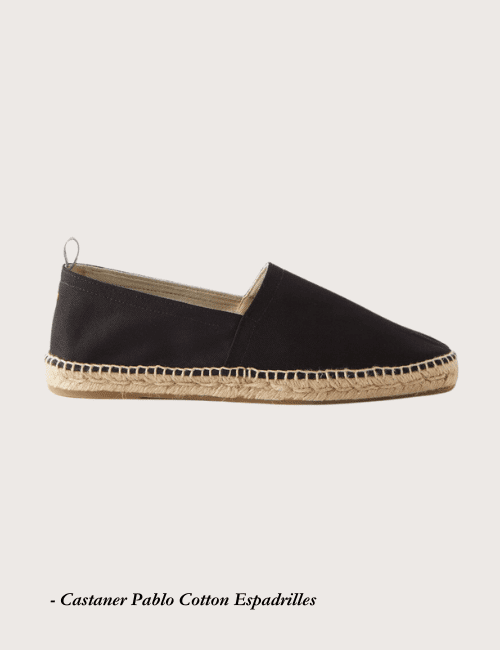 8. The Chelsea Boot
Last but not least, the Chelsea boot – a stone-cold classic of British formality and charm. If the wallet will allow, there are some truly exceptional styles out there that reflect a dedication to craftsmanship. There's a phrase this writer has heard being used for the contemporary Chelsea boot, and that's "tough-luxe" – black slip-on ankle boots that provide durability and refinement in equal measure.
There seem to be two ways to go: 1. The traditional, dressier shoe with a slimmer, more formal silhouette or 2. The slightly chunkier, rounder toe of a utility-inspired Chelsea, much more in the vein of a Dr Martens boot.
Whatever your preference or penchant, the Chelsea boot - like all of the other seven styles of footwear quoted here today – makes a strong claim to be included in your shoe rack at home if they aren't there already.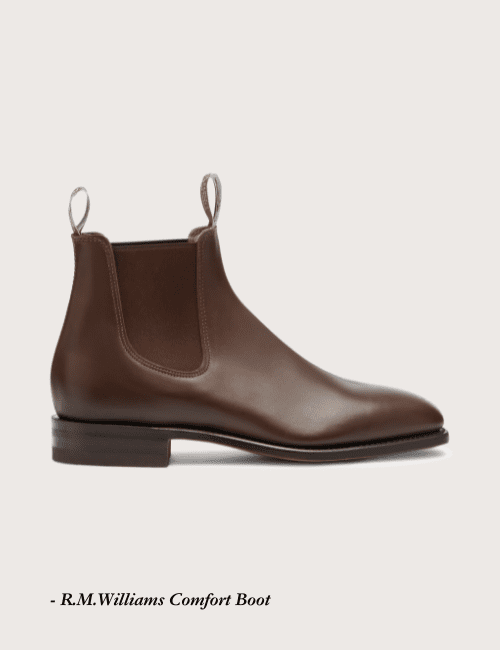 We've all been there when it's been done well – your mind races because it seems so familiar, so enduring: sailor, painter, movie star, fisherman, riviera playboy, artisan… Jean Paul Gaultier advert. None of the above is bad. Who is this guy? We're talking about Breton. A stripe that's become synonymous with cosmopolitan men's summer style – an easy-to-wear piece that every man should own. The first iteration of Breton ("from Brittany") sweaters was created with tightly woven local wool to protect fishermen from biting winds and water. Typically characterised as a cotton top with blue nautical stripes, they were adapted and introduced to the French Navy uniform in 1858. Its historical journey from essential utility piece to modern wardrobe mainstay is well worth a read.
Traditional smocks, sweaters, and t-shirts in long and short sleeves - if you don't possess one or two in your repertoire, then 2023 is the time.
An icon of elegance, it has the kind of laissez-faire appeal that makes the wearer feel like he can conjure all of its connotations with glee. Chosen well, it's almost guaranteed to look good, especially during the warmer months. As with all timeless pieces, it has a cultural history that's rich and inspiring. A quick Google search of "famous men wearing Breton stripes" reveals a gorgeous, aspirational mix. Pablo Picasso, Coco Chanel, Paul Newman, James Dean – take a look for yourself.
What's great is that it hasn't evolved too much in style, fit and detail, but it still feels completely relevant. Today, there are many brands fighting for your Breton stripe affections, so we thought we'd do some of the leg work for you.
1. Sirplus Navy & White Breton Top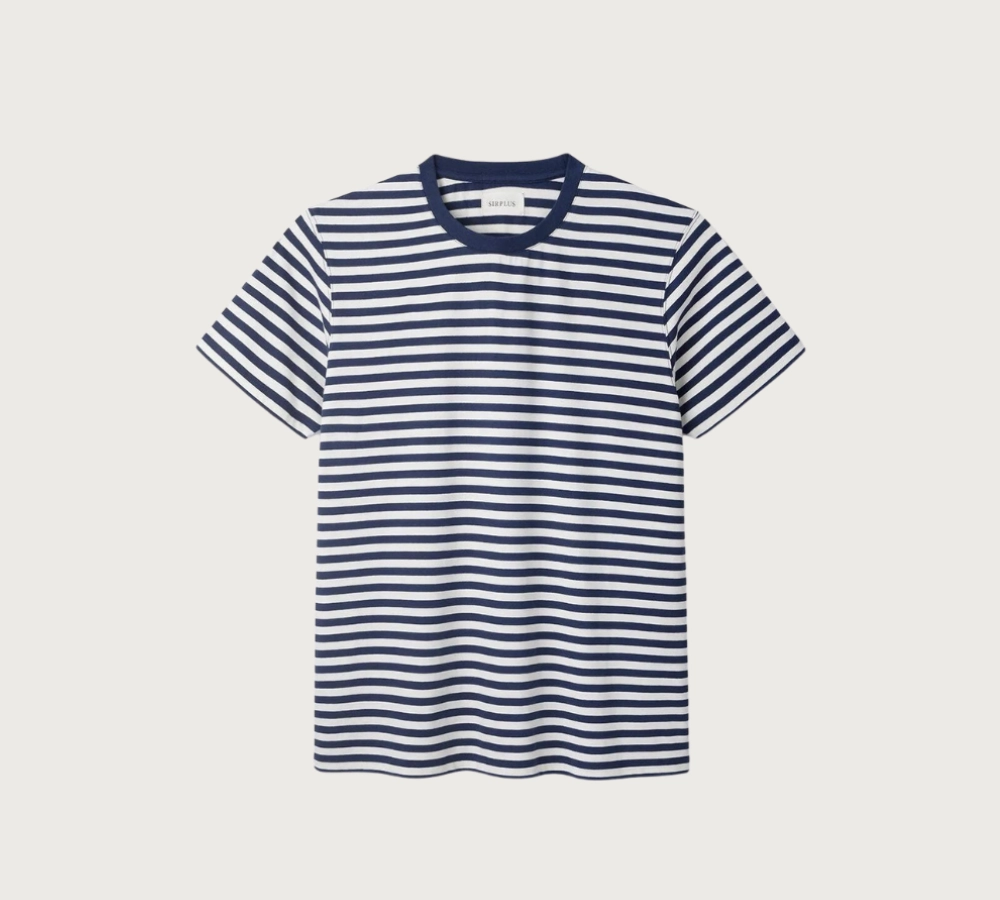 Sirplus do simple, modern elegance very well. This simple wardrobe staple in navy and white striped organic cotton is cut to a regular fit with a classic crew neck. It's also set to a very accessible price point which gives it everyday wearability without scrimping on the style factor. It can easily be worn solo with some jeans or shorts or dressed up with an easy unlined navy blazer.
2. Charles Tyrwhitt Smart Jersey T-Shirt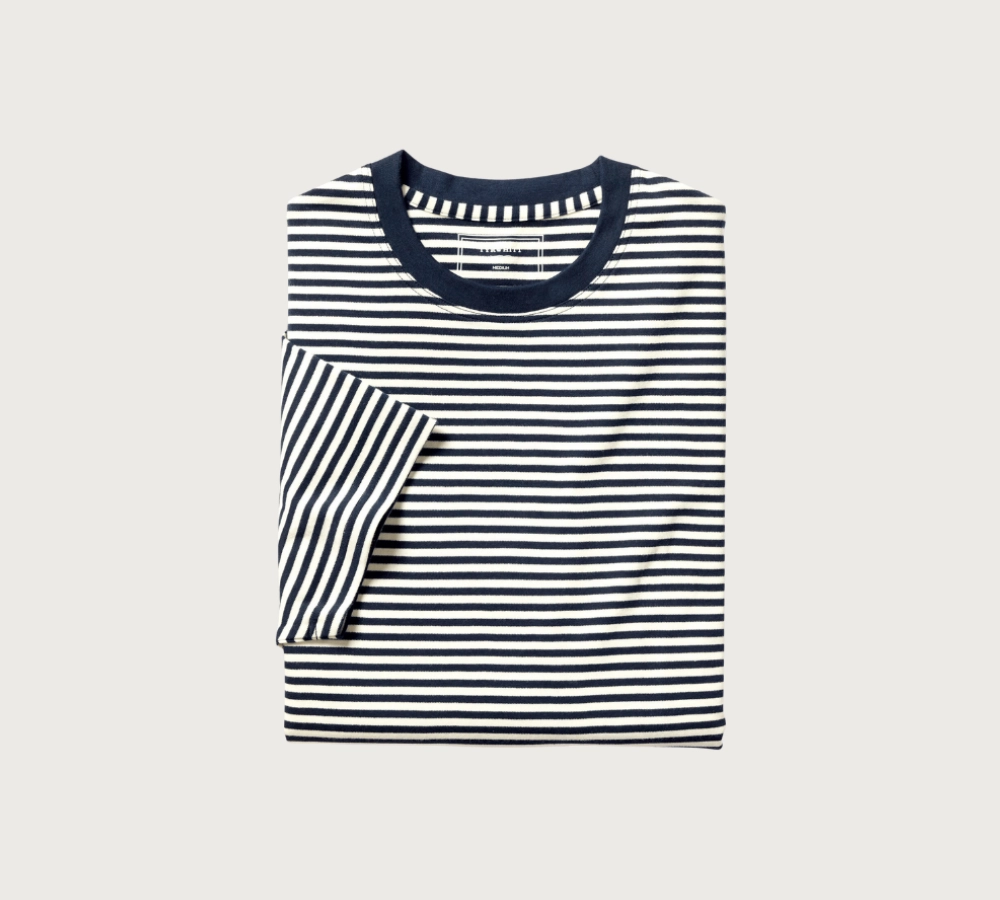 Another crisp, effortless offering, this time from Charles Tyrwhitt of Jermyn Street. Usually known for the quality of their shirt-making and suits, you can see the dedication to quality here. Made from a mercerised soft cotton jersey, it has a beautiful, breathable hand feel. Similar to the previous Breton top, this one has dress-up, dress-down versatility that makes it an excellent addition to any man's wardrobe.
3. Paul James 100% Cotton Breton Sweater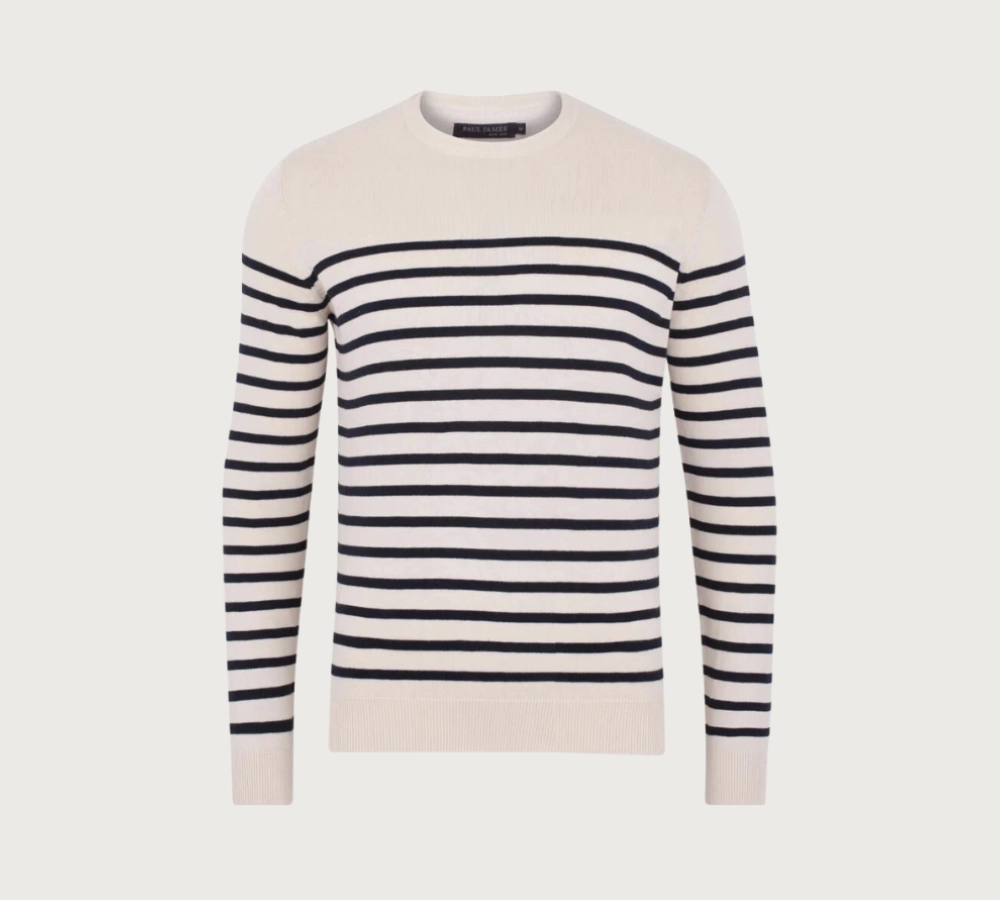 A piece of timeless, engineered knitwear in nautical-inspired stripes. Perfect as an elegant summer throw-over for those cooler moments. A sophisticated slim silhouette, this jumper is constructed from a fine jersey knit in 100% cotton. It also has performance qualities that make it a wearable, versatile item – breathable, wicking and itch-free. As the Paul James website states, it's ideal for layering. As a luxury Leicestershire-based knitwear manufacturer, we'll definitely bow to their expertise on this one.
4. Seasalt Cornwall Sailor Shirt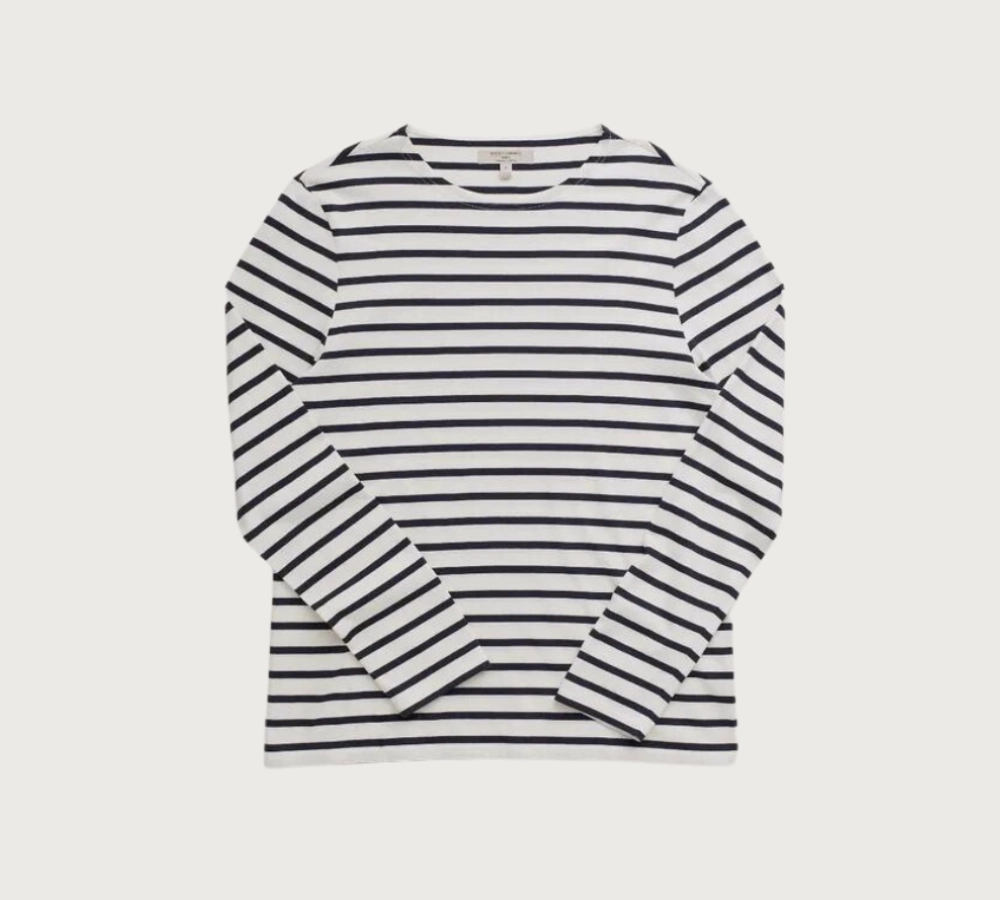 As the name of this item suggests, there are waves of nautical style to this boat neck long-sleeve shirt from Seasalt Cornwall. It feels like a traditional Breton top and definitely has that timeless iconic sensibility that I mentioned in my introduction. Cut to a relaxed fit in organic cotton, it's offered in two other colour iterations too – mid-blue with white stripes or dark navy blue with white stripes.
5. The Wool Co Guernsey Sweater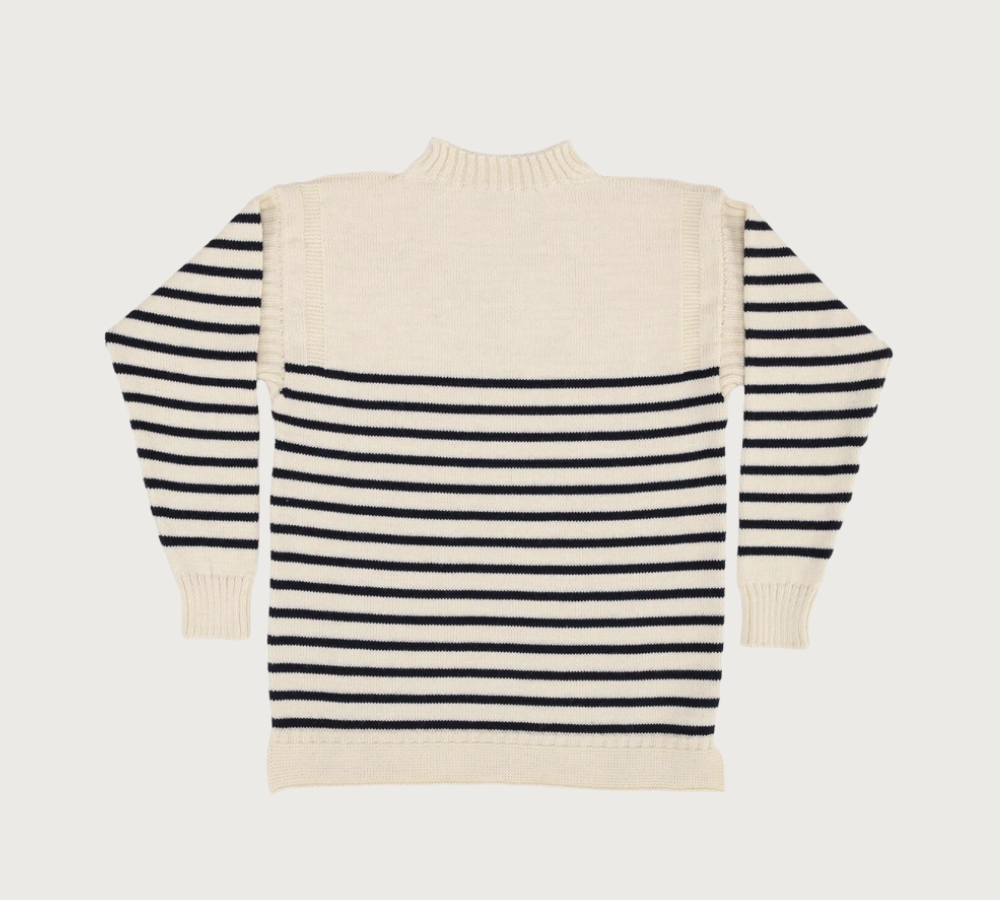 Something for the cooler conditions here from The Wool Company. Knitted in 3-ply ecru British wool. Made in England, this vintage-influenced layering piece offers elegance as well as durability. Form and function that's best thrown on casually for that rugged aesthetic. Despite its sophisticated finish and contemporary wardrobe relevance, it's clearly inspired by the traditional seafaring Guernsey jumper.
6. Finisterre Channel Stripe T-Shirt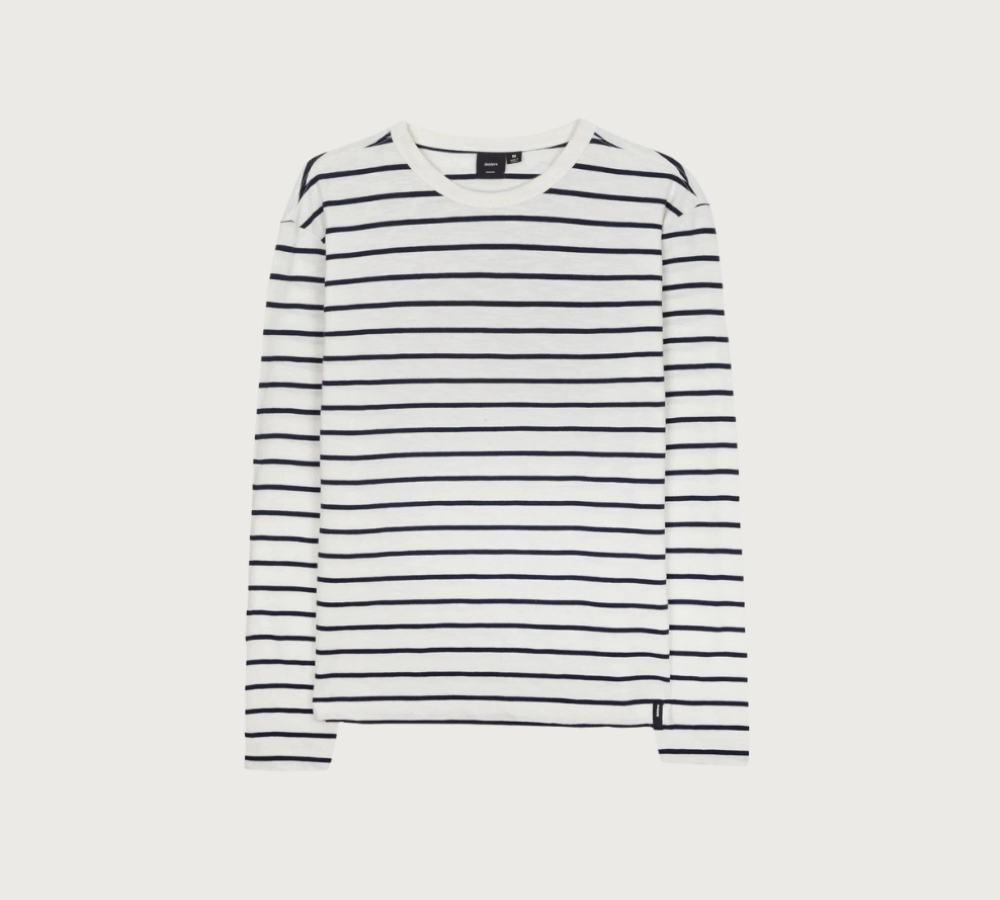 "Born in 2003 from the needs of hardy British surfers, Finisterre designs functional and sustainable products for those that share a love of the sea." It doesn't feel more authentically nautical and on point than that. This long sleeve Breton top in organic slub cotton is offered in a restrained 3-option colour palette. In terms of styling, we'd say stay true to the brand and keep it very off-duty with a pair of chino shorts in navy or ecru.
7. Sunspel Cotton Long Sleeve T-Shirt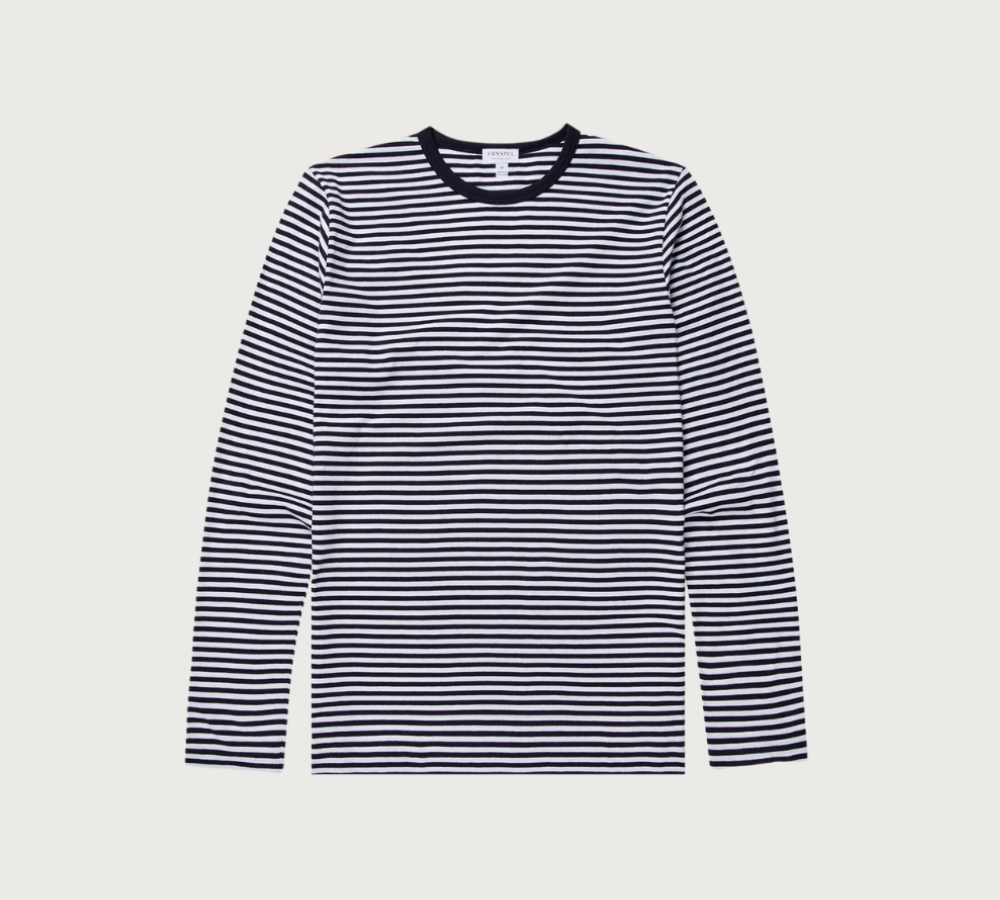 Sunspel does the classics very well, having made the finest men's t-shirts since 1908. This particular style, an understated nod to the Breton top, is handmade at the brand's factory in Long Eaton, England, using the finest, extra-long staple Supima cotton – supplied by a farm in California. This is one of those essential items that's as stylish with chinos or jeans as it is with a navy suit.
8. Nudie Jeans Charles Sailor Stripe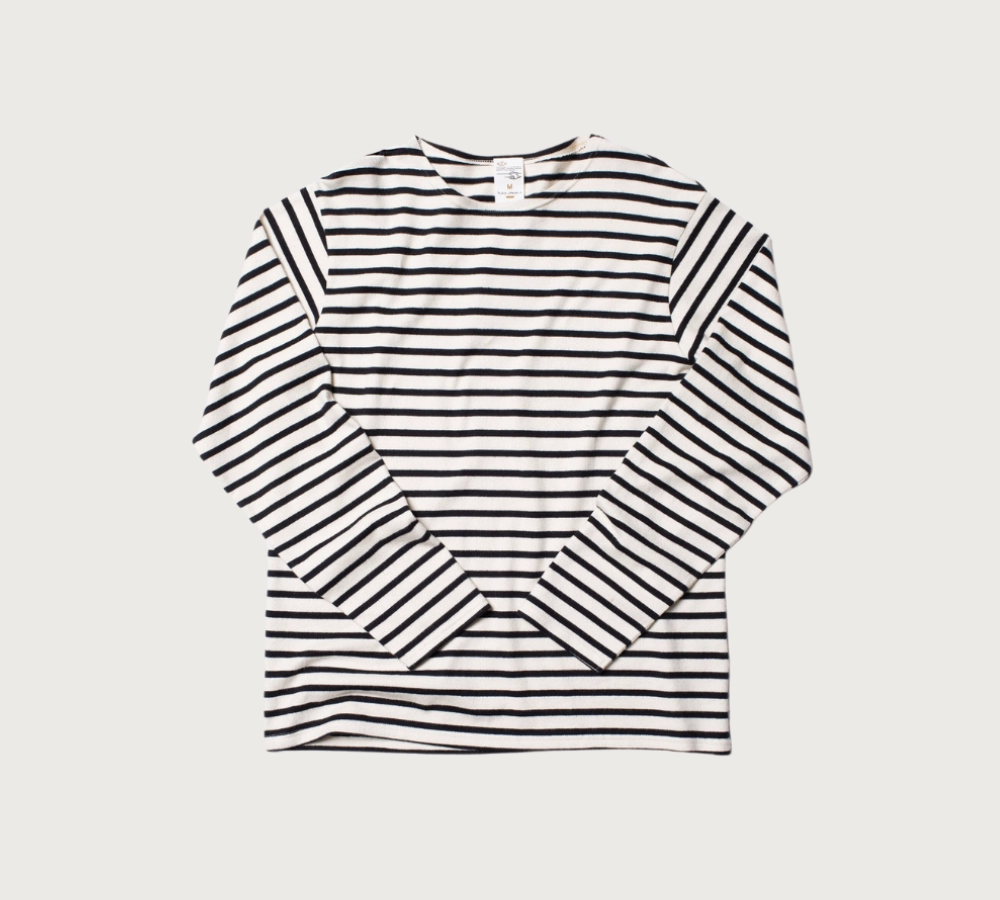 More of a modern, laid-back silhouette from Nudie Jeans here, as we observe a relaxed fit with a hint of a boat neck. The stripe placement and construction feel very in keeping with the traditional Breton top. We'd suggest styling low-key but elevated – this time of year, that's your finest indigo denim or a wide long casual trouser. Made from organic fairtrade cotton, you're guaranteeing yourself a little piece of mind too.
9. Armor Lux Breton Striped Top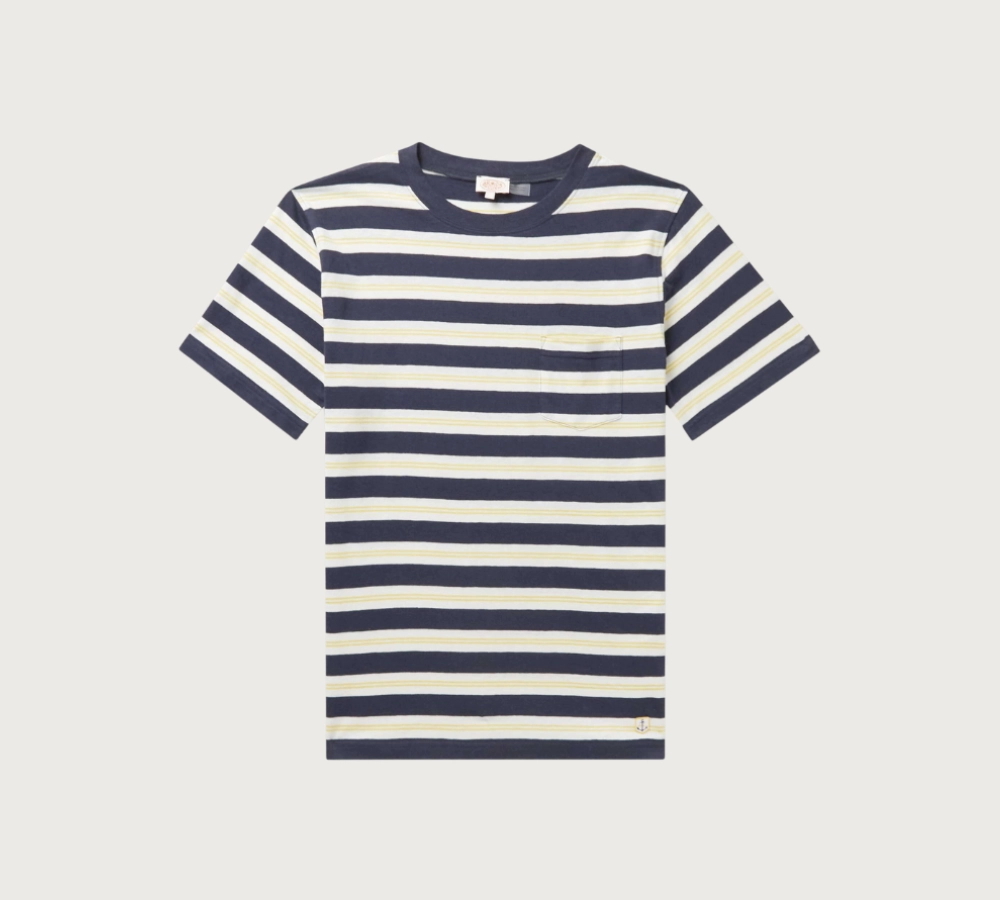 Known the world over in menswear circles for their Breton tops, this is a clean contemporary take on a brand classic – offered here on Mr. Porter. There's yellow stitching and the embroidered Armor-Lux logo, which also brings a touch of distinctive character to this timeless tee. It's perfect for summer, a great pick for holiday packing lists and balmy evenings in the beer garden – if you are that way inclined.
10. AMI Long Sleeve Breton Tee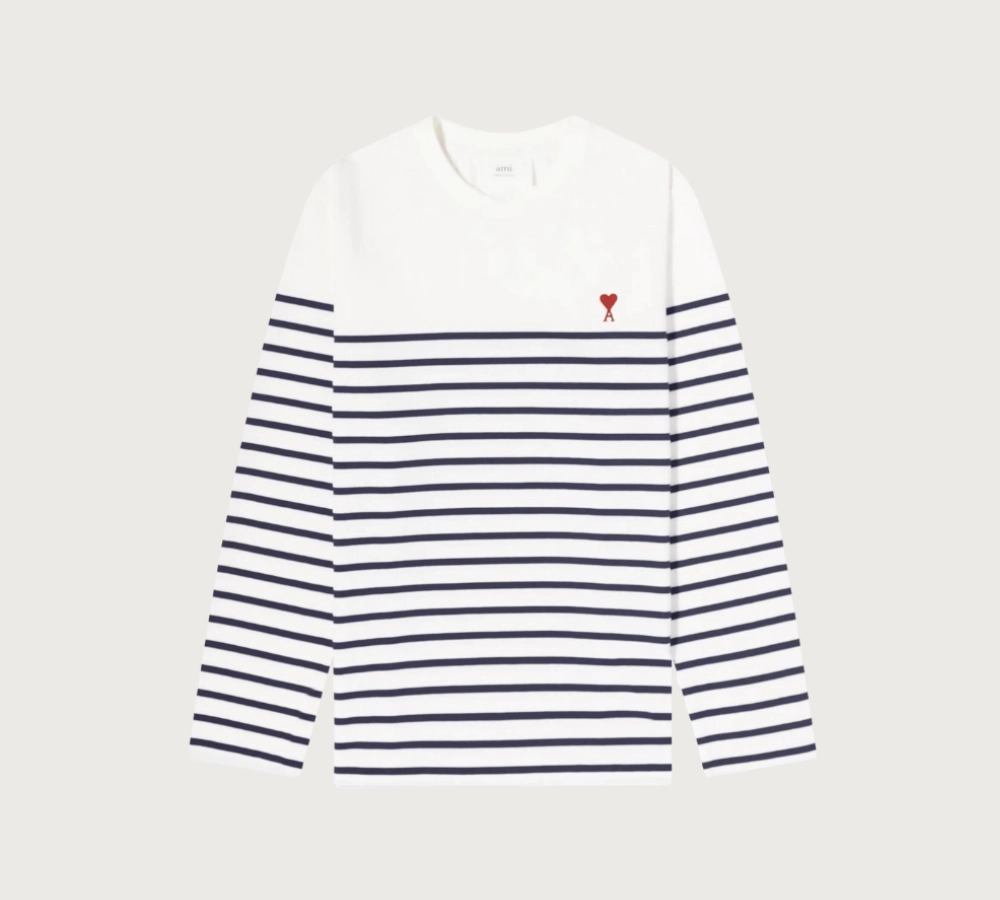 Modern French luxury meets traditional French seafaring style with this Breton long-sleeve tee from AMI. Soft, lightweight cotton construction featuring the Gallic House's signature logo in red stitching and those iconic horizontal blue stripes. An elevated take on a classic that we'd recommend for elegant casual styling: cocktails in the city, contemporary office dress codes, date night – all sartorially applicable.
11. GANT Breton Top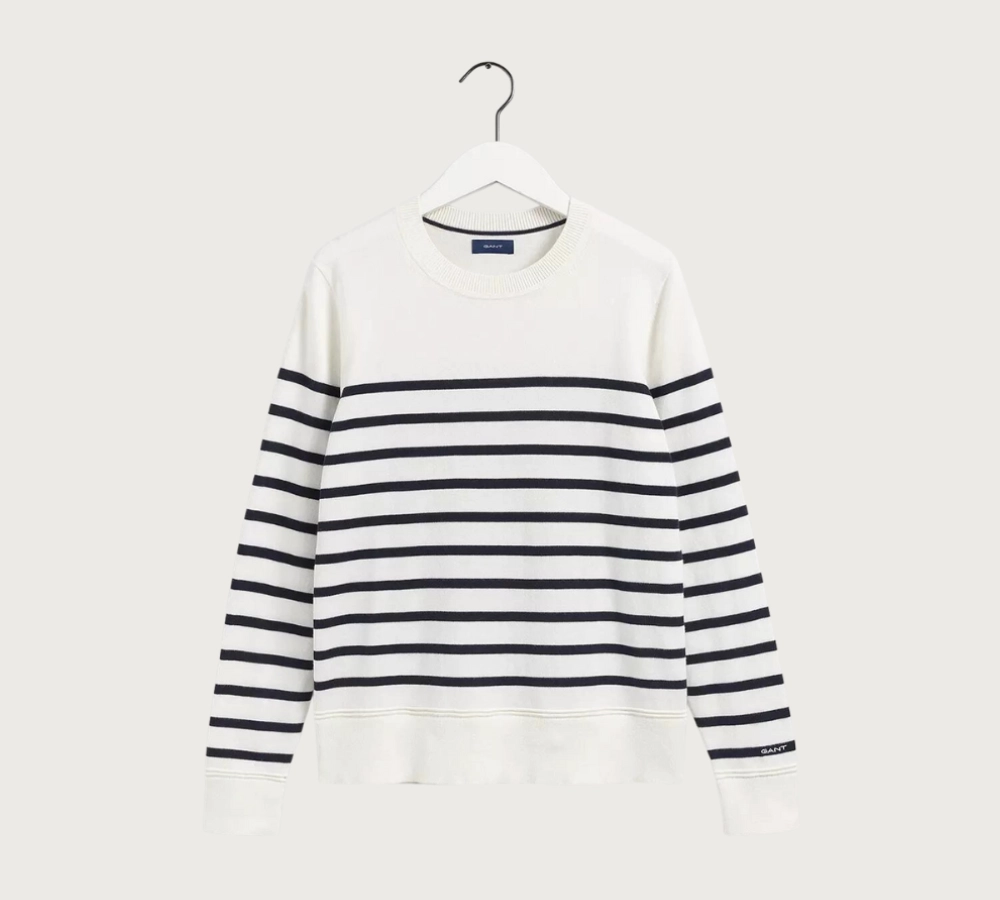 Beautifully light and breezy knit from Gant constructed in extra fine 100% cotton yarn. Nautical elegance, without a doubt, we'd recommend this as an essential layering piece for a modern masculine wardrobe. This writer could imagine throwing this on of a summer's evening as the cooler, after-dark temperatures kick in. It keeps things relaxed, comfortable and elegant.
12. Arket Heavyweight T-Shirt
Cut to a regular, slightly relaxed silhouette, this crew neck tee from Arket comes in engineered organic cotton with all-over Breton stripes. It has that clean, Scandi-infused style that makes it perfectly adaptable across all levels of your wardrobe. You could easily see this t-shirt being worn as a stand-alone off-duty piece with tailored chino shorts or paired with an ecru or navy blazer.
13. Uniqlo Striped Long Sleeve T-Shirt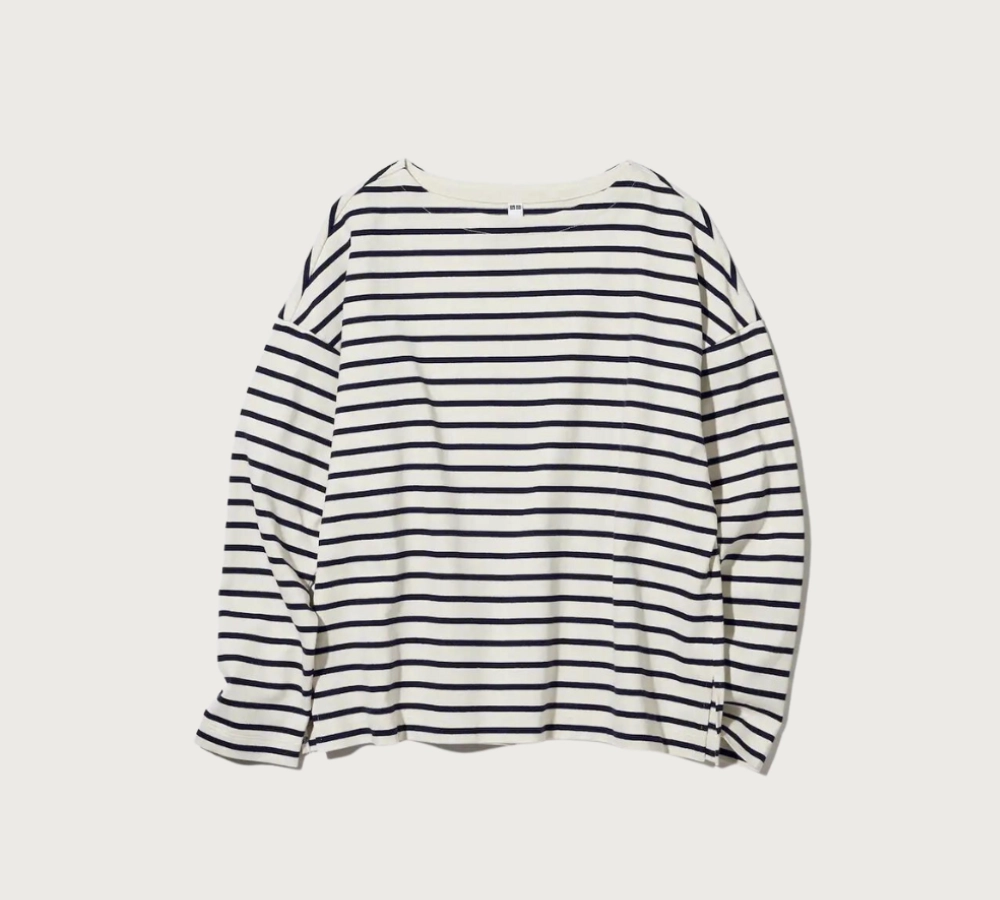 Crafted in off-white and navy striped cotton, this is typical modern classicism from Uniqlo. The boxy cut, construction and traditional boat neck offer up louche elegance as well as resilience for everyday wear. We'd agree with the brand in terms of styling, that it's great with a high rise or wide leg trouser. Box fresh trainers would finish a contemporary, relaxed look.
14. Community Clothing Navy Breton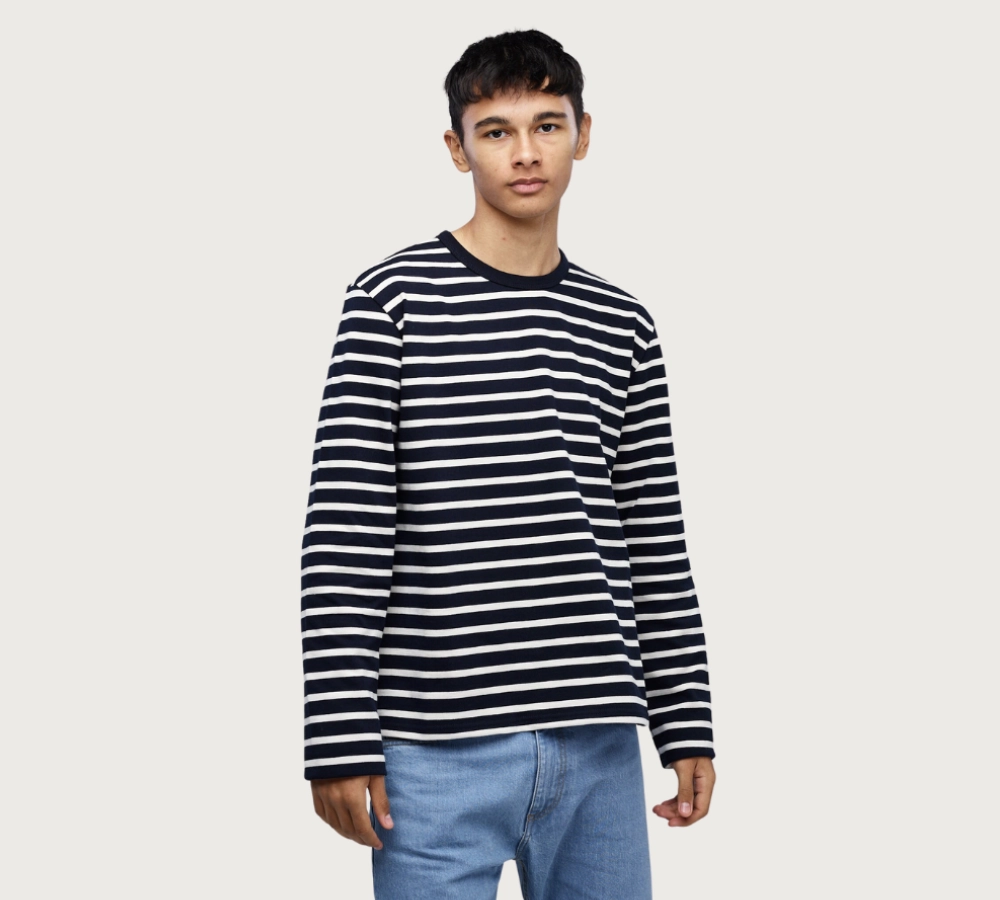 An established House classic from Community Clothing, their Breton top is made from 100% cotton, knitted in Leicester, then cut and sewn in Blackburn. A real homegrown British piece that honours a French classic. It's beautifully soft but with a substantial weight to the fabrication, giving it a nicely structured, masculine drape that should suit any wearer. They've paired it with a relaxed fit jeans, which works well, but you could easily see it worn with khaki or ecru chino in the summer.
15. Rapanui Striped Long Top
Rapanui offer a more sustainable, renewable option when it comes to menswear, all from their factory on the Isle of Wight. This navy Breton top is offered up in long sleeves with a neatly constructed crew neck. The fabrication has a soft hand feel and a lightweight movement across the body, making it perfect for the summer season ahead.
In conclusion, a Breton top is a stone-cold classic. Whether you're looking for a lightweight knitted sweater or an easy short sleeve tee for the warmer conditions, there's an iteration to suit your requirements. It's rare to find an unassuming yet distinct icon of style with a specific, storied heritage at such an accessible price point.
The gold watch is an icon of men's style. Done right and worn right, it carries a real senseless, timeless, masculine style.
Of course, there are some potential pitfalls – too chunky, too fake, too blingy, too much gold in one look. You don't have to look like an extra from Lock Stock and Two Smoking Barrels, a Del Boy, or a tasteless 1980s yuppy. Although saying that, there are some stylistic elements to all of the above that this writer doesn't mind too much. It's an accent, though, an accessory. A touch of understated flair, usually.
Depending on your personal preferences, there's a gold watch to suit everyone. Unless you are convinced, you prefer silver. Even then, there's a way.
To help you navigate this beautifully engineered minefield, we've assembled a timely pick of the best – from the eye-watering to the everyday.
1. Audemars Piguet Royal Oak Jumbo
THE SPECTACULAR OPTION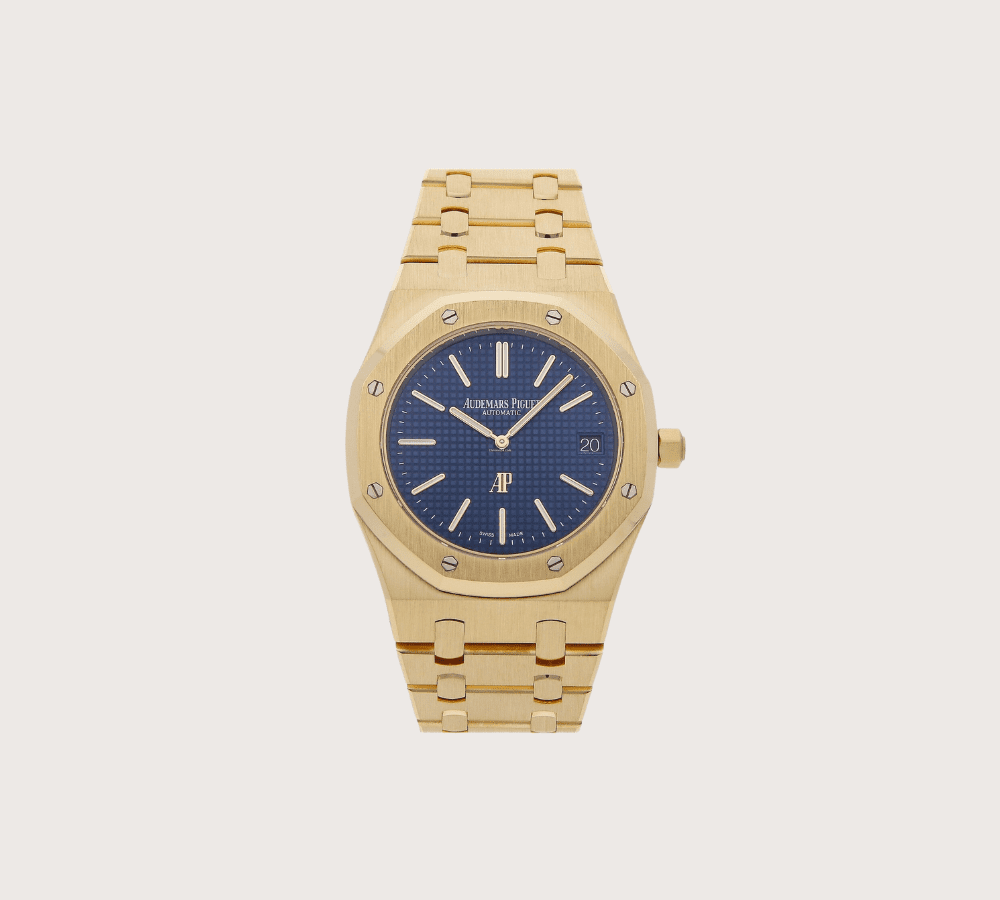 We begin with the spectacular, available here as a piece of pre-owned perfection for those with expensive taste but an understated sense of style. Simultaneously substantial and streamlined, this "extra-thin" offering comes in 18-carat yellow gold with a blue Petite Tapisserie dial. Real 'watch heads' will enjoy the intricate inner workings exposed on the underside.
2. Omega Speedmaster Moonwatch
THE LEGENDARY OPTION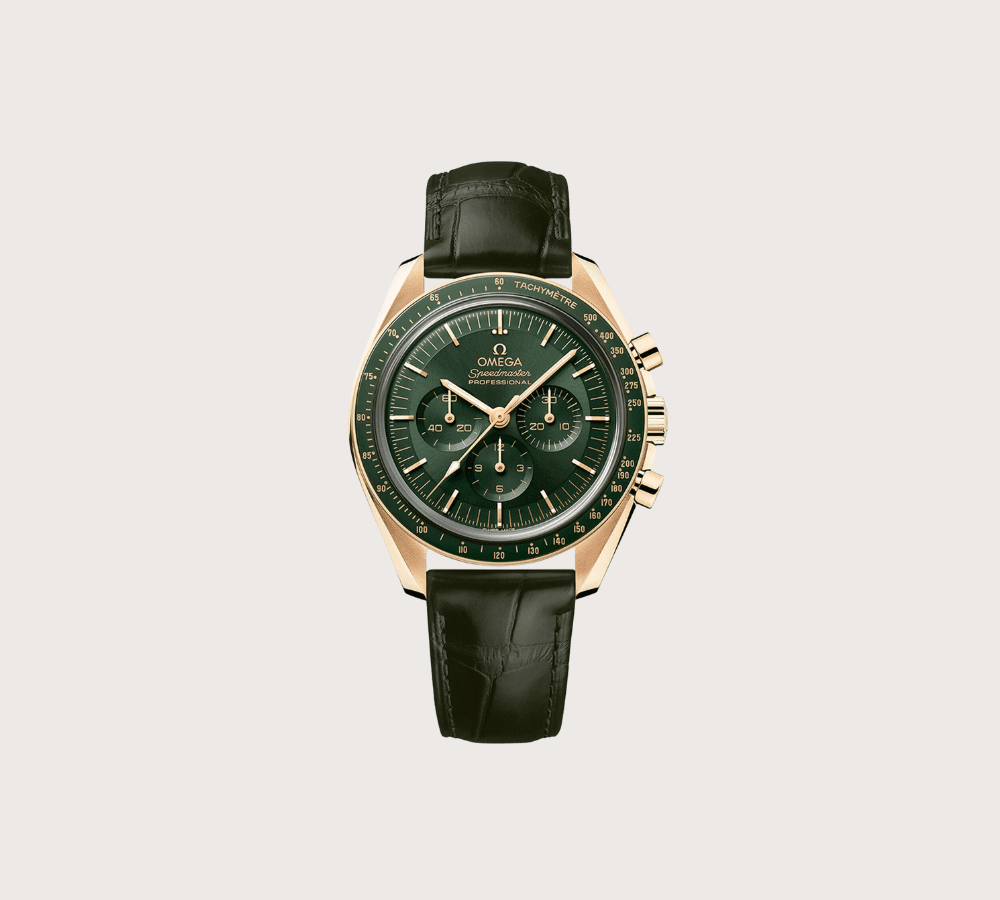 An icon of watchmaking, this refined yellow gold and the leather chronograph is inspired by the 4th generation Speedmaster – representing Omega's pioneering spirit and dedication to unwavering quality. This is for those with an adventurous streak that enjoy the unique, rich story on offer here. "FIRST WATCH WORN ON THE MOON" is engraved on the back – it doesn't get much more luxurious than that when it comes to gold watches for men.
3. Tissott-Classic
THE TIMELESS OPTION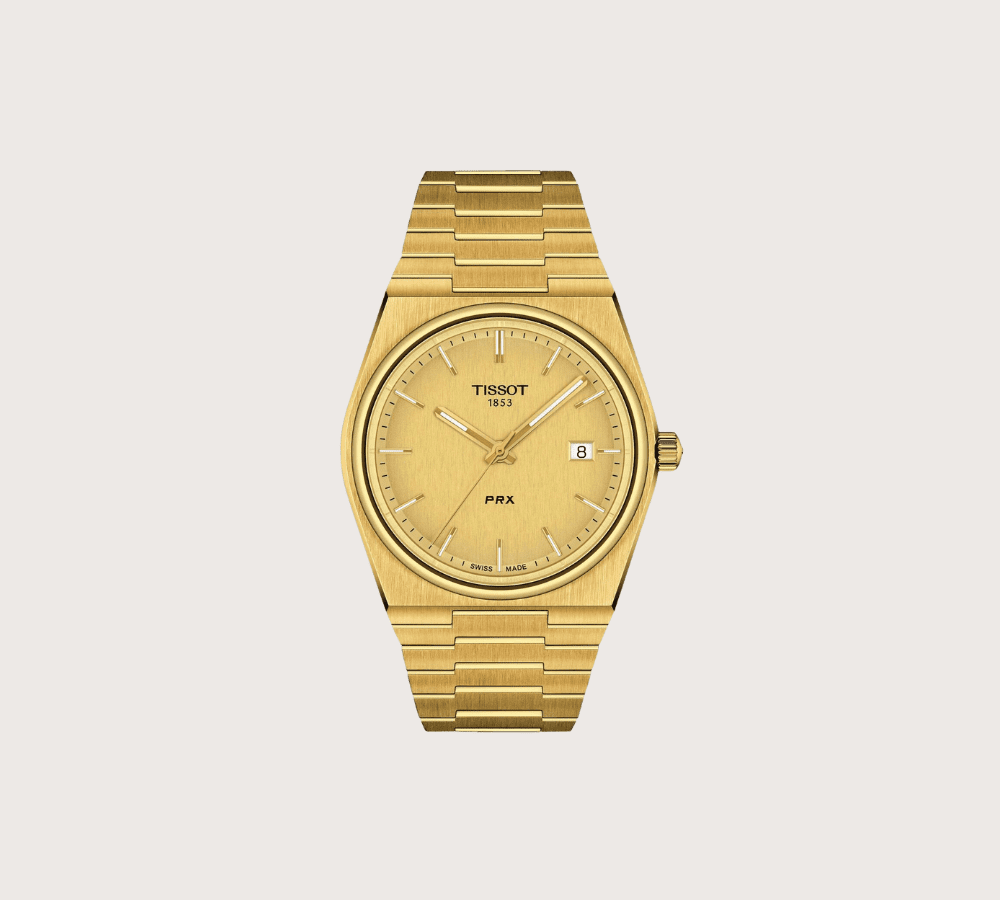 Tissot prides itself on the "everlasting style" of its T-Classic collection, and this all-gold quartz watch reflects that dedication to timeless elegance. If your wardrobe exudes a simple, quiet luxury that requires just a flicker of understated gold, this timepiece may be for you. It's also water resistant to 100 metres (330 feet). Handy for those particularly adventurous watch wearers.
4. Tudor Black Bay Fifty-Eight
THE MODERN CLASSIC OPTION
A taste of enduring Swiss craftsmanship with a modern point of view. This automatic Tudor watch has a luxurious alligator leather strap and an 18-carat yellow gold case with exquisite domed sapphire crystal. In the same vein as the Omega above in terms of style, this is definitely for the man that enjoys the classicism, specificity and richness of men's style. Comes with an optional green woven strap as a casual alternative.
5. Jaeger-Le-Coultre Polaris Perpetual Calendar
THE PINK GOLD OPTION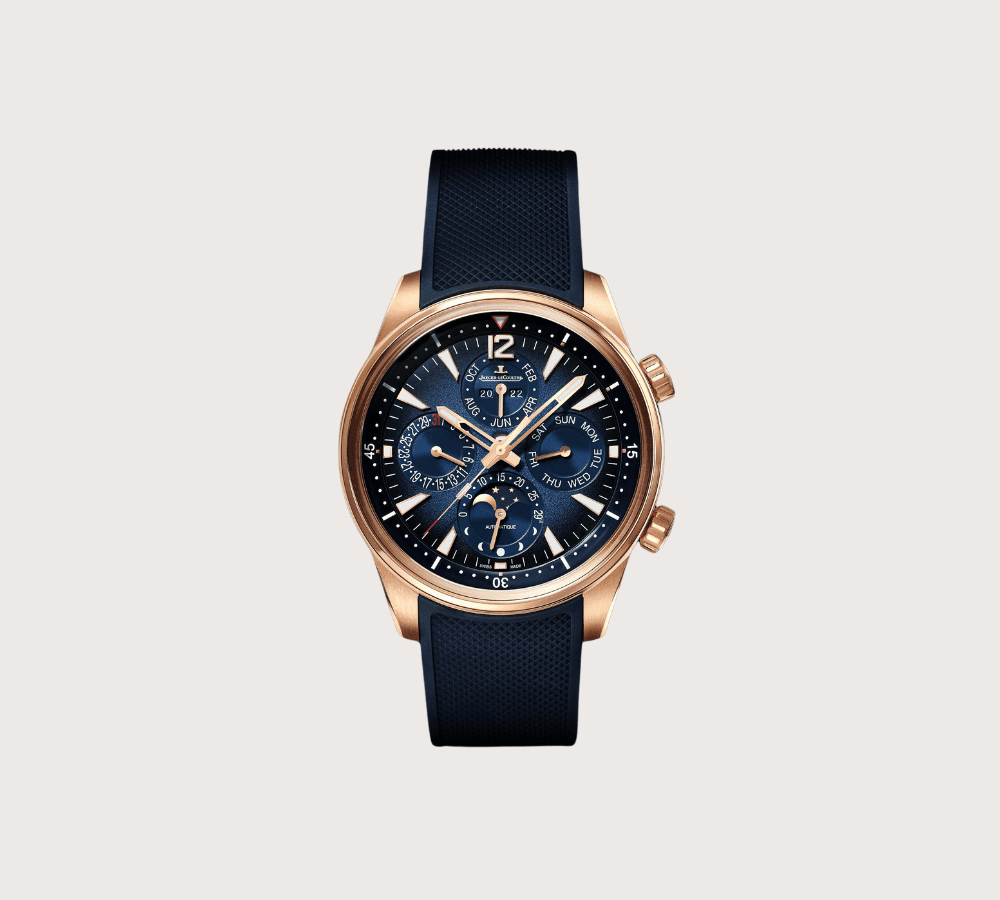 Featuring a pink 18-carat gold case, 54 jewels and an 868AA calibre movement visible through the back, this is a piece of pure, Swiss-made luxury from JLC. Despite its high-rolling credentials, there's something more discreet about this watch that makes it extremely wearable. It's offered with a very practical navy rubber strap to start you off – the exotic black alligator leather strap is in the box should you need it.
6. Tag Heuer Formula 1
THE TWO-TONE TAG OPTION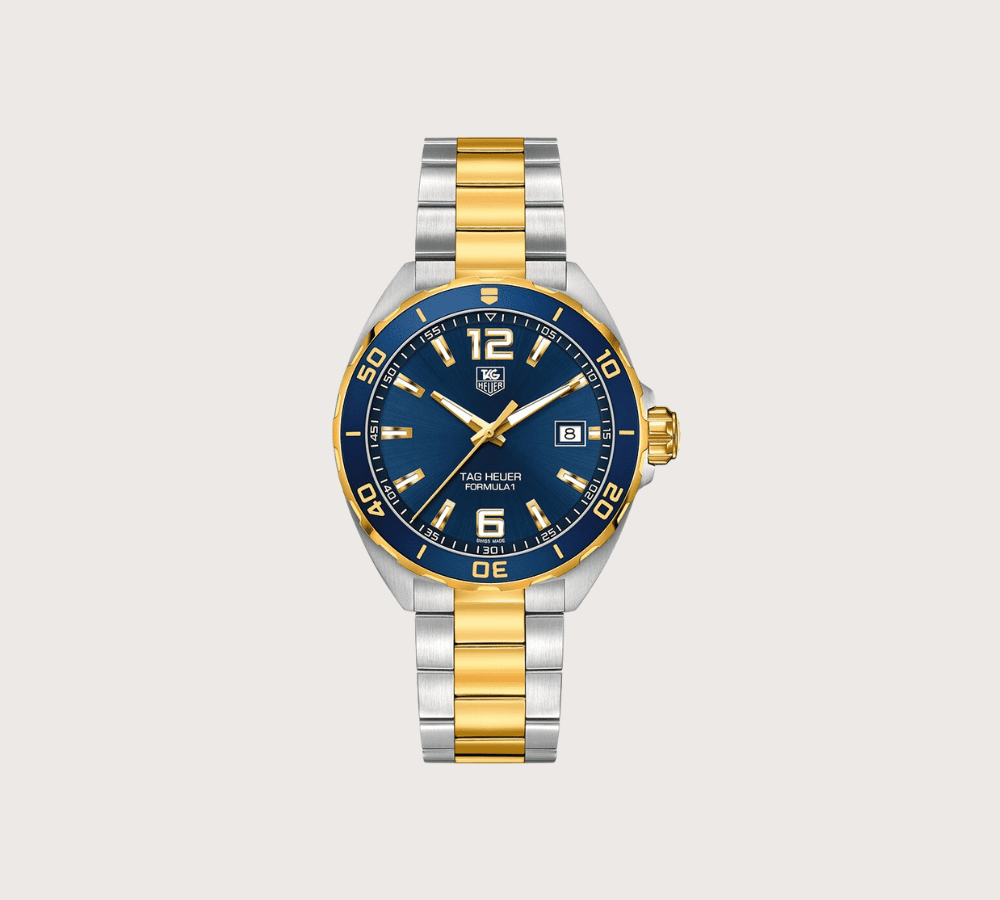 A beautiful piece of F1-inspired engineering for the wrist. According to the website, their TAG watches celebrate "prestige, performance and avant-garde technology", – which seems appropriate to this writer. Features a distinctive 18-carat gold silver-tone steel design with a rich, navy blue façade. This one is obviously for the motorsport fan, but also for someone that wants their watch to make a statement.
7. Gucci Grip
THE FASHION-FORWARD OPTION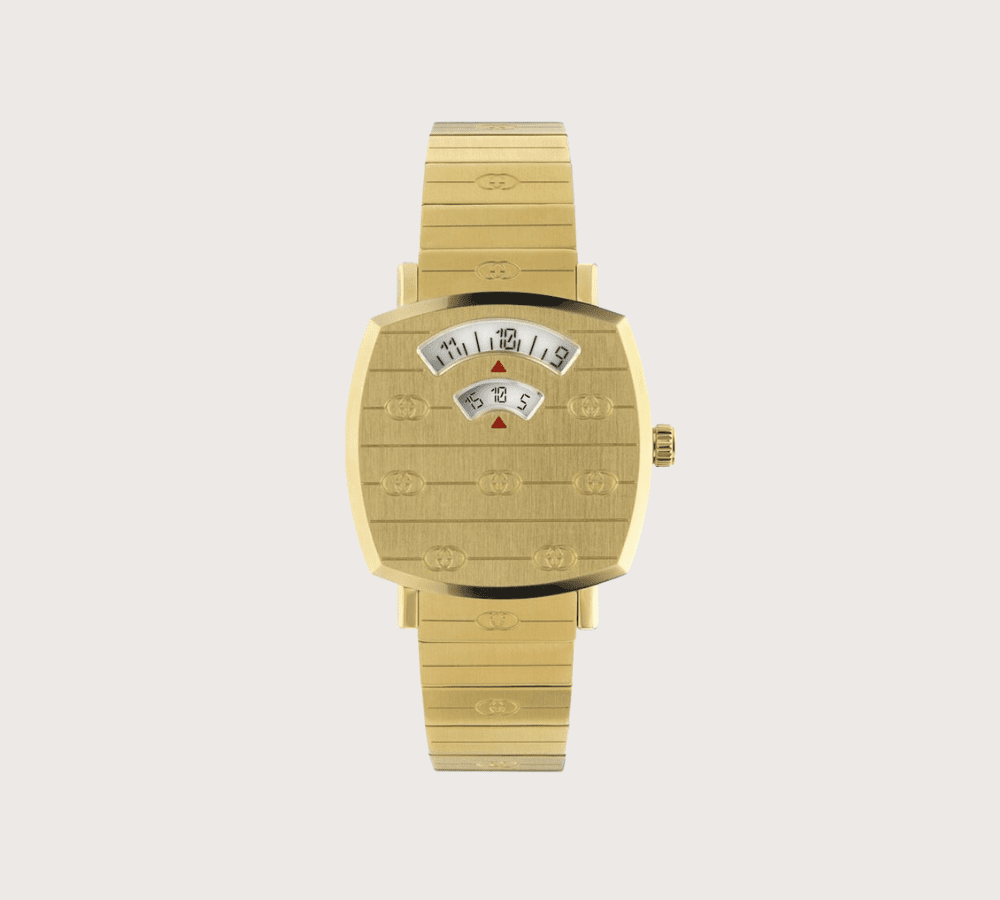 A piece of eye-catching self-expression from Italian luxury behemoth Gucci. Unsurprising that the design should be extraordinary and outside the norms of classic watch design. That being said, this unisex watch is a beauty – vintage shaping, cushion-shaped gold case and an all-over repeat GG logo design. Ideally suited for the fashion-forward or those looking to make a high-end statement of style.
8. Longines Flagship
THE TWO COLOUR OPTION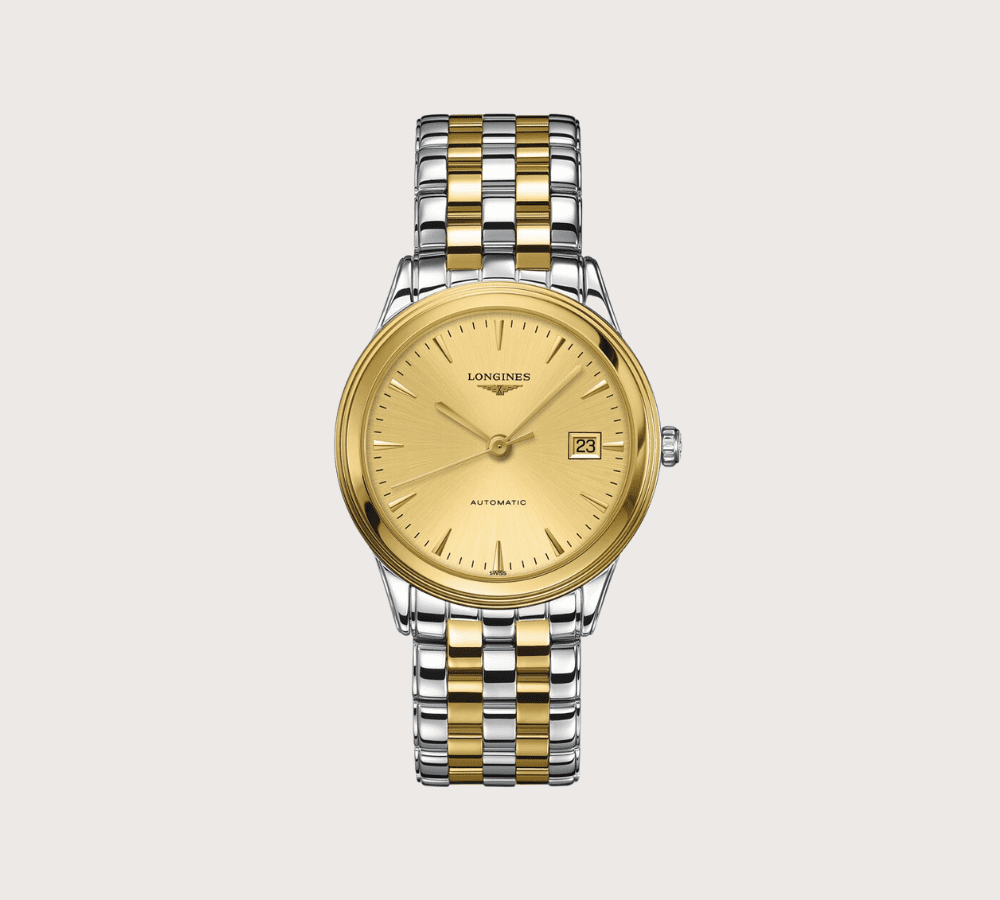 Beautifully crafted stainless steel and gold-plated bracelet watch from the Les Grandes Classiques collection. Founded in 1832, Longines is known for its precision and elegance, which is exactly what this timepiece offers. A luxe, minimal face and the subtle sheen of the overall finish lends itself to a timeless, masculine and perhaps more mature wardrobe for those who know themselves and their personal style.
9. Cerina DS-2 Powermatic 80
THE ALTERNATIVE OPTION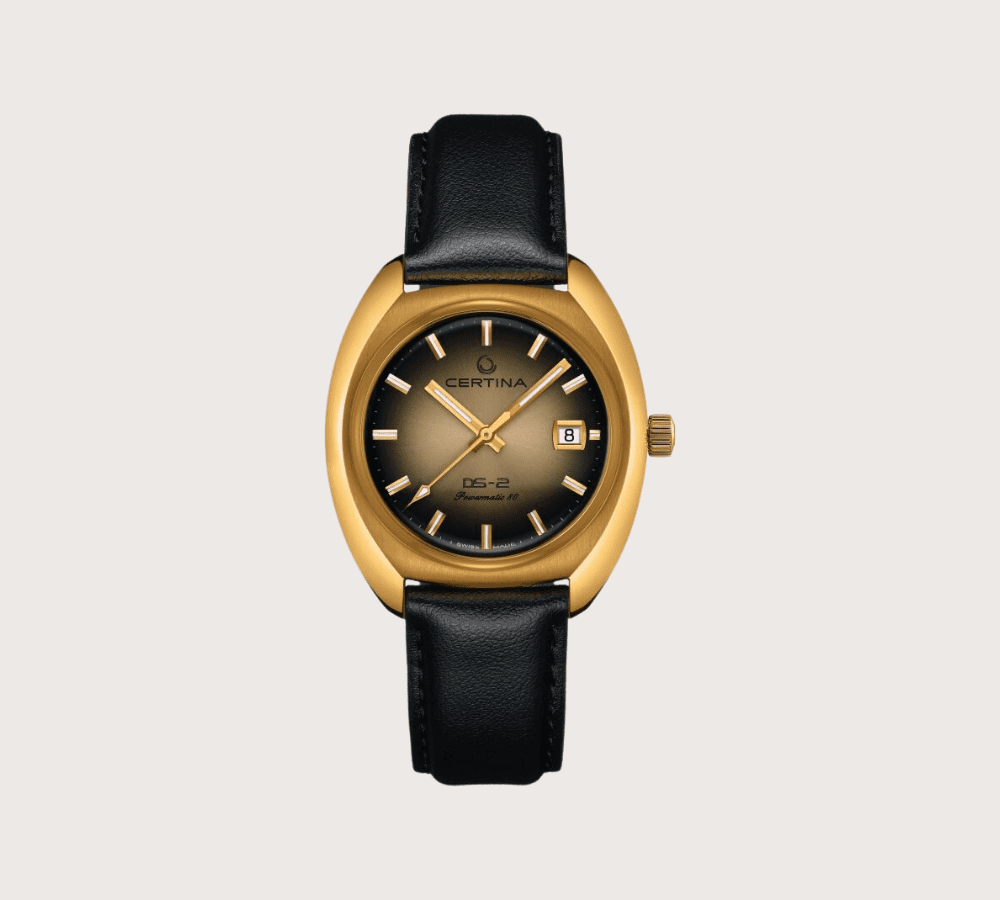 There's a touch of gold, well-understated brushed gold, in this 'Powermatic' from Certina. There's also a unique alternative look and feel compared to other men's gold watches in this list. It features 200m water resistance, making it perfectly suited to those with an active lifestyle and water sports—elegance, practicality and function. The dark brown leather strap is versatile in terms of wardrobe coordination.
10. Timex T80
THE VALUE-FOR-MONEY OPTION
Black and gold is always a winning combination. This Timex digital watch offers fantastic day-to-day style and excellent value for money. This timepiece is definitely for the more casual mindset and wardrobe than the others featured in this article. As we move towards summer, there's a great on-the-move, 'throw a crisp white t-shirt on' feel to this old-school option.
11. LA Californienne Daybreak
THE WEST COAST OPTION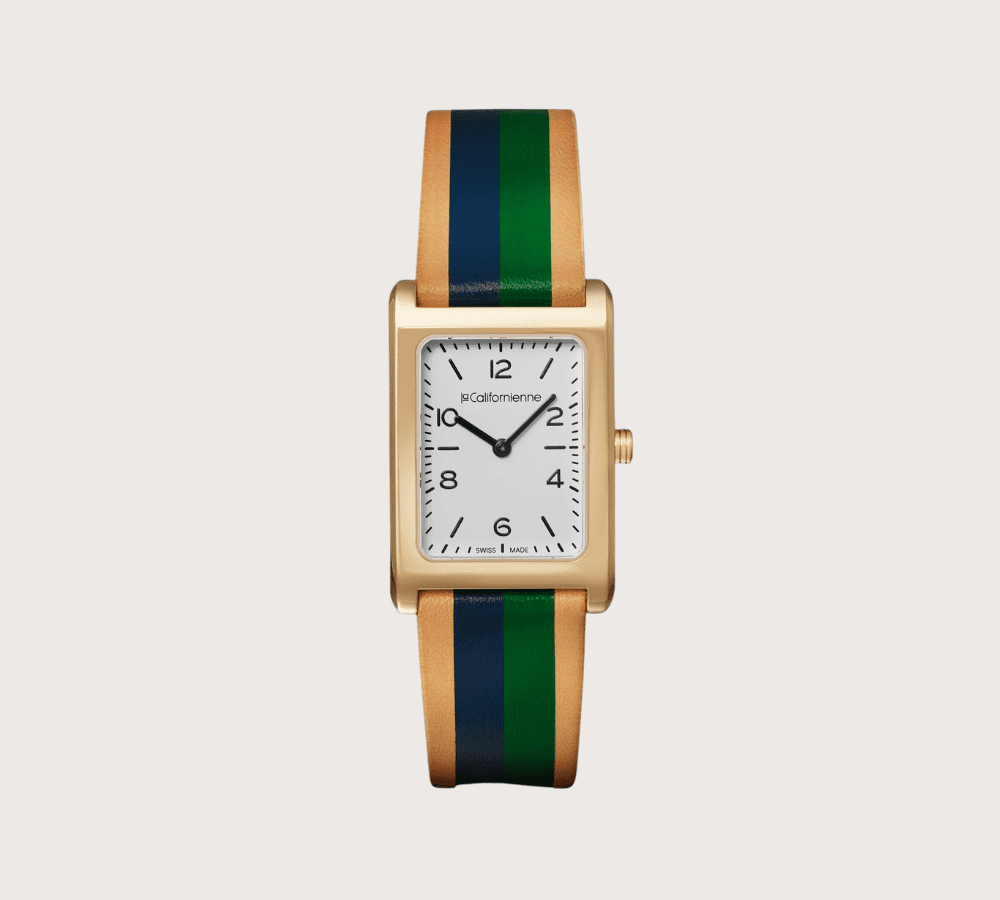 According to Mr Porter, "La Californienne seeks inspiration from the colourful shades of the Californian sky," and this 'Daybreak' watch recalls the shades of dawn." We'd agree. There's a real sense of West Coast, sun-kissed luxury to this elegant timepiece. The retro credentials of the tri-tone handmade leather strap balance an understated, rectangular gold case. Offered with an alternative strap within the presentation box for further style versatility.
12. Boss Elite Men's Watch
THE AFFORDABLE LUXURY OPTION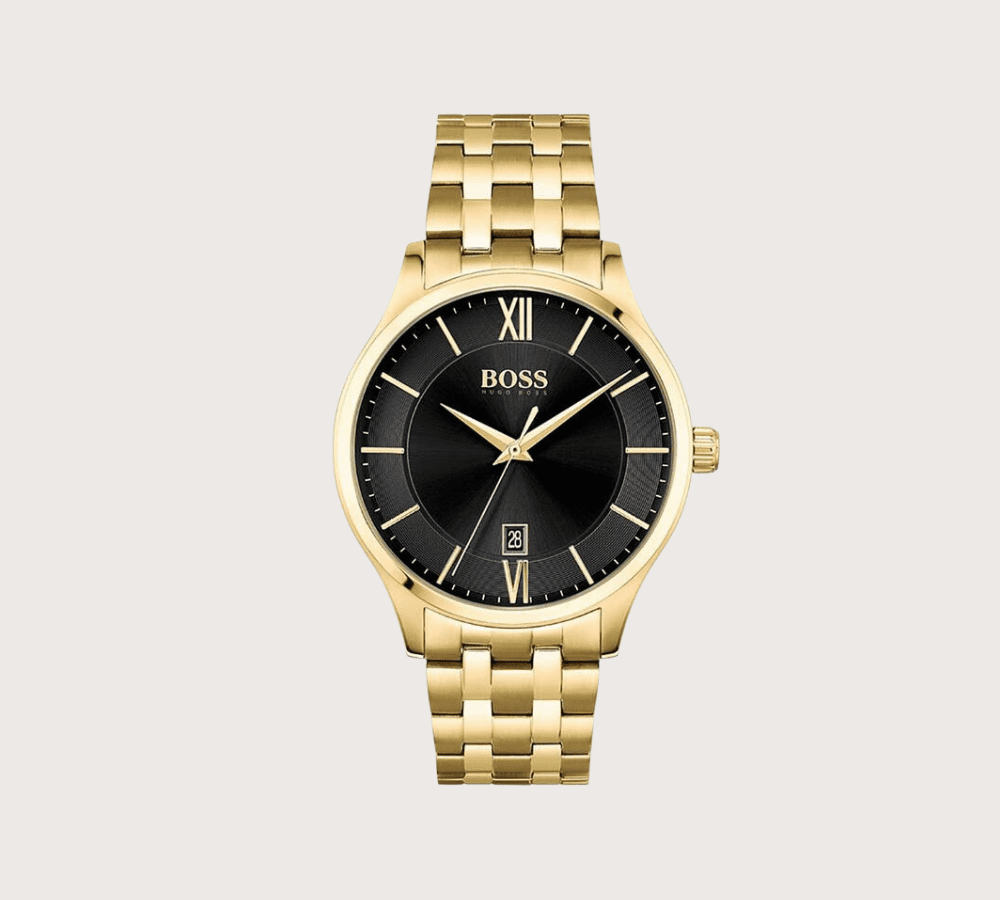 More familiar gold watch territory here from Boss, who offer sleek design and exceptional quality in their watches. Another black and gold combination offers something that feels classic yet highly contemporary. The Roman numerals and chain link bracelet features heighten that sense of enduring style. This watch is called 'Elite', and we can see why. This choice is perfect for the modern watch wearer who enjoys touches of timelessness in their repertoire.
13. Rado Diastar Original
THE OPULENT OPTION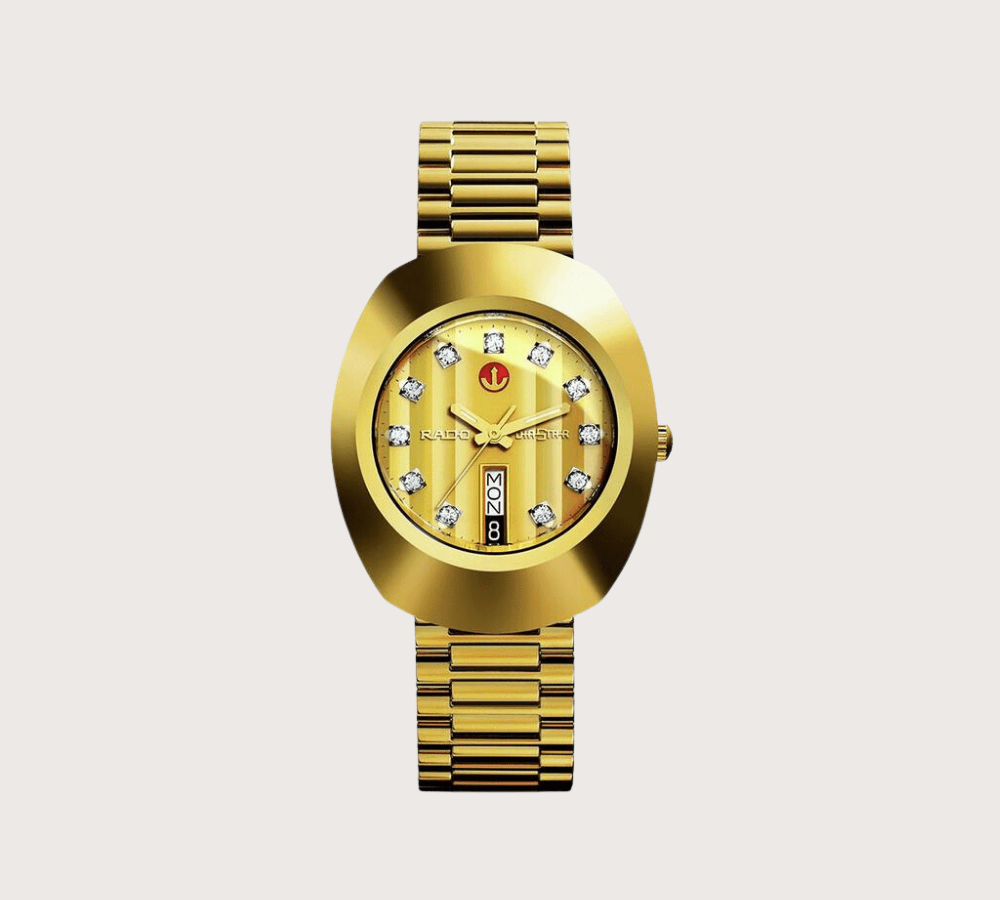 Something eye-catching and overtly luxurious from Rado. With a rich all-over gold tone and stone set hour markers, this watch makes a real statement of intent. It comes with scratch-resistant sapphire glass, water resistance and a Swiss-powered automatic function – there's practicality and efficiency too. The unique case shape and execution further confirm the stand-out credentials of this watch. It's ideal for those that enjoy a real conversation starter of an accessory.
14. Cartier Santos-Dumont
THE LUXURY PURIST OPTION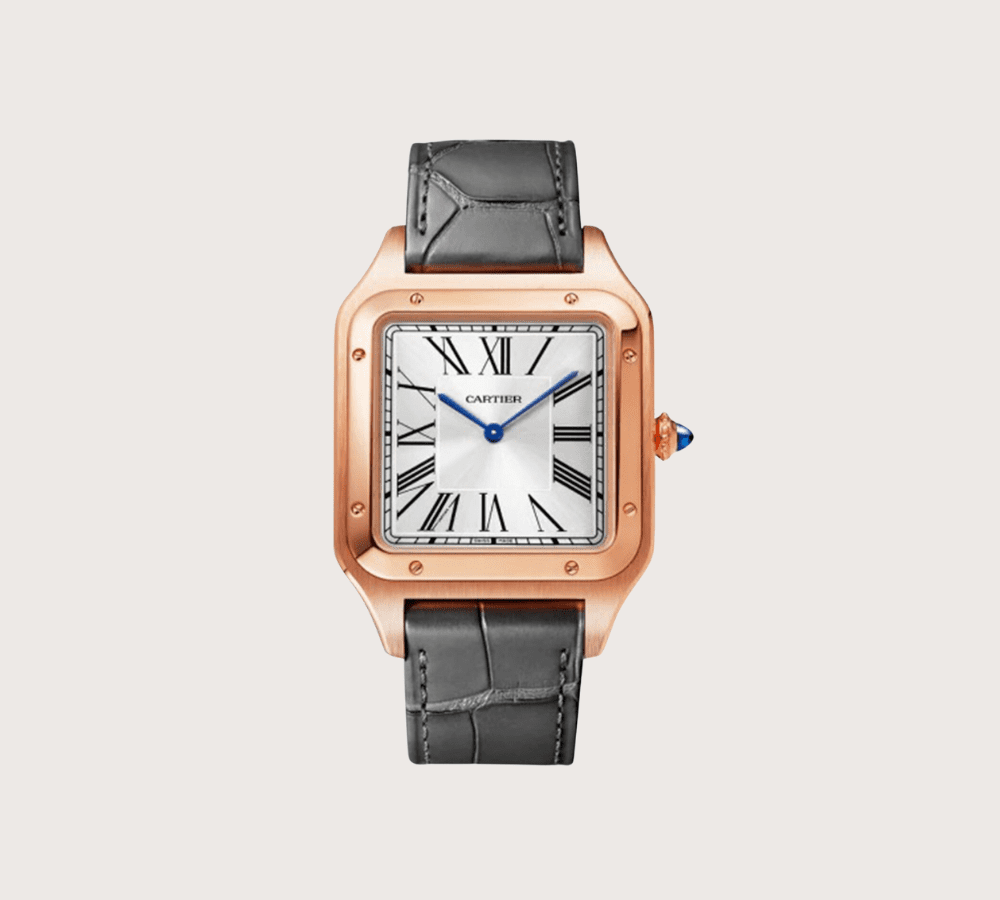 A piece of beautifully crafted quiet luxury from Cartier - featuring an 18-carat rose gold case, beaded crown set with a sapphire cabochon and an alligator leather strap in dark grey. Everything about this watch screams quality. The owner of a watch like this has a refined palate but doesn't shout about it. Their wardrobe is full of discreet, high-quality pieces that would perfectly complement a timepiece like this.
15. Panerai Luminor
THE ITALIAN NAVY COMMANDO OPTION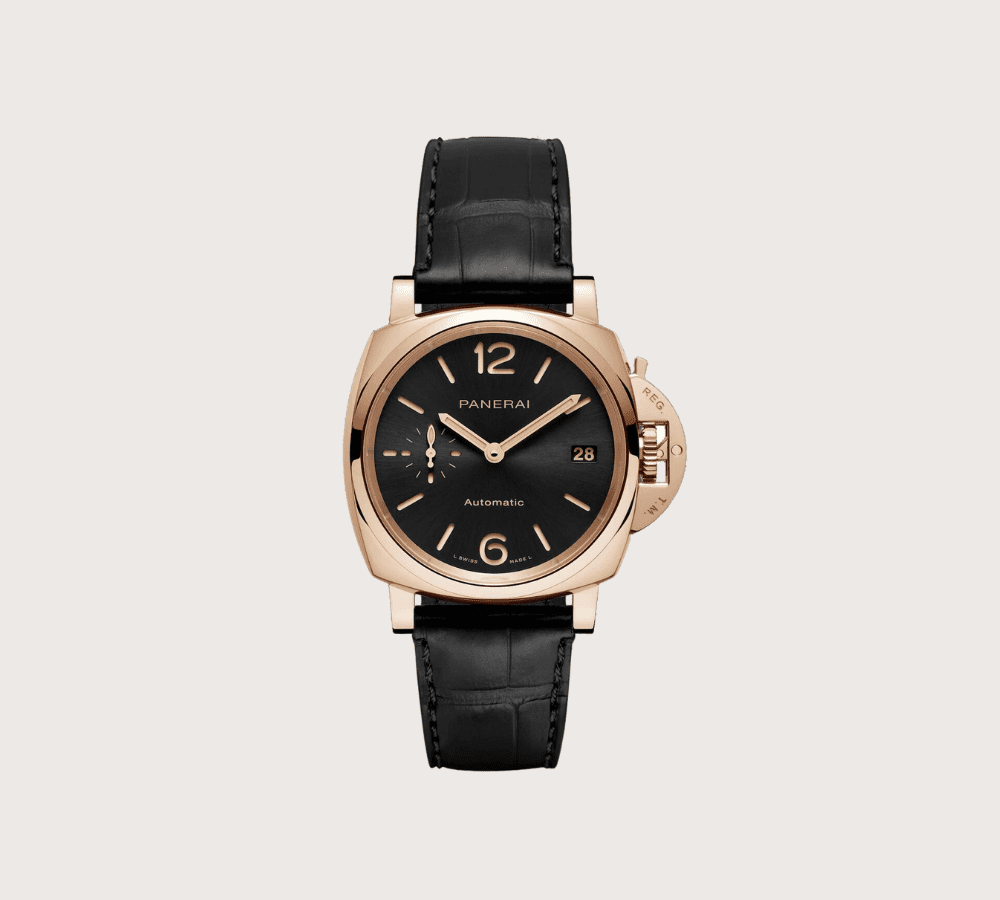 Another high-end spectacular, this time from Panerai. Their Luminor collection was originally developed for Italian army commandos – these watches are reinventing for each new generation of fans. Traditional features like the cushion-shaped case and crown-protecting bridge remain balanced with the clean, modern craftsmanship of an 18-carat rose gold case and masculine black dial. The black alligator leather strap adds to that sense of modern classicism.
16. Rolex Cosmograph Daytona
THE ICONIC OPTION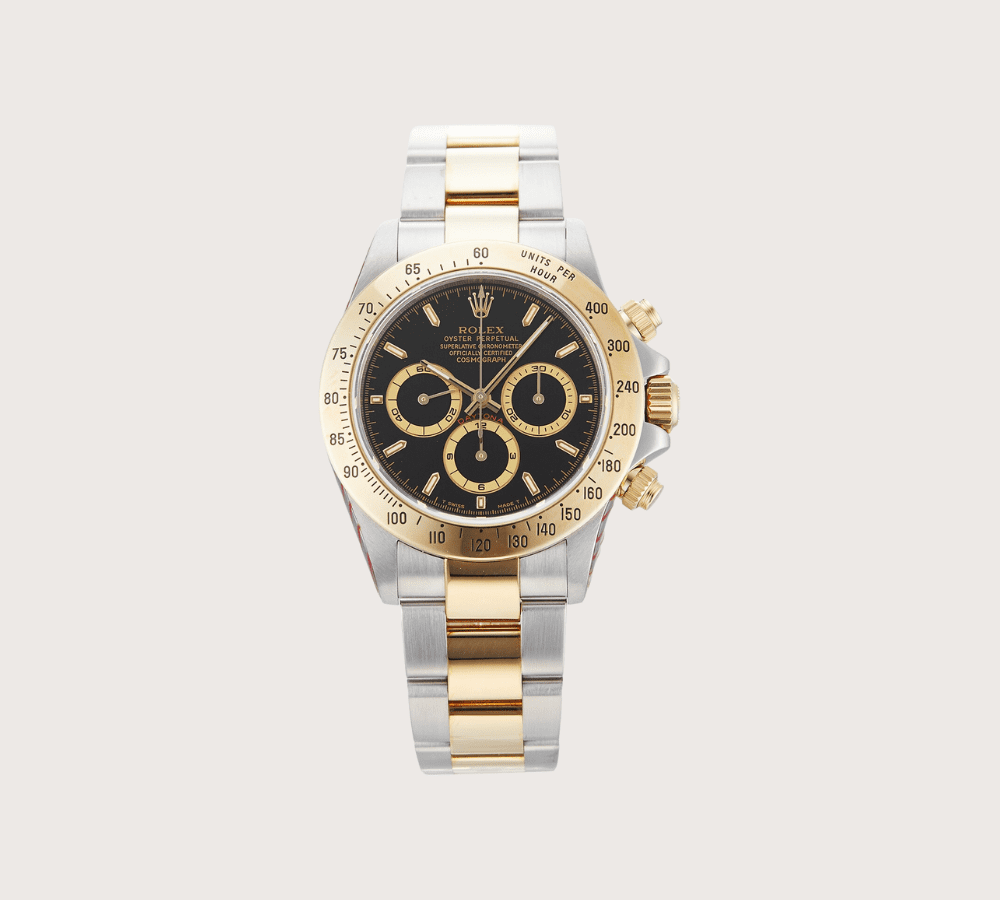 A pre-owned alternative from iconic watchmaker Rolex. A real collector's piece was first developed in the 1960s for racing drivers, so you can be sure that this watch's performance, comfort, and build quality are to the finest level. A typically masculine construction sees a two-tone stainless steel and yellow gold finish. It also features a highly reliable chronograph and bezel with a tachymetric scale for the man that appreciates timeless style and iconic design.
17. Bremont Limited Edition Longitude
THE REFINED OPTION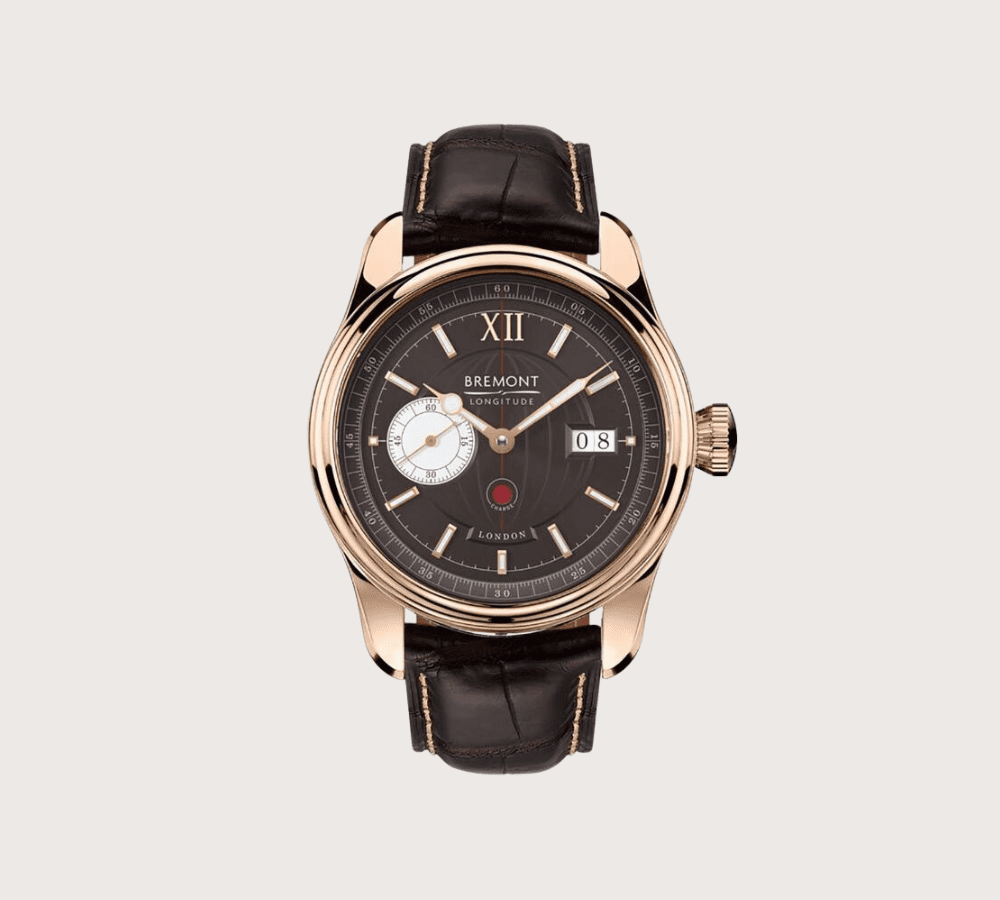 Immaculate, refined and the best in watchmaking, this limited edition Bremont watch is offered in 18-carat rose gold and black alligator leather. Fun fact, this timepiece incorporates original brass from the historic Flamsteed Meridian Line at the Royal Observatory Greenwich, London – adding to the peerless luxury credentials of the brand. One of only 75 made. The subtle tonal differences and high-end engineering point to a wardrobe of quiet luxury.
18. G-Shock Chinese New Year
THE LIMITED EDITION OPTION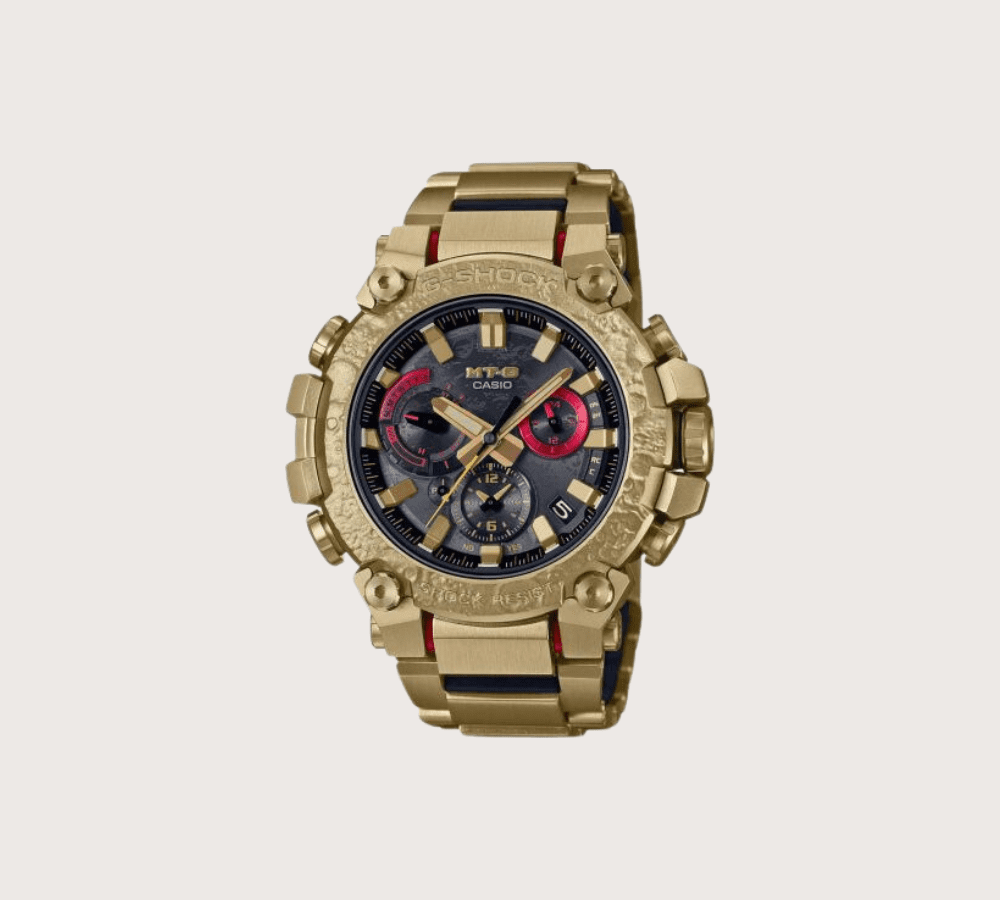 Another limited edition piece, this time from G-Shock. This is a bold, unconventional piece of watchmaking in honour of the 2023 Chinese New Year. As the brand says, this watch has an "innovative, structural beauty" – with a combination of resin, steel and a 'moon rabbit' design. In terms of functionality, the watch uses Bluetooth technology to connect with the Casio Watches smartphone app.
19. Nixon Sentry
THE VERSATILE OPTION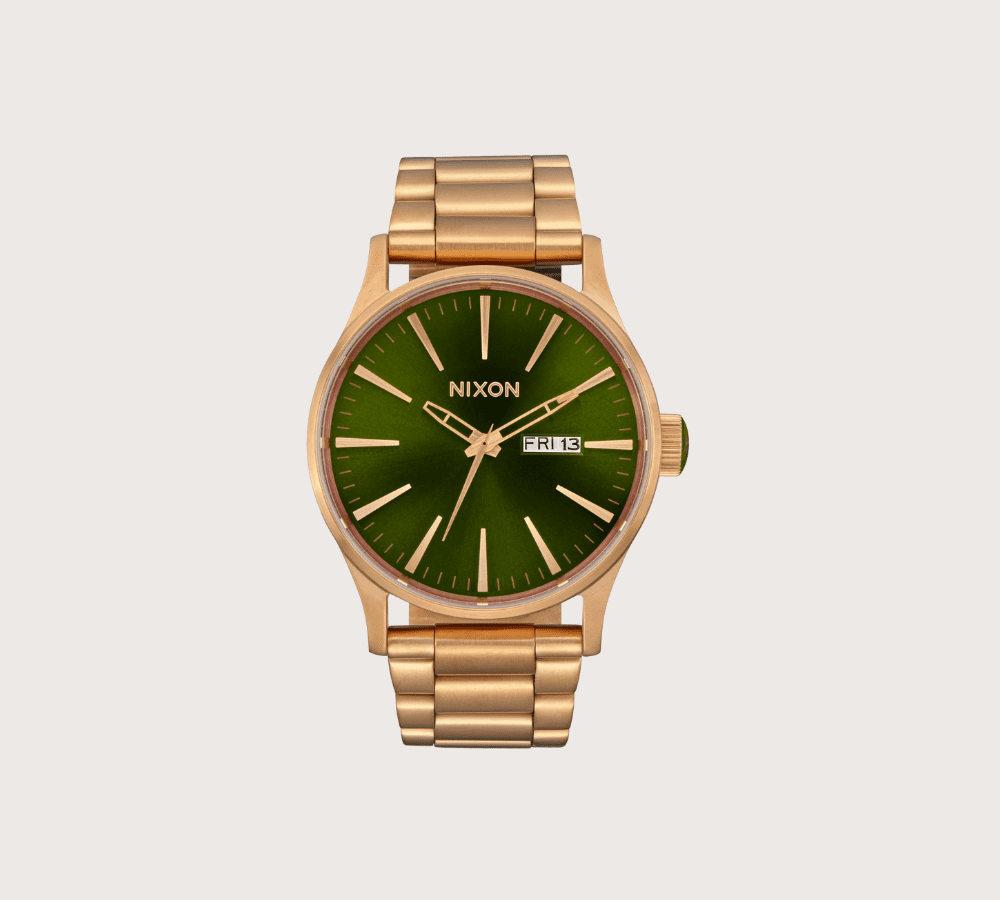 This Nixon Sentry watch takes traditional watchmaking codes and timeless style into 2023. The subtlety of using the green sunray on the watch face creates a point of difference for this elegant and discreet timepiece. In terms of styling, it's versatile – this writer could imagine pairing it with relaxed navy tailoring, a wedding suit or something much more casual. At this price, it's an excellent, flexible option to have in your sartorial arsenal.
20. Raymond Weil Toccata
THE GO-TO OPTION
Regarding gold watches for men in 2023, it feels as though we've covered every taste, budget and practical requirement. We close with a masterful example of Raymond Weil's elegant horology in yellow gold: Swiss-made quartz movement and a minimal, refined white dial. If you're looking for a watch that beautifully combines classicism with modernity, look no further.
Often the reserve of the well-heeled city executive or 1980s yuppy, the pinstripe suit comes with its own socio-cultural connotations and style history. However, it's been reconsidered, remastered and, sometimes relaxed for the modern wearer's taste and needs in recent years.
The pinstripe suit traditionally looks and feels intrinsically British, very Savile Row, but with a sartorial influence transcending borders and time. A distinctive tailoring code that has been embraced for well over 100 years – from the bankers of Victorian London to the gangsters of Prohibition-era America and beyond.
Despite a seemingly broad spectrum of adopters, one common thread unites them and the pinstripe suit – that of formality, of business. Today though, we at AGR propose that the rules have evolved. From board meetings to big nights out, weddings to weekend breaks, this icon of men's style finds itself suitable for more scenarios than you may think.
With more versatility than ever, we thought we'd demonstrate our pinstripe's point of view with some stylish examples.
1. Suit Supply Dark Grey Striped Havana Suit
THE LESS IS MORE OPTION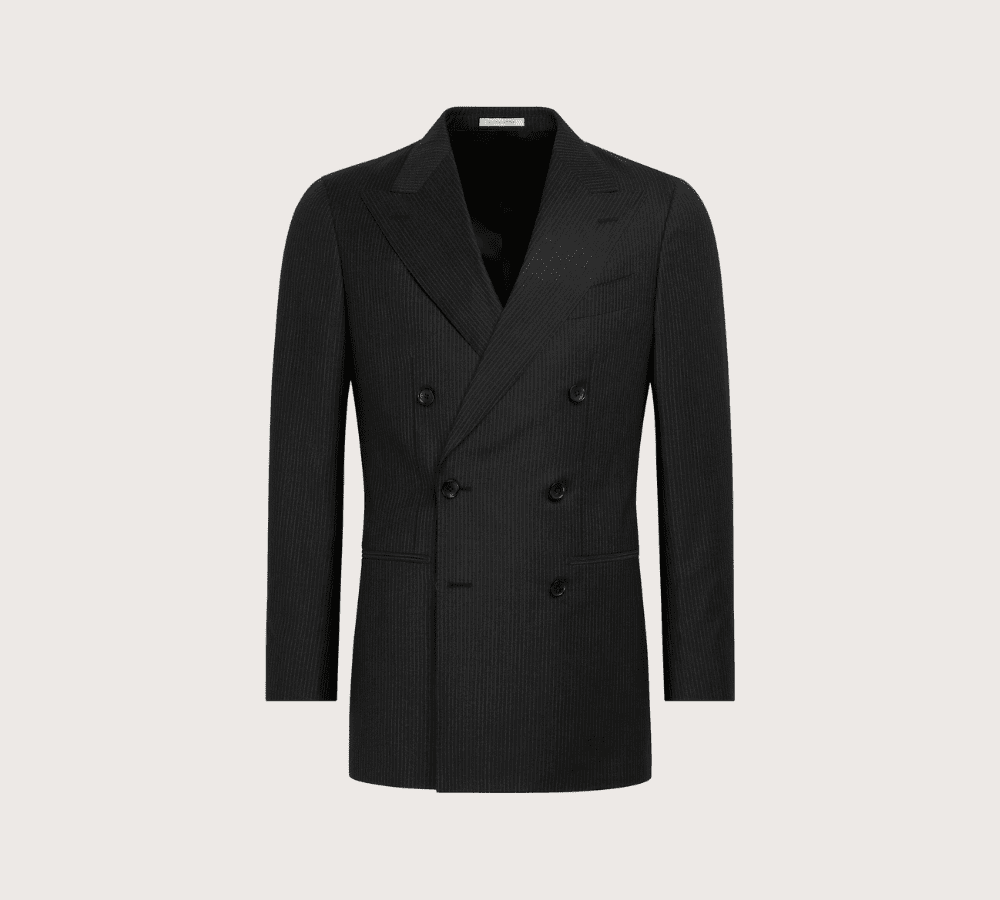 Pinstripes needn't be bold, and this double-breasted offering from Suit Supply in dark grey proves the point. The clean lines, peak lapel and slimmer silhouette are offset by a half-canvassed shoulder and mid-weight construction that softens the formality somewhat. We suggest keeping things simple and elevated with a colour palette and aesthetic like this. A crisp white shirt or smart black crew neck t-shirt with a black leather lace-up or loafer works perfectly.
2. Kingsman Harry's Navy Pinstriped Super 120s Wool Suit
THE BRITISH GENT OPTION
"Manners maketh man" – channel your inner Kingsman with this perfect double-breasted navy suit. Oozing a traditional, Savile Row mood, this pinstripe tailoring lends itself to cranking up those English style details throughout. The formality of an Oxford leather derby in dark brown or black is our suggested pairing. Pale blue shirting is what Mr Porter proposes, but you could easily opt for a pristine white. If you're ever going to wear a tie, this is the time.
3. Thom Sweeney Cashmere Stripe Suit
THE DATE NIGHT OPTION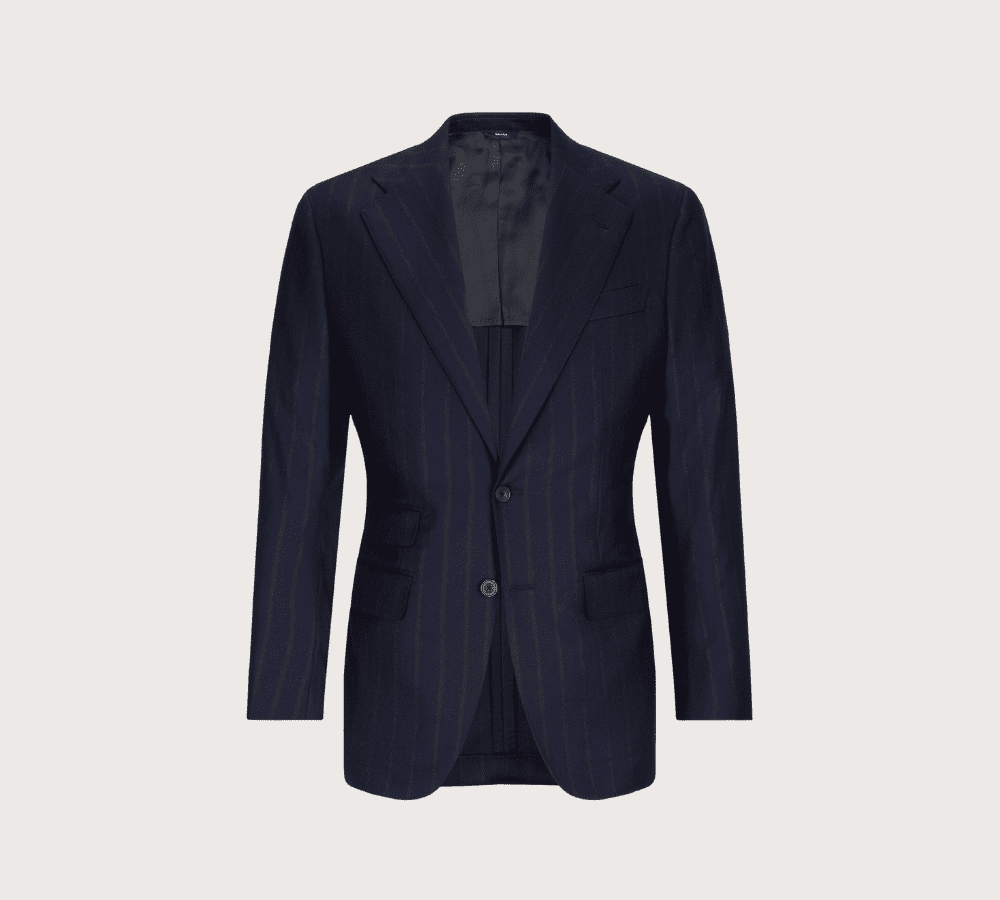 Supremely elegant pinstripe suit from British luxury brand Thom Sweeney. The navy's depth and the tailoring's contemporary cut make it easily styled for elevated evening occasions. If conditions allow, the tonal roll neck and dark brown lace-up or loafer pairing work really well. You could relax this look further with a lighter gauge knitted polo or crew neck tee. My alternative footwear option here would be a chocolate brown suede desert boot.
4. Ralph Lauren Kent Pinstripe Cotton-Wool Twill Suit
THE MODERN BOARDROOM OPTION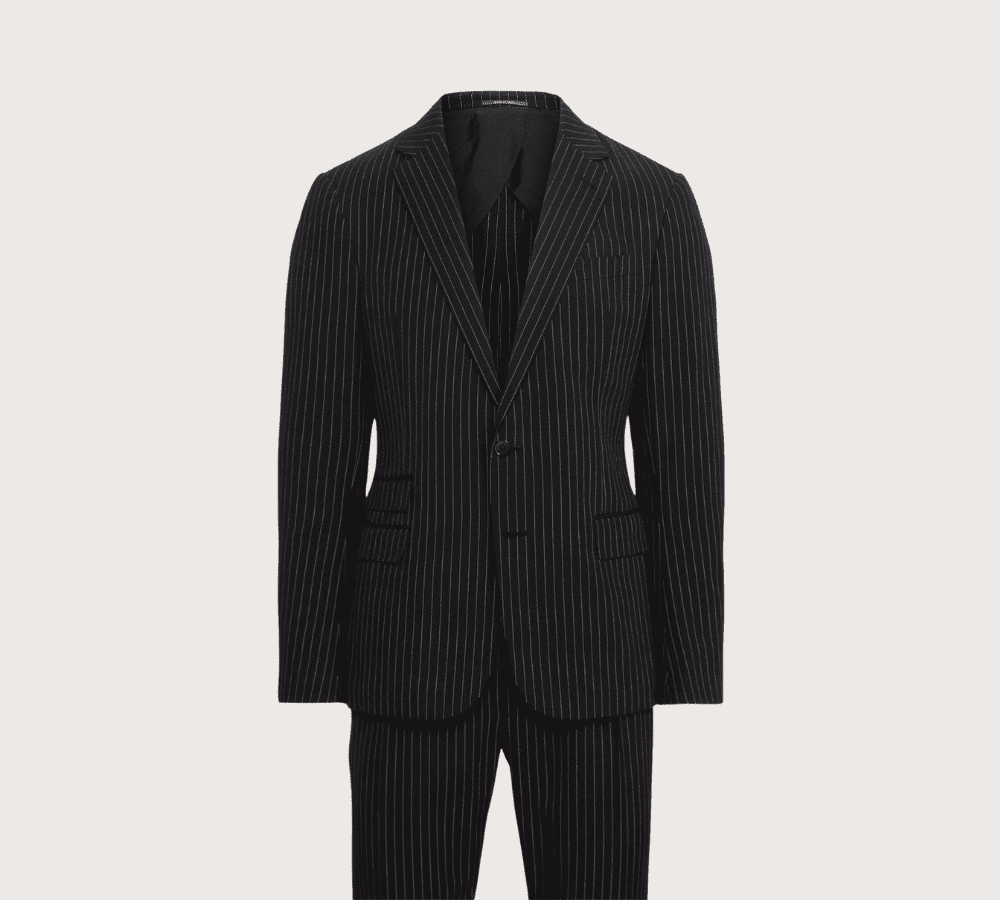 This Purple label three-piece feels timeless – with a real sense of traditional executive style. The clean, modern silhouette and pared-back detailing bring it all up to date. For us, this suit is city-appropriate for those workplace environments with slightly stricter dress codes. You can complement it with a striped shirt (as Ralph Lauren has suggested themselves) and a pocket square that pulls a colour match from your shirt or tie. That's all the flourish you need.
5. Hawes & Curtis Navy Chalk Stripe Suit
THE CLASSIC NAVY OPTION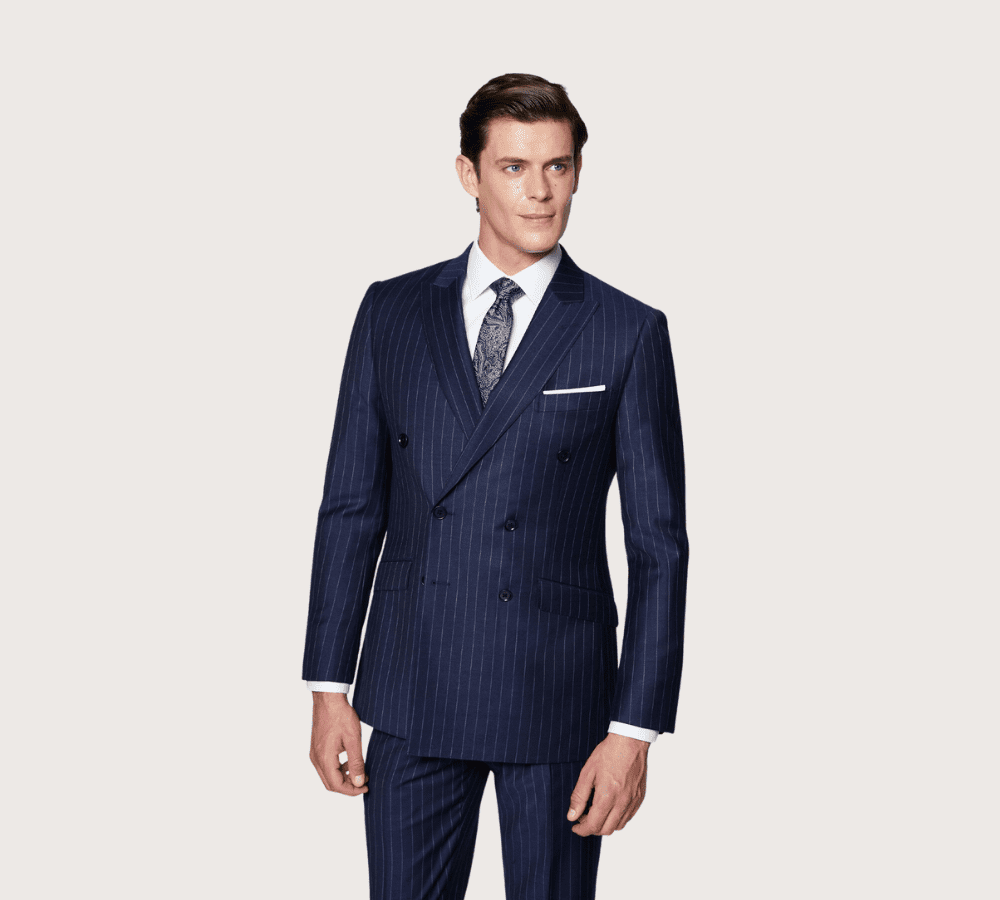 Peak lapel, classic chalk stripe and double-breasted silhouette. This Hawes & Curtis two-piece demonstrates the power and timelessness of the navy pinstripe suit. It's another example of perfect boardroom-ready tailoring. However, we'd suggest that with some clever styling tweaks, this suit could work inside and outside the office. Change the mood with a navy merino knit and brown Chelsea boot – giving you an extra sartorial string to this elegant bow.
6. Sirplus Navy Pinstripe Wool Suit
THE SUMMER CITY BREAK OPTION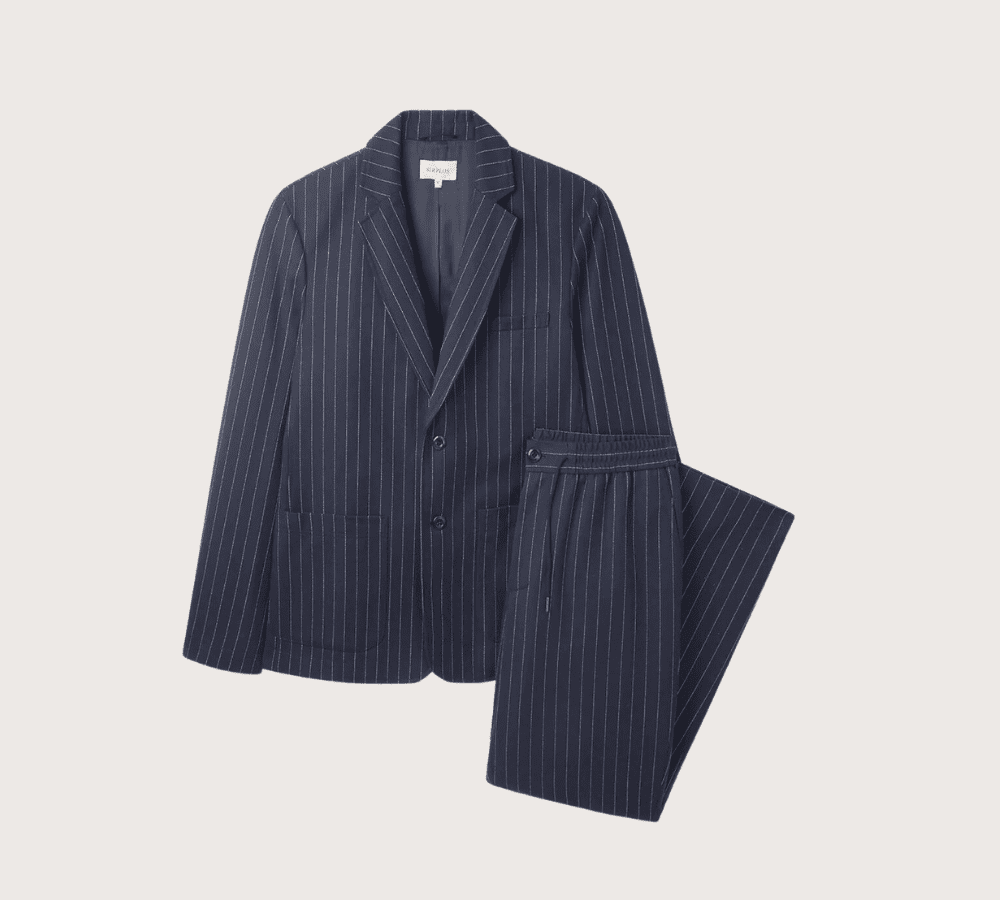 The perfect lightweight summer pinstripe tailoring from Sirplus. This jacket and trouser show that the traditional formality of the pinstripe suit can be softened, relaxed and made appropriate for warmer weather. We'd say it's ideally suited for a weekend away where you want to keep things stylish. A white crew neck t-shirt or an easy cotton polo in complementary colour pairs beautifully. The full ensemble could be finished with a minimal or statement trainer for an extra twist.
7. M&S Regular Fit Wool Rich Pinstripe Suit
THE ALL-ROUNDER OPTION
With a subtle pinstripe, this suit from Marks & Spencer can handle work and play – and everything in between, without breaking the bank. The regular fit with a hint of stretch adds to the comfort and practicality, making it an easy piece of tailoring to travel in too. Dress it up with a business shirt, tie and smart leather lace-up or take things down a notch with a navy Merino crew neck and a simple dark brown leather Chelsea boot.
8. Tom Ford Double-Breasted Striped Suit
THE BOARDROOM-TO-BAR OPTION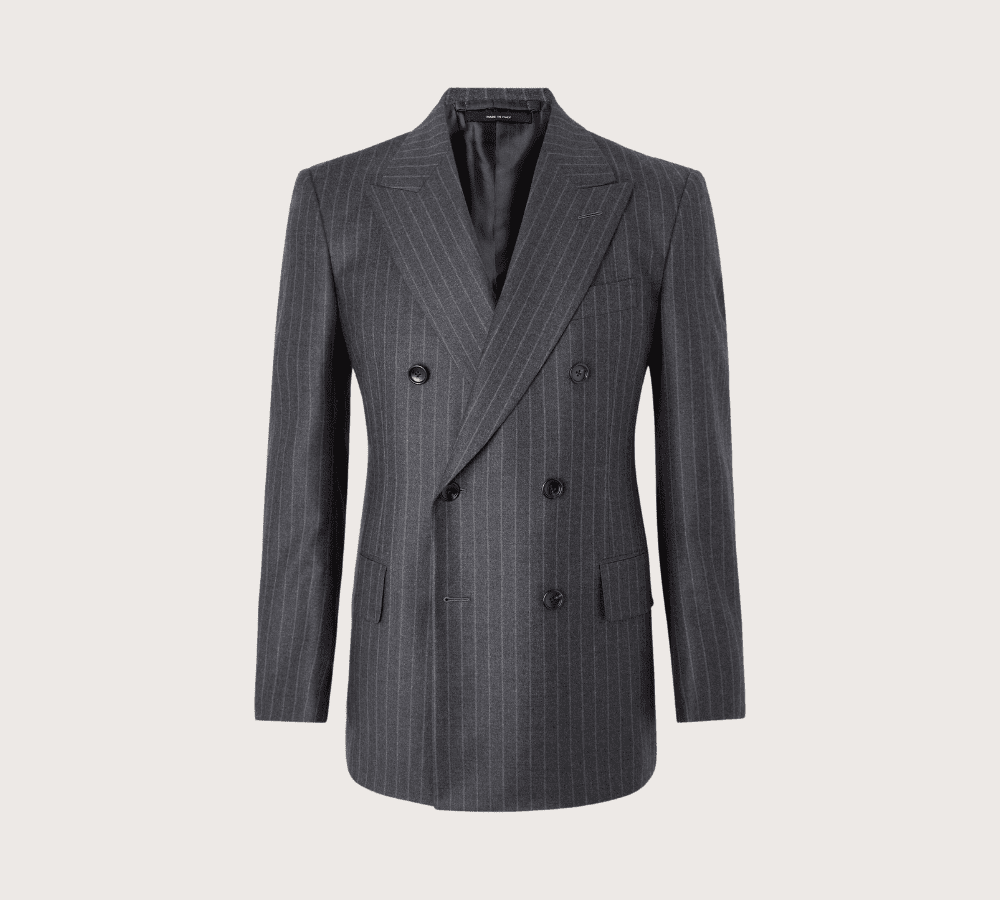 A modern classic in timeless dark grey from Tom Ford. According to Mr Porter, this particular collection of after-hours suits for FW22 are "the kind you wear to unwind after work in restaurants and clubs." If you're in the city for work or a business meeting, envisage being as comfortable (and as sharp) in the boardroom as you are at the bar later that day. If you're feeling prepared, you could switch out the shirt and tie for a black roll-neck.
9. Hugo Boss Seersucker Pinstripe Suit
THE SUMMER COCKTAILS OPTION
A lightweight, relaxed formality imbues this modern pinstripe suit from Hugo Boss. We've suggested this twist on tradition is perfect for something like summer cocktails or even a warm-weather wedding. The contemporary, slim fit cut and seersucker construction can be worn with a crisp white shirt, t-shirt or soft collared polo for a fully seasonal look. Depending on the situation, a leather shoe or loafer could be swapped for a low-profile minimal sneaker.
10. Zegna Dark Blue Pinstriped Suit
THE NEW 9-5 OPTION
Modern office dress codes have evolved in the last ten years, especially during and since the pandemic. For many industries, the tie is no longer necessary, or perhaps it never really was. This deconstructed Zegna pinstripe suit offers the wearer a simple, clean and contemporary silhouette that's easy to pair with a lightweight polo in the summer. Leather lace-ups could easily be swapped for a loafer or minimal sneaker. Elegant and work-appropriate.
11. Dunhill Mayfair Slim-Fit Pinstripe Suit
THE VERSATILE ELEGANCE OPTION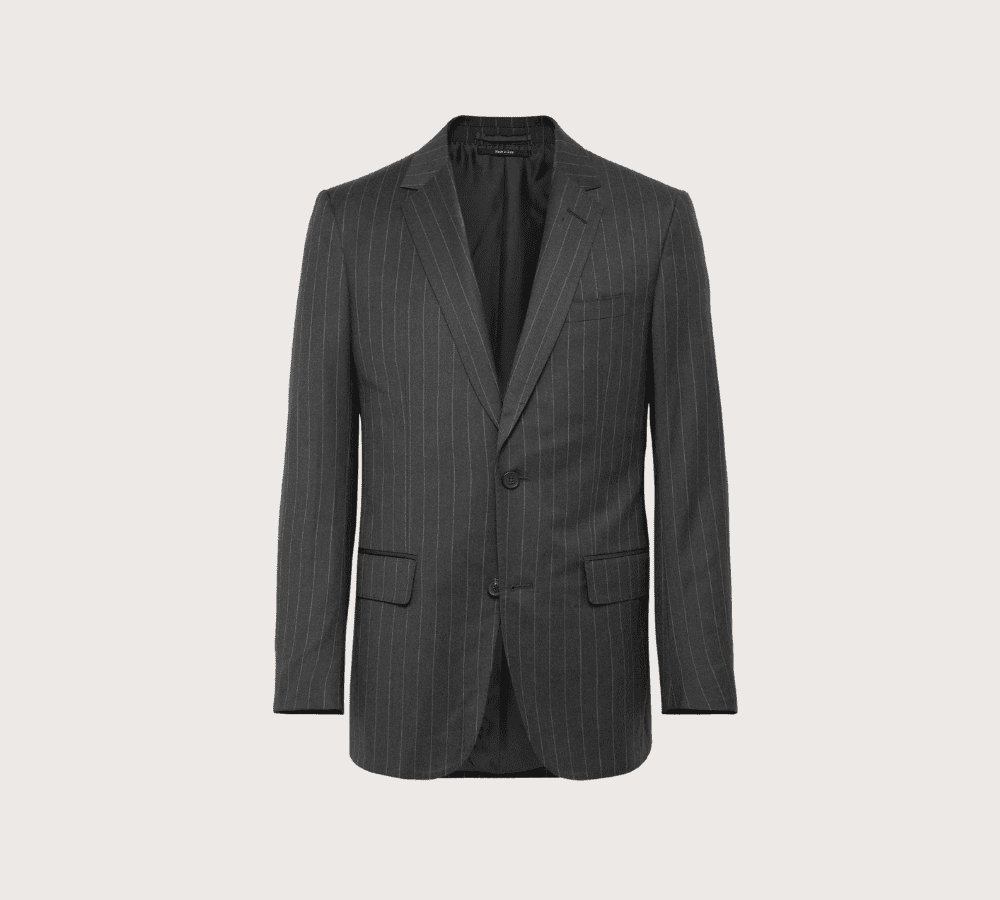 British luxury menswear house Dunhill offers timeless English style and a dedication to craftsmanship and masculine elegance. This slim 'Mayfair fit' blazer and trousers in grey chalk stripe are incredibly versatile. You could imagine elevating an after-hours look with a black roll neck and black Chelsea boot or you adapt things for work with a pristine white formal shirt and optional tie. A great go-to suit option for any occasion.
12. John Lewis Recycled Pinstripe Suit
THE STYLE ON A BUDGET OPTION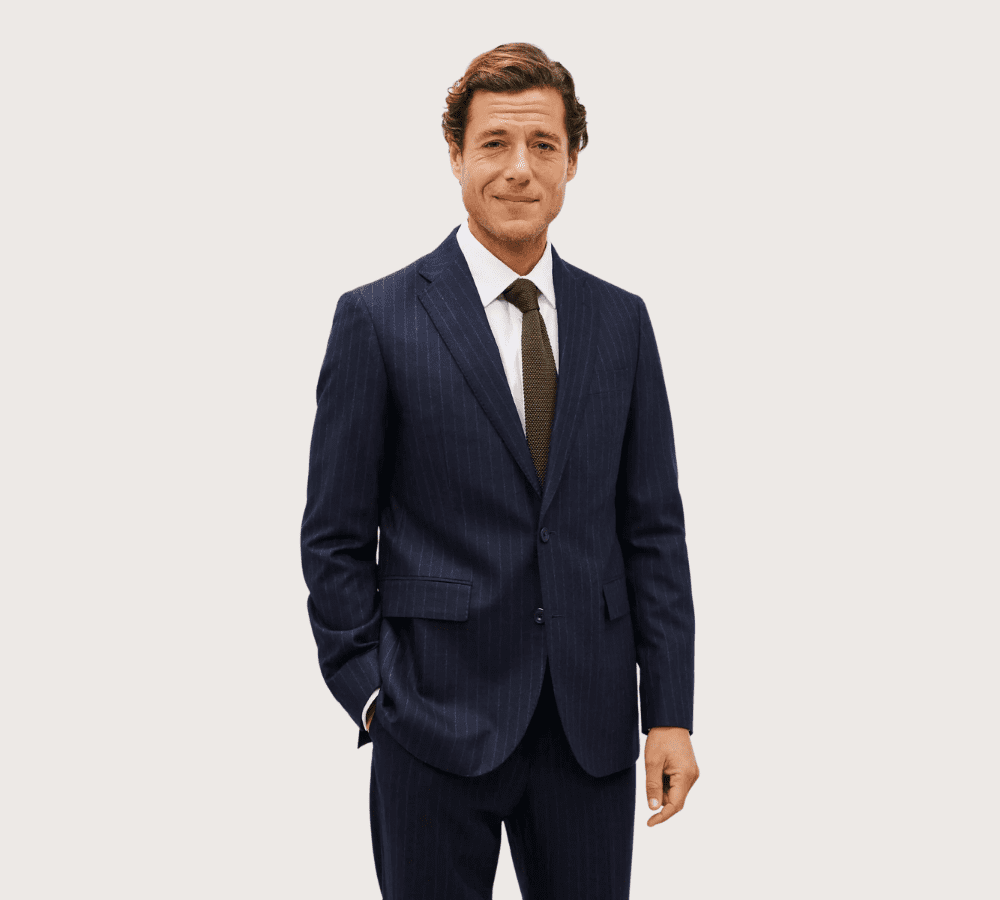 A bank balance-friendly alternative to some of our more luxurious suggestions - that still doesn't scrimp on style or quality - is this John Lewis pinstripe in recycled wool. Offered in a rich navy chalk stripe, a piece of tailoring like this is very versatile. Weddings, work or more relaxed for a big night on the tiles – it all works. The regular fit drape keeps things comfortable, whatever you're up to.
13. Pini Parma Blue & Light Blue Pinstripe Suit
THE 100% ITALIAN OPTION
This already beautifully proportioned suit from Pini Parma is available on made-to-order should you wish to refine things further. We'd suggest the quality, finish and detail level for a two-piece like this lends itself to a very important formal occasion – perhaps a summer wedding in the Italian lakes? Features like the high-rise trouser, natural shoulder and slightly wider stripe provide a signature Mediterranean silhouette you can really embrace.
14. Savile Row Co Pinstripe Super 110s Wool Suit
THE SARTORIAL OPTION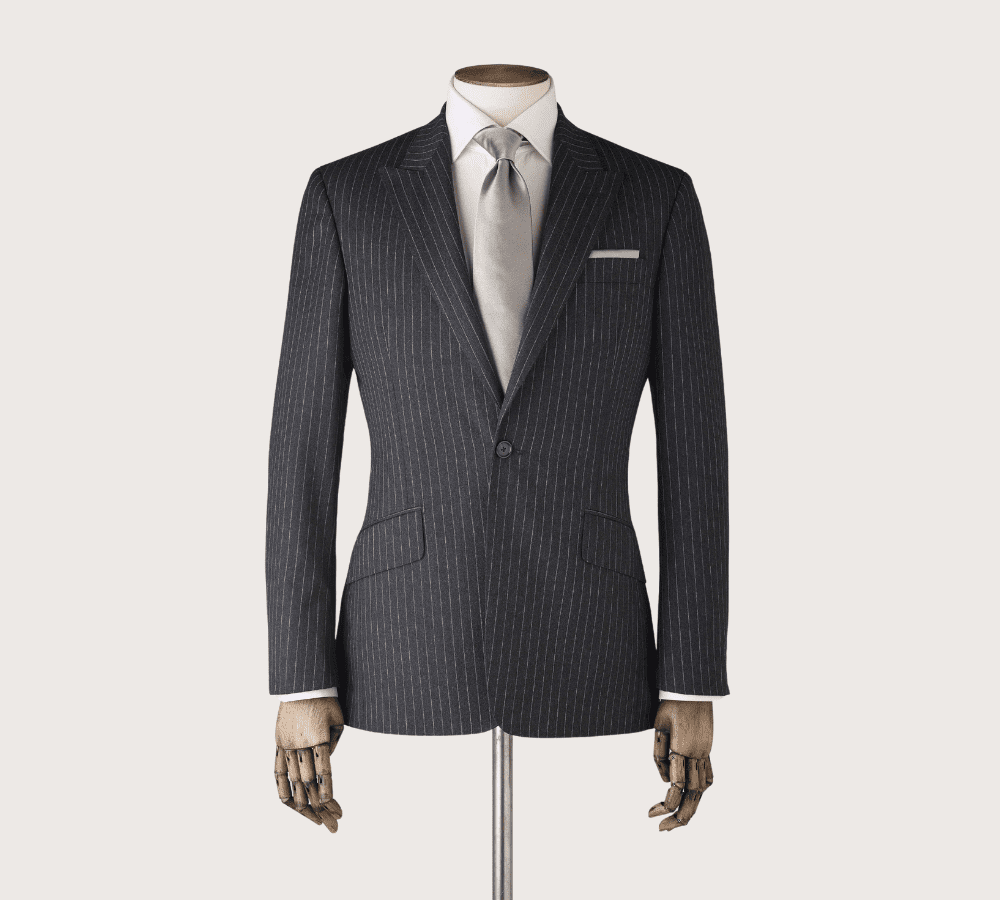 For those that need something exceedingly sharp and well-tailored for their day-to-day. Savile Row has a rich heritage and level of excellence when it comes to British tailoring, and this limited edition pinstripe suit serves as a fitting tribute. We'd suggest keeping things understated and formal with a beautiful business shirt with a cutaway or point collar – finished with a mulberry silk tie and well-buffed black leather derbies.
15. Corneliani Grey 2-Piece Suit Pinstripe Wool
THE AL FRESCO DINING OPTION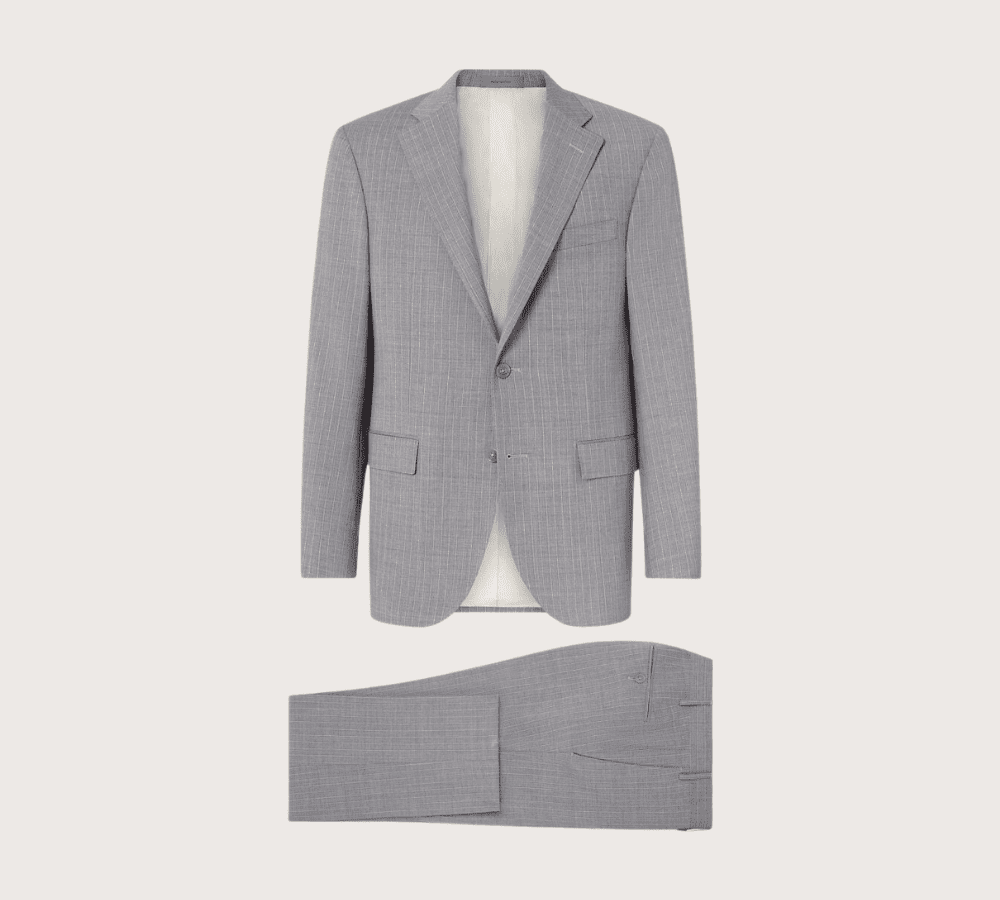 Perfectly suited to a well-considered night out, a summer lunch meeting or even a few drinks on the terrace. According to Corneliani, this lightweight pinstripe suit offers "minimal elegance, sophisticated materials and impeccable fits." Relaxed tailoring is surprisingly hard to pull off well, but you are on to a winner with a two-piece like this. The soft construction, lighter colour palette and easy seasonal styling options mean you'll look and feel great.
When considering a double-breasted suit, there's often hesitancy at first, mixed with a genuine yearning for this timeless, iconic men's tailoring silhouette. Will I look like the late, great Sir Roger Moore? Good style connotations. Or will I look like Alan Partridge? Amusing connotations, but perhaps not what you were going for. It brings with it the weight of a rich cultural and fashion heritage, but worn right, it can be incredibly elegant.
We might be heading (slowly) into spring with warmer weather (slowly) appearing on the horizon, but that doesn't mean we need to abandon our DB temptations just yet. In fact, there's an elevated brand of versatility to modern double-breasted tailoring that makes it very adaptable for the season.
From the formality of traditional business wear and wedding attire to relaxed office dress codes and restaurant dining, today's tailoring allows for true flexibility when it comes to styling. To whet your sartorial whistle, we've pulled together inspiration from AGR'S favourite luxury Houses and British high street heavyweights.
1. Reiss Prince of Wales Double-Breasted Suit
THE CITY-APPROPRIATE OPTION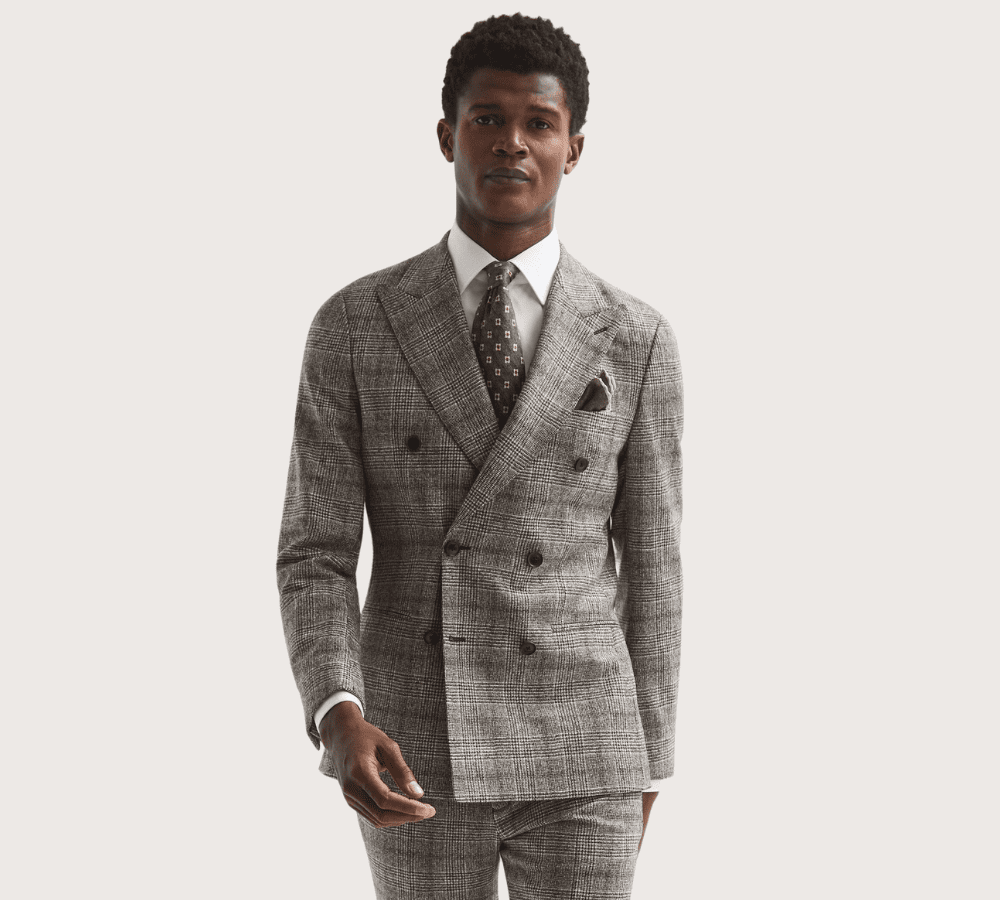 This Prince of Wales check from Reiss offers a real dose of British classicism perfect for the city. This option gives you timelessness in the colour, pattern and jacket features. The slim fit, shorter drop and clean finish provide a necessary modern update. A crisp white formal shirt and tie complement well but could easily be worn with a crew neck merino in charcoal grey or navy. Shoes and accessories? We'd propose keeping it classic – simple leather lace-ups should suffice.
2. Suit Supply Striped Havana Suit
THE SUMMER EVENT OPTION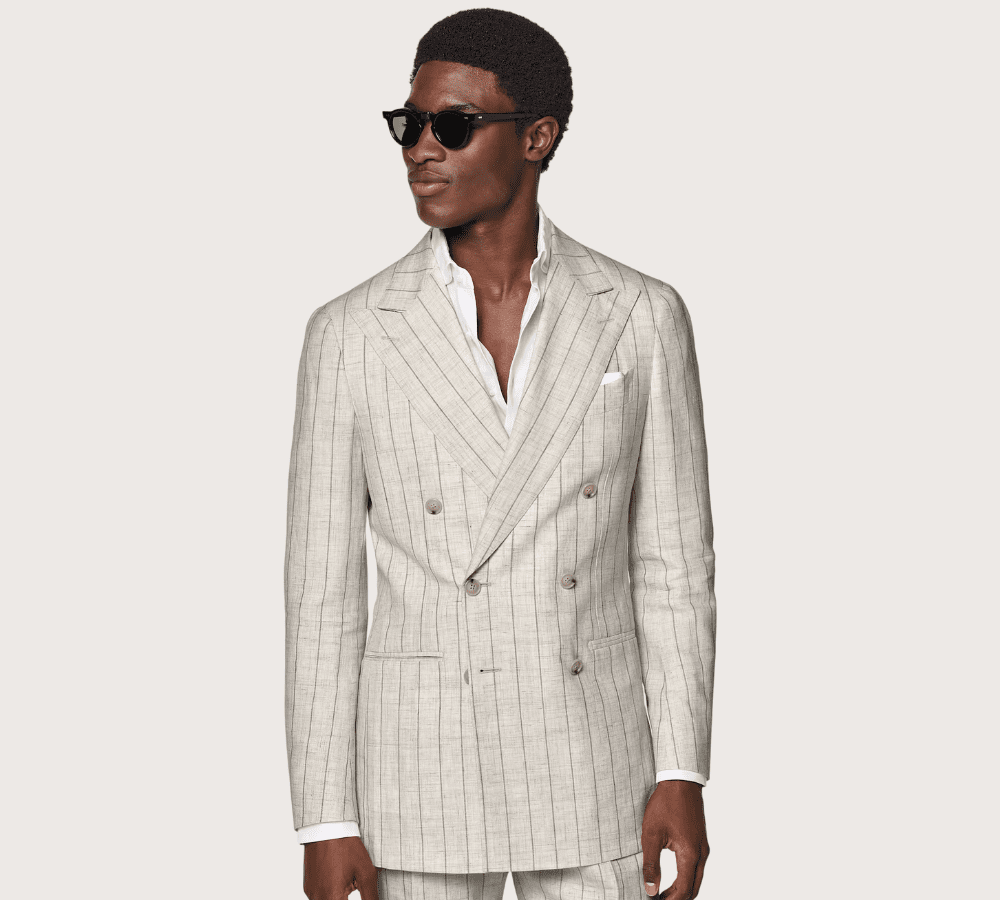 Something here with lashings of summer elegance from Suit Supply. What's to be learned here is probably two things: 1) The double-breasted suit needn't feel wintry or layered up, and 2) don't be afraid to keep things light – in material and colour. For event dressing in the heat, this is the perfect inspiration. With a breathable two-piece like this, we'd suggest an open white shirt or relax with a white or ecru cotton crew neck t-shirt or polo. A loafer or espadrille is the ideal footwear pairing.
3. Turnbull & Asser Bertie Blazer
THE BROWN-IN-TOWN OPTION
There was an old saying that you should never wear brown in town. Thankfully, it seems we've moved passed such unnecessary rules when it comes to codes of dressing. This beautiful rust-brown blazer - from British shirt-maker Turnbull & Asser – proves the point. It's what we'd call a measured statement. For a set-up like this, you'd want to let the suit do the talking and keep everything else understated. Here we see a tonal crew neck tee as an ideal seasonal choice, but you could easily add a white shirt for an injection of formality.
4. Hawes & Curtis 1913 Collection Suit
THE CLASSIC WITH A TWIST OPTION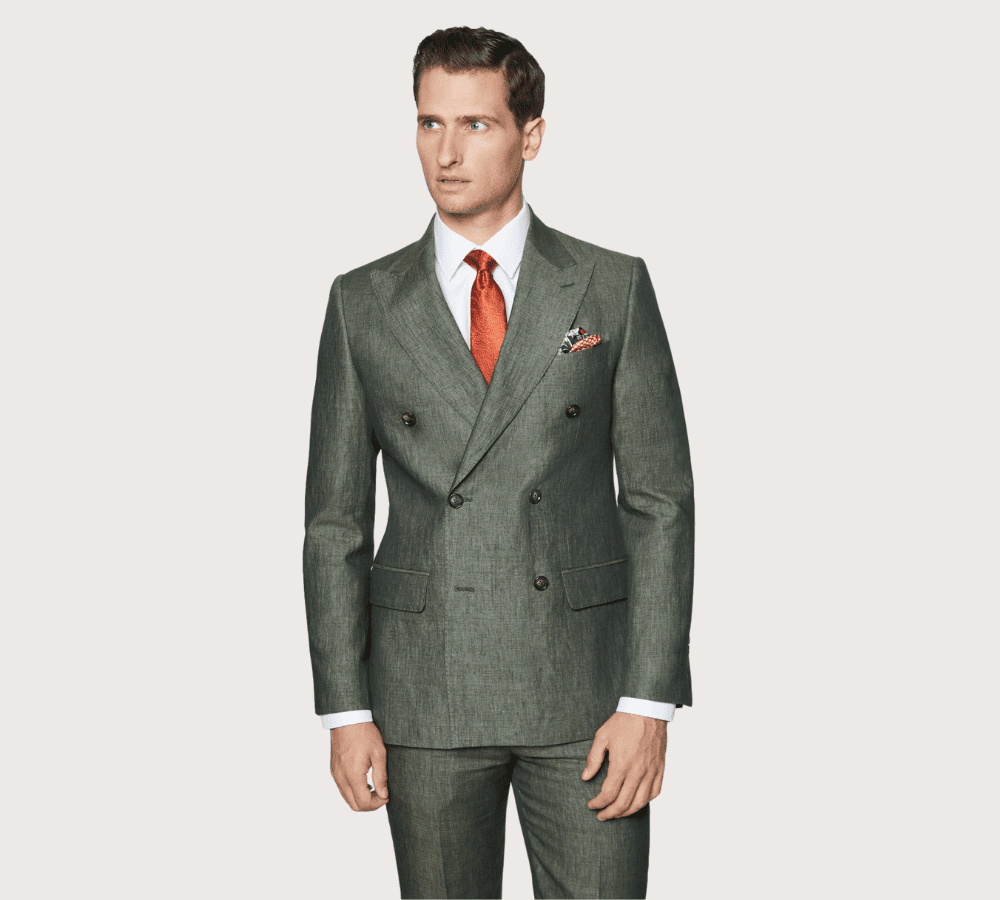 Woven in Italy, this tailored fit suit offers a discreet twist on the classic double-breasted format. The soft-structured, dark green linen and clean, masculine shape gives you the ability to dress it up or down. As Hawes & Curtis have done here, you can blend a British sartorial sensibility with Italian elegance. As temperatures rise it's important to look and feel comfortable. Double-breasted tailoring often has a reputation for stiffness or a lack of movement, but that needn't be the case – as this example attests.
5. Ralph Lauren Purple Label 'Kent' Suit
THE TIMELESS FORMALITY OPTION
Prince of Wales check in grey with a pronounced peak lapel and refined silhouette. Traditional British tailoring codes with a touch of Ralph Lauren Americana. A luxurious option that feels understated. We'd say this one is for the finest occasions. For a jacket and trouser like this, we'd keep the colours simple and complementary – black or charcoal grey in a light merino knit or perhaps a formal white shirt. Shoes for this one should be black in either a Chelsea boot or derby lace-up.
6. Umit Benan B+ Jacques Marie Mage Suit
THE ALTERNATIVE EVENING OPTION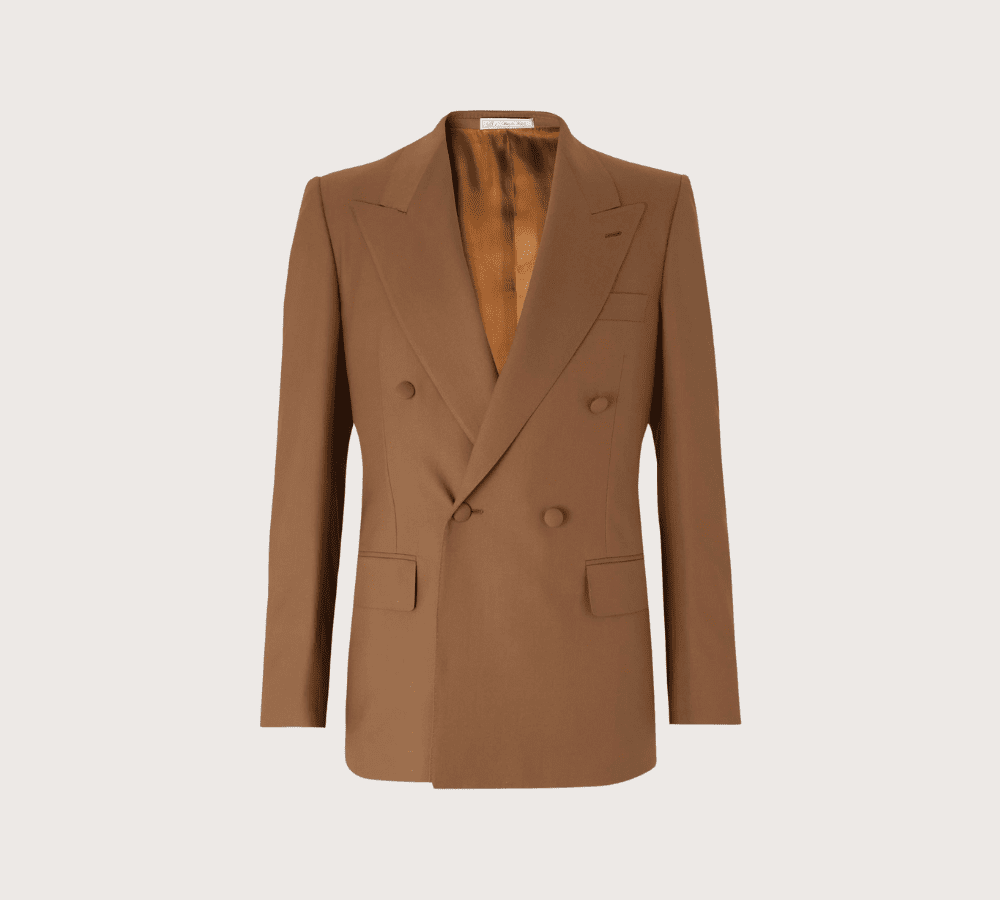 This beautifully-engineered suit in tobacco brown proves there is an alternative to traditional black tie for eveningwear. This piece comes from Umit Benan B+ and Jacques Marie Mage's luxurious capsule inspired by the American West – with wide peak lapels, self-fabric horn buttons and Western-inspired back stitching. For a formal occasion or cocktail dress code, we'd fully recommend a set-up like this. There's a hint of retro elegance we could all take notes from. We'd suggest a formal black leather boot to finish the look.
7. MANGO Regular Fit Suit
THE ALL-ROUNDER OPTION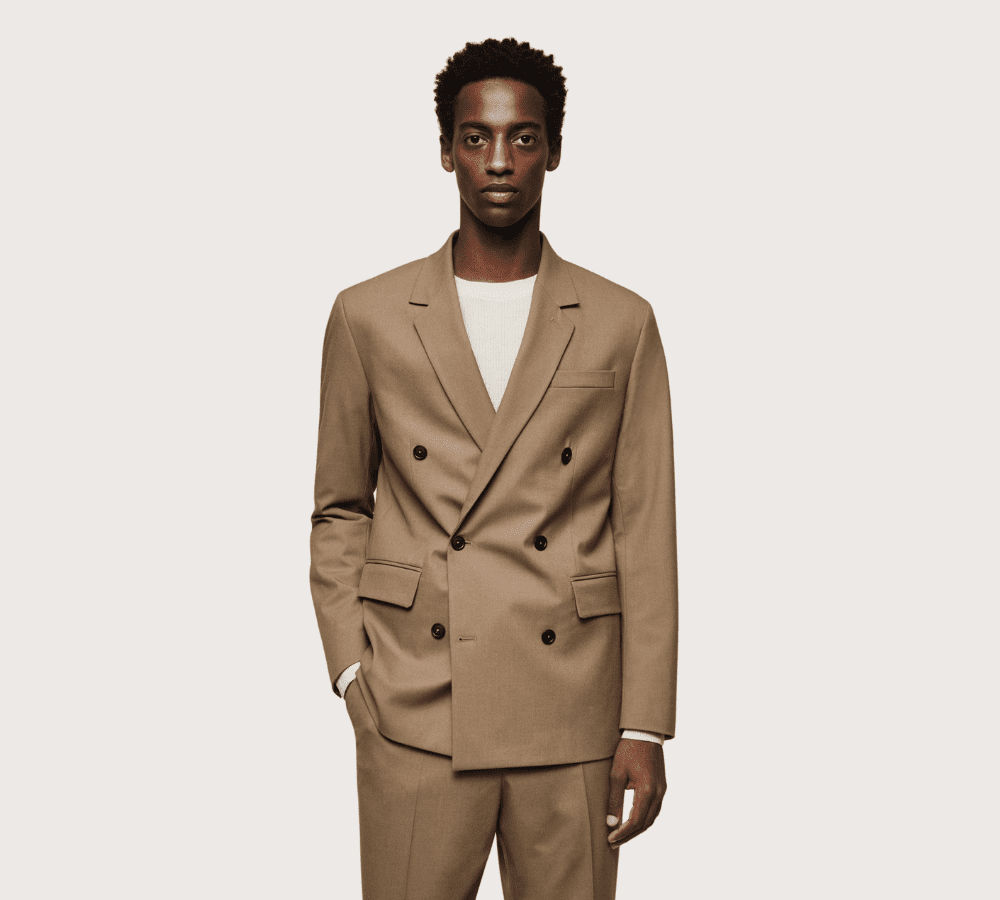 A versatile option for the modern man's wardrobe from Mango. This light brown DB has the kind of silhouette that makes it perfect for work and play. A jacket like this can also be worn as a separate with a complementary colour trouser for yet more styling flexibility. There's an ease by which you can wear this suit with a plain crew neck tee in white, navy, or neutral tone. For a more Mediterranean feel, why not try a Breton stripe top and white lace-up trainers?
8. Marks & Spencer Italian Linen Suit
THE WEDDING OPTION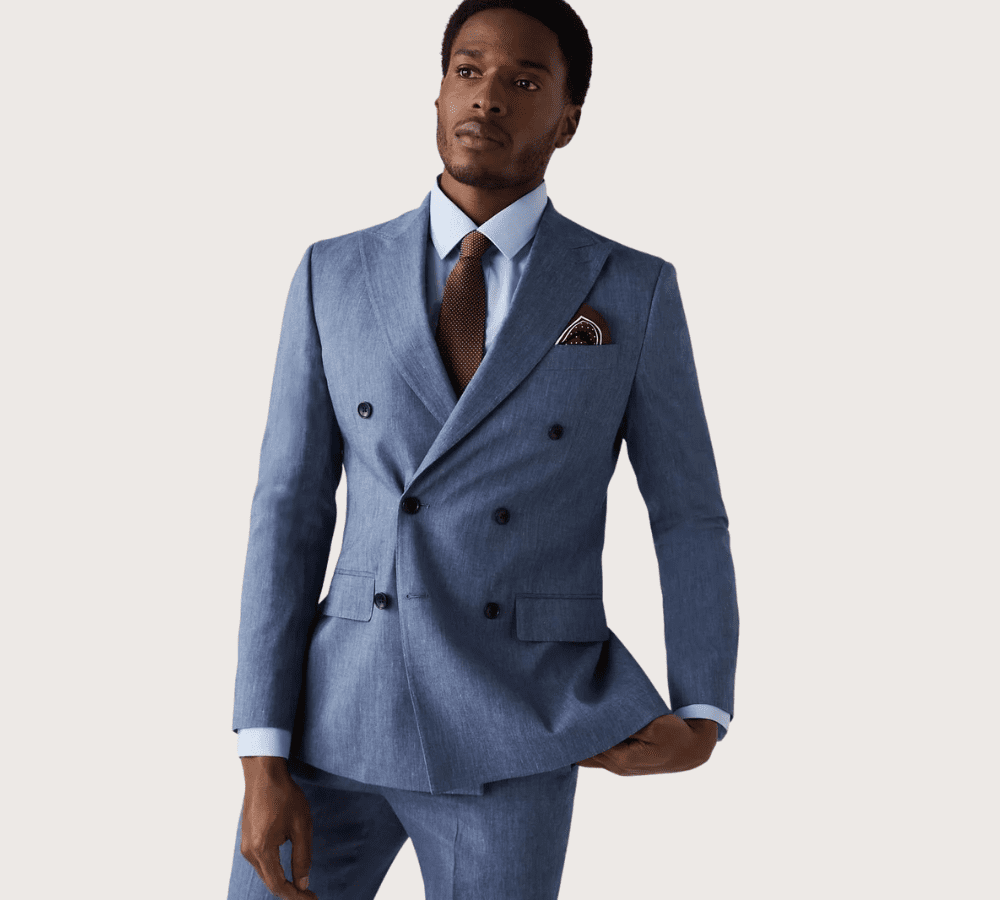 It's that time of the year when you start thinking about that wedding you're attending in a couple of months. This chambray blue Italian linen suit from Marks & Spencer offers some British summer elegance perfect for a big occasion. This jacket is made from a crease-resistant fabrication with a hint of stretch - practical and stylish. A tonal blue or crisp white formal shirt would work well. A smart brown loafer maintains a warm weather vibe, but a straight up lace-up works just as well.
9. New & Lingwood Wool Double-Breasted Flannel Suit
THE DECONSTRUCTED CLASSIC OPTION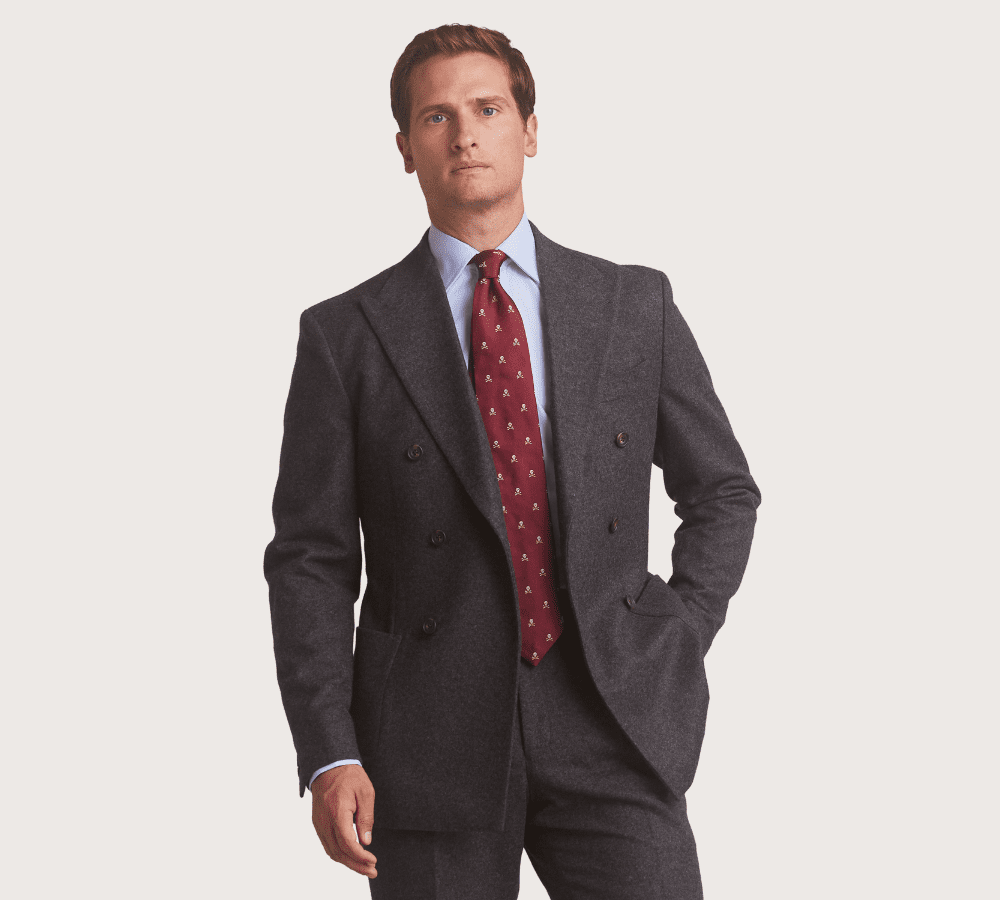 The perfect type of suit for that trans-seasonal period. The soft deconstruction of this wool flannel jacket from New & Lingwood lends itself to a shirt, shirt and tie and a more contemporary, relaxed feel. A navy blue merino crew neck and a smart black or dark brown leather derby shoe would be our choice for an alternative to the usual formality.
10. Drake's Prince of Wales Check Flannel Suit
THE PREPPY OPTION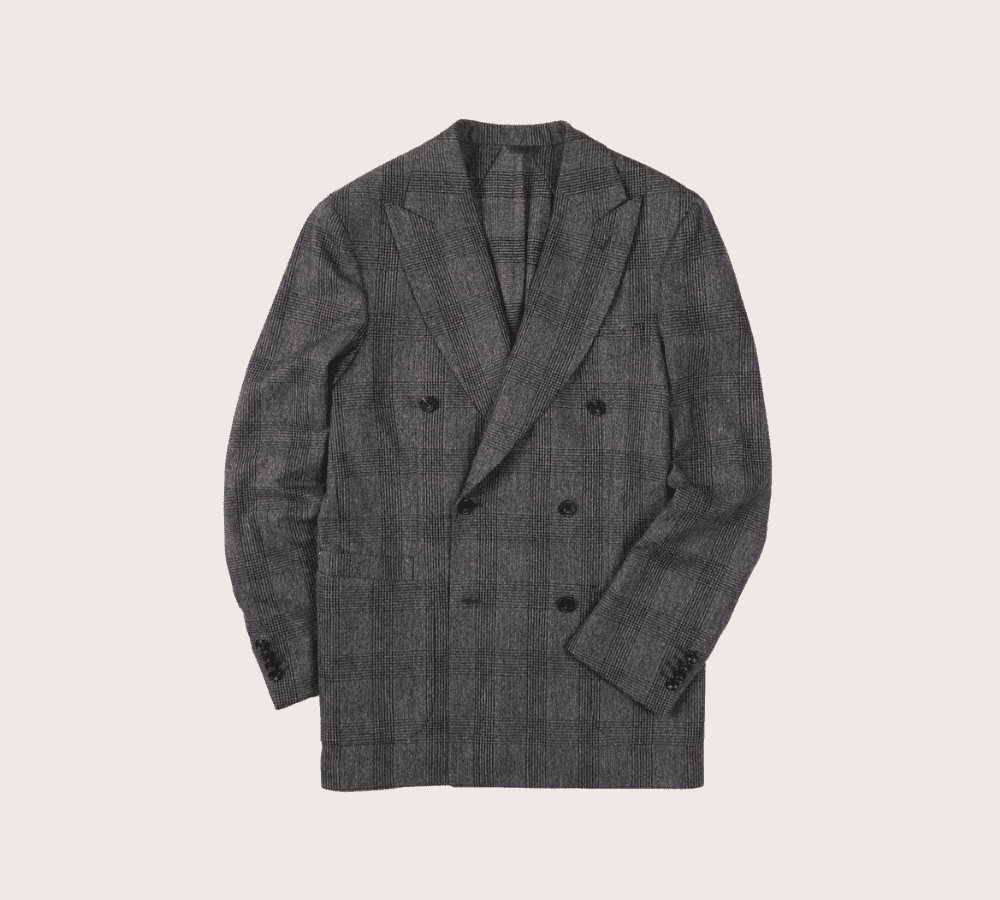 British brand Drake's has the modern preppy aesthetic nailed, mixing elements of Ivy league styling with the iconic codes of English tailoring. This unlined piece in Prince of Wales check flannel can stand alone with a minimal pairing of a plain polo or crew neck tee; it can also work layered up in full Drake's form with a collegiate-style knit and dark brown suede loafers.
11. Loewe Double Breasted Wool Suit
THE PRECISE OPTION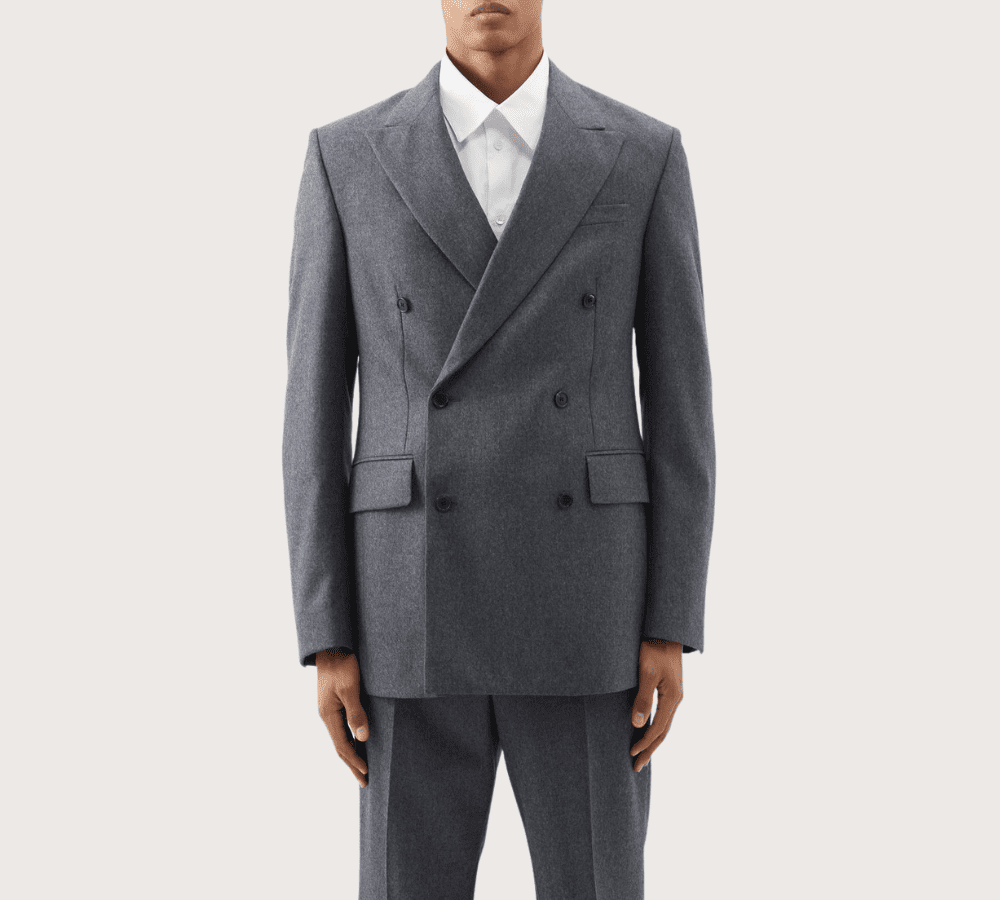 This Loewe double-breasted suit in graphite grey represents luxurious minimalism. The precision of the tailoring and the exacting standards of the Spanish House suggest keeping things clean when it comes to styling. You can also embrace a more fashion-forward silhouette with a wider leg and structured shoulder. The pristine white shirt and 'air tie' works well for this aesthetic. You could also easily pair it with a simple black crew neck merino or cashmere knit.
12. Tom Ford Wool Mohair & Cashmere Suit
THE LUXE OPTION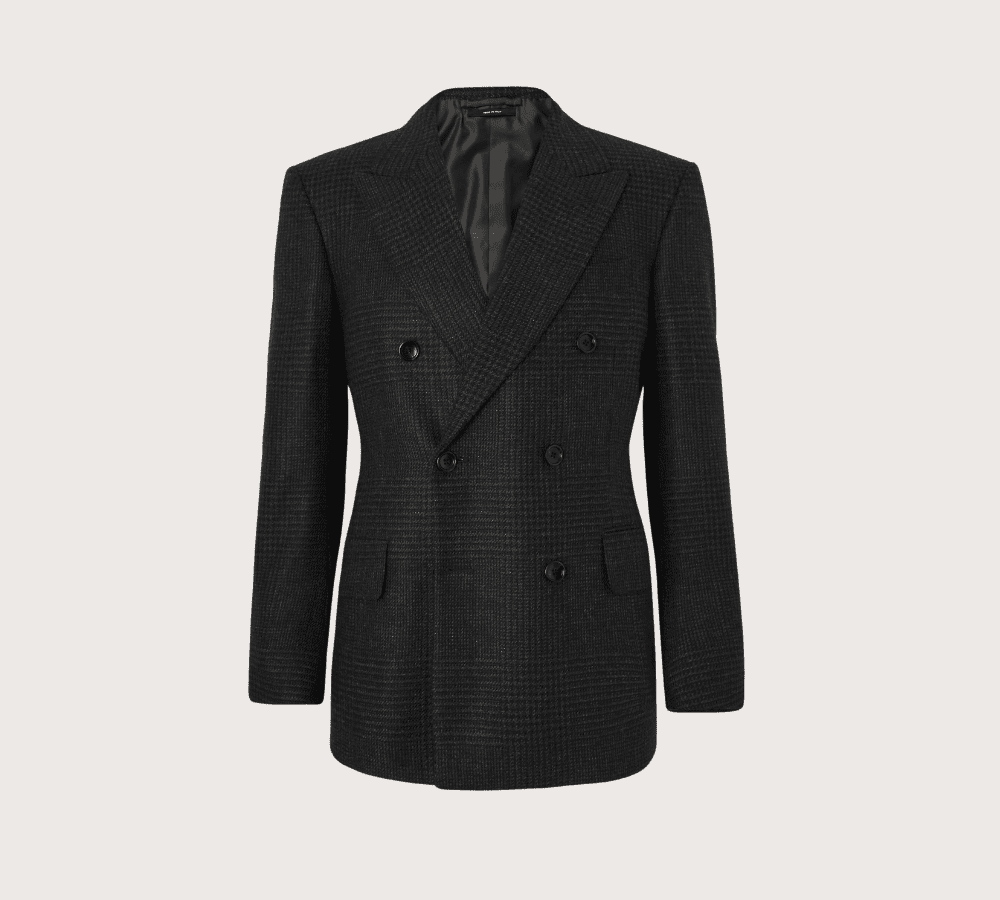 American luxury brand Tom Ford knows a thing or two about after-dark tailoring and how to create a mood. This DB jacket's textures, colour and subtle check would bring gravitas and elegance to any wardrobe. To complete a look like this, team it with a black fitted roll neck knit if the weather permits or a beautiful black cotton formal shirt to keep things luxe and elevated. A refined, flattering combination for most men.
13. MOSS Slim Fit Check Suit
THE BUSINESS OPTION
There's a bit of boldness about this slim fit check DB from Moss Bros. There's also a feeling of 80s-inspired executive style too. This suit is perfect for the city or the office, especially where stricter office dress codes are required. This option won't break the bank, but it certainly hits the mark. Your best bet here is definitely to go smarter in the styling – cutaway or point collar shirt, well-tied tie and formal leather lace-ups in dark brown or black.
14. De Petrillo Wool Double-Breasted Suit
THE NEOPOLITAN OPTION
We feel that every man should own at least one navy double-breasted blazer in his wardrobe. It won't go out of style and is exceptionally versatile. This De Petrillo jacket is made in Napoli and has all the finesse, cut and finish you'd expect from traditional Italian tailors. This type of suit is timeless and flexible across the seasons – roll necks, crisp white shirts and crew neck tees all fit the bill.
It's time to channel La Dolce Vita!
15. TM Lewin Fitzrovia Barberis Suit
THE SHARP OPTION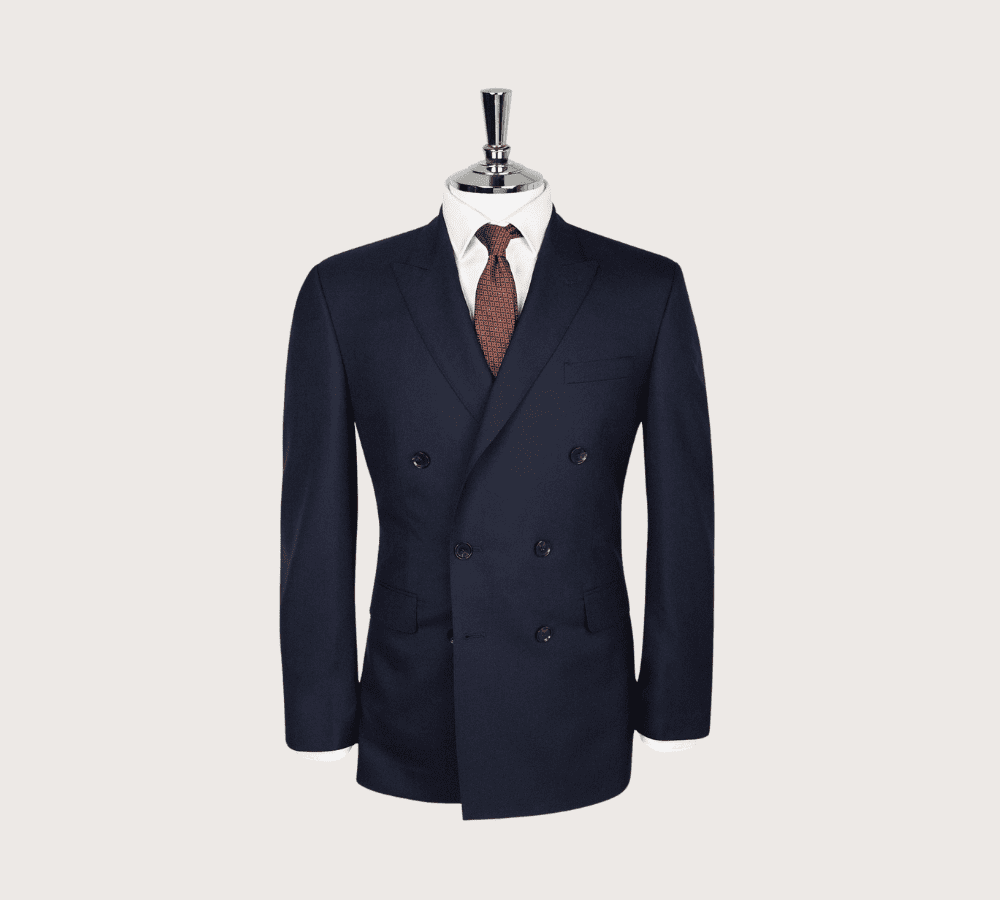 If you like your tailoring to have a precision-cut English silhouette then this TM Lewin offering should get you going. The deep navy, higher break and slim fit of the jacket and trousers have a distinctly modern presence. If you work in The City then it's the perfect inspiration. We also think with some adjustments it could work for a wedding too – maybe soften the approach to footwear and shirt-tie combination and it's a winner that's sharp as a tack.
The shawl cardigan has been ever-present in men's style for decades, swaying in and out of the contemporary fashion zeitgeist. Like so many timeless wardrobe icons, it has many connotations – some positive, some not so.
Its origins can be traced back to a certain James Brudenell, 7th Earl of Cardigan, who, aside from giving his name to this classic button-front knit, is most famous (perhaps infamous) for leading the disastrous Charge of the Light Brigade in the Crimean War. According to myth, Cardigan designed the garment to keep his hair unruffled while getting dressed.
The shawl collar is one such iteration of this sartorial legend that we are here to discuss today. As well as providing all of the essential layering, comfort and practicality that you'd expect, the right shawl collar cardigan also comes with assured maturity and elegance. It's a piece you can keep in your repertoire for whenever or wherever it is required – offered across many brands and fashion Houses in various colours, constructions and silhouettes.
1. Peregrine Waffle Cardigan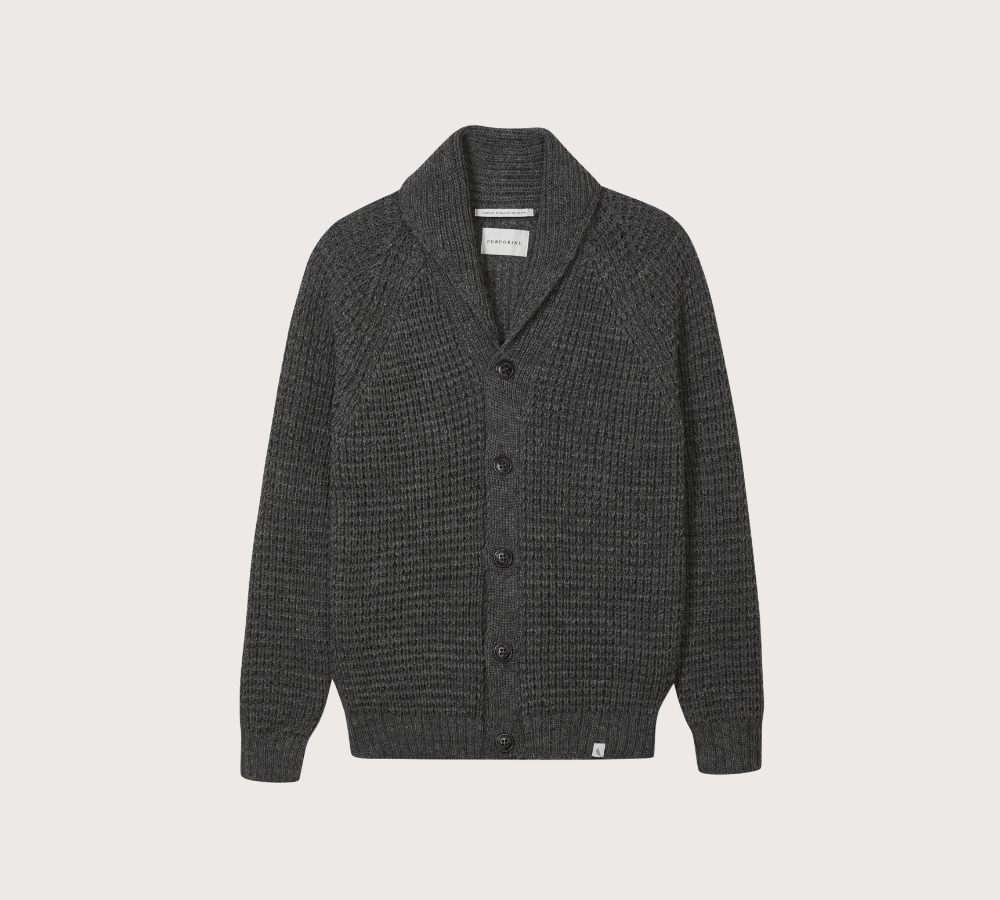 Made in Peregrine's factory in Manchester, England, this classic chunky cardigan has a slouchy, relaxed quality but could easily be layered under a smart overcoat with tailored trousers or chino. Its heavy gauge construction in 100% British wool also provides ample warmth on those particularly cold days – so there's sophistication as well as practicality. Peregrine is also a brand that values and champions Britishness and sustainability, causes this writer can gladly get behind.
2. Oliver Spencer Orkney Shawl Cardigan
Another British brand with an eye for beautiful homegrown design. A chunky, slightly relaxed fit, this Orkney shawl collar cardigan (named after the Scottish isle's knitwear heritage) oozes effortless masculine style. There's also the slightest hint of the bohemian workwear about it – a kind of touch we've all come to expect from Oliver Spencer. We'd suggest keeping things casual with a pair of blue denim jeans or lightweight chino, with a complementary tee or polo.
3. M&S Ribbed Shawl Cardigan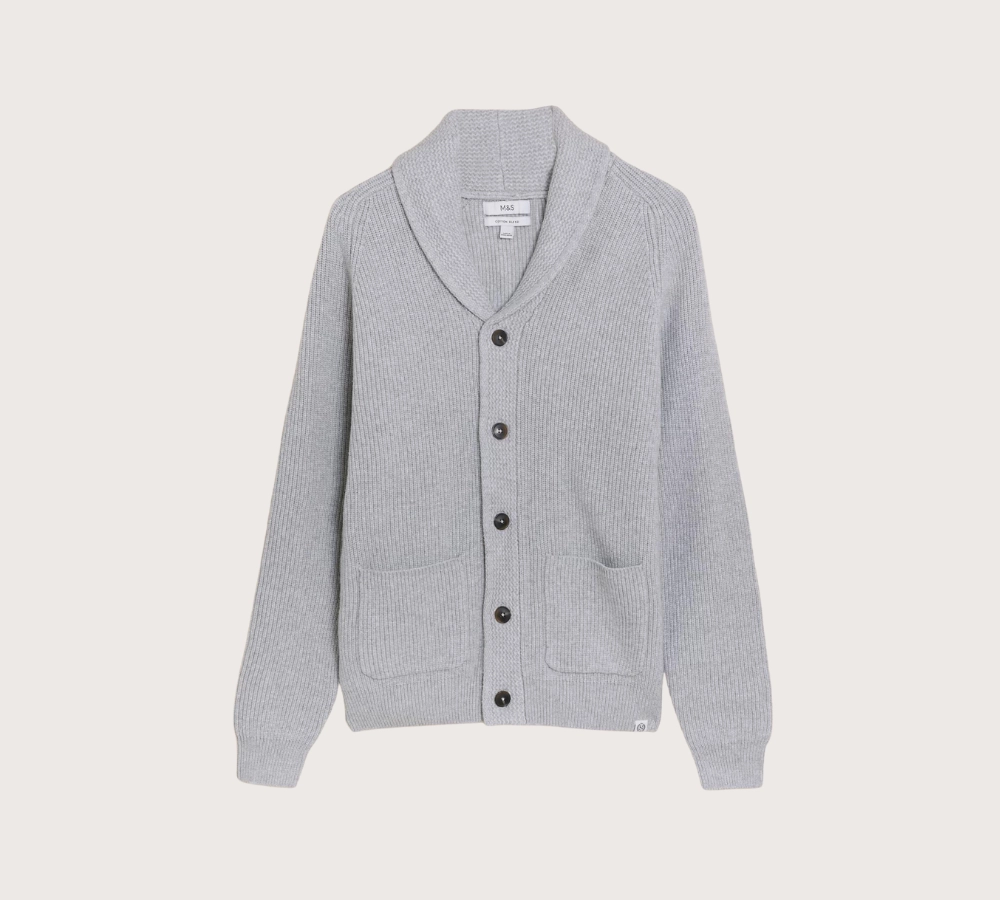 An accessible yet refined choice from British stalwart Marks & Spencer. Cut from recycled polyester and cotton. This grey shawl collar cardigan has a ribbed knit design that elegantly hugs the contours of the body in a flattering way. A great everyday style with a crisp white crew neck t-shirt and a black denim jeans or tailored trousers. Pairing this with a black leather boots or a black trainer provides an appropriate finishing touch.
4. New & Lingwood Shawl Cardigan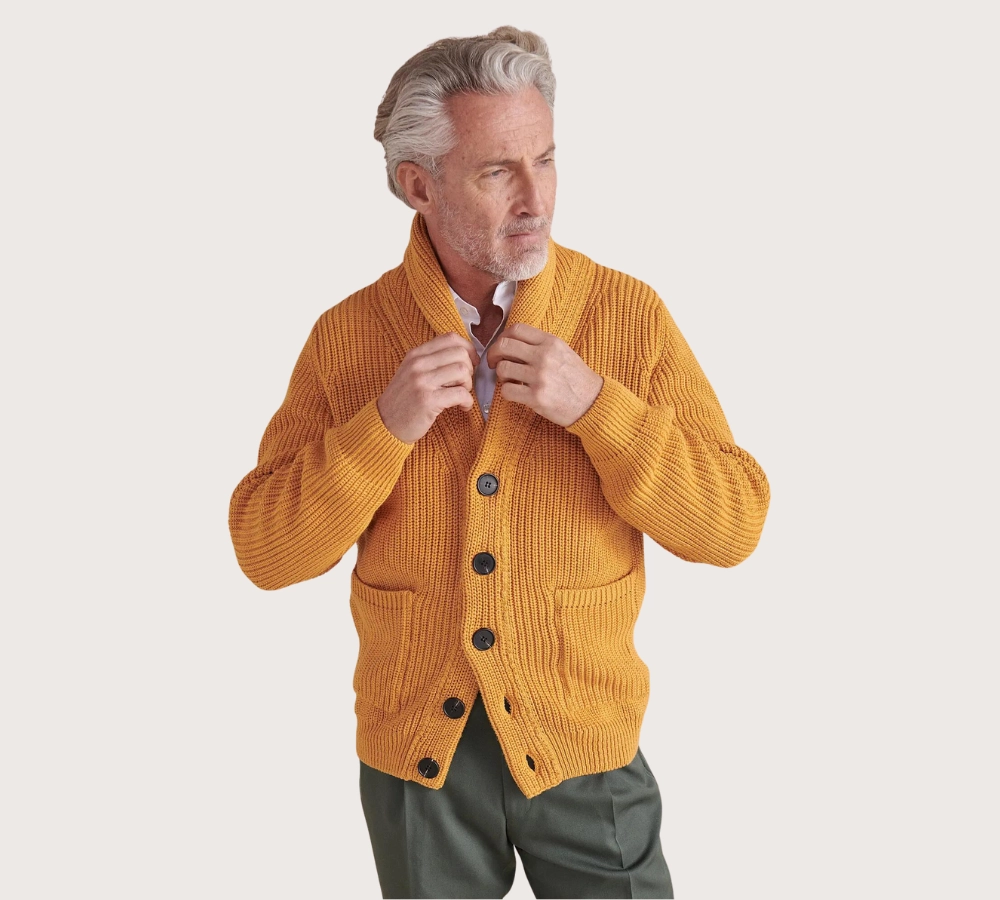 Beautifully crafted in Italy from lightweight organic cotton, this luxurious shawl knit from New & Lingwood is offered in a range of rich seasonal tones. An elevated take on the classic cardigan that can be worn as a substitute for a blazer, or as an elegant standalone style statement. As an added plus, if you live in London, you can get your cardigan hand-delivered to you.
5. Charles Tyrwhitt Shawl Jumper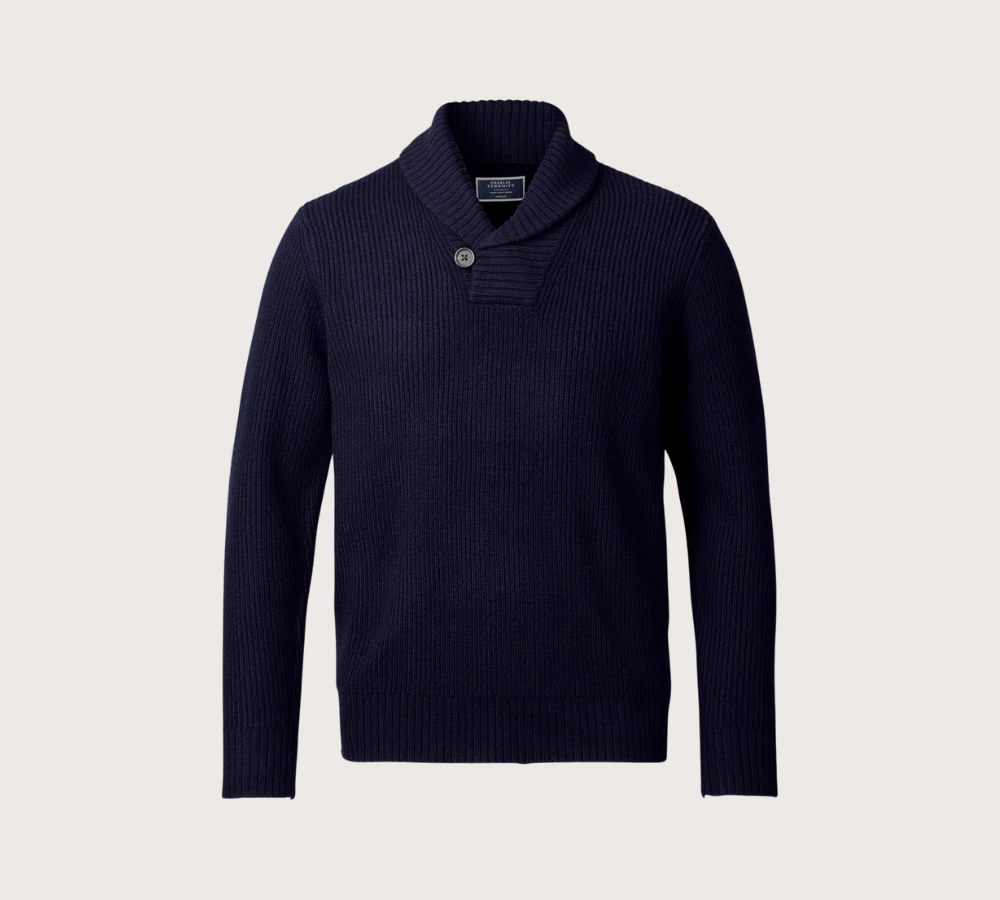 A classic navy blue knit is a stone-cold must-have in your wardrobe. This sophisticated shawl collar option from Charles Tyrwhitt is offered as a jumper in 100% merino wool. Elegance personified, this is one of those rare knitwear pieces that move easily up the sartorial scale from casual to smart. Looks great over a pristine white crew neck t-shirt or a button-down Oxford shirt.
6. Paul James Cardigan
An understated offering in black cotton knit from Leicestershire-based brand Paul James, who – in their words – strive to deliver the purest knitwear experience. Concentrating as they always do on materiality and naturalistic approaches to manufacture, they created this shawl collar cardigan. With a slightly higher break and with real horn buttons, there's a sense of formality here that could easily replace a jacket as a transitional season wardrobe option.
7. Ralph Lauren Cashmere-Wool Cardigan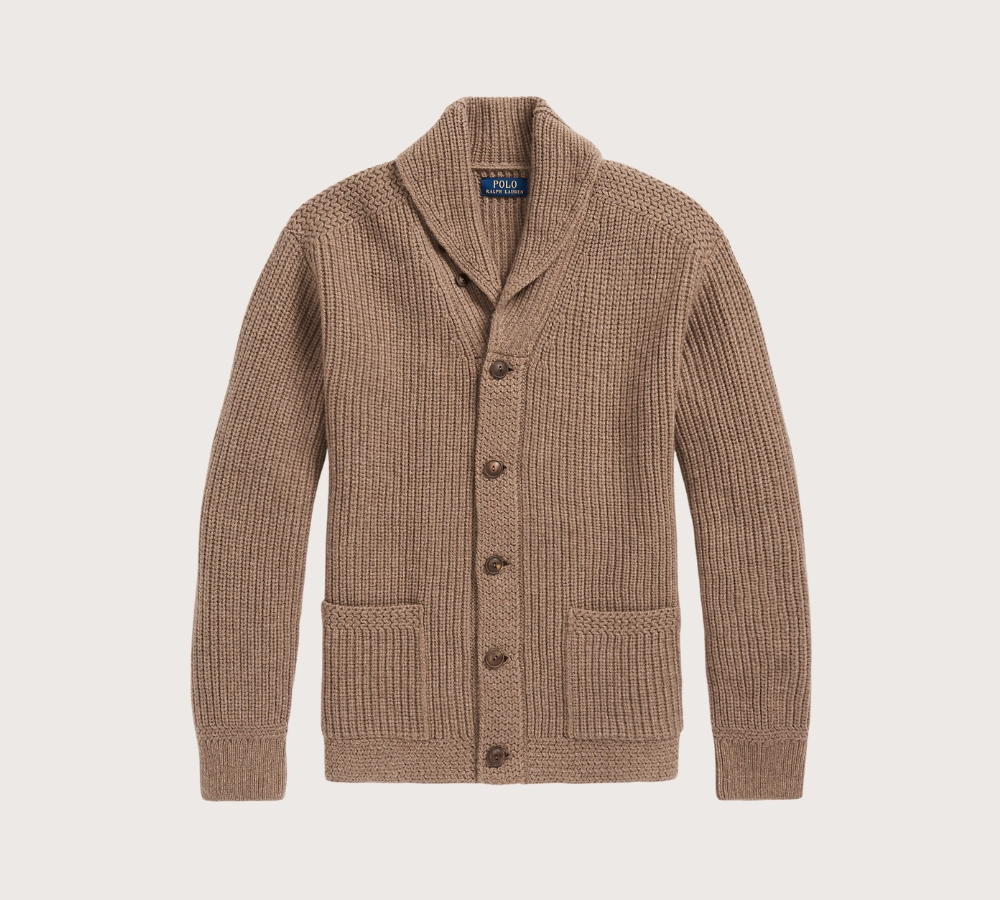 You could easily imagine yourself pulling this number off during a breezy late afternoon in the Hamptons. The wool-cashmere construction, sumptuous colour palette and strong Americana vibes make this a high-end high-style choice on our list. Ralph has suggested a coordinated grey marl crew neck and tailored grey trousers for a very elevated look. Add the right kind of watch and a smart-casual shoe and it becomes the perfect dinner or date ensemble.
8. Jamieson's of Shetland Fair Isle Cardigan
This shawl collar cardigan taps into a rich Scottish heritage of knitwear expertise. Upon deeper reading, I'm told that "Jamieson specialises in creating colourful and well-crafted designs from its native Shetland Isles sheep" – sounds good to me. In the right conditions and the right scenario, this tradition-inspired knit offers something practical and learned. Dress it up with a crisp white button-down shirt, or keep things casual and throw it over a tee.
9. Brunello Cucinelli Shawl Cardigan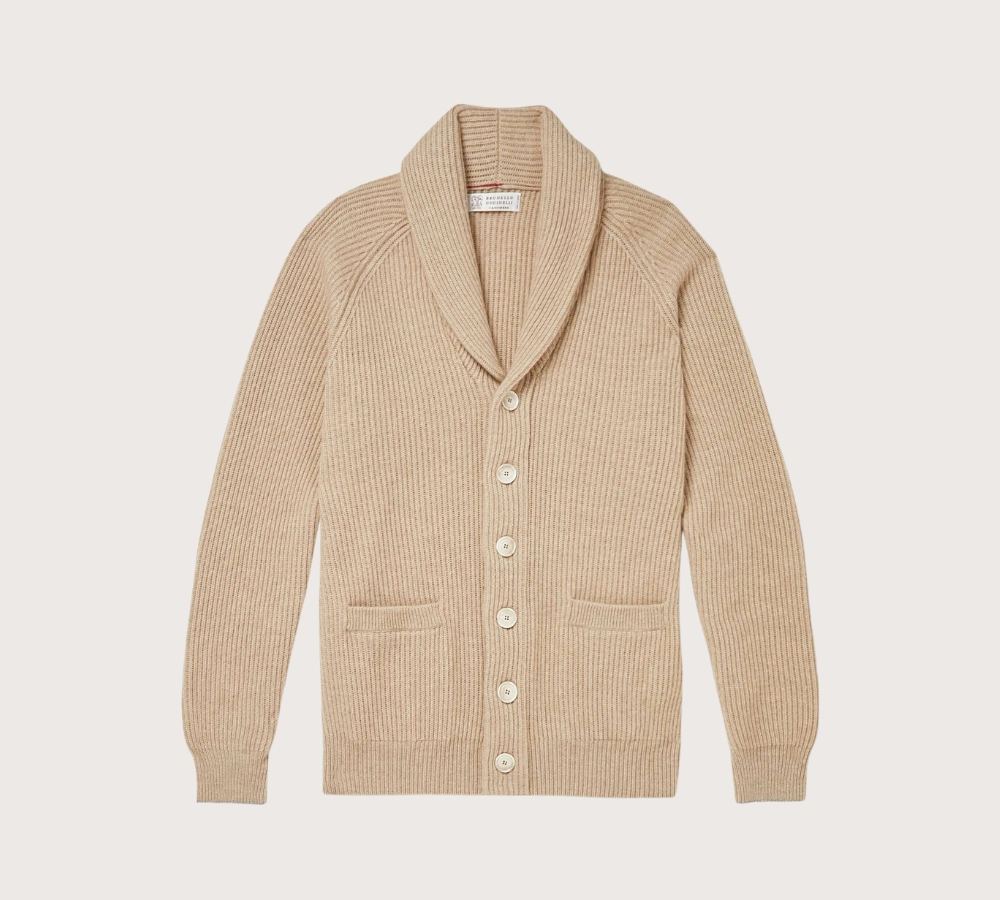 A taste of Italian-made gorgeousness from Brunello Cucinelli is offered here as a beautiful, sumptuous cardigan in a slim-fit silhouette. Constructed from pure cashmere, it gives serious, quiet luxury Succession vibes and could be teamed with a very considered ensemble that works from boardroom to bar. Superior warmth and comfort are also guaranteed, as well as refined details such as horn buttons and a ribbed design that gently moves with the contours of your body.
10. Elder Statesman Italian Cashmere Cardigan
Cut to a relaxed, soft drape in brown camel cashmere, this shawl collar cardigan is done a little differently. It's been crafted as a louche, comfortable alternative to the classic smoking jacket by cool LA brand The Elder Statesman – new gen West Coast style personified. We'd propose keeping things very, very casual and slouchy. You're stylish and expensive, but it's effortless. Imagine if 'The Dude' from The Big Lebowski had a serious bank balance.
11. Inverallan 6A Shawl Cardigan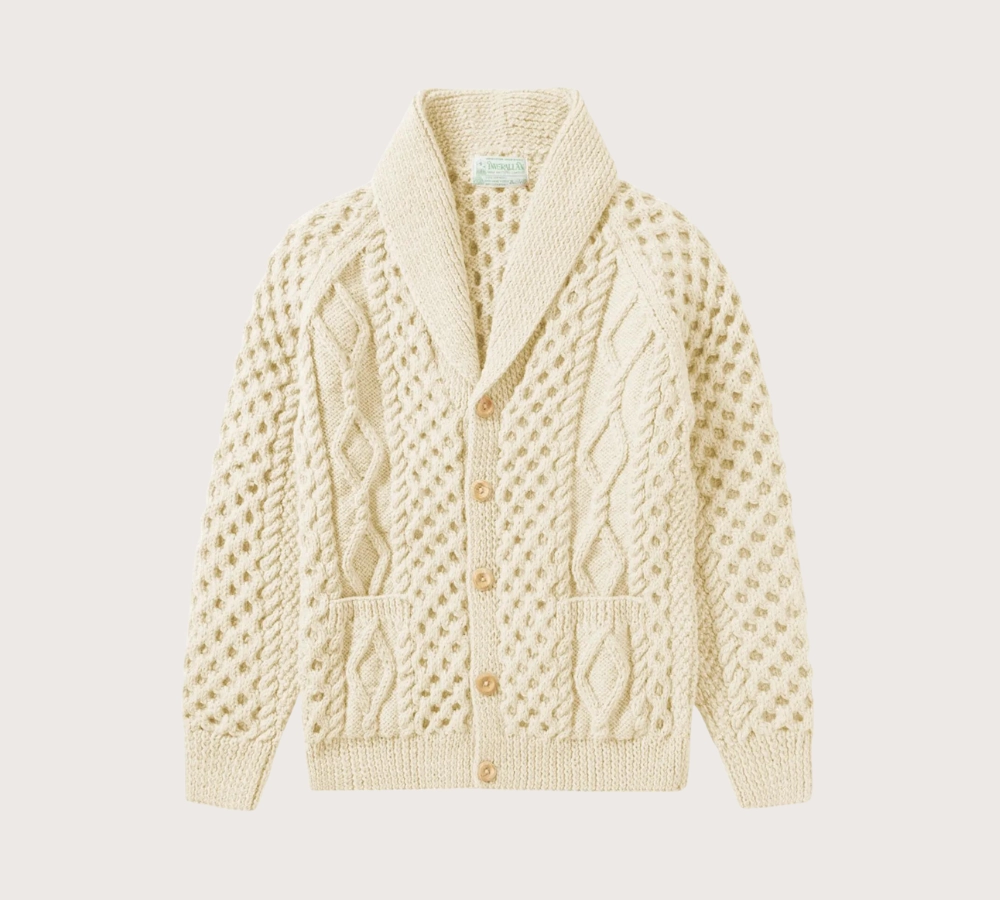 Inverallan has been hand-crafting knitwear for Scotland's fishermen for generations, their expertise is almost unrivalled – true 'cottage' knitters. This tactile chunky knit shawl collar cardigan is offered in natural ecru wool, with beautiful handstitched signature wooden buttons. For this writer, channelling a traditional workwear sensibility could easily work – think well-worn denim or utility trousers with a simple crew neck t-shirt. Similarly, an elevated smart-casual look with a chino or formal trouser easily changes things up.
12. Margaret Howell Shawl Rib Cardigan
Representing the best of timeless British design, Margaret Howell offers simple, elegant pieces that every man needs in his wardrobe. This charcoal grey shawl collar rib cardigan is constructed in a warming, soft merino wool cut to a regular silhouette that's easy to wear and looks great. Stay true to the brand's discreet approach and pair with a wide or straight-leg navy chino trouser and a lightweight crew neck tee in a complementary tone.
13. Faherty Shawl Cardigan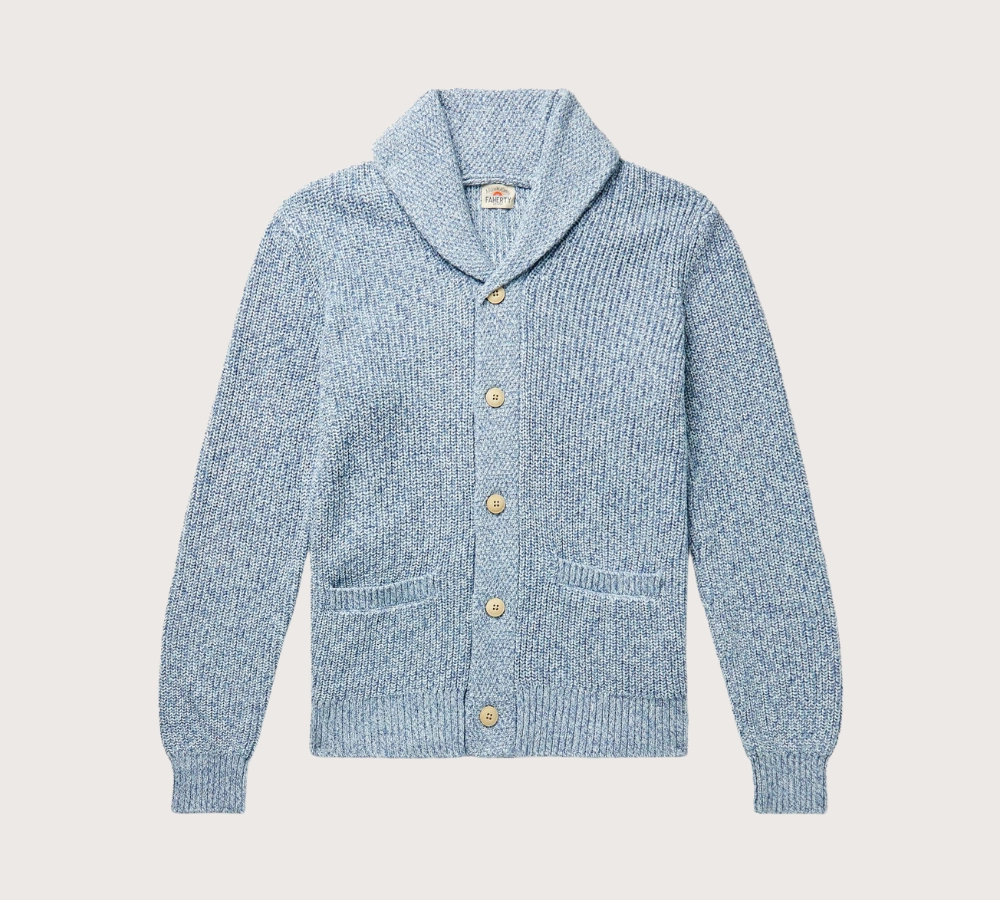 Shawl collar cardigans for men could seem like a bit of a minefield. Hopefully, this curated shortlist is doing its job. For this writer, it's opened up many sartorial opportunities. This offering from Faherty in a light cornflower blue melange has a fresher trans-seasonal appeal when compared to the usual autumnal colour palette you'd expect. The hint of cashmere adds softness and sense of luxury alongside its obvious visual appeal.