Taking care of your skin is important, no matter your gender. However, men often find themselves in a conundrum when it comes to skincare. On the one hand, they want to look and feel their best, but they don't want to spend a fortune on products that may or may not work.
No matter whether you need to combat a shiny forehead or tackle those troublesome clogged pores. Thankfully there is an answer. We have brought together our comprehensive list of 10 skincare brands that men can depend on to leave their skin looking refreshed and recharged without breaking the bank.
1. Nivea
Key Product: Menmalist Face Cream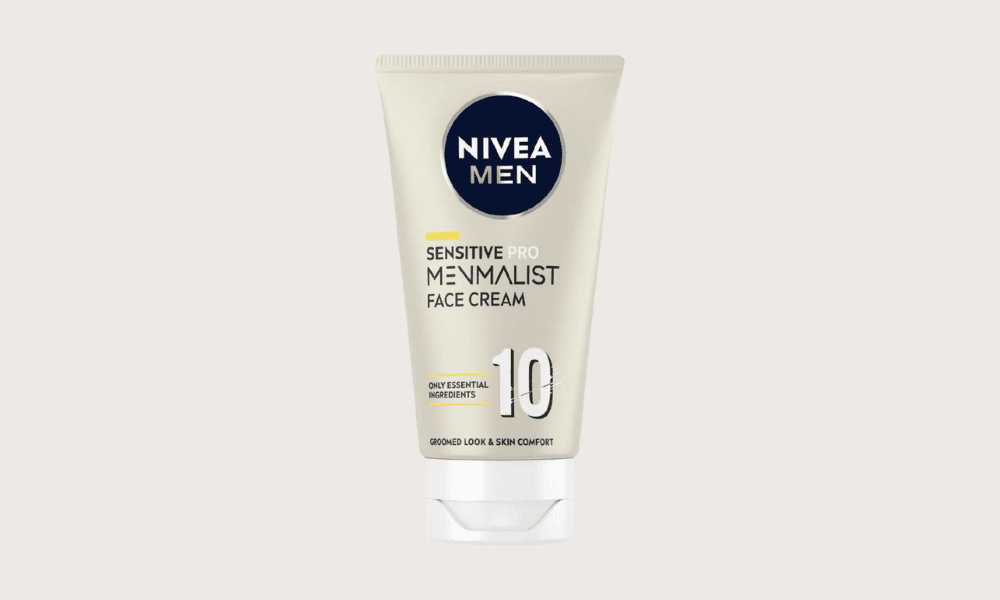 Nivea is a brand that has been around for over a century, and for good reason. Their commitment to quality and affordability has made them a household name in the skincare industry.
One of the things that sets Nivea apart from other skincare brands is its focus on gentle and nourishing ingredients. Their products contain ingredients like aloe vera, vitamin E, and shea butter to soothe and hydrate the skin. This makes Nivea an excellent choice for those with sensitive or dry skin.
In a world where shiny marketing campaigns can distract men from finding products that deliver the basics well. Nivea has stood the test of time. Their commitment to quality, affordability, and sustainability has made them a trusted choice for skincare and body care products.
2. Bulldog
Key Product: Black Pepper & Vetiver Shower Gel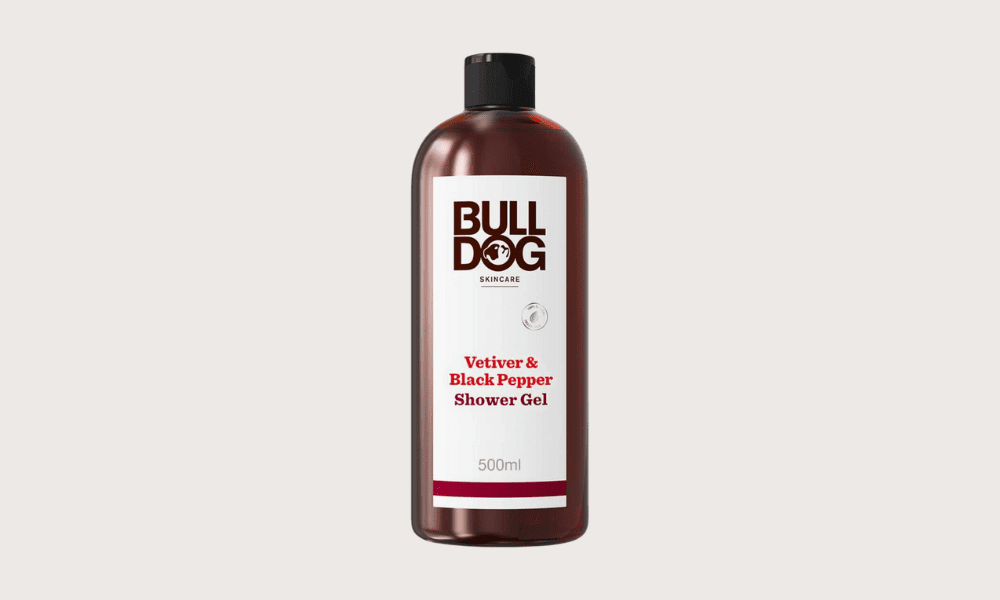 Bulldog is a UK-based brand that has been making waves in the world of men's skincare. Their mission is clear. Provide high-quality, natural skincare products free from harsh chemicals and synthetic fragrances. And they do all this without charging a fortune.
The brand uses only the best ingredients, so they carefully select each one for its unique benefits. Whether you're looking for a gentle cleanser, a nourishing moisturiser, or a powerful anti-ageing serum, they've got you covered.
All Bulldog products are vegan-friendly and the brand is always looking for ways to reduce the waste used in their products. This combination of great products, with a focus on environmental impact, means they have won an army of fans, for all the right reasons.
3. No 7
Key Product: Energising Face Wash
No 7 is a brand that consumers have trusted for over 80 years. They have become a household name in the affordable price bracket, and their men's line is specifically designed to meet the unique needs of male skin.
The men's range covers everything from deep cleansing face washes to light moisturisers. With a key component being that their products are hypoallergenic and non-comedogenic. This means that they won't cause irritation or clog your pores, making them a great option for those with sensitive skin.
With their long history of excellence and commitment to sustainability, you can feel good about using their products on your skin. No 7 is a brand men can trust to deliver everything their daily skincare regime needs, no matter how complex it is.
4. Cerave
Key Product: Foaming Cleanser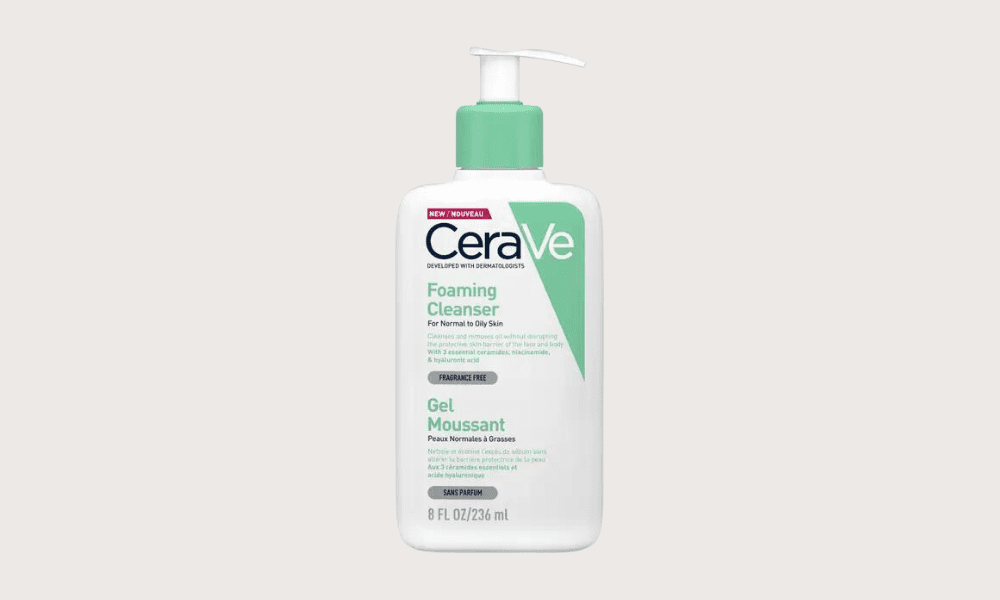 Cerave is a skincare brand backed by science. All of their products are designed with the skin's natural barrier in mind, which means they can help to hydrate and protect your skin.
The brand's ingredients are of the highest quality without an extortionate price tag. Ingredients like ceramides and hyaluronic acid might sound complicated and scary. Though, they are the opposite. They nourish and protect and are especially beneficial to those with dry and dehydrated skin as they are formulated to help the skin draw in moisture.
Our skin's natural ceramide levels can decrease as we age, leading to dryness and other issues. The ceramides In Cerave's products help replenish the skin's barrier and keep it hydrated, penetrating deep into the skin. This is a top pick for men in need of some added moisture.
5. Clinique
Key Product: Oil Control Exfoliating Tonic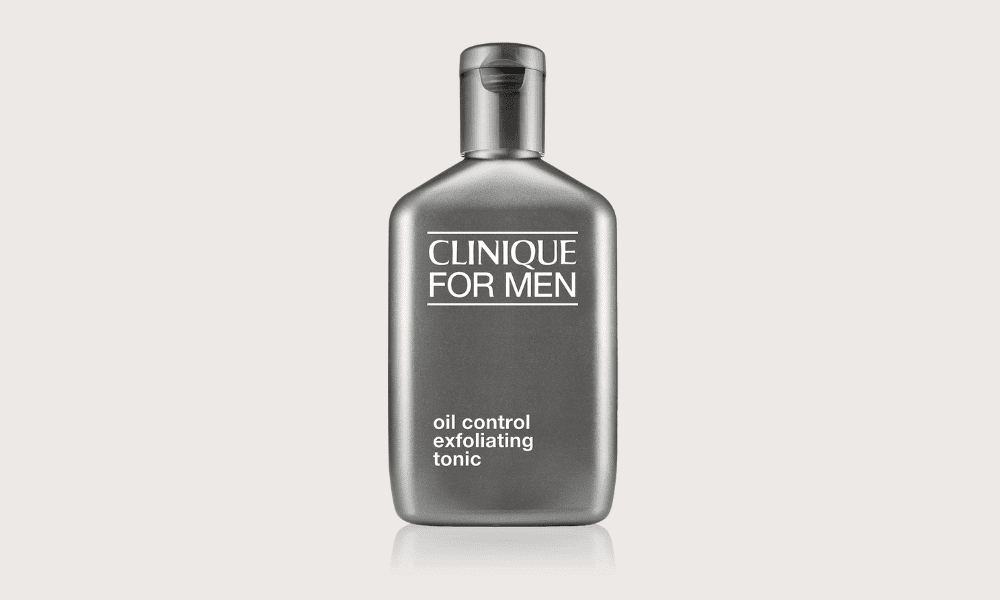 Women and men have different requirements for their skincare products. So, it can be beneficial for men to seek out products specially formulated for their needs. Clinique is a higher-end brand, but they have a range of affordable skincare products for men. This range includes products for all skin types, including oily, dry, and sensitive.
The brand is also known for its commitment to quality and safety, which means you can trust that you're getting a high-quality product. Clinique is worth considering if you're looking for a brand that's a step up from your supermarket options but won't break the bank.
6. Horace
Key Product: Purifying Face Mask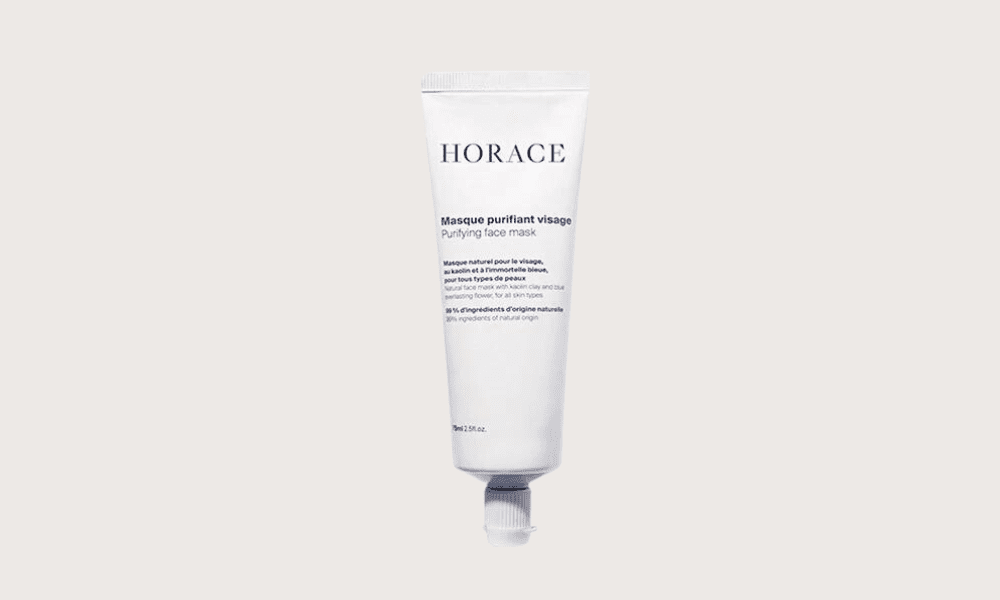 Horace is a French brand relatively new to the skincare scene, but they've already made a splash. With many five-star reviews, their products are made with natural ingredients and are designed to be simple and effective. No long list of complicated and hard-to-pronounce ingredients, Horace is a breath of fresh air.
The brand has everything from hair care to body wash available. All their products are free from artificial fragrances and colours. So, it is a great choice for men looking to strip their products back to basics. A strong-performing, stylish brand, Horace is the up-and-coming heavyweight in skincare.
7. Mancave
Key Product: Anti-Fatigue Eye Gel
Mancave is a UK-based brand that offers men a range of natural skincare products. All the nasties like parabens, sulfates, and synthetic fragrances are kept out, and they're all vegan-friendly.
Mancave places a strong emphasis on sustainability, using recycled materials and reducing waste wherever possible. We are always happy to champion skincare brands with this focus, and the fact that the brand is from these shores is an added bonus.
8. L'oreal Men Expert
Key Product: Hydra Energetic Daily Anti-Fatigue Moisturising Lotion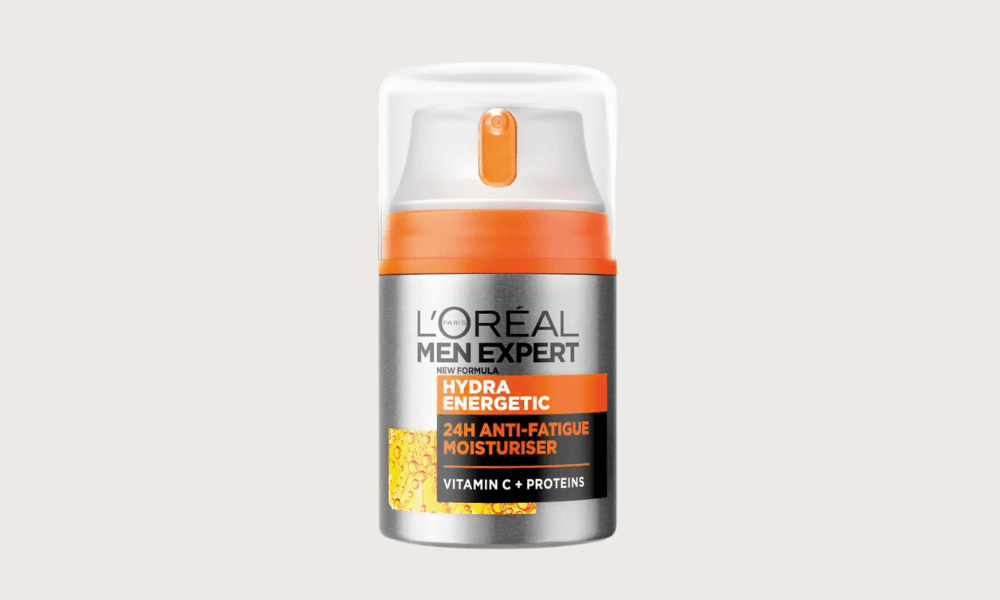 It would be hard to find a guy that isn't already familiar with L'oreal. They are an incredibly well-known skincare brand stocked in shops up and down the land.
Their specific men's line is often overlooked. But, industry insiders will be familiar with the range's ability to produce good results at a wallet-friendly price. The L'oreal Men Expert line includes everything from daily scrubs to under-eye serums, and all their products are designed with men's skin in mind.
L'oreal is a brand committed to innovation and regularly introduces new products to the market. If you want a reliable brand that stays on top of the latest trends, L'oreal Men Expert is a great choice.
9. The Ordinary
Key Product: Salicylic Acid 2% Solution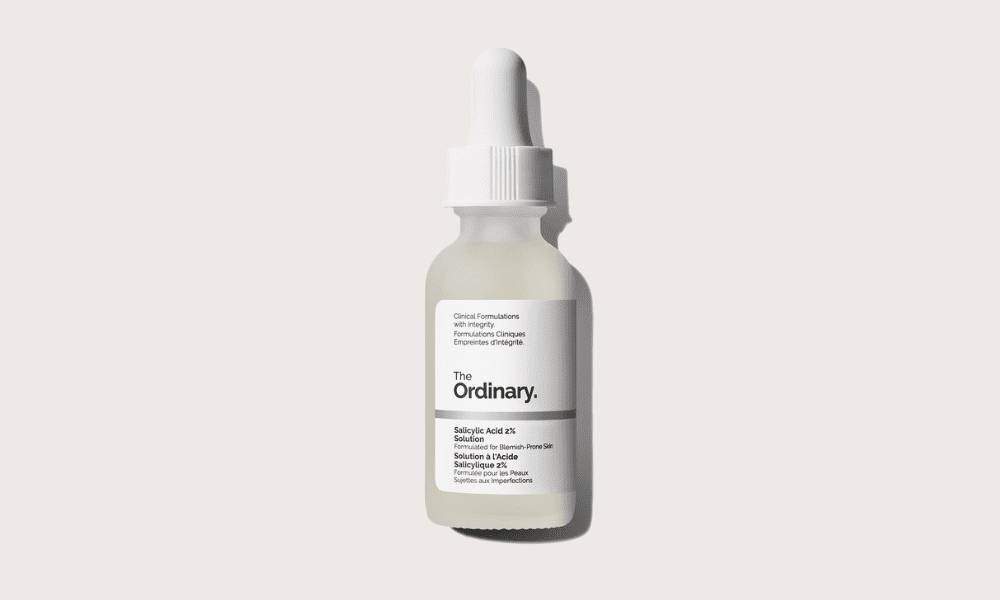 The Ordinary cooked up a storm in the skincare industry when they launched by being transparent on the costs other brands charge for their products. The brand is committed to producing the best products, but without the high mark-ups and margins often seen across the industry.
The Ordinary's products are affordable, but they're also highly effective. With a little research, men can find a ton of items that though they are marketed to women, have all the benefits men's skin needs to look its best.
Having personally tested the brand, we can attest to the product's high-quality performance.
10. Heath
Key Product: Oil Control Moisturiser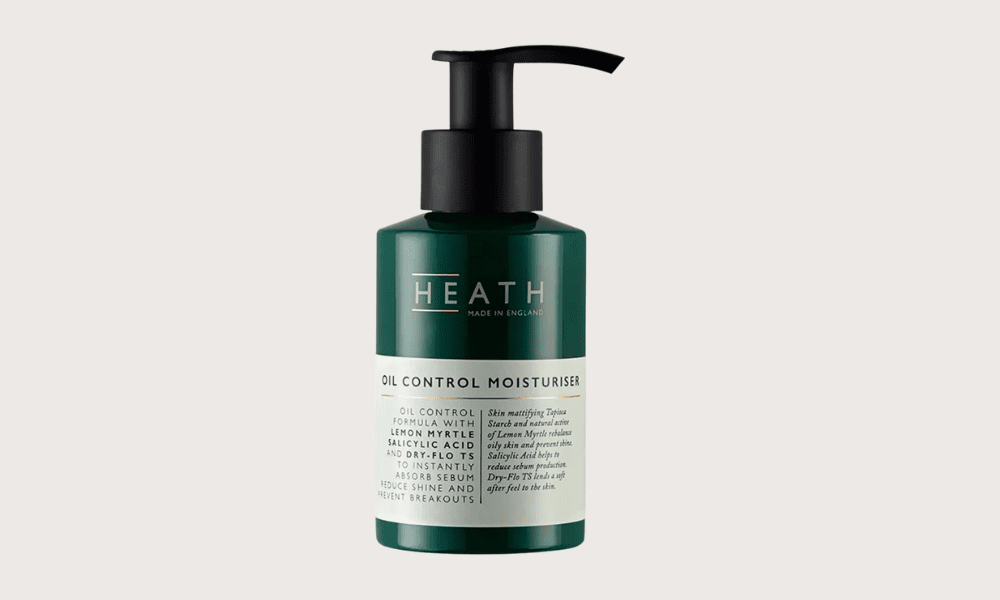 Founded in 2017, Heath is a brand that offers the urban man a range of natural skincare products that won't let him down. Our daily routines can be tough on our skin. Heath formulated all their products free from artificial fragrances, parabens, and sulfates, but without compromising quality.
Made locally in England and powered by only the strongest active ingredients, the brand is also committed to sustainability, using recycled materials and reducing waste wherever possible. If you want a brand that's both affordable and eco-friendly, Heath is worth considering.
Conclusion
There you have it – 10 of the best affordable skincare brands for men. Whether you're looking for natural products, reliable brands, or affordable and effective products, there's something on this list for everyone. Remember, taking care of your skin doesn't have to break the bank. By choosing one of these affordable brands, you can look and feel your best without spending a fortune.
Regarding fashion, Japan has always been at the forefront of creativity and innovation. Over the years, the country has given us some of the industry's most iconic and highly-regarded brands. From traditional and luxurious to avant-garde and streetwear, Japanese menswear has something for everyone. Here's a look at the top Japanese menswear brands to have on your radar.
The Rich History of Japanese Menswear
Japanese menswear has a long and rich history rooted in the country's cultural heritage. For centuries, traditional garments such as the kimono and hakama were worn by men in Japan. These sophisticated pieces were crafted with intricate detailing and made from high-quality materials. They symbolised elegance, refinement, and a deep respect for tradition.
The kimono, in particular, was originally worn by both men and women but evolved over time to become a symbol of masculinity. Made from silk or cotton, kimonos were often decorated with exquisite patterns and designs that reflected the wearer's social status. Samurai warriors, for example, would wear kimonos with bold geometric patterns to show their strength and power.
The Influence of Traditional Japanese Clothing
Traditional Japanese clothing has had a lasting impact on modern fashion, particularly in menswear. Brands like Visvim and Yohji Yamamoto have incorporated traditional techniques and materials into their collections, creating a unique blend of old and new. The use of natural dyes, hand-woven fabrics, and intricate embroidery all pay homage to Japan's cultural legacy.
Visvim, was founded by Hiroki Nakamura in 2000. The brand's collections often feature traditional Japanese fabrics, such as indigo-dyed denim and hand-woven textiles. While on the other hand, Yohji Yamamoto is famous for his avant-garde designs that blend traditional Japanese aesthetics with contemporary fashion. The result is collections that include oversized silhouettes, asymmetrical cuts, and a monochromatic colour palette.
The Emergence of Japanese Streetwear
Japanese streetwear emerged in the 1990s and quickly gained popularity around the world. Brands like A Bathing Ape (BAPE) and Neighborhood were at the forefront of this movement, offering edgy, bold designs that reflected the rebellious spirit of the times. Today, Japanese streetwear continues to evolve and inspire, with WTAPS and Undercover leading the way.
WTAPS, founded by Tetsu Nishiyama in 1996, is known for its military-inspired designs and use of utilitarian fabrics. Undercover, founded by Jun Takahashi in 1994, is famous for its punk-inspired designs with bold graphics and slogans. Both brands have gained a cult following among fashion enthusiasts and streetwear fans.
The Fusion of Western and Japanese Styles
Many Japanese menswear brands have successfully blended traditional Japanese aesthetics with Western influences. Comme des Garçons and Issey Miyake are perfect examples, offering collections combining avant-garde designs with classic tailoring. Junya Watanabe, a protégé of Commes des Garçons founder Rei Kawakubo, creates innovative, cutting-edge pieces that merge the two styles.
Comme des Garçons, founded by Rei Kawakubo in 1969, is known for its unconventional designs and use of deconstructed silhouettes. Issey Miyake, founded by the eponymous designer in 1970, is famous for his innovative use of pleats and geometric shapes. Junya Watanabe, who has been designing for Comme des Garçons since 1992, is known for his avant-garde designs that often feature unexpected materials and textures.
Japanese menswear is a testament to the country's rich cultural heritage and innovative spirit. From traditional garments like the kimono to cutting-edge designs from brands like Comme des Garçons and WTAPS, Japanese menswear continues to inspire and influence fashion worldwide.
Top 5 Luxury Japanese Menswear Brands
Japan has long been known for its innovative and cutting-edge fashion, and its menswear brands are no exception. Here are five of the top luxury Japanese menswear brands that are making waves in the fashion world:
Visvim
Founded by designer Hiroki Nakamura, Visvim is a luxury menswear brand focusing on high-quality materials and craftsmanship. Traditional Japanese garments inspire the brand's collections but feature modern twists and luxurious details.
Visvim's pieces are built to last and are highly sought after by fashion enthusiasts worldwide. The brand's jackets, for example, are made from premium materials like GORE-TEX and feature intricate detailing like hand-stitched seams and custom hardware. Visvim's leather boots are also highly coveted, with their rugged construction and unique design details.
Yohji Yamamoto
Yohji Yamamoto is an iconic designer known for his avant-garde and innovative designs. His menswear line is no exception, offering bold and daring pieces that challenge conventional menswear ideas.
Yamamoto's collections often feature oversized silhouettes, asymmetrical cuts, and unexpected pairings of fabrics and textures. The designer is known for his use of black and other dark colours, which give his pieces a sleek and sophisticated look. Yamamoto's designs are perfect for the fashion-forward man who isn't afraid to take risks.
Comme des Garçons
Founded in 1969 by Rei Kawakubo, Comme des Garçons is a fashion house known for its sometimes unconventional approach to fashion. The brand's menswear collections offer a mix of classic tailoring and experimental cuts and silhouettes.
Comme des Garçons always tries to include a mix of bold colours, unusual fabrics, and unexpected design elements. The brand's signature heart logo has become an iconic symbol of modern Japanese fashion, appearing on everything from t-shirts to sneakers. Comme des Garçons is perfect for the man who wants to make a statement with his clothing.
Issey Miyake
Issey Miyake is a renowned designer known for his innovative use of materials and techniques. His menswear collections notably have bold prints, geometric shapes, and unusual fabrics.
Miyake's designs blur the boundaries between art and fashion, resulting in wearable and visually stunning pieces. For example, the designer's use of pleating techniques has become a signature element of his work. Miyake's designs are perfect for a man who isn't afraid to stand out.
Junya Watanabe
Junya Watanabe is a designer who began his career at Comme des Garçons before launching his own label. His menswear collections combine innovative fabrics, intricate detailing, and unexpected cuts and shapes.
Watanabe's designs perfectly mix traditional Japanese aesthetics and modern Western influences. The designer is known for his use of denim, which he often combines with other fabrics like leather and wool. His designs are perfect for the man who wants to add a touch of edginess to his wardrobe.
Best Japanese Streetwear Brands
A Bathing Ape (BAPE)
A Bathing Ape, or BAPE for short, is a streetwear brand that has gained cult status in fashion circles worldwide. Known for its bold designs and signature camo prints, the brand's collections are a mix of edgy and playful. BAPE has collaborated with a number of high-profile brands and celebrities, cementing its status as a streetwear icon.
Neighborhood
Neighborhood is a streetwear brand inspired by biker culture, military style, and Japanese aesthetics. The brand's collections feature rugged denim, heavy leather jackets, and bold graphics. Neighborhood is known for its attention to detail and emphasis on quality materials.
WTAPS
WTAPS is a streetwear brand that combines military-inspired designs with Japanese street style. The brand's collections will typically feature utilitarian fabrics and graphics paired with bold accessories like combat boots and backpacks. WTAPS has a strong following among fashion enthusiasts and urban trendsetters.
Undercover
Undercover is a streetwear brand combining punk and Japanese aesthetics to create edgy and daring designs. The brand's collections nearly always have dark graphics, prints, and unexpected cuts and shapes. Undercover has launched and collaborated with a number of high-profile brands and designers, solidifying its place in the world of streetwear.
Are you a fan of vintage-inspired denim, classic American footwear, or workwear-inspired outerwear? If so, you may have already heard of Japanese Americana clothing. This style has grown in popularity in recent years and has influenced fashion worldwide. But what exactly is Japanese Americana, and where did it come from?
The Origins of Japanese Americana Clothing
Japanese Americana clothing is a style that draws heavily from classic American workwear and vintage denim but with a Japanese twist. The roots of this style go back to Japan's post-war reconstruction period when American soldiers stationed in Japan brought over their workwear clothing.
During this time, Japan was rebuilding after the devastation of World War II. American soldiers were stationed in Japan to assist with the reconstruction effort and to maintain peace. As a result, American culture and fashion began to influence Japanese society. The workwear clothing worn by American soldiers was particularly popular among Japanese youths.
The Influence of American Workwear on Japanese Fashion
At this time, workwear garments were made for durability and practicality, but they also became a fashion statement among Japanese youths. The rugged and masculine look of workwear caught the eye of many young people who were eager to embrace American culture and fashion. They began to wear workwear as a symbol of rebellion against traditional Japanese fashion.
As the popularity of workwear grew, Japanese designers began to incorporate elements of American workwear into their own designs. They added unique touches, such as intricate embroidery and indigo dyeing techniques. This fusion of American workwear and Japanese design created a new style that would eventually become known as Japanese Americana.
The Emergence of Japanese Americana in the 1980s
The 1980s saw the emergence of Japanese Americana as a fashion trend, largely thanks to the popularity of brands like Edwin and Levi's in Japan. These brands focused on vintage-inspired denim and helped to establish the foundation of what would become Japanese Americana style.
Japanese designers also began to create their own brands, such as Kapital and The Real McCoy's, which focused on creating high-quality, vintage-inspired clothing. American workwear heavily influenced these brands, but they added their unique touches to create a distinct style.
Today, Japanese Americana clothing is popular around the world. Whether you're a fan of vintage denim, rugged workwear or appreciate high-quality clothing, Japanese Americana is a style that is worth exploring.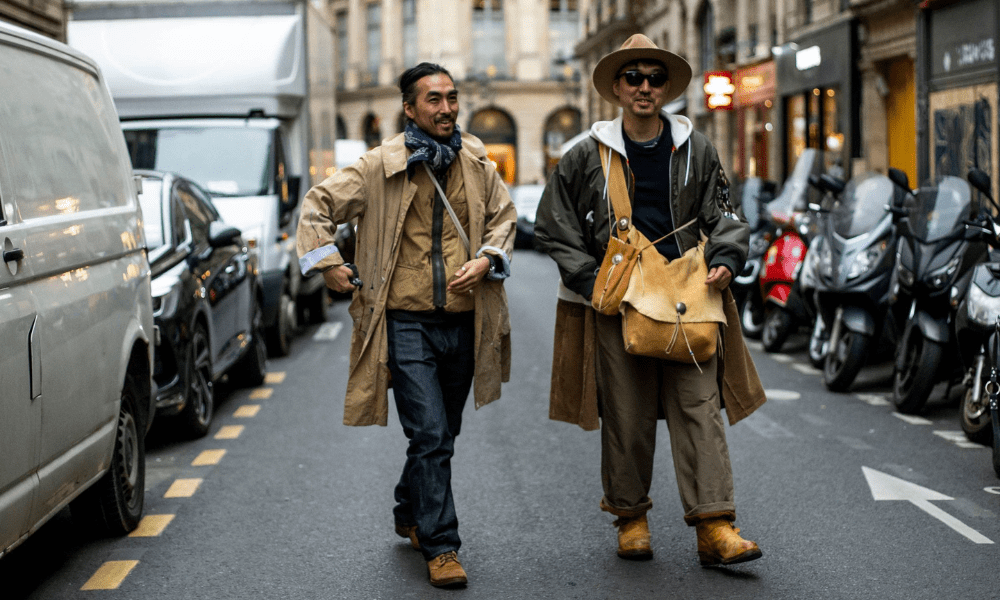 Key Elements of Japanese Americana Style
The key elements of Japanese Americana style are vintage-inspired denim, workwear-inspired outerwear, classic American footwear, and intricate accessories and details. Let's take a closer look at each of these elements.
Vintage-Inspired Denim
At the core of the Japanese Americana style has to be denim. It is one of the most visible aspects, and Japanese denim is now often considered to be some of the best in the world, thanks to its attention to detail and use of traditional production methods. Enthusiasts from across the globe will seek out pieces from brands like Iron Heart or Momotaro.
Japanese denim is known for its distinctive texture, which is achieved through a variety of techniques, such as slub yarns and irregular weaves. The denim is often dyed using natural indigo, which gives it a deep, rich colour that fades beautifully over time. Added gravitas is given for its durability, delivered by often being woven with a high thread count and featuring reinforced stitching.
Workwear-Inspired Outerwear
Jackets, coats, and other outerwear items in the Japanese Americana style often draw from classic American workwear silhouettes. This typically includes unlined chore coats, rugged denim jackets, and functional parkas.
Notable Japanese Americana favourites like The Real McCoy's and Buzz Rickson's use classic American archive pieces as inspiration. Replicating the quality and style of these vintage items. Including materials such as selvedge denim, heavy twill, and waxed cotton to create outerwear that is both functional and stylish.
Classic American Footwear
In addition to denim and outerwear, Japanese Americana outfits often feature rugged footwear. Classic American brands like Red Wing, Alden, and Viberg are popular among Japanese Americana enthusiasts. These shoes and boots are made to last; durability is a recurring theme woven through this style movement.
Red Wing boots, for example, are known for their sturdy construction and iconic style. They are made using premium leather and Goodyear welt construction, which allows for easy resoling and ensures that the boots will last for years to come. Like their compatriots, Alden shoes are well-crafted, focusing on traditional shoemaking techniques and attention to detail.
Accessories and Details
Finally, the Japanese Americana style is all about the details. Accessories like bandanas, canvas belts, and hand-tooled leather wallets are popular among those following this style. Many brands incorporate intricate detailing into their denim and workwear garments, such as chain-stitch embroidery and hand-painted designs.
Chainstitch embroidery is a traditional technique involving a specialised machine to create intricate designs on denim and other fabrics. This technique often adds a pop of colour or a unique design element to a garment. Hand-painted designs are also popular, particularly on leather jackets and wallets. Traditional Japanese art often inspires these designs, featuring bold colours and complex patterns.
Iconic Japanese Americana Brands
When it comes to Japanese Americana clothing, there are many brands to choose from. However, a select few have risen to iconic status within the style thanks to their unique approach to design and production. Here are some of the most well-known Japanese Americana brands:
Visvim
Founded by designer Hiroki Nakamura, Visvim clothing and footwear draws from a variety of influences, including Native American and Japanese culture. Each piece is crafted with care, using the finest materials available, resulting in garments that are not only stylish but also built to last.
Every garment by Visvim is designed to be a work of art, with textured patterns and details that make them stand out from the crowd. The brand's footwear collection is particularly noteworthy, with each pair crafted by hand using traditional techniques.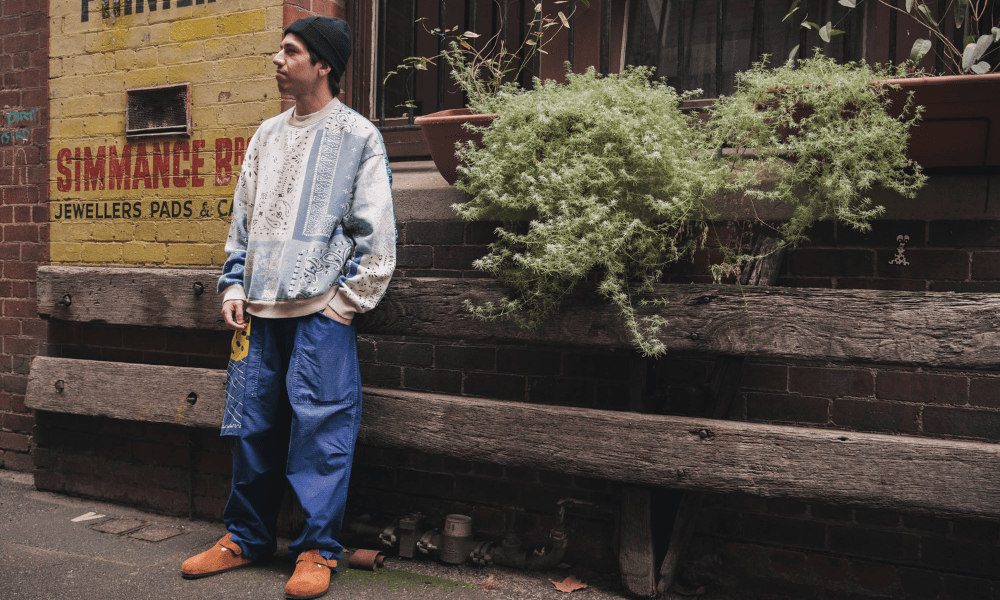 Kapital
Another popular Japanese Americana brand is Kapital, which has gained a large following worldwide. The brand is known for its mixed-use of textiles and detailing. Kapital's clothing often features bold patterns and colours with additions like frayed edges and asymmetrical hemlines. Its denim collection is particularly noteworthy, with each pair of jeans harnessing traditional techniques at every production stage.
What sets Kapital apart from other Japanese Americana brands is its willingness to experiment with new materials and techniques. The brand's designers are constantly pushing the boundaries of what is possible in terms of design and construction, resulting in innovative and timeless garments.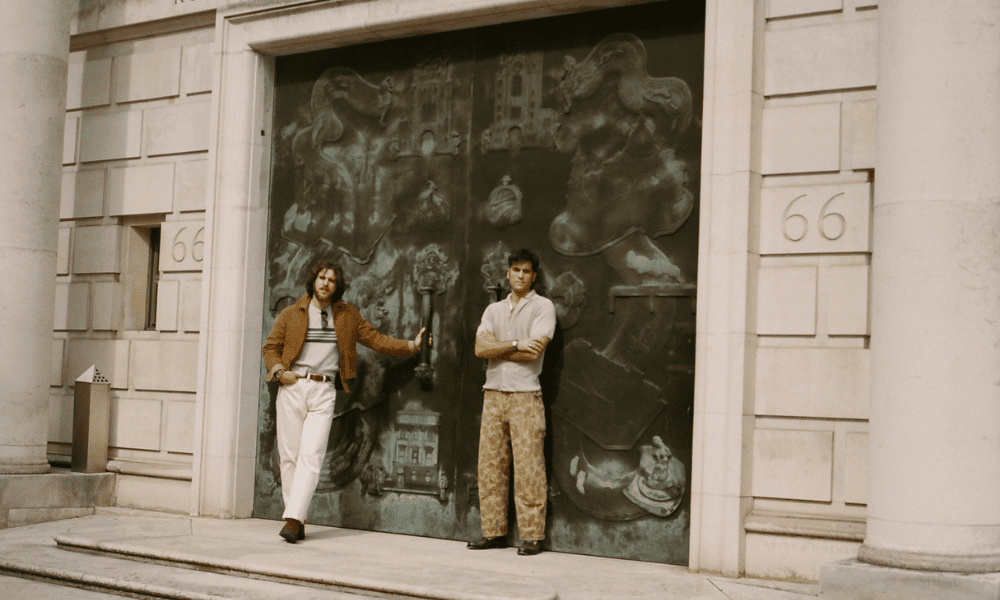 The Real McCoy's
The Real McCoy's brand focuses on vintage-inspired denim and workwear. The brand's garments often feature authentic reproductions of classic American garments from the early to mid-1900s. Each piece is crafted with care, using the same techniques and materials used to create the original garments.
What we love about The Real McCoy's is its commitment to authenticity. The brand's designers spend countless hours researching and studying vintage garments to create the most accurate reproductions possible. The result is a collection of garments that are not only stylish but also historically accurate.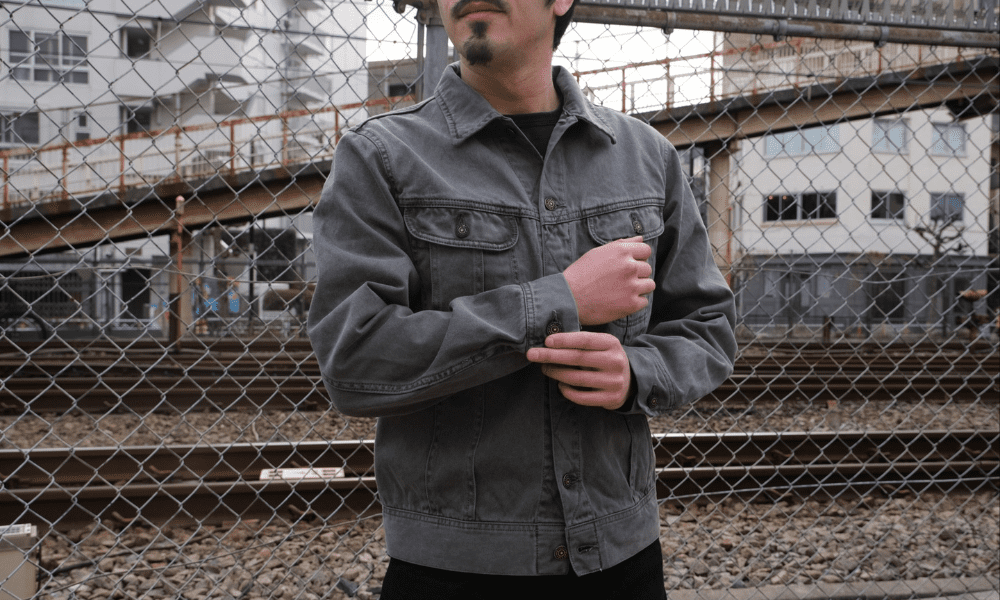 Studio D'Artisan
Studio D'Artisan is a brand that has been producing high-quality denim garments since 1979. It uses traditional production methods and high-quality materials to create timeless wardrobe staples.
Its commitment to sustainability sets Studio D'Artisan apart from other Japanese Americana brands. The brand uses eco-friendly production methods and sources its materials from sustainable suppliers to minimise environmental impact.
The Influence of Japanese Americana on Global Fashion
While Japanese Americana clothing started as a niche style in Japan, it has since become a global fashion phenomenon. The fusion of American workwear and Japanese design elements has created a unique style that has captured the attention of men worldwide.
The popularity of Japanese Americana can be attributed to many factors, including how many men favour brands that stay true to original craftsmanship. This has resulted in a resurgence of interest in heritage American brands that had fallen out of fashion in the US. Japanese consumers, in particular, have a deep appreciation for the production and authenticity of American workwear.
The Rise of Selvedge Denim
Selvedge denim, woven on old-fashioned shuttle looms and featuring a self-finished edge has become increasingly popular in recent years. Japanese denim brands like Momotaro and Pure Blue Japan are largely responsible for this trend. These brands have gained a reputation for producing some of the highest-quality denim in the world, combining traditional production machinery with the finest materials to create unique and durable products.
One of the reasons for the popularity of selvedge denim is its ability to develop a unique patina over time. As the denim is worn and washed, it fades and develops a personalised look that is unique to the wearer. This has led to a cult-like following among denim enthusiasts, who appreciate the individuality and character of the fabric.
The Revival of Heritage Brands
Many heritage American brands that had fallen out of fashion in the US have found new life in Japan, thanks to the popularity of Japanese Americana. In addition to Red Wing and Filson, brands like Pendleton and Woolrich have also seen renewed consumer interest. These brands have a rich history and a commitment to quality that resonates with Japanese consumers.
The popularity of these brands has also led to collaborations between Japanese designers and American heritage brands. These collaborations have resulted in unique and innovative products that blend traditional American workwear with Japanese design elements.
The Spread of Japanese Americana to Other Countries
Finally, Japanese Americana has spread to fashion scenes all around the world. The style has been embraced by enthusiasts in countries like Canada, Australia, and the UK and can be seen on fashion runways and in street style blogs worldwide. The popularity of Japanese Americana shows no signs of slowing down, as more and more people are drawn to the unique style and high-quality products.
Overall, Japanese Americana clothing is a style that is deeply rooted in the American workwear tradition but also features unique Japanese elements. Its popularity has grown substantially thanks to the attention to detail and high-quality materials in many Japanese brands. Whether you're a fan of vintage denim, rugged outerwear, or classic footwear, Japanese Americana offers a unique take on these classic styles.
In today's world of fast fashion and off-the-rack clothing, bespoke tailoring is a prized and sought-after service. Making a bespoke shirt is a highly detailed and personalised experience tailored to the individual needs and preferences of each customer. In this article, we will explore the bespoke shirt-making process, the importance of bespoke tailoring, and how it compares to off-the-rack shirts.
Creating a bespoke shirt is a time-intensive process requiring a trained tailor. Each process step is designed to ensure the perfect fit, design, and style for the customer. Here are the key steps.
The Bespoke Shirt Process
The first step in creating a bespoke shirt is an initial consultation with the tailor. During this, the tailor will discuss the customer's preferences, needs, and style. The tailor will precisely measure the customer's body to ensure a perfect fit. These measurements include shoulder width, chest circumference, waistline, sleeve length, and collar size.
The tailor will then ask about the customer's lifestyle and how they plan to wear the shirt. For example, the tailor may recommend a more formal collar style if the customer intends to wear the shirt to work. Alternatively, the tailor might suggest a relaxed fit if the customer plans to wear the shirt casually.
Selecting the fabric and design
After the initial consultation and measurements, the customer selects from various fabric and design options. The tailor will guide the customer through the fabric selection process to ensure the material is high quality and meets the customer's needs and preferences. The design process includes choosing the collar style, cuff type, and other customisations the customer wishes to make.
The tailor may also provide recommendations on fabric and design based on the customer's desired outcome. For example, if the customer lives in a hot climate, the tailor may recommend a lighter fabric to keep them cool and comfortable.
Creating the pattern
The tailor crafts a pattern for the shirt based on the customer's measurements and design preferences. The pattern helps ensure a perfect fit and design for the customer and can be used as the building block for future orders.
Though it is a good starting point, the tailor may still adjust the pattern based on the customer's body shape or personal inclination. For example, if the customer has broad shoulders, the tailor may adjust the pattern to ensure a comfortable fit in that area.
Cutting and sewing the fabric
Once the pattern is complete, the fabric is carefully cut and sewn by hand, with great care taken to ensure the fabric matches the pattern and the shirt's design. Additional touches may be included, such as reinforced stitching in areas most likely to experience wear and tear.
Fitting and adjustments
After the shirt is complete, the customer returns for a fitting session. Seeing the garment on the customer allows the tailor to understand how it currently fits and if any final adjustments are needed. The fitting session is a crucial step in the process as it ensures the shirt fits the customer's body perfectly. Tweaks can include adjusting the shirt's body or sleeve length.
Final touches and delivery
The final touches are added, and the shirt is ready for delivery. These typically include ironing, cleaning, and any other customisations the customer requests. The result is a high-quality, personalised shirt that fits perfectly and reflects the customer's unique style.
A bespoke shirt is a timeless piece of clothing that is made to last. The attention to detail and craftsmanship that goes into creating a the piece ensures that it will be a cherished item in the customer's wardrobe for years to come.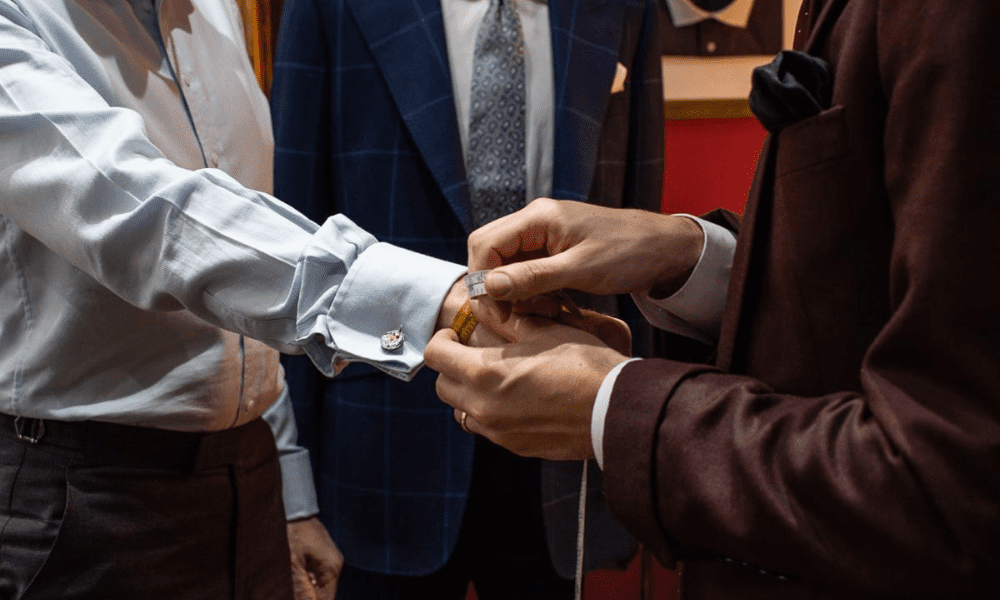 Why Bespoke Tailoring is Important
Bespoke tailoring offers several advantages that you won't get with an off-the-rack shirt. These include a personalised fit and the comfort that comes with it. But also a chance for the customer to promote their unique style and design. The fact that the process needs quality craftsmanship adept at using the best materials only supports it as a long-lasting and sustainable method of buying clothes.
Personalisation and comfort
A bespoke shirt is designed to fit the customer's body perfectly. That means maximum comfort and ease of movement. The tailor considers the customer's unique body shape and measurements to produce a shirt that fits like a glove.
Moreover, bespoke tailoring can accommodate any unique physical features the customer may have. For example, if the customer has a longer or shorter than average arm length, the tailor can adjust the sleeve length accordingly. With off-the-rack, men are pigeonholed into industry-standard sizes.
Unique style and design
Bespoke shirts allow for custom design options that are not available with off-the-rack clothing. Customers can select from a wide variety of fabrics, designs, and customisations to create a shirt that is uniquely theirs.
Furthermore, bespoke tailoring allows a tailor to advise on the best styles and designs to flatter the customer's body shape and enhance their features. This level of individuality and attention to detail is impossible with off-the-rack clothing.
Quality craftsmanship and materials
Bespoke tailoring is a craft that requires skill and attention to detail. The tailor uses high-quality materials and fabrics to create a high-quality finished product. Bespoke shirts are also designed to last longer than off-the-rack clothing.
Each garment is painstakingly crafted by hand, with the tailor paying close attention to every stitch and seam. This level of care and precision ensures that the finished product is of the highest quality and will stand the test of time.
Long-lasting and sustainable fashion
Bespoke shirts are, by their make-up, made to last longer than off-the-rack clothing, reducing waste and promoting sustainable fashion.
Moreover, bespoke tailoring promotes sustainable fashion by encouraging customers to invest in high-quality, long-lasting garments rather than buying cheap, disposable clothing. Therefore helping to promote a more ethical and sustainable fashion industry.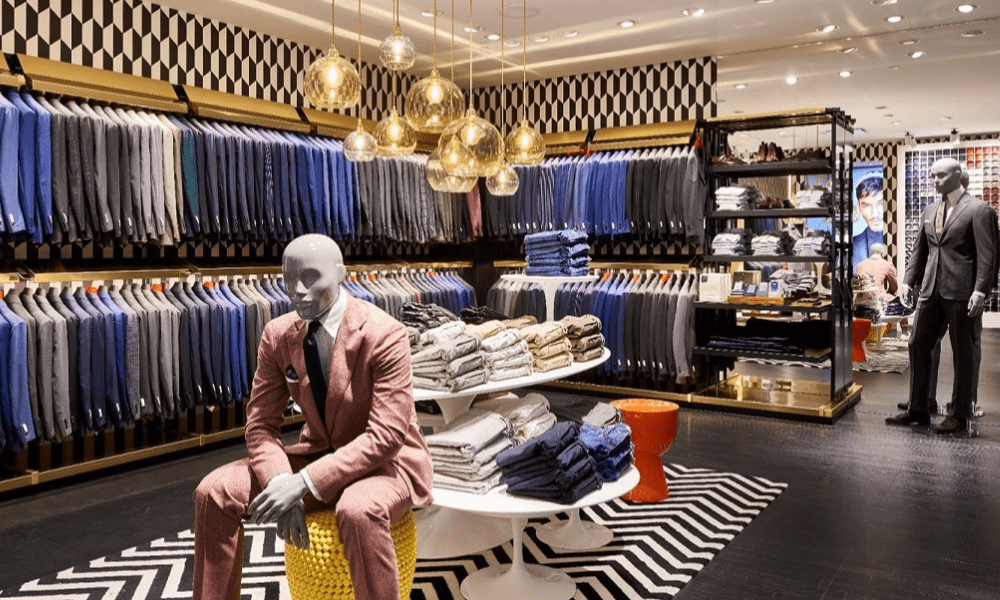 Bespoke vs Off-The-Rack Shirts
Off-the-rack shirts have been a popular choice for many years in the fashion world. They are readily available and can be found in almost any clothing store. However, they cannot compete with the quality and personalised service of bespoke tailoring. Here are some key differences between the two options:
1. Fit and sizing differences
One of the biggest differences between bespoke and off-the-rack shirts is the fit and sizing. Off-the-rack clothing is made to fit a broad range of body types and sizes, making it difficult to find a perfect fit. This can lead to discomfort and a lack of confidence in one's appearance. Bespoke shirts, on the other hand, are designed to fit the individual body shape and measurements of each customer, ensuring a perfect fit.
2. Customisation options
Another advantage of bespoke shirts is the wide variety of customisation options available. Off-the-rack clothing offers limited customisation options, with only a few styles and designs. However, bespoke shirts offer various fabric, design, and customisation options, allowing customers to create a shirt that reflects what they truly want. Every detail can be customised to create a truly one-of-a-kind shirt, from the collar and cuffs to the buttons and pockets.
3. Price and value considerations
Bespoke shirts are typically more expensive than off-the-rack clothing. However, they offer more value in the quality of materials, craftsmanship, and personalised service. The materials used in bespoke shirts are of the highest quality, ensuring they last longer than off-the-rack clothing. Additionally, the craftsmanship of creating a bespoke shirt is unparalleled, with each shirt being made by hand to ensure the finest finish. While the initial cost of a bespoke shirt may be higher, it will ultimately provide more value in the long run, as it will not need to be replaced as frequently as off-the-rack clothing.
4. Time investment and turnaround
Purchasing a bespoke shirt requires a time investment, as they are personalised and made to order. The whole process could take several weeks or even months, depending on the design's complexity and the materials' availability. Off-the-rack clothing, on the other hand, is readily available and can be purchased on the spot. With careful planning and communication with the tailor, the turnaround time for bespoke shirts can be minimised, ensuring that customers receive their shirts promptly without sacrificing quality.
Conclusion
Bespoke tailoring is a highly personalised service that offers many advantages over off-the-rack clothing. The bespoke shirt-making process involves careful consultation, precise measurements, custom design options, and quality craftsmanship. Bespoke shirts are designed to fit perfectly, reflect the customer's unique style and preferences, and promote sustainable fashion. While more expensive and time-intensive than off-the-rack clothing, bespoke tailoring offers more value in quality and personalised service.
It might have started life as the footwear of peasants in the Basque region of Spain. But, these days, the espadrille delivers a hybrid summer shoe like none other. Part loafer, part sneaker and part sandal, the espadrille could be the perfect Venn diagram of men's warm-weather footwear.
Unlike heavy leather shoes or sneakers, espadrilles are comfortable and lightweight. Crafted from breathable materials like canvas or linen, this shoe allows air to circulate your feet, keeping them cooler as the temperature rises. Additionally, espadrilles are an eco-friendly and sustainable choice as the materials used incorporate jute, hemp or cotton, all renewable resources.
This footwear is symbolised by its slip-on characteristic and soft construction sitting on a woven-look raffia sole. Nestling nicely within the smart casual ether, it enables men to nonchalantly vault between both dress codes.
What to wear with your espadrilles
The aesthetic we want to achieve when wearing our espadrilles is that laidback beach bar vibe. So, naturally, they work well with a pair of tailored shorts and a summer shirt of choice. We can always elevate slightly and take some inspiration from the continent by embracing pieces like slimline white jeans. They are ideal for British summer and can even absorb a turn-up to ankle length partnered with your espadrilles.
Other than that, the traditional chino can hit the sweet spot between smart and casual. Just remember, never wear socks with your espadrilles. It's a faux pas I don't think anyone can come back from.
1. Oliver Sweeney Rioja Navy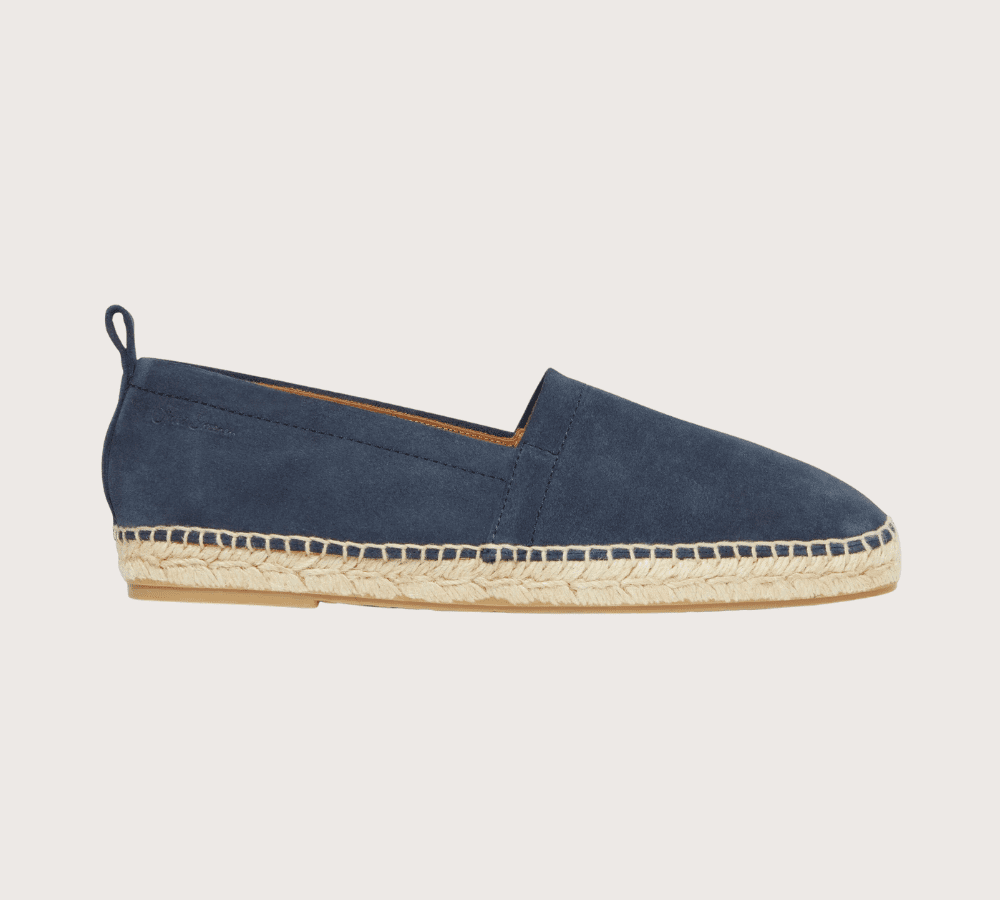 This might look like a humble piece of footwear. But, Oliver Sweeney has paid close attention to the details. Including materials like calf suede and crafted by an artisan factory, these are an elevated summer classic.
2. Ralph Lauren Cevio Washed Canvas Espadrille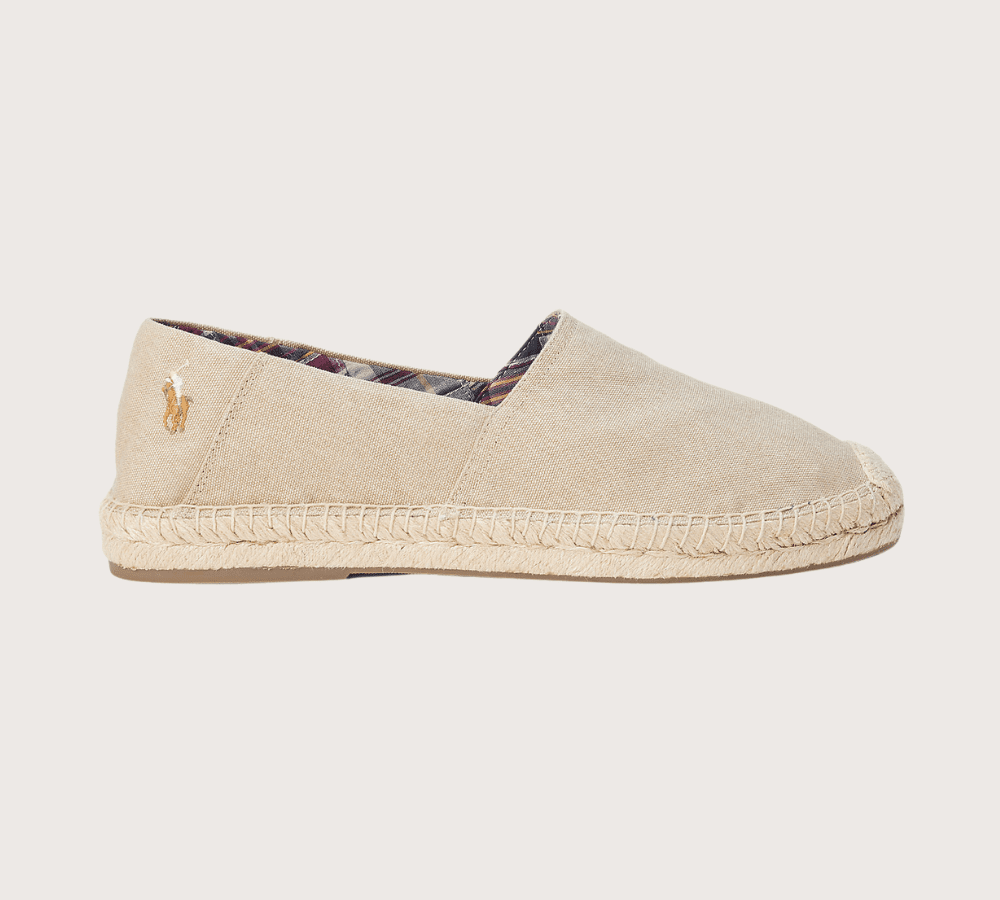 Presented in a summer-ready beige, there is a hint of pattern on the inside. Ralph Lauren is well-know for its preppy aesthetic, and these espadrilles would partner nicely with chino shorts and an oxford button down.
3. Orlebar Brown Fleet Canvas Espadrille
Featuring the brand's 'O.B tape' stripe on the heel, these espadrilles from Orlebar Brown are as versatile as they come. The navy colourway is ideal for lighter colour pairings, while the exposed stitiching adds welcome detail.
4. Toms Recycled Cotton Alpargata
Great for your feet and great for the planet. TOMS have manufactured their espadrilles using recycled cotton. The easy slip-on style delivers a minimalist look that will nicely finish any summer outfit.
5. M&S Canvas Slip-On Espadrilles
A wallet-friendly option for men that need a dependable pair of shoes for the next few months. Available in a range of colours, they include M&S' Freshfeet™ technology that helps minimise those unwanted odours.
6. Mango Suede Espadrilles
Brining a fresh colourway, Mango have used 100% bovine leather for the uppers of these green espadrilles. So, if you want an option that isn't the normal beige or navy, we can't recommend these enough.
7. OAS Company Espadrilles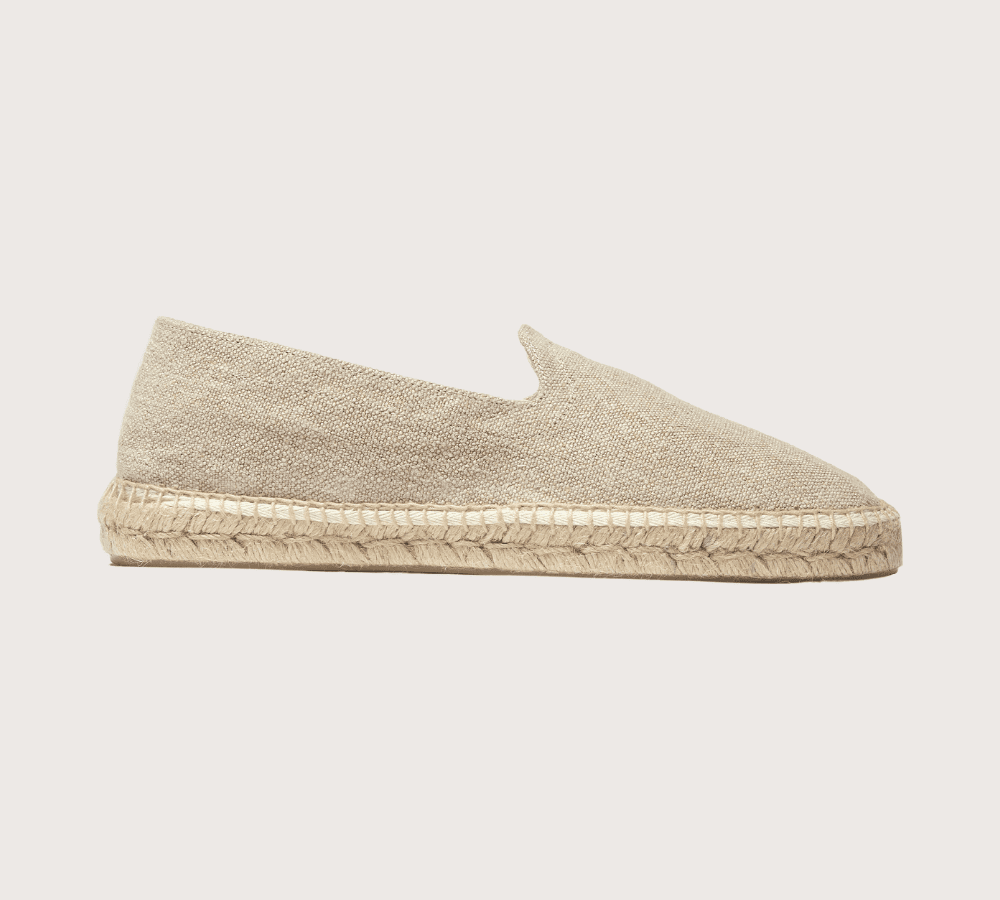 Don't let the understated design of these espadrilles fool you. Crafted from the summer fabric of the gods 'linen', they have been handmade in Spain and are your new warm-weather staple.
8. Saint Laurent Logo-Embroidered Canvas Espadrilles
Designer branding might not be to everyone's taste. Even without it this pair delivers everything a guy needs from his footwear in the summer. Breathability and comfort are at the forefront of this design, with the 'Saint Laurent' just the finishing stamp of approval.
9. Mulo Suede Loafers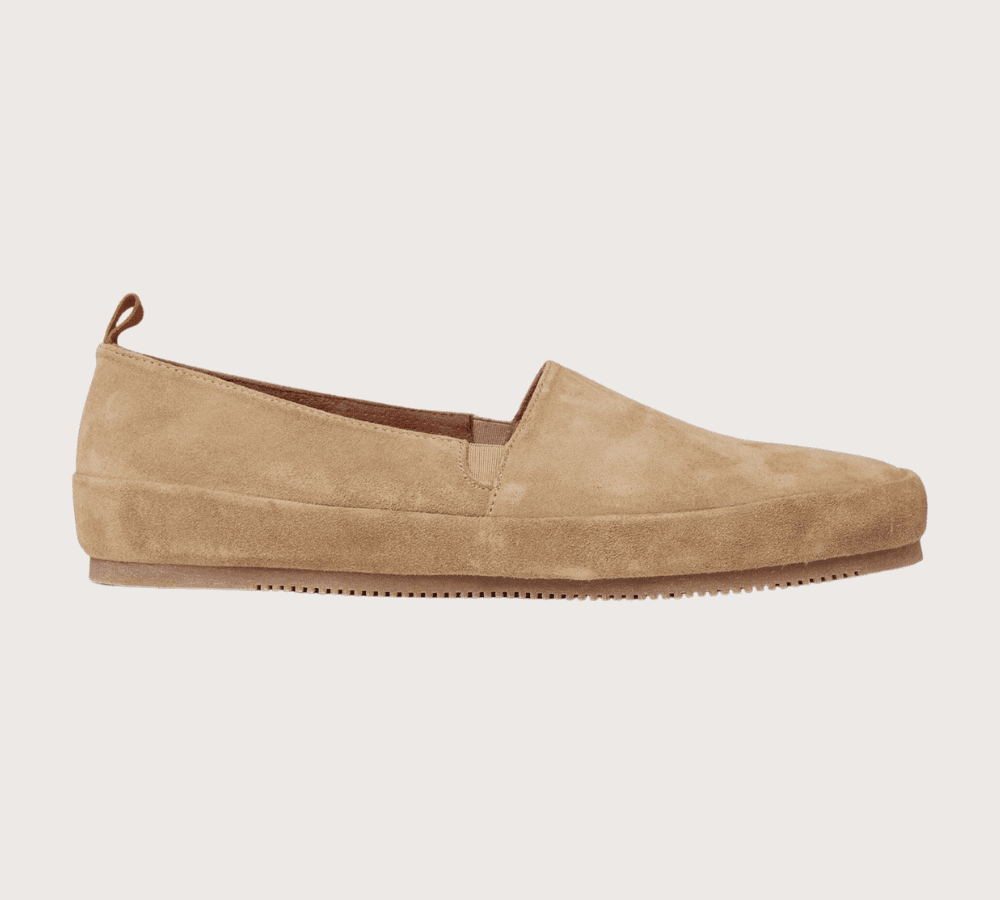 Good things come to those who wait. Mulo espadrilles are crafted using 100 steps over a period of three days. We love the small details like the tabs on the heel that help to minimise the suede creasing as you put them on.
10. The Resort Co Espadrilles Belgian Loafer Style
This pair of espadrilles will be wasted on just your holiday. Bring them into your everyday summer wardrobe and put your most stylish foot forward.
11. Aurelien Light Blue Beachside Loafer
Billed as 'not your average espadrille', there is more than a touch of luxury about this pick. The uppers are made from a supple suede of French calfskin. While underfoot, the jute soles from Portugal have durable rubber bases. If you have the budget, these are wel worth the money.
12. Scarosso Pablo Grey Espadrille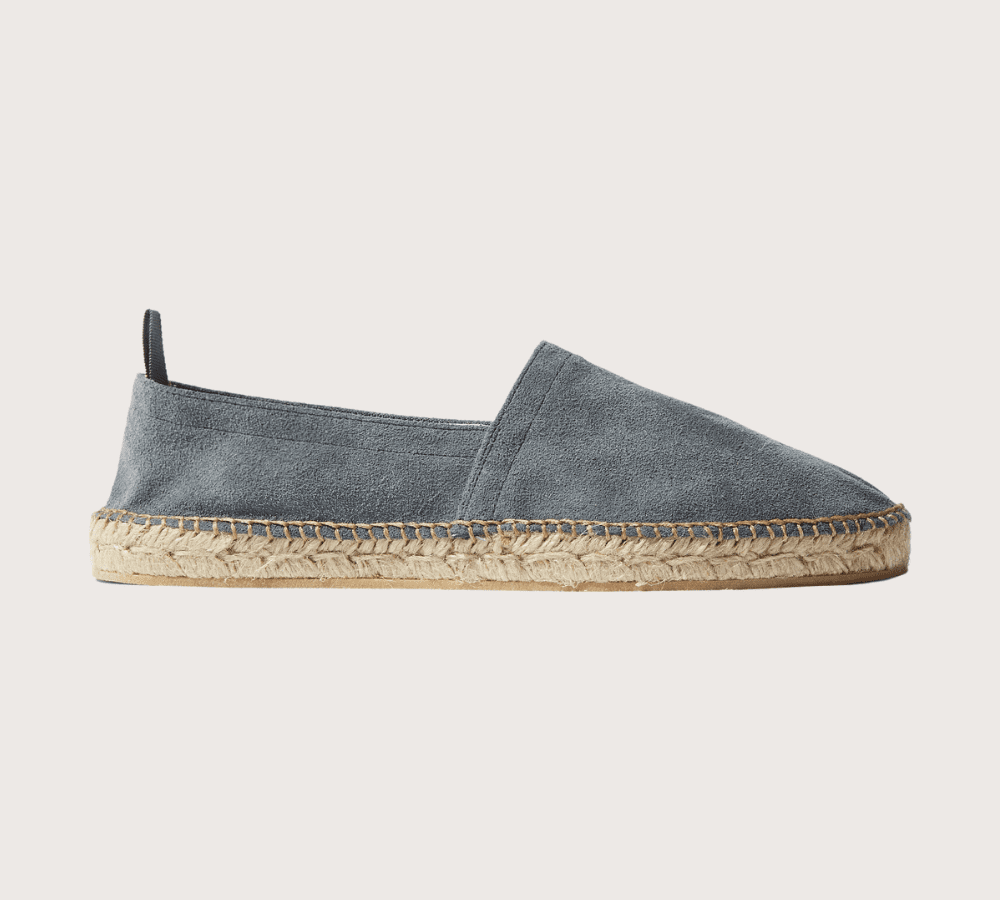 Look no further than the Italian brand, Scarosso for some stunning espadrilles this summer. Handmade in grey suede, they are the perfect partner to a pair of linen trousers and a cold beer.
13. Castaner Sand Camping Shoe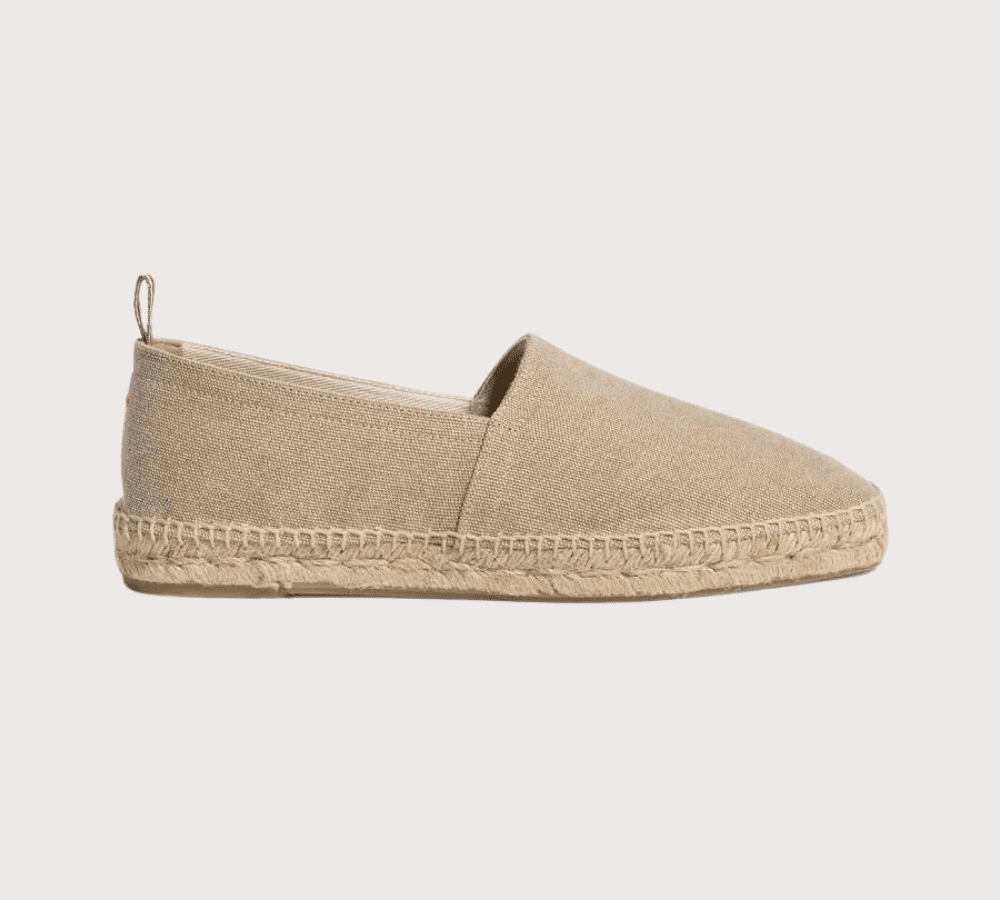 Stitched by hand, these cotton espadrilles have been completed with a touch of leather on the inside. The simple lines and square toe make these an instant classic.
14. Officine Creative Collapsible-Heel Suede Espadrilles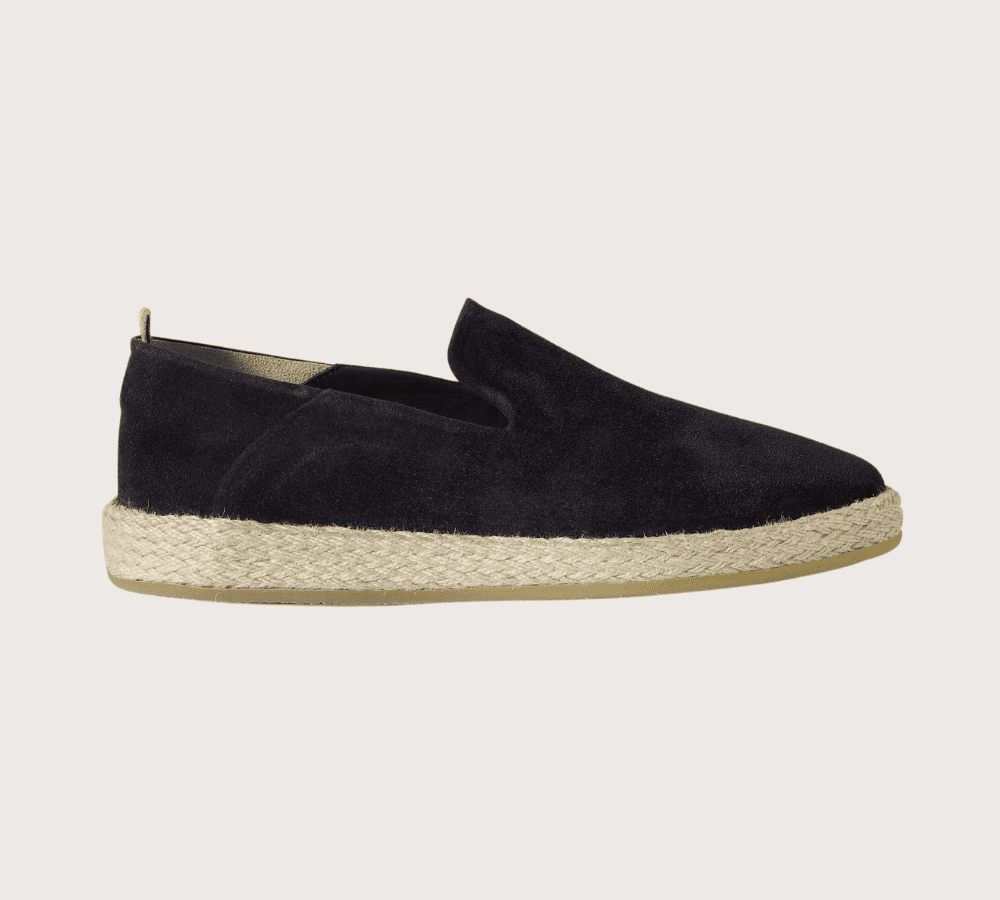 Sitting on top of rubber soles for added grip. Officine Creative have incorporated a traditional jute design with suede uppers. Everything is handmade in the label's Italian studio using time-honored techniques. They are up there as the pinnacle of men's espadrilles.
15. Massimo Dutti Moc Toe Split Espadrille
Are they a loafer, are they an espadrille? Does it matter when they look this good. The contemporary design of these Massimo Dutti shoes showcases footwear that would as perfect with tailored trousers as it would with shorts.
Every style-conscious man needs a fresh pair of white trainers in their wardrobe. As tastes and agreeable work attire have evolved, the white trainer is now perfect for both work and play.
How To Style White Trainers
The key to a white trainer's success is its versatility. Worn with a suit, it shows a more relaxed version of a work uniform that is great for the warmer months. But, equally, it's natural home is in a more casual comfort zone.
Adaptability is crucial in menswear, and white trainers are the footwear sweet spot. They look great with a multitude of options and if cared for correctly and dependent on material, will see you through rain and sunshine throughout the year.
If you prefer the minimalist, timeless aesthetic, there are many choices. But why not try something more contemporary that might fuse style and comfort in one trainer?
Related Post: 40 Of The Best White Trainers For Men
An essential menswear piece, the humble trainer has been coveted from high street to designer with fluctuating price tags to match. For men looking to shop on a more affordable budget, we have brought you our list of the best men's white trainers available right now for under £100.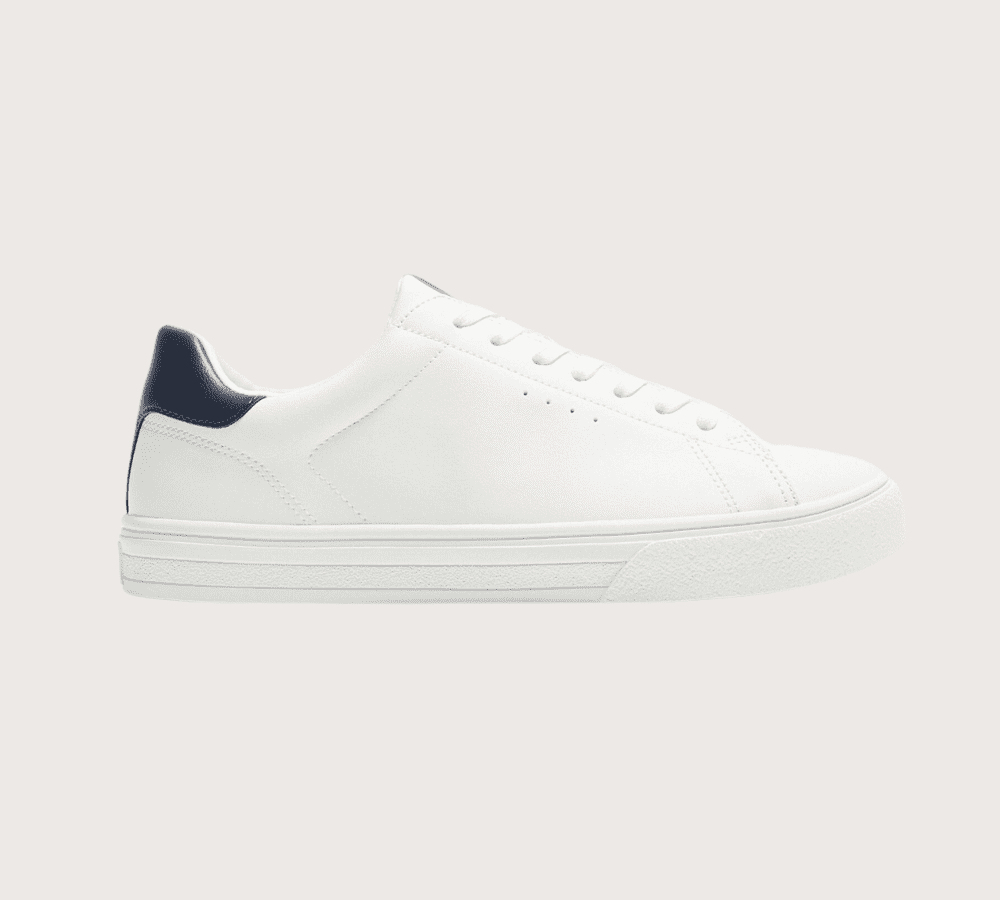 1. Zara Contrast White Plimsolls
If you are looking for a conveniently priced pair of white trainers that can do the daily grind, look no further than Zara. These minimalist sneakers are built for everyday wear.
Price: £25.99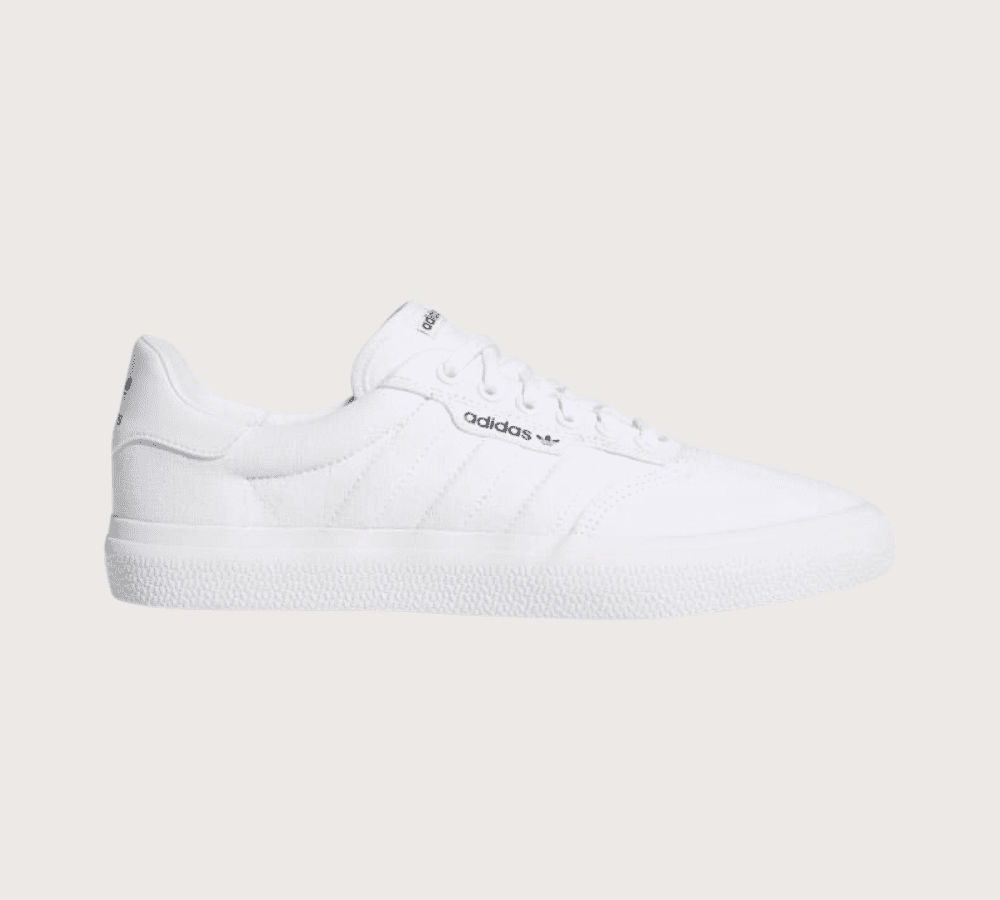 2. Adidas Originals 3mc White Trainers
When you don't want to spend a fortune on trainers, there are great alternatives, like these Adidas Originals. Cheaper than Stan Smith's they deliver a different take on your casual trainer game.
Price: £60
3. Walk London Kensington Trainers
Covering all the basics, Walk London has crafted the ideal casualwear companion. Understated and timeless, these neat and tidy trainers are dependable for all occasions.
Price: £70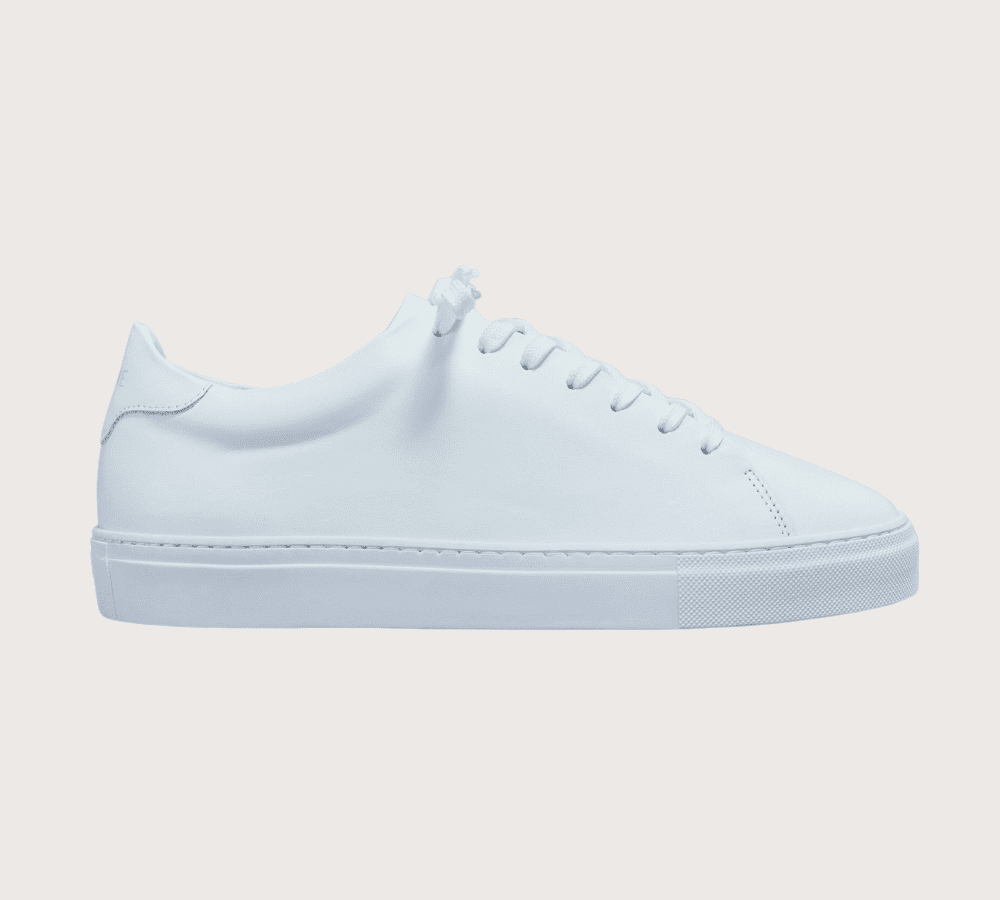 4. Arne Low Essential Leather Trainer
A slight update to the essential trainer from Arne, this one comes with a chunkier sole. Handcrafted in Portugal using premium Italian leather, this pair comes with a lot of bang for its £85 price tag.
Price: £85
5. Mango Monocoloured Leather Trainer
These Mango trainers are clean, simple and just what you need from a pair of white trainers. The key to great footwear is picking a style that can integrate with multiple outfits at a whim—a big tick in that box for this pair.
Price: £49.99
6. Dune Tezzy White Trainers
Ideal for those off-duty days, Dune has included perforated uppers for an updated twist to the humble white trainer. Throw them on with some blue jeans and you are ready to go about your daily business.
Price: £75
7. Aldo Introspec White Sneakers
The ideal, everyday trainer, Aldo has included its pillow walk technology. This innovative design supports the foot with padded insoles and heel-to-toe comfort. No matter what you choose to wear, this slim-lined style will always look great.
Price: £70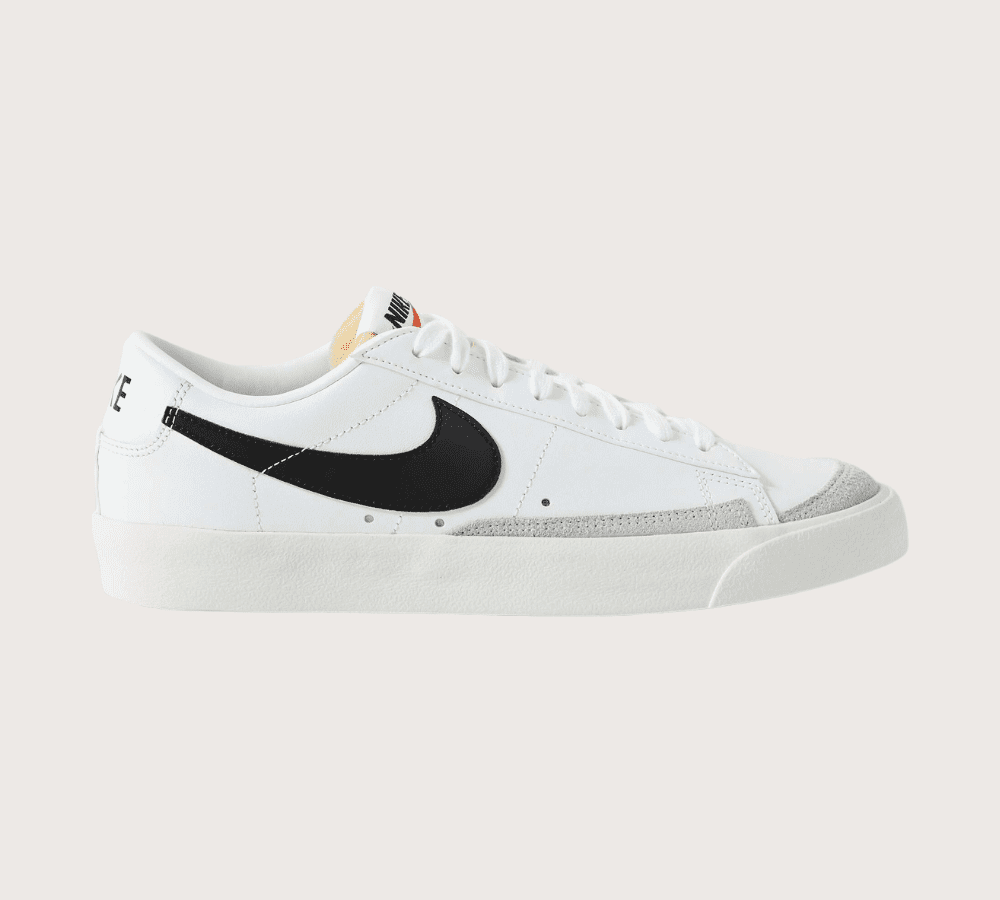 8. Nike Blazer Low '77 Leather Sneakers
Chock-full of retro charm, this trainer was inspired by the original sneaker from the 1970s. Adorned with the familiar swoosh in an oversized format, these have been tenderly trimmed with suede.
Price: £90
9. M&S Leather Lace Up Trainers
An everyday pick from this stalwart of the British high street. Ideal for all ages, M&S menswear has come on leaps and bounds over recent years. Don't just take our word for it; check out their extensive range of clothing and accessories for an affordable take on classic menswear.
Price: £60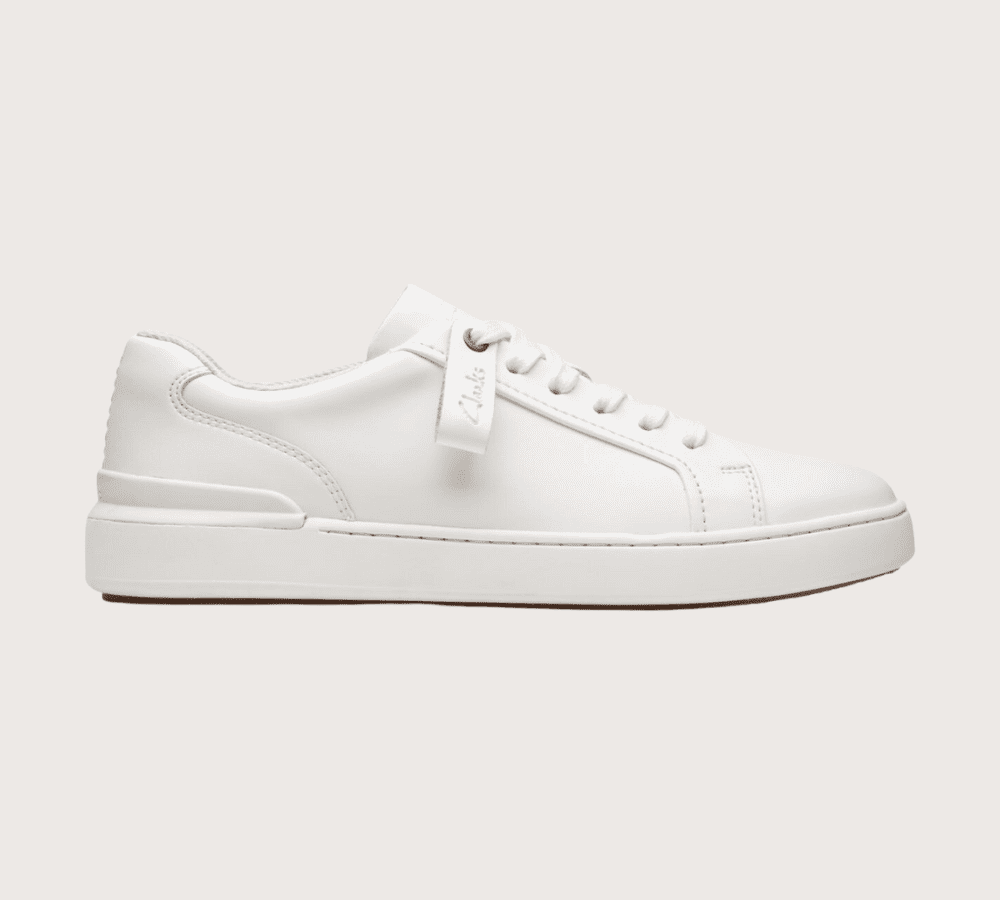 10. Clarks Court Lite Move White
When worn, the supreme comfort these trainers give comes from the MI-X layers of clever foam. They combine to offer arch support and extra padding at the heel and foot centre that assists the foot as you walk.
Price: £85
11. Superga 2750 COTU Classic
This timeless classic trainer from Superga is crafted from fully breathable, pure cotton uppers. The brand has been worn in the past by style icons like Steve McQueen, and these trainers will give you a ton of off-duty panache.
Price: £65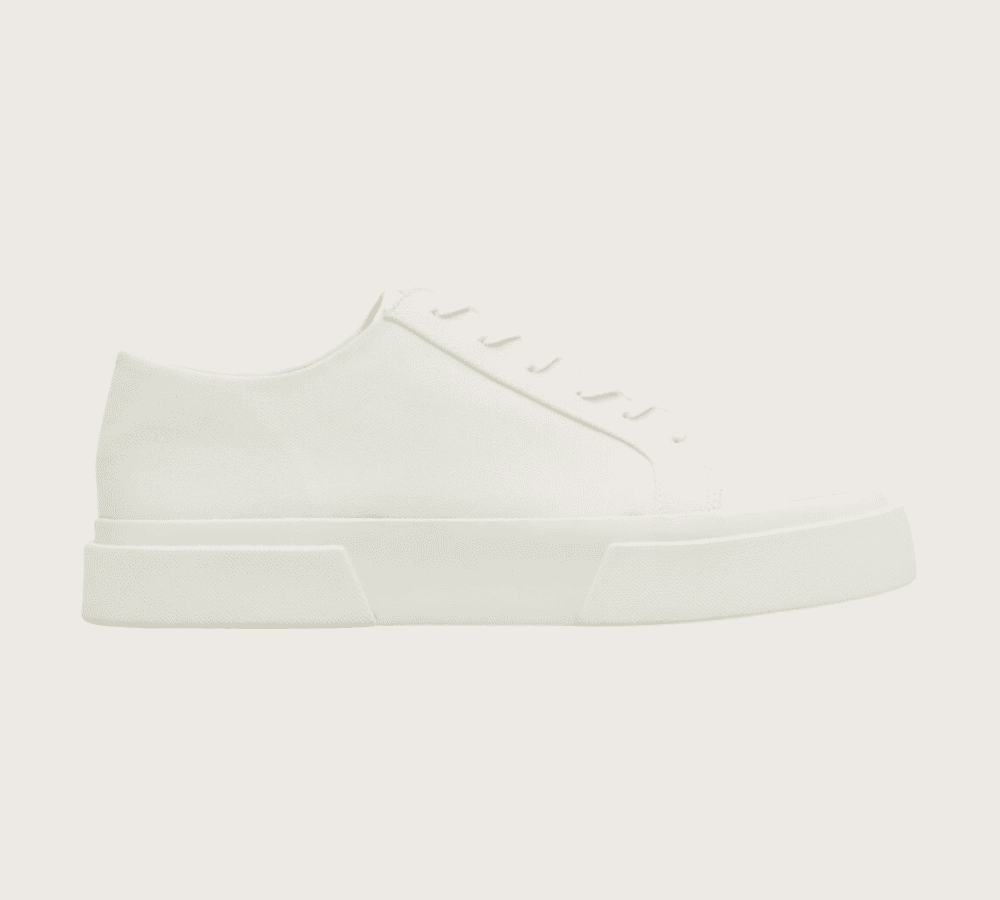 12. COS Canvas Lace-Up Trainers
Sometimes in the warmer months, our feet can benefit from canvas over leather. Though it doesn't give the polished finish of leather, your toes will benefit from the canvas' ability to allow more air to circulate. As we have come to expect, COS has created these canvas white trainers with all the sleek, paired-back charm we love from this Scandinavian style spot.
Price: £89
13. Massimo Dutti Leather Trainers
A streamlined look for the guy that needs a versatile trainer in their arsenal. From formal to casual, this clean silhouette is a match made in heaven. Added points for the Nappa leather used for the uppers while still coming in sub-£100.
Price: £99.95
14. Stepney Workers Club Dellow Sneaker
Delivered in a clean, minimalist aesthetic. Stepney Workers Club has a combined smooth leather up top with a chunky sole. Perfect for wearing with your favourite suit this summer.
Price: £89
15. Calvin Klein Recycled Trainers
Consciously made using 100% recycled materials, these are more than a PR stunt. They benefit from a comfortable foam in-sock and are nicely partnered with a suede trim. If you don't mind the heavy branding on the sole, this pick is a great contemporary choice.
Price: £90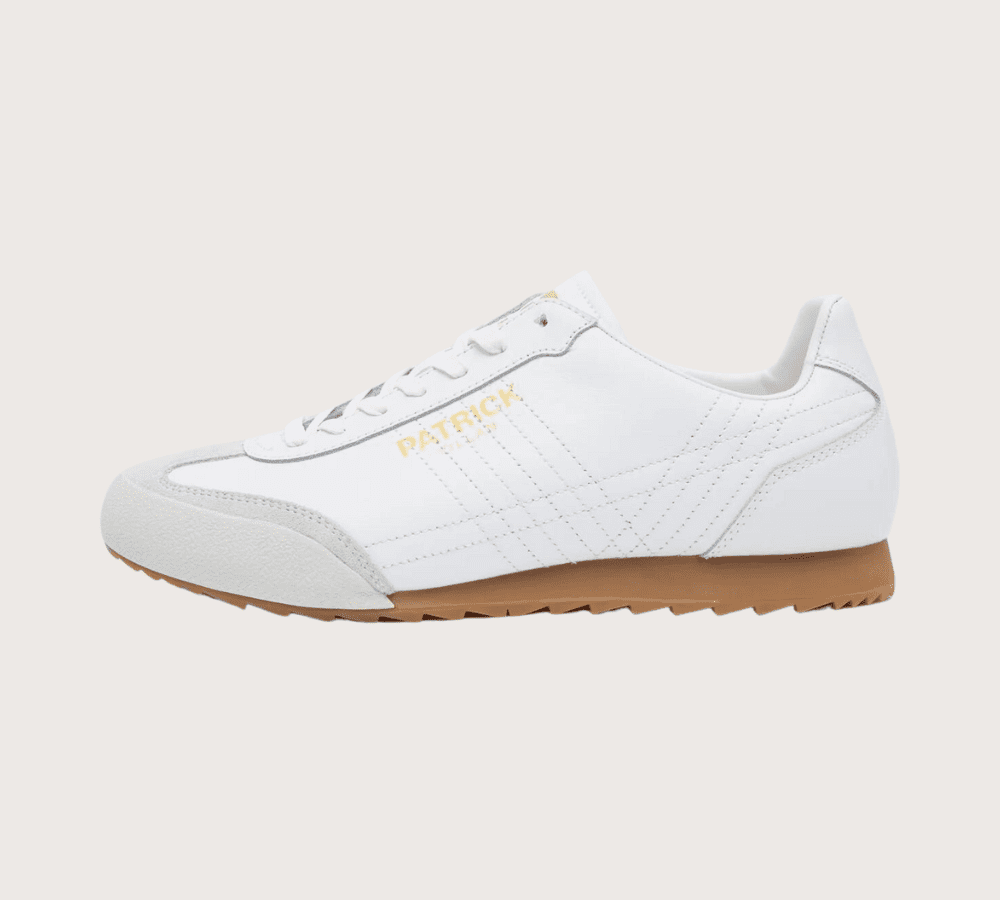 16. Patrick Villain Trainer White
With a distinctive design, these won't be to everyone's taste. But we like how the volcanised rubber adds interest and a contemporary feel to a menswear classic.
Price: £80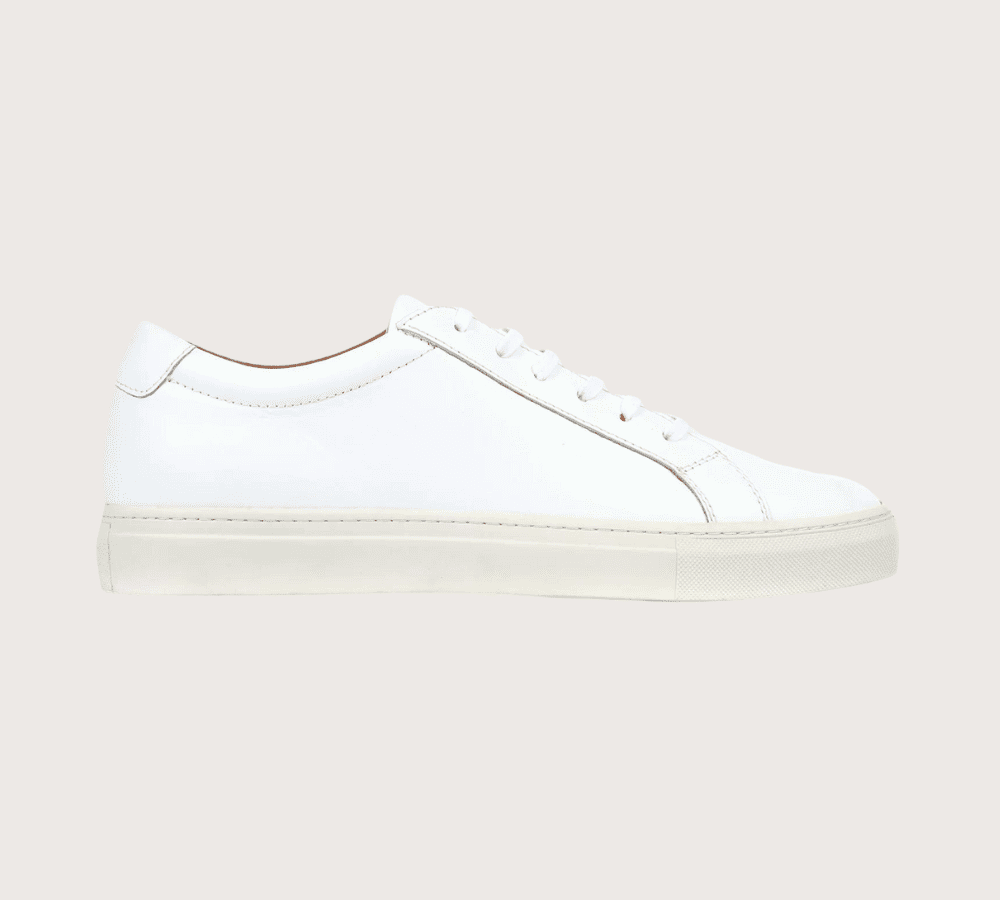 17. Jones Bootmaker Leather Lace-Up
Probably more familiar to most men as a destination for formal footwear, Jones Bootmaker has applied its expertise to a casual option. A timeless design, these are a goes-with-everything style that won't let you down.
Price: £99
18. New Balance Bb480 Trainers
Look to New Balance for a sportier aesthetic for your white trainers. Complete with a touch of burgundy. These are a strikingly simple piece of footwear that should integrate nicely into a casual ensemble.
Price: £89.99
19. H&M Canvas White Trainers
If you need a budget-friendly option, look no further than H&M. They don't deviate from a simple design that makes these good for your wallet and your wardrobe.
Price: £19.99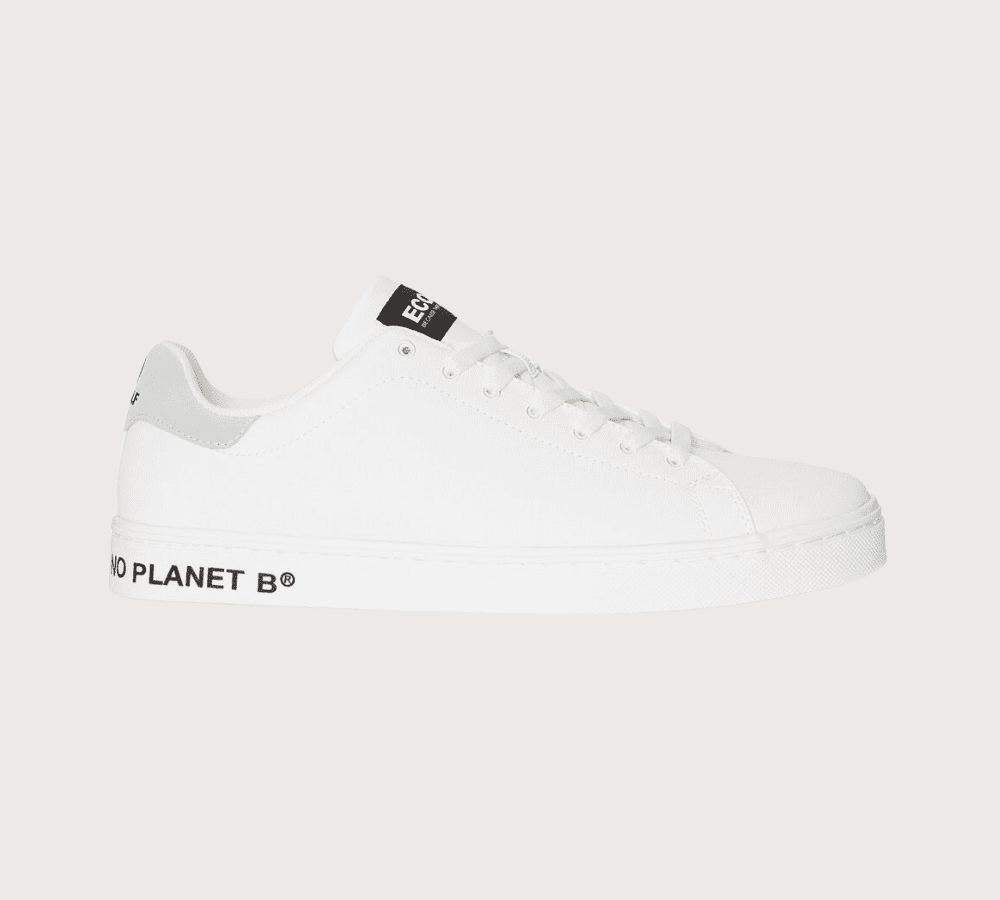 20. Ecoalf Sandford Basic White Trainer
Made from recycled nylon, these white trainers from Ecoalf are helping prevent waste from ending up in landfills or being burnt. They are vegan and impactfully showcase their opinion on fashion's current impact on our planet with their 'No Planet B' motif on the sole.
Price: £95