The popularity of minimalist watches has skyrocketed over recent years. Men are shying away from loud and bold timepieces, opting for a watch that complements, rather than overpowers their outfits.
Direct to consumer brands have been at the forefront of this movement. By removing the middlemen they are able to keep costs low. That means customers get access to watches with excellent craftsmanship under the hood but without the lofty price tag. This is accentuated by removing ostentatious design elements that add cost with no added value to the wearer.
What is a Minimalist watch?
Minimalism is not about stripping your wardrobe and accessories of everything you love. It is about reflecting on what you own and how each piece interacts with the other. The lure of minimalist watches whether that be quartz or automatic movement is the beauty of their simplicity. Without all the often unnecessary adornments that luxury watches come with, they become more multi-functional. Their stylish exterior and paired back looks, mean they can seamlessly be worn with both smart or casual outfits.
Simplicity is the keynote of all true elegance.

Coco chanel
Related Post: The Best Minimalist Watches Under £200 | 2023
Don't get me wrong, the luxury watch market is still a booming business and I wouldn't turn my nose up at a Breitling or Rolex. But for those looking for watches that won't consume a month (or more) of wages, then minimalist watches deliver great value alongside their stylish credentials.
Before you rush out and pick up the first watch you see, read our breakdown of the best minimalist watches for men to buy right now.
1. Uniform Wares - M37 PreciDrive
By their own statement, Uniform Wares does not conform to the general standard of branding within fashion. Their core focus is on meticulous design and development. By not hiding behind a brand name or showing unnecessary features they have let their designs do the talking. To their credit, they have now become a key player in the watch market. This Swiss-made, three-hand watch comes is partnered with an Italian nitrile rubber strap. A stunning minimalist watch to kick off the list.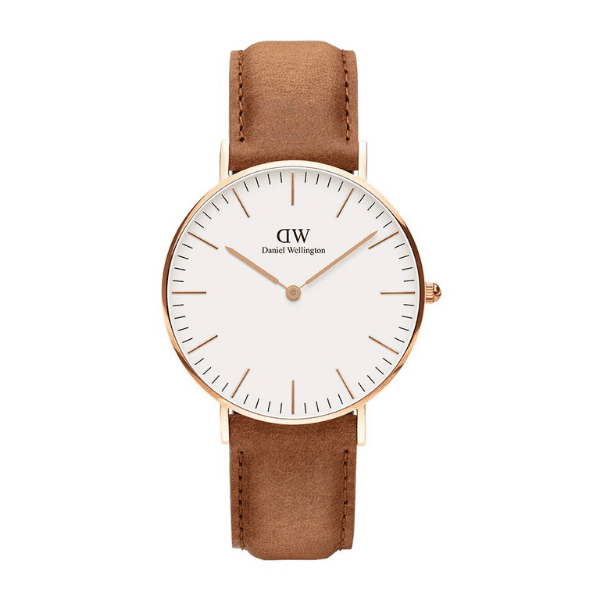 2. Daniel Wellington - Durham
A classic style, the Daniel Wellington Durham watch is understated with a clean, timeless face. The American leather strap creates its own petunia over time due to its treatment with vegetable oil. This allows the strap to lighten in areas of bending to create a unique effect, individual to the wearer.
3. Skagen - Signatur
The Scandinavians are the kings of minimalism, so it will come as no surprise that we see their designs throughout this list. The first is Skagen which delivers great design at an amazing price. The 40mm Signatur shows the hours with distinctive linear and dot indexes on a head-turning blue dial face.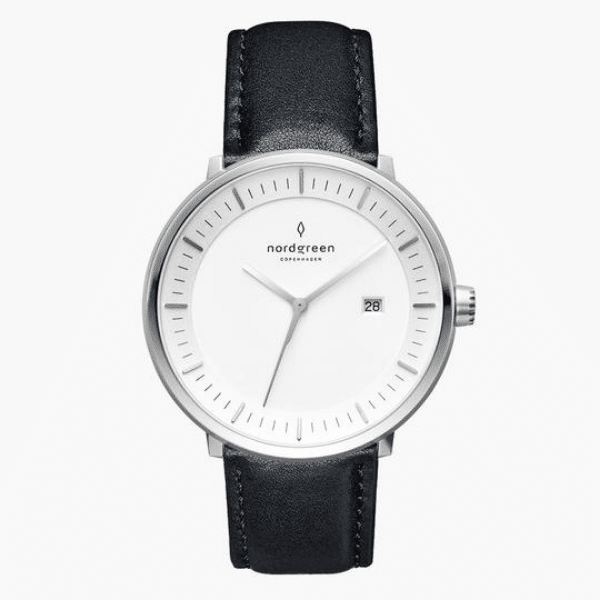 4. Nordgreen - Philosopher
Danish brand, Nordgreen is a fairly new player in the watch market. Their point of difference is their watches come from the mind of famed designer Jakob Wagner. Nordgreen fuses aesthetics and functionality to produce some great looking watches. Our favourite is the Philosopher, made with an asymmetric second hand to give the illusion of slicing through time.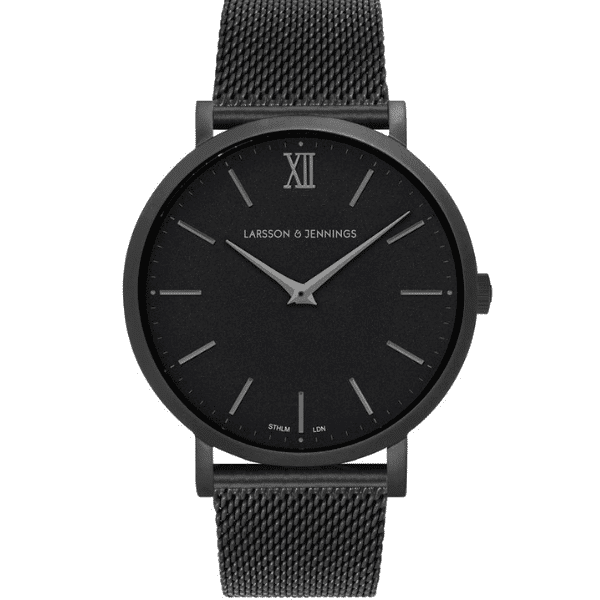 5. Larsson and Jennings - Lugano Milanese
An Anglo Swedish brand they are combining classic British aesthetic and Swedish minimalist design using a mix of materials to offer a dynamic edge to their timepieces. Available in a range of dial colours, with a Japanese Quartz movement, we picked out the black version of the Lugano Milanese. We can see this looking great as part of a smart, date night outfit.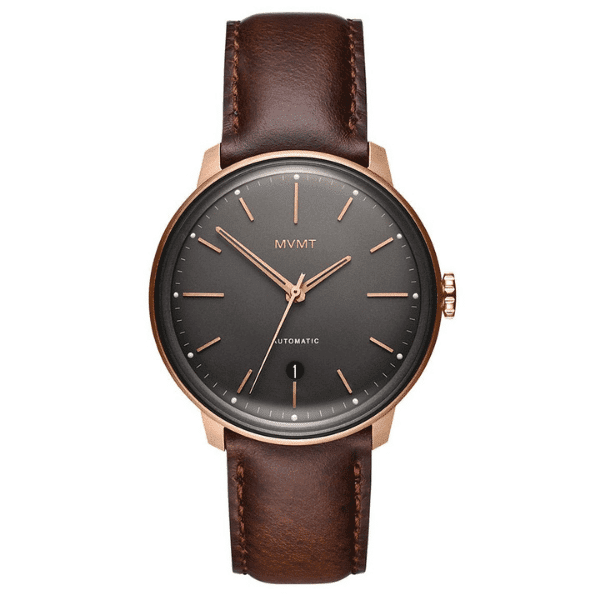 6. MVMT - Bourbon Rose
MVMT pronounced 'movement' was initially a crowdfunded concept that has since become a global phenomenon. The reasonably priced brand believes that quality products shouldn't break the bank. Designed in LA, the rich, indulgent colourway of the Bourbon Rose is constructed with up to three times the working parts of their traditional analogue quartz watches.
7. MOVADO - Men's Bold Watch
Can you get any more minimalist than no numbers on the watch dial? Movado has stripped everything back for this timepiece and it looks incredibly modern. The brown leather strap is set off by the gorgeous charcoal grey dial face.
8. Brathwait - Classic Slim Wrist Watch
This super stylish watch is powered by a Swiss Made Ronda Cal. 785. Using a domed sapphire crystal, Brathwait doesn't hold back on its materials. The focus of the brand is premium minimalist watches without the luxury price tag. Brathwait lays out the costs of every watch made and the typical markup you would see from another retailer. This transparency is a clear indication of the value you get when buying from Brathwait.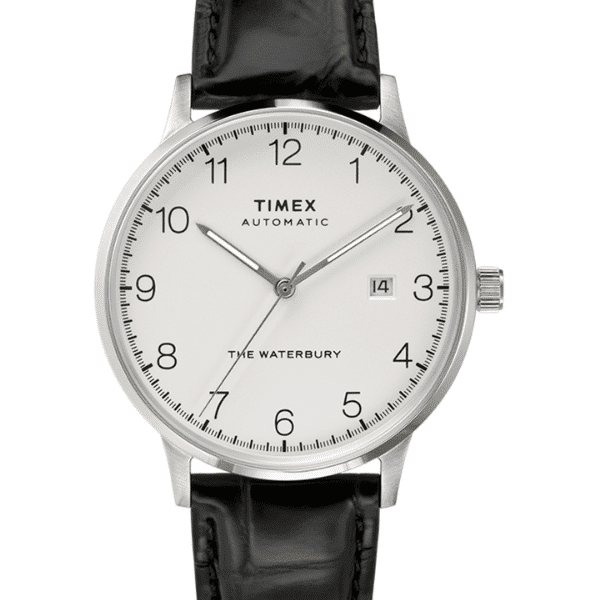 9. Timex - Waterbury Classic Automatic
The Waterbury collection is a staple line from Timex. They have updated this classic by adding an automatic movement for a more accurate and longer-lasting timepiece. This new version is powered by your movement and can store a maximum of 40 hours of energy. If still for longer than 40 hours you can still wind the watch the old fashioned way. Established in 1854, Timex (formerly the Waterbury Clock Company) focus on its heritage and commitment to expert craftsmanship with every watch they produce.
10. Defakto - Transit Standard
Defakto are independent German watchmakers. They manufacture and design minimalist watches in Pforzheim, an area of Germany famous for watch and jewellery making. Under the hood are Japanese and Swiss movements encased in Bauhaus inspired designer timepieces. Winner of the 2020 German Design Awards, the Transit Standard delivers unique, modern aesthetics with high-quality components.
11. Shore Projects - Newquay
Uk based Shore Projects create watches inspired by the British seaside, hence the name. Their watches are only available directly from their website and they believe in offering the best price every day so you won't find a discount insight. We like Newquay's contrasting silver mesh strap and deep blue face, plus 10% of profits go to the Marine Conservation Society.
12. Shinola - The Canfield
Each of Shinola's watches is hand-assembled in their Detroit factory. The Canfield uses a high accuracy quartz movement with an elevated design courtesy of the open alabaster dial. Shinola watches are built to last making the minimalism of this watch a core part of its timeless style.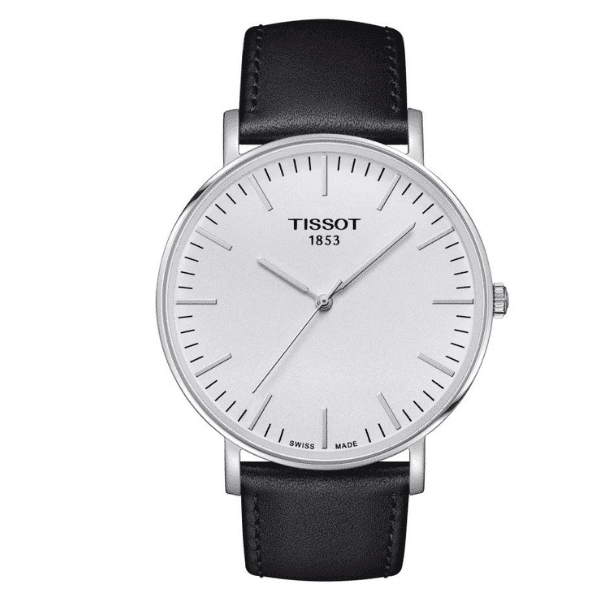 13. Tissot - Everytime Large
A classic Swiss-made watch from Tissot. This timepiece is undeniably minimalist. But, with Tissot, you know that although the exterior might be simple, what's inside is of the highest quality. A refined choice, this watch will seamlessly integrate with the outfits you choose to wear on a daily basis.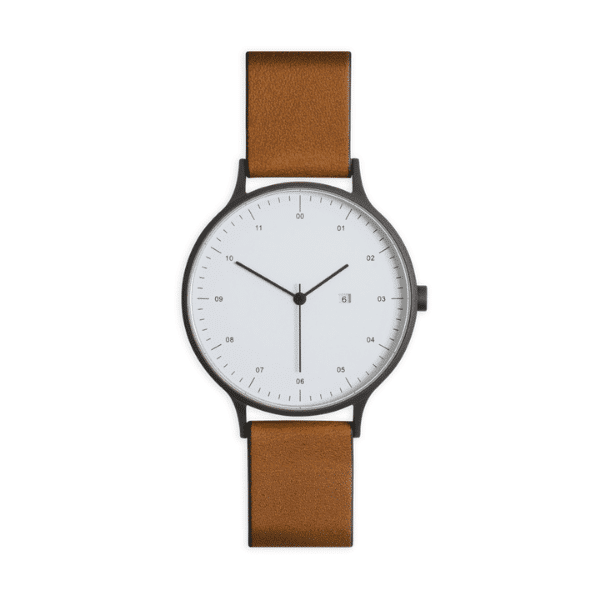 14. Instrmnt - Everyday
As the name suggests, this is your go-to watch for the daily rigours of modern life. With a large, bold dial it's encased in steel to withstand any inevitable bumps and scratches. Inspired by the industrial design of the mid 20th century this is a utilitarian design that ticks all the current trend boxes.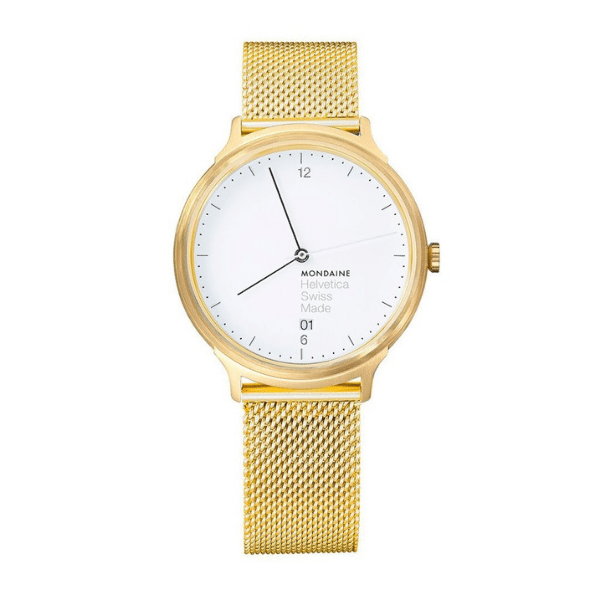 15. Mondaine - Helvetica Light
Encapsulating one of the world's most famous fonts in watch design is no mean feat. This impressive timepiece has all the hallmarks of exquisite minimalist design, down to the removal of dial numbers and moderate branding. The white dial and tone-on-tone second hand give this watch its light design.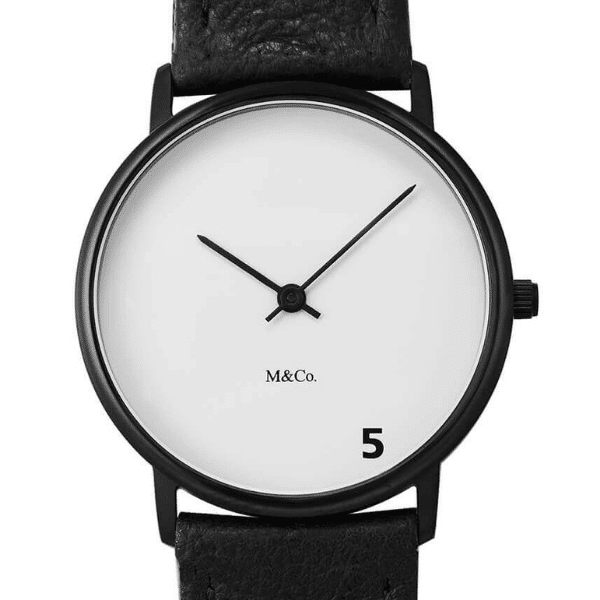 16. Projects Watches - 5 o'Clock
Creating affordable, wearable, works of art is what Projects are all about and the 5 o'clock watch is no different. A lot of their collections have a whimsical use of colour and playful artistic direction to make them unique. With the 5 o'clock it is about stripping away unnecessary and adding some fun. For a lot of us, 5 o'clock is the time we clock off from work.
17. Junghans - Max Bill Mega Solar
Germany is known as a purveyor of expert engineering and this follows through with the Junghans collection of watches. The power to run this minimalist watch is provided naturally by the sun. Made from titanium, the watch is light and has a state-of-the-art radio-controlled movement. This is next-level watchmaking, built today but with tomorrow in mind. It will stay timeless for years to come.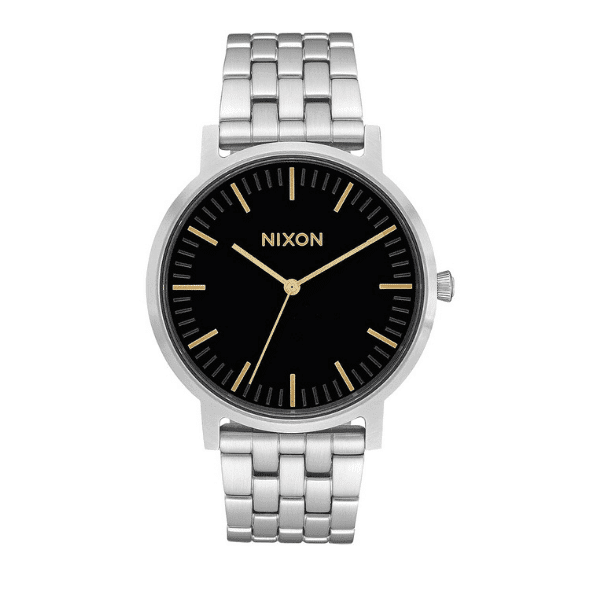 18. Nixon - Porter
An ultra-light, thin case provides the perfect foundation for this watch. The Porter's sleek and sophisticated design allows it to fit perfectly into our list of minimalist watches. A distinctive gold and black combination dial colourway will grab the attention of watch enthusiasts and amateurs alike.
19. Komono - Winston Double Subs Black
You can never call Komono watches overpriced. Cheap is a subjective word. Komono delivers great value for men looking for a smart minimalist watch but doesn't have a lot of money to spend. The double black colourway is sleek and modern and inside you'll find a Japanese Quartz movement, the same as others on this list.
20. Rossling & Co - Continental 40mm
The Continental watch from Canadian brand Rossling & Co was built to be subtle, versatile and adaptable. This ethos not only represents this watch but the movement of minimalism. Removing distractions, this watch has a classic design that has an interchangeable watch strap. We like the tweed strap (developed in-house) as a dapper alternative to others on the market. The movement inside is assembled in Switzerland where the founding fathers of watchmaking come from.
There is a myriad of different hat styles for men, but none will keep your head warm like a beanie.
Considering a beanies practicalities, we still see it as an afterthought in the fashion world come winter. Why? I guess we have celebrities and some fine examples of how not to style a beanie over the years to thank for that. Their insistence in trying to make it a fashion statement, as oppose to a stylish staple is where we went wrong. It shouldn't be worn bulky and hanging off the back of your head for one.
The beanies redeeming features such as hiding messy hair and keeping your head warm are all finished with stylish aplomb. It is unassuming, going about its business neatly and functionally. This is how we should treat it. A practical foundation of our winter wardrobe year after year. Not a trend-focused piece that we discard come spring.
Over time we have seen different and acceptable styles of beanies come onto the market. Which one you choose and how you style it, will ensure you find the right beanie that suits you.
Beanie Style vs Face Shape
As we previously mentioned, not every beanie will flatter every face shape. With longer faces, you don't want to add too much height, with the opposite important for those with round or square faces.
Longer face shapes should avoid anything like a bobble hat or beanies that sit too far on top of the head. This will add height and make your face look longer. We recommend choosing a close-fitted beanie that has a turn-up cuff.
Those with smaller shapes like round or square faces have room to add height. This is where a bobble style or a looser fit can be adapted to suit your face.
Beanie Style vs Hair Length
This initially might seem like an odd conundrum, but the weight of hair we have under the beanie can alter the shape and fit of a beanie.
Men with short hair should try a beanie that has a more streamlined and classic fit. Without a bulk of hair to fill the beanie short-haired men can often see bulkier styles lack structure and become flat.
Those men who have curlier hair look great with bulkier beanies with less structure like a bobble hat. As your hair can sit over the ears and along the side of the face. A beanie that sits further up the head would also be a nice choice. We think that having curls hanging down from the beanie, rather than hidden gives a better overall appearance.
If your hair is shoulder length or longer then try not to wear beanies that start to cover the face. Roll up the cuff of the hat so it sits slightly higher up. That way it allows your hair to fall and frame your face nicely.
Different Beanie Styles
Keep your bonce warm by trying these favoured beanie styles. They will help to rid the world of bad fashion choices in the past while making you look effortlessly cool.
When thinking about materials we will always opt for wool, cashmere if your budget can stretch to it. Wool can give unrivalled warmth to the weather as well as giving the structure needed to make sure the beanie looks its best.
Cuffed Beanie
This is the go-to look for beanies and probably the style most accustomed with the hat. It can look good on a wide range of men and can be incorporated (as we will show you later) with a mix of different outfits.
This style of beanie can be worn slightly looser creating some bulk at the crown of the head. Or, you can opt for something more streamlined that fits snugly over the ears.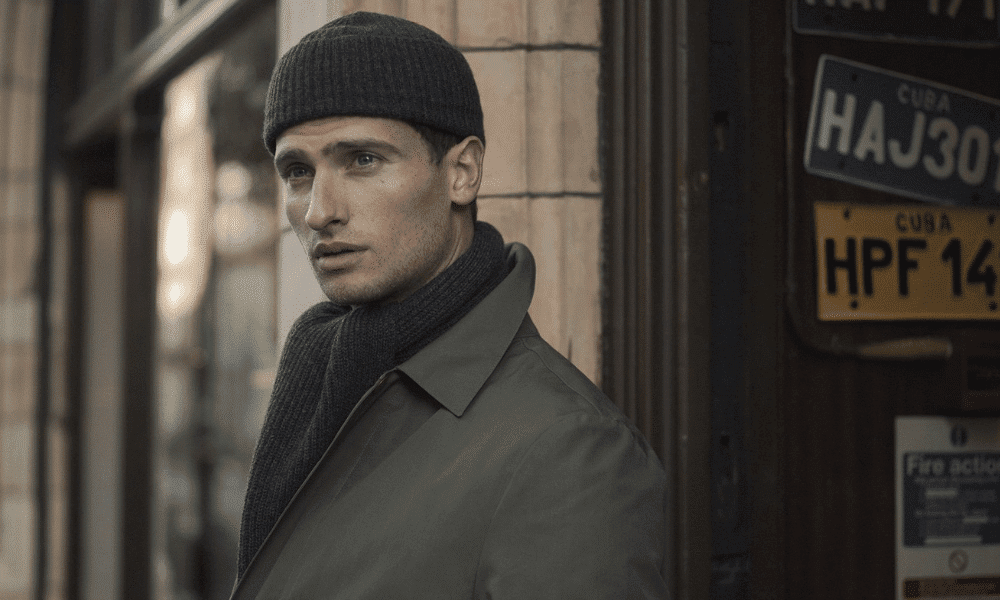 Fishermans Beanie
Unfortunately, this is the beanie style you would most connect with hipsters in winter. Despite this and if you can see past its hipster association the fisherman beanie can sit squarely in the current workwear phenomenon we are seeing within menswear.
The fisherman beanie is a smaller version of the cuffed beanie that sits above the ears.
Bobble Hat
Yes, not just for children, the bobble version of the beanie can be adeptly worn by grown men. Wear with caution though, focus on neutral colours and beanies that have a minimal pattern or none at all.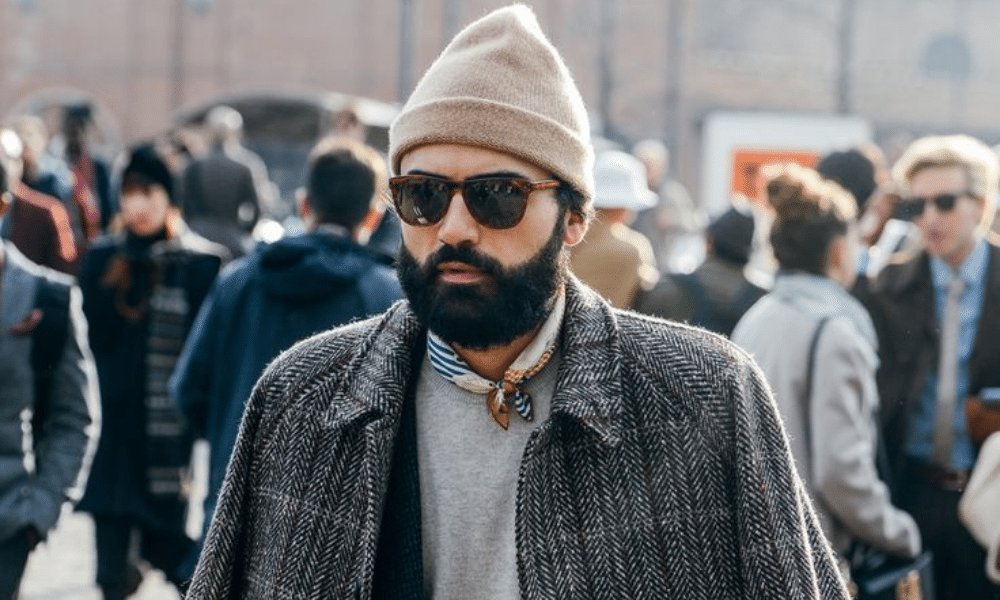 High Top Beanie
This style of beanie has fast become a staple of the street style elite. Fashionistas on the way to shows during fashion weeks have opted for this distinctive option to push the boundaries of the headwear trend.
Approach this one lightly, as it can lead the conservative men looking like they have found a new place to store their sandwiches. But, for those who embrace fashion trends, this could become your favoured style. Just remember this is less about slouch at the back of the head and more about height. So, pick a beanie made from a firm enough fabric to stand up without slouching inwards.
Beanies To Avoid
Like with all elements of menswear there is always a bad version or versions of classic men's pieces. This is largely because of seasonal trends that make items look great one year but be scorned at the next.
For us, there are some classic beanie styles that need to be locked away and forgotten about.
The Visor Beanie - Part of the 00's skater movement it was extremely popular among emo's and teen rockers.
Slouch Beanie - You probably had one, I think we all did. This is the beanie that hung off the back of your head and was popularised by the likes of David Beckham.
Christmas Beanie - Within the same bin we will throw all novelty beanies. Need we say more on the subject.
Beanie Outfit Inspiration
Once you have found the beanie that works well with your face shape and hair length its time to work it into your wardrobe. As previously mentioned, we tend to lean towards timeless style over fashion trends. But, we don't discourage anyone from finding their own fashion style.
With this in mind, we have brought together a collection of different looks to inspire men wearing beanies this winter.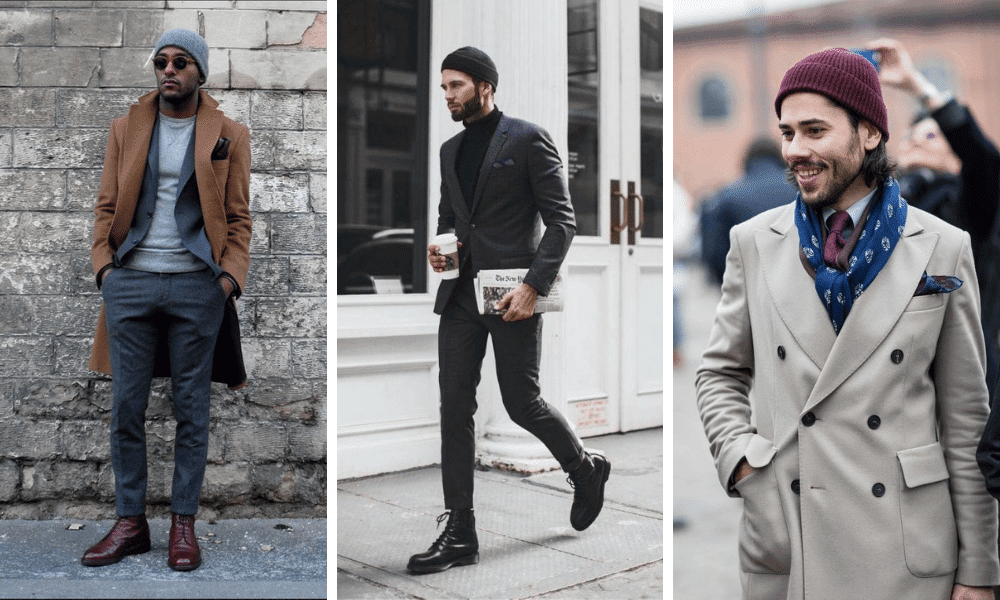 The Work Beanie
Even the smartest of gents get a cold head. The beanie can become a handy winter accessory when travelling to work or going from meeting to meeting. For this look, you want to go for a classic option. That is a simple wool or cashmere beanie with a cuff in a neutral colour. Your smart outfit is the star of the show, let the beanie be a functional supporting actor.
You can mix this look up by wearing a roll neck instead of your traditional shirt to showcase a mixture of textures and winter styles.
The Workwear Beanie
The explosion of workwear and functional utilitarian clothing was all over the catwalks again for autumn-winter. A good beanie fits perfectly into these looks.
An easy element of workwear for men to incorporate into their wardrobes is outerwear. We have seen a variety of multi-pocket jackets and coats that have even given a nod to the military incorporating nuances of jackets like the M65. Being outside, obviously then lends itself perfectly to wearing a beanie.
The Casual Beanie
A beanie in its simplest form is a casual item and so naturally fits within a more casual look. There is really anyway you can go with this. Partner with chinos and a sweatshirt for a comfortable take on colder weather dressing. Layer this with a gilet and wool overcoat to really keep the cold at bay. Alternatively, go more relaxed with a hoodie, on-trend cargo trousers and sneakers or boots for a casual weekend look.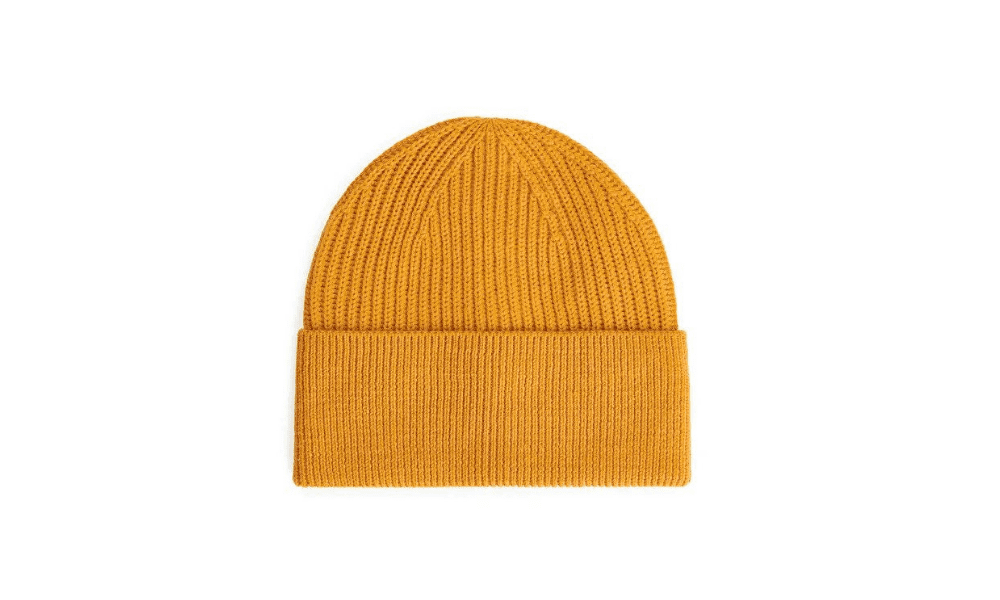 Arket
A favourite for those men who favour functional, well-made basics. The production of this beanie from extra strong, coarsely spun wool makes for a durable and warm menswear staple.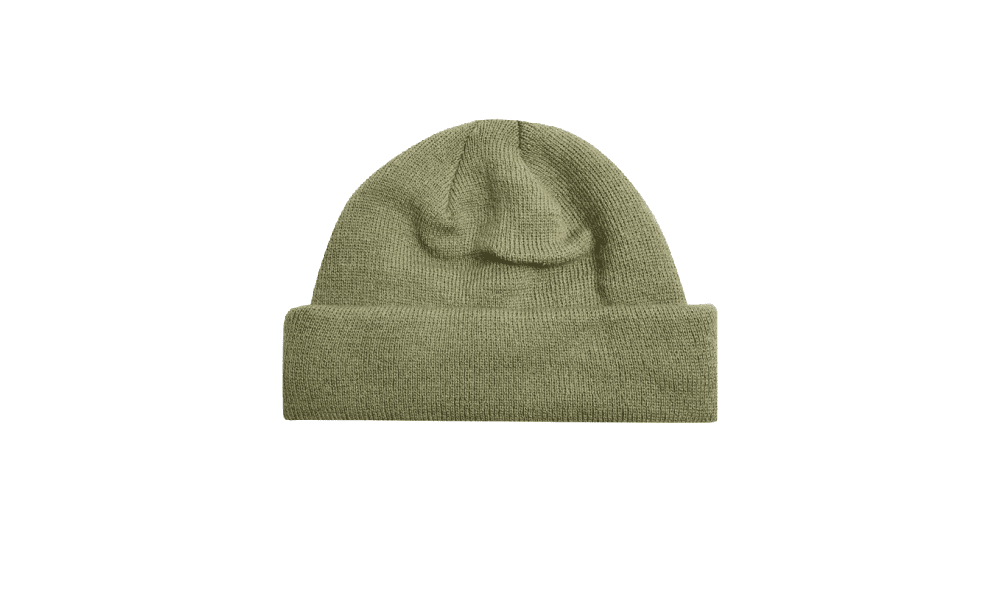 Topman
With Topman you know you are getting value and trend-led pieces. This khaki beanie is bang-on for anyone doing the workwear look. We think this choice has enough about it to see you through the seasons.
Mr P
This staple from the Mr Porter own brand, Mr P comes in a range of four colours. As you can imagine with Mr P it ticks all the style boxes and this beanie will comfortably see you through the turbulent British weather.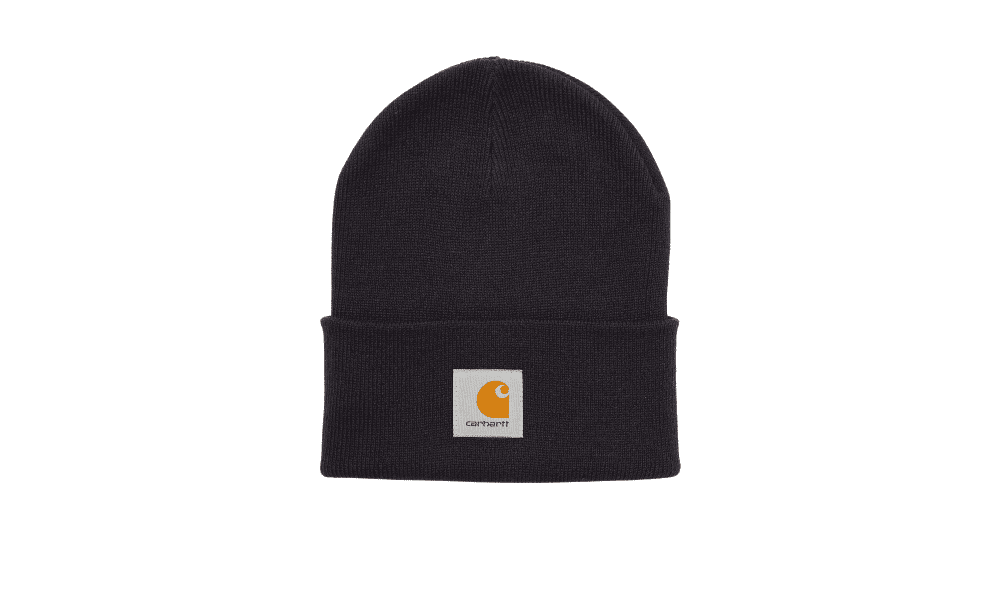 Carharrt
Carharrt are an American workwear staple, built to withstand the harshest climates. So, as a result their beanie fits nicely into current trends whilst delivering on its main function, to keep our heads warm.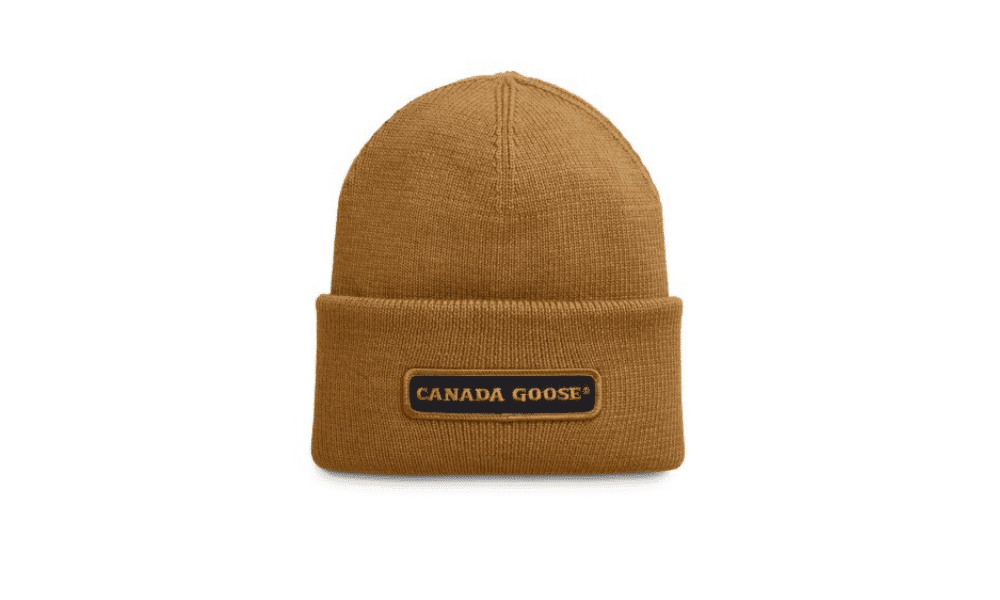 Canada Goose
Granted, this is stretching beanie budgets, but you are guaranteed quality. Canada Goose products are built to withstand the most brutal of cold weathers.
Crafted from Italian merino wool it is double layered for extra warmth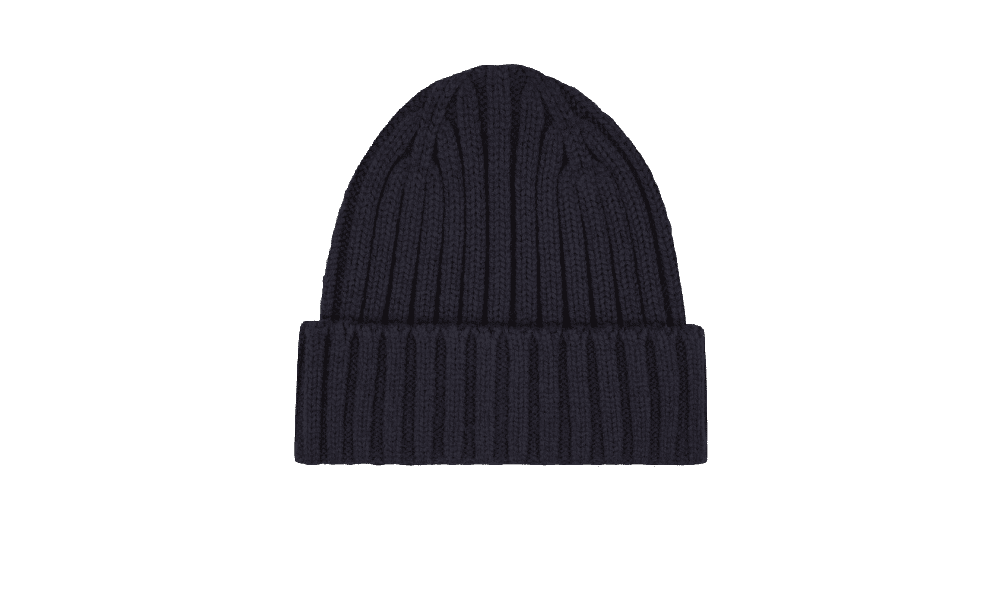 Uniqlo
Made with their heralded Heattech fleece technology, this Uniqlo beanie is an absolute steal at under £10. It will no doubt keep the cold at bay, while its simple, classic design means it can be worn with both smart or casual clothing.
Minimalist watches are a fantastic way to introduce simple and elegant design pieces into your wardrobe. They are incredibly versatile, equally great matched with a suit or just with jeans and a t-shirt. Their simplistic attributes are what has made this style of watch so popular over recent years.
Despite minimalist watches being some of the most reasonably priced timepieces around they still have a tendency, like with all watches, to quickly scale in price. We would never encourage any gent to live beyond their means and every man will have a different budget. As such, we have brought together a list of our favourite minimalist watches available for under £200 fresh for 2020.
Related Post: The Best Minimalist Watches Watches To Buy 2023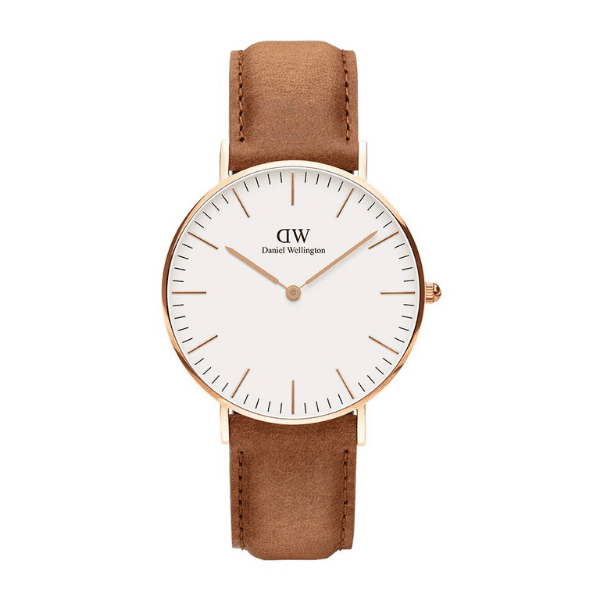 1. Daniel Wellington Durham Watch
With a strap that will age naturally over time due to its treatment with vegetable oil, this watch has an elegant and timeless style. The watch face is clean and simple and the contrast of brown strap with gold dial trim is a classic partnership. Daniel Wellington have built up a strong reputation for delivering great, affordable, minimalist watches and the Durham piece is no exception.
Price: £149
Movement: Quartz
Water Resistance: 30 metres
Case Diameter: 36mm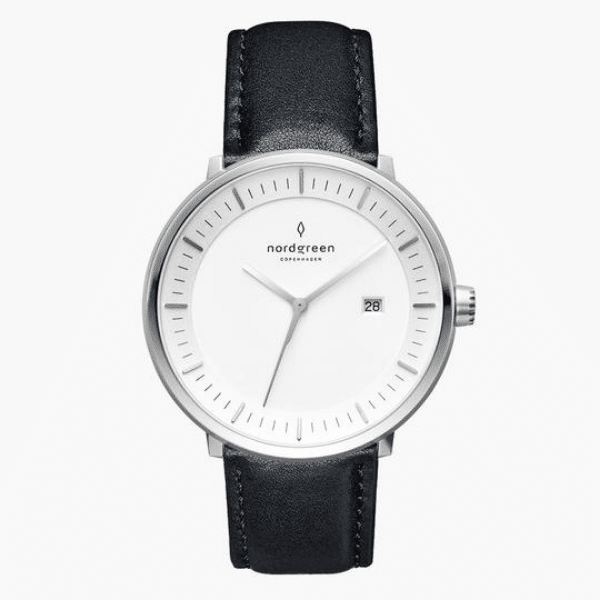 2. Nordgreen Philosopher
A watch brand that creates great pieces and has a sustainable cause attached is a win-win for us. For every watch sold, Nordgreen will give to one of three charities. You enter your serial number and choose the cause post-purchase. This timepiece is bold and beautiful with an inverted number dial. We like the black leather strap on the Philosopher but you can pick a variety to suit your taste. Each Nordgreen watch is designed by the renowned designer Jakob Wagner and encapsulates the spirit of Danish minimalism.
Price: £164
Movement: Quartz
Water Resistance: Up tp 3 ATM
Case Diameter: 36mm or 40mm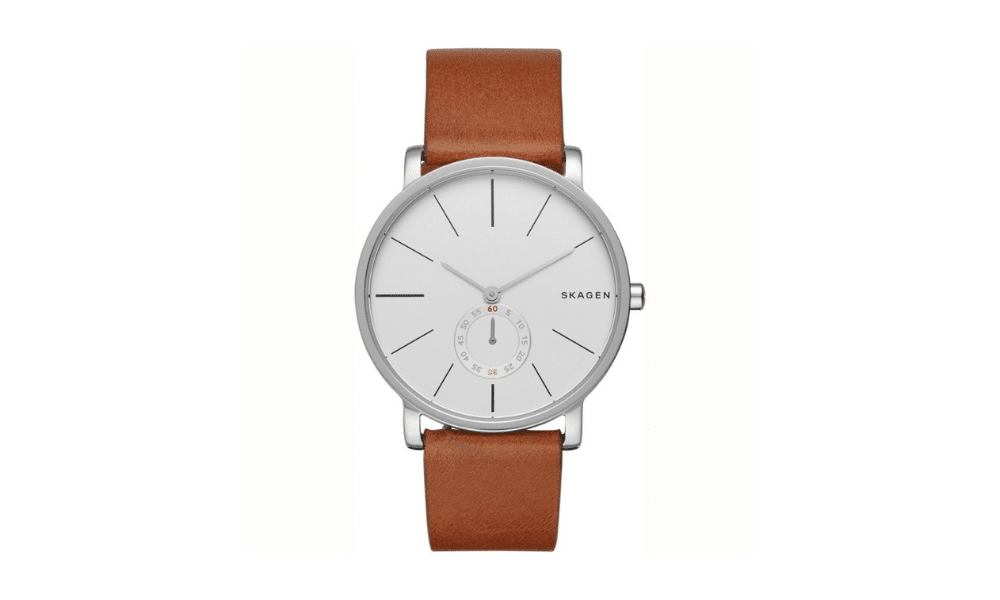 3. Skagen Hagen Watch
This stainless steel Skagen watch encasses a minimalist aesthetic. Another Danish brand on the list, Skagen are famed for innovative watches that are both functional and stylishly pleasing. With no numbers present on the dial this plays further into the art of minimalism but Skagen have put a twist on this with a distinctive second timer.
Price: £165
Movement: Quartz
Water Resistance: 50 metres
Case Diameter: 40mm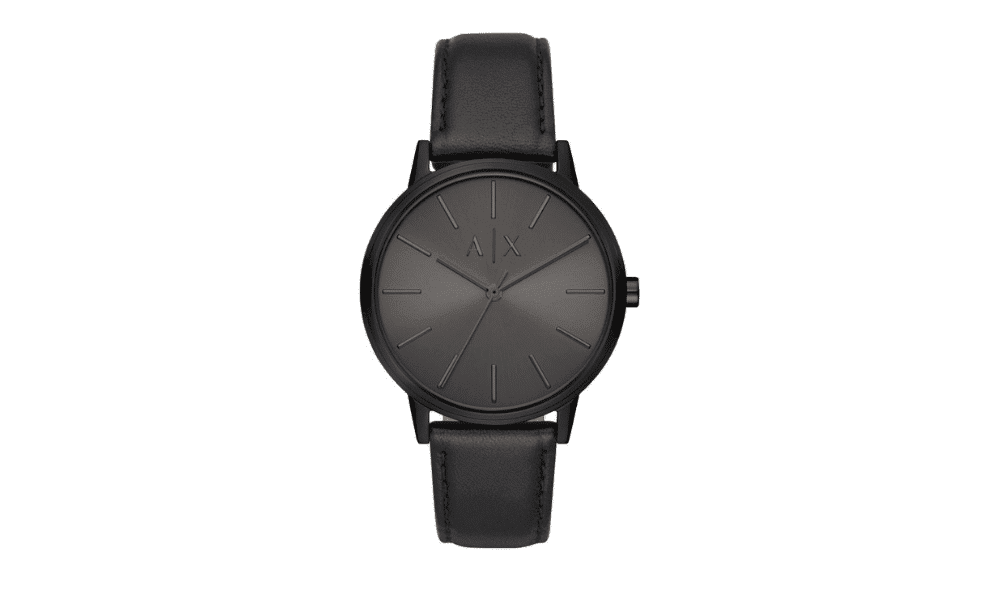 4. Armani Exchange Black Watch
This Armani Exchange watch is the perfect choice for the man looking for an alluring black timepiece to add to their collection. Armani Exchange watches are built to fast-paced lifestyle of modern urban living. This contemporary option evokes images of drinks in one of the cities best bars.
Price: £129
Movement: Quartz
Water Resistance: 50 metres
Case Diameter: 42mm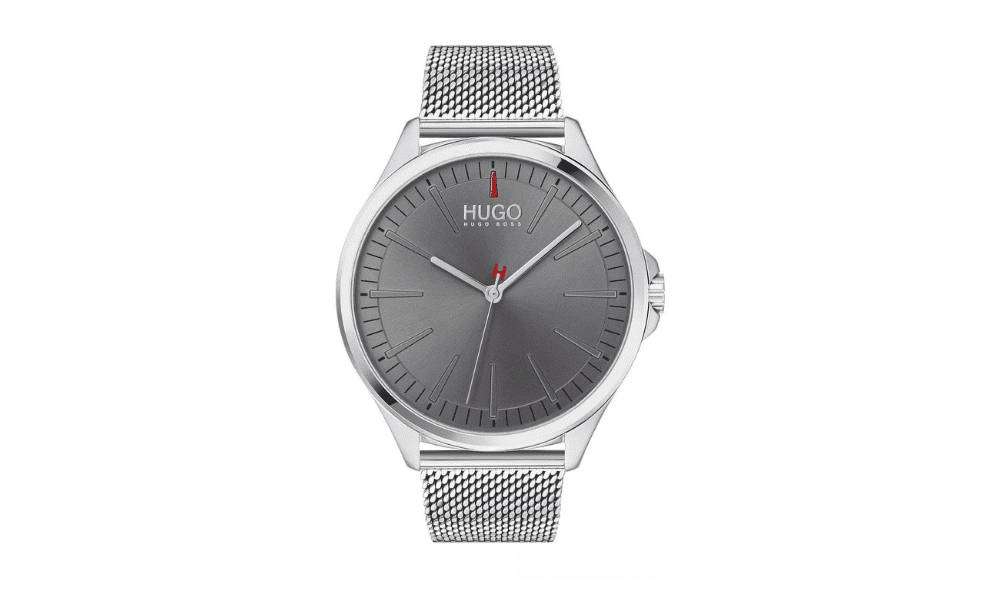 5. HUGO #SMASH Stainless Steel Mesh
This is an innovative version of a stainless steel mesh bracelet. Adorned with the signature H logo in a distinctive red colourway, this watch has enough tweaks to elevate it from a non-descript alternative. This Hugo Boss watch has a slightly large face dial with the case measuring in at 43mm, so a good choice for those that like eye-catching timepieces.
Price: £119
Movement: Quartz
Water Resistance: 50 metres
Case Diameter: 43mm
6. Bulova Classic Brown Leather
Bulova have been producing timepieces since 1875. This classic brown strap watch has all the makings of a watch much more expensive than the reasonable £129 would suggest. Ideal for men looking for a smarter watch to add to their collection, this piece would be great with a nice navy blue suit.
Price: £129
Movement: Quartz
Water Resistance: 30 metres
Case Diameter: 37mm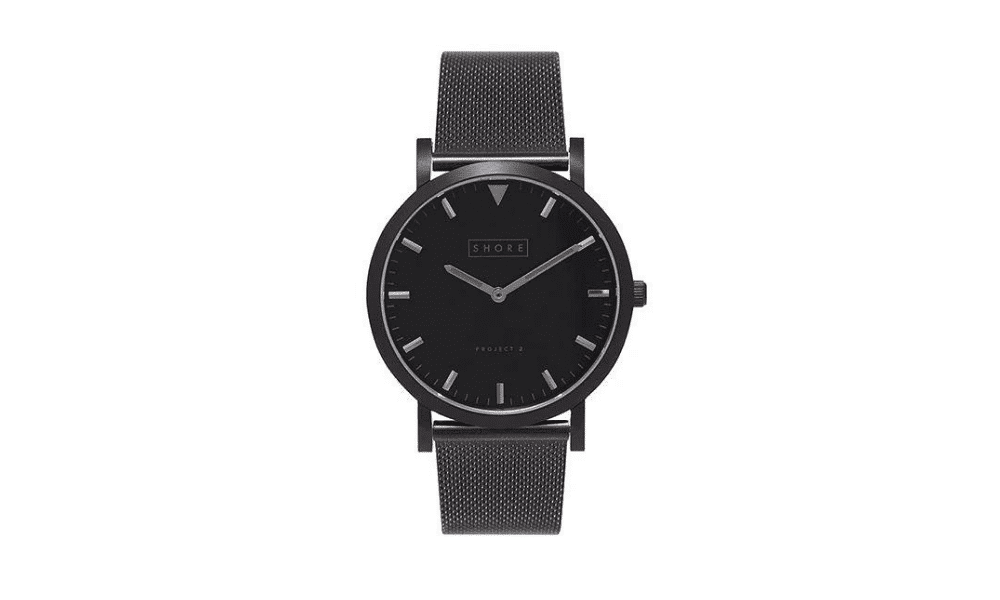 7. Shore Projects Falmouth
As you might expect from a brand inspired by the coastlines of Britain, this watch has a great water resistancy of up to 100 metres. Only available directly from the Shore Projects this watch has a cool vintage style to it. It will withstand both what the British weather and your modern lifestyle will throw at it with ease. A popular watch from a charming British brand.
Price: $145
Movement: Quartz
Water Resistance: 100 metres
Case Diameter: 39mm & 7.9mm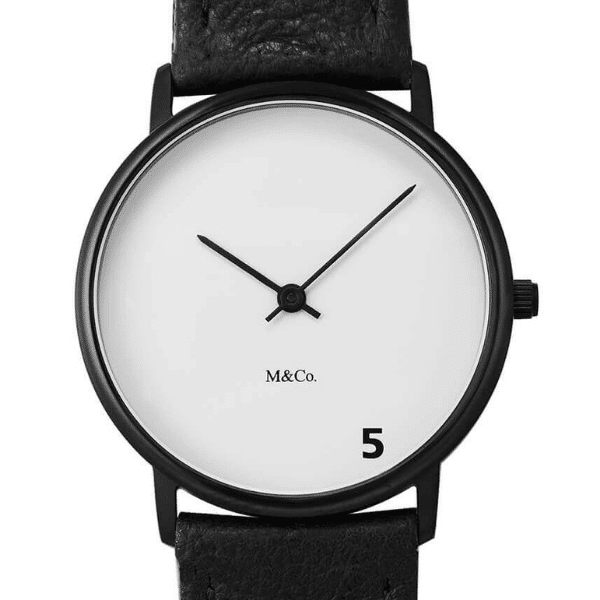 8. M&Co 5 O'Clock
Either a dreaded reminder of when you clock off work or something to look forward to, this watch is bundles of fun. Creating art for your wrist, M&Co focus on bringing inexpensive ways to bring world-class design to life. Evert watch from M&Co is made of black electroplated aluminium ensuring a finish that stays looking newer for longer.
Price: £109
Case Diameter: 33mm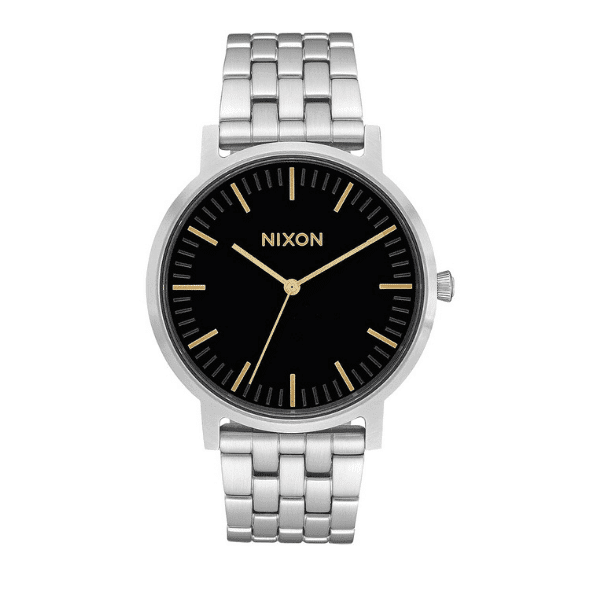 9. Nixon Porter Watch
This watch from Nixon will withstand everything you throw at it. Encassed in a custom stainless steel case it features hardened mineral crystal and a double gasket crown. A timepiece for men who appreciate the finer things, it has a sleek profile that elevate any outfit you wear with it.
Price: £165
Movement: Quartz
Water Resistance: 50 metres
Case Diameter: 40mm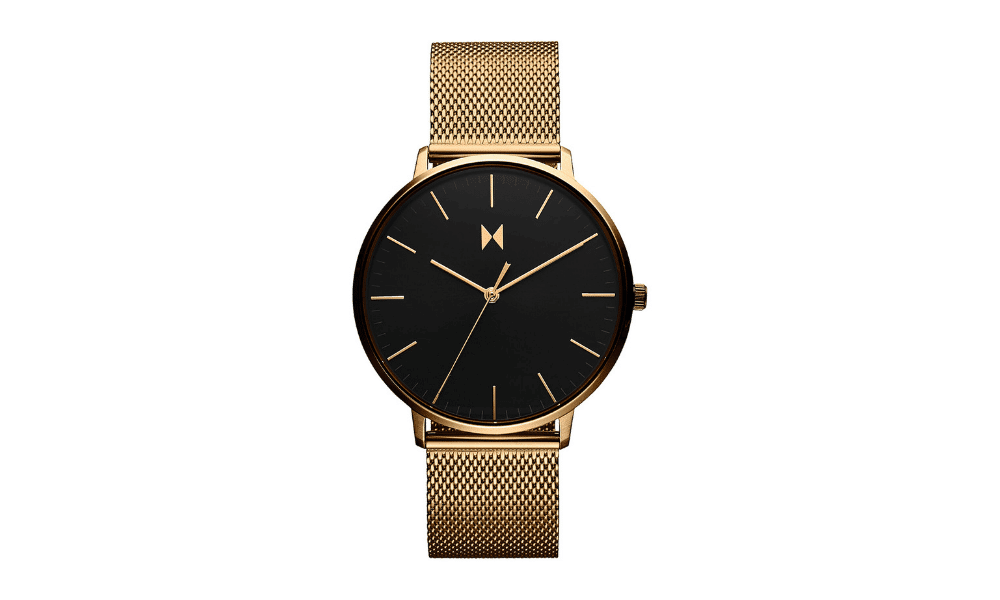 10. MVMT Legacy Gold
Renowned for their fantastically priced minimalist watches, MVMT does not disapoint with the Legacy Gold. It screams sophistication with a constrasting gold steel mesh and black dial. This sleek design features hardened mineral crystal in the glass face to protect from scratches.
Price: £109
Movement: Quartz
Water Resistance: Up to 3 ATM
There is always a slight envious look from us towards a man well-dressed in a suit. When the fit, cut and colour is hitting all the right notes, it is hard to beat.
Some men see the suit as simply uniform. Something they are forced to wear for work, a cage for their fashion personality to break free from on a weekend. Here at AGR, we love suits with a passion. For us and many other men, the dream of a walk-in wardrobe of tailored suits is aspirational, if somewhat elusive one.
That doesn't mean we have to make do. There is a wealth of formal choices available for men. So, we wanted to bring you our choices of the key suits you should have in your wardrobe, no matter your budget or individual style choices.
The Navy Blue Suit
A core foundation piece of any man's wardrobe, the navy blue suit can be your formal partner for any occasion. Probably the favoured colour of grooms on their wedding day, it can also easily take you from the boardroom to the bar.
If you had to buy any suit, this would be our number one choice. Preferably in a mid-weight fabric, single-breasted and with just two-buttons.
The navy blue suit is versatile, functional and can absorb a ton of different colours. Stick a white shirt underneath for the ultimate sartorial foundation, or partner with blue (even pink) if you feel confident enough.
So, whether this is your first or your fifth suit, there is always room in your wardrobe for a navy blue suit.
The Summer Suit
A saviour of your summer wardrobe, fabrics like linen, seersucker or hopsack will become your best friends in the warmer months. Not all men can don shorts as soon as the sun is out, especially if you work in a corporate environment. Turning to lighter fabrics will be your answer to remaining formal but cool.
Summer fabrics enable you to stay cooler because they have been made with a lighter weave during construction. This allows more air to circulate the body, helping you to stop getting so hot.
Don't stop with the fabric, reassess the fit and construction of your suits during summer. No one wants to remove their suit jacket to be faced with sweat patches. Give your body more freedom by eliminating linings and paddings as much as possible.
An overall more relaxed cut to your jacket will also help when combatting heat. This can take the form of a relaxed shoulder i.e. little or no padding that follows the natural slope of the wearer's shoulder.
The Check Suit
Men can choose from a wealth of choices when it comes to a check suit. Personal favourites are a Prince of Wales check or windowpane.
Investing in a check suit is a great way for men to break the monotony of suit-wearing. By cautious choice, men end up with a wardrobe full of plain-coloured suits. This creates little room for personal expression, often leading to a self-imposed style rut.
What we like about a check suit is it has bags of personality depending on how impactful you want it to be. A tartan or houndstooth check suit is bold, while windowpane checks are more subtle.
The check two-piece also becomes more versatile when you break the suit down. Come wintertime, partner the suit trousers with a plain roll neck for a smart casual look.
The Wedding Suit
A formal wedding suit is going to become more prevalent as we get older, with more of our friends and family starting to get hitched. Remember you want to look smart on the day paying awareness to any colour schemes the wedding might have.
For a flattering style that suits most body types, then you can't go wrong with a three-piece suit. Finishing touches like your tie or pocket square can be a nice way to bring through some of your personality.
A lot of weddings full within warmer days, so delve into different fabrics to help keep you cool. Linen or a linen-cotton mix is would be our choice.
The Funeral Suit
Apologies for being morbid, but unfortunately, you will be attending a funeral at some point in your adult life.
This is not the time for a showy, fashion-forward number—a time of reflection. You should not be bringing attention to yourself with your outfit choices. Unless there is a particular celebration of colour to mark the passing, always opt for a classic two-piece, single-breasted black suit.
---
Best Suits To Buy 2020
1/15
Reiss
This navy blue suit from Reiss has a subtle stretch and is crafted from a wool-rich blend. As always Reiss delivers fantastically made formalwear for a competitive price.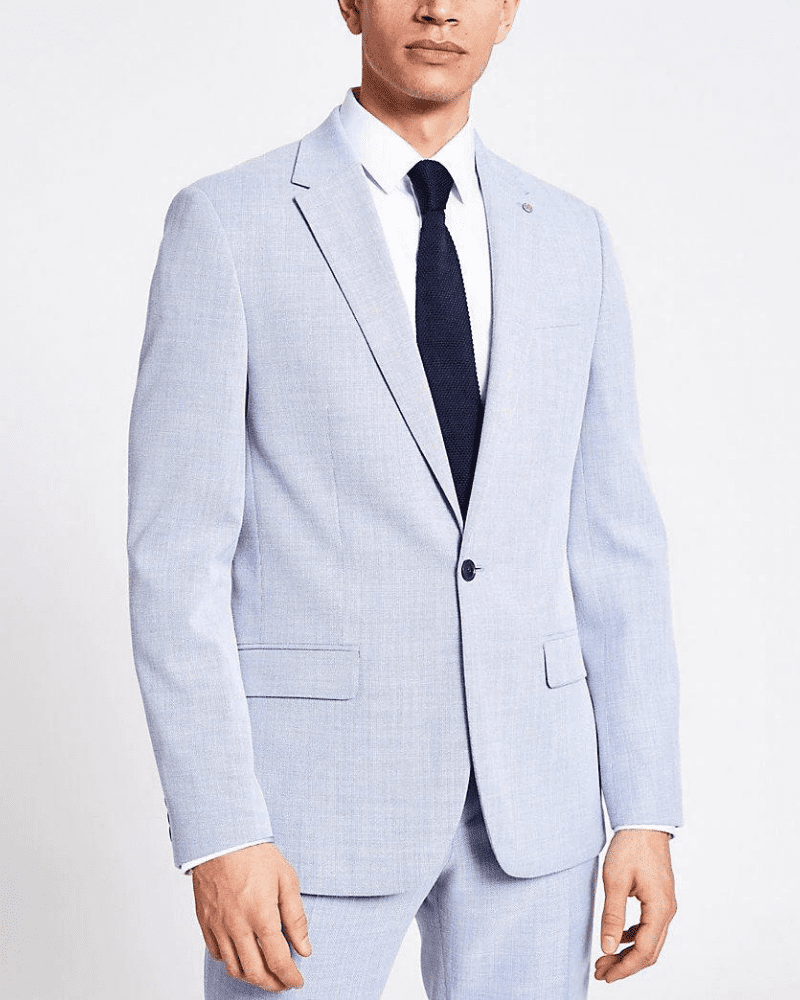 5/15
River Island
Pastels are the perfect hue to see men through the warmer months. This textured blue suit from River Island is ideal for a wedding or an extra special date night once lockdown is lifted.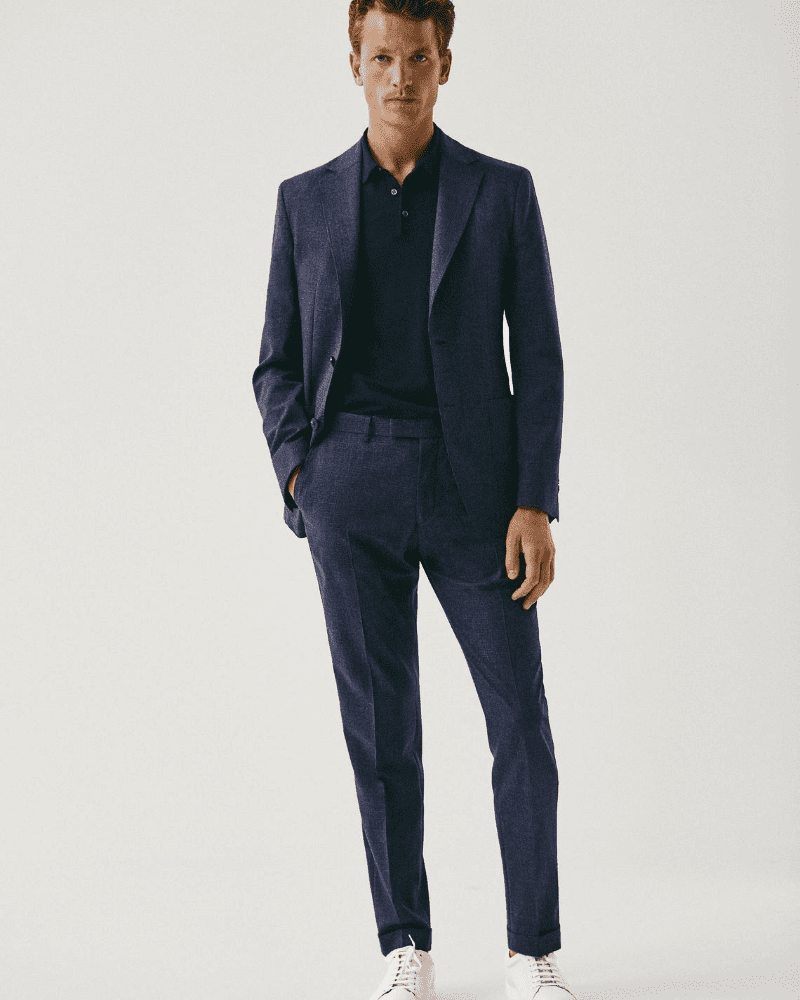 8/15
Massimo Dutti
This suit is part of Massimo Dutti's on the go capsule collection. It offers stylish clothing that withstands the rigours of daily life while being able to be washed at home. Considering the current climate, one less excuse to leave the house and head to the dry cleaners could be a blessing.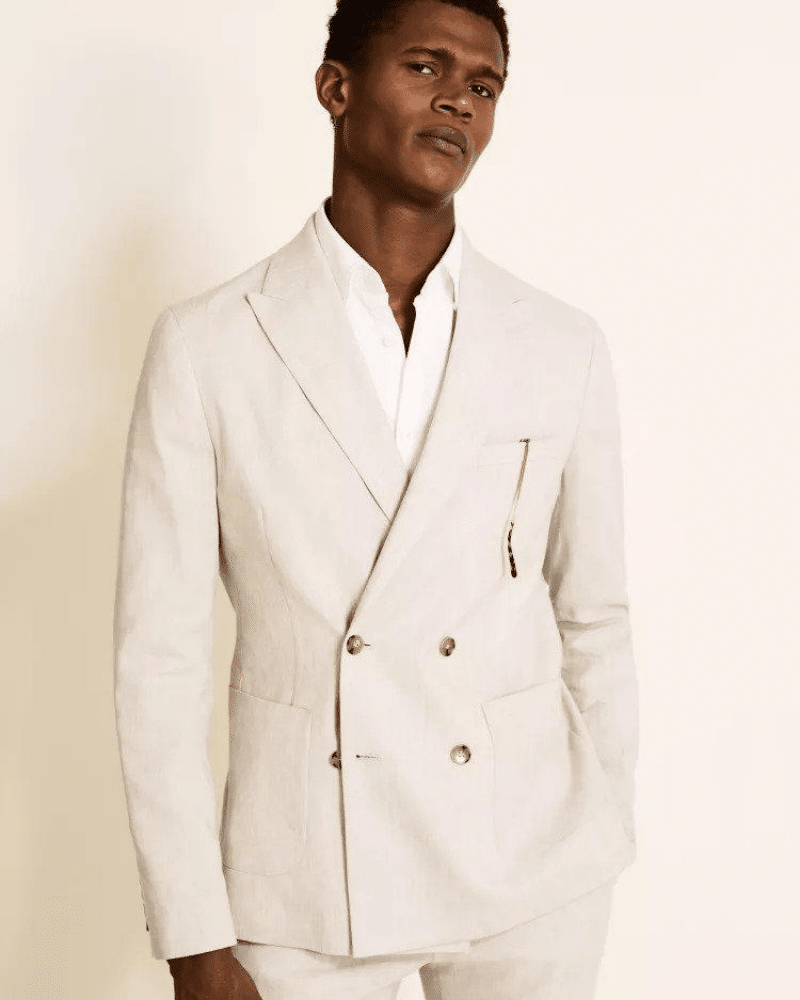 12/15
Moss Bros
Moving into summer doesn't mean you need to ditch the double-breasted jacket. As long as the fabric and fit is right you can still wear with distinction. This Moss Bros suit in beige is made from breathable linen letting you look sartorially on point all through summer.
14/15
Ralph Lauren
With a half-canvassed jacket, this suit is bold and impactful. The peak lapels draw in the eye to the houndstooth English wool used to craft the suit.
German designer, Jil Sander is resurrecting her partnership with Japanese brand, Uniqlo. For AGR, this is welcome news in these turbulent fashion times. Considering her focus on minimalist clothing for men and women, it also seems like the optimum time for the collaboration to kick into gear ahead of its release this fall.
The recent months have limited our expression of style and fashion as so much of our time has been spent indoors. Now, with restrictions lifting, will we see a movement towards less high-fashion and more functional and versatile clothing? The type of clothing that makes you presentable for Zoom calls, but comfortable to allow you to work from your home.
Uniqlo explains the forthcoming range as "versatile, exceptional" and "[defining] the global modern uniform with understatement and ease." This dovetails both Jil Sander's focus on minimalist and Uniqlo's ability to offer quality clothing at a great price.
The original +J collaboration between Uniqlo and Jil Sander ran from 2009-2011 and featured deftly simple design, with elevated touches from the designer.
This new collection could just be the remixed work wardrobe the world is waiting for.
Keep your eye on uniqlo.com for more info
Are we seeing a renaissance of the much-scorned men's moustache?
Now we feel the horrors of the 1980s are far enough in the past, its time to start rocking the coolest piece of facial hair on the planet. Men like Harry Styles and Henry Cavill (the latter for a Mission Impossible movie) have shown us the way when it comes to growing out the hair on our top lip. They have stylishly wrestled the moustache from cheesy actors and Latino drug barons, bringing it right up to date.
Thanks to hipsters, the beard has had its time in the sun. Now it is time for men to look to the moustache as a sign of sartorial dominance. Without making over your wardrobe or drastically changing hairstyles, the moustache completely reinvents your look.
Deciding to grow a moustache though is a big deal. You shouldn't be taking this lightly. To make your choice easier we have broken down some of the most popular moustache styles for you to choose from.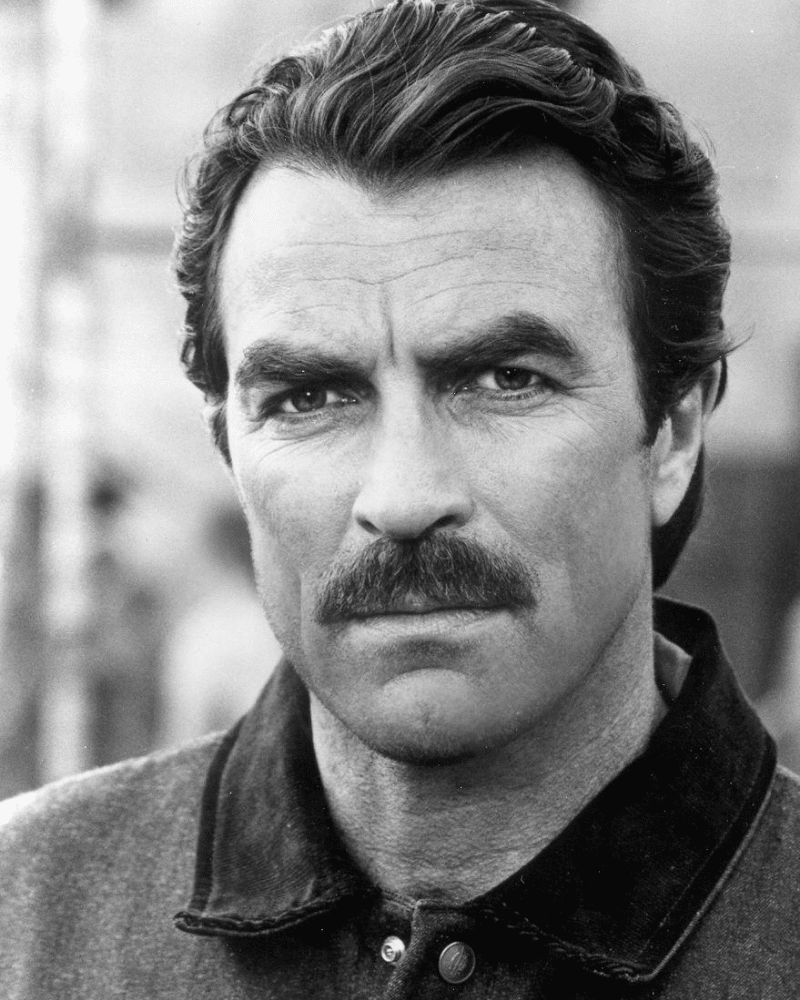 The Chevron
We are going straight in at the top. The chevron is the style most men think of when they think of a 'stache. It was expertly worn by Tom Selleck in his prime. But, was probably the style your dad had in those childhood pictures, which is where the bad cred comes from.
Although the chevron looks kind of effortless it does take a little work. For maximum effect, the hairs need to be coarse so will need some growing out. Thick and bushy is the look you're going for. Men with thicker hair on top are going to find this easier to perfect.
The chevron is the ultimate classic moustache style. It exudes macho, the calling card of the alpha-male. If you are going to do it, go big.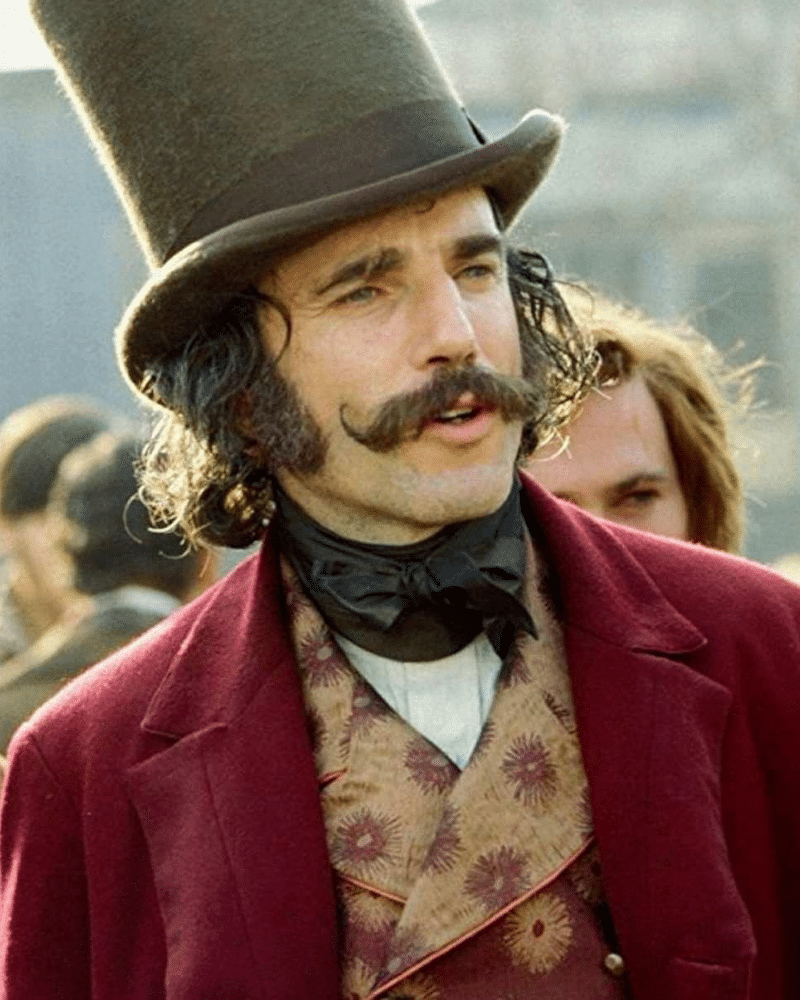 The Handlebar
Caressing the top of Daniel Day-Lewis in Gangs of New York, the handlebar moustache is not for the faint-hearted. Recently it has been associated with those pesky hipsters, but don't let that put you off.
The handlebar moustache is a thick style that has curled ends giving the overall look of a handlebar. It takes a bit of work to maintain and to get the right length can take anywhere up to 6 months to complete. Once there though, keep it neat in the middle and use beard wax to maintain the curl.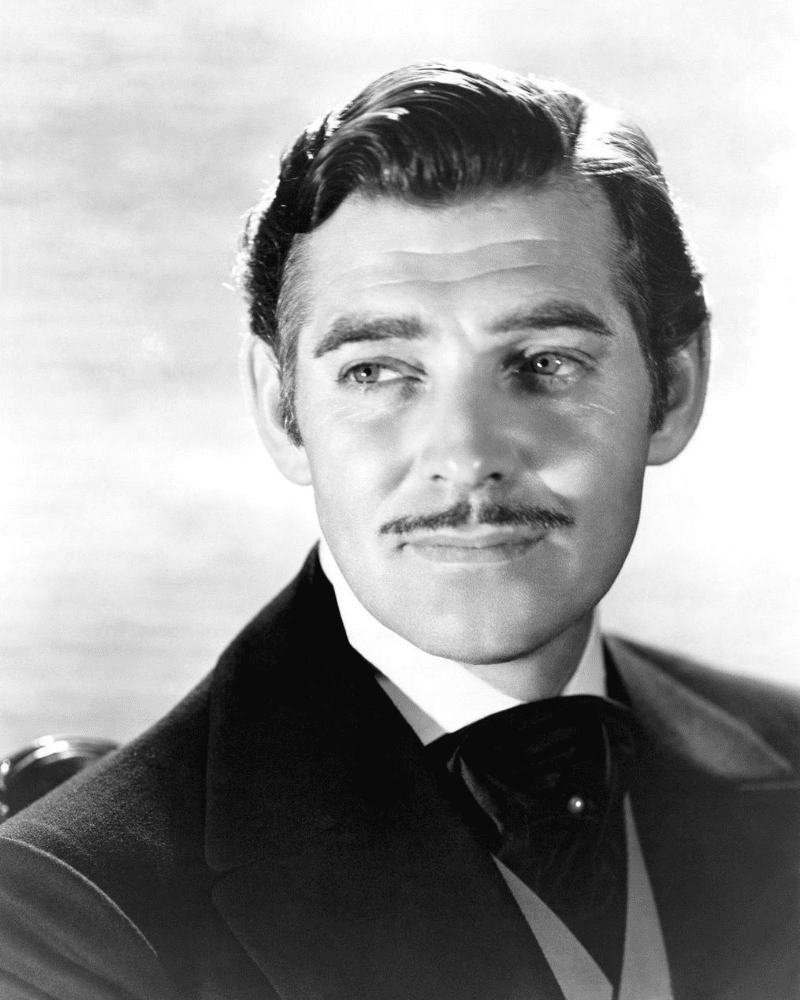 The Pencil
Harking back to the golden age of cinema, the pencil moustache was on our favourite movie stars like Clark Gable and Errol Flynn. It does have some connotations with salubrious characters. Think the dodgy door-to-door salesman or Private Walker in Dad's Army.
This style of moustache exudes a sense of dapper. If your general style is more rakish than streetwear then this is the moustache for you. Don't let the rappers and R'n'B stars of the late 90's early 00s make you think otherwise.
Due to the clean and neat overtures of the pencil style, it takes a lot of upkeep to make sure it looks it's presentable best.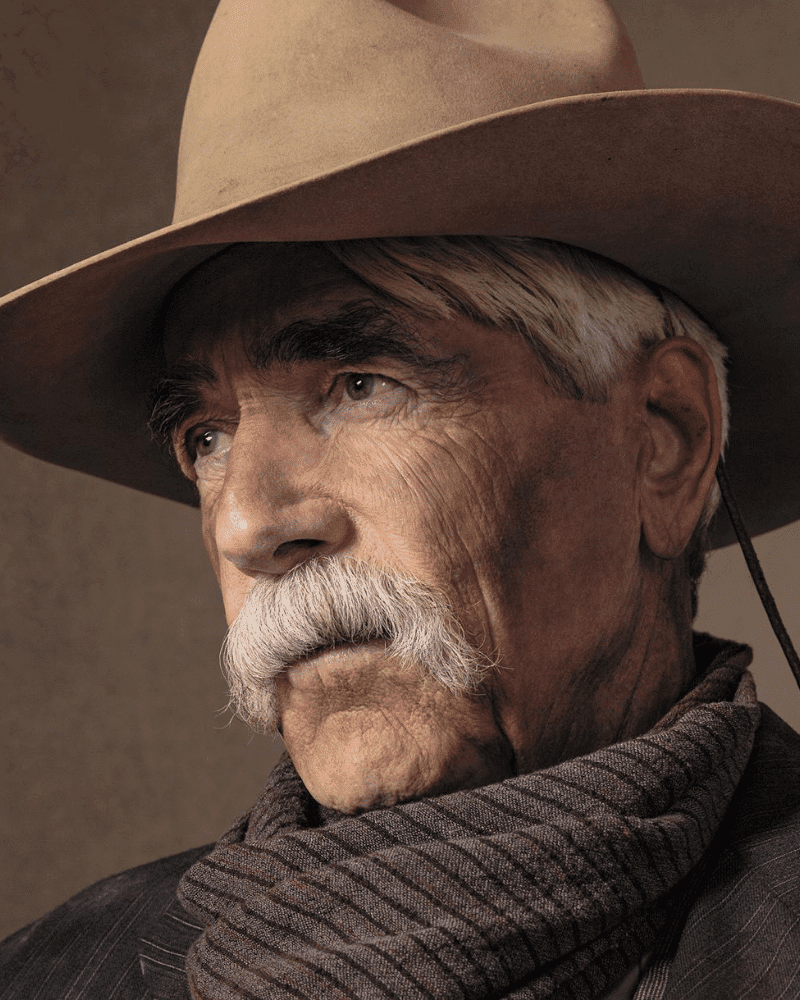 The Walrus
Also known as the gunslinger due to its frequency in western films, the walrus is rugged and unkempt. All it takes is some light scissor work to keep on top of its growth.
This style of the moustache is much more prevalent on an older gentleman and works well if you have larger than average nose.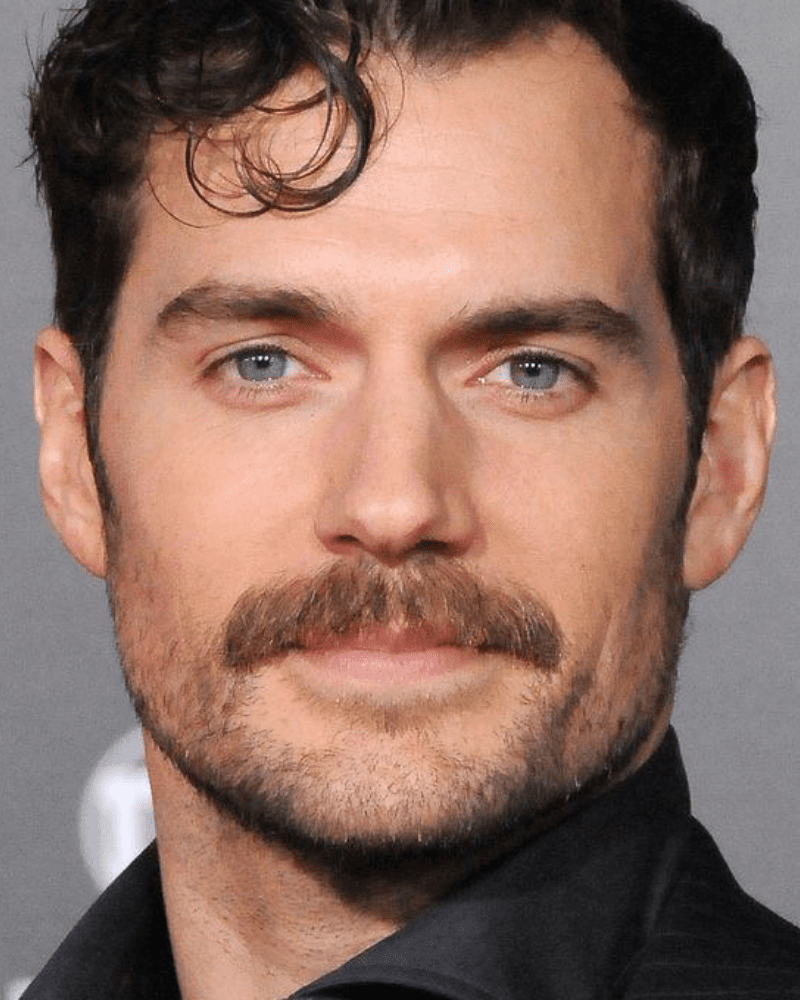 The Beardstache
This is your entry-level into the world of moustaches. It is heavy stubble with the hair on your top lip grown out. A beardstache has all the ruggedness of the walrus but doesn't come with the artistry of the chevron.
The beardstache works best if you can get the two key ingredients right. That means thick stubble and good moustache growth. Similar to the chevron it suits dark-haired men with thick hair growth. Just like Henry Cavill in the Mission: Impossible - Fallout film.
There are no promises you will look like Henry Cavill. But, it is a great way to introduce yourself to moustaches without fully committing to the face-hair contrast of a chevron.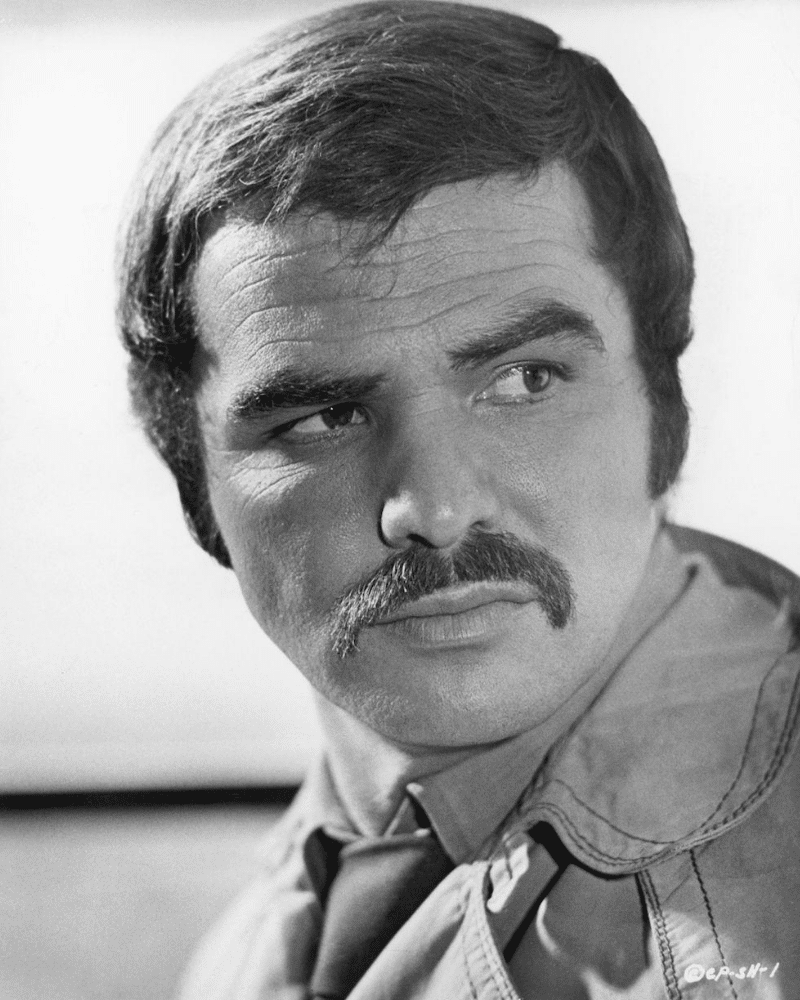 The Horseshoe
A melodramatic moustache style, the horseshoe is best associated with men with a big personality. Think Hulk Hogan or Ben Stiller's character in Dodgeball. It is a very tough look to pull off without people thinking your off to a fancy dress party.
This style is going to take about 3-6 months to grow. If you decide to go for it then partner with double denim or a leather jacket for greatest effect.
How to maintain your moustache
Once your facial hair gets past a certain length a beard trimmer won't cut it anymore. You need to get your hands on some facial hair scissors. Combining your scissors with a comb will ensure you get a nice trim that doesn't undo all the hard work of growing your moustache.
When using scissors, cut your moustache when dry. If you are unsure, then visiting a barber for the first few times can help you gather tips on maintaining the style you have chosen. The devil is in the details when it comes to most styles, so keep on top of it daily if you can. There is nowhere to hide with a moustache so shaving and cutting will remove unwanted hairs to help it look its best.
Products to use
When you are starting to grow your facial hair out, using a beard trimmer will help to keep control of the style. With a style like the beardstache, you will continue to use a beard trimmer to get that optimum stubble.
Once the hair is past the length of a beard trimmers effectiveness, as mentioned, bring out the scissors to keep things trim. This is also the time additional moustache products will take your style up a notch. Beard oil will help to nourish the hair and remove that coarse hair feeling you get when growing out.
Looking to shape your moustache? Then get your hands on a good beard wax. Like when applied to your head hair, it will help to maintain the shape of a style. Ideal for men who have chosen a handlebar.