Your favourite scent can conjure up memories and moments from the past. Men are creatures of habit for the most part and that new fragrance can often become their go-to pick for years to come. We just pray it isn't Lynx Africa.
But, much like how we change our wardrobe with the coming seasons it can be good to refresh our cologne at the same time. We want our summer smell to evoke visions of long hazy days in the sun, drinks with friends and even continental holidays. To do this, the earthier notes of a winter scent should be replaced with citrus, and tropical fruits, punctuated with green leaves.
Read on to discover our picks of the best men's summer fragrances for 2022
We often herald the humble white trainer as an essential item in any stylish man's wardrobe. With a minimalist aesthetic, it is an ideal foundational piece for nearly any outfit, from office suits to summer shorts. The white trainer grounds a look, enabling men to add bolder patterns and colours without the fear of clashing.
But, try as we might, it is difficult to keep these trainers looking box-fresh for a long period of time, especially if worn on the regular. Though, we should never be ditching our footwear before trying to rejuvenate to their former glory. Often with the right products and a bit of elbow grease, we can get them gleaming again in no time.
Let's find out how to accurately clean our white trainers.
What Made Our White Trainers Dirty?
The blessing of a white trainer on our daily wardrobe is also a curse. As a colour, white is prone to showing every scuff, stain or spill, which makes it crucial to tread carefully when wearing them. Furthermore, direct sunlight can also soften the white vibrancy so store out of the light to prolong the sparkle.
Plan your days and take note of any changes in weather. If there is a threat of rain then it might be best to replace with a darker colour shoe that won't succumb too heavily to rainwater or muddy puddles.
What To Do Before Cleaning
The first step is to remove the laces as these are typically a different fabric to the rest of the shoe and therefore can be treated differently. Sometimes all the laces need is a soak in warm water with a little baking soda or oxi-white stain removal powder.
If you have a shoe tree then we would recommend inserting it to keep the trainer's shape during the cleaning process. Worst case, roll up some newspaper and use that instead.
Now find a spot to do the cleaning. For example, a countertop that you can easily wipe down after or you can put a towel on the floor for a workspace.
Before you get started with the deep clean, remove any large pieces of dirt or mud with a brush or cloth.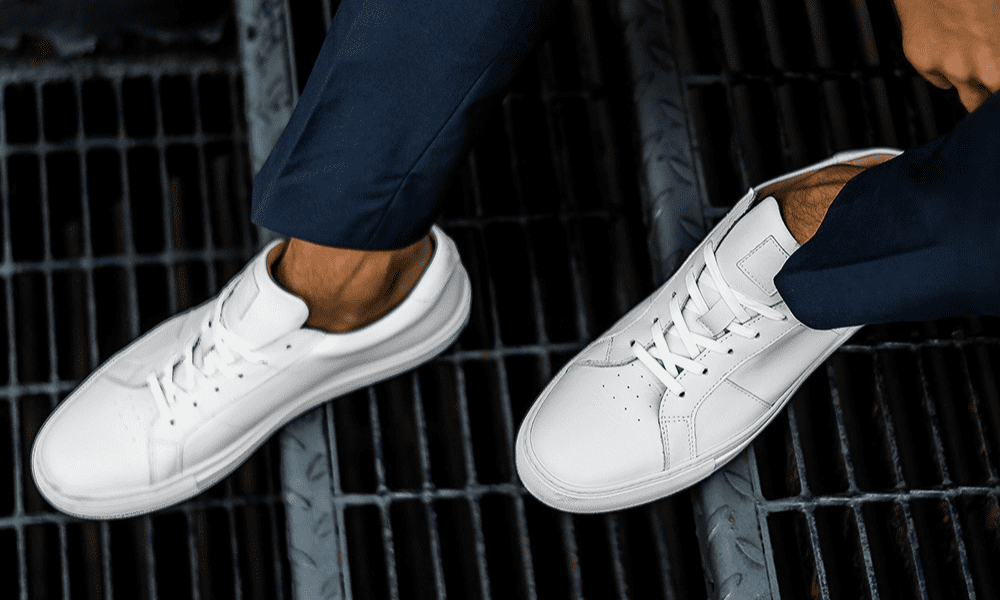 How To Clean Trainers
White Leather
Assuming the pre-clean notes have been adhered to, we can undertake the task of cleaning the leather. Thankfully, of all white trainers, leather is the easiest material to rid of marks and stains.
Get yourself a toothbrush or damp cloth.
Apply a spray of specialist trainer fluid directly to the trainer or add some toothpaste to the damp cloth or toothbrush.
Massage the leather in circular motions
Wipe any excess off with a damp cloth
Leave the trainers to dry naturally overnight
Like we would with our formal leather shoes, post-clean we can nourish the leather and keep it supple by applying a specialist leather balm.
White Canvas
In order to get the maximum clean needed, with fabric or canvas trainers you might need to be a bit tougher. For light staining, soap and water might be all that is needed. With more resilient marks, then turn to household cleaning products that are specially formulated to target stubborn stains.
Get yourself a toothbrush or damp cloth.
Add some soap to the toothbrush or cloth, not directly on the trainers.
Apply baking soda or an oxi-white washing powder to more stubborn stains and leave for a few minutes so it can work its magic.
Clean in circular motions.
Remove the deep cleaning solution or soap with a damp cloth.
Repeat step 3 if the stain hasn't initially disappeared.
Leave the trainers to naturally dry overnight.
How Often To Clean White Trainers?
Excessive cleaning can result in the white colour fading, so assess the task and don't go too severe on the brush where a light wipe might suffice.
What dictates how often your trainers need cleaning, is the frequency they are worn. Although, as a rule of thumb, when a stain becomes visible it should be dealt with the same day. Even if it is just wiped away with a damp cloth.
Can You Machine Wash Trainers?
The simple answer is, no!
It might on the face of it seem like a quick and painless way to get those dazzling whites. But, in reality, it will cause lasting damage to both the trainers and the washing machine.
The wash from a machine is too intense and can lead to more staining (from linings bleeding), glue melting (from heat) and any logos adorning them fading.
What Products Are Best?
As expected, there is an abundance of products available for men looking to clean their trainers. Milk and foams might sound like something we would receive in a coffee shop, but they are specially formulated to target specific stains on different materials.
We don't know the severity of your cleaning job which makes it difficult to offer a product targeted to your specific needs. Though, we suggest seeking out brands like Jason Markk, Famaco, Crep Protect and Tarrago who have been helping to keep the finest trainers in pristine condition.
If the recent heatwave hasn't been incentive enough, it is officially shorts season for men. But, before reaching to the back of your closet for the first pair you can find, we should be taking some time to consider what we need from our shorts. Because, if we pay attention to the fit and style of our shorts, then they can become a warm weather necessity no matter what the occasion is.
For example, opting for a shorter length will accentuate the hard work in the gym, while looser fabrics like linen can let more air circulate, helping to keep the body cooler. So whether you are travelling to work or hitting the pool, shorts can deliver both functionality and versatility.
Lock up those jeans till Autumn and find out what the best shorts men should be investing in this summer.
Before the welcome news that he will return for a second stint as The Gray Man, Ryan Gosling has been on the publicity trail for the first instalment. Recently arriving in London and heading to the BFI Southbank for the premiere, Mr Gosling had full-on summer vibes in the season's favourite colour palette, pastel.
The recent stills from the upcoming Barbie movie are reverberating around the fashion world and you could be mistaken for thinking that Ryan had dipped into his character, Ken's wardrobe. His complete look included a single-breasted Gucci blazer, striped shirt with pink slacks finished with patent white leather shoes.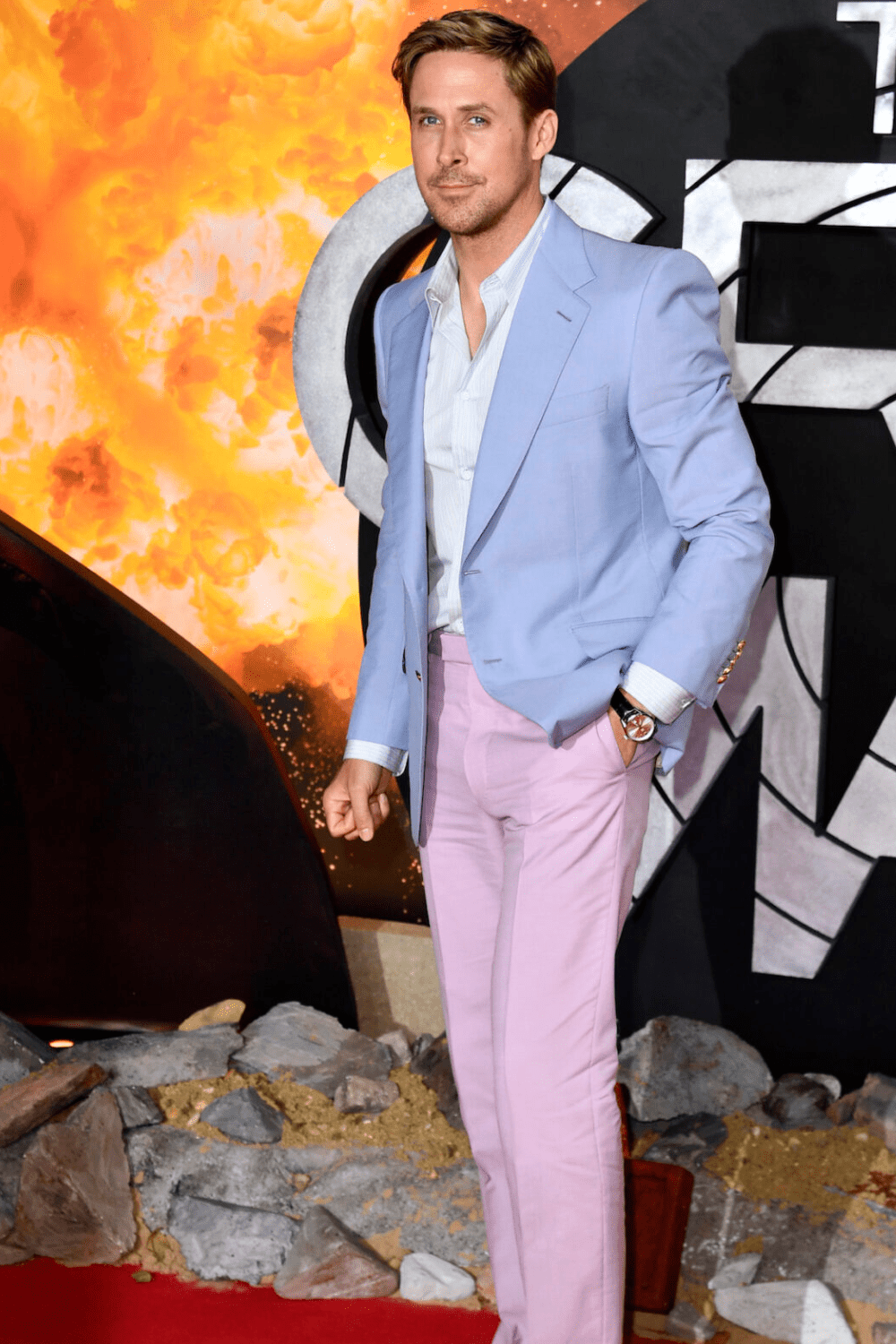 On his wrist was a Tag Heuer Carrera 3 Hands, the same timepiece his character in The Gray Man wears.
We recommend light pastels for the summer months. Though, men trying to pull off the Gucci tailored separates look might be a step too far for some. Start by introducing a blazer or chinos worn with whites or creams to absorb some of the vibrancy.
Trends are temporary, style is permanent. If you are looking to discover the essential pieces every stylish man needs to look his best all year round. Then you have come to right the place.
The core foundation of a menswear wardrobe should be pieces that don't go out of style. They are transitional, trend-proof items that don't succumb to the often fickle world of fashion. These items have built a reputation over time and as such will continue to be the mainstay of the well-dressed elite.
No matter the occasion or the season, these 22 wardrobe essentials in our eyes should be at every gent's disposal.
1. Navy Blue Suit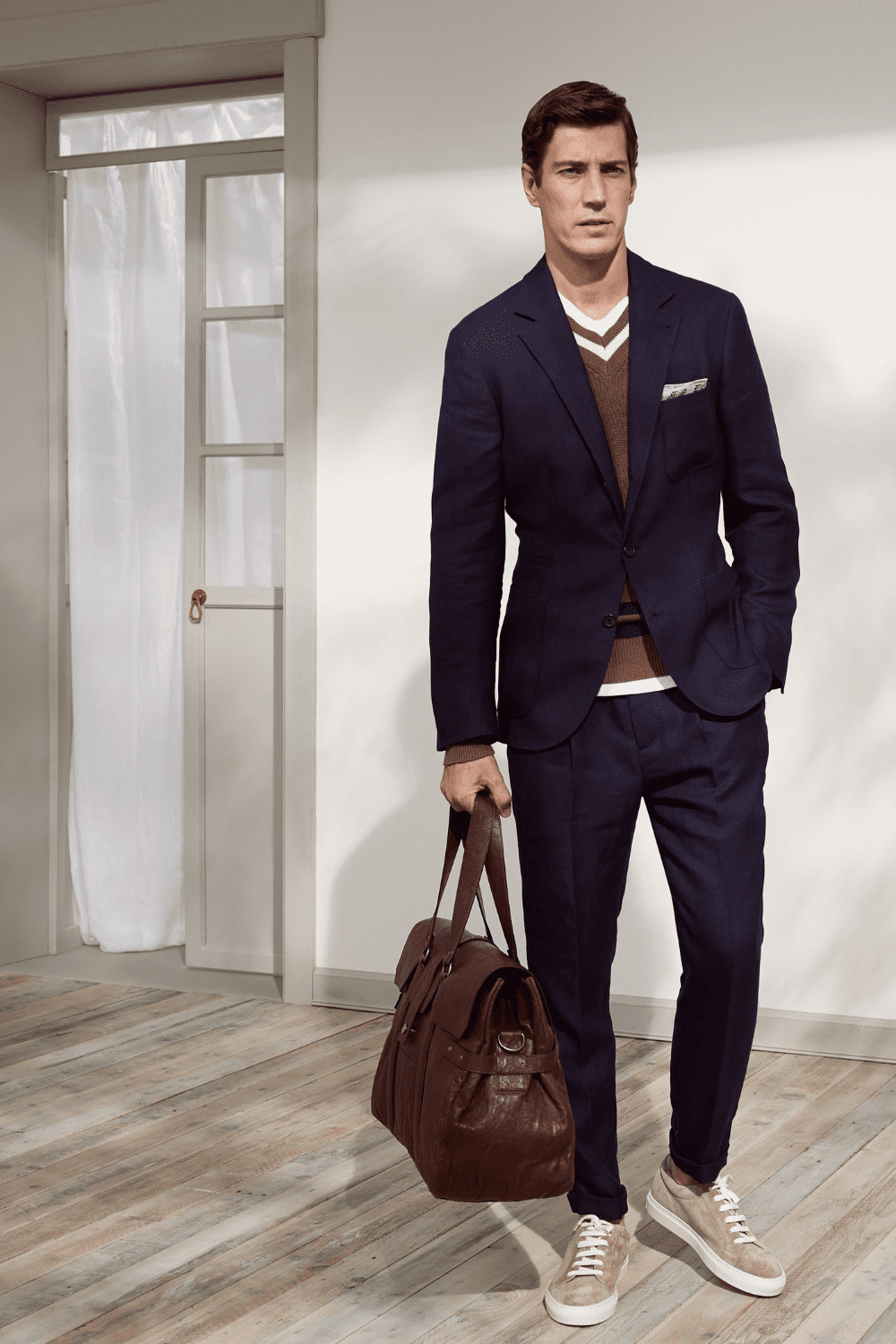 The sheer versatility of the navy blue suit makes it indispensable to men. A well-made single-breasted navy suit is a timeless classic. Ensure you focus on the fit to get the best silhouette for your body type and this piece will have your back for years to come.
It can be paired with pretty much any shirt colour and can even be worn as separates. Stick navy trousers with a grey jacket for a contemporary office look or use the navy jacket with chinos for a smart casual ensemble.
2. Blue Jeans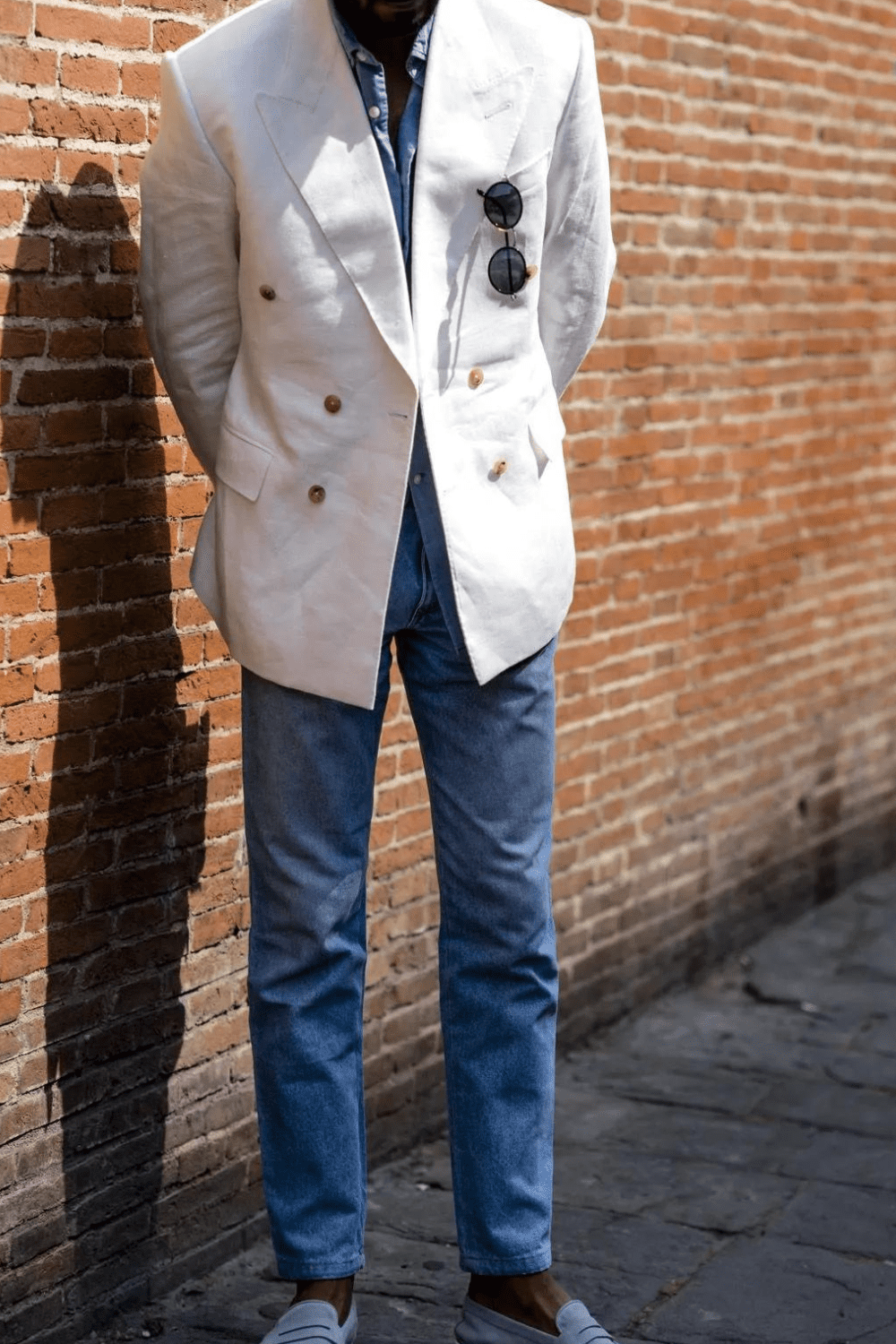 Men can be faced with a myriad of event invites over a calendar year, so you need wardrobe pieces that are reliable and dependable. A comfortable pair of plain blue jeans will work simply on their own with a white t-shirt or dressed up as part of a smarter dress code.
Again, the fit is crucial as with anything you buy. No grouping at the base of the leg or sagging at the waist. The right pair of jeans should sit nicely without the need for a belt.
3. Oxford Shirt
Full of preppy style, the Oxford shirt is a prerequisite piece for smart casual affairs. It can effortlessly be worn under a blazer or for more relaxed dates wear it on its own with chinos and a chunky knit.
Blue or white colour choices keep that adaptability, therefore don't stray too far from this baseline.
4. Crew Neck Sweatshirt
With the rise in athleisure, the humble crew neck sweater has become more socially acceptable as a stylish menswear item.
Any sweatshirt aficionado will tell you it has to be a cotton loopback version and pick a plain version (with no logo) you'll end up getting a lot more wear from it.
We like to partner with a crisp white t-shirt showing at the hem, smart trousers and white trainers for a sleek minimalist look.
5. Crew Neck T-Shirt
Take your style notes from the Hollywood greats like Marlon Brando and James Dean, The plain crew neck t-shirt has always been able to deliver on effortless style since being unshackled from its previous life as an undergarment.
Stock up on some basic plain t-shirts and your daily outfits will thank you for it.
6. Knitted Polo Shirt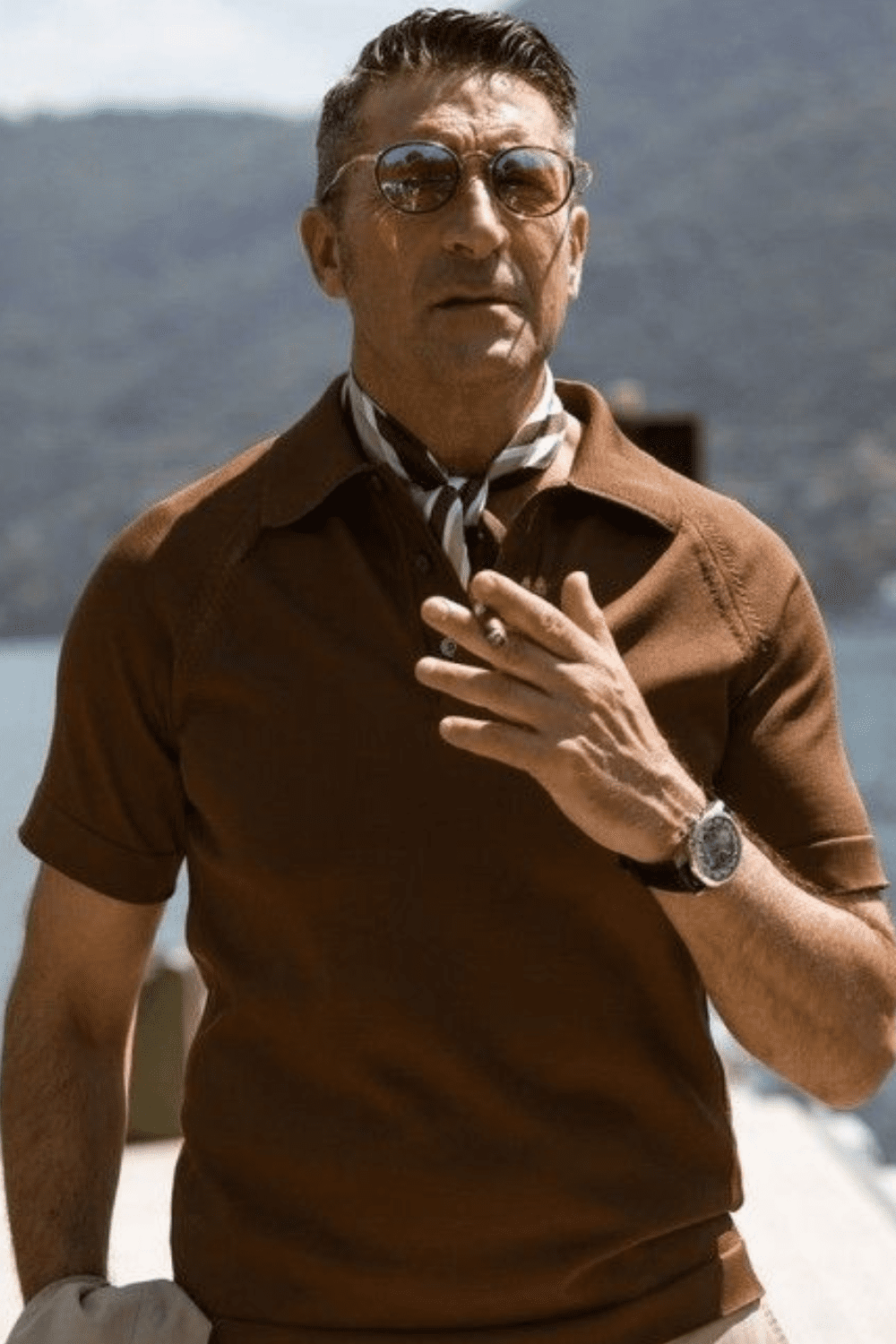 In either a long-sleeve or short-sleeve, the knitted polo shirt is able to transcend day to night with ease. With smart trousers (or a full suit) it is a welcome riff on a classic piece.
The slightly thicker material makes it more presentable in certain circles than a simple cotton polo shirt. Structurally it remains partly fitted across the shoulder meaning the overall drape is a flattering slim-fit.
7. Crew NecK Jumper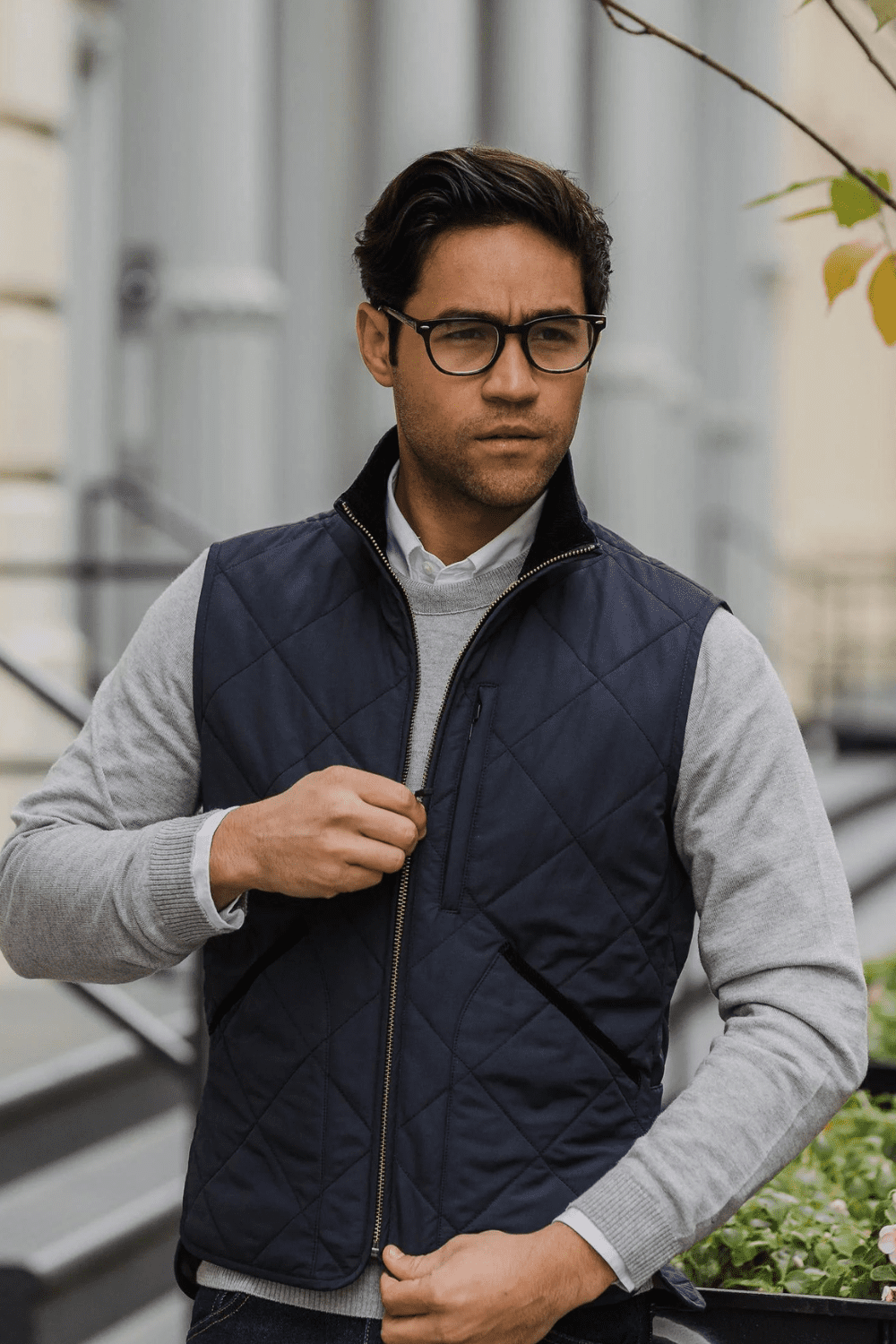 Mastering the art of layering is crucial for always looking your best when the mercury falls. A key weapon in your layering arsenal is a soft crew neck jumper in either cashmere or merino wool.
On its own, with a simple tee, it is more than fine. Though it can be a real asset when worn beneath a suit on a chilly winter morning. Not too thick, but sumptuously warming it is the perfect cooler weather component.
8. Poplin Shirt
For anyone who works in a corporate office, then this is a mainstay of their daily attire. Those who don't need to look as polished at work can still do with having this in the sartorial back pocket so to speak.
We never know when we have a drinks invite or wedding to look presentable for. A classic poplin cotton shirt is unobtrusive and dependable when bought in white or blue.
Just make sure you have ironed out the creases.
9. Grey Suit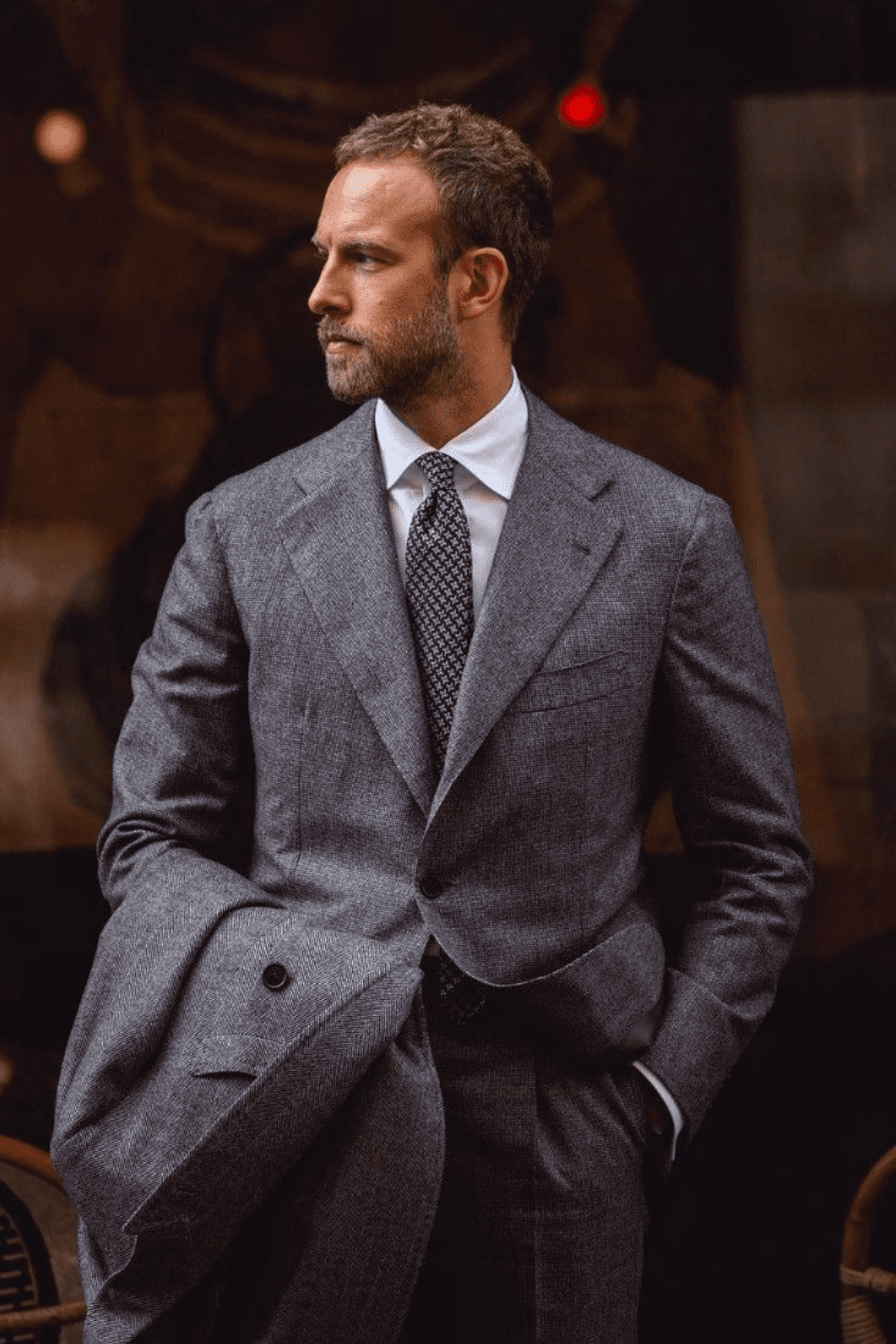 As with the navy suit, we want our wardrobe essentials to be interchangeable. Able to meet the needs of the wearer on a daily basis. The single-breasted grey suit in partnership with the navy does just that.
By breaking down the suit and switching one element for the other colour, you have created the foundations for four outfits and nailed the separates look at the same time.
To perfect it, opt for a grey suit in a slightly darker shade so as not to be too much of a juxtaposition with the navy.
10. Black Lace Up Shoes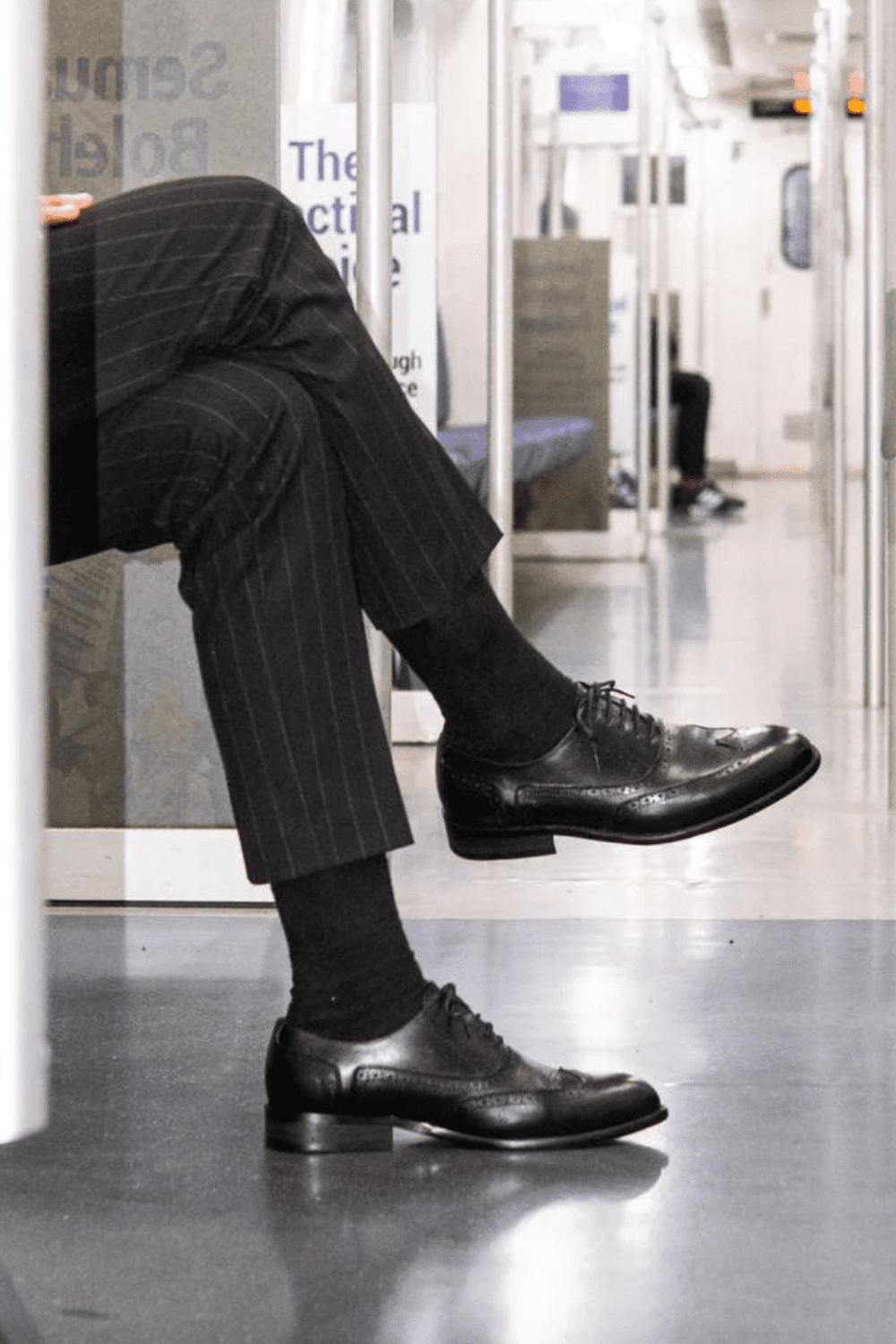 They say you are often judged from your shoes upward. To make sure you are making the right first impression invest in a quality pair of polished black shoes.
Oxford cap toes are a good starting point and will partner well with most suits. If you are looking for a bit more detail, then a pair of brogues would be worth seeking out.
11. Plain White Trainers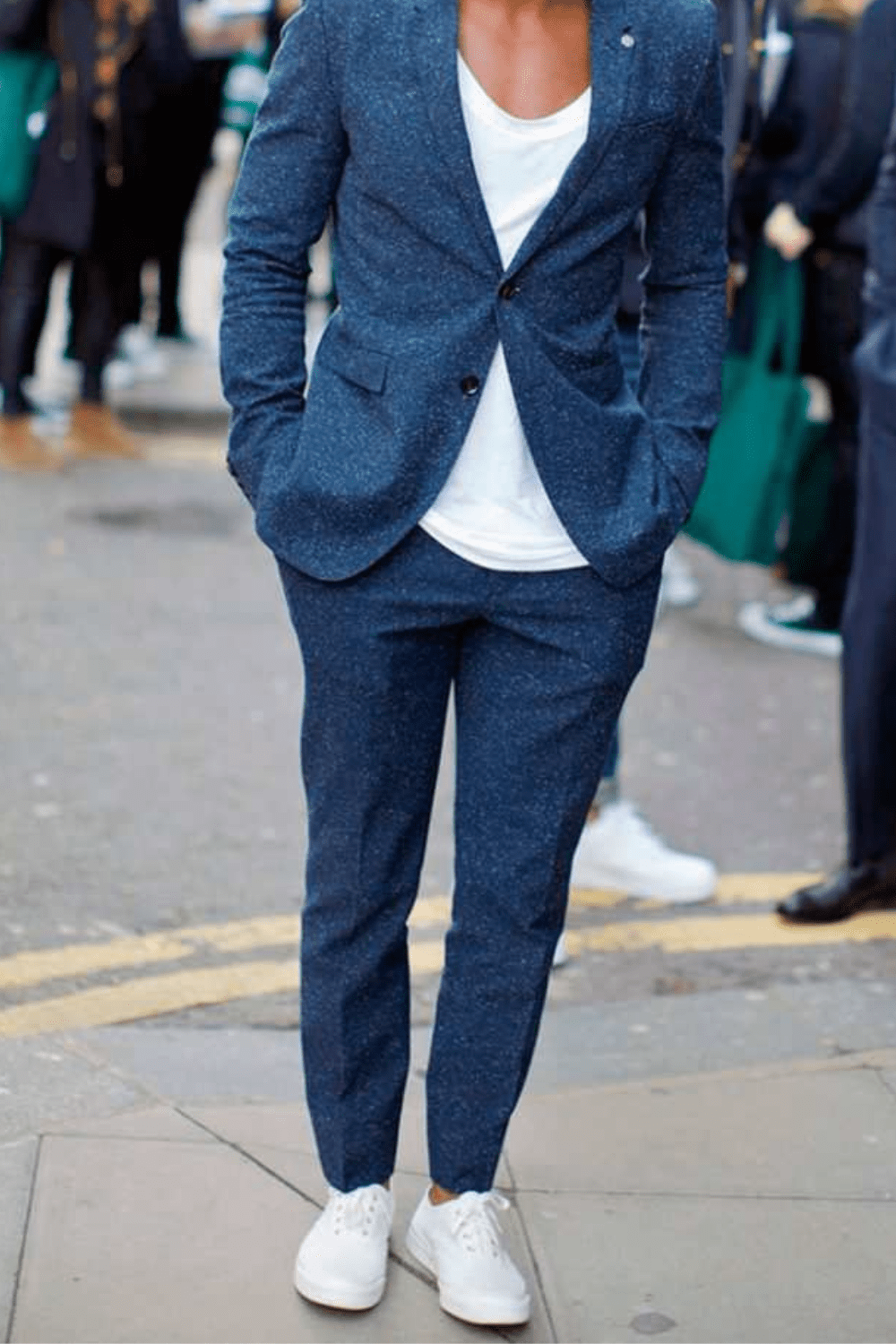 Adept at being partnered with a suit during the week as well as chinos at the weekend, an unassuming pair of white trainers is minimalism personified.
Long gone are the days that trainers were nothing more than practical footwear for the active man. And for those who don't share the passion of sneakerheads for OTT footwear, the clean aesthetic of the plain white trainer will make them a reliable daily pick.
12. Chinos
A slim or straight-leg chino will offer the wearer a pleasant sanctuary when suit trousers are too formal and jeans too casual. Chinos leap across dress codes, enabling them to be easily partnered with the majority of a man's wardrobe.
Like the Oxford shirt, this trouser was a staple of the famed Ivy League prep style. A fashion movement that is still highly influential across high street and designer brands.
13. Overshirt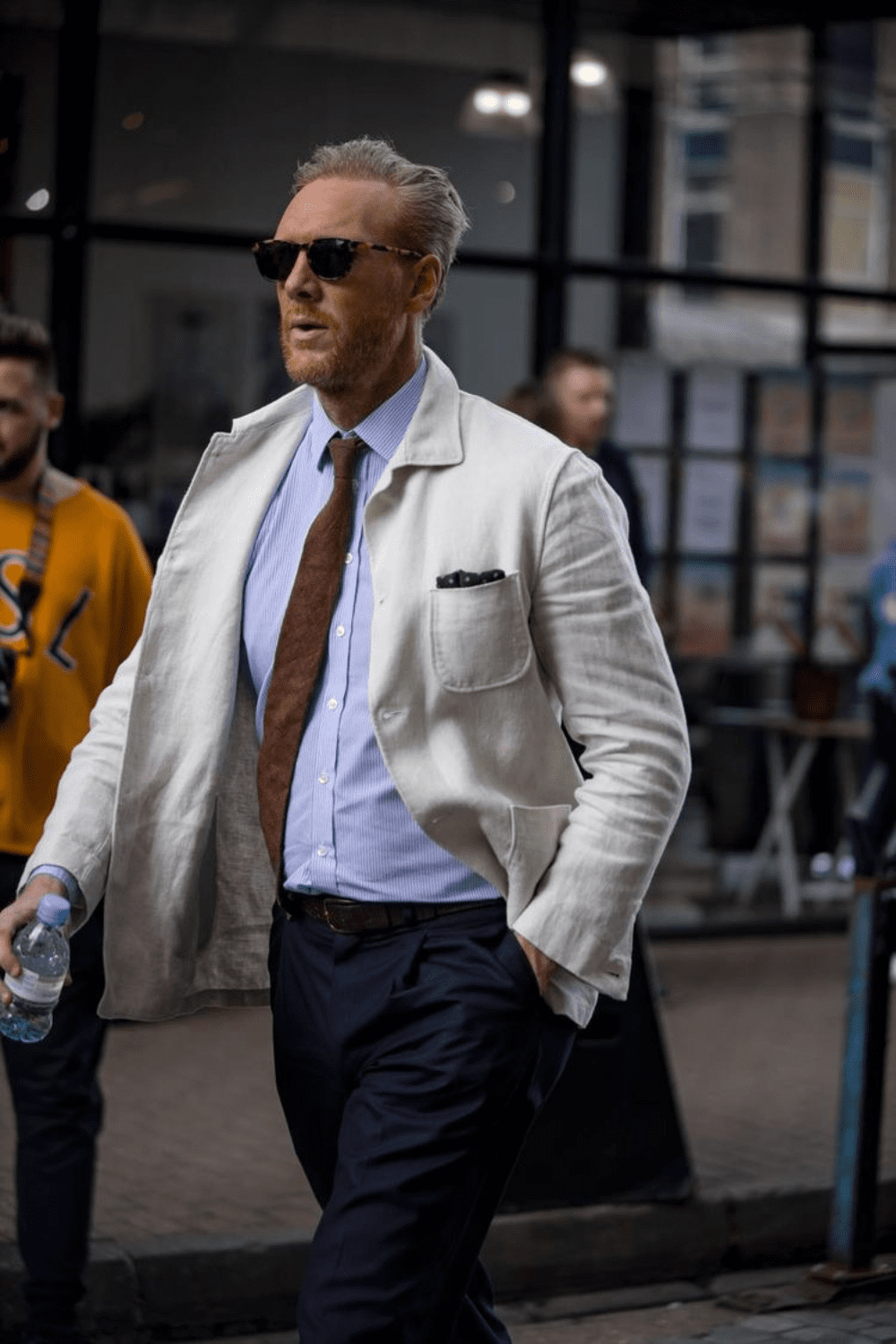 Take us back a few years and the words "shacket" or "overshirt" weren't part of the fashion vocabulary for most men. Nowadays we understand what we have been missing out on.
This menswear piece does a ton of heavy lifting. It layers with t-shirts, knitwear or even under your winter coat. Heck, we even use it instead of a coat if the mood takes us.
It's hard to find a brand that doesn't have some iteration of an overshirt, so you'll find no shortage of hunting grounds to grab one.
14. Weekend Bag
No one wants to be the man rolling up to that weekend break in the country with his unmentionables falling out of a supermarket bag. It might not get the greatest number of outings compared to other items in your wardrobe but a trusty weekend bag won't let you down when called upon.
Opt for a hard-wearing leather or canvas style that will keep everything nice and organised no matter where life takes you.
15. Rollneck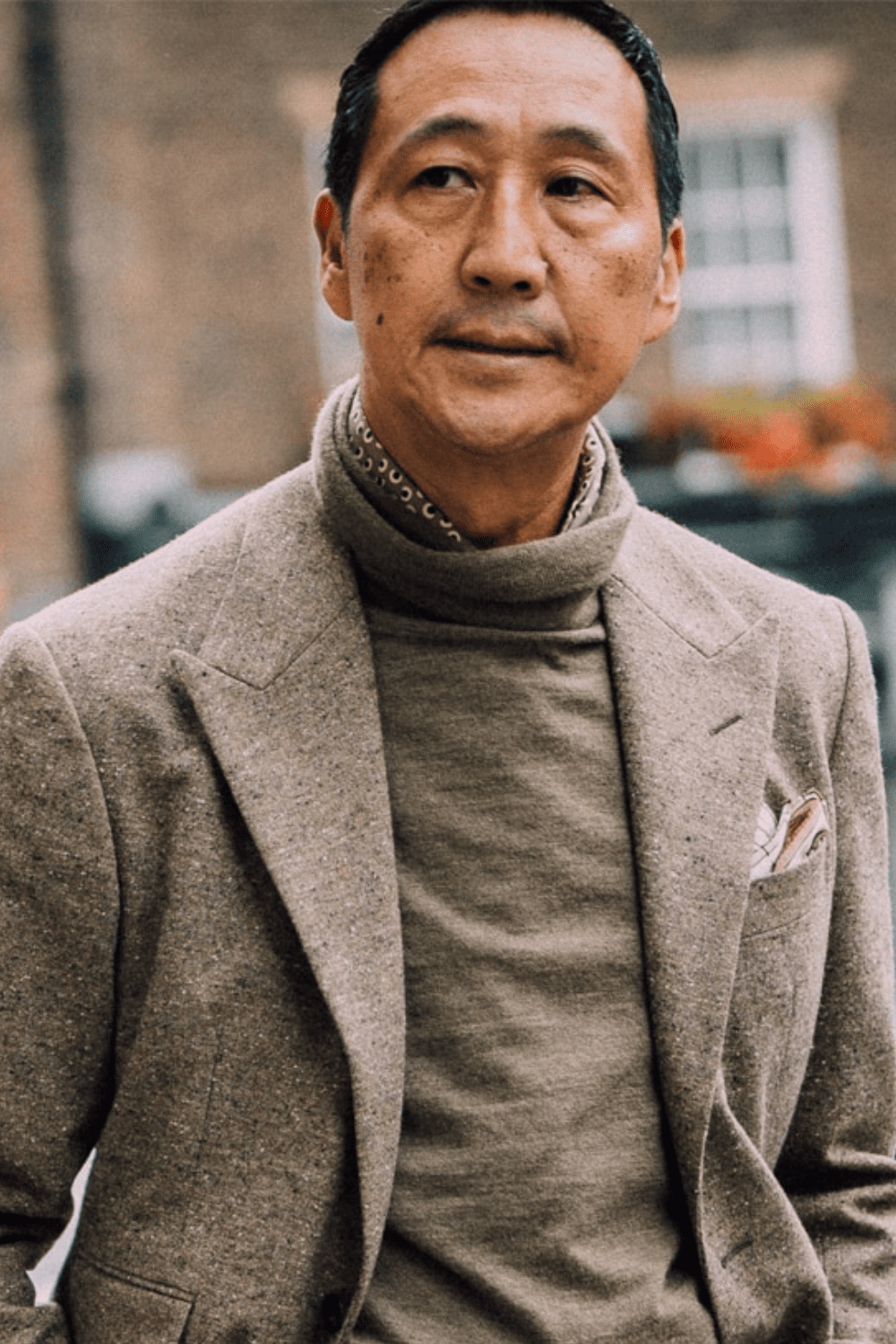 Much maligned historically in fashion. Since its resurgence, the roll neck has now become a winter essential. Use it to replace your shirt and tie for a contemporary formal look or wear it beneath your outerwear for a smart casual ensemble.
We would always prefer a cashmere option, although merino wool can be a much more affordable entry point should that better suit your budget.
16. Hoodie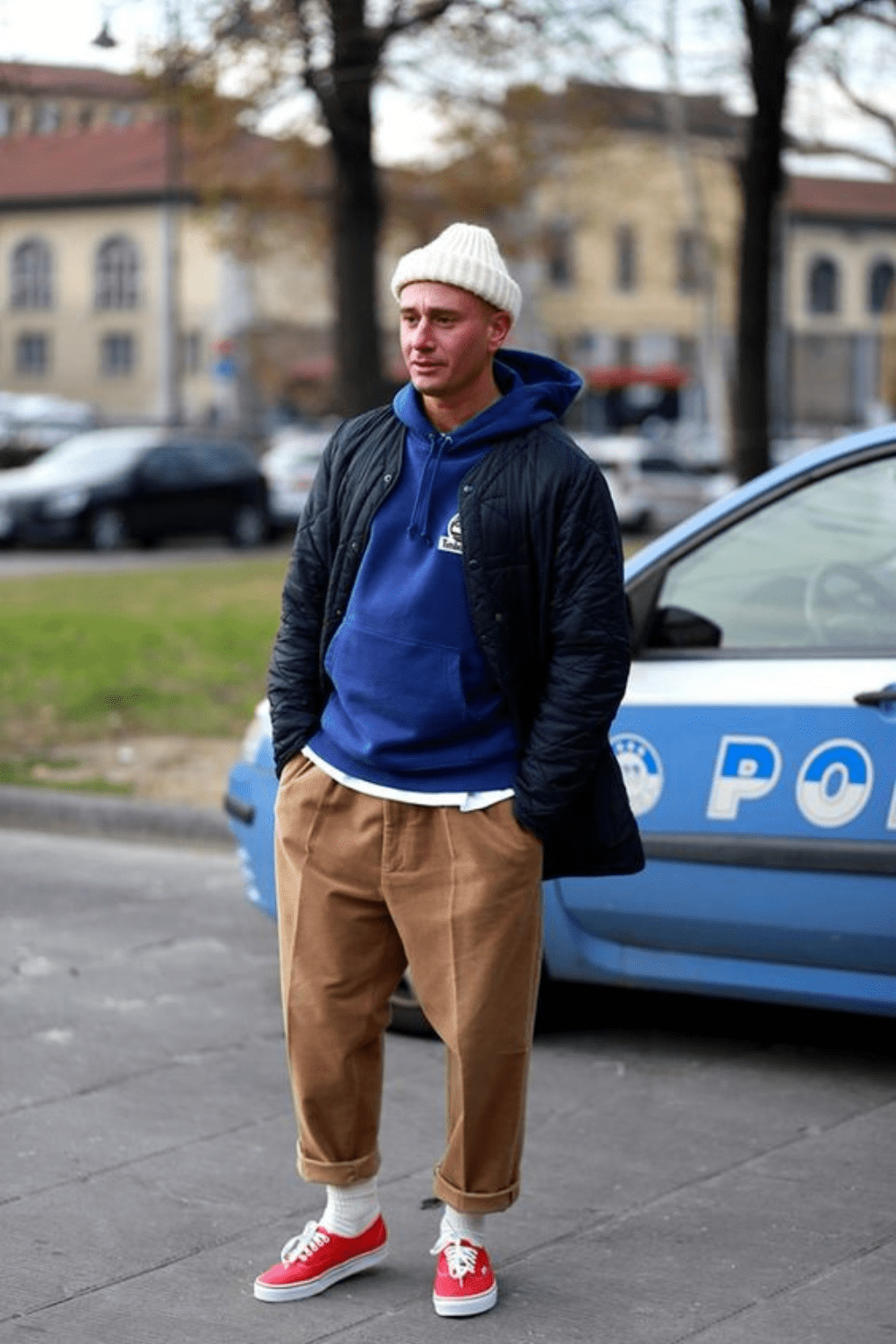 In the last few years, the hoodie has probably become a habitual outfit choice as we move from bed to our temporary home office to start the working day. Don't get stuck into a style rut and explore how the hoodie can be elevated within your wardrobe.
Firstly, the fit has to be better, preferably a slim fit and it can't have any logos. Then you can start to pair it with smart trousers, shorts or even wear it beneath a wool coat or overshirt.
17. Shorts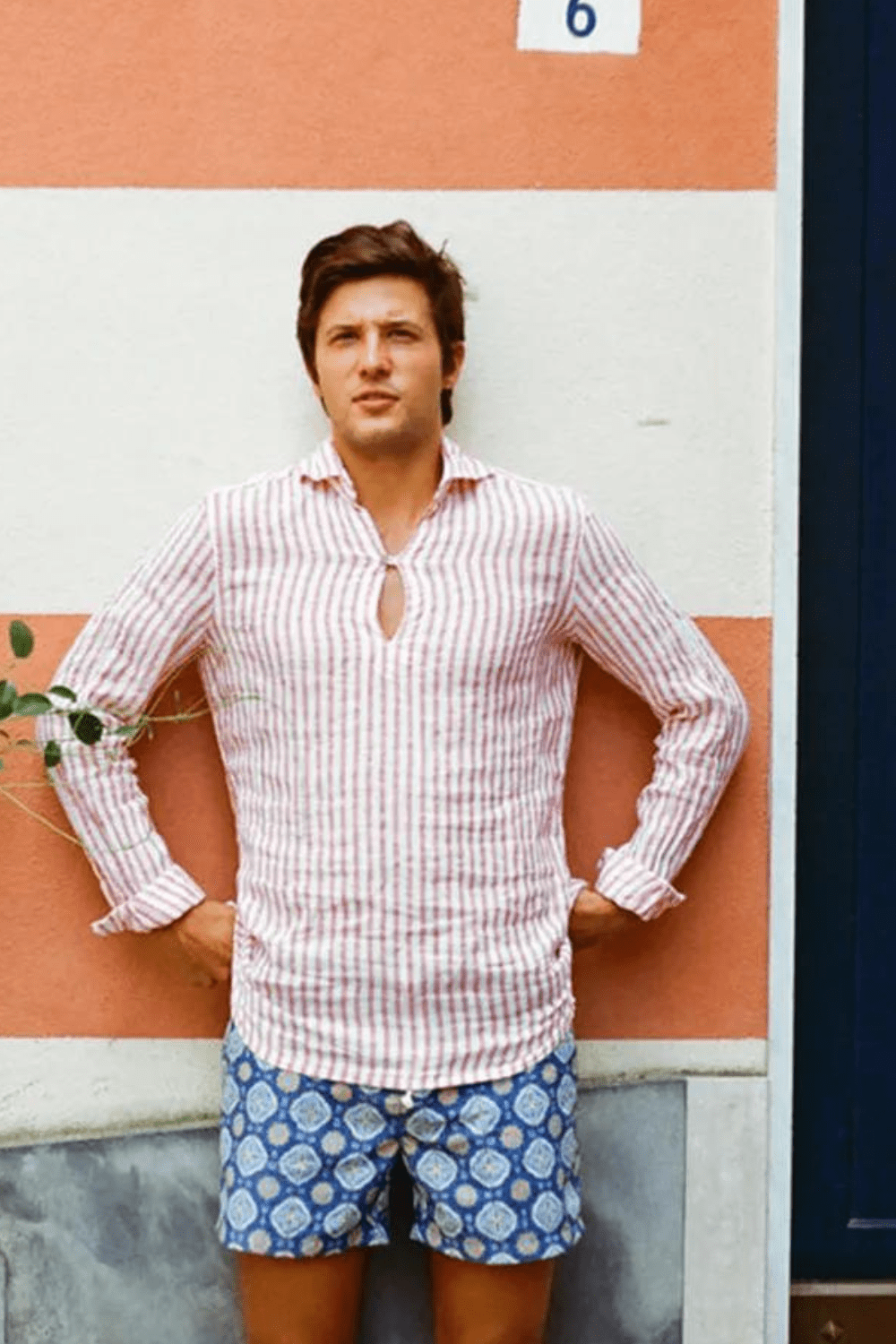 Granted, you won't be wearing them all year round, but shorts are still important. Toss those long, over-the-knee Bermuda shorts aside and take this holiday essential to the next level.
A sexier choice is a tailored fit short which finishes mid-thigh. Perfect for the pool, while also looking great with a linen shirt and loafers at the hotel bar.
18. Wool Overcoat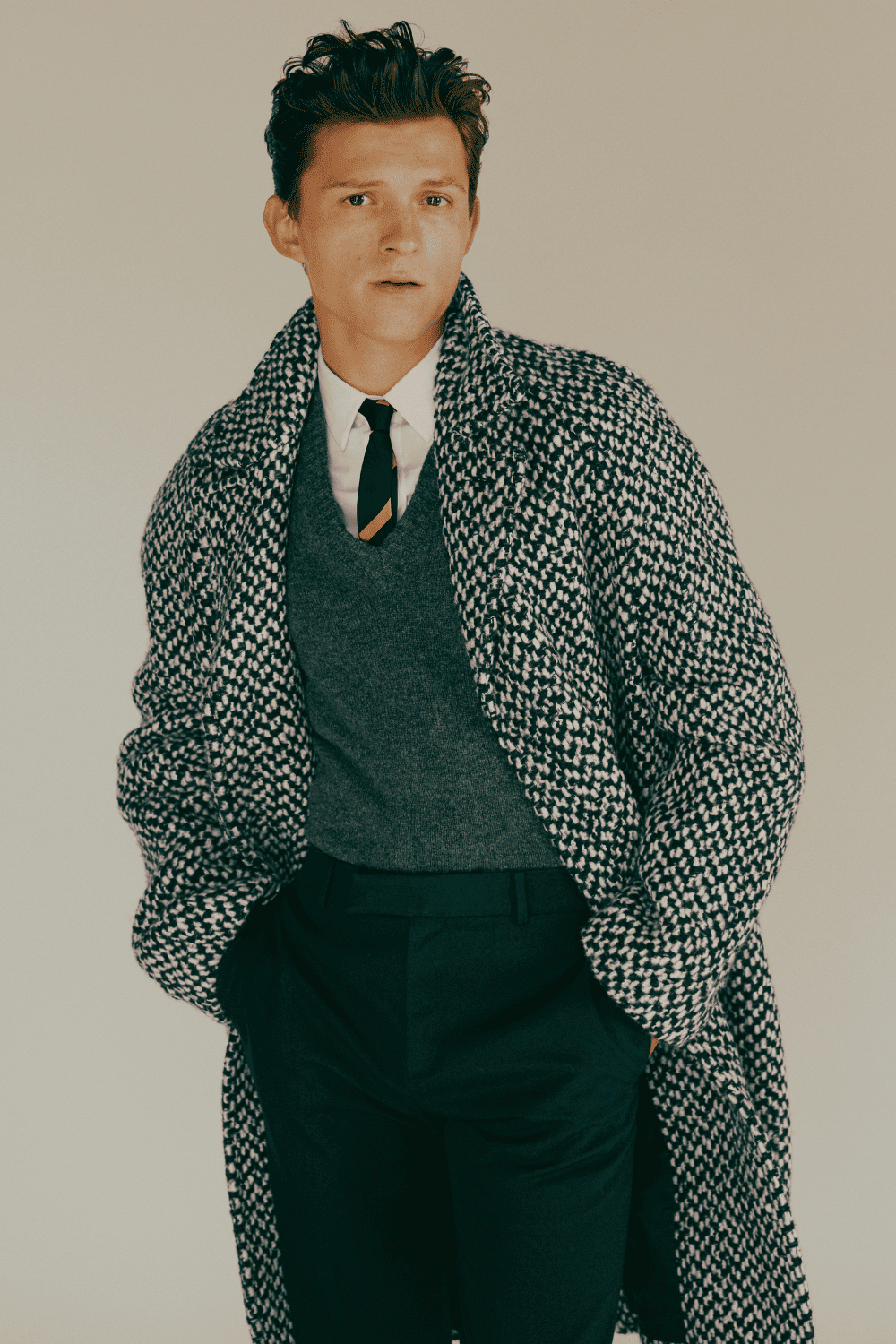 Inevitably, it is going to get cold. Don't try to prolong the warm weather any longer than you have to and start preparing for that cold snap.
Yes, a goose-down puffer jacket will keep you toasty in the Arctic. But, back in civilisation, layering is the best way forward. Your wool coat doesn't have to be crazy thick, as you can build your outfit using layers like t-shirts, knitwear and even a denim jacket beneath for warmth.
19. Suede Loafers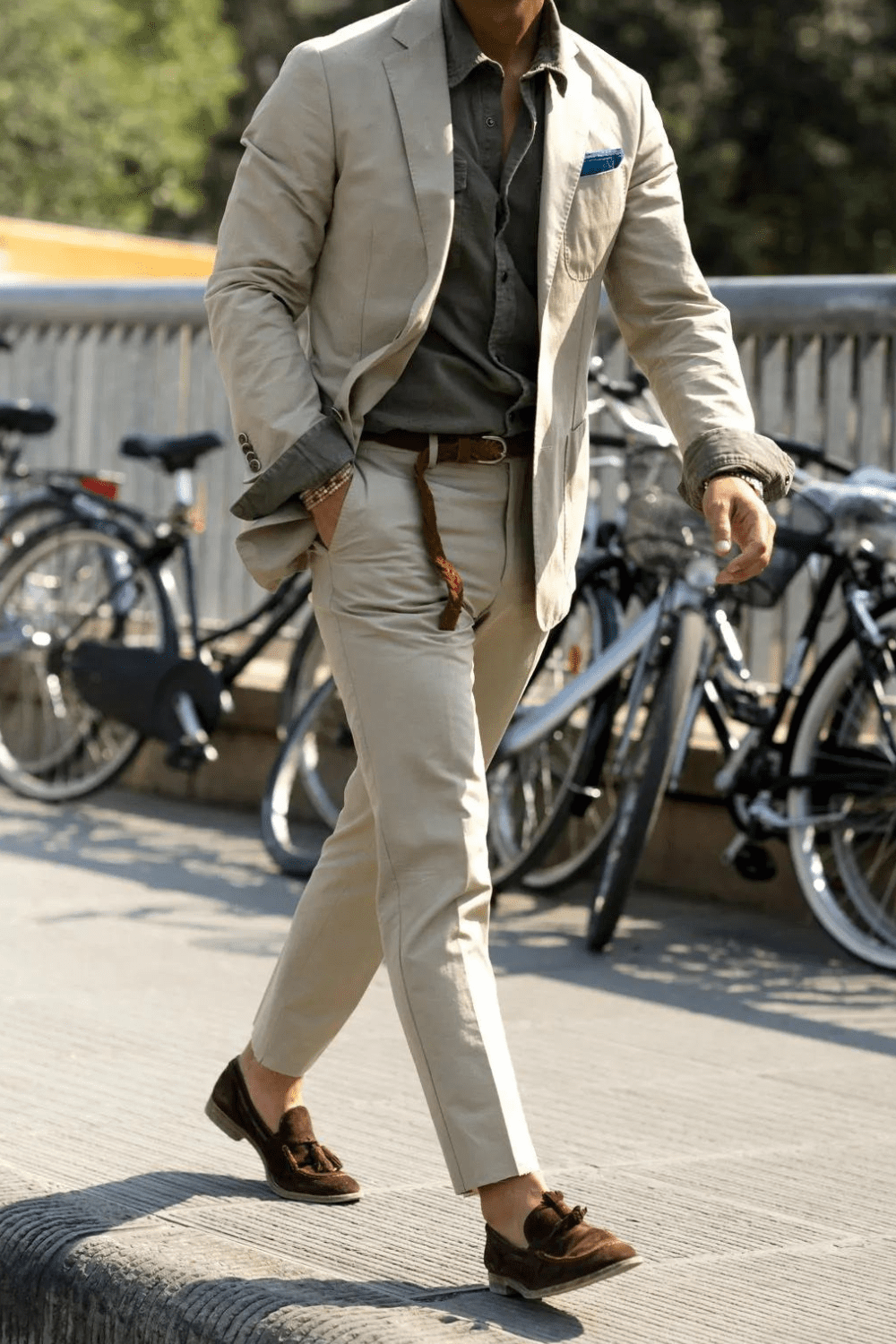 Hurdle the smart casual dress code with ease with a pair of suede loafers. Smart enough to be pulled off with a suit they can equally be partnered with shorts on warmer days.
Remember to keep suede in tip-top condition by preparing it before wearing it for the first time. A good suede protector will wick away water that can typically leave marks on this unprotected material.
20. Chelsea Boots
Get your inspiration from the likes of the Rolling Stones and The Beatles with this inherently British style icon, the Chelsea Boot. Named after the borough that stoked their popularity the fashion credentials of this footwear haven't waned over time.
More formal looks will benefit from a slick leather option while suede alternatives can be paired with jeans for a more laidback vibe.
21. Sunglasses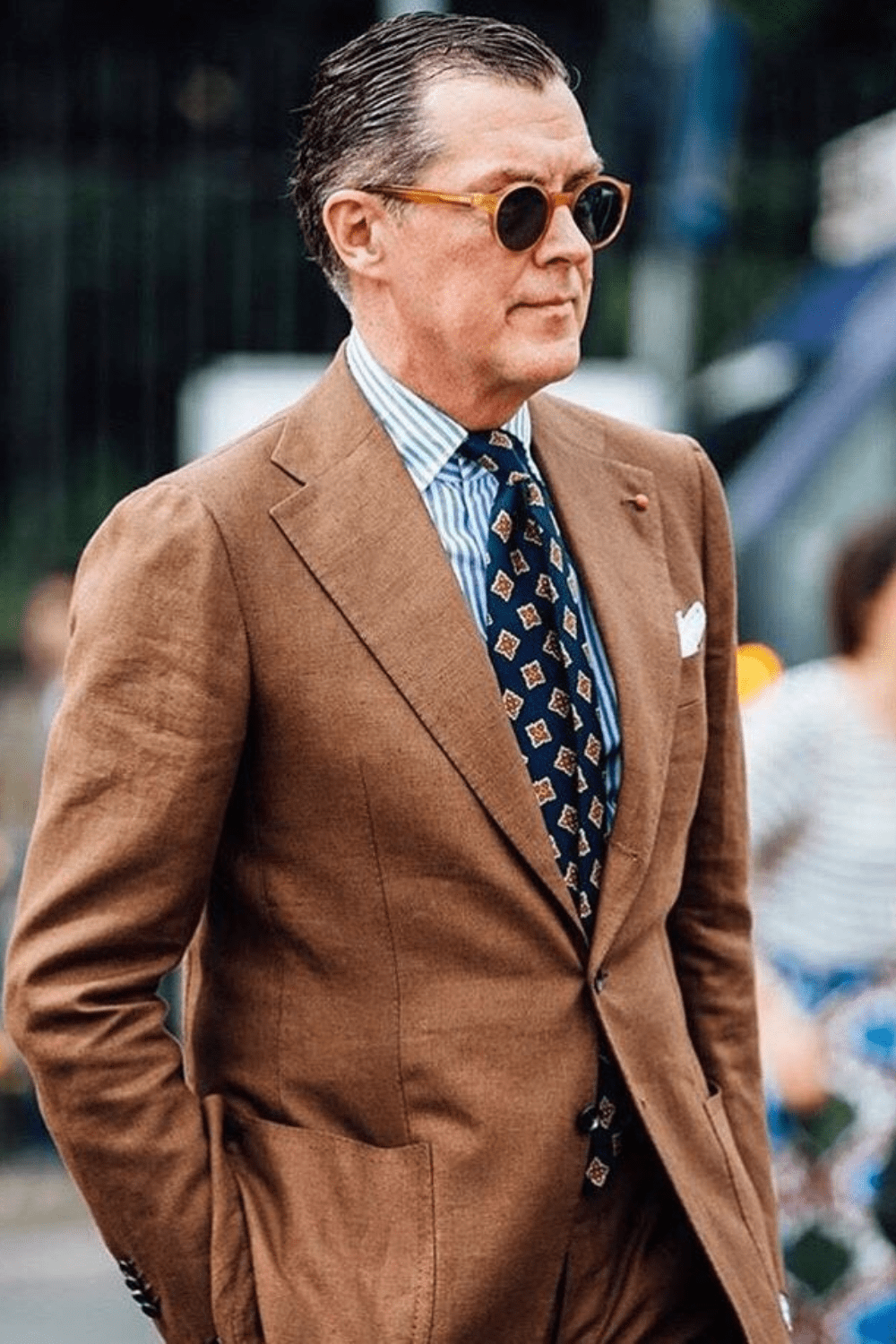 The devil is in the details. So, don't let your well-presented exterior fall down by ignoring the importance of a good accessory.
We aren't medical professionals but we know that squinting blindly into the sun can't be good for us. Get yourself some sunglasses that not only nicely finish your look but help to protect your eyes from harmful UV rays.
22. Transitional Jacket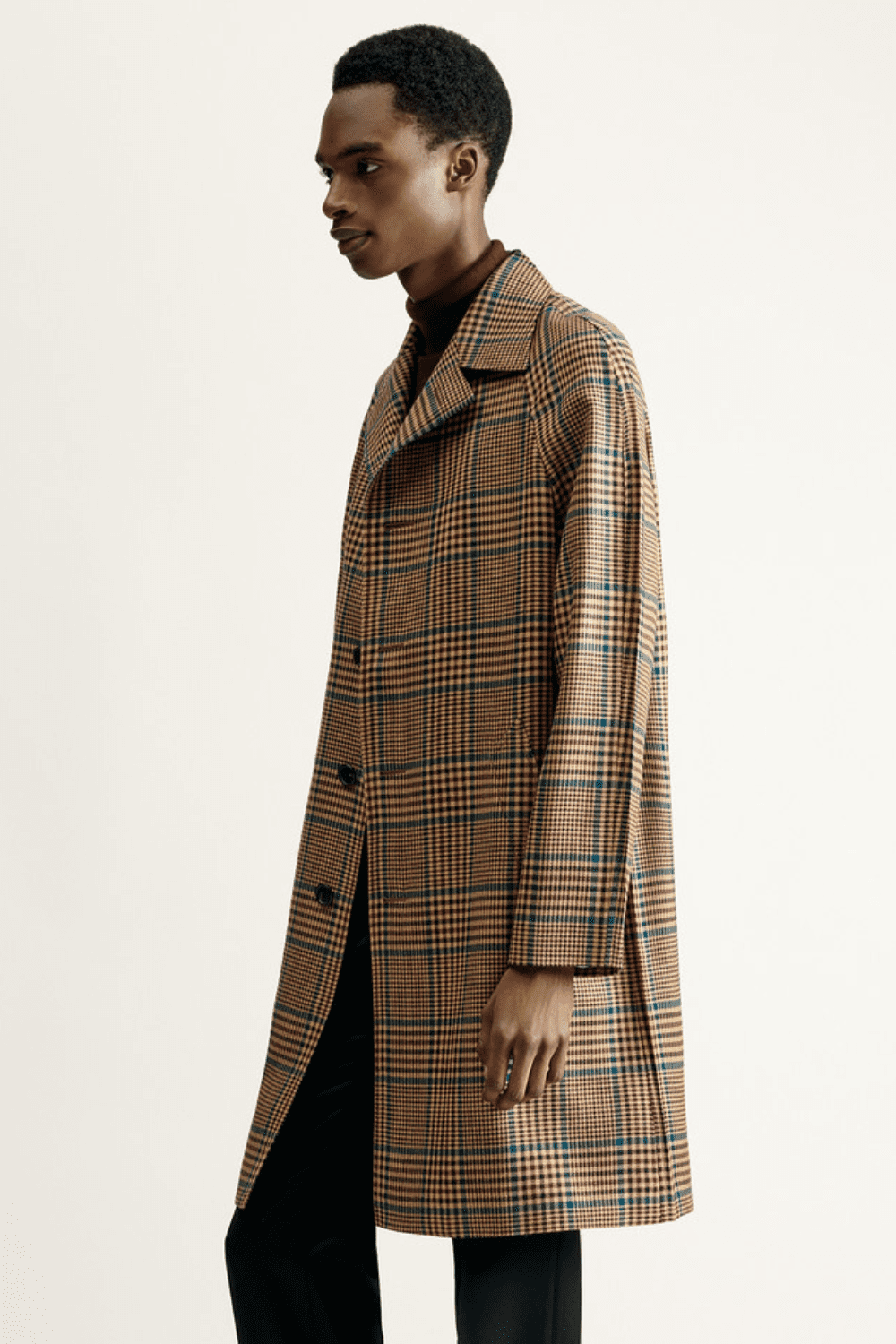 Tired of sweating profusely on the tube wearing your wool coat in Spring? A transitional jacket is ideal for filling the gaps between seasons.
The weather in Britain can go through a full year of seasons in one day. Don't get caught out and get yourself something robust but lightweight that can easily be thrown on or off dependent on the temperature.
We are fast approaching summer wedding season which means men of a certain age suddenly have a busy calendar. Attending other people's nuptials is part of growing up. Though in the heat it can be difficult to know how to dress.
If you have been lucky enough to have been provided with a dress code on your invitation, then this has taken some of the guesswork away. But, for those that haven't, it is time to seek some advice from the experts.
The balance is in nailing the right look without passing out before the speeches. Summer may be the most popular time to get married especially after the postponements of the past few years. But, it can be a nightmare for the heat, only made worse with our current heatwave.
Summer Wedding Basics
Dress Code
A dress code will inherently impact your summer wedding outfit. It is there to be adhered to out of respect for the bride and groom. So, where possible, men should stick as close to it as possible.
Thankfully, there is nearly always a dress code on the invite. Thus giving you a barometer of expectation of where on the scale of smart your ensemble should fall.
Location
The venue for the wedding can give a strong foothold for outfit choices. A beach wedding has a very different vibe to the Marriott Hotel in the city. Making a note of where the wedding will take place allows you to rule out unnecessary decisions.
For instance, the aforementioned beach wedding would immediately make wearing a tie superfluous. That could then impact the shirt style or jacket choice now the tie has been removed from the overall look.
Time
I'm not here to give you a crash course in the rotation of the sun. But, the time of day the wedding is taking place will impact how hot it will be.
Late afternoon to the early evening will see the mercury drop and offer more chances to wear a jacket without feeling like you are sitting next to a volcano.
Understanding Wedding Dress Codes
As we mentioned, the dress code is the most important part of the invitation to take heed of when selecting what to wear.
Smart casual does not imply a tux in the same way a black tie will not give consideration to a brightly coloured tie. Understanding the expectations of individual dress codes will ensure you don't turn up over or underdressed.
No one wants to upstage the happy couple and turn heads for all the wrong reasons. As such, here are some of the most popular wedding dress codes to consider.
Black Tie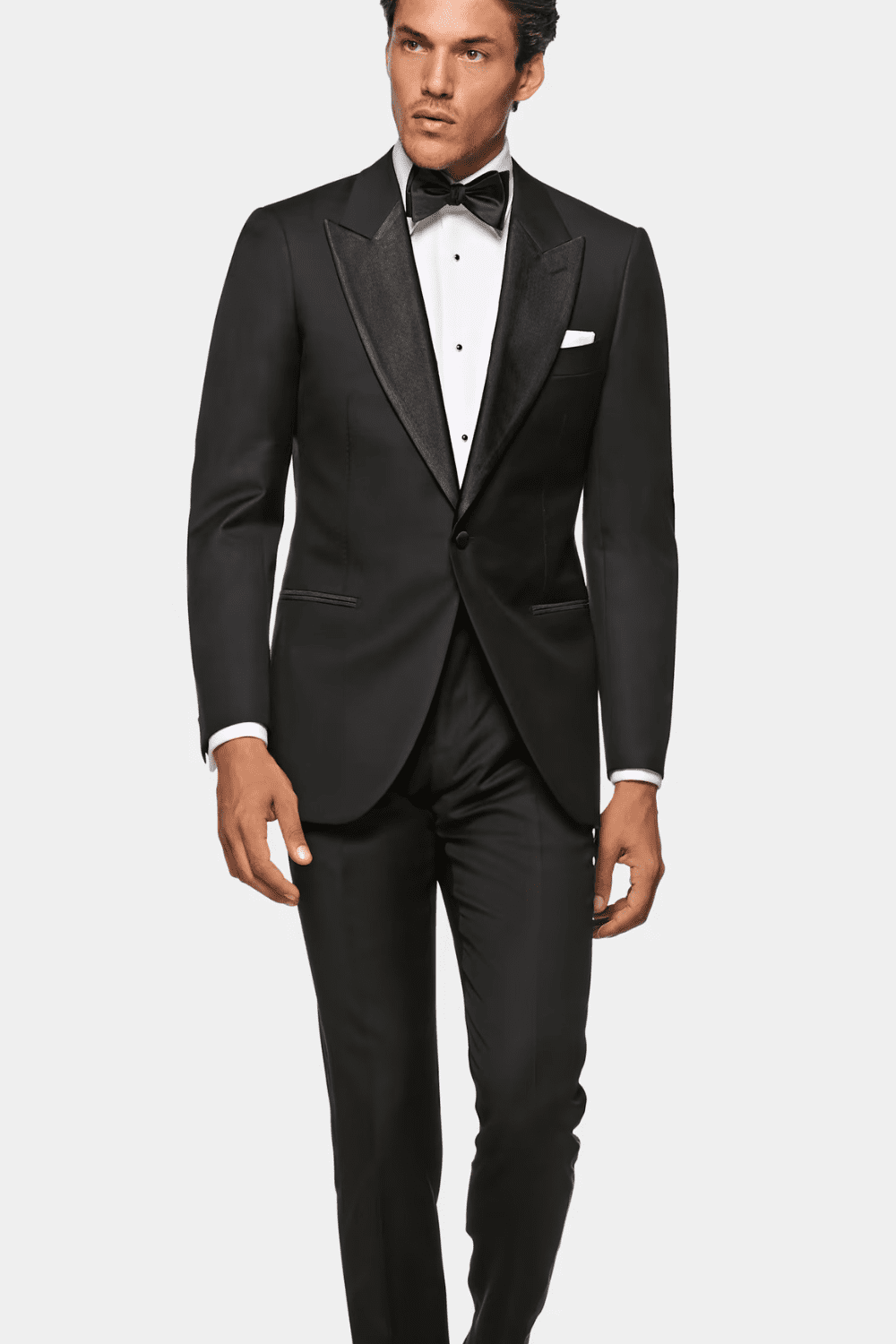 Up there as the most formal dress code for men, it comes with some stringent rules. This starts with a tuxedo (dinner suit) and it must be this alone. The contrast lapels will typically be silk and matching trousers will be adorned with braiding down the side.
To partner with your tux, opt for a white shirt with concealed buttons or studs. Making do with your work shirt will ruin the overall look. Tuxedo "dress shirts" complement nicer with the black bow tie, so don't overlook these small details.
On your feet, keep it simple. A pair of polished black Oxfords bring understated style and will round the outfit off nicely.
Cocktail Attire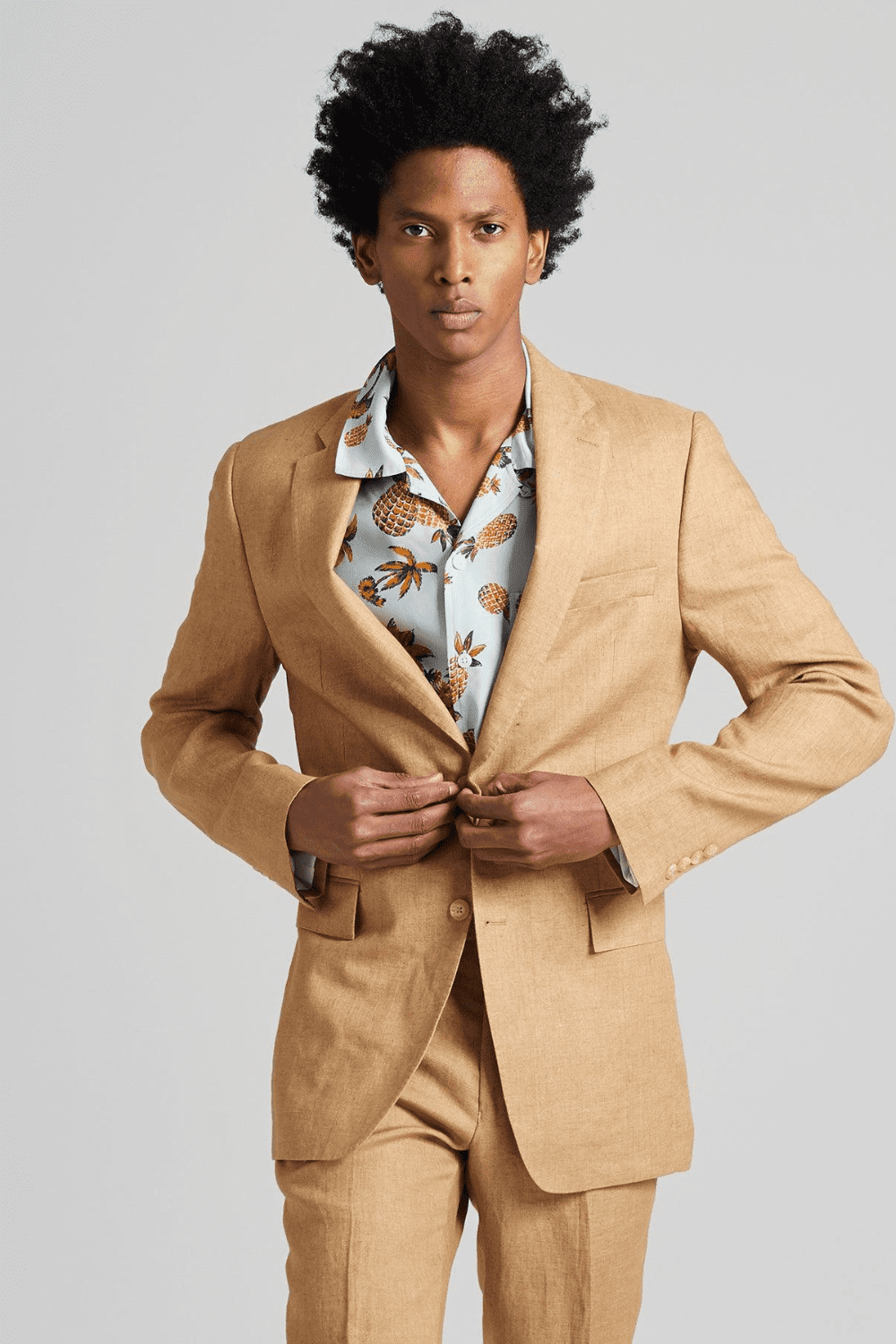 This dress code offers men a chance to mix things up a little. It allows you to push the boundaries of your tailoring by opting for bolder prints or colours.
Suits in windowpane or herringbone can bring personality when worn with a simple white shirt, t-shirt or even polo shirt.
You might even opt for separates and go for a bold jacket over contrasting trousers. Just remember to keep the bottom half neutral, say navy, cream or brown to allow the top half to sing whilst complimenting.
Smart Casual
Smart casual is the perfect chance to introduce differing menswear picks as this dress code has much more leniency.
All elements of a typical formal wedding look can be switched for a smart casual alternative as long they still maintain a well-presented finish.
That means the jacket can be removed, permanently. While the formal shirt can become an Oxford and suit trousers switched for chinos.
Lastly, footwear is less restrictive. We suggest introducing a loafer or suede monk to create a pared-back look without straying too far from casual.
Semi Formal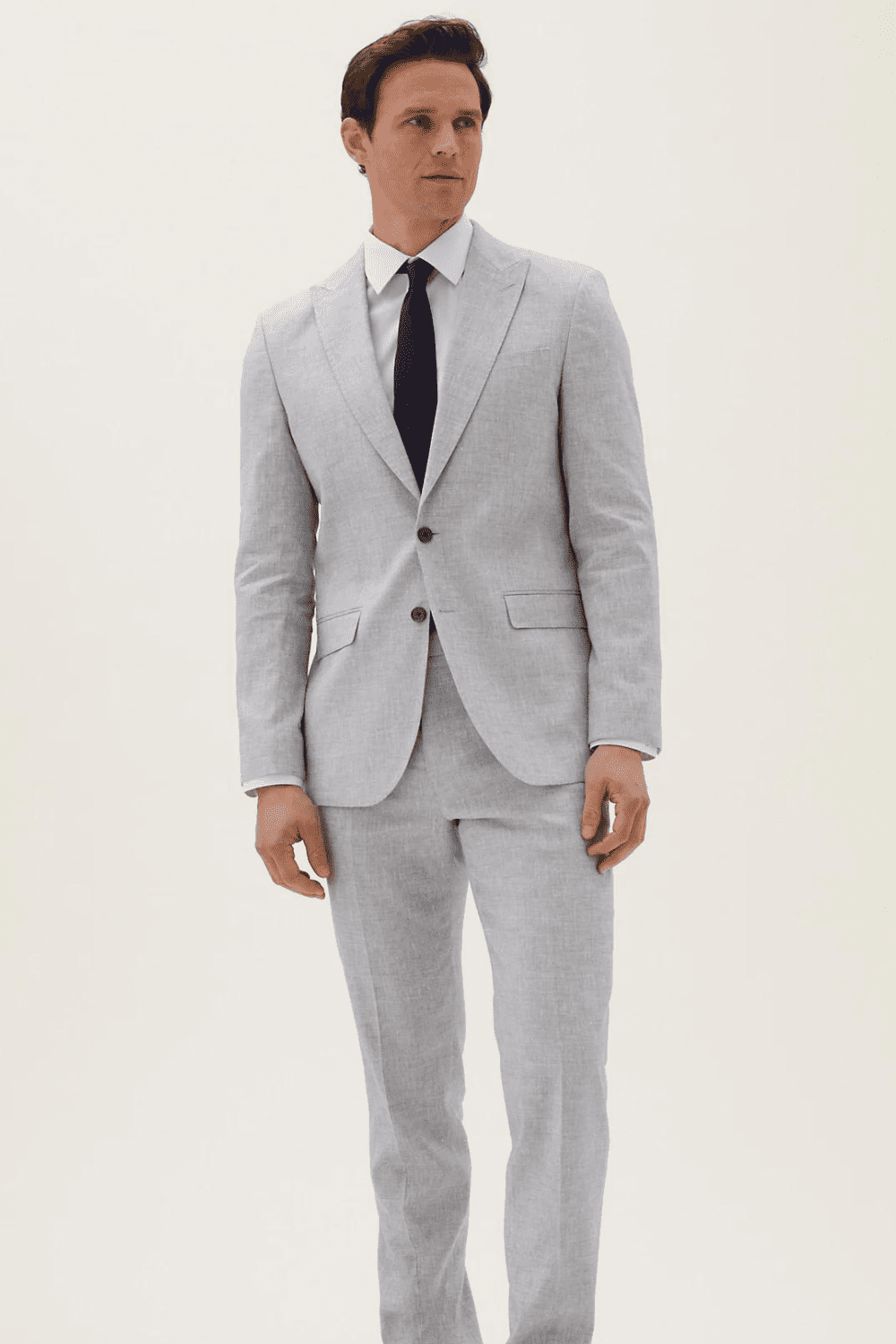 The semi-formal dress code is the one men will be most familiar with. It is the de facto wedding choice up and down the land. Think suit, shirt, complimentary tie and a nice pair of shoes.
Though, don't associate this with boring. It is only boring if men make it so. Play with fabrics, colour palettes and accessories to incorporate your own personality while also adding elements to combat the heat.
Best Summer Wedding Materials
Nothing will ruin a man's well-presented wedding look than unsightly sweat patches and a bright red face. We can't change the weather, but we can choose the right clothing materials to help combat the rising temperatures.
Picking the right fabrics will allow air to circulate through the body and keep you cool on hotter days. So, plan ahead and take note of these materials to keep you cooler for longer
Linen
The saviour of summer for style-conscious men. A slim-fitting linen suit will do wonders at ticking all the sartorial boxes whilst helping to beat the heat.
Granted, a 100% linen suit is going to succumb to creases, which is inevitable due to the nature of the fabric. Should you want to minimise this, you can always look at a linen/cotton mix that has greater structure without losing all of the fabrics cooling abilities.
Seersucker
Not as popular as linen, seersucker should be equally held in high regard for its cooling properties.
Presented in a striped or checked pattern, a seersucker suit is a great way to mix up your wedding tailoring without going too casual. Its puckered fabric traps air, keeping the wearer cool and it won't crease as linen does.
Best Summer Wedding Looks
Now you have a better understanding of the different dress codes and what materials to look out for. It is time to bring that knowledge together to detail some great picks when shopping for that summer wedding outfit.
The Classic Two-Piece
Mr Familiar, the go-to pick for weddings that covers nearly all dress codes. If you work in an office then you probably have a wardrobe full of these suits. Which is one of the reasons most men wear them to weddings, as it means not having to go out and shop for something new.
If you want to stick with what you have, then make note of the materials. Typically, our work suits consist of wool or a wool mix. Not the best partner for a sunny day.
We like using a summer wedding as the chance to break out lighter colours that might not work for the office. This means beiges, pastel blues and even pinks.
The Summer Separates
Should you not have the budget to buy a brand new suit that might only get a few wears a year, then why not opt for separates. You may be able to use trousers or jackets from one of the suits you own and just replace the top or the bottom, whichever works best.
Whether mixing up a suit you own or dipping your toe in fresh. Separates are a great way to bring your wedding suit to life. Granted, it might not be fitting for the more formal dress codes, but where there is room for a sartorial manoeuvre, tailored separates are a nice choice.
The golden rule is to keep the upper and lower pieces in a contrasting hue. In the summer we would advise lighter trousers in white, beige or grey with a darker jacket.
The Linen Suit
Available in a raft of colours, the linen suit will always be on hand to offer sartorial flair and breathability. The perfect combo for a wedding in stifling heat. Dress code-dependent, you could choose a lighter colour hue or play safe with a darker navy or brown.
Under the suit, you can't go wrong with a crisp white shirt as it will hide any sweat patches should the inevitable happen. But, we would say a light blue or even Chambray can offer a contemporary twist on the traditional.