In a previous article, we brought you a list of applauded sustainable clothing brands that men should have on their radar. Though, it shouldn't start or stop with what we wear. If like this writer, you put as much care into your face and body as you do your clothing then there should also be a focus on the grooming brands you buy.
Nothing brings climate change to the fore like an unseasonable weather and the current heatwave is a prime example. Yes, it is nice to bask in sun for an extended period of time, but we need to be frank about the reasons for this heat. Climate change brought on by mankind's impact on the world around us has to be challenged.
Pioneering activists like David Attenborough have commendably brought to our attention how our seas are populated with plastic waste and how ecosystems are being destroyed by humans. Though our own choices should go further than just ditching the plastic straws in our drinks.
The traditional men's grooming market is chock-full of plastics and harmful ingredients. Marketing masks this with grandiose claims on how "insert grooming product here" can make you more attractive or cure the signs of ageing.
Education is key.
Sure, governments can take tougher measures such as banning microbeads - these plastic beads found in exfoliators couldn't be filtered out of water systems and made their way into lakes, rivers and seas.
But, by shopping around and broadening the brands you know and taking greater note of the ingredients in our products, men can make better consumer choices.
In this article, we have brought you a range of skincare brands that challenge the status quo of chemical-laden grooming in place of natural, ethically sourced ingredients and packaging without sacrificing quality.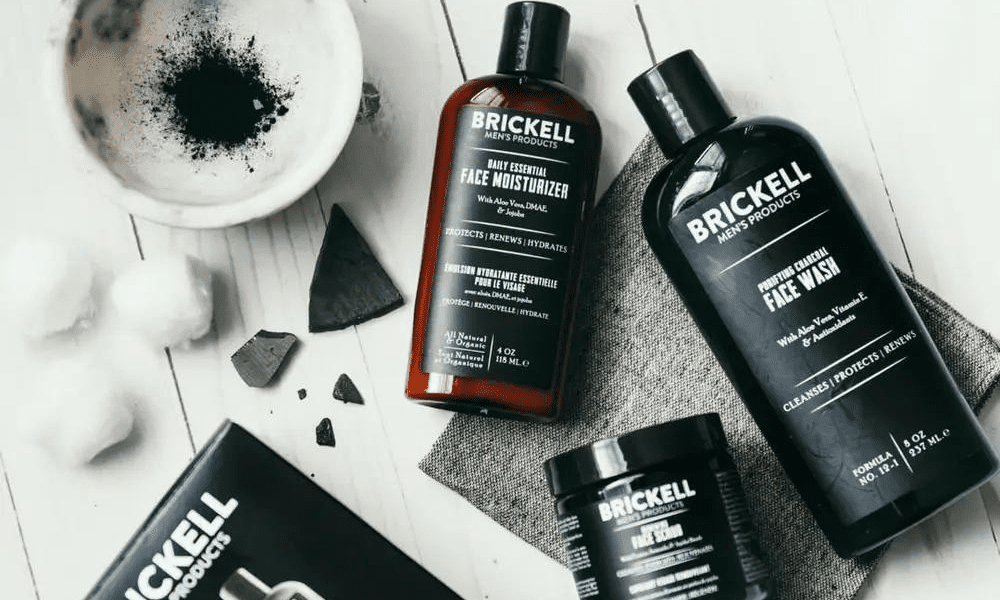 1/16
BRICKELL
Made in the USA, Brickell grooming products were born from the founder's frustrations about the level of toxins and synthetic chemicals in modern skincare for men. They set about crafting a range of natural and organic skincare products that are even more powerful than chemical-filled alternatives.
By introducing advanced science into the formulation process they are able to strip out harmful ingredients and replace them with natural, kind-to-skin substitutes without sacrificing results.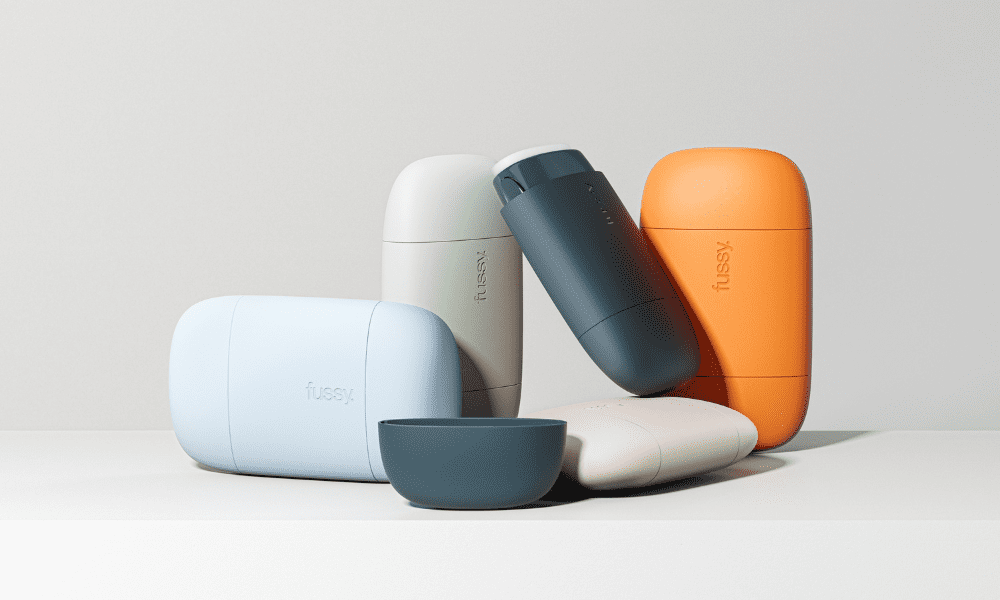 2/16
FUSSY
Fresh from a successful pitch on the UK's investment show Dragon's Den (like Shark Tank), Fussy is on a mission to banish single-use plastic from men's bathrooms.
Fussy deodorant is backed by science with all-natural ingredients making it free from aluminium, parabens and 100% vegan.
The deodorant cases are achingly aesthetically pleasing and you can book a subscription to have refills delivered monthly, straight to your door. Any leftovers are compostable helping to keep mother nature very happy.
3/16
GRUUM
Looking to strip the beauty industry of its outrageous marketing claims and bloated, chemical-filled products are UK based brand Gruum
There has been special focus into all aspects of the brand including the bottles themselves. The flatter shape makes better use of space in storage and transport, while being able to be conveniently posted through your letterbox.
In addition, though they make all their packaging as recyclable as possible, Gruum knows that razors are difficult which is why they have launched the UK's first (and only) razor cartridge recycling scheme for their customers.
Products that are chock-full of simple, natural ingredients that are kind to your skin and with a clear focus on reducing landfill it is a winning combination in our eyes.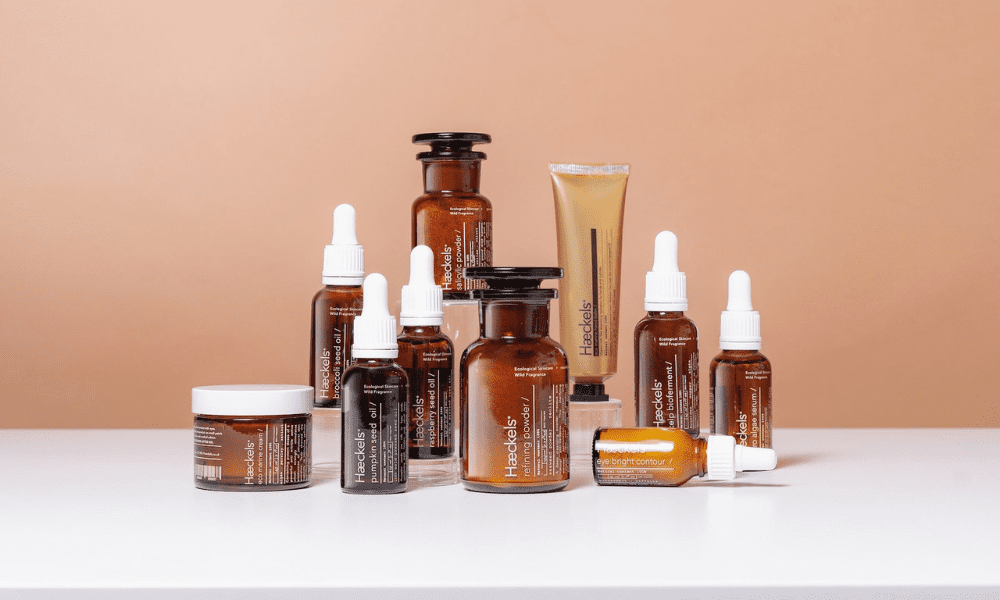 4/16
HAECKELS
Founder Dom Bridges spent hours volunteering on UK beaches and seeing the impact of waste on them he set about harnessing coastal ingredients to create grooming and homeware products that can help slow the destruction of UK shores.
Seaweed is a key ingredient in a lot of their products and is picked by hand on beaches around Margate where their shop is based. This coastal hub stems from the belief that we are intrinsically linked to the sea and that we need to care for it with the brand also organising beach cleans and taking part in marine conservation surveys to further help the surrounding coastline.
The brand doesn't stop at just natural ingredients in its products. Key packaging utilises mycelium and seed paper wraps, both of which are 100% biodegradable helping to encourage new plant life.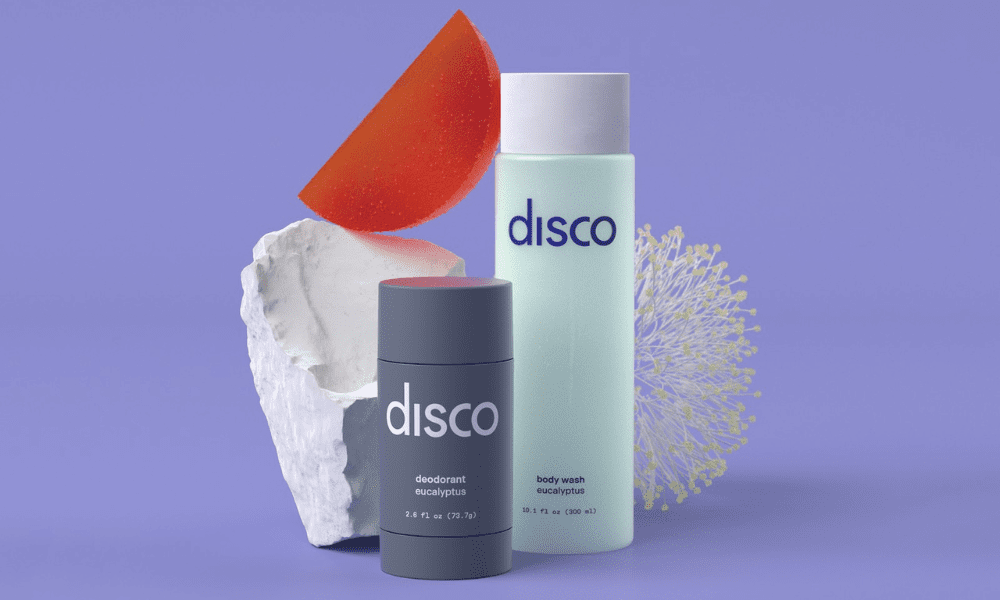 5/16
DISCO
Disco values clean ingredients, manufacturing all products naturally and responsibly.
The key ingredients in the Disco products either on their own or in combination with others serve the purpose to care for and enhance men's skin. Backed by a Harvard dermatologist, the brand looks to give men a one-stop shop for all their skin and hair needs no matter their specific requirements.
6/16
BULLDOG
Probably one of the more well-known brands on the list due to being stocked in multiple supermarkets and pharmacies across the UK. But, what shouldn't be lost in its rise in popularity is Bulldog's commitment to fuss-free skincare products manufactured right here on our shores.
There is a strong use of natural ingredients alongside a few man-made picks with all products suitable for vegetarians and vegans due to the zero use of any derivatives from animal sources.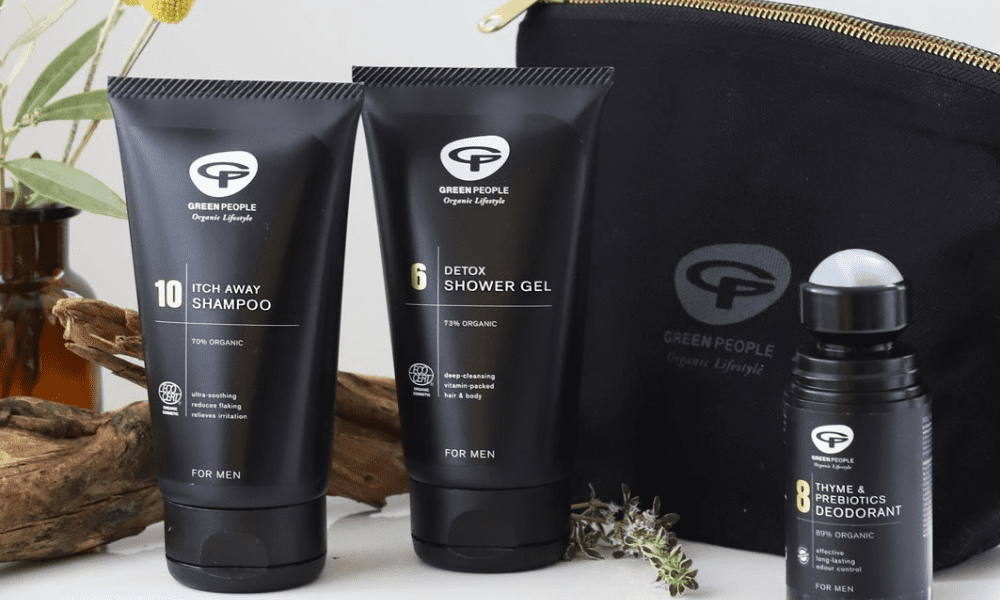 7/16
GREEN PEOPLE
Upon discovery back in 1994 that companies only needed to include less than 1% of natural ingredients to call their product "natural", a spark was lit inside Green People founder Charlotte Vøhtz to create a truly natural range of skincare.
A family business, the brand carefully selects its natural ingredients to be bursting with benefits for both skin and hair. Prioritising certified organic and ethical sources, the extensive range of products covers a vast range of needs for both adults and children.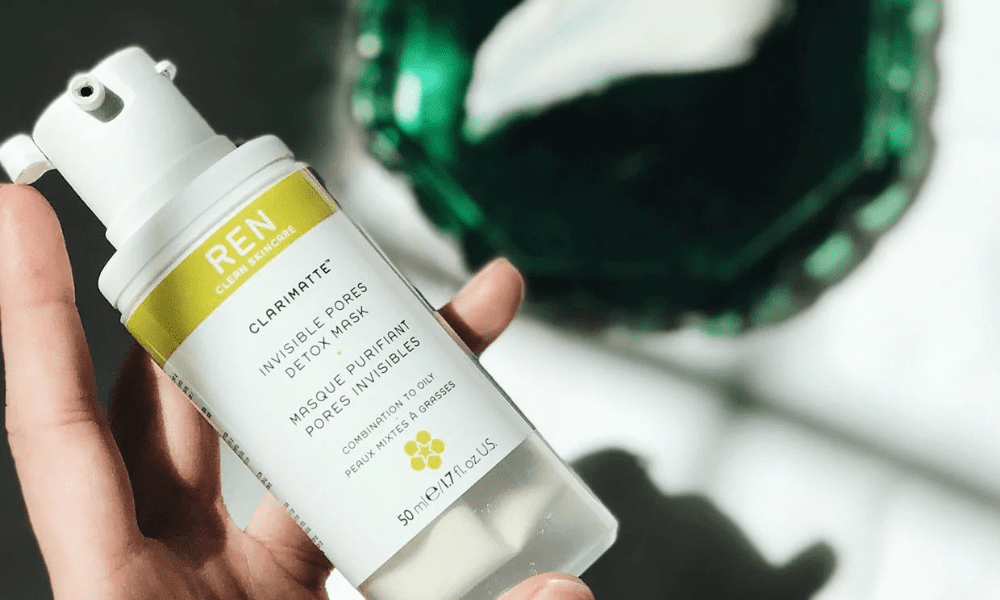 8/16
REN SKINCARE
This skincare titan is effectively working towards a waste-free future by the inclusion of 100% recyclable packaging from reclaimed ocean plastic. REN also uses 100% plant- or mineral-derived ingredients. None of this has stopped them from winning countless men's grooming awards for the high calibre of their products.
From moisturisers to sunscreen, the UK brand always has sensitive skin in mind when creating high-performance products that include nature's most powerful and skin-kind bioactive ingredients.
9/16
DOERS OF LONDON
With a fully vegan approach, this London brand aims to deliver premium performance skincare for men without the extortionate price tag.
As you can expect, there are no harmful chemicals with only naturally derived ingredients proudly going into every piece. It has earned the approval of the Vegan Society and they are certified cruelty-free.
Doers of London produce in small batches allowing them to constantly evolve formulas and try new products. This strive for innovation comes from their entrepreneurial founders who desired to create a men's skincare brand that truly has substance in a crowded market.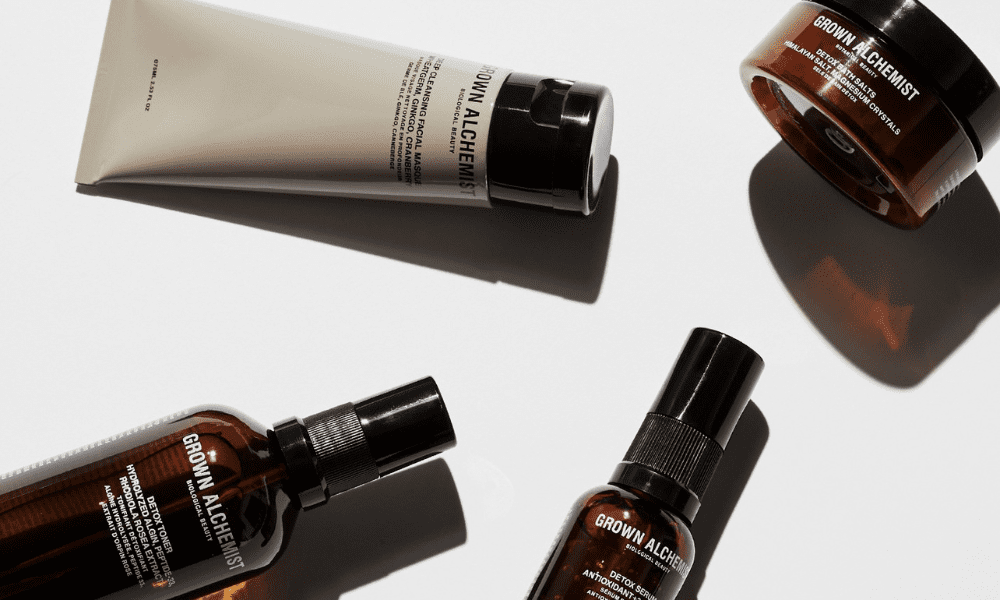 10/16
GROWN ALCHEMIST
The Australian brand, Grown Alchemist carefully crafts natural and sustainable products in eco-friendly packaging.
They are strong believers in how scientifically–innovative formulas are capable of influencing the way the body repairs and regenerates the skin. Their research proved that omitting ingredients like parabens or artificial fragrances in place of natural active ingredients directly imrpoves skin cell health, optimising skin function and consequently reversing the signs of ageing.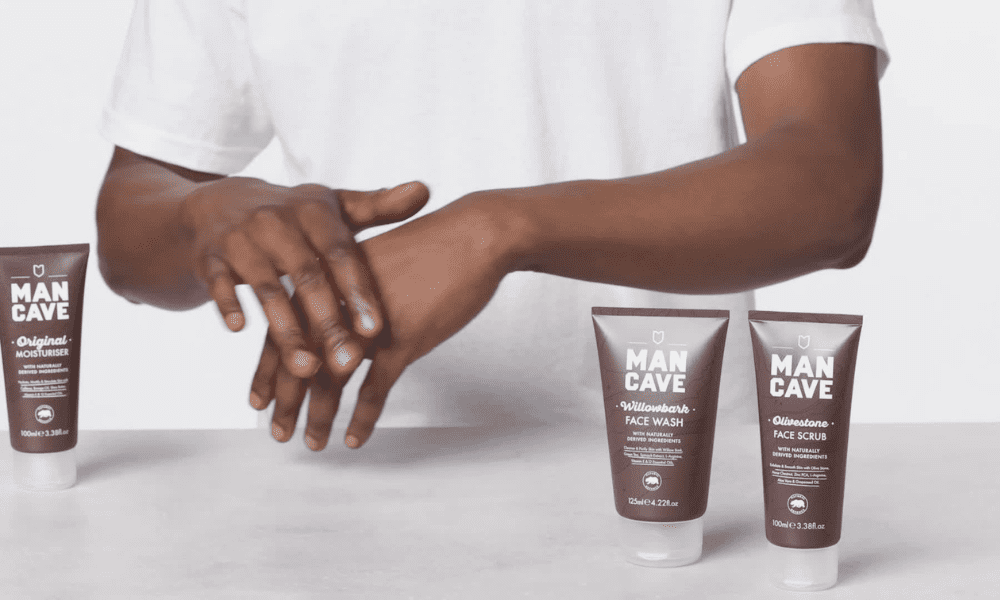 11/16
MAN CAVE
Both cruelty-free and vegan-friendly, Man Cave aim to provide men with a range of natural performance-based personal care products.
Without compromising on quality, the brand carefully selects ingredients to help provide the best that clean and natural has to offer. Taking onboard feedback from their customers, Man Cave has ever-evolving formulas that utilise ingredients like ginger root, olus oil and peppermint to maximum effect.
Taking their commitment to mother nature even further, they manufacture 100% recyclable and BPA-compliant plastic bottles to encase their products. This material takes fewer fossil fuels than glass to create and isn't as heavy which would add an additional fossil fuel burden during fulfilment.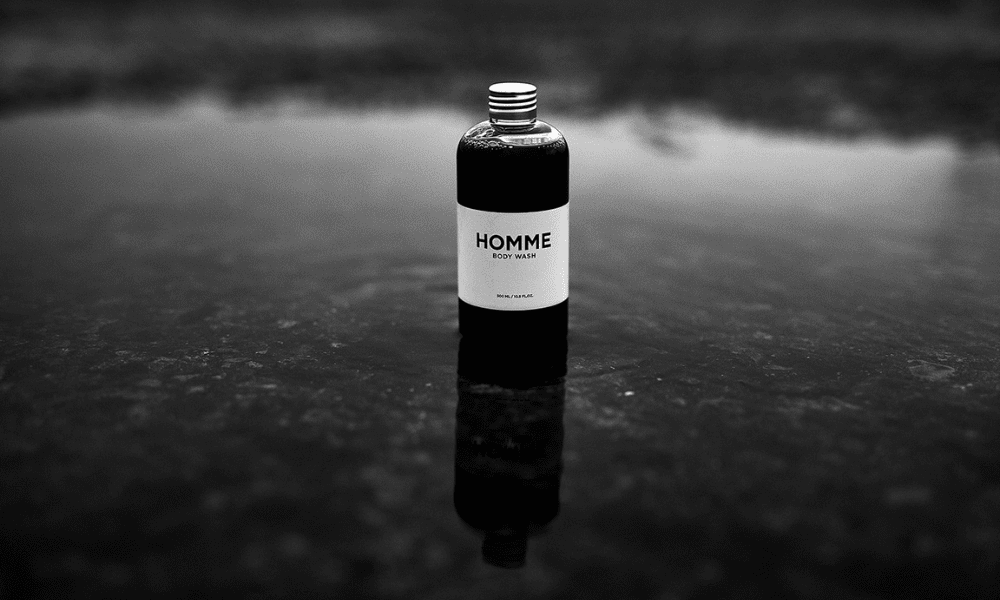 12/16
HOMME
The product formulas used in Homme skincare are developed and made in Sweden, the mecca for minimalism. This no-frills methodology transcends to the products, stripped of chemicals and including only natural ingredients presented in low-key packaging.
Utilising a team of experts in the fields of skin therapy, make-up and barbering the team works on creating face creams, serums, hair products and beard oils that can be trusted to stand up to rigorous testing.
Designed specifically for men, Homme's range of products is ever increasing, so always check back for new lines.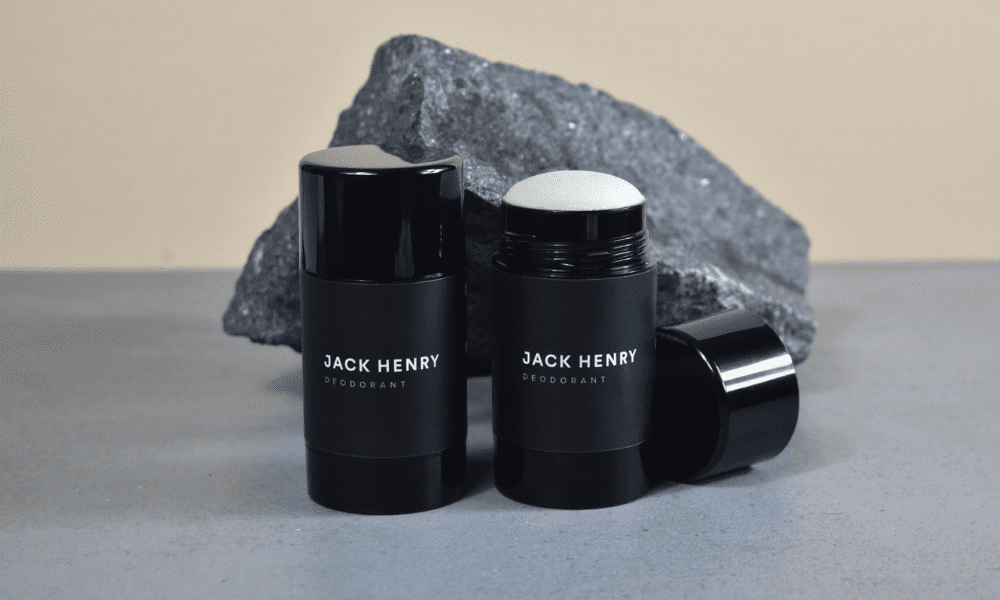 13/16
JACK HENRY
Named after the founder's son, the Jack Henry range is produced in-house using proprietary, plant-based formulations that include only natural ingredients.
Jack Henry Studios is a wellness club located in California and this ethos of not only looking but feeling good is what inspires their collections.
The result is minimal but functional body care that supports a healthy microbiome. All packaging and design are considered to have the least impact on the earth while maintaining the product inside. For example, they use an amber tint that keeps out harmful UV rays that can prematurely damage ingredients at a molecular level.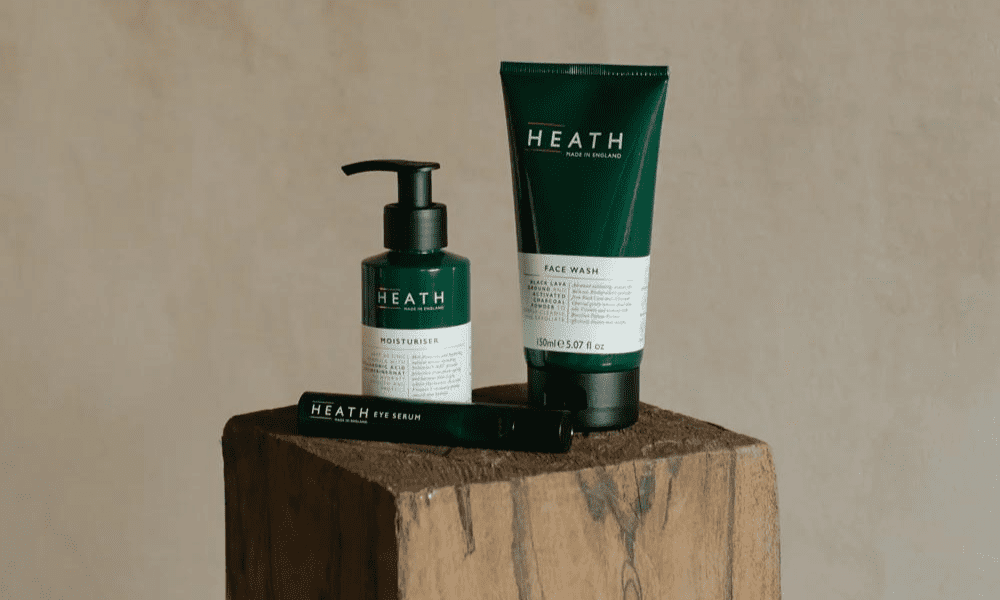 14/16
HEATH
Inspired by the urban natural lifestyle, Heath is a UK brand creating products packed with high-potency, natural ingredients to provide men with an elevated skincare routine.
Pioneering new formulations that smell good, look good and achieve great results, all skincare products from the brand are artisanally manufactured with 90% natural ingredients. Free from parabens, sulphates and microbeads the range is suitable for vegans and nothing has been tested on animals.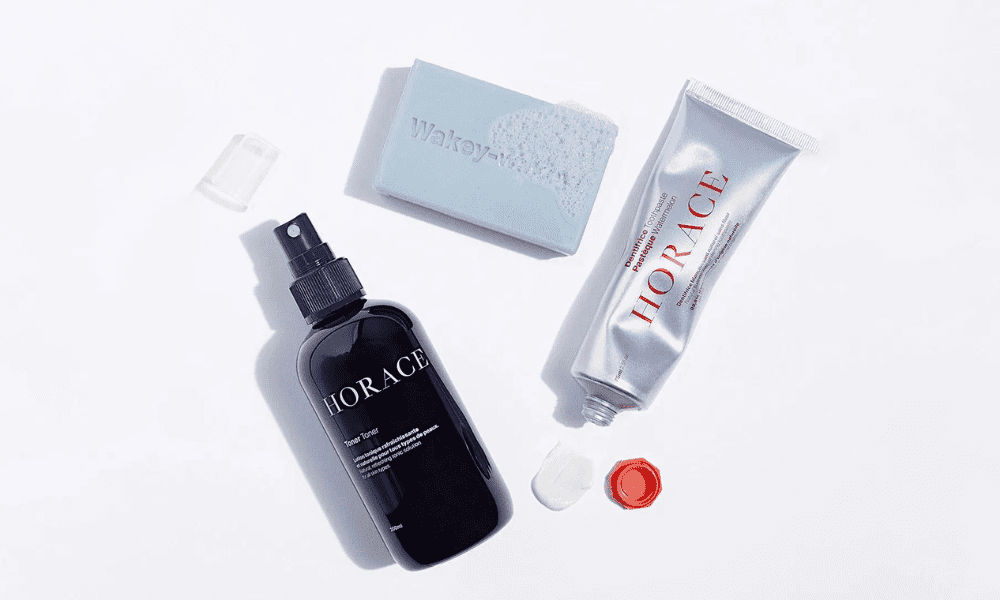 15/16
HORACE
This French brand only picks and uses ingredients that have been scientifically proven to get results in the ideal quantities. Not inflating ingredients based on trends or public opinion but what will be most effective.
All the products from Horace are between 95% and 100% natural, cultivated in no-frills formulas that suit all skin and hair types. That means a simplified shopping experience that gets expert pieces in your hand at an affordable price point.
If you need more convincing, just check out the tons of positive reviews from happy men on their site.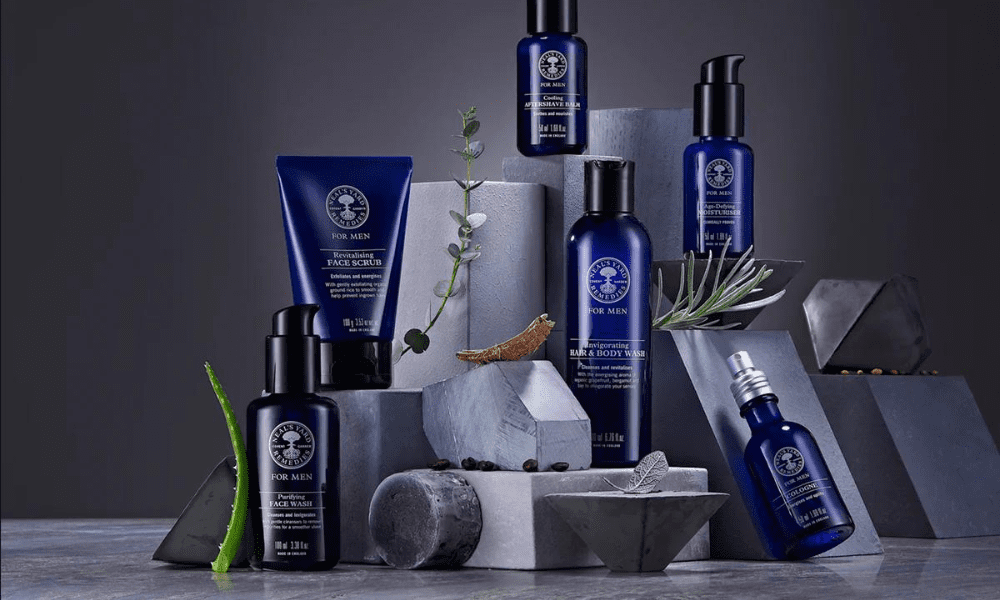 16/16
NEALS YARD REMEDIES
The OG of natural skincare, Neal's Yard have been doing it for over 30 years.
Based in Devon, UK, the brand ethically sources the finest herbs, botanicals and essential oils to be used in their extensive range of products. During sourcing, Neal's Yard takes part in countless initiatives to ensure they enrich the lives of the people living where the ingredients come, from Uganda to Australia.
Winning countless awards, the brand is a global leader in sustainability aiming to become a Net Positive business that benefits all aspects of environmental, social and economic sustainability.
Throughout the biology of evolution, a man's height is likened to their position within society. Being tall asserts a domineering present that sends you up the food chain. What it doesn't do, is give you the needed leg room on a flight or a pair of trousers that fit off the rack.
In a world built for the average-sized man, taller or shorter guys are marginalised. Although, we would say taller men have it harder. Just try squeezing that frame into a sports car.
Menswear at times caters for some of the requirements of tall men. Though, 'big and tall' ranges tend to only help WWE wrestlers as opposed to those that are lofty with a slim body.
Never fear, in this article we want to bring our vertically blessed guys a suite of style rules that they can easily apply to their daily lives. By following these pointers men can get a better foundation for styling their looks and understand what core pieces to look out for.
1. Tailor Everything
We often only think of tailoring in application to our formal clothing. Skilled tailors can apply those same abilities to any manner of items, be it the hem of your jeans or the waist of a jacket.
Length is crucial in dressing tall. On top, always pick pieces that have the right length and then you can have alterations made to cinch in the waist or align the shoulders so it fits your body shape better. With bottoms, there is usually some extra give in the material that will allow them to be lengthened fairly easily.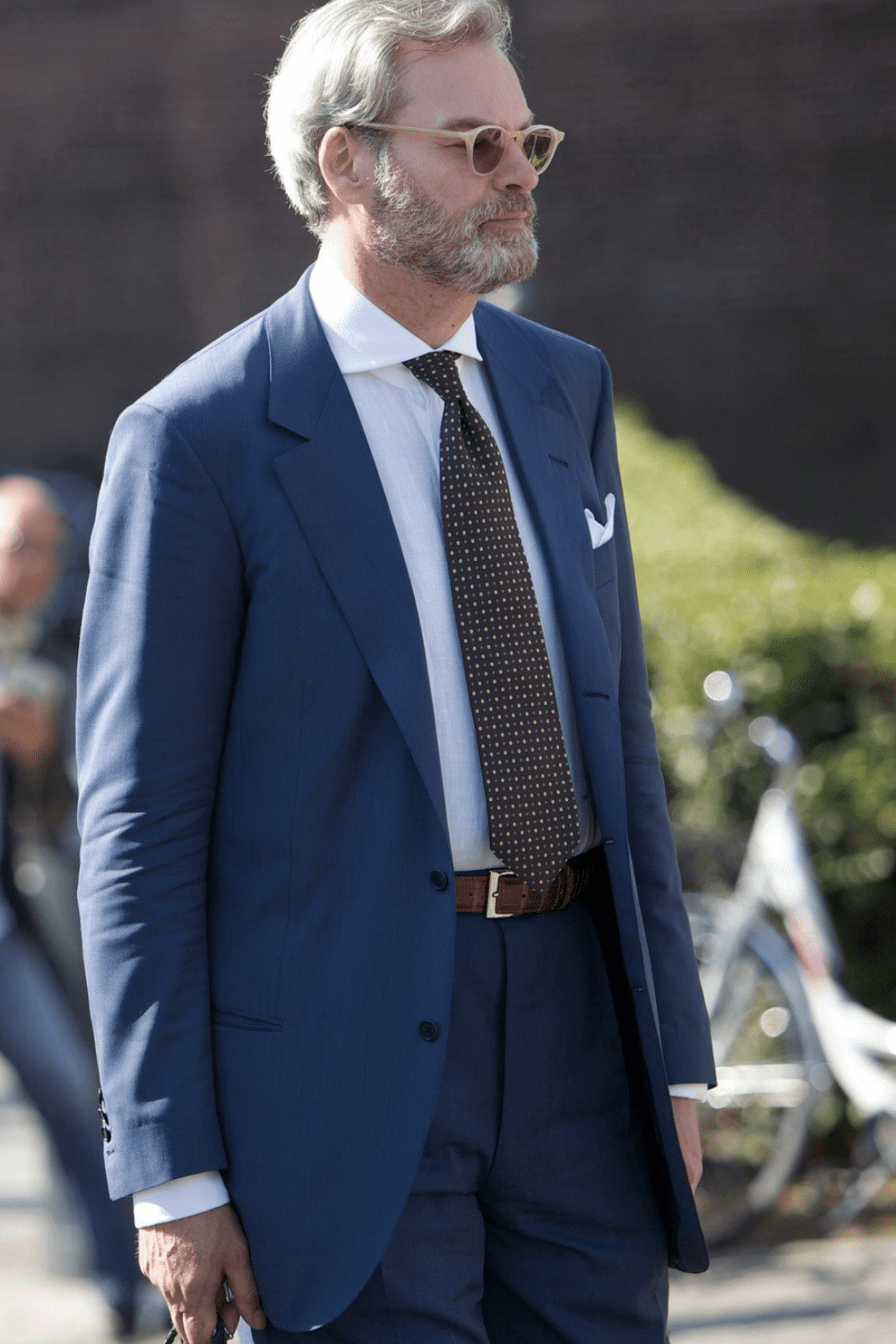 2. Invest In A Belt
Accessories can be a great way to move the eye around a look, thus breaking up the mass of fabric. One accessory we highly recommend for tall guys is a belt.
Belts can clearly define the top and bottom parts of an outfit. This style equator draws the eye to the midsection and works well in combination with a tie for formal attire.
3. Ignore Vertical Stripes
Some prints add much-needed contrast between the top and bottom half of a look. We just have to be careful with which ones we try.
Vertical stripes elongate the body, drawing the eye upwards. In styling circles, this wouldn't be something a tall man would want. So, even though you could possibly get away with a thicker stripe it is a careful balancing act which could easily fail. Best to avoid.
4. Maximise Layers
Those men with a slimmer frame can utilise layers to add some much-needed bulk. The additional pieces stealthily add new proportions and draw the eye.
In the colder months, you want to focus your attention in this part on knitwear or even a gilet. Not only will both add texture but knitwear can also deliver some much-needed fabric inches if selected right.
Layers are a great way to add depth to any outfit and it is this definition that breaks up an outfit.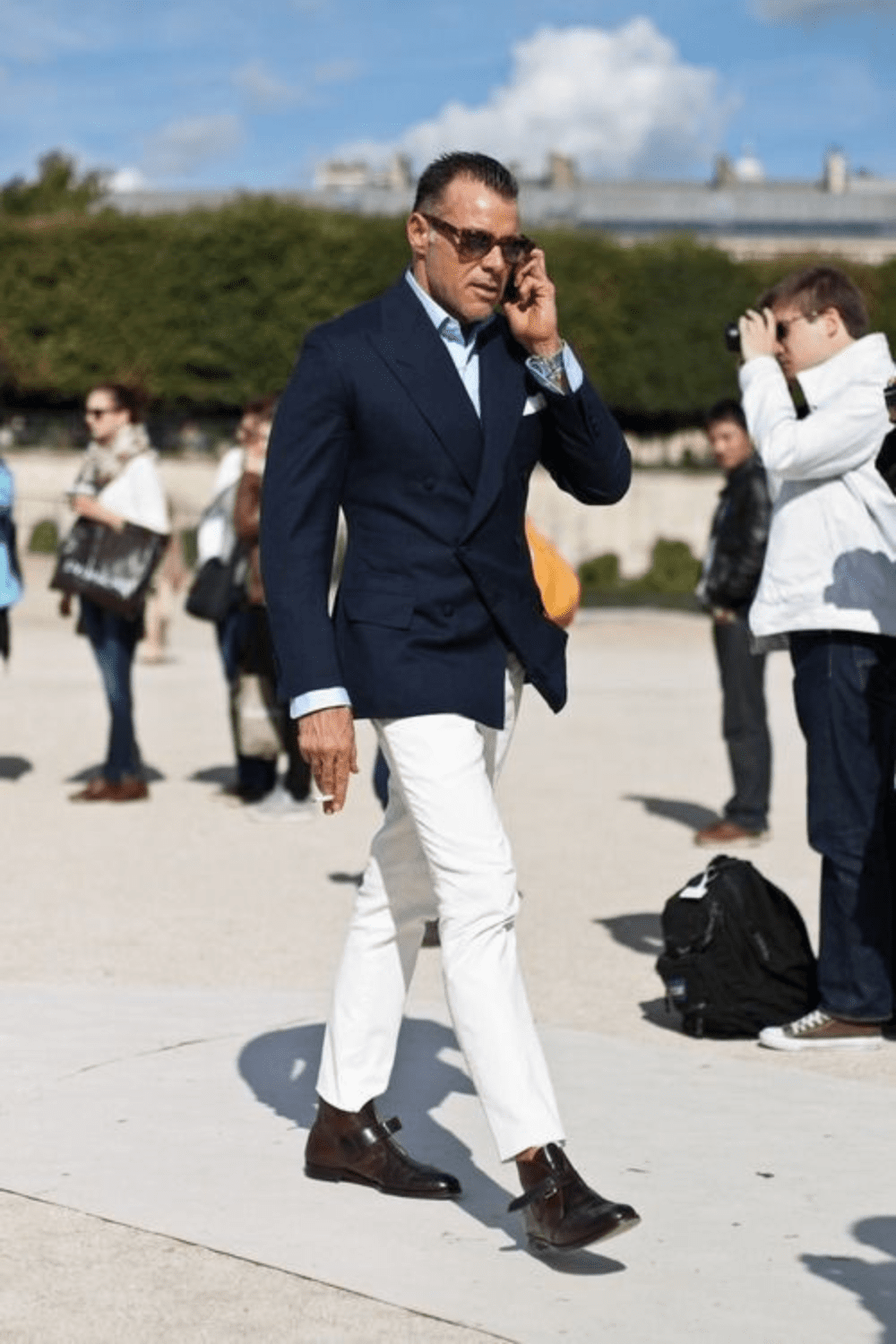 5. Embrace Separates
The traditional suit is going to be uniform in colour and fit on top and below. With tall men we want to break up our outfits and using separates can be an ideal way to do this.
Alternating the blazer we choose with our formal trousers or chinos halts the eye naturally moving upwards and can appear to make the wearer look slightly shorter.
In addition, separates enable men to add some much-needed texture or colour without overpowering the entire look.
6. Go Bold Down Below
Bolder shoe styles and colours might not be to everyone's taste. Sometimes they can appear jarring and can overwhelm an outfit. Despite this, if done right they do an admirable job in drawing the eye downwards.
A peaceful middle ground is to invest in some eye-catching socks. These are much more pliable within most men's wardrobes and do the same job in grabbing the eye of those looking.
Just remember, length is equally important here. Too short and the socks will make your trousers appear to be lacking in mileage, so take a test drive seated and standing to cover all bases.
7. Don't Get Left Short
The devil is in the details and knowing a breadth of tie knots is a great asset to always looking your dapper self.
More complex tie knots though can use more material and thus shorten the length against a taller guy's midriff. If the tie is starting to rise up then it will elongate the body, as we've stressed, this is something we don't want.
Keep an eye out for long-length ties when shopping for accessories and you should be covered no matter the tie knot you feel is the best fit for the occasion.
8. Go Straight Not Skinny
Taller men tend to have slimmer legs and skinny jeans will only accentuate that fact.
Men with longer legs have the natural ability to pull off a more varied range of trouser styles, so use that to your advantage. Embrace a wider silhouette (within reason) that won't gather at the shoe or even worse, fall short.
Remember, your best friend is the tailor. Use them for any tweaks.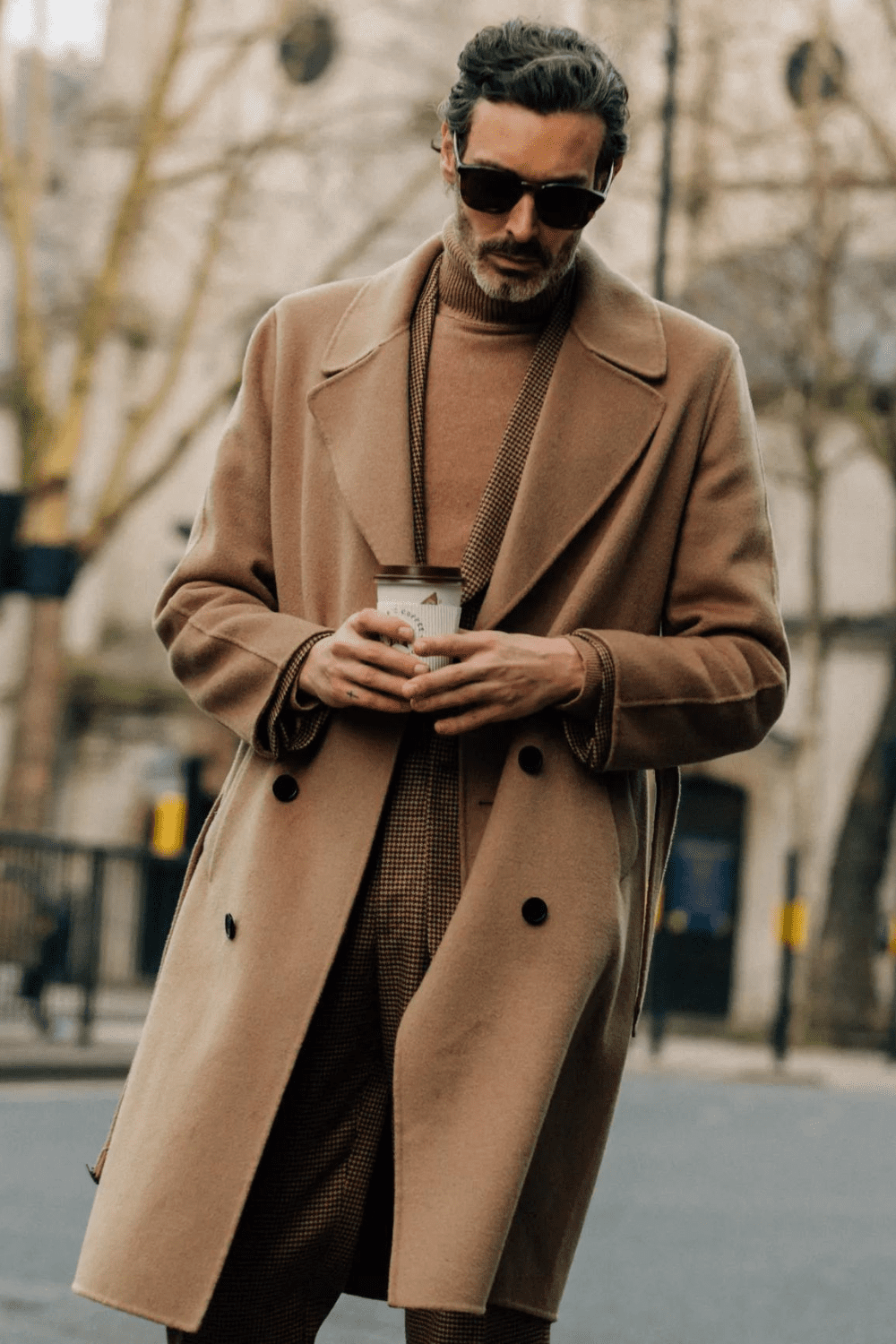 9. Utilise Longer Coats
We always want to make sure the clothes we buy are worn as often as possible. By purchasing shorter jackets tall men risk hoarding pieces that won't look flattering with the majority of their items and therefore get little wear. Try to avoid men's coats that come in thigh or waist-length as they will only emphasise your length.
Key pieces to look out for are longer trench coats or overcoats. The former works (with a belted waist) fantastically well at breaking any outfit up at the midriff.
10. Avoid Low-Rise Trousers
The waistband is a key point in a tall man's ensemble. It works as an anchor which is why we recommend the use of belts in drawing the eye.
When a belt is not required, take note of the rise of your trousers. A low-rise pair of trousers will drop the desired horizontal baseline down and the result will give the effect of making the body look longer
A mid or high-rise trouser will proportion the middle area better and ensure a nicer overall drape.
Key Items For Tall Men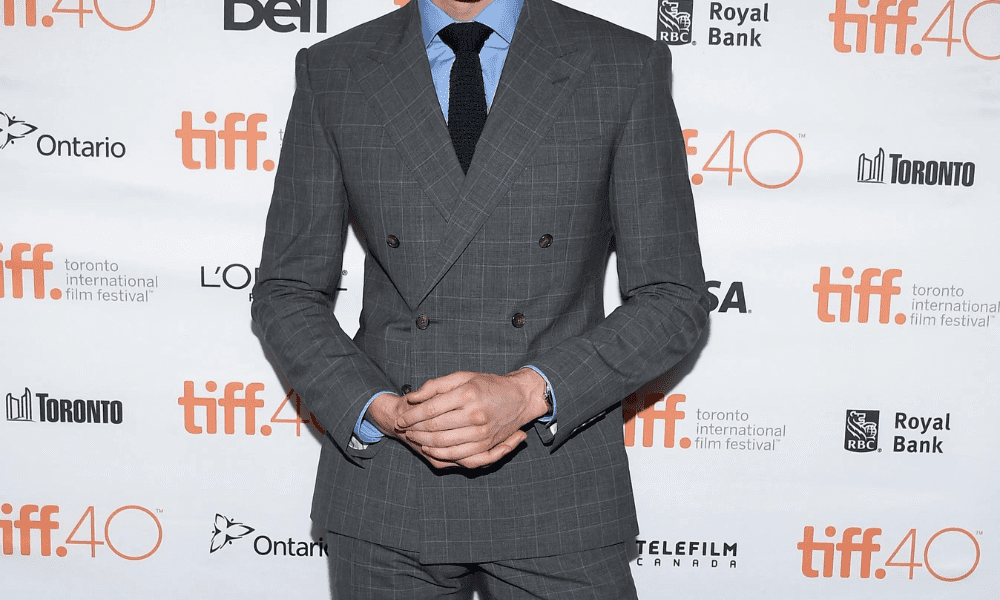 Double-Breasted Jacket
A double-breasted jacket is a neat way to give your torso more shape by giving the impression of a V-shape. Yes, it works well with a run-of-the-mill suit, but embrace it within a separate look for added style kudos.
Trench Coat
When dressing for your height, you do not want the eye to stop halfway, which will happen when wearing short or cropped jackets. A jacket with a long finish like an overcoat or a trench coat will deliver a much better silhouette. Extra points for a coat with a belt as this will cinch in the waist for that desired V-shape.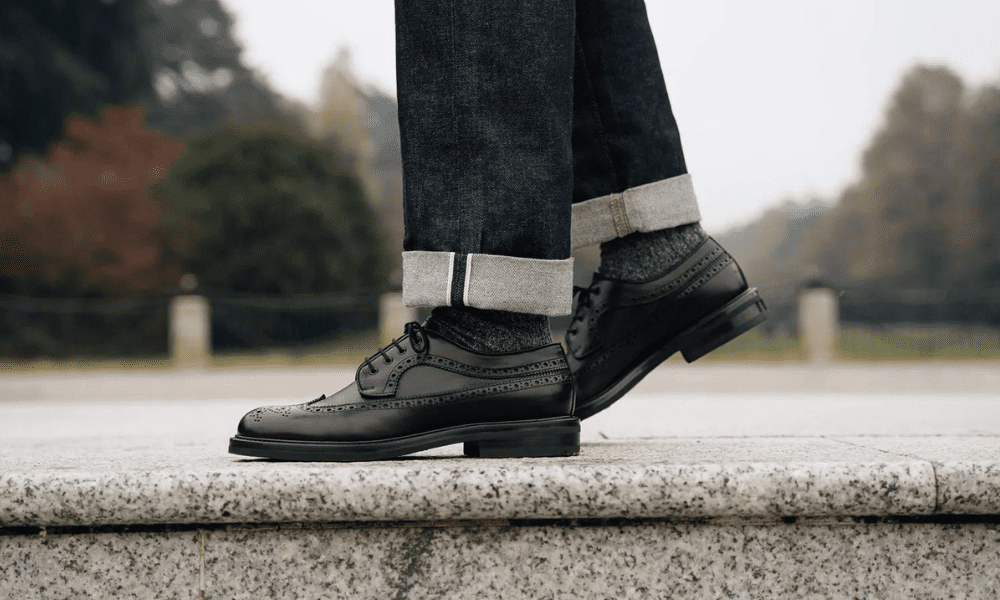 Brogue Shoes
A little detailing on our footwear can again pull the vision downwards. Giving the eye something to focus on like a nice pair of brogues can help to break the vertical line of the wearer's outfit. This can stop the body from looking too elongated like it might with plain Derbys or Oxfords.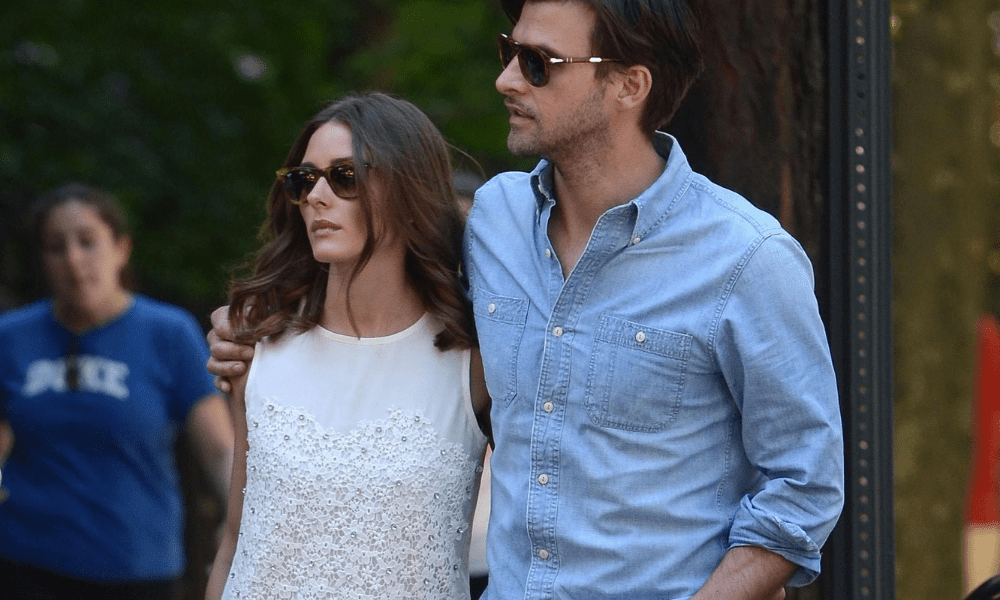 Regular Fit Shirts
Any guy with a slim torso wants to avoid slim or skinny-fitting shirts. This style will only accentuate the body shape and elongate the body while having an annoying habit of constantly coming untucked.
Pick a regular fit shirt that will notably drape better on a slimmer torso.
Bold Socks
Bold socks are a great way to add a dash of personality to any outfit. But, for the sake of tall guys, it also has the ability to draw the eye downwards. These colourful socks are a neat styling trick to add to the repertoire.
Sometimes when it comes to menswear, we wish someone had been telling us some style rules when we were younger. Maybe then, there wouldn't have been so many embarrassing photos. But, they say what doesn't kill us makes us stronger.
Thankfully for those reading, we stand hardened and battle-weary equipped with a wealth of knowledge and advice to pass on.
Some of these style rules are generational, passed down from father to father. Others have evolved from industry experts and designers who are seeing firsthand how menswear has and continues to develop.
Either way, these lessons are applicable no matter how far along your style journey you are. Dressing well is a skill that any man can learn. You might not know what your defining style or look is right now, but ensure as you develop it, the basics of great style are being covered.
1. Nail The Fit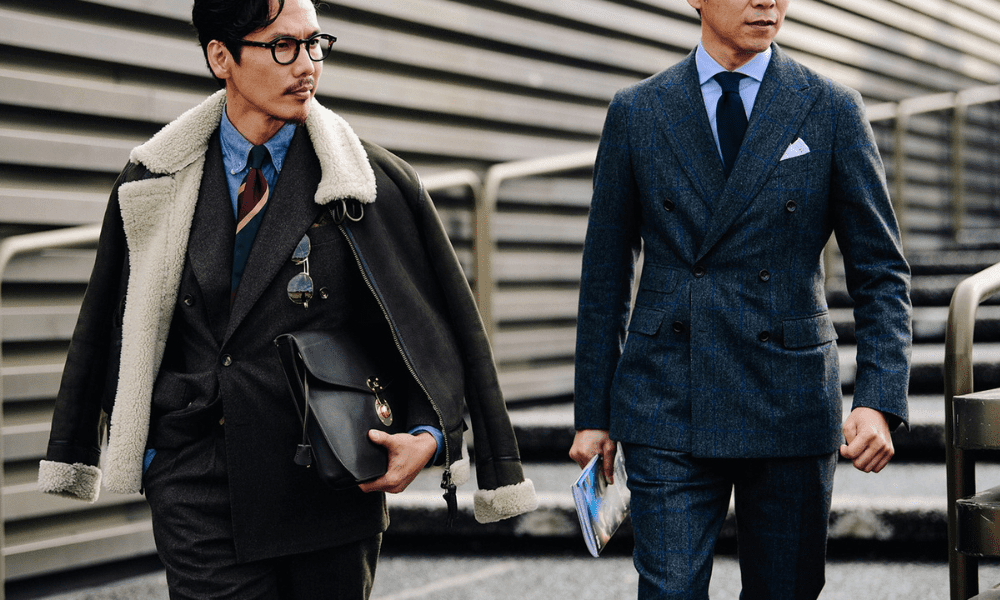 How you wear the clothes in your wardrobe is the key to dressing well, not necessarily the brand of the maker. Fit is our first and most important style rule that all men should learn. The majority of all style problems for guys can normally be solved by getting the fit right.
If you feel, like a lot of men, your measurements fall through the gaps of many menswear brands. This is going to make it harder for you to nail the best fit for the clothing you are buying. The answer is to seek out a local tailor or dry cleaner to make the tweaks you need. Simple changes in length or waist size can easily be completed by a dry cleaner whereas more comprehensive fixes might need a tailor's skillset.
Once you get the fit of your clothes on point, then it doesn't matter whether you are wearing a suit or a t-shirt, you'll look great.
2. Be Inspired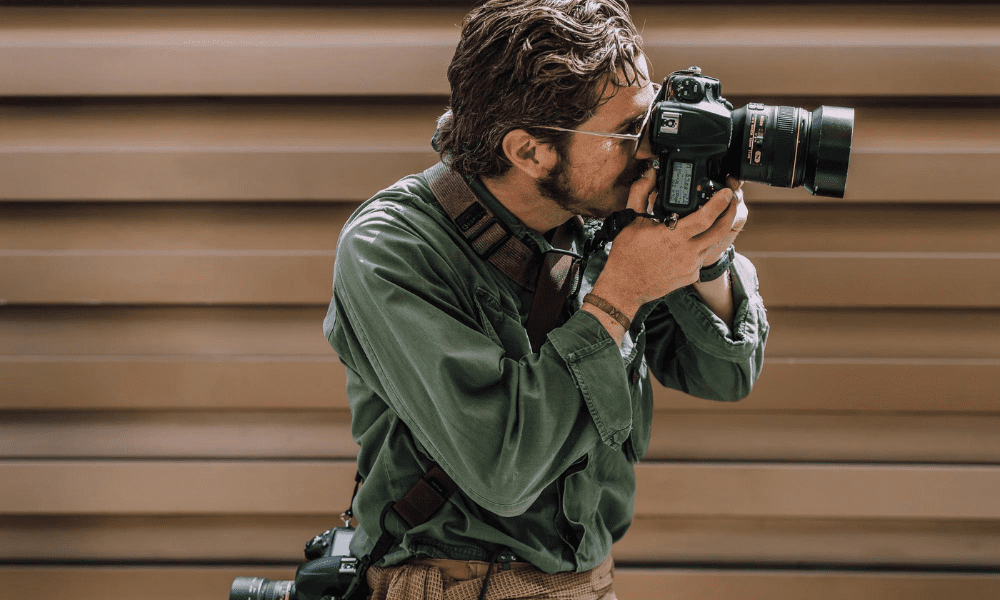 Successful people tend to stick together because they share a passion or particular ideology. The opposite is also true, guys can get stuck in a style rut because of the fear of what those around them might think if they changed. Help push yourselves out of this comfort zone by changing your mindset by seeking out and being inspired by a new group of people.
I use Pinterest or Instagram as a constant source of style inspiration. By creating a board or feed filled with stylish people I admire I am reinforcing how I like to dress. It breeds confidence, helps me discover new brands and improves my own outfit choices.
3. Cover The Basics
A great wardrobe is built from a solid foundation. That is a core collection of pieces that men can rely on day in, day out.
The statement jacket or bold knitwear is always a welcome addition. But, your basics are those pieces you can wear all year round without fail. Think the blue Oxford shirt, selvedge jeans or plain white tee. They can be dressed up or down depending on the situation and work well with a host of different menswear items.
Trends come and go, back the basics have your back no matter what.
4. Understand How Pieces Work Together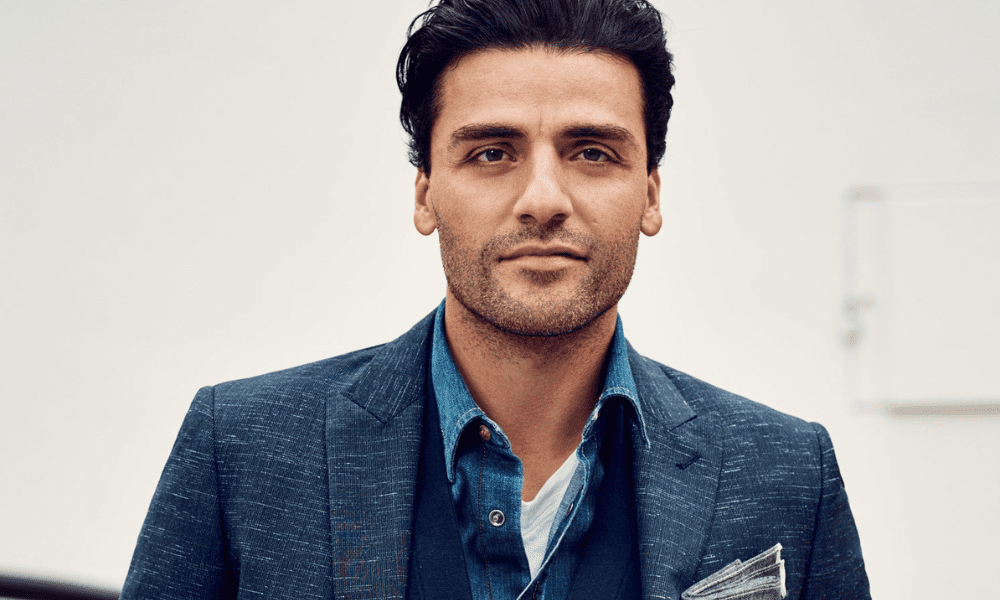 This style lesson will help you to buy smarter. Like with our basics, to make our money go further we want items that can be worn with more of the other pieces we own.
Familiarise yourself with the colour wheel as this can be crucial in deciding how to pair a suit and shirt for example. It gives us guidance on complementing, contrasting or aligning similar colours for the best effect.
With the colour wheel foundation, you can build upon this to introduce patterns and textures to create a robust understanding of what does and doesn't work well together.
Using this newfound knowledge you now approach shopping with the rest of your wardrobe in mind. Instead of being sucked in by price, brand or other individual criteria you can purchase based on its lifetime value.
5. Buy Cheap Buy Twice
We understand that not all guys have a wealth of disposable income to invest in their wardrobes. So, picking the right pieces to spend more money on will help you get more bang for your buck.
Items you wear more often like outwear or footwear is the best place to start when deciding where to spend your money. Parting with a bit more cash for these will get you a longer lifetime of wear if you have picked pieces with greater construction and material use.
The second thing to consider is the clothing that can more easily be undone by price. Typically this will be a suit. Cheaper suits will have a shiny tint to them due to the poorer material they are made with. Also, inside they have less constructive pieces, so won't hug the body to present the best fit. Overall, this leads to a very unflattering look that is best avoided.
With suiting choose classic fits and colours. This means when you are spending a bit more, there is a greater chance you wearing it to support the added investment.
6. Master The Art Of Layering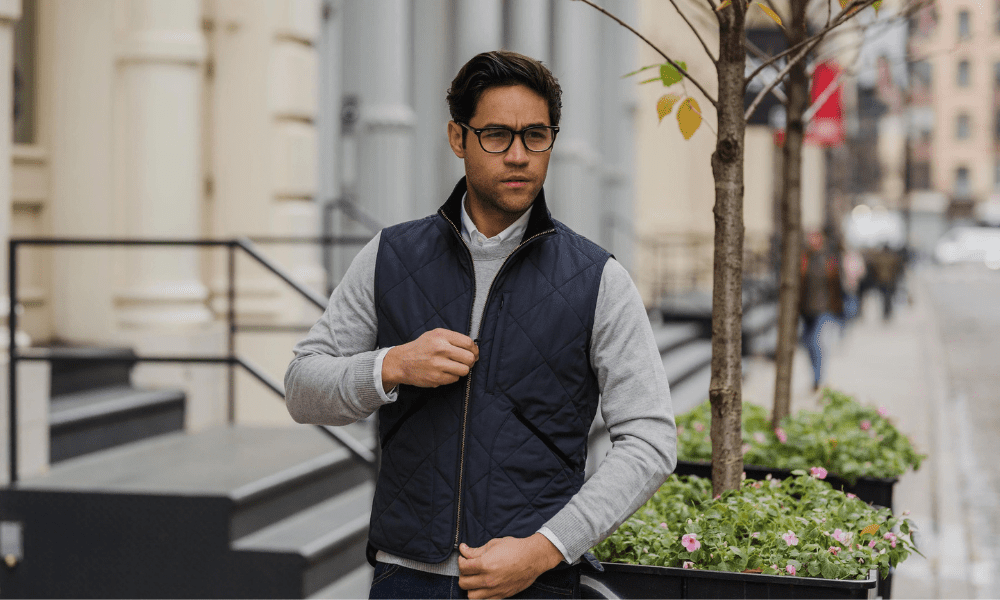 The is especially prevalent when the weather gets really cold, but it can easily provide useful advice for the more transitional months of the year.
Developing familiarity with how textures and patterns work together will put you in a strong position to master layering. Layers are about building an interlocking selection of clothing and accessories that harmonise together.
To take it further, the gurus of stylish layering understand which less familiar pieces can or cannot be used as a layer. A denim jacket, for example, might seem quite a spring/summer piece but in fact, it can work superbly under an overcoat on a colder day.
7. Ditch The Graphics And Logos
If you are taking your first steps in developing your style or want to reinvent where you currently are. It can be useful to steer clear of bold graphics and logos.
Throughout these rules, we have been reinforcing an evolving men's wardrobe full of quality, interchangeable pieces. Logos and graphics are a surefire way to undo all the hard work. We aren't saying 'never', but until you are in a good place stick to a classic, timeless style rather than experimenting with being fashionable or trendy.
8. Dress For The Event
Getting the right look for the right setting is crucial for achieving optimum style credentials.
Be prepared for each and every event, no matter whether it is a pint in the pub or an evening dinner date. The key to this is in the planning. Understanding the event and the expectations from those attending will help you to plan the right outfit. So, no chance of you being under or overdressed.
9. Don't Skimp On A Suit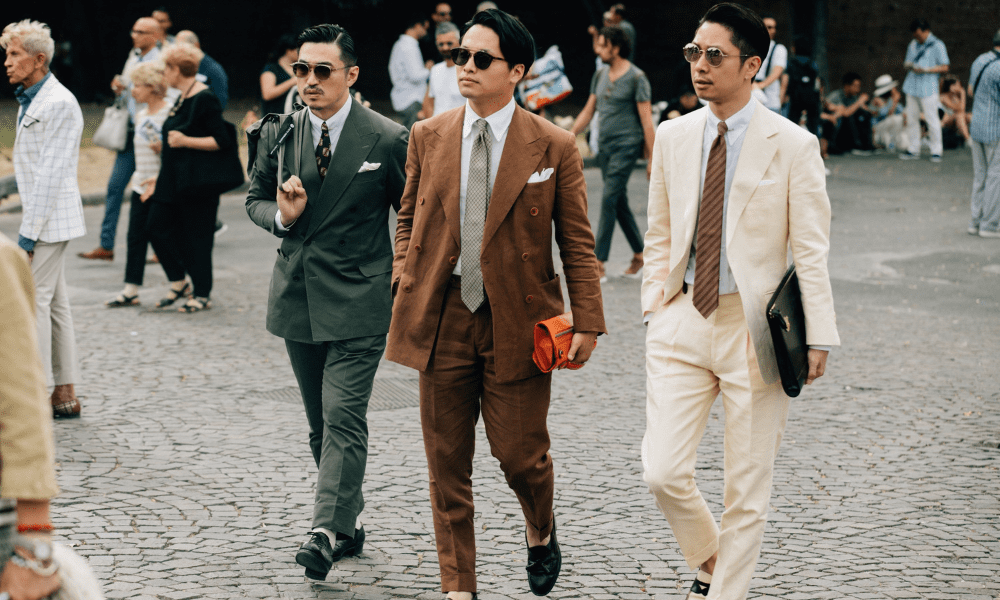 Men should have a core selection of suits that they can rely on to hit the right style notes. If in doubt, do not be swayed by styles or trends that can easily become dated. When shopping, pick a simple two-button single-breasted suit in a classic colour. Timeless hues like charcoal, navy or black, not only partner with more of the other items in your wardrobe they will always look great.
Researching what makes a good suit great will help men to look for the right signs. But, a higher price should be more indicative of the material quality. If you are unsure about how much to spend, a strong benchmark should be around £300-£400. When it comes to fit, line up the shoulders with your own and make sure there is not too much excess material on the sleeves or around the torso.
10. Shoes Are Expensive, Get Used To It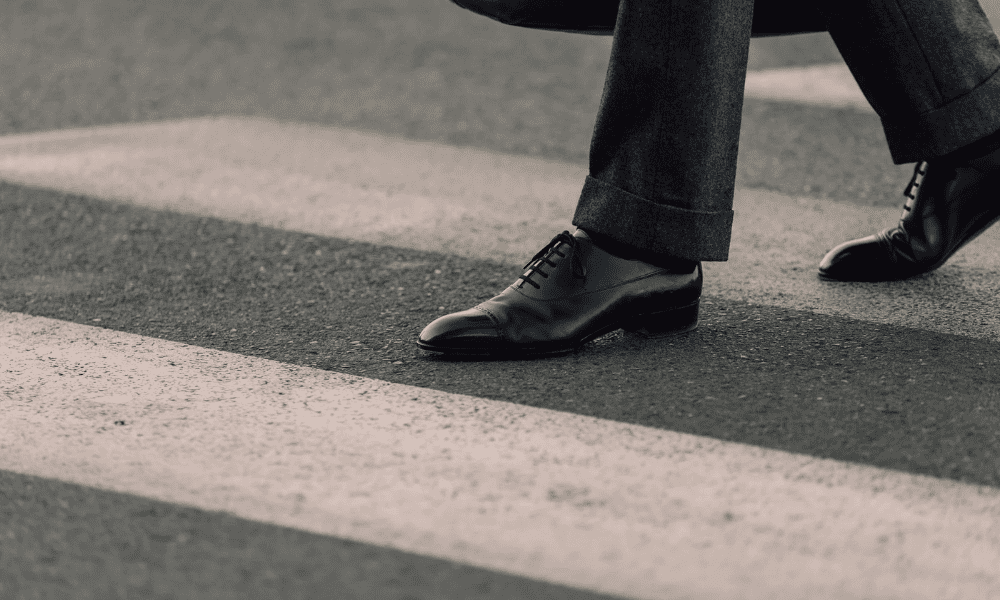 Typically this is a style rule learned as one gets older. Having wasted money on several cheaper shoes you move towards the more expensive shoes through pure frustration.
If you can hammer this lesson in at the start then you will save yourself a bunch of cash in the long run. Like with most menswear it comes with spending some time focused on the materials and construction. If these are both done correctly then the shoes are worth the money.
A lot of men wear smart shoes for work. Cheaper shoes are made with imitation or poor-quality leather. This will scuff, crease and peel much easier than real leather and if your work involves wearing smart clothing, don't let cheap footwear ruin your outfit.
11. Take Care Of Your Appearance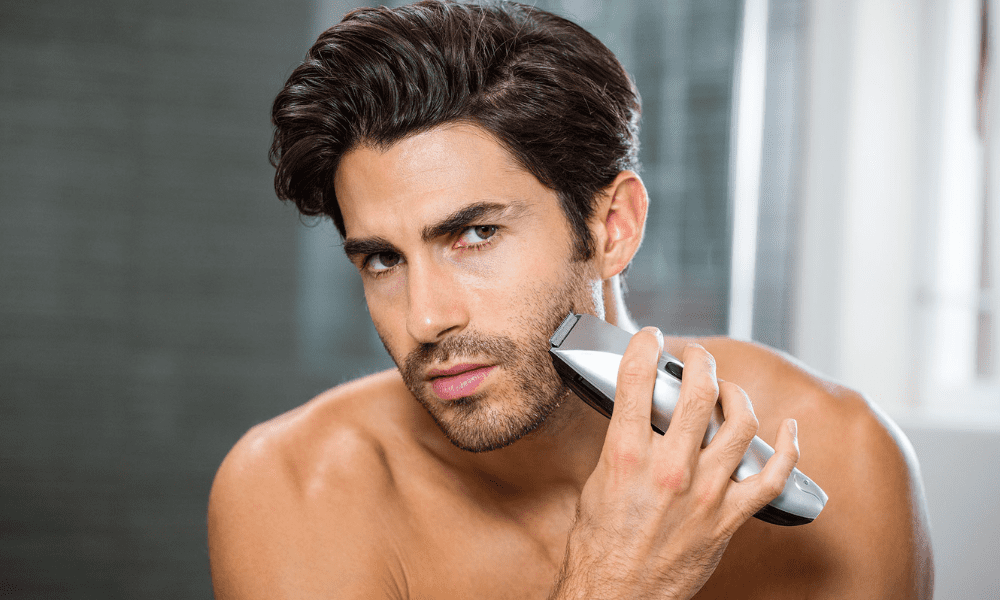 Looking at your best every day doesn't start or stop with the clothes you wear. It is about the presentable image you depict.
Taking extra care of the overall appearance we are portraying means covering all the finer details.
From a sartorial point of view, this can mean, your shirt is ironed properly and your shoes are clean. But, don't overlook how grooming has an impact. Unkempt hair, dirty nails or dull and tired skin can all affect your appearance. These thankfully are all easily fixable with the right products and regime so no excuse not to get them sorted asap.
12. Don't Be Swayed By A Name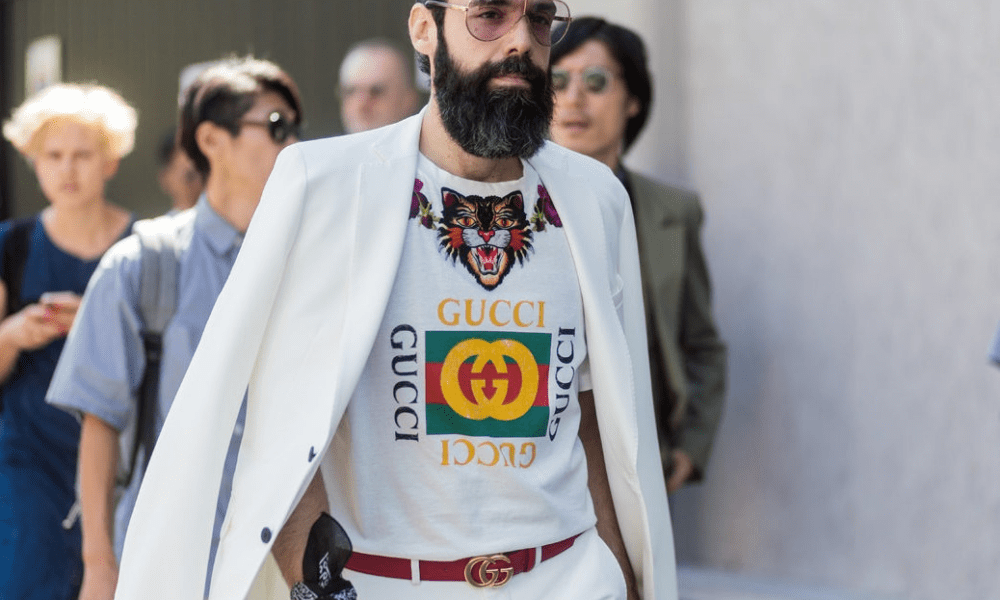 This is a rule we see broken time and time again, especially by those who obsess over trends or fashions.
Brands with deep pockets can spend a ton of marketing money to tell us we will be more successful or more attractive if we buy their products. This spin lures unsuspecting men to part with their hard-earned cash for products worth half of what they paid for them.
Celebrity endorsements are a great example of how we are influenced to purchase big based on a perceived hype fueled by marketing. Try (if you can) to block out the noise and focus on the individual piece, what you want from it and how much you want to spend. Then find a brand that aligns with your criteria.
13. Accessories Are Subtle And Complementary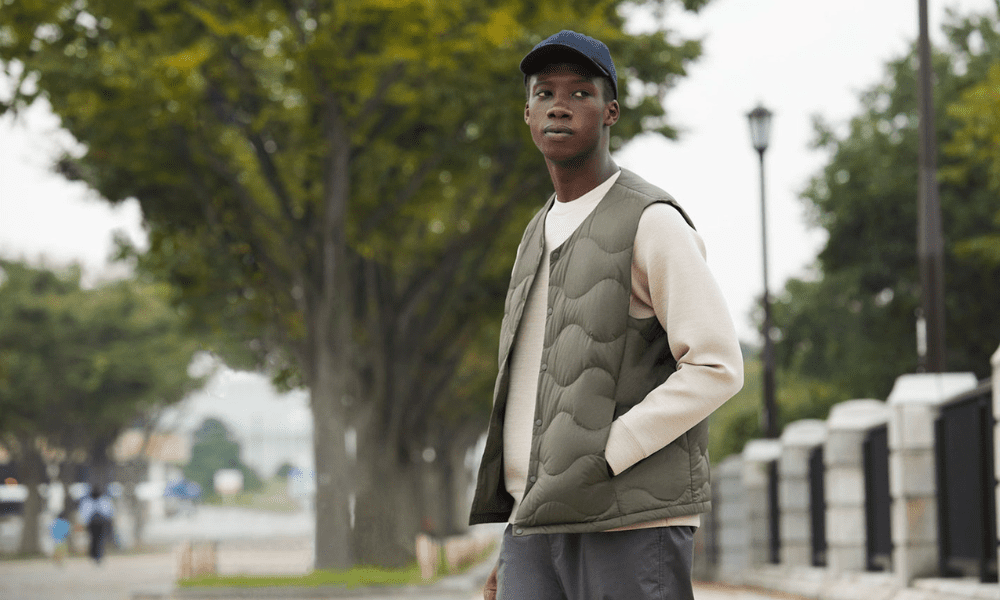 This rule encompasses a few elements. But in essence, it supports the idea that the worst example of the style is one that is out of place.
With accessories, we are looking for pieces that enhance our outfits not distract or overpower. That means glasses that suit your face shape or a pocket square that complements the tie it is worn with.
If you are in doubt, remember less is more. A watch in nice tan leather and with a minimalist dial will do more for your outfit than a tacky oversized timepiece in garish colour.
With the temperatures soaring to record numbers of late, we are slap bang in the middle of summer. There is no place for transitional pieces and don't even talk to us about layers. So, without those layers to hide behind, your summer shirt game has to be on point.
A great shirt will ensure you don't fall into the t-shirt comfort zone, comfortably retaining some style edge on warmer days. This is why it is important for men to have an eclectic mix of shirt options in their wardrobe.
To pick the right styles we need to factor in the rising mercury and opt for shirts that combine breathable fabrics with summer designs to nail everything from holidays to weekend dates.
Check out our list of the best summer shirt styles men should have on their radars in 2022.
Linen Shirt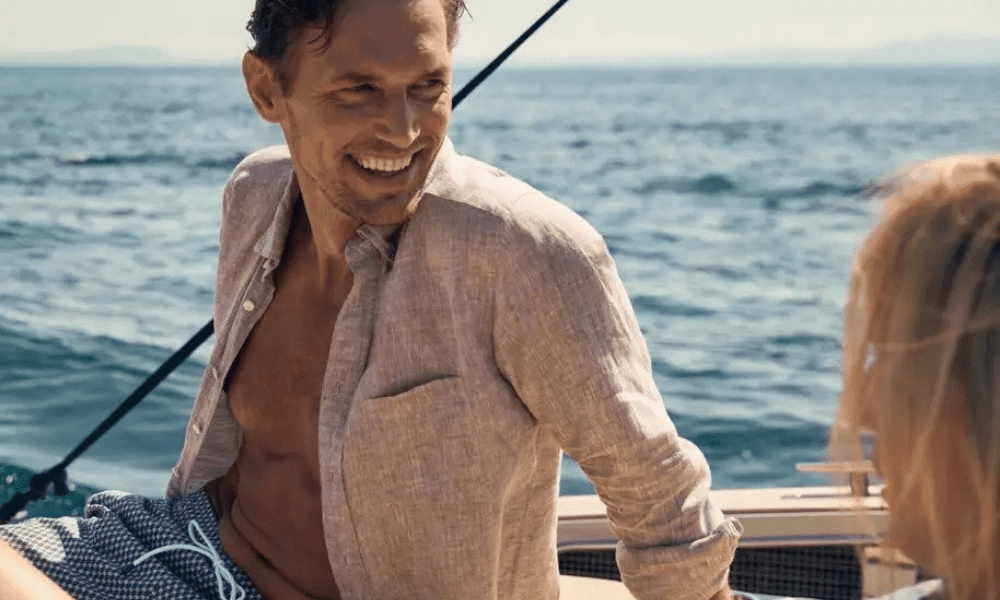 A mainstay in any stylish gent's outfit rotation in summer, linen is essential for warm weather tailoring. This cooling fabric works fantastically well as the shirt of choice for a summer wedding or a day in the office.
Due to its ability to crease fairly easily, men can choose to use this within a more casual look should they prefer. One example is to team it with chino or even swimwear shorts for beach-to-bar vibes.
Whether you wear it more casual or formal, a linen shirt is a sartorial asset that we recommend every man have in their arsenal.
Printed Shirt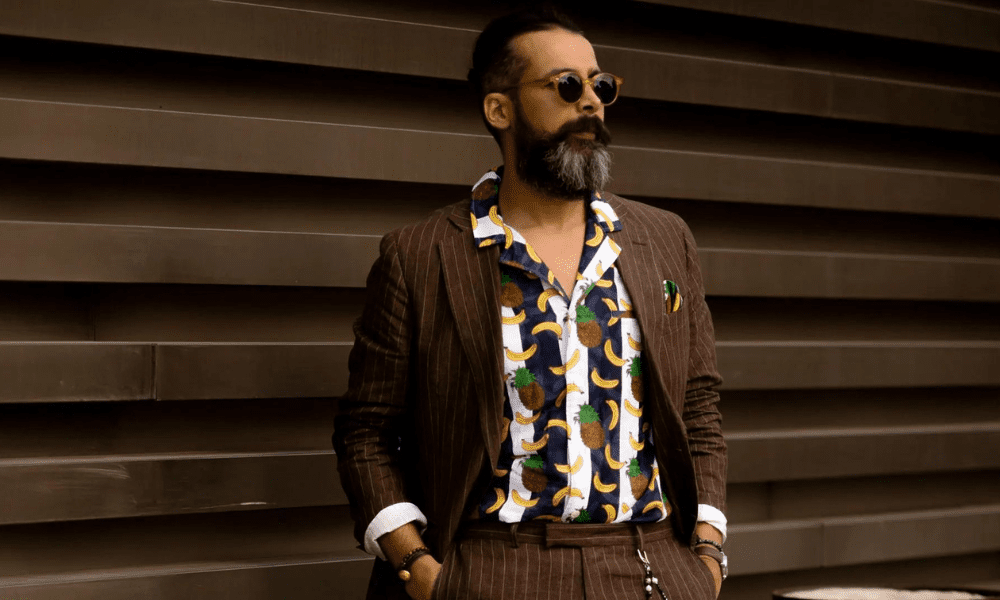 Summer can give men a chance to remove boundaries and make more of a statement. Grab this opportunity and get your hands on a bold print to help update your pre-summer looks.
With a wide choice, you might opt for fruit, plants or even birds. Whatever the print, it will be a surefire way to spruce up tailoring or add a twist to a simple shirt and chino partnership.
Cuban Collar Shirt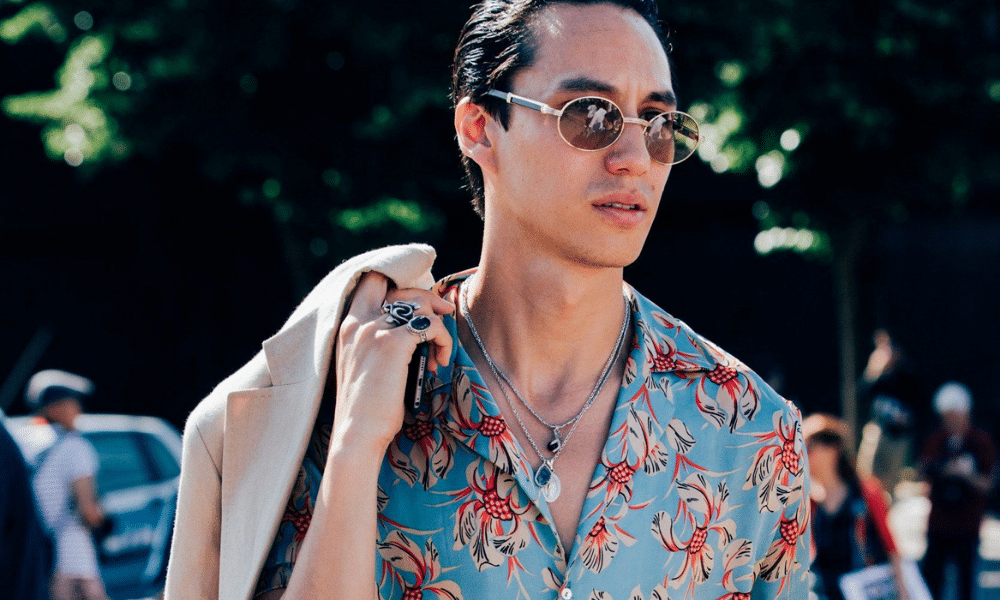 What is more summer than embracing the laidback swagger of Cuba? The Cuban collar shirt is more popular than ever and in a plain or printed version delivers everything men need for summer.
The open nature of the collar makes it less restrictive and as a result more cooling, while men can choose from tailored or boxy fits dependent on the occasion.
I would recommend having at least one plain and one printed Cuban collar shirt to cover all bases and we have picked some of our favourites for summer 2022 below.
Striped Shirt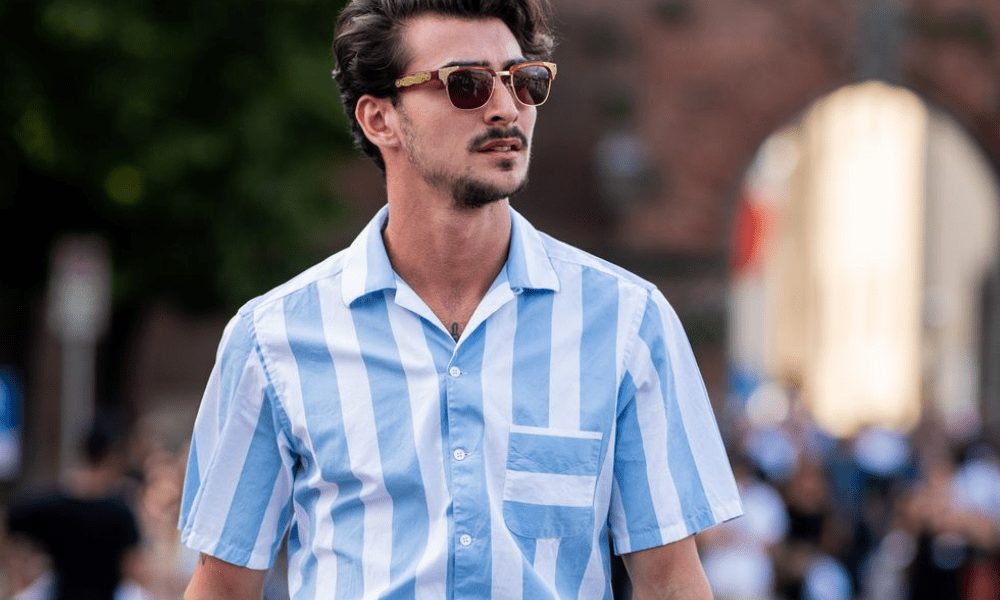 We might not know our port from our starboard, but I'm all for embracing the nautical look this summer. Striped shirts evoke visions of hazy days on the boat and are perfect for the city or the beach.
The nautical colourways are blue and white which are adaptable enough to work with a myriad of wardrobe pieces you already own. If you want to push the envelope a little then embrace alternative colours like burnt orange or botanical green.
Oxford Button Down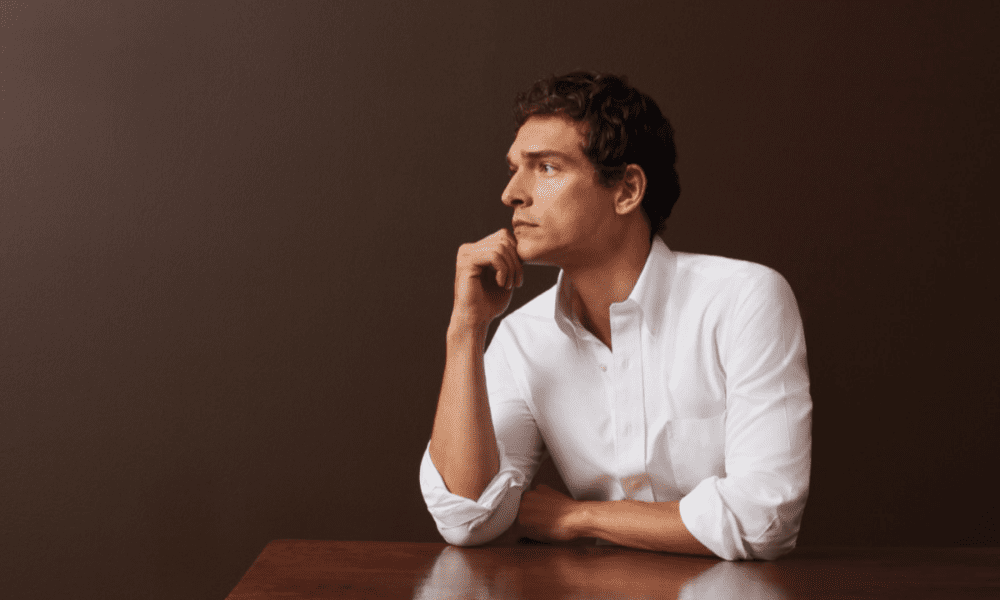 A more casual swap for the formal tailored shirt, an Oxford button is full of preppy vibes. Because of its slightly more casual nature, it delivers a relaxed take to formal wear, though we like to switch a t-shirt for it to add a dash of formality to our more casual looks.
Basic white and blue are our go-to hues, but equally, you could look at a striped version. Maybe even try a slightly darker tone which will come into its own in the cooler months.
Mao collar shirt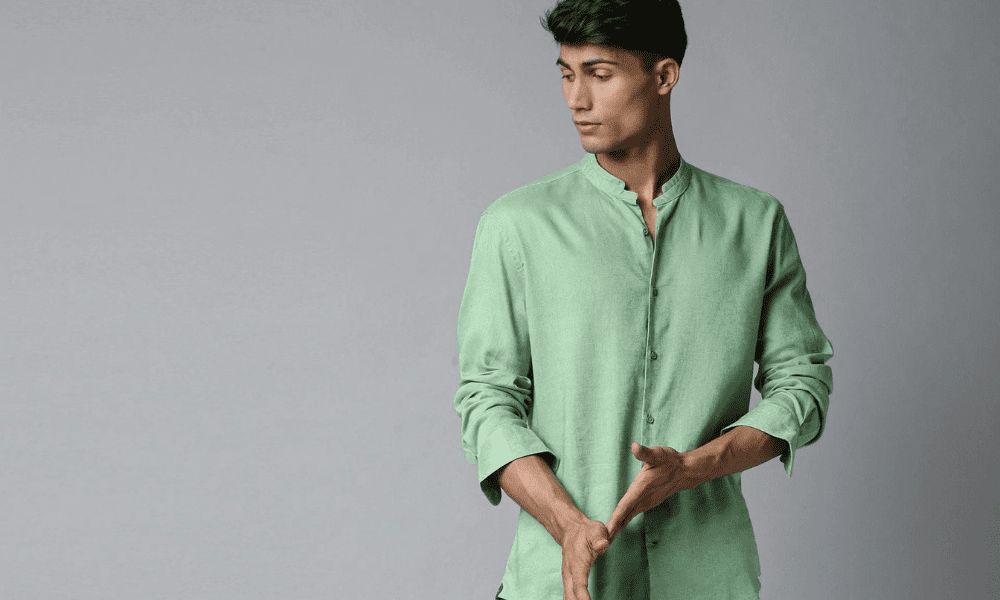 It might go by other names such as Mandarin collar or even grandad collar, but either way, it is defined by the removal of the tabs.
What makes it a key shirt for summer is the minimalist aesthetic that lends itself to both smart and casual attire.
Men can choose to use this shirt style within formal settings or wear it untucked with shorts or chinos for a casual take. Imagine it as one step up the formal ladder from an item like a polo shirt so feel free to use it in the same vain.
Lightweight Overshirt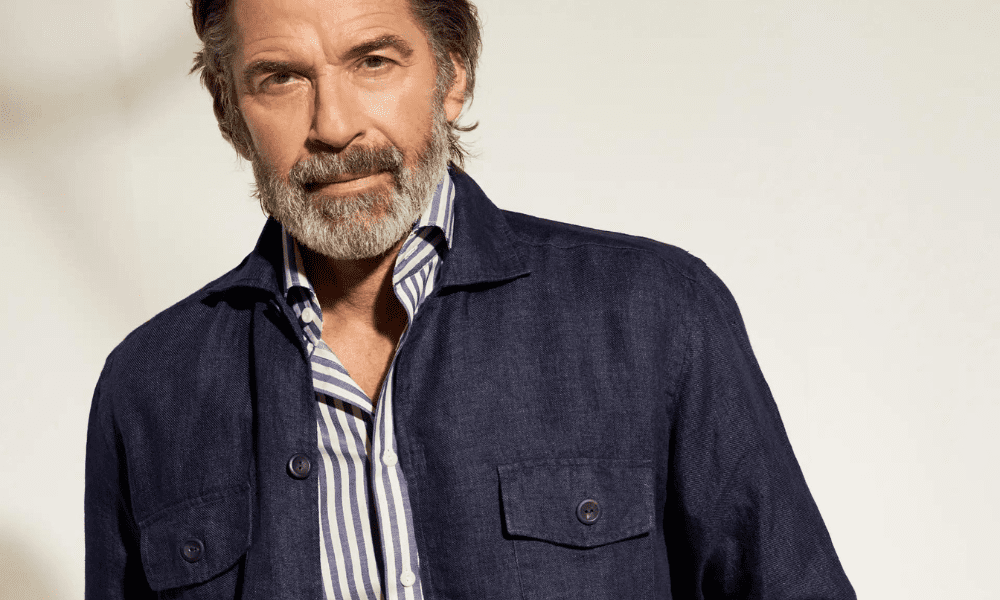 Inevitably it will get cold. This summer aside, we are typically faced with a mixture of showers and sun in equal measure. So, be sure to be prepared for both.
An overshirt has become a key piece in a man's wardrobe over the past couple of years. This is due to its chameleon-like nature to be partnered with numerous other items and still look great.
In summer though, we are looking for a thinner material that we can wear over a shirt or t-shirt to take the edge off when the sun goes down. A cotton version will give you some breathability but be versatile enough to be layered in colder months for maximum rotation.
Chambray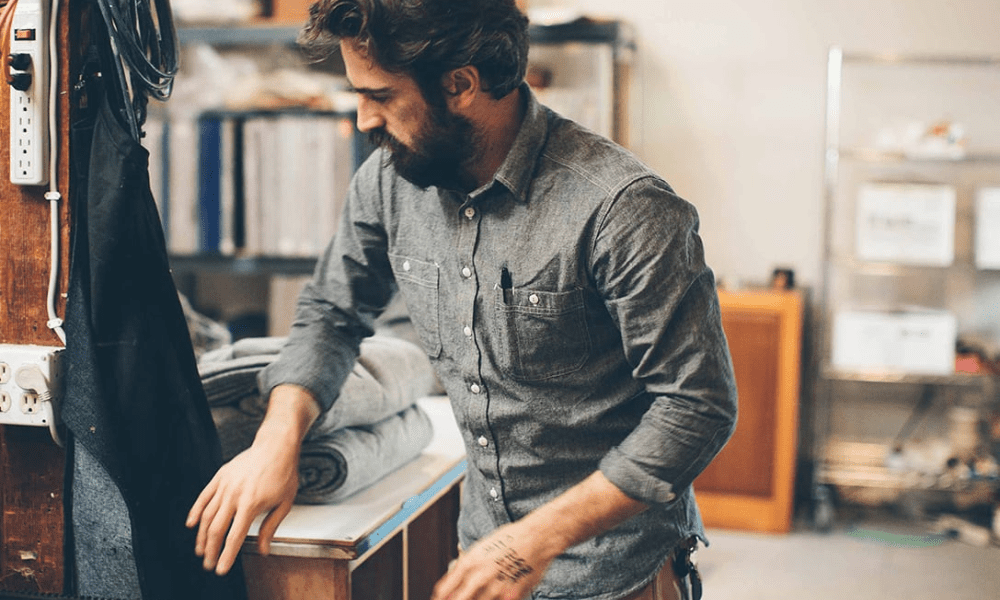 Generally, you don't want to be wearing denim in summer. It is thick and restrictive the two things we don't need in the heat.
The thinner, softer twin of denim is chambray. This material delivers on all the versatility we expect from denim but without the bucketloads of sweat.
It should seamlessly work with any lighter coloured trousers you own. You could even team it with navy blue suit trousers for a contemporary formal look. Whichever way you wear just remember if it ends next to any jeans then the shades need to be on opposite sides of the colour scale.
In the colder months, the opportunity to wrap up and layer clothing makes it a lot easier for men to dress well. Summer though is a lot more challenging.
During summer, the default is to remove the number of layers we wear to combat the heat. So, whether we are heading to a festival, drinking with friends or facing the commute to work. Less is nearly always better.
But, with the reduction in options for our daily outfit inspiration, men start to lose the sartorial flair they have worked hard on for the rest of the year. Thus falling into the comfort zone of functionality over style.
Fear not; help is at hand. In this article, we will bring you the best summer outfits gents should have in rotation to beat the heat while still looking great.
Minimalist Tailoring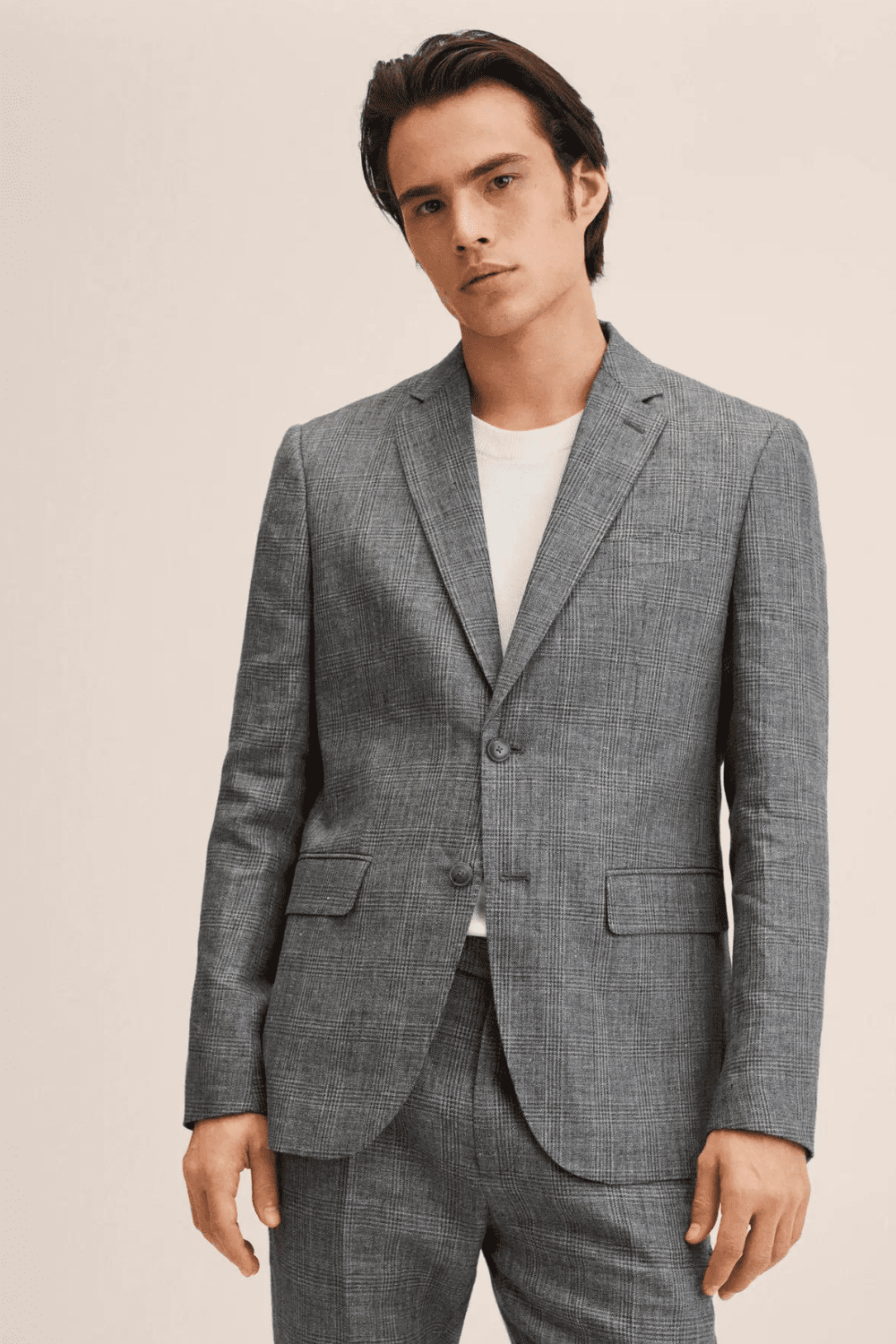 The summer is a welcome chance to update our tailoring, and we can start by removing the traditional shirt.
A formal shirt can start to feel stuffy and restrictive in the heat. Replace it with a simple, plain tee, and you will instantly add a dash of continental spirit to your workwear. Make sure the t-shirt is crisp and fits well, then tuck it into tailored trousers with a small overhang to nail this look.
You can wear it as is or add the matching suit jacket back into the equation. Both will look great and deliver a minimalist, contemporary outfit perfect for a number of different occasions.
Bold Prints
This time of year is a great time to push ourselves out of our comfort zone. Men can do this by including some bolder prints in their outfit choices.
We like to follow the ethos of a party on top, business below. By that, we mean grounding a printed shirt with cream or khaki chinos. This will make the shirt the showstopper without introducing too many conflicting colours.
Nautical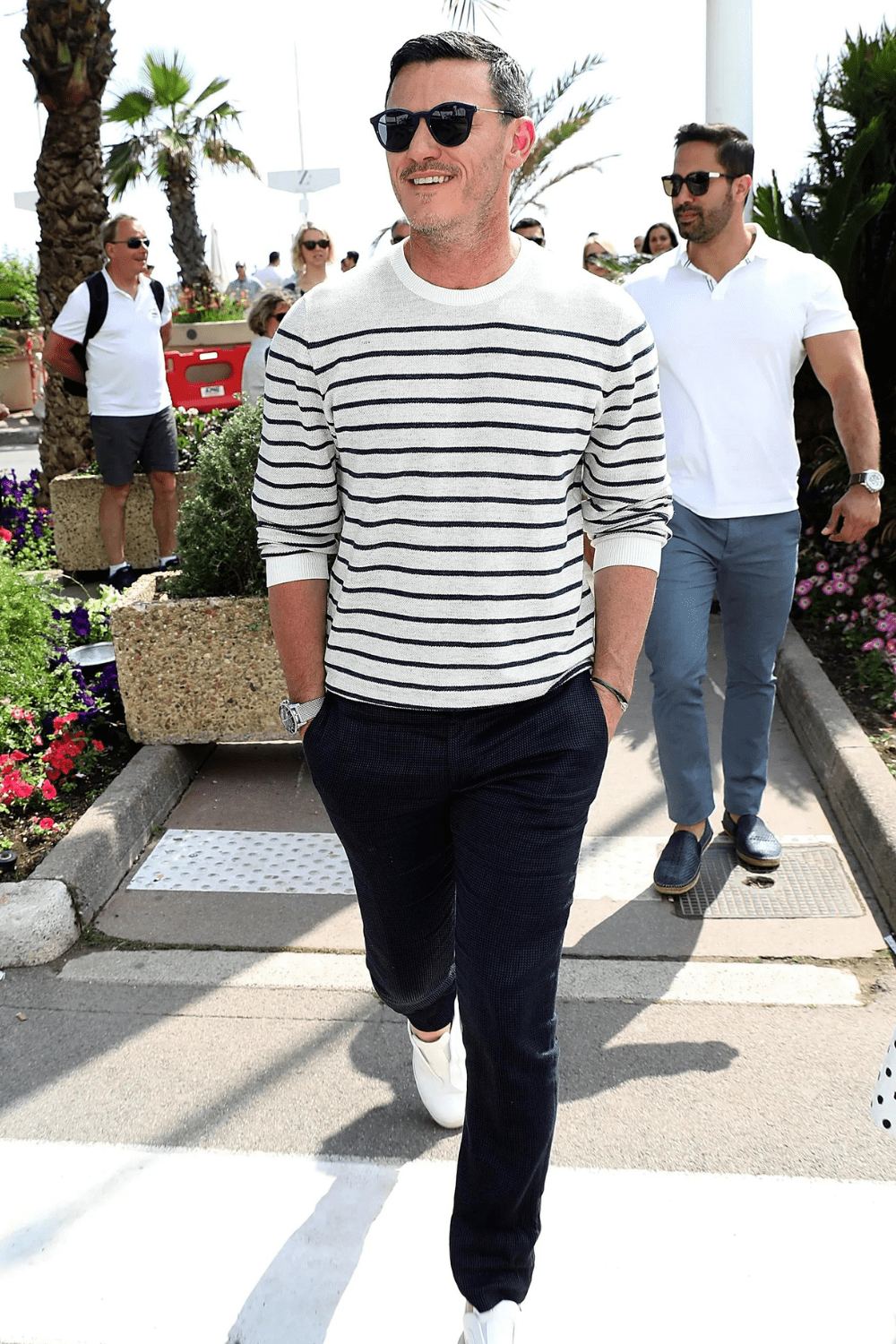 Why not imagine yourself sipping a beer on your yacht in a nautical-inspired ensemble?
The crucial element needed to pull this off is a Breton striped shirt or long-sleeve top. Originally worn by the French navy, it is chock-full of sea vibes.
A Breton top additionally allows men to introduce something distinctive to their summer wardrobe, where prints might seem a little scary to some. It is much palatable while still versatile enough to be worn with tailoring or simply with chinos or shorts.
Riviera Chic
Named after the French Riviera and the celebrity guests that stylishly visited it from the 1920s onwards. The muted palette combined with a mix of smart and casual pieces ensures it is still a timeless inspiration for men to this day.
There are many iterations that we can include, though, at its simplest, it takes on the form of a light-coloured pair of chinos with a polo shirt on top. Espadrilles or sandals will be fine as footwear choices, and we can use an unstructured blazer, Panama hat, or even a neckerchief to further dial up the Riviera vision.
Wedding Separates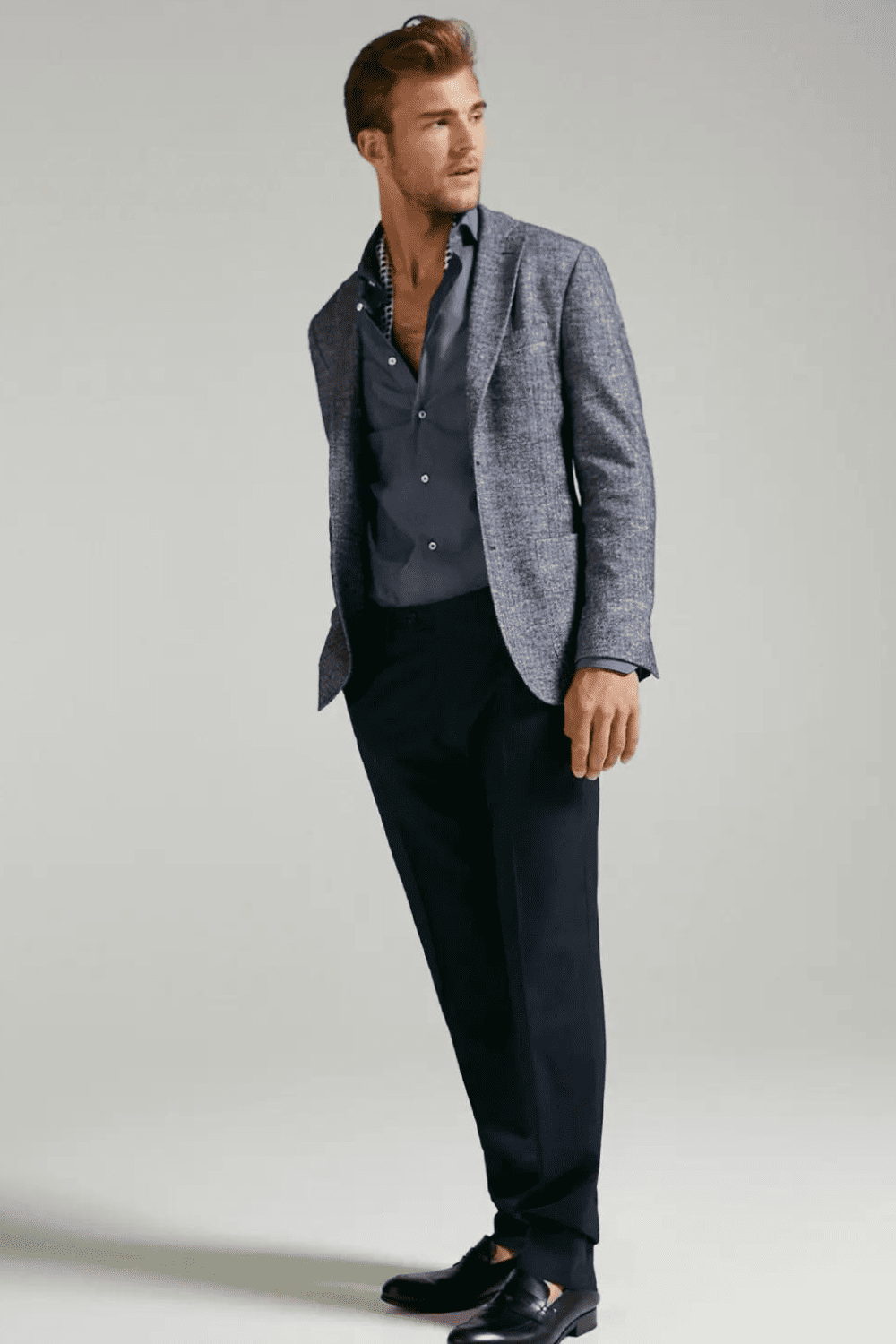 The perfect way to break away from the stifling three-piece suit for an impeding summer wedding is to incorporate separates.
Alternating the colours on top and bottom allows for more creative freedom and potentially enables men to freshen up two suits they already own into a brand-new outfit.
Our go-to colours are grey and navy, but men can experiment with pushing the colour palette further. Just remember, for bolder colours, always include them on top and have a base colour like navy or beige as trousers to build a solid foundation.
Beach to Bar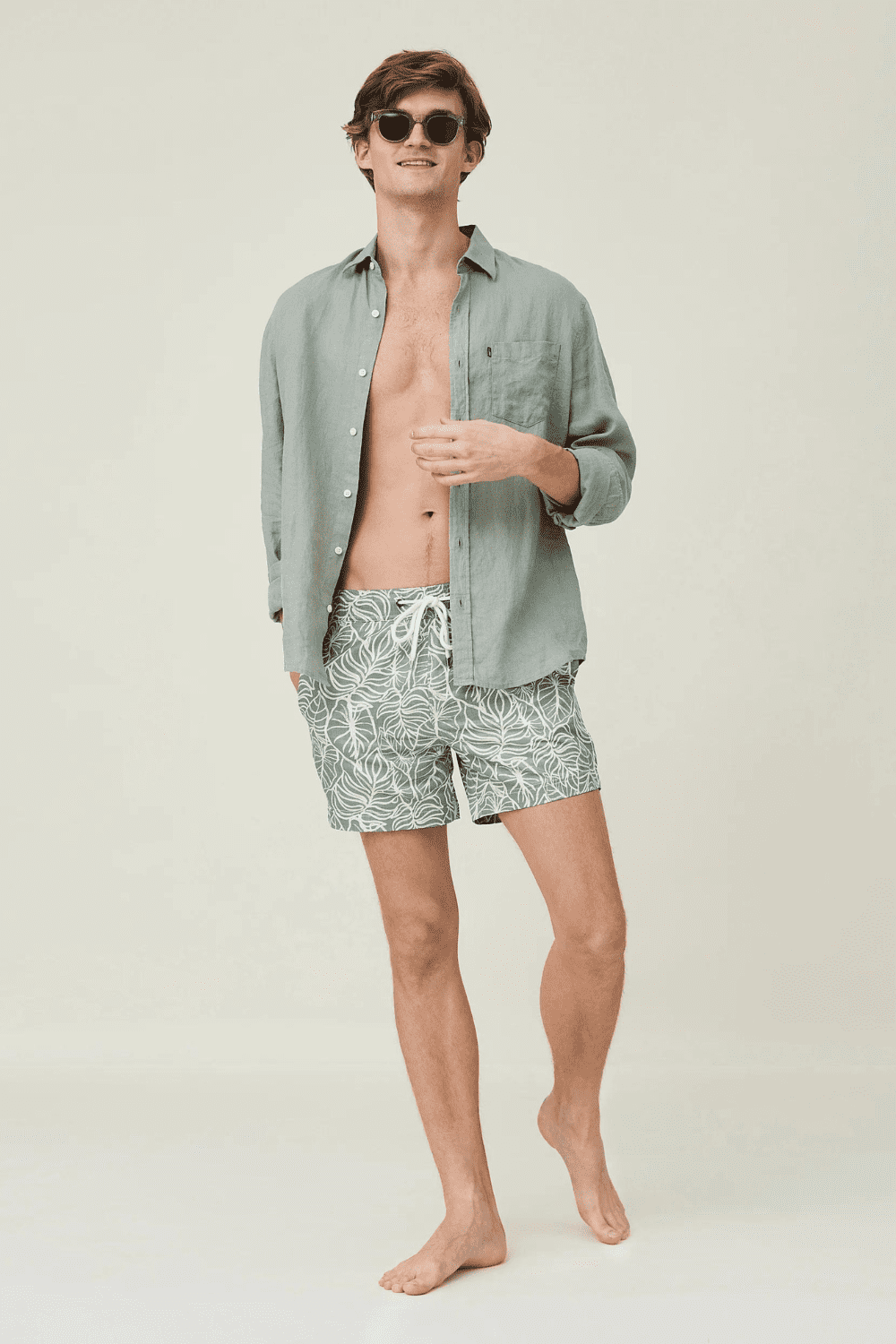 Upgrading your shorts is the toughest part of getting this look right. Invest in a pair of tailored shorts that sit about mid-thigh to accentuate the legs and give an elevated silhouette.
With a great pair of shorts in the mix, men just need to partner with a linen shirt for a laidback, composing outfit that will take them from the beach to a bar or restaurant. Simple, but effective, you won't want to stop wearing it when you return home.
Business Casual
Contrary to belief, warm weather dressing doesn't always mean removing every layer. Especially if we live in a location whereby the sun isn't as hot day in, day out. The beauty of this is it gives men a chance to still look smart and well put together.
Start by updating your shoes from a formal brogue or oxford to a loafer to give your feet a bit of breathing space immediately. Allow more air to circulate by adding hidden socks, cooling you further.
Next, opt for trousers in a linen or linen mix that are still smart but maybe finish a little higher on the ankle. This maintains the smart exterior but subtly removes some restrictive elements.
Finish with a polo and blazer for a business casual outfit that brings a dash of summer even if you have to head to the office.
City Break
When exploring an urban space on a city break, men need something a bit more refined but functional.
Again, focusing on how the footwear can suit our requirements, we will need a pair of trainers for comfort as we increase the daily step count.
The mercury is rising, so chino shorts can keep us cool but offer a more tailored feel. As an added bonus, they are versatile enough to be partnered with a range of tops to keep baggage to a minimum.
We said, you have options when it comes to what top to wear, though an Oxford shirt is hard to beat.
Summer Layering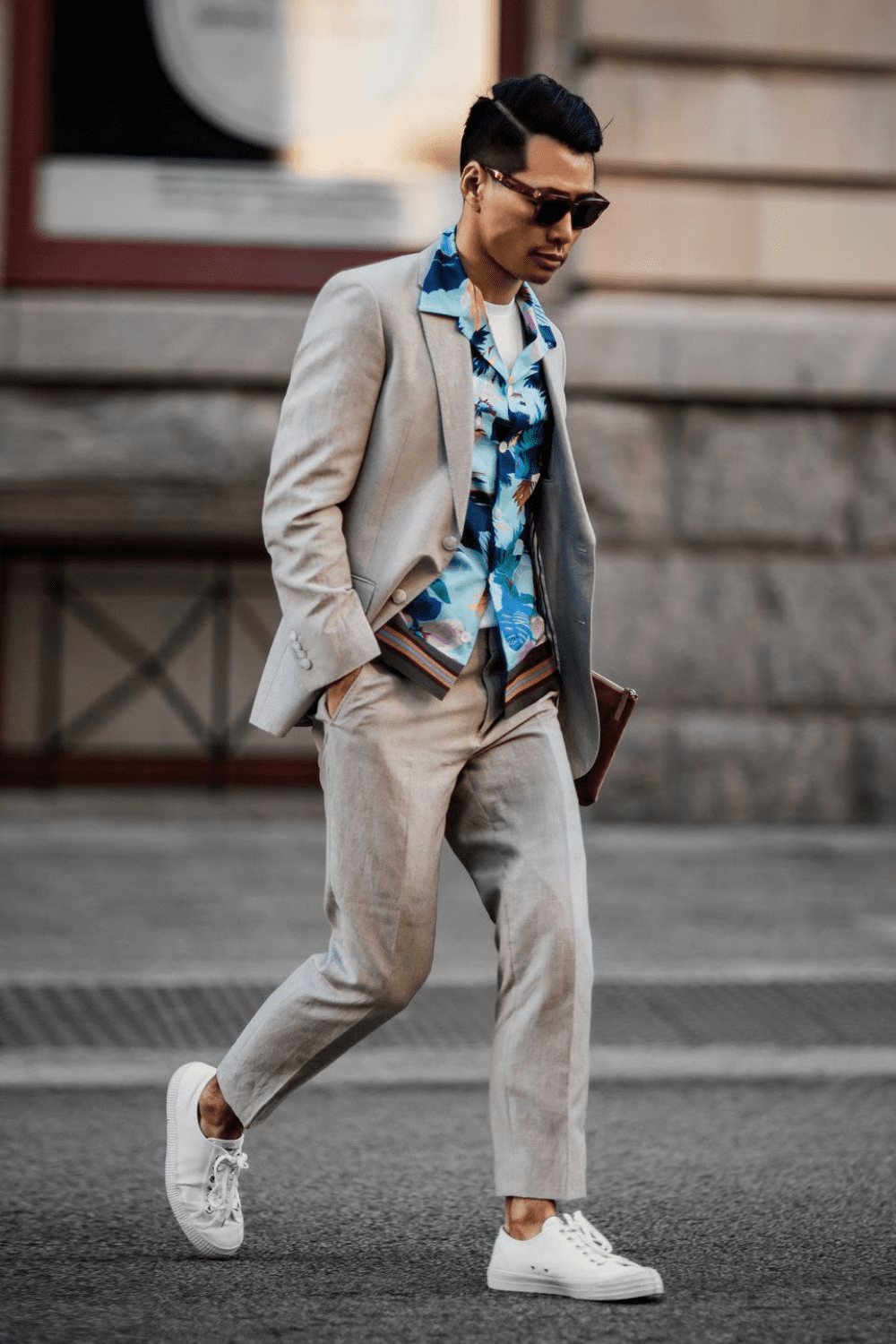 Yes, I know we have banged on about removing layers in summer to beat the heat. But, in Britain in particular, our summer can be over as quickly as it arrived. To combat this, we can artfully introduce a layer like a vest or a t-shirt to help alleviate the odd chill.
Some assured picks can be a plain white vest poking out from under a Cuban collar or a t-shirt beneath an Oxford shirt.
Remember to keep the bottom layer tucked in so as not to ruin the overall aesthetic of your chosen outfit and this subtle addition can be a foolproof winner.
Summer Knits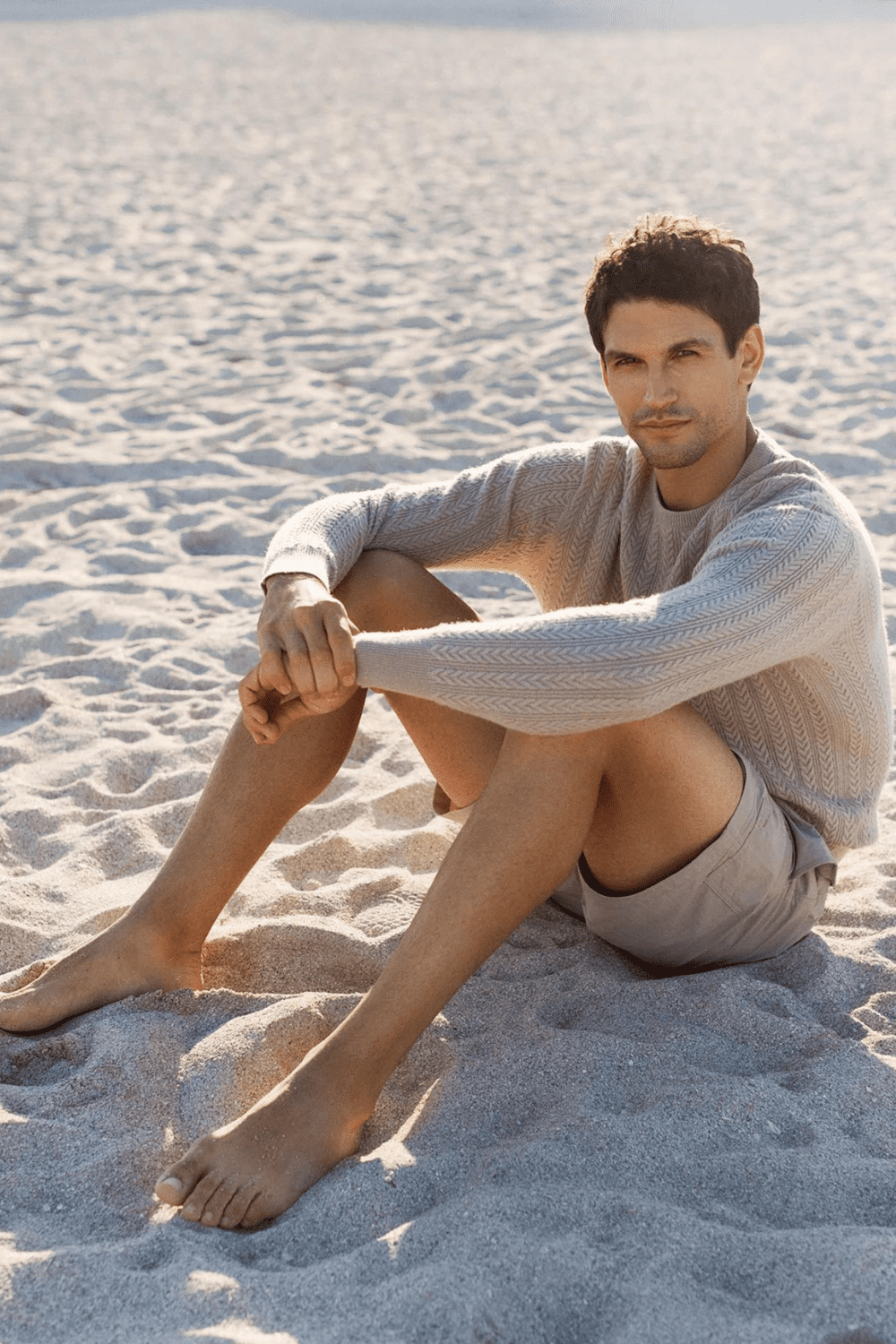 Summer leads to a lot more alfresco activities and carefully chosen knitwear will ensure you aren't shivering over a pint once the sun goes in. The trick is picking a throw-on piece that has a breathable material like cotton which will allow air to circulate but not enough to make you too cold.
To incorporate within a look, because we have opted for a soft fabric like cotton against our skin we can get away with wearing it as is. Alternatively, due to its lightweight consistency, it can nestle nicely under a denim jacket or on top of a tee for some expert summer layering.
The summertime can be a notoriously difficult dressing period for men. A default mode is to remove what we know about being stylish and presentable in exchange for shorts and a baggy t-shirt.
Done right though, the warmer months can be a great time for men to refresh their wardrobes and inject some personality. Crucial to this is mastering the accessories.
Adding more accessories might sound like the wrong thing to do in the heat. But, as we disperse bulkier, restrictive clothing, accessories can step into the style void to save the summer.
Here are our picks of the top summer accessories men should have in their arsenal.
1. Canvas Watch Strap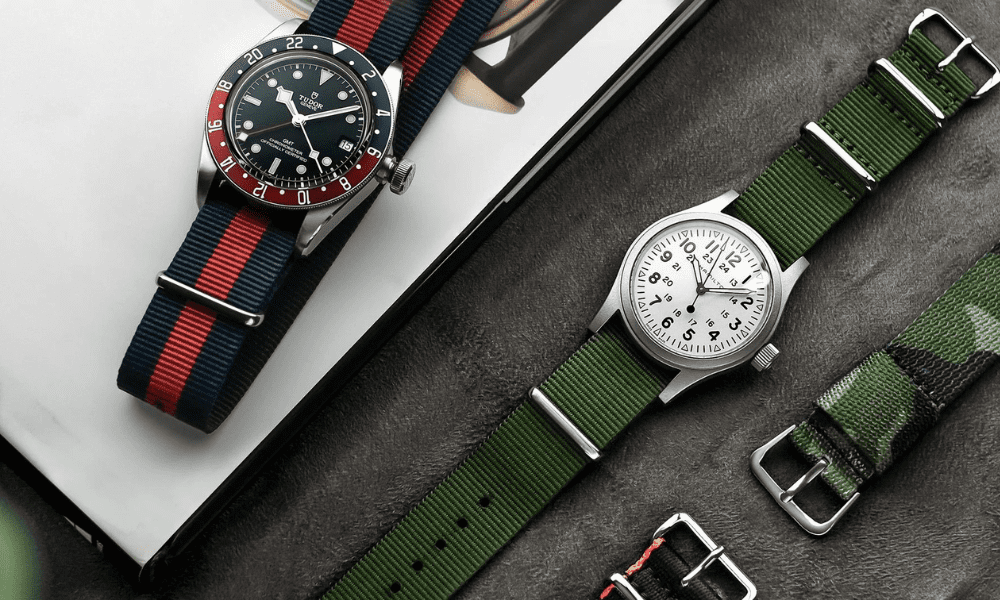 In summer, men want to remove elements of their daily outfits that can become irritable or abrasive in the heat. A metal watch strap is one of those pieces, with the lack of breathability from the material making your wrists sweaty.
With that in mind, swapping your metal strap out for a canvas alternative can be a welcome change. Not only will be more cooling, but the canvas strap can offer more chances for men to add a bit more personality either through colour or the famed nautical stripe.
2. Hidden Socks
A good pair of socks can help combat the rising temperatures and the inescapable smells that can come with your body sweating.
Now, there is always the debate on whether men should or should not wear socks with certain shoes. Though, one thing is for sure, wearing shoes without socks, especially leather can lead to blisters and germs.
So, should you want to give those ankles a breather by opting to not have socks showing then invest in a good pair of hidden socks. They will soak up sweat, protect your feet from blisters and all while still giving a no-sock effect.
3. Panama Hat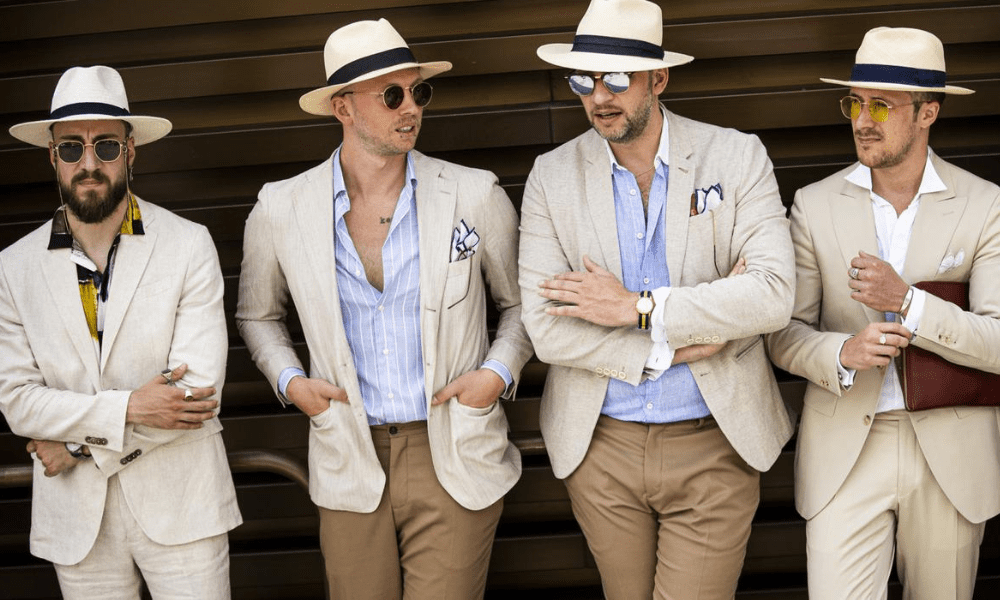 The iconic summer hat has and will always be the Panama style. It is perfect for keeping the beating sun off your face, providing much-needed shade and protecting your eyes from UV rays.
Like with the rest of your outfit, the material of your hat should take precedence. That means a breathable fabric allowing for air to circulate to keep your bonce cool. Additionally, a sweat-absorbing headband will be a hidden godsend.
When wearing a Panama-style hat, men should keep it simple. Clean-cut linen trousers on the bottom with a simple tee on top. This way the hat becomes part of a smart-casual look that is relaxed and effortlessly chic.
4. Tote Bag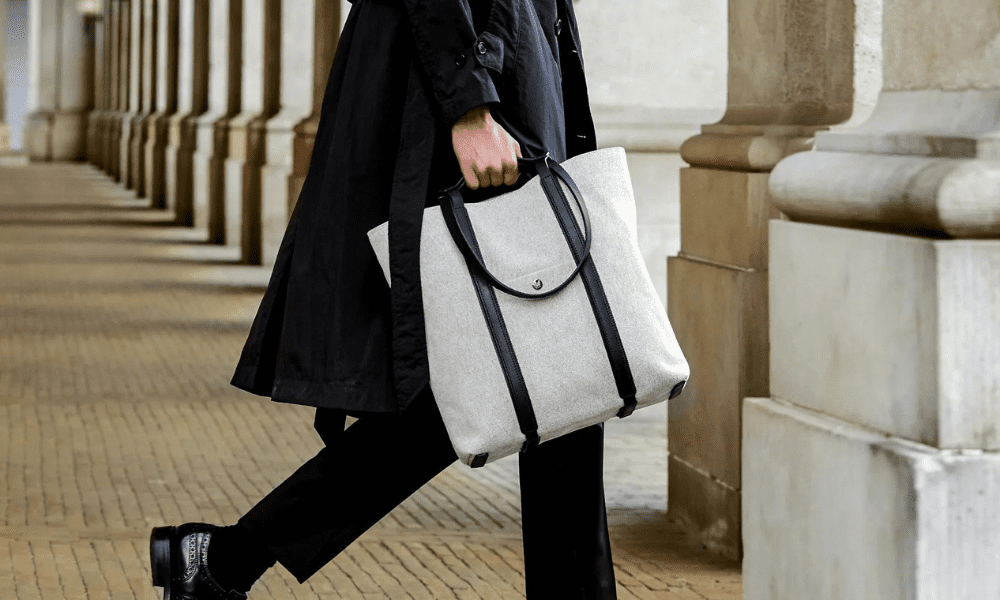 Easy to carry and without the bulk of other bags, the tote bag is made for summer.
Despite the sun, we still need to get on with our daily lives whether it be heading to work, the pub or a weekend full of activities. To remain prepared it is comforting to have a bag that you can call on that is big enough to keep contents safe but isn't a sweat-inducing backpack.
When it comes to the material we like to choose a tote bag in nylon or canvas. The former being better at withstanding the inevitable British downpour, though both are readily available in a mix of bold or muted tones.
5. Aftershave
As stylish men we know to update our wardrobes as the seasons change, but can often forget about our fragrances.
Summer is an ideal time to introduce smells that are lighter, and fresher, casting aside the deeper musks of colder months. They are often punched with citrus and green leaves evoking images of sun-drenched beaches and evening walks.
If in need of some inspiration, you can read our picks of the best fragrances for summer 2022 here.
6. Woven Belt
Inspired by nautical fashion, a woven belt is a welcome accompaniment to summer dressing. Able to offer texture and detail, something that can be lacking as we reduce the number of clothes we wear to combat the heat.
Just a simple polo and shorts can have depth added by including a woven belt. But, to really make it sing, try a Cuban collar shirt with chinos and minimalist trainers. This will stop it from straying too far into the college frat boy territory.
7. Knitted Tie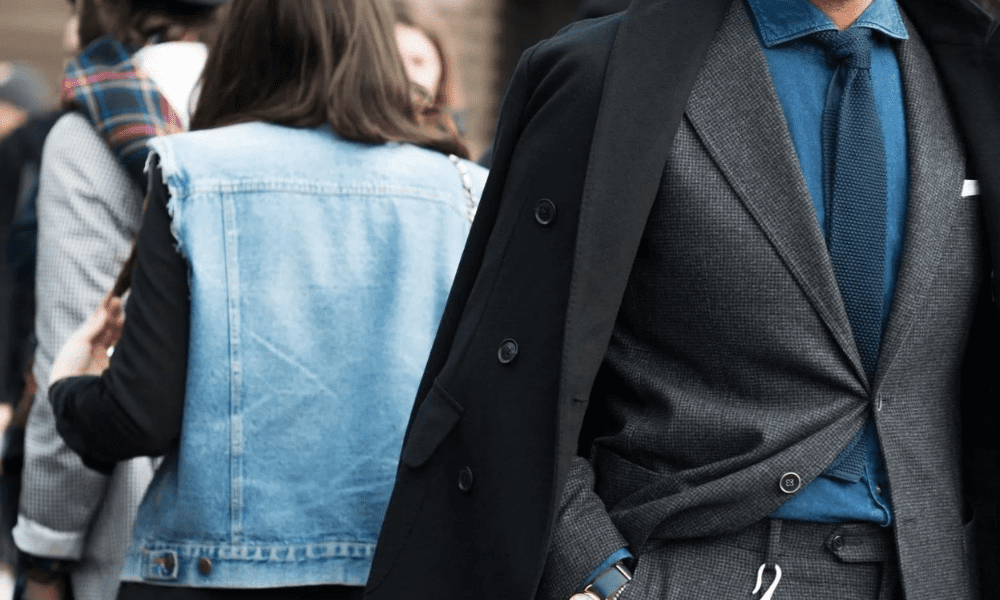 The warmer months don't mean men need to permanently remove their tie and replace it with a swathe of protruding chest hair. Take a leaf out of the book of some of the continent's most rakish gents and switch your silk tie for a knitted version instead.
A great way to nail this crocheted look is to incorporate it as a part of a separates outfit. That means taking your traditional white or blue shirt and switching it for an Oxford or Chambray variant. Then add chinos and a complimenting blazer. The result will be a smart-casual finish, ideal for the office or a summer wedding.
8. Cross-body Bag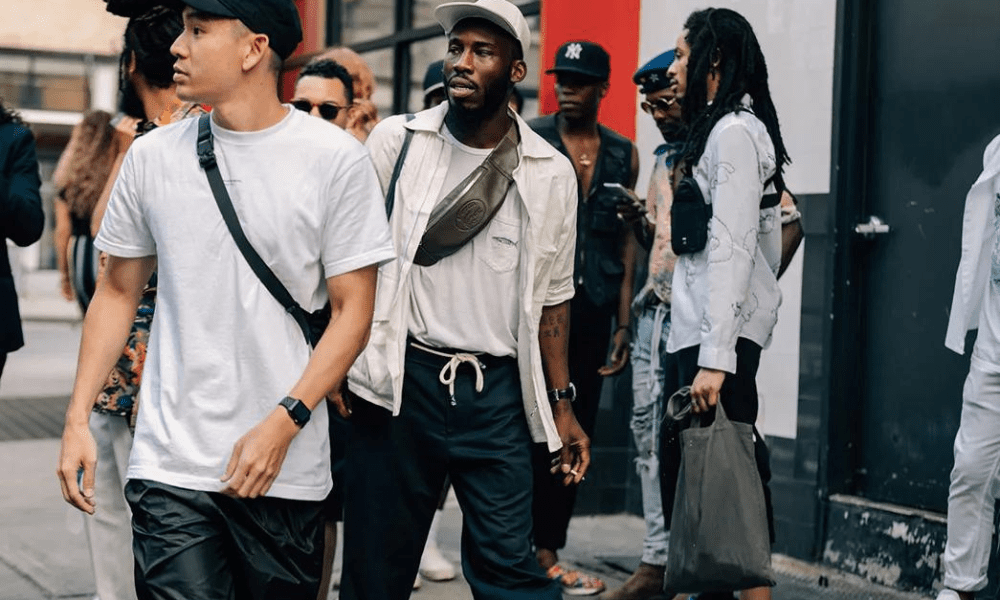 I type this with a sense of trepidation. Yes, the cross-body might conjure up images of streetwear, but hear us out. The item, not unlike its much-maligned cousin, the bum bag is an incredibly versatile and practical accessory.
Though, where the bumbag is stranded forever in a fashion graveyard, a cross-body with smarter pieces can be understated and minimalist, while providing genuine usefulness.
Try the cross-body over the top of your cropped jacket or shacket with a wide leg chino and plain white trainers. Keep your outfits understated and let the cross-body be a contemporary addition that draws the eye.
9. Baseball Cap
For those men that find hat styles like the Panama or Fedora a little too sprezzatura for their taste, then a baseball cap can easily transition into their closets. Heck, you probably already own one, so we aren't breaking any new ground here.
The key to making this a contemporary option though is to remove any logos or embellishments. We are looking for a clean, minimalist aesthetic to ensure this works. That way it doesn't unnecessarily draw the eye, able to provide protection from the sun without causing a fuss.
10. Sunglasses
It wouldn't be a list of summer accessories without including sunglasses. With a myriad of options, there is no shortage of eyewear to choose from. Though, men should focus on what suits their face shape rather than getting swept up in the latest trends for the season.
As a rule of thumb, aviators are the most suited to the majority of face shapes followed by oval, rectangle and frames with a browline like a Clubmaster.
Styles aside, sunglasses are crucial for protecting your eyes from harmful UV rays, which makes them the best accessory for summer in our humble opinion.