A thick, heavy-piled material like sherpa can be a godsend for men on a chilly commute to work. Think of sherpa as a faux-sheepskin or shearling. Sometimes produced using cotton, most often you will see polyester used instead. Though we aren't always forthcoming with our plaudits on artificial fabrics like polyester. When crafted into a heat-warming material like sherpa, it can be hard to beat, especially considering the price compared to its more organic cousin, shearling.
What Style of Sherpa Jacket To Buy
What kind of sherpa jacket guys opt for depends on your requirements and personal style. A traditional Levi's sherpa-lined trucker is an all-American classic. Hard-wearing with a ranch-hand aesthetic that pairs nicely with boots and added denim. But, these days, you can get sherpa in many styles.
For example, an essential layering piece such as a shacket or plaid shirt with the benefits of sherpa heat on the inside can be a secret weapon against the cold. The exterior produces your desired overall look; under the hood, you benefit from the fabric's heat-retaining properties—a win-win combination.
Alternatively, lean into the sherpa's distinctive appearance and embrace a full-on jacket encased in the material. It will comfortably ride the trend for outdoorsy brands like Patagonia, who have made their name with this fleece-like product.
Whether your sherpa journey is taking you towards becoming a layering master or a trend-led virtuoso, we can help you scale the peaks of menswear with our hand-selected picks below.
1. Finisterre Sherpa Deck Jacket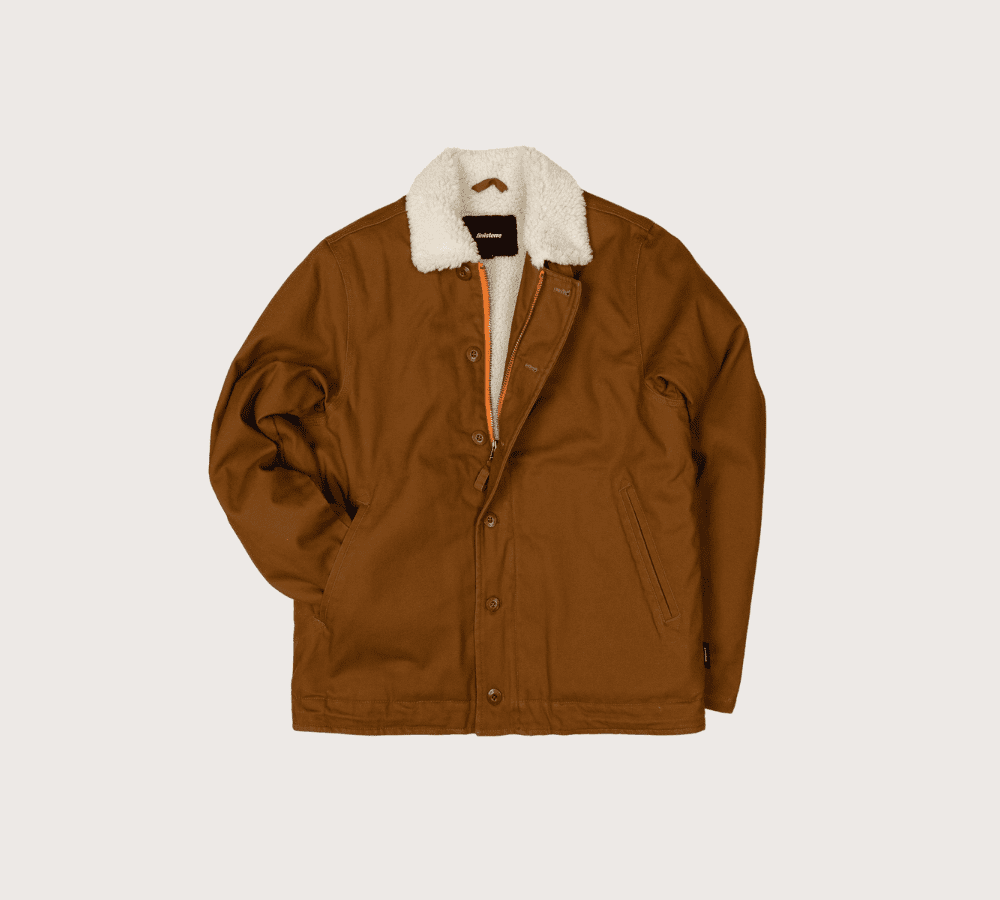 Modelled on a US naval deck jacket, Finisterre has delivered a prime sherpa jacket. The exterior is crafted from a heavyweight, brushed cotton fabric, and combined with that sherpa lining, it will beat away the cold without flinching. Practical and durable means this jacket will surely have you covered for years.
2. Abercrombie Sherpa-Lined Shirt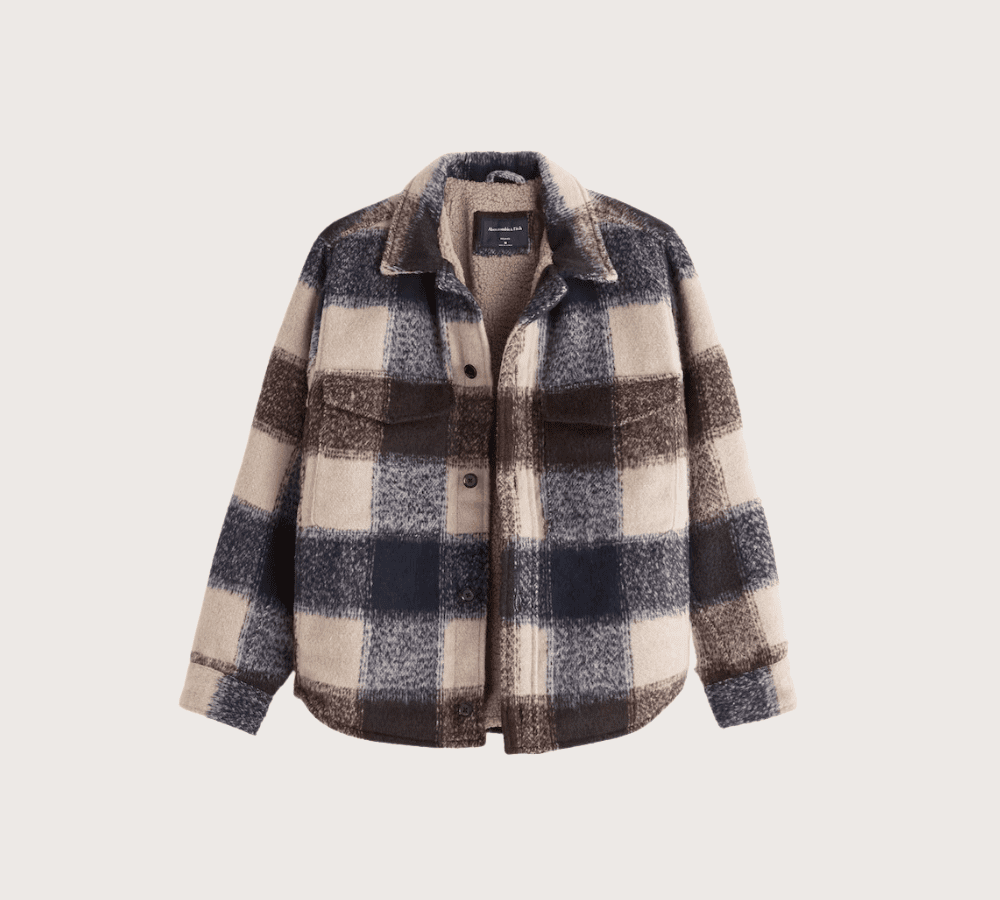 What says mid-weather more than a checked, sherpa-lined shirt jacket? Match with jeans and trainers for a paired-down weekend look adept at absorbing more layers when the weather gets colder. Comfy and insulating is what you need at this time of year. The added benefit that it looks great is a bonus.
3. Portuguese Flannel Fleece Overshirt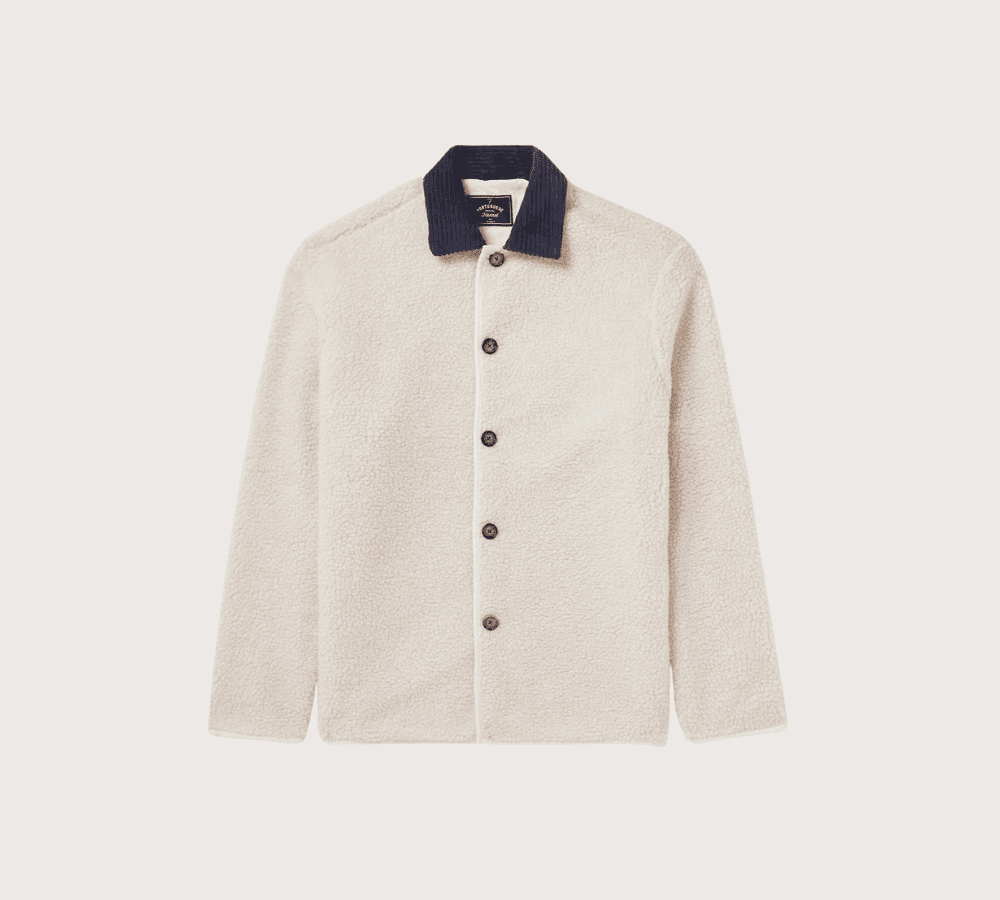 Go full rural Welsh sheep herder in this pick from the brand Portuguese Flannel, made available exclusively for Mr Porter. The sherpa material delivers warmth and adds texture and interest to an otherwise simple design. A contrasting navy collar from wide-waled cotton corduroy supports this notion of beautifully nailing the basics.
4. Levi's Sherpa Trucker Jacket
The OG of sherpa jackets, the Levi trucker, is as imperious today as it ever was. It can transcend seasons if layered correctly. While effortlessly being able to be worn with chinos or extra denim for adaptable casualwear. Often imitated, never beaten. We are firm favourites of this menswear number.
5. Polo Ralph Lauren Fleece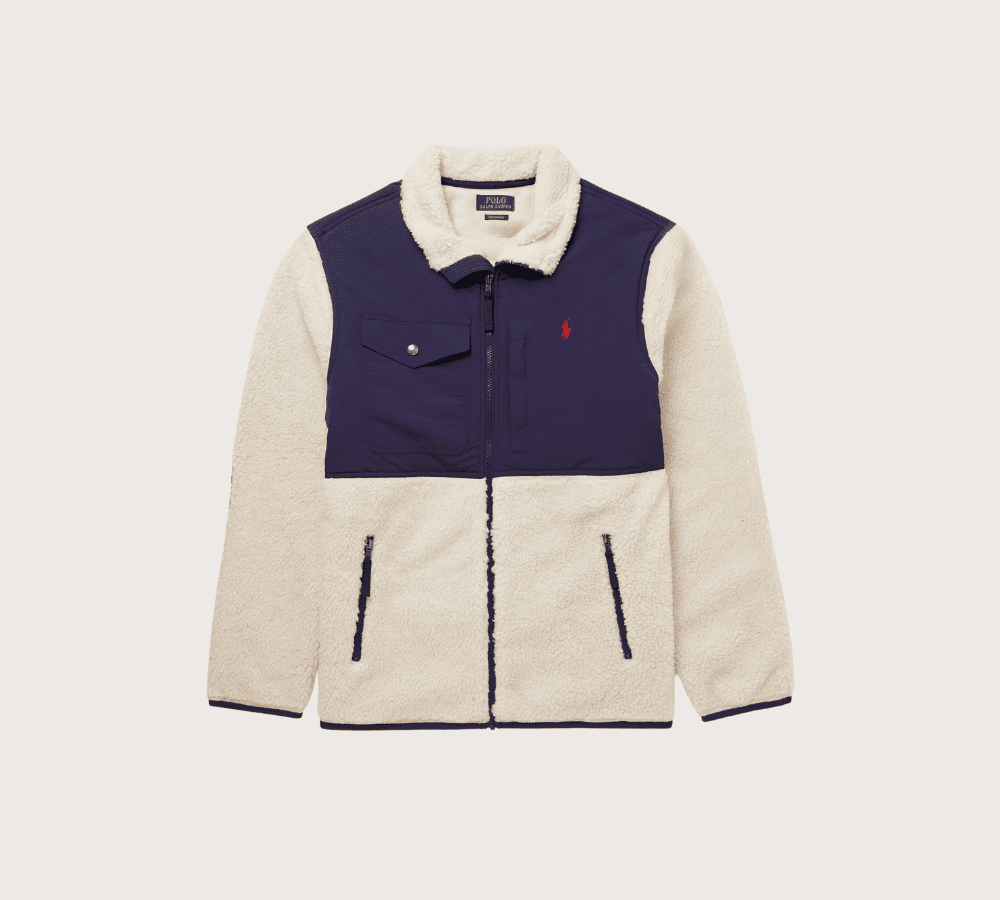 There is no denying fleece is everywhere in menswear right now. Whether it is a hang-up from our working-from-home period or a desire for more functional and cosy clothing. It doesn't seem to be going anywhere, so you might as well do it right. This fleece has a recycled shell in navy and cream colourway. A versatile number you won't want to take off.
6. All Saints Sherpa Shirt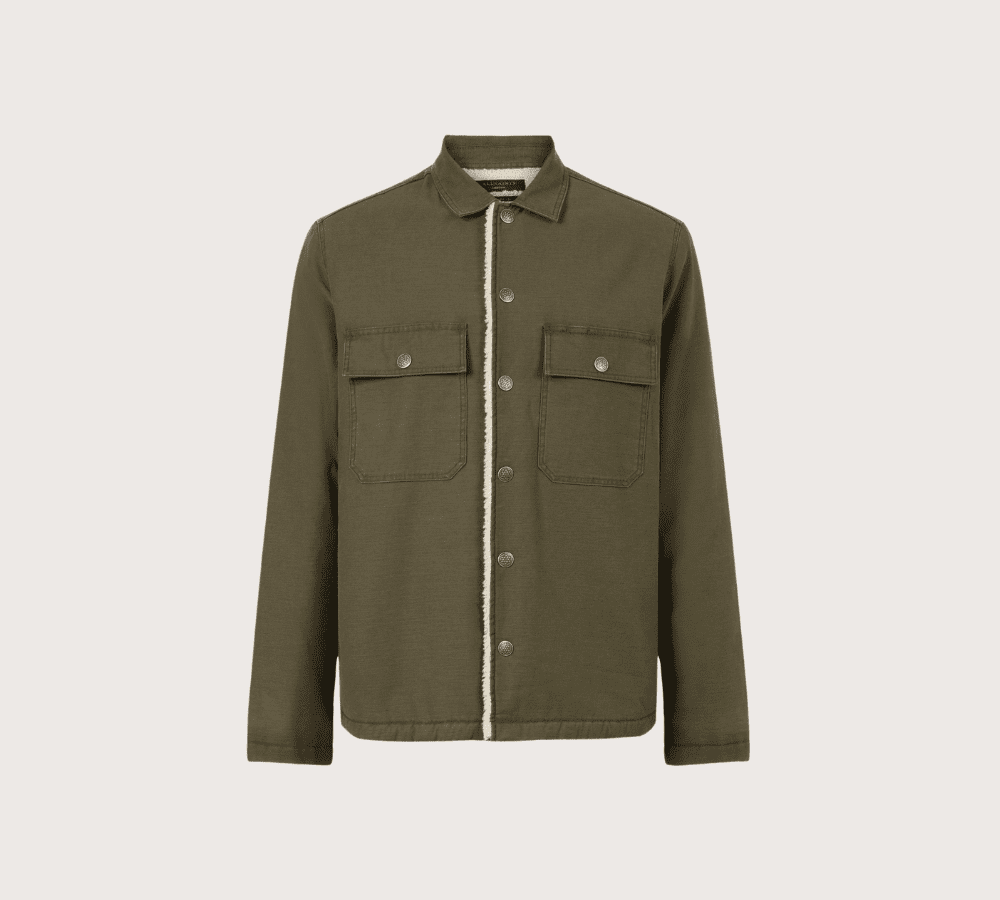 These days men can grab themselves a sherpa-lined anything. All Saints have fashioned the lining into an insulating layer for their Radar Light Jacket. With a style reminiscent of an overshirt, this would look nice, partnered solely with some slim-fitting jeans and trainers. But, it is light enough to become mid-layer beneath an overcoat if the weather turns.
7. Drake's Buffalo Check Jacket
The curved outline of the hand-warmer pockets and scalloped collar brings real interest to this pick from Drake's. The American vibe fuses nicely with a sense of British country to produce a classic piece with all the hallmarks of quality we expect from this brand.
8. Thisisneverthat Sherpa Fleece Vest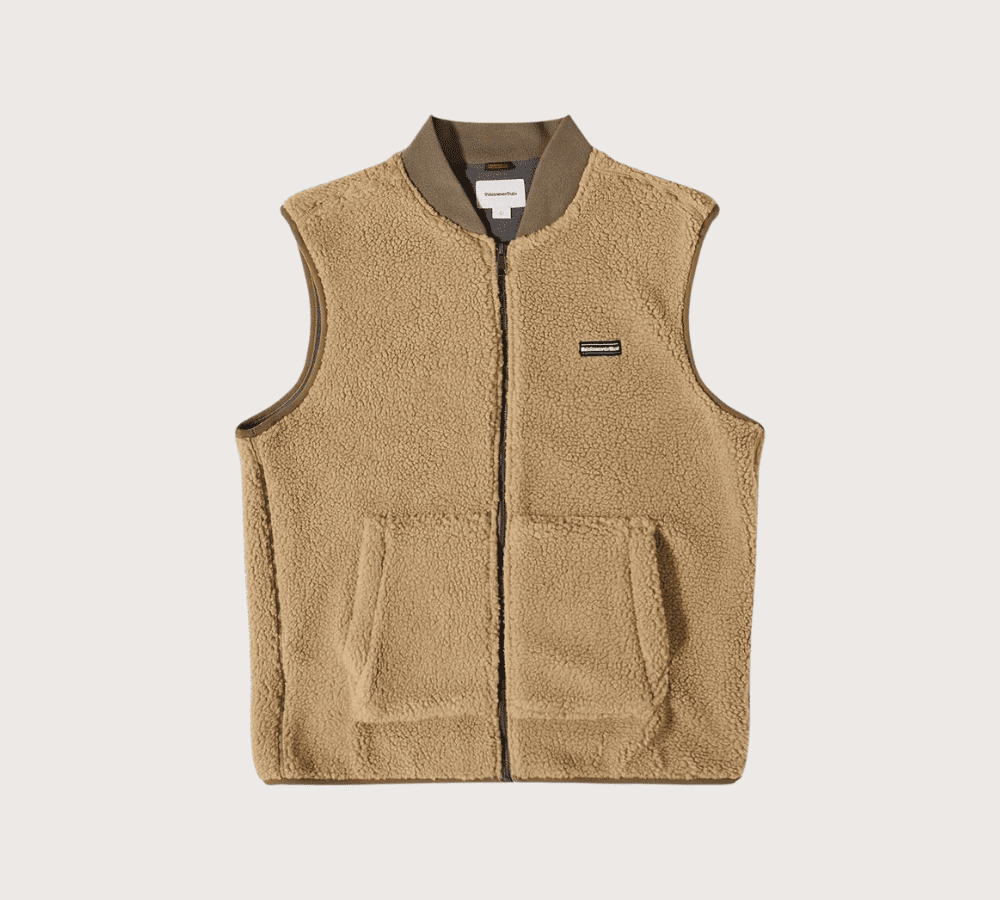 This cult Japanese brand has won an army of fans by recreating iconic streetwear designs from the 90s and 2000s. This sherpa vest has tons of retro charm but feels contemporary enough not to go out of fashion in a heartbeat. Not content with the warming qualities of sherpa, the brand has introduced a Thermolite lining for additional insulation.
9. Reiss Sherpa-lined biker jacket
Nothing says masculinity like a biker jacket. This relaxed-fit sherpa-lined biker jacket from Reiss has an oversized collar and buckled neckline for added drama. It is a modern take on a time-honoured menswear piece in a sleek, black colour. Rock it with black denim and boots and, ideally, a Harley.
10. Mki Miyuki-Zoku Sherpa Hoody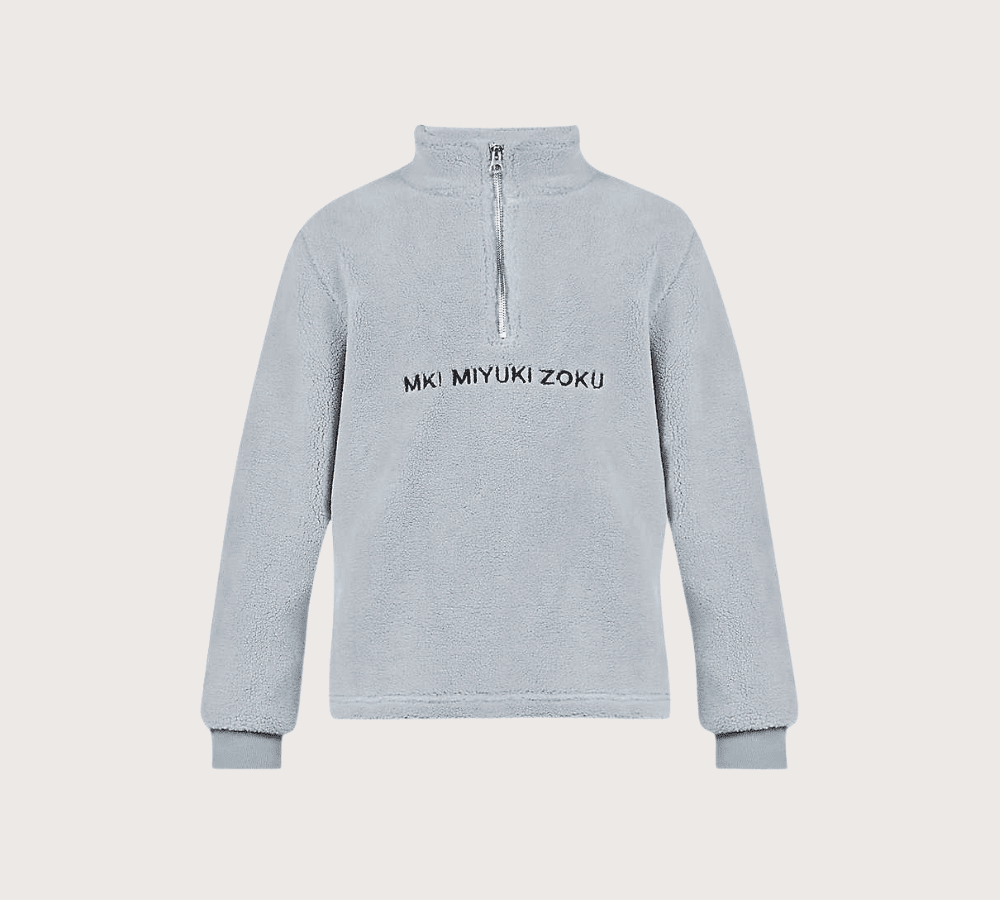 Sometimes we don't necessarily need a sherpa jacket. We need those warming properties in any form we can get our hands on. This funnel neck option has a work-from-home aura, though men can just as easily make it a daily rotation choice for errands or a coffee date. Don't hide this one away from the world.
11. Wrangler Sherpa Flannel Shirt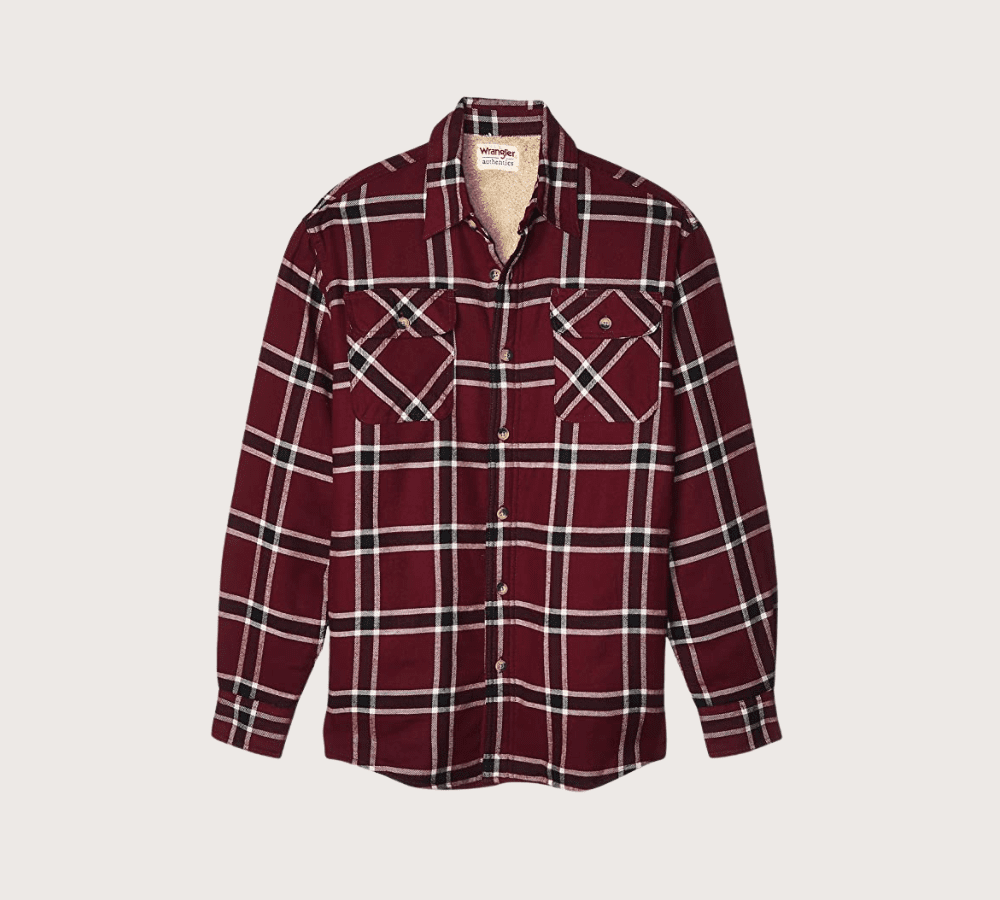 This shirt from Wrangler is constructed to be comfortable and toasty, a hybrid we need when the mercury drops. The rugged aesthetic is supported by a hard-wearing exterior that can take on the rigours of daily life. A flannel shirt is an essential menswear item. Now it has been upgraded.
12. Woolrich Sherpa Trucker Jacket
In the colder months, men need outerwear they can rely on. Woolrich has been in the game since 1830, so they know a thing or two about how to keep guys efficiently dressed at this time of year. With unrivalled waterproofing and that baby-soft lining, this coat delivers everything we need. The overall style would work well, partnered with a flannel shirt for a semblance of all-American ruggedness.
13. J Crew Nordic Sherpa Fleece
The waistband on this J Crew sherpa fleece adds a contrasting colour and will tuck in the waist, making this a slightly more streamlined silhouette. The result is a more versatile and flattering garment that men can wear over a shirt and formal trousers for a smart casual outfit.
14. Uniqlo Windproof Outer Fleece
Helping to block out any biting cold wind, the added benefit of a very affordable price makes this Uniqlo number an easy pick for this sherpa list. You'll need to embrace the full teddy bear look when wearing, but styled right, men can easily pull off this jacket while staying warm and fuzzy.
15. Patagonia Retro Fleece
What Patagonia isn't privy to when it comes to functional outdoor clothing isn't worth knowing. The brand has been producing sustainable and transparent garments since the 70s. Initially focused towards climbers and outdoor sporting types, as fashion changes, so has the broader adaption of products like this 90s-looking fleece. A classic fit, we think you'll love the quality and everything the brand stands for.
The airport environment can often call for comfort over style. Inevitable delays sitting in unforgiving chairs negate the need for sartorial flair. However, a passport holder is one way to still show yourself as a purveyor of the finer menswear details.
No one wants to be pulling a dog-eared passport from their carry-on. Do your best to maintain that polished aesthetic by enveloping your travel documents in a tasteful pick from a brand like Aspinal of London or Smythson. These high-quality leather choices come in a rainbow of summer holiday hues or a more minimalist brown, black or navy. Whichever takes your fancy.
Why You Need a Passport Holder
When we travel, we need an anxiety-inducing wealth of documents such as boarding passes, foreign currency, hotel details and more. All this, alongside the primary passport, can only enhance the potential for something to go awry.
Take the guesswork out of whether or not you have the full stable of travelling essentials by storing them in one handy place. Not only stylish, but a passport holder is incredibly useful in keeping everything in one place. That means no more rifling through bags at the airport gate or under the ominous glare of passport control.
What we need from our passport holders is more than just aesthetics, though. Travelling can be tough on our accessories, so we need a hard-wearing cover that won't let us down. On this note, the quality of materials is where we will find craftsmanship sanctuary. So, no matter whether you are a frequent flyer or jetting off for a bit of summer sun. You can be sure that your passport holder will have you and your flight essentials covered.
Best Passport Holders
Aspinal of London Passport Cover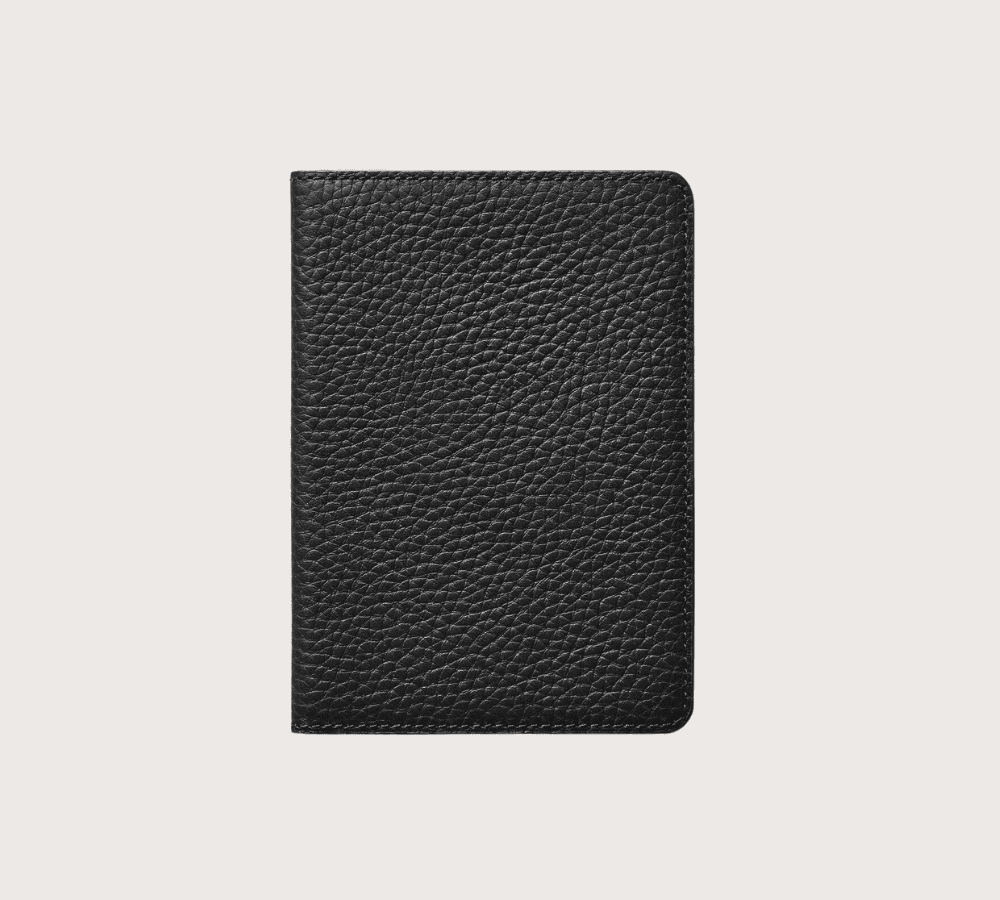 Why not travel in style by choosing this silk-lined, leather passport holder from Aspinal of London? It will make your passport feel like it's in first class with luxurious full-grain construction and slim design with room for a passport and five cards on the inside. Level up your airport style and pick a leather accessory from a brand with a rich history of craftsmanship.
Smythson Cross-Grain Leather Passport Cover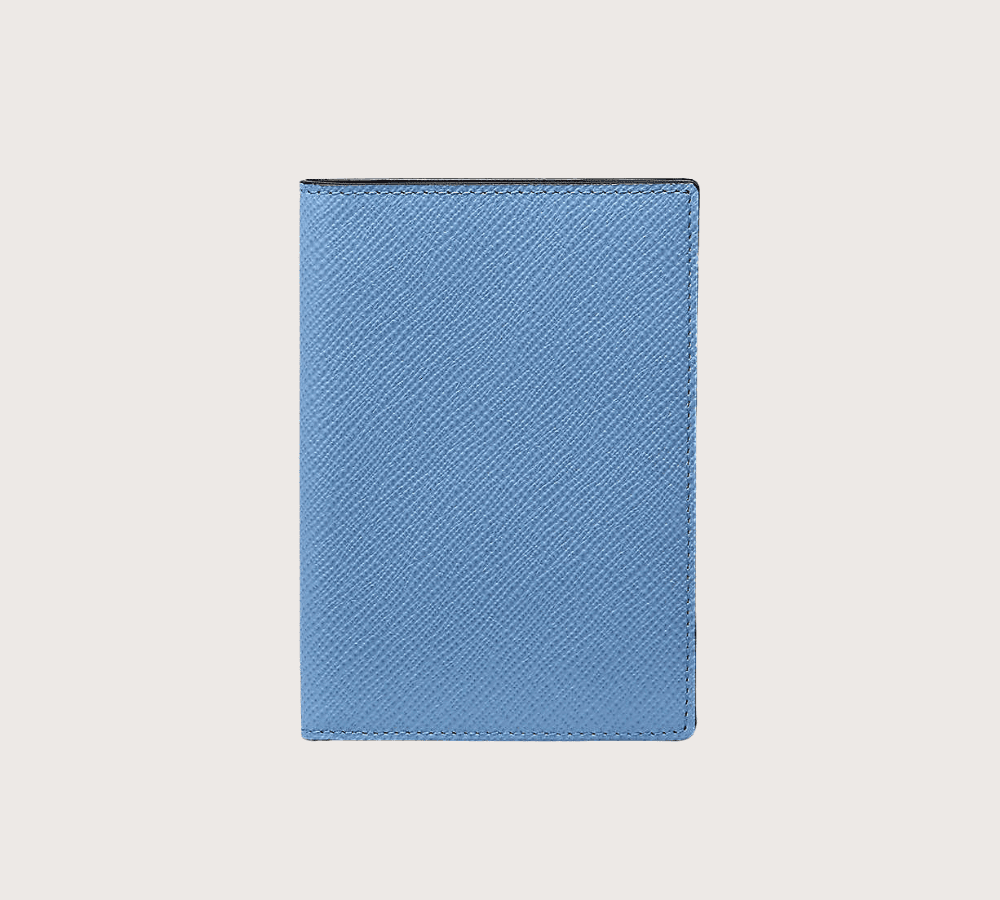 Give your passport the cover it deserves with this stunning blue calf leather number from Smythson. Finished in a cross-grain texture, it has two interior gold-stamped pockets for your passport and boarding pass. This efficiency will speed up airport lines while the passport holder will beautifully hide any tatty contents.
Ettinger Capra Passport Case
Suppose you are looking for an understated but elevated passport cover. Then try this pick from leather specialists Ettinger. It keeps all your travel documents, cards and passport in one safe, secure place. Crafted from goat leather, the material's natural water-resistant qualities protect your jet-setting credentials from unexpected holiday downpours.
Belroy Travel Folio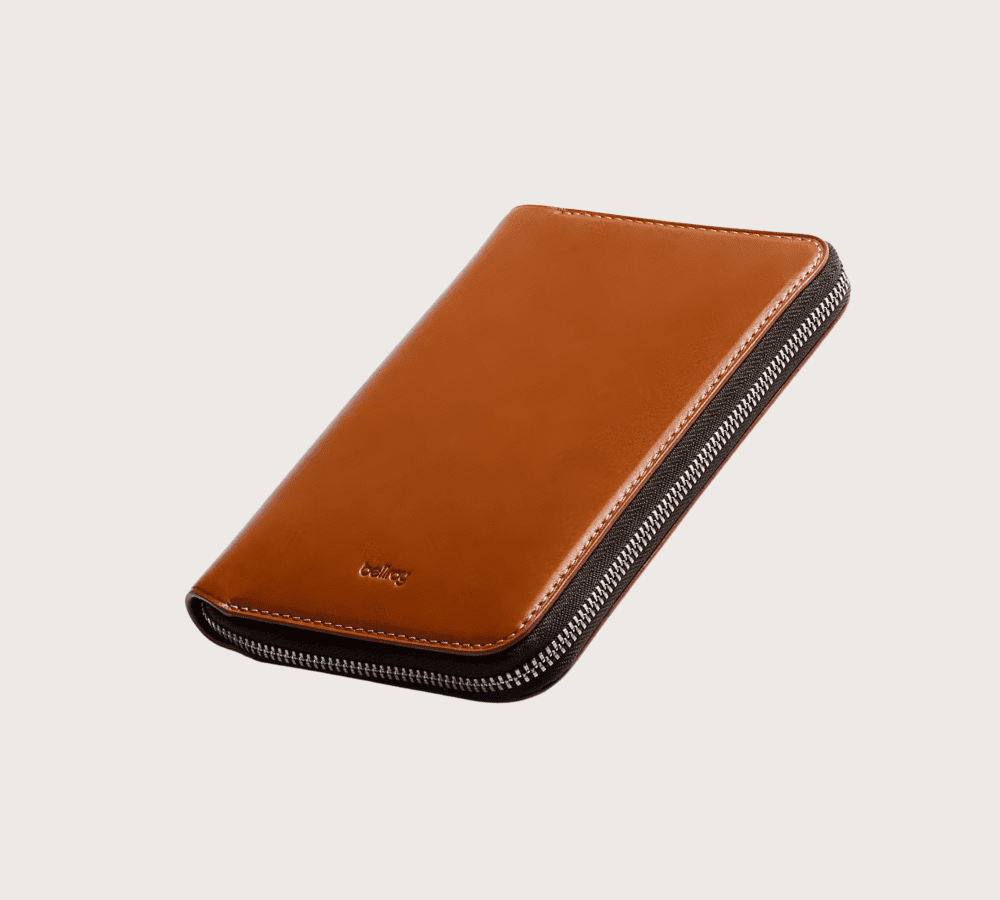 The swiss army knife of passport holders, this folio from Belroy has it all. It is the one-stop shop for travel document safety and is big enough to fit two passports, 4-8 cards, cash, and a boarding pass. Specially designed to keep cash hidden from prying eyes, it can also be zipped shut for added peace of mind.
Globetrotter 1897 Passport Holder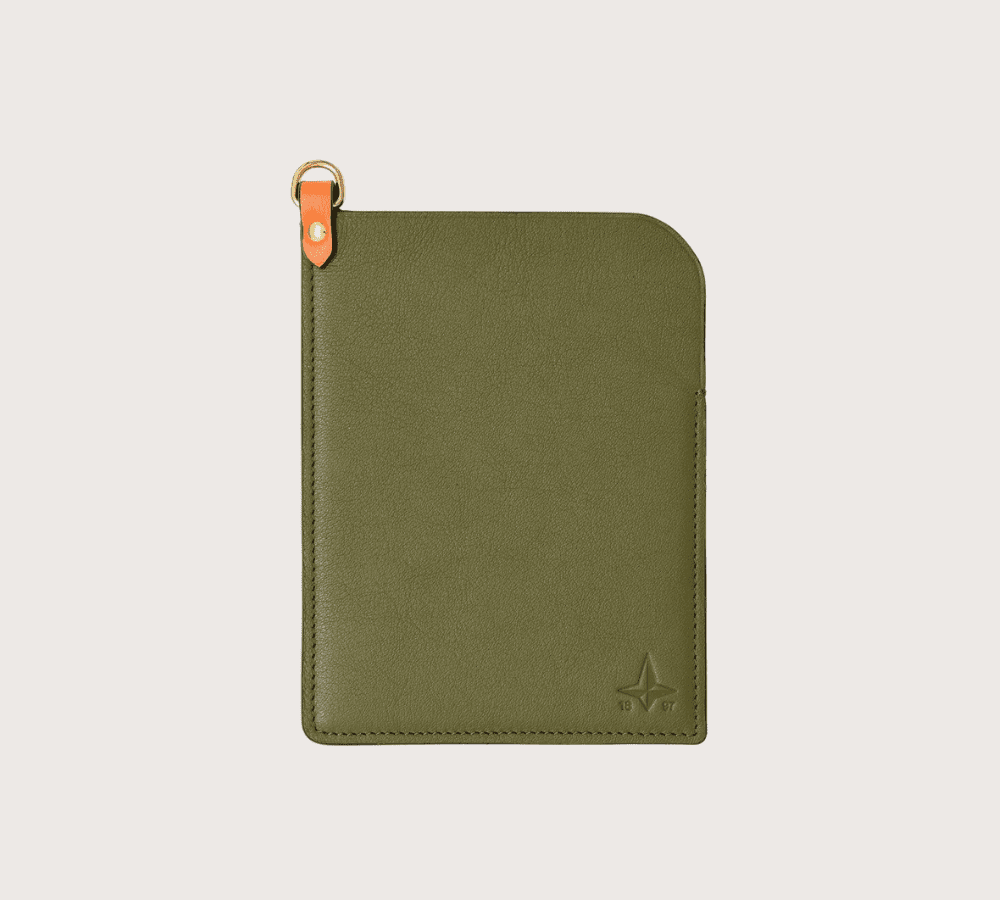 Part of the 1897 leather range, this passport pouch is designed to match the brand's Centenary suitcase designs effortlessly. Handcrafted from high-quality tumbled calf leather, the adornments, like a helpful D-ring, are all nods to the matching luggage. The back is a gorgeous contrast to the khaki-green facade and the perfect home for our passport.
Away The Passport Wallet
This sleek and paired-back design encapsulates Away's approach to modern travel. Simple, but functional, you'll find four card slots nestled inside to keep important documents and travelling accessories safe. Any passport will slip nicely into an exterior pocket and be enveloped in smooth leather.
Maison Margiela Full-Grain Passport Holder
Detailed with signature white stitching, this Italian-made Maison Margiela passport cover is a perfect shade for holidays. They'll be no misplacing your documents with this choice, and it is exquisitely crafted from calf leather—the perfect combination of style and substance.
Rick Owens Passport Wallet
The premium leather passport wallet from Rick Owens offers a distinct alternative to some other items on our list. The curved, stitched design hides 8 card slots in a zipped enclosure. Ample size for your passport and travel paperwork; it is a welcome addition to any long-haul flight.
Maxwell Scott Italian Leather Travel Wallet
Finished off nicely with a popper fastening, this Maxwell Scott passport wallet is crafted from fine full-grain Italian leather. Over time the quality leather will develop a unique patina and become a dependable travel companion for years to come. The only issue will be if you have enough trips planned to show it off.
Maxwell Scott Italian Leather Travel Wallet
This passport holder is designed for the minimalist traveller. The double-thick leather has a minimal aesthetic that hides a myriad of options on the inside. A cash pocket, 8 card slots, and room for a passport ensure you have everything you need for understated boarding.
Sports jacket, suit jacket or blazer, can you tell the difference? Over time, these terms have become intertwined with less of a clear definition. You might not care, of course. And who are we to chastise. If you follow the fundamental principles of creating great outfits, why get bogged down in the details? But, there are always those that seek to expand their sartorial know-how.
For those with a passion for deep diving into menswear and the nuances within, then this is the article for you. We will cover what makes a sports jacket different to its more formal counterparts and how you can introduce one into your outfit rotations.
A Brief History of the Sports Jacket
Legend has it that the Duke of Norfolk created what has become known as the sports jacket for his outdoor sporting pursuits. At that time (the 1860s), this would have been hunting or clay shooting. The jacket's unique construction of pleats and belted waist allowed greater movement whilst outdoors, with thicker materials like tweed protecting from the weather. As it became known, the Norfolk jacket was the founding father of the sports jacket as we know it.
The Norfolk jacket's popularity travelled down the ladder of society. Still with a belt around the waist. This was until the 1920s when men began experimenting with removing the belt and softening the robust outdoorsy fabrics. Without the requirement to evade harsh outdoor weather, men could soften the construction and overall look of the jacket. Thinner fabrics kept that robust textured aesthetic, though the jacket was now lighter.
It was customary for many sporting clubs to have a dress code. With its unique but formal appearance, the sports jacket gave gents a way to bridge this. It offered a way to stay smart without needing a full suit. Even today, many venues require men to wear jackets to attend or dine.
The Difference Between A Sports Jacket & Blazer
We can blame many of today's sartorial misinterpretations surrounding formalwear on brands. A quick search of a label's website will show you lots of listings for blazers or suit jackets but rarely sports jackets. As a result, men assume blazers are sports jackets and vice versa.
The suit jacket can be easily dismissed from this confusion. It is a jacket worn primarily as part of a two-piece or three-piece suit in a matching material.
With the blazer and sports coat, it can become tricky. By definition, a blazer is a formal jacket crafted in a single colour. Occasionally it has stripes or contrasting piping. Its original purpose was to unify a club member or school attendee. Think winners of the Masters in their green blazers or private schools with an adorning school crest on their uniform.
The smaller details of a blazer can also be a giveaway. Contrasting with the blazer's fabrics, mother-of-pearl or brass buttons can be telltale signs. In essence, the blazer nestles in the space between a suit jacket and a sports jacket.
Although the sports jacket has been modernised over time, some clear defining features from the original still appear. Like the use of textured, hard-wearing fabrics. Or the prevalent patterns and checks, all a nod to the alfresco sporting history of the Norfolk jacket.
Summer versions exist, and these will operate with less internal canvas and typically a natural shoulder, absent of padding. Less structure relaxes the overall drape but still shows how versatile this piece can be in a modern man's wardrobe.
How To Style Your Sports Jacket
Business Casual
Sports jackets are inherently more casual than their suited cousins. But, much like how we recommend polo shirts as a formal shirt alternative to pair with a suit, the same can be said for a sports jacket. We can still keep that element of formality through our trouser choices. The overall look is a twist on a business casual approach.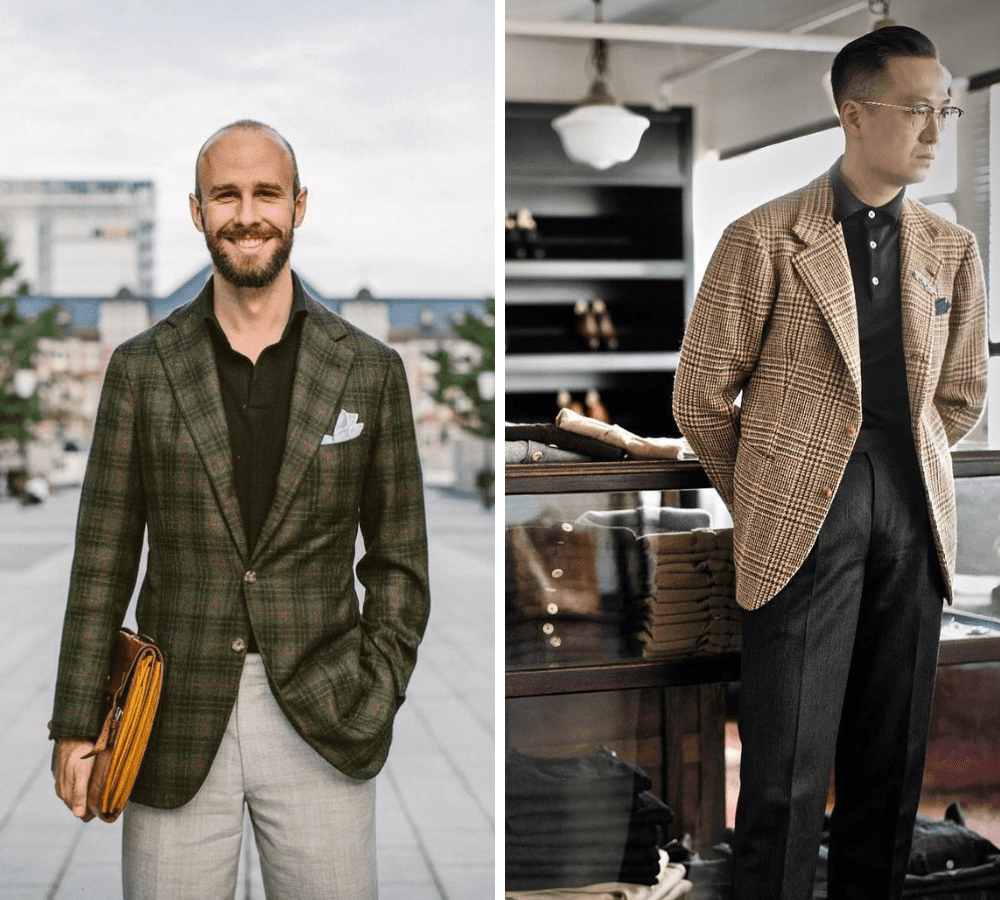 Preppy Style
Why not take the sports coat further down the casual scale by partnering with denim? The Ivy League schools of post-war America embraced the sports jacket, and this preppy style is as recognised today as it was back then. We especially like how the jeans contrast colour and texture to the finished look.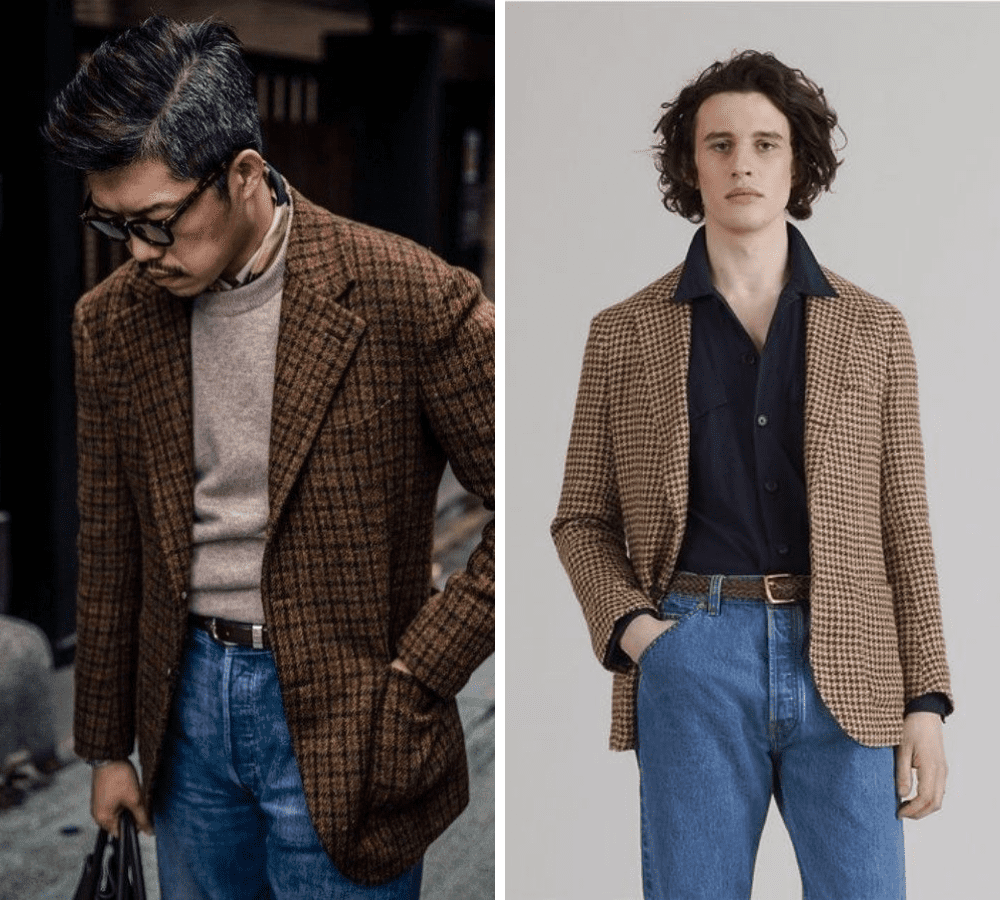 Go Seasonal
Extend the lifecycle of your chosen sports jacket by taking it through seasonal periods by adding layers. Knitwear, either chunky and textured or in super-soft cashmere, plays nicely with the checked pattern of a sports coat. Just remember to keep the knitwear in a solid, neutral colour. We want the jacket to be the hero piece here.
Summer Whites
The sports jacket was made to be worn as part of a formal separate look. The white trouser might be a daring thought for most men, but it works so well with the bold checked pattern found with sports coats. Why let the Italians blaze a stylish path? Pick yourself a pair of white trousers, and show us Brits can wear them with aplomb too.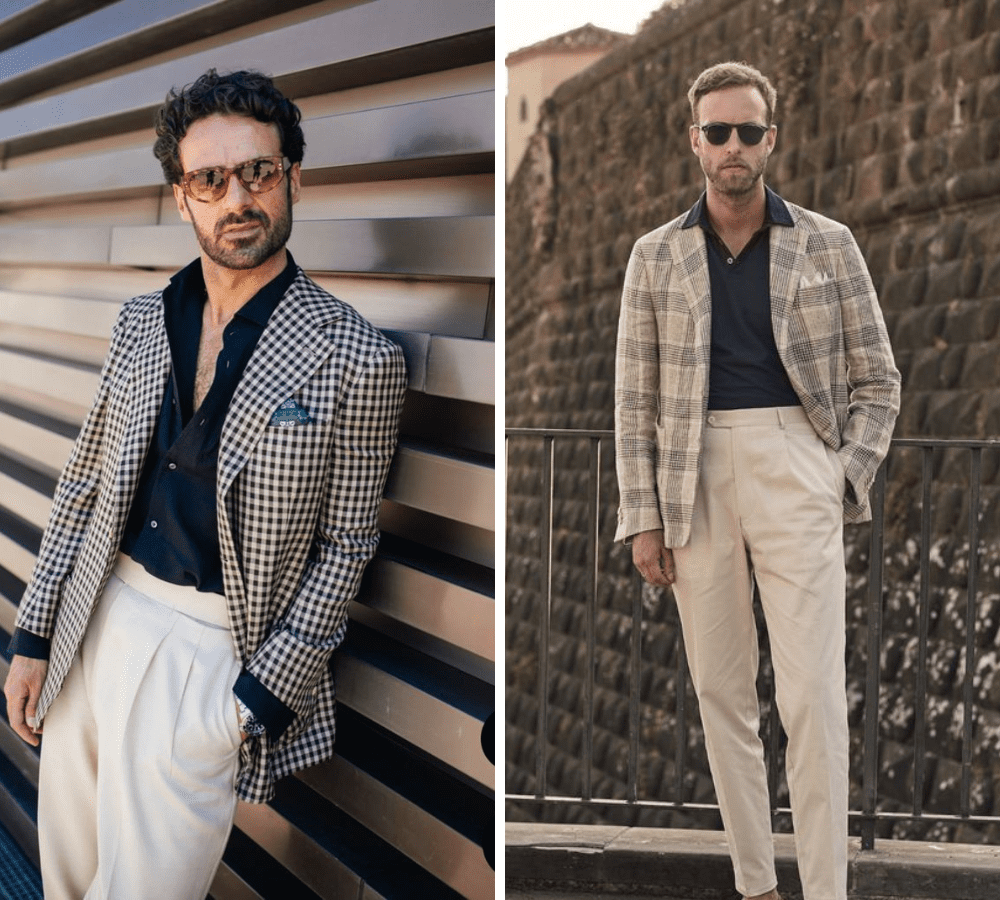 Best Sport Jackets
Hackett Prince Of Wales Jacket
This brand is as British as it comes with all the town-to-country essentials you need. A classic Prince of Wales check adorns a relaxed, single-breasted, unlined construction. The result is a sports coat that is perfect for summer but that can also be layered with knitwear in transitional months without becoming too restrictive.
Suit Supply Houndstooth Jacket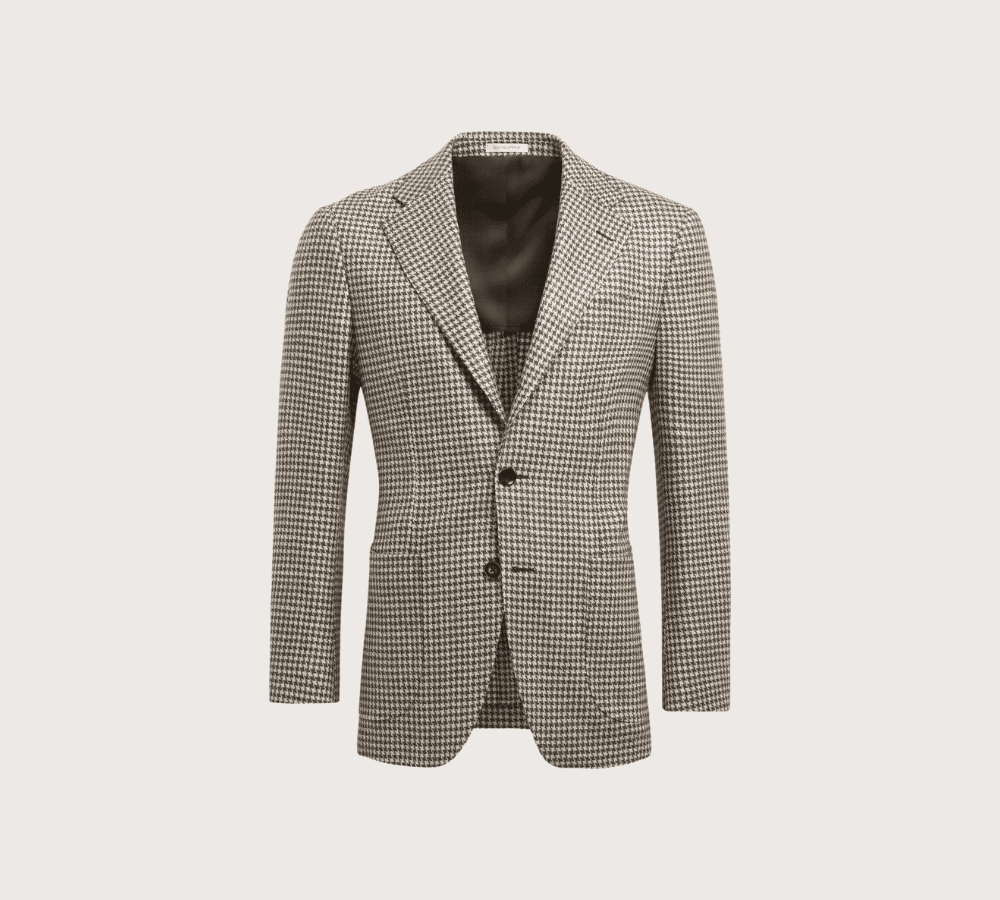 Suit Supply has become the go-to place for modern men who like to break away from stuffy suits. Quality fabrics are crafted into complimenting fits, and this sports jacket features a trademark houndstooth pattern woven in Italy. We like that the colourway is subtle enough to be a versatile addition to any gent's wardrobe.
GANT Sports Jacket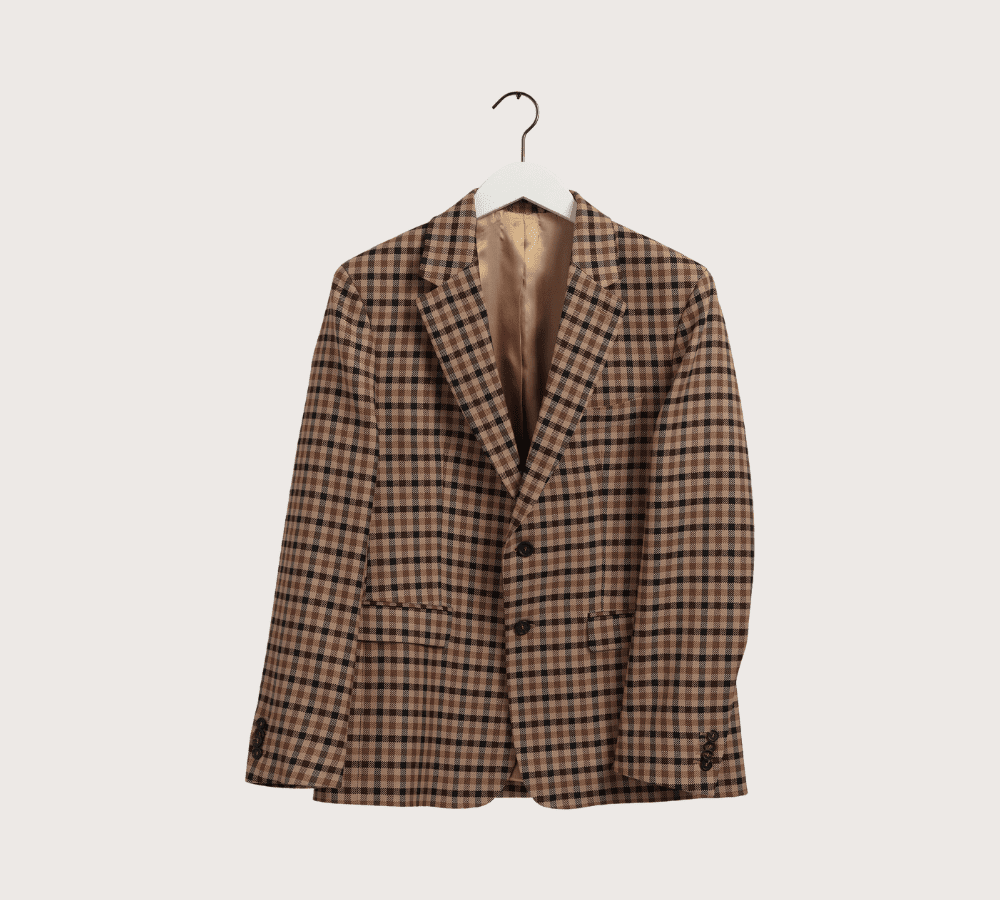 Purveyors of preppy style, it is inevitable that GANT has its take on this exemplary menswear piece. Tailored in an Italian wool blend, the houndstooth pattern in a roasted walnut colour has full-on Ivy-league vibes. Partner with denim and an Oxford button-down to lean further into this look.
Ralph Lauren Sports Coat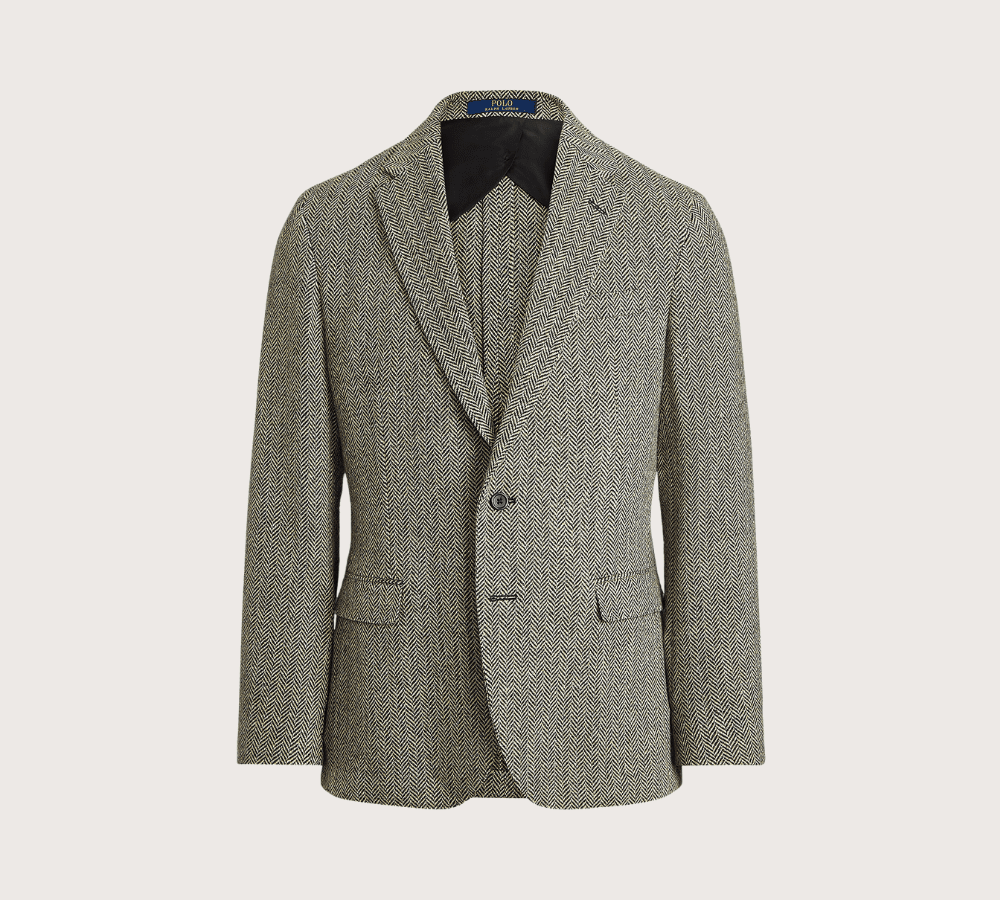 Delivering a modern spin with a relaxed shoulder and half-lined construction, Ralph Lauren is reliable as ever when it comes to men's tailoring. This sports jacket is adept at being partnered with a mix of different menswear items, from flannel formal trousers to a simple sweatshirt.
The devil is in the details regarding men wanting to look their presentable best, from a freshly pressed suit to polished shoes. Everything can affect the overall appearance. So, for any stylish gent who wants his footwear always to look box fresh, it is imperative to invest in shoe trees or "crease protectors".
Our favourite shoes are constantly in rotation, matching our outfits and generally adding a chef's kiss to the look we have put together. Don't let a pair of creased or misshapen brogues bring down your suited ensemble. The aftercare of shoe purchases is crucial and more prevalent the higher the price.
After paying a hefty sum for a pair of handmade Oxfords, we don't want them looking dishevelled a few wears in. Men prolong their lives if they care for every item in their wardrobe. Considering higher prices mean better quality (in most cases), we should start taking note.
One way we can help our shoes to look their best for longer is by using a shoe. tree. This nifty tool extends to the shape and length of your shoe and helps prevent creases from appearing. Additionally, if you pick a wood version, a shoe tree can absorb the moisture built-up over a day of use. Keeping things fresh.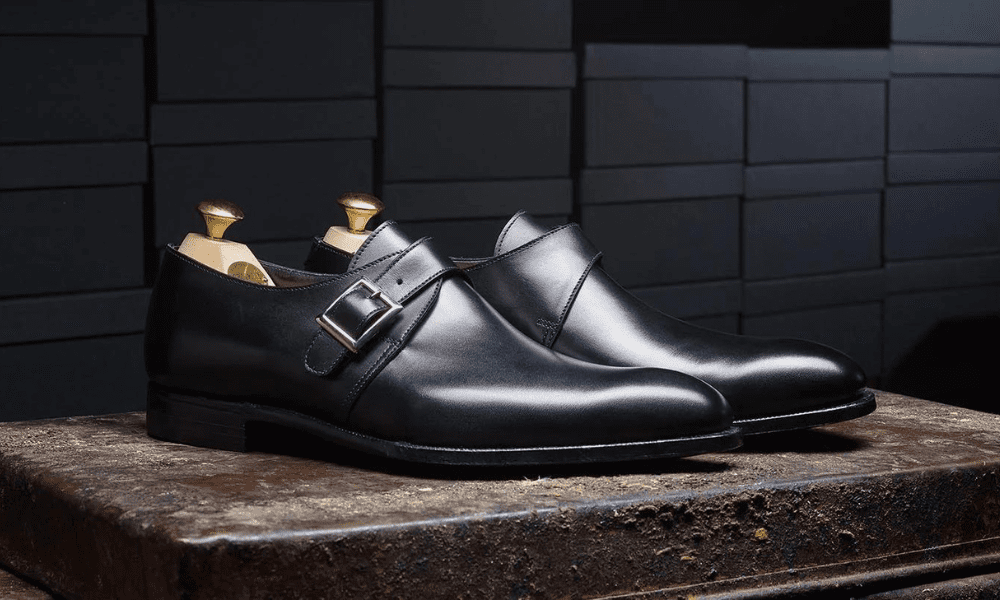 How To Use A Shoe Tree
By using a shoe tree, you are maintaining the shoe's original shape, which will go some way to prevent and iron out any creases. The more we wear our footwear, the softer and more supple the material becomes. When this happens, creases start to appear. This will occur with cheaper shoes quicker, but it is inevitable over time, no matter the price you have paid.
After you have finished wearing your shoes, gently slide your shoe tree in. This action post-wear ensures we keep the shape by not allowing the leather to distort or retract.
Keep your shoe tree nicely tucked inside your sneakers or formal footwear until you are ready to use them again. With this in mind, it is recommended to have a selection of crease protectors to choose from.
What Material Should A Shoe Tree Be?
You can get hold of shoe trees in a few different materials. But we would always suggest wood versions if your budget allows it. The wetter conditions in Britain aren't pleasing for leather, and with wood, we get that extra attribute of moisture absorption.
Plastic crease protectors will do a notable job of keeping the shape of any footwear we have. We prefer the odour-preventing and moisture-sucking properties that wood, distinctly cedar, offers.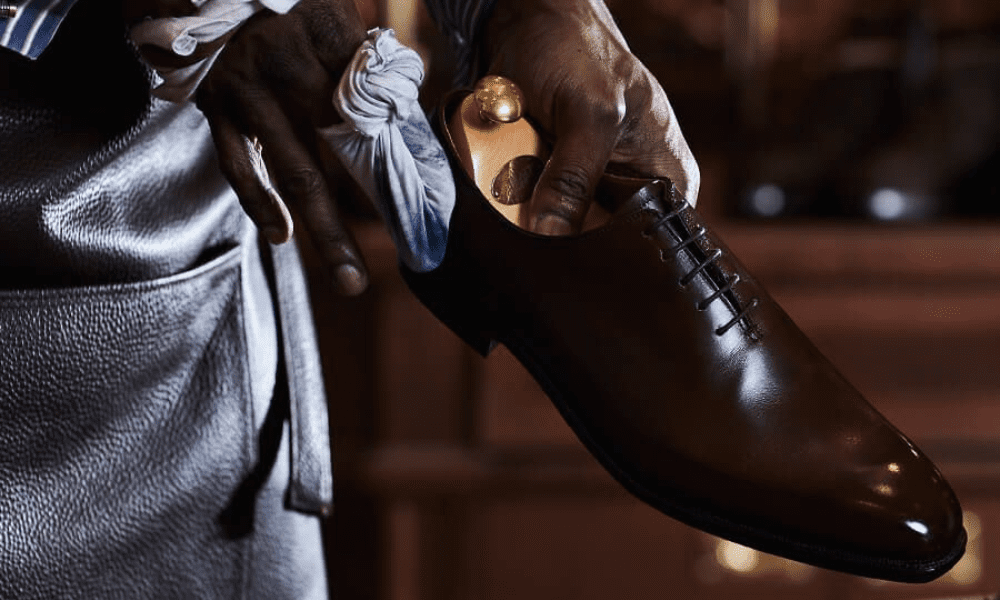 What Shoes Need Crease Protectors?
The obvious choice is always to use a shoe tree with formal leather shoes. As you can imagine, they come with a greater price tag, urging us to take preeminent care. Though, we shouldn't overlook trainers. A good calf leather pair of trainers aren't cheap, and this elevated material is as susceptible to creases as your favourite brogues.
If space or price is a problem, why not rotate? The most important time for deterioration is within the first 24 hours. After this, why not switch the shoe tree to a different pair of footwear? That way, you have given more options greater chance of staying fresh.
One often overlooked factor that shoe trees offer is that they are crucial when cleaning—maintaining the shape of shoes when cleaning or polishing is tricky. We typically stick a hand in and hope for the best. Crease protectors will keep the contours of the shoe, enabling us to get a better finish.
Best Shoe Trees For Men
CHEANEY Men's Pine Wood Shoe Tree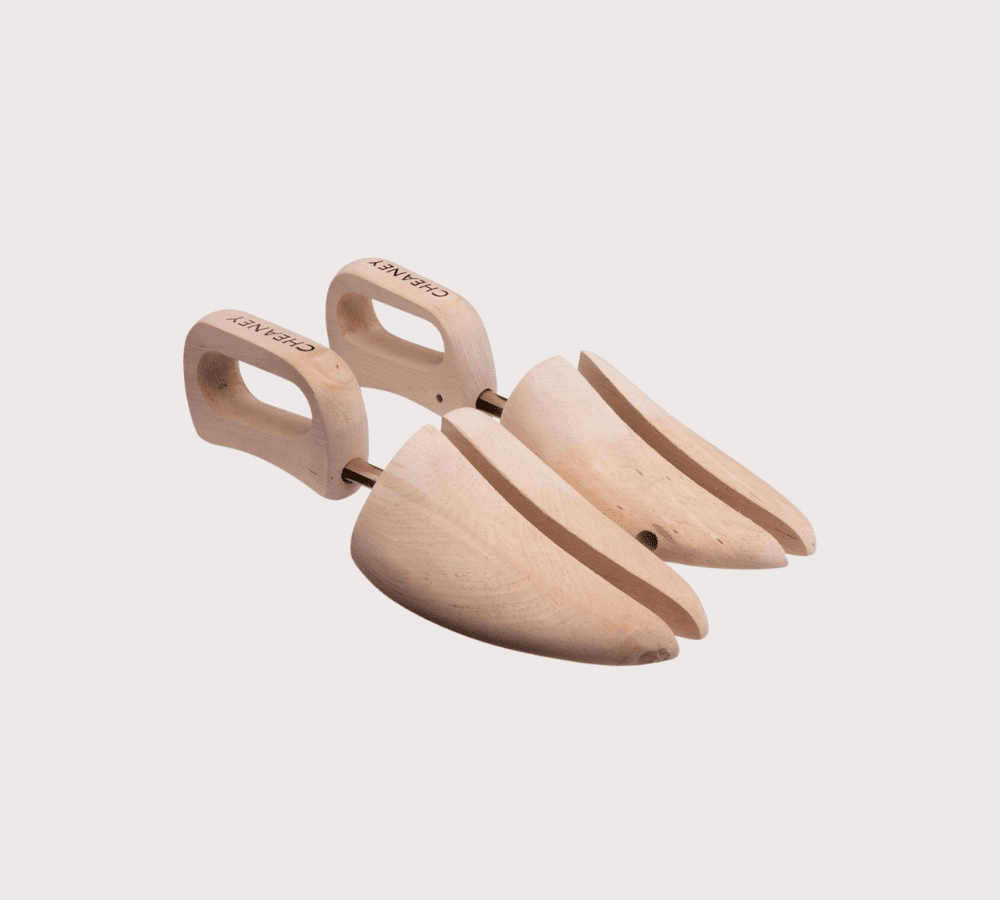 This pair of shoe trees from footwear gentry Joseph Cheaney showcases that even the most prestigious brands want you to look after your shoes properly. Manufactured from pine wood, the additional handles make getting them in and out of your shoes easier.
LOAKE Cedar Shoe Trees
Another footwear stalwart, Loake, has opted for cedar wood with its shoe trees. Like their shoes, these crease protectors are manufactured in England and will be dependable wardrobe essentials for years to come.
BRUNELLO CUCINELLI Wooden Shoe Trees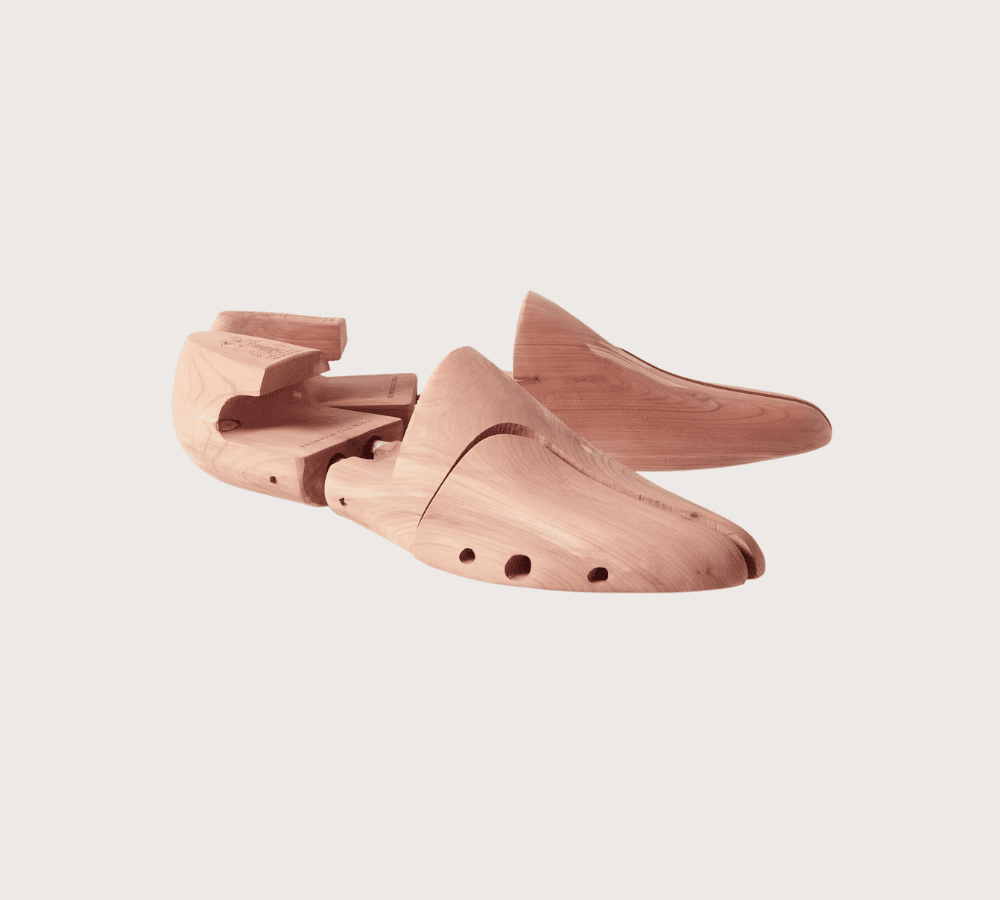 Made from beech wood reinforced with metal for sturdiness. These are a luxury pick from Brunello Cucinelli. As you expect from the eponymous Italian brand, these shoe trees are crafted from the best materials and are built to last.
JONES BOOTMAKER Diplomat Wooden Shoe Tree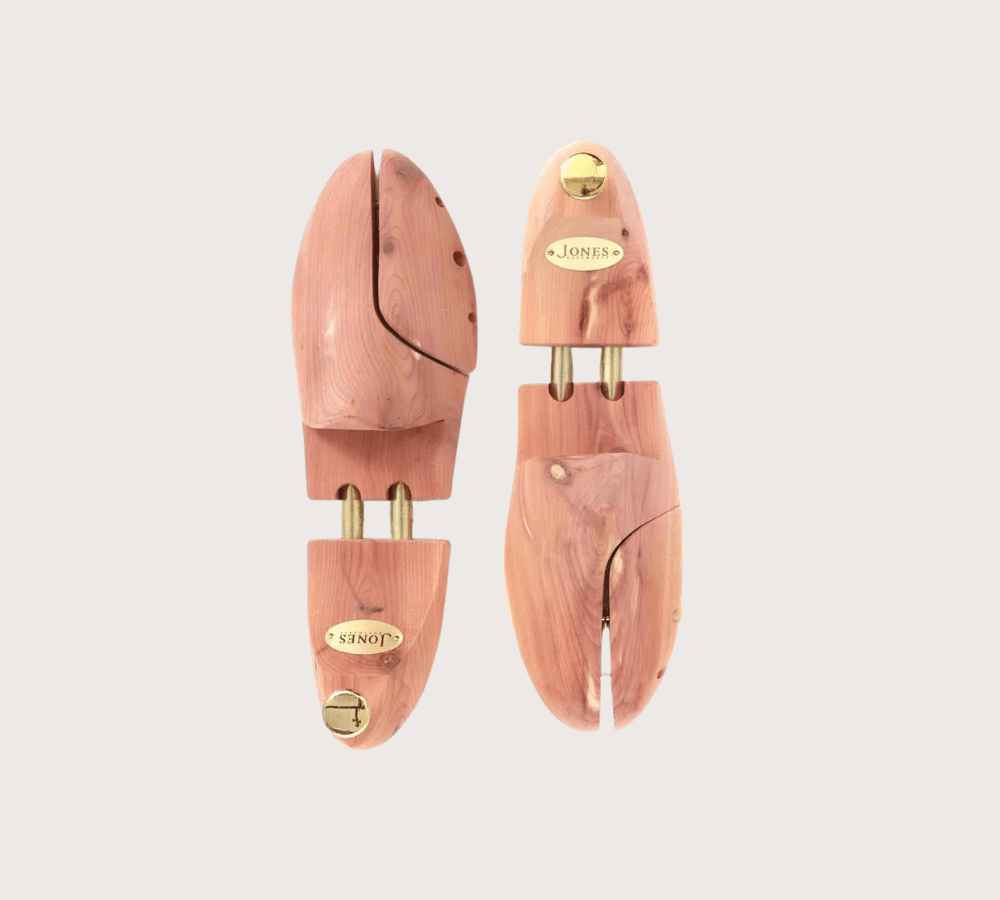 Jones Bootmaker has created a trustworthy pair of shoe trees that are finished with polished wood to help absorb moisture. They might not be famed for the most luxurious footwear, but the brand is still coming up trumps with its aftercare products.
SHOE SNOB Plastic Travel Shoe Trees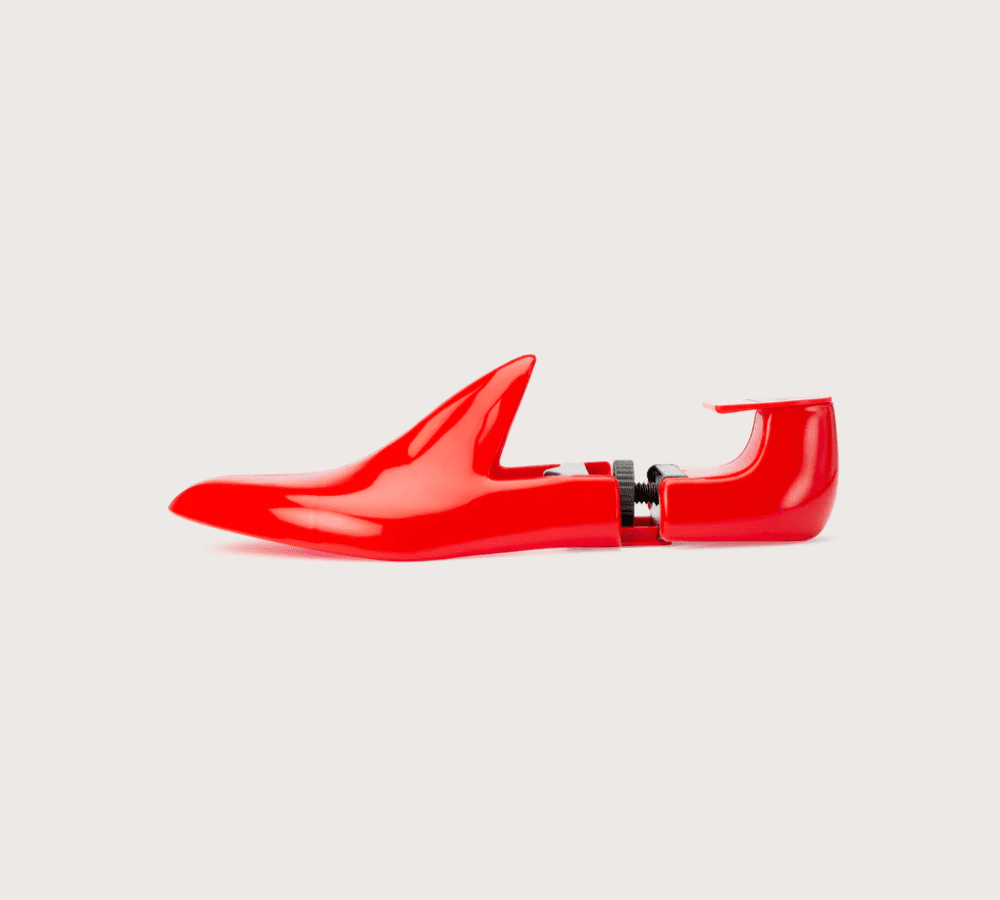 Suppose you are a man that often travels, such as for work. Then you don't always want to exceed weight restrictions with wooden shoe trees. Opt for a plastic alternative like this from Shoe Snob. The lightweight construction means guys no longer need to sacrifice the well-being of their shoes when on the road.
The men's peacoat has been flying under the menswear radar over recent years. After earning its spurs as the fisherman's final protective layer against the harsh elements, it hit fashion prominence for men during the 70s. Who can forget the ever-debonair Robert Redford in the spy thriller 'Three Days of The Condor'. Though, another spy showed how enduring this style is. Daniel Craig wore his Billy Reid version to aplomb in 'Skyfall' years later.
Why You Need A Men's Peacoat
The timeless silhouette of the peacoat is what makes it so appealing. Largely untouched since its inception, the waist-length finish and large lapels make it distinctive but contemporary.
Because of its cropped nature, the coat exudes a smarter aesthetic. While the shorter length also makes it ideal for wearing when driving or travelling.
Big, solid lapels are a welcome deflection turned up against biting winds, especially if we pick a peacoat crafted from thick wool as nature intended. This hearty material kept sailors warm at sea, so modern land living shouldn't be an issue. In addition, wool helps keep the peacoat's structure, nipping in the waist and keeping that uniform silhouette.
What To Wear With Your Peacoat
The working class man adopted the peacoat, like much military-inspired clothing. Its robust nature and shorter style made it ideal when working outside. So, it was used by dock workers and construction workers who needed dependable, hard-wearing outerwear. As such, the coat lends itself well to this aesthetic. Think jeans and chunky knits topped off with thick-soled boots.
Looking at its military history, men can see formal uniforms worn beneath a peacoat, making the coat adept at being partnered with smarter clothing. However, it probably needs to be without a suit jacket. In this case, keep the formal trousers but switch the jacket and shirt for a roll neck or statement knit.
Whichever way you wear it, the peacoat is versatile and dependable. So to make it easier to get your hands on this great menswear piece, we have pulled together our list of the best peacoats for 2023.
Reiss Cork Peacoat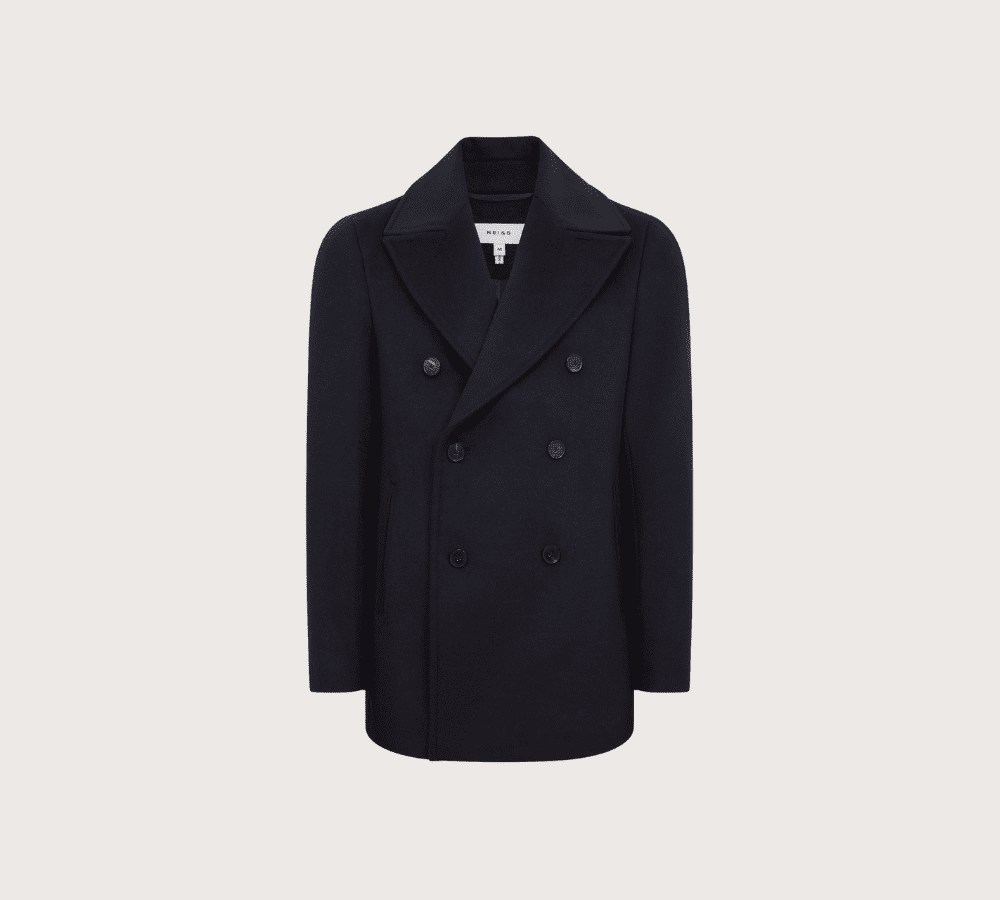 This double-breasted navy peacoat from Reiss has all the paired-back tailored silhouette we expect from the brand. Big, wide lapels are in-your-face eye-catching, just the way they should be. While the lack of additional details on the front only enhances the smart figuration.
Schott NYC Melton Wool Peacoat
Schott might be more familiar to some as producers of high-quality leather jackets, but there are more strings to their bow. We applaud this naval-inspired peacoat manufactured from a 32oz Melton wool blend. A quilted lining is just the ticket in biting cold winds, while the vintage feel is great for pairing with a pair of selvedge jeans. Note the nod to the peacoat's heritage with accompanying anchor buttons.
Turnbull & Asser Redford Peacoat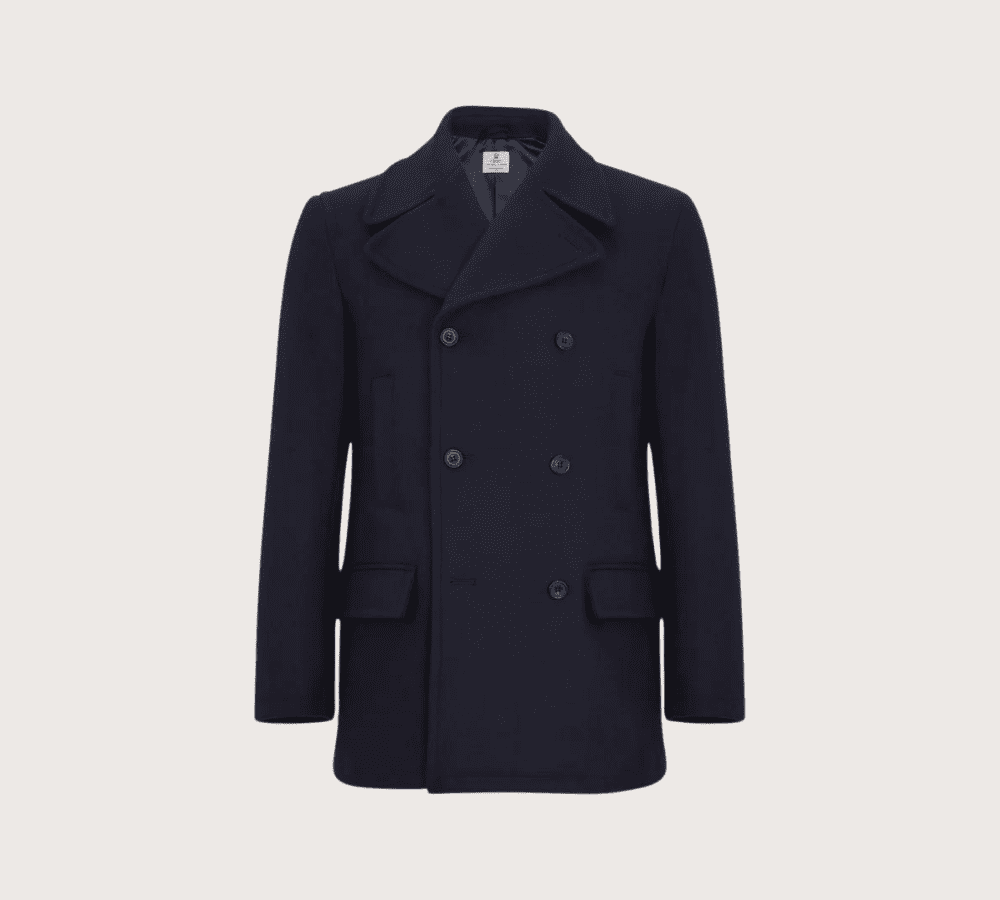 Weighing in with a hefty price tag, this Turnbull & Asser pick isn't for the faint-hearted. For those who can afford it, you'll get a coat crafted from pure lambswool for a super-soft touch. A fully lined construction provides extra warmth with an overall tailored silhouette dovetailing nicely with your formalwear of choice.
Billy Reid Bond Peacoat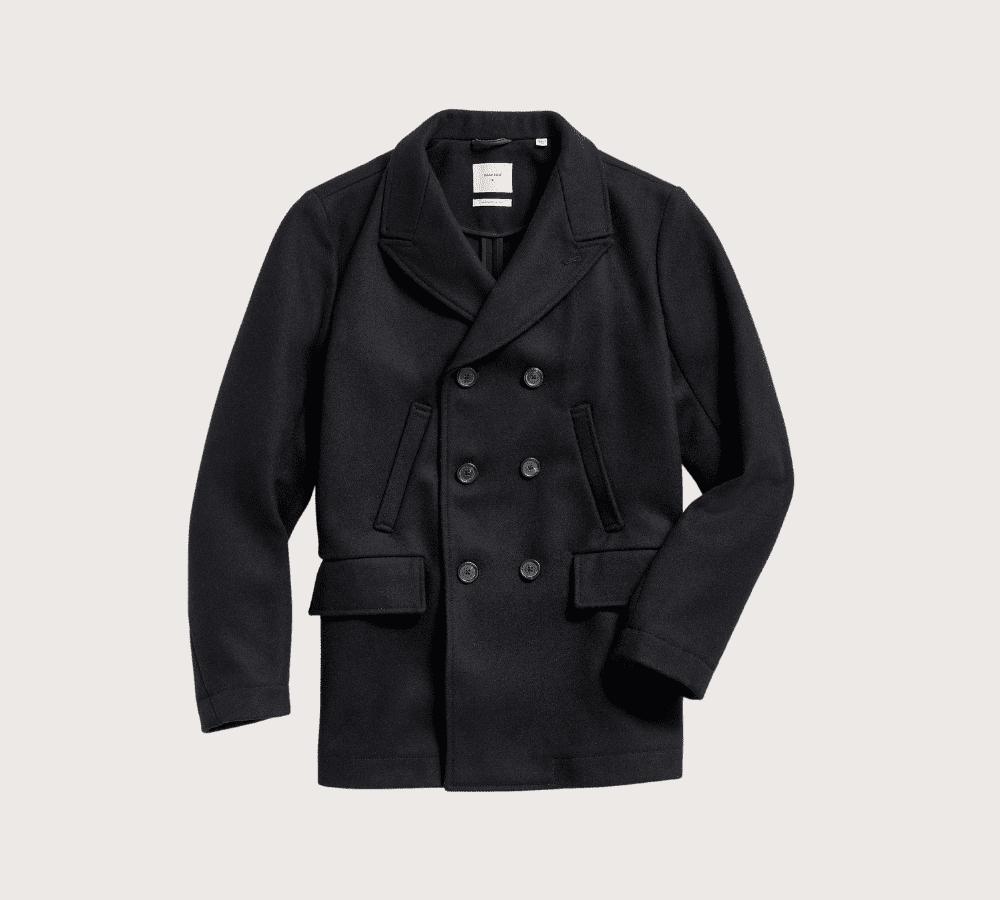 The original Billy Reid peacoat was created two decades ago and named after the street in London, not the spy. Ironically, the latter (Daniel Craig in Skyfall) brought global wide attraction to this iconic piece and the brand itself. Made in Italy from sturdy Melton wool, it is as classic as they come.
Suit Supply Men's Navy Wool Peacoat
Wool is the natural choice for peacoats due to its warmth and durability. This Suit Supply coat is made from 100% wool, and we think you will appreciate the adjustable back belt. The turned cuff on the sleeve gives us 'sprezzatura' vibes which only adds to this elevated classic.
Mackintosh Wool and Cashmere-Blend Peacoat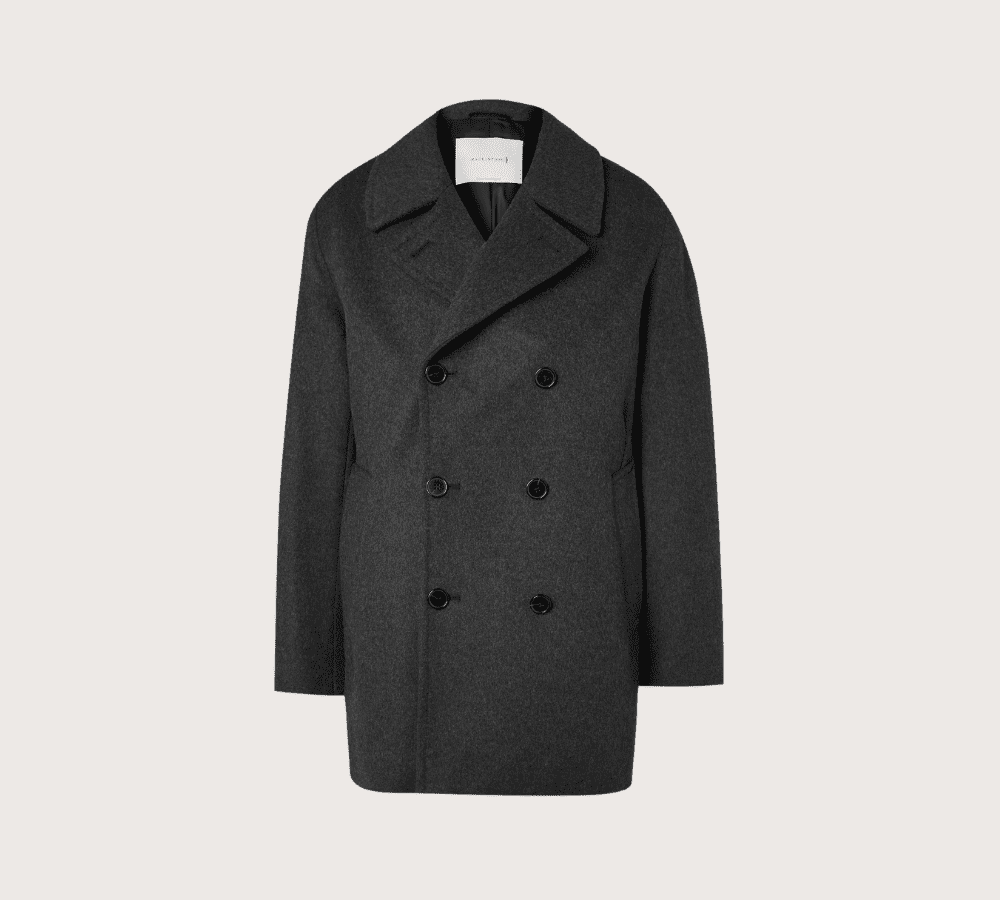 Mackintosh might be more famed for their trenches. But, they know how to turn their expert hand to various outerwear, with all the luxury and class you would expect from the brand. This wool-cashmere blend coat features structured shoulders and wide lapels. Elegance personified.
Private White VC 'The Peacoat'
As the name might suggest, Private White VC know a thing or two about the history of military menswear. The peacoat was adopted by the US and British military in the 20th century and it has created a core piece in this brand's range of coats. Big kudos to the brand's use of a robust 30oz Melton wool woven in England. The overall silhouette is smart but modern.
Rag & Bone Men's Navy peacoat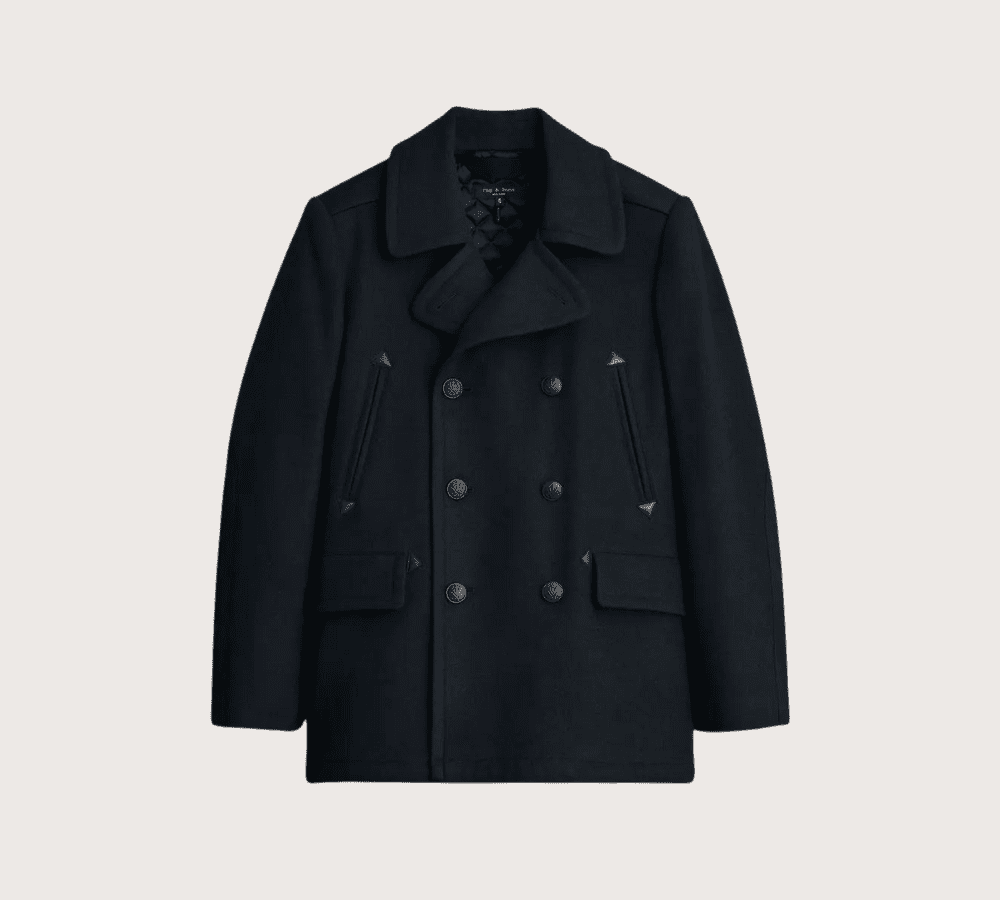 Fine margins can make a big difference in menswear. The men's peacoat has added details of back yokes and elbow patches crafted from a British Mellerin wax combo for a nice touch. On the inside is a warming cupro lining, and the exterior is 100% wool. Additional flap pockets on the front add interest and draw the eye.
Paul Smith Wool Cashmere Peacoat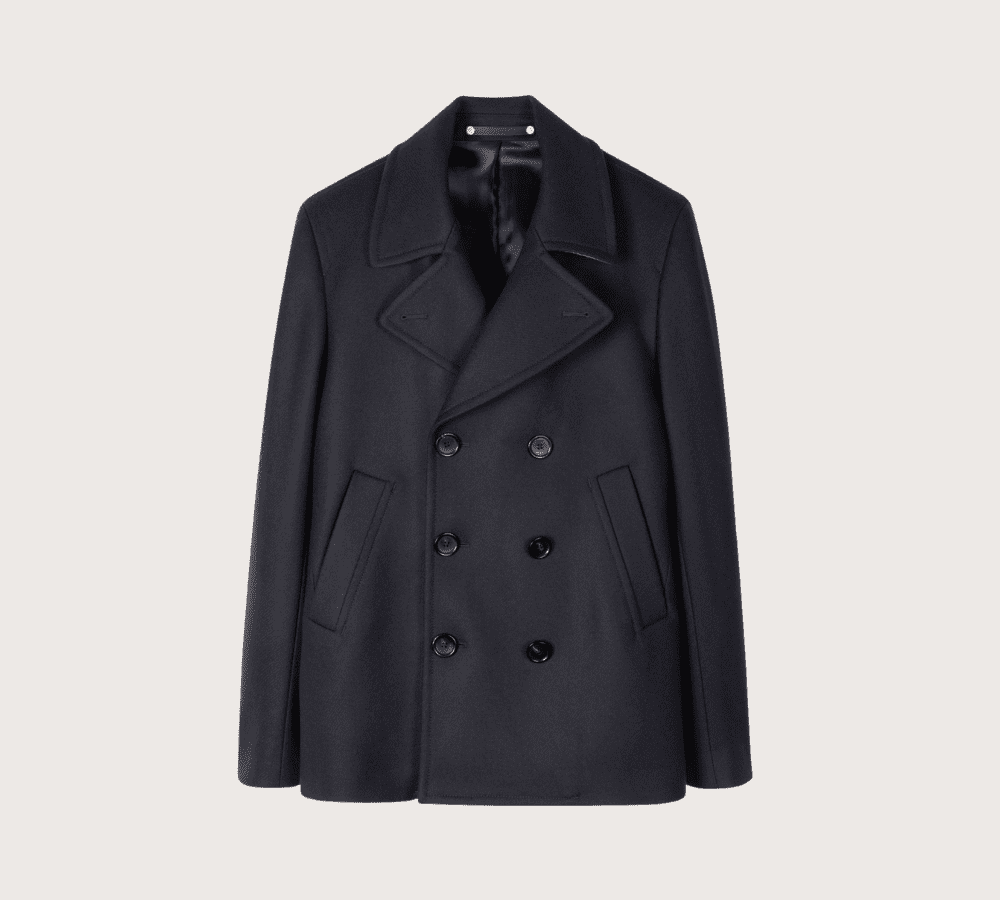 As we have come to expect from this British brand, there is always a slight twist on the classics. Poking out from under the lapels is a subtle dash of tonal orange colour to add some additional interest. Manufactured in Portugal from a luxurious wool-cashmere blend, this is a fresh approach to an endearing style.
Ralph Lauren Melton wool Peacoat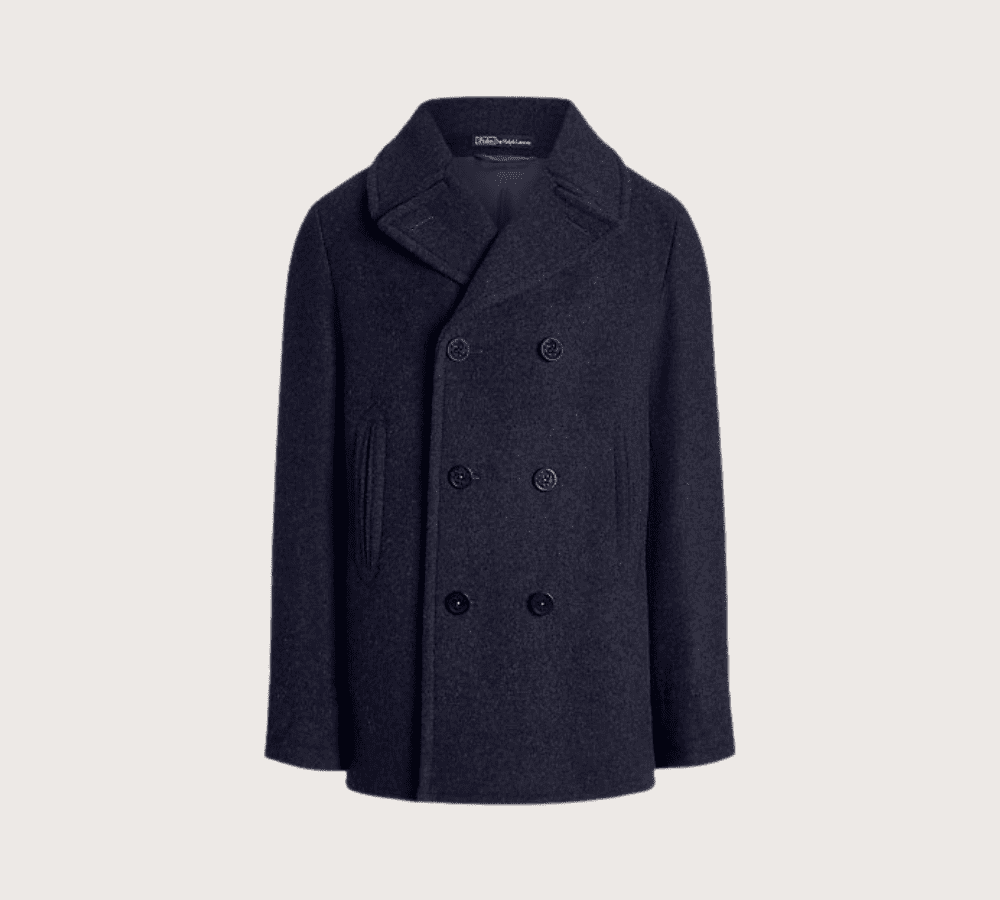 Hitting all the right notes, this peacoat from Ralph Lauren will make you want to embark on a naval voyage in no time. Solid construction is critical for showcasing this Melton Italian wool the correct way. The brand does this and adds a fully lined interior to increase the wearability value of this piece. For us, this is a snip at its current price point.
The post-purchase costs of buying quality menswear can be eye-watering, from dry cleaners bills to the cobblers. There are expenses at every corner. Though, if we take better care of the items we buy, we can help to alleviate some of these. Prolonging the life of your treasured garments while keeping them presentable by using a clothes brush is one way to do it. This humble tool gives a deeper, more effective clean than a lint roller. Thus, removing dust and debris that negates the need to visit the dry cleaners.
Using a clothes brush effectively on your favourite suit takes a few minutes. And yes, this is an additional step before you step out the door or put the suit back in the evening. But, it can be invaluable care when compared to dry cleaners. No matter how eco-friendly a dry cleaner claims, chemicals are still at play. These chemicals will reduce a wool suit's colour vibrancy and fabric structure. An extra couple of minutes of clothes brushing doesn't sound too much to protect your wallet and garments.
What Is A Clothes Brush?
Crafted with natural or synthetic bristles, the clothes brush or "suit brush" typically has a wooden handle. Similar to something you might find in a shoe shine kit.
Natural fibres like boar or horse hair are the optimum choice. They have a greater bristle movement resulting in a softer brush than a synthetic bristle alternative. We aren't doing the washing up here. Our tools should be gentle but effective. Boar and horse hair also have antibacterial qualities that help keep your clothing cleaner and fresher in between washes by inhibiting bacteria growth.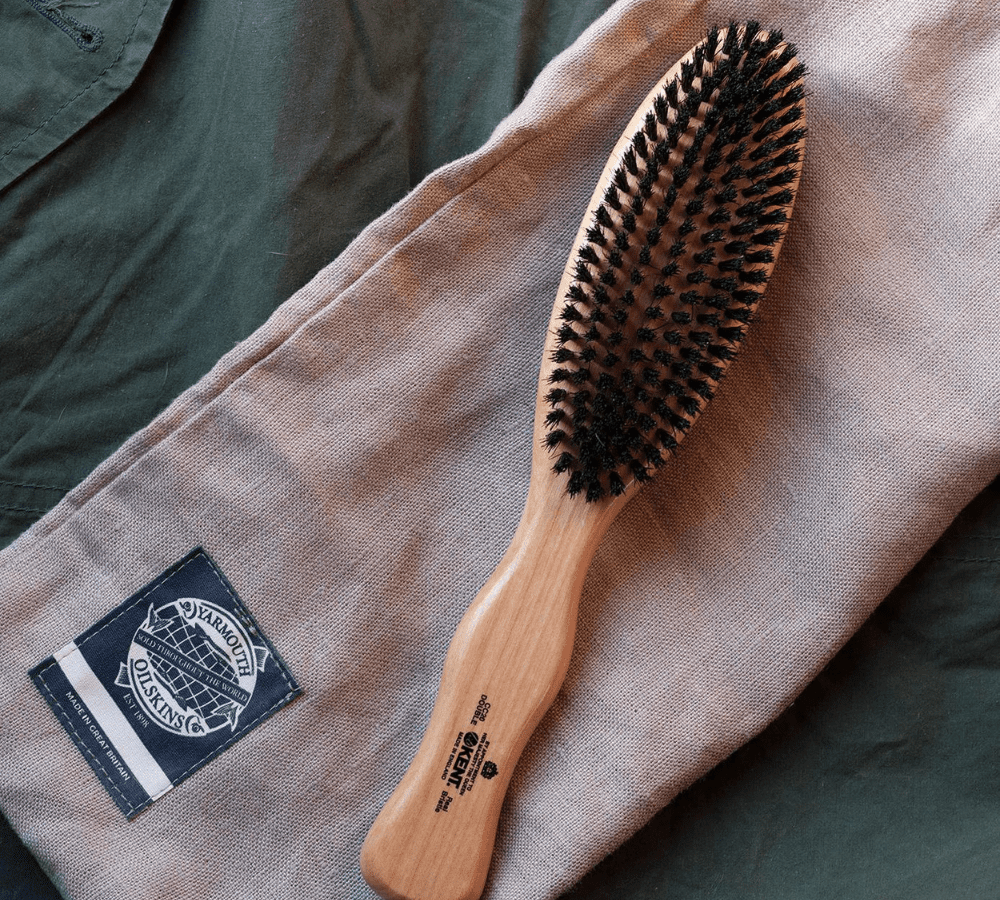 Remember, better quality clothing can be expensive. Spending a little more on a natural bristle brush will ensure it last longer while offering greater protection to your garments. Well-made metal rivets won't rust over time, and a solid wood handle is less likely to splinter. Combined, we are getting more bang for our buck while delivering a superior clean.
A clothes brush is adept at being used on a variety of fabrics. However, should you have anything velvet or notably delicate, it might be better to seek a product specifically for this material to avoid being too abrasive.
Brushing A Suit
Unless you are lucky enough to have a butler, you must learn the steps below to brush your suit efficiently. The technique of using a clothes brush is on par with the quality of the one you buy. Any bad methods will damage clothing even if you have chosen a superior brush.
A flat surface, like a table, is an ideal backdrop for your jacket. Keep the garment unbuttoned and brush with a firm sweeping motion against the lie of the fabric to remove any dust. Then brush with the nap (the lie) of the fabric to finish. If you don't, the material will appear ruffled when the light catches it. For suit jackets and outerwear, we want to start underneath the lapels before moving on top and working outwards from here.
On trousers, turn down any cuff as a lot of dirt collects in them. Then, like with the jacket we brush against, before going with the lie. Begin with the waist of the trousers and work your way down.
For any deep marks, short, quick strokes should be adequate. While a damp brush dipped in a little water can eliminate particularly severe layers of dust on both the jacket and trousers.
When To Brush Your Suit
Regular maintenance and care of suits or blazers only require a little brushing before and after you wear them. If gents keep on top of this activity, we should only need to put our suits into a dry cleaner once or twice a year.
Introduce this small act into your morning and evening routine. It might take a little longer at the beginning while you learn the ropes. Subsequently, it will become a swift, measured operation that will take minutes.
Best Clothes Brushes
Clothes Doctor Natural Bristle Brush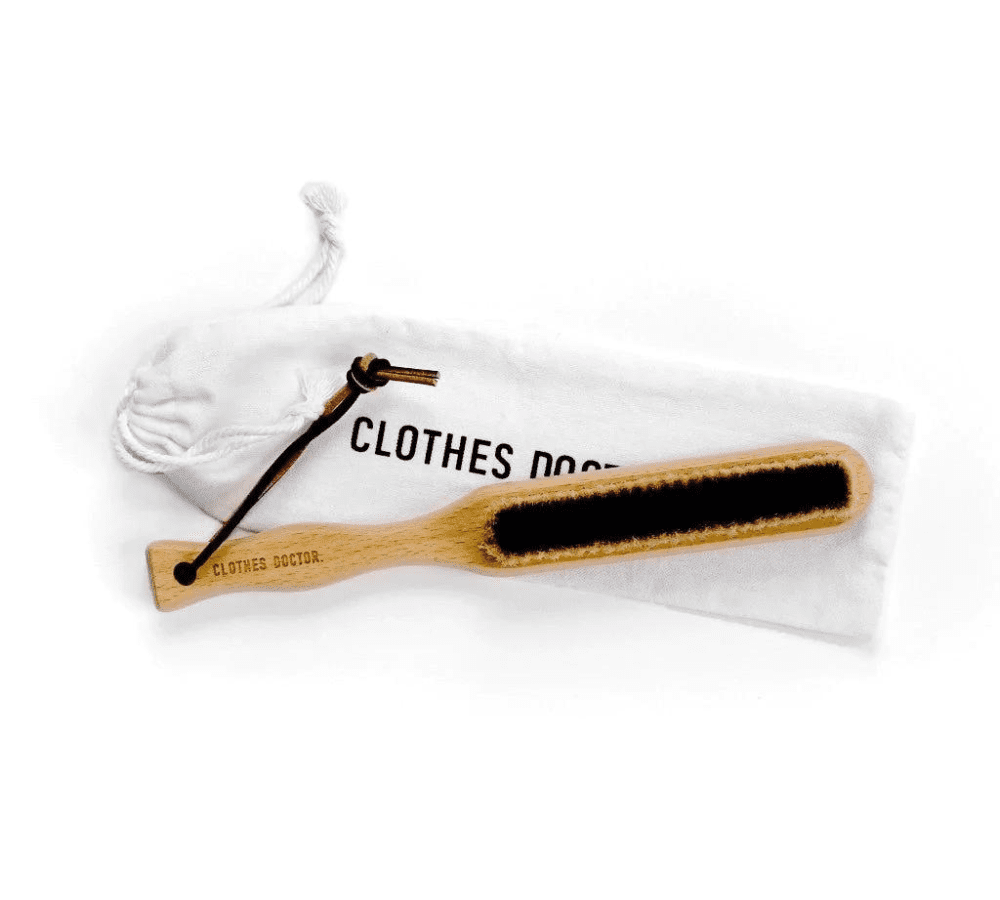 This clothes brush from the experts in home laundry; Clothes Doctor is handcrafted from beechwood. The natural bristles are hardwearing but supple enough not to damage your suits. It is a clothes brush men can rely on for years to come.
Steamery Pocket Brush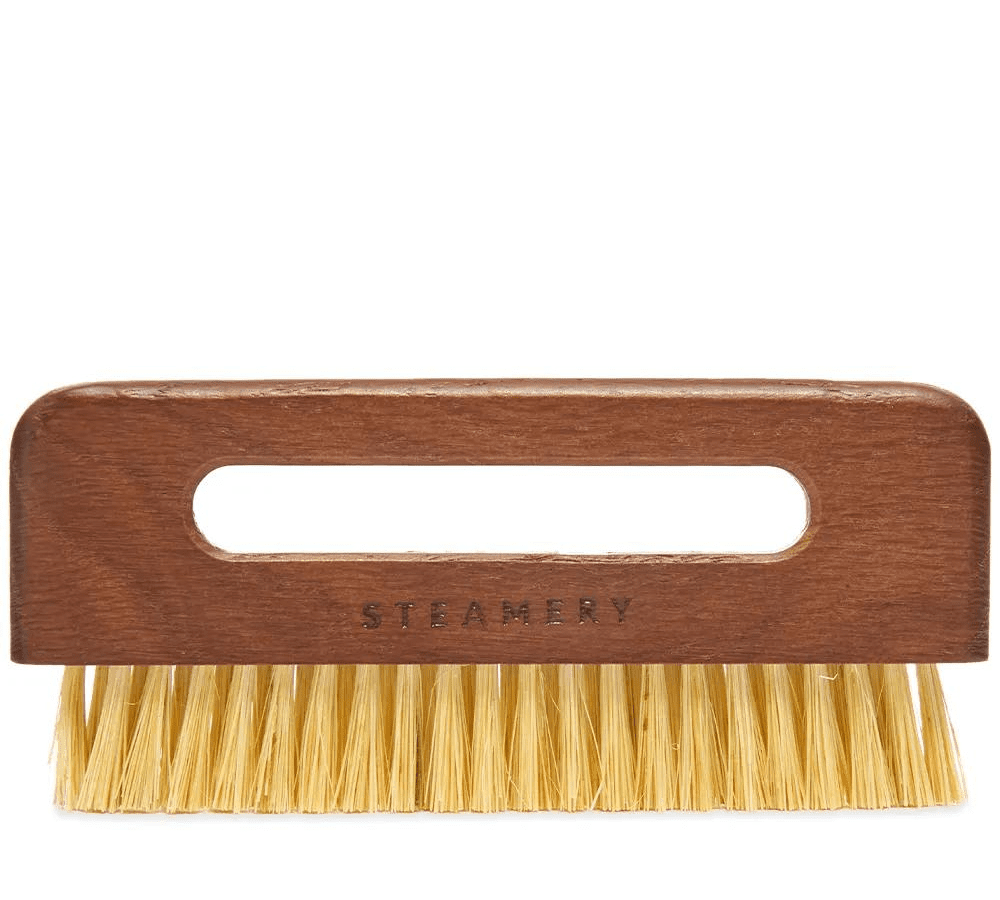 You still want to look your dapper best when travelling, but there isn't always space to take all your sartorial odds and end. This handy Steamery travel brush is ideal for storing in your luggage and is made from sturdy oak with sisal bristles. Small in diameter, it will still do a great job of removing dirt and dust from your holiday wares.
Steamery Pocket Brush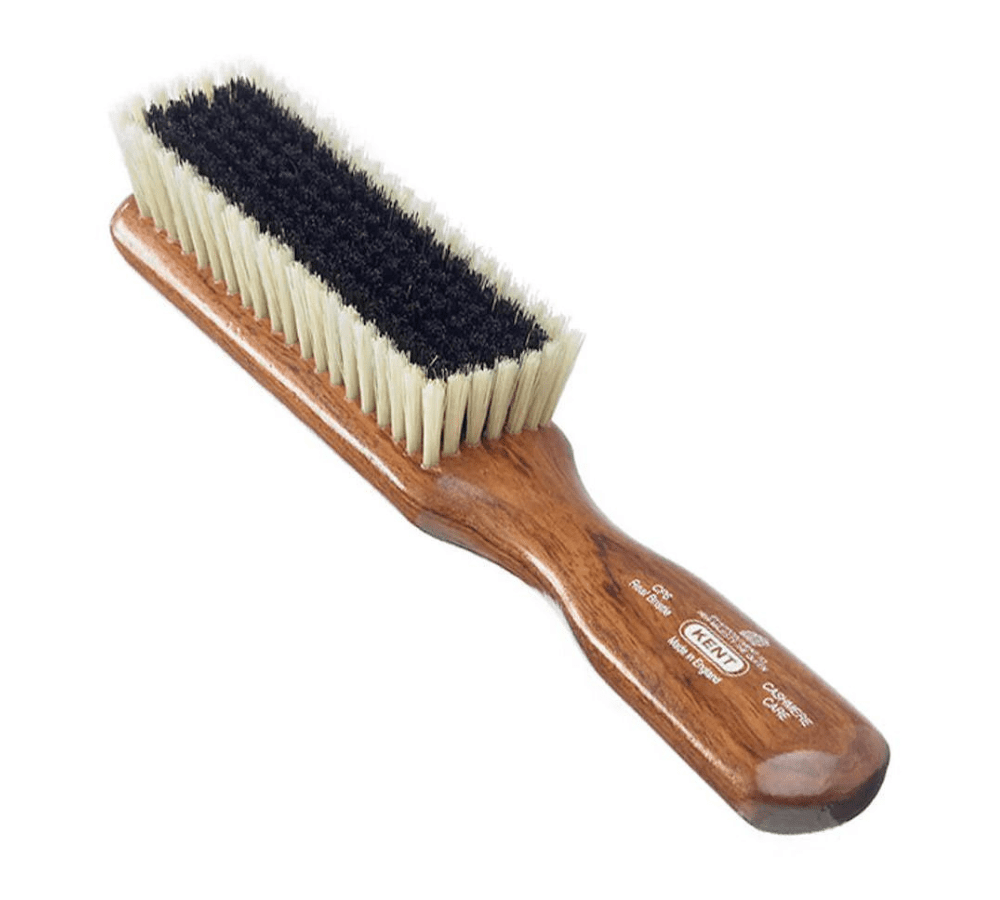 As we mentioned earlier in this article, some materials will benefit from a tool tailored to their makeup. This cashmere brush from Kent is that kind of product. It is specifically designed for this fabric, along with wool and silk. The black and white bristles are perfect for more delicate materials, and you can rely on the grandaddy of clothes brushes, Kent, for quality craftsmanship.