A more versatile version of the traditional black suit. The grey suit should be integral to any man's tailored wardrobe. Adept at being broken down into separates or worn as god intended, it is a versatile weapon in helping you always look your best.
What we love about this suit is it has a timeless demeanour, which can absorb many patterns and colours both within its cloth (pinstripe, herringbone etc) and in the accessories you choose to partner with it. Where black leaves little room for experimentation, grey in its different hues can allow men to diversify shirt colour and tie design. Resulting in giving us a lot more options. Ideal if you have a limited budget and need your suits to do a lot of heavy lifting.
However, some styling tips remain when planning to wear a grey suit.
Grey suit styling considerations
Suit Patterns
The grey suit is definitely not afraid of embracing a bit of pattern. Men will find this suit in windowpane, pinstripe, herringbone and houndstooth, among many others. The choice can sometimes be overwhelming. In this case, try to stay within your comfort zone and nail that before introducing patterns you might not be familiar with. We want a grey suit to integrate with your current wardrobe, and if you aren't a 'pattern man', you might struggle to find accessories that look good with one.
Suit Colour
Light grey will give you the longest lifespan for wearing this colour suit throughout the seasons. Opt for a blue or white shirt as is, or give it a contemporary feel by swapping the shirt for a knitted polo or roll neck. Both will create a different vibe to your formal look but give us welcome options in summer or winter. A lighter hue of grey will also allow men to test different footwear. Whereas darker grey lends itself to black or dark brown, a light grey version means trainers or suede loafers become an opportunity.
Dark grey is more formal in its appearance, making it a great choice for business meetings while delivering a better aesthetic in cold-weather dressing. The darker tone is a natural backdrop to the deeper, earthier tones we see at that time of year. Should you want to extend the life of this colour suit, we recommend breaking it into separates and mixing the dark trousers with an alternative colour jacket. Try, for example, partnering the trousers with a field jacket for a smart casual look.
Accessories
What accessories a man chooses to wear with his grey suit depends mainly on the pattern. Patterned suits such as pinstripe cloth can work harmoniously with a polka dot tie. But it can be tricky to get the balance right. If in doubt, choose a single-block tie or pocket square as a safe option.
If your suit has no pattern to it, then take that as a chance to inject colour and interest. Just remember that the pocket square and tie should complement, not match. And your belt should nearly always be black. A brown belt in the wrong tone can be jarring if not executed correctly. Black is a nice fallback, and the colour works nicely with grey for accessories like a belt or shoes.
Top tips for wearing a grey suit
A plain formal white or blue shirt is an all-season choice.
In summer, introduce pastel colours for an update on your shirt options.
Your shirt should always be lighter than your tie.
Black shoes are preferred, but dark brown or burgundy can look good.
Don't ignore your watch as a key accessory.
Pocket squares and ties should complement, not match exactly.
Grey suit inspiration
Now you have decided on a grey suit for your desired event or as part of your tailored work rotations. To give you some inspiration on how to wear it and what to wear with it, below is a group of some of the most stylish images we could find. A multitude of well-dressed men that we can look to for notes on dressing better. From timeless, classic looks to a modern twist, there is something for every guy in the list below. Enjoy!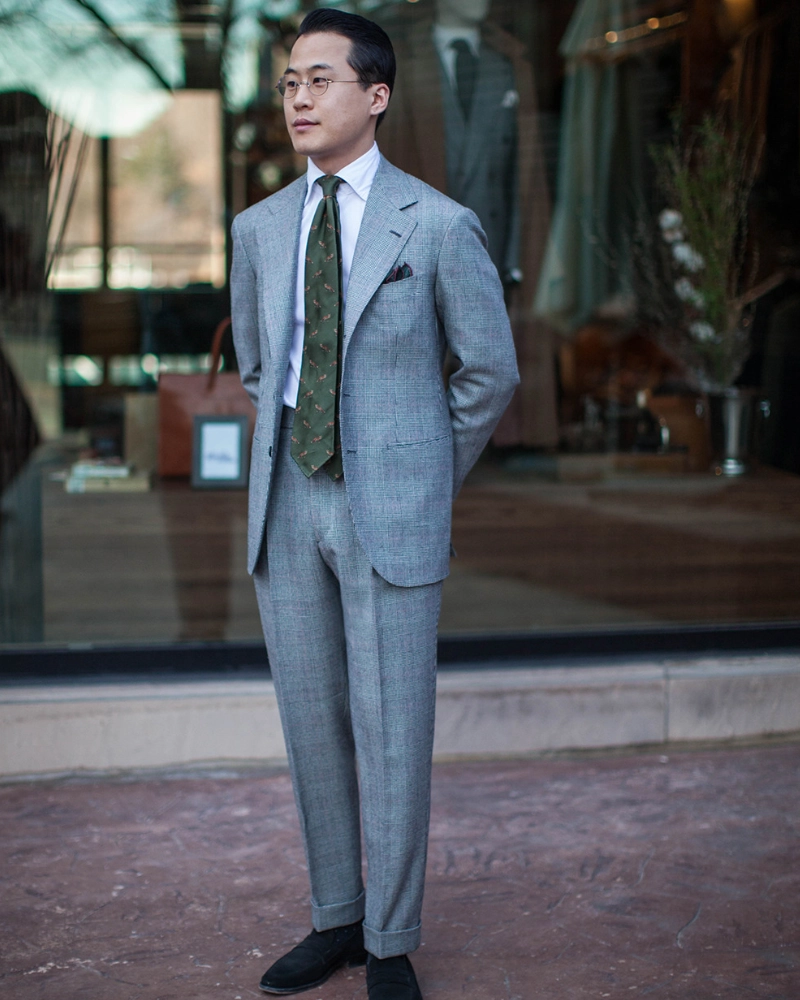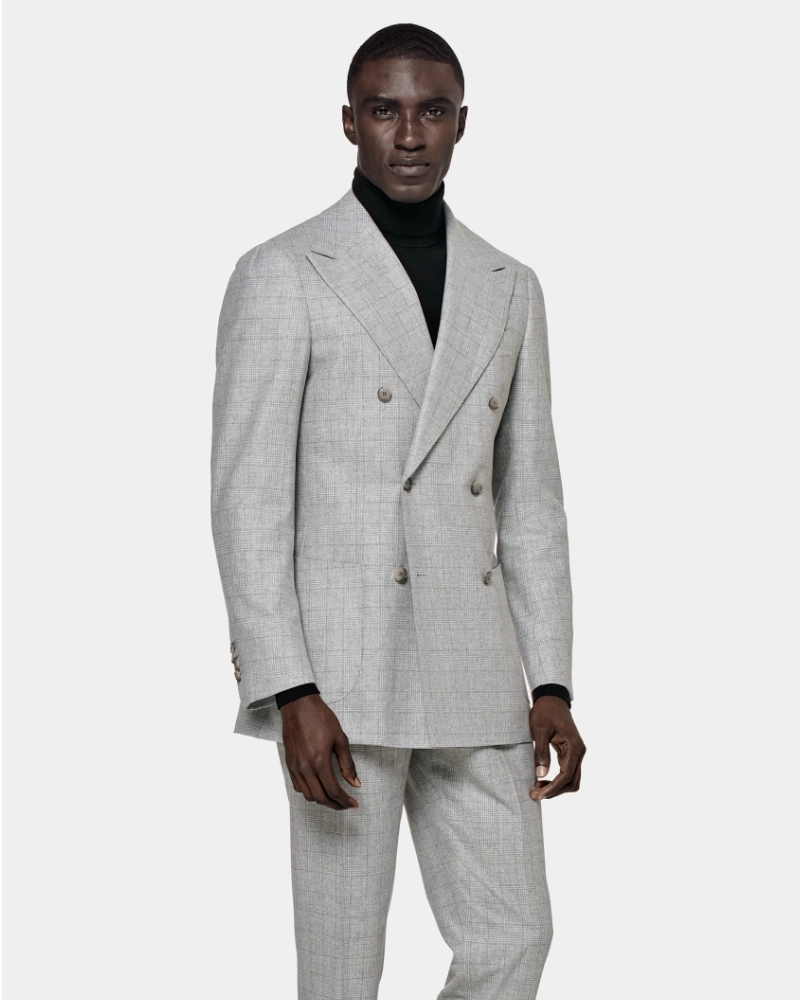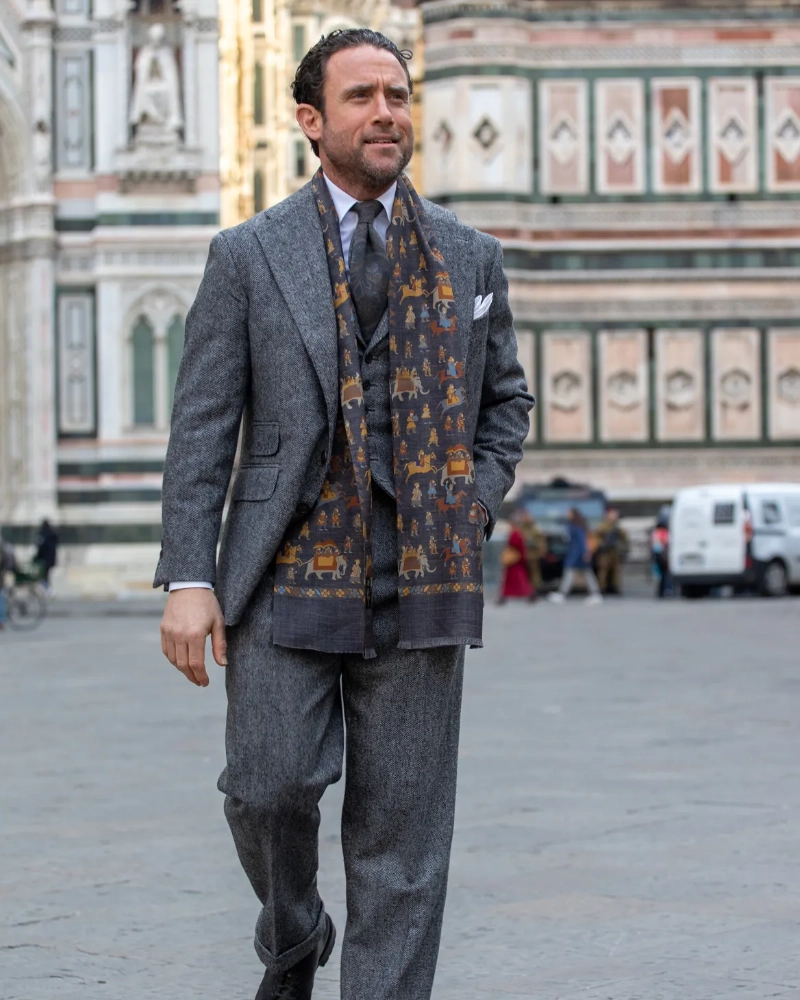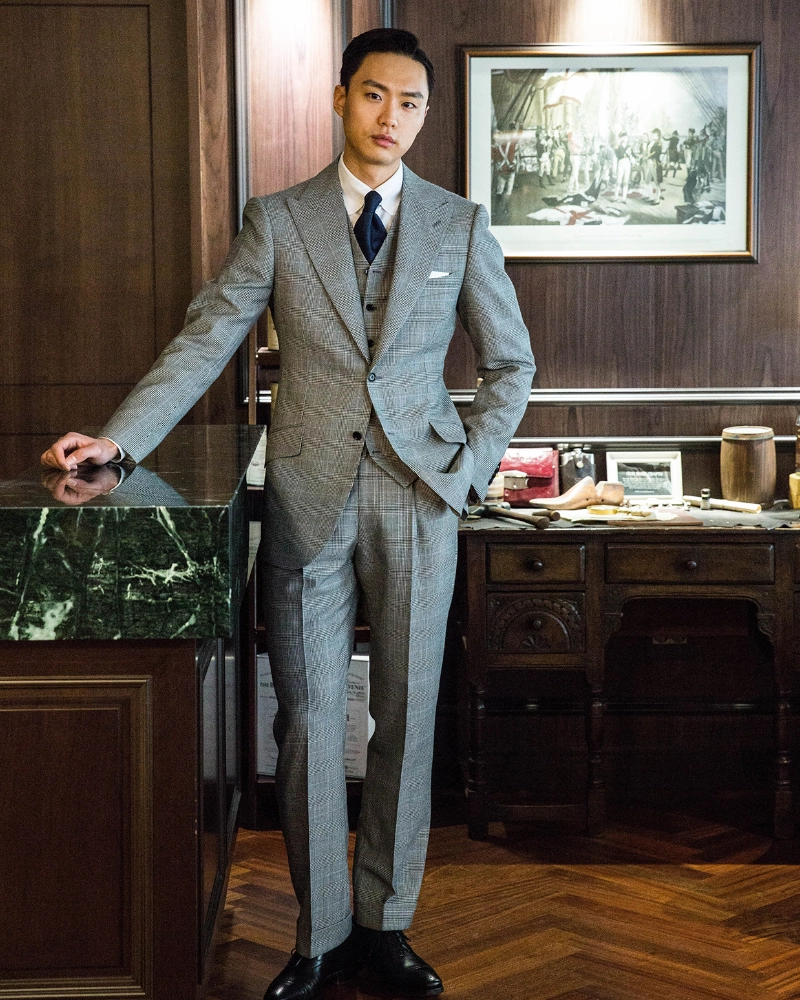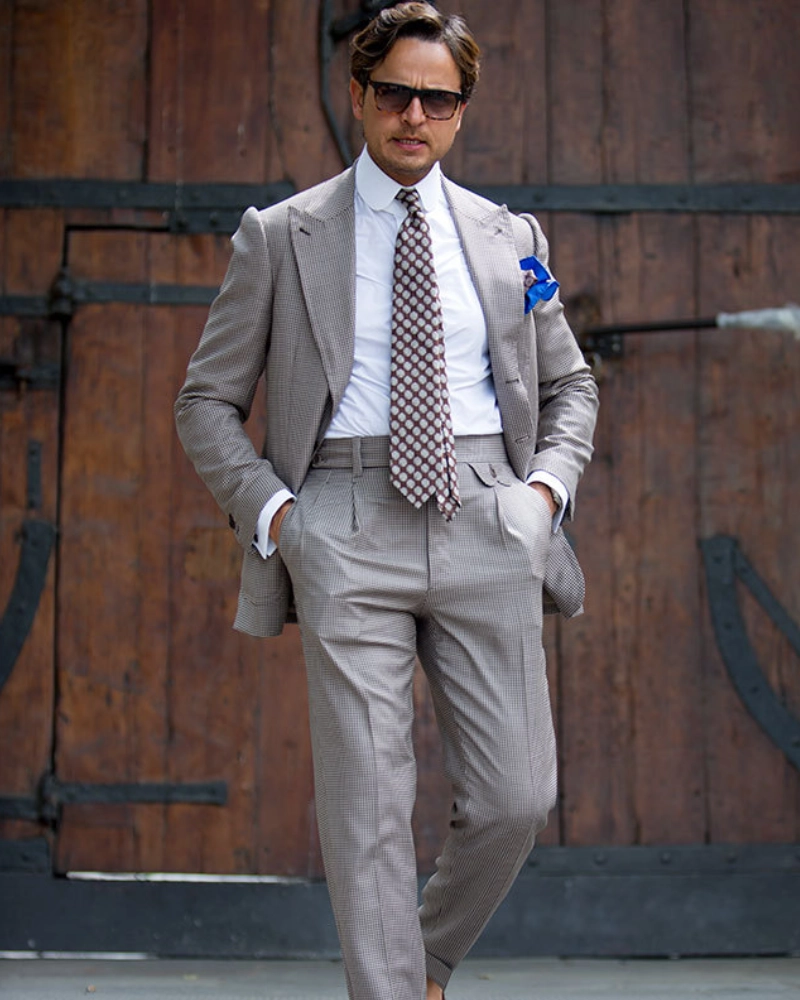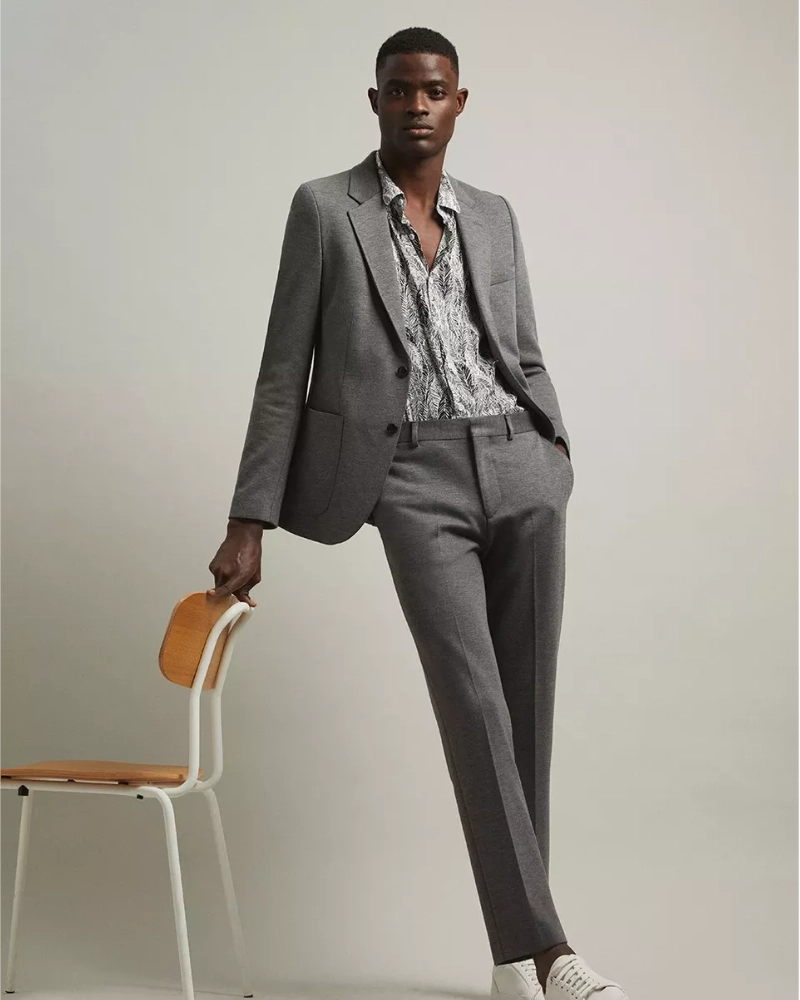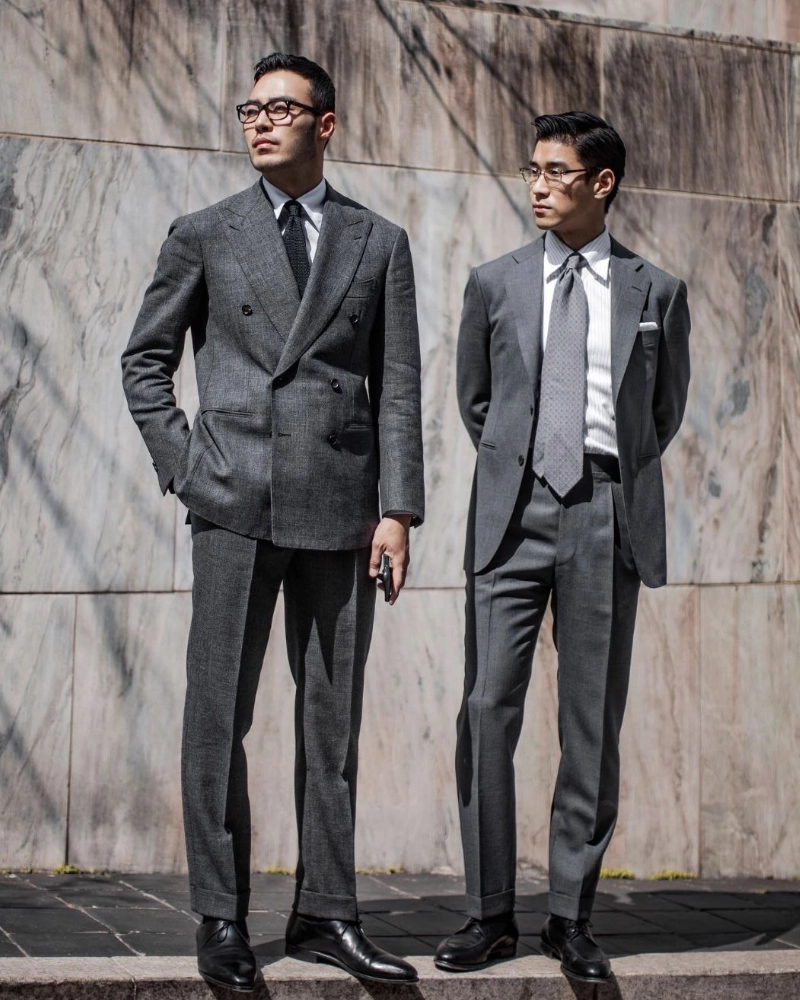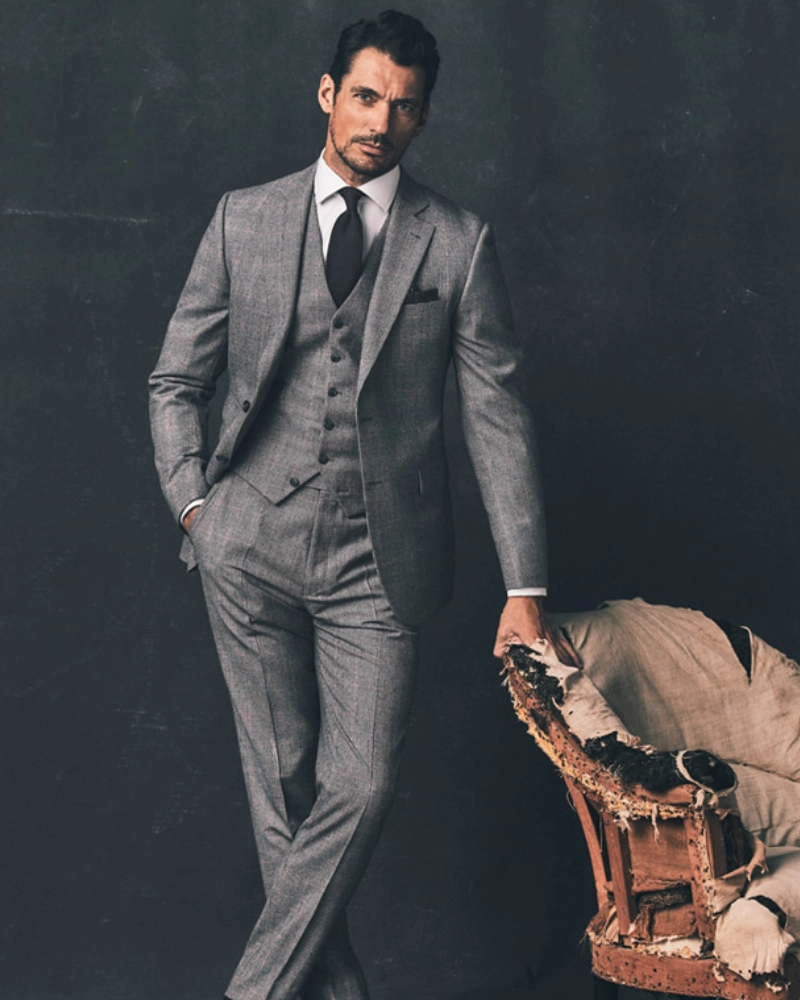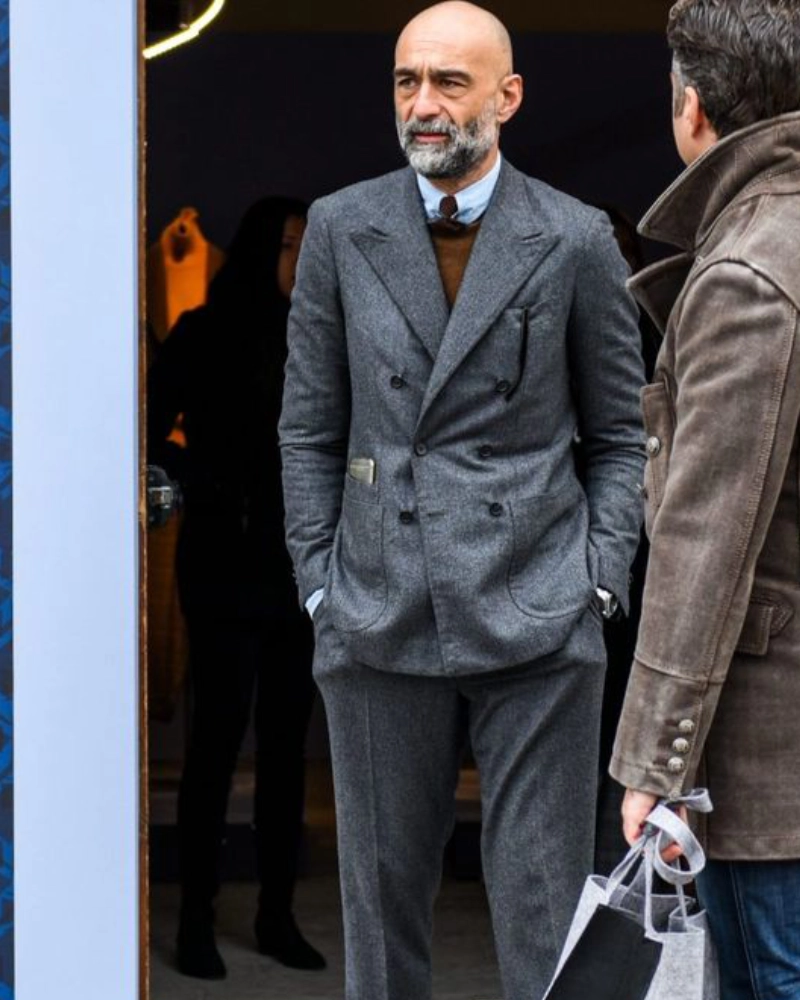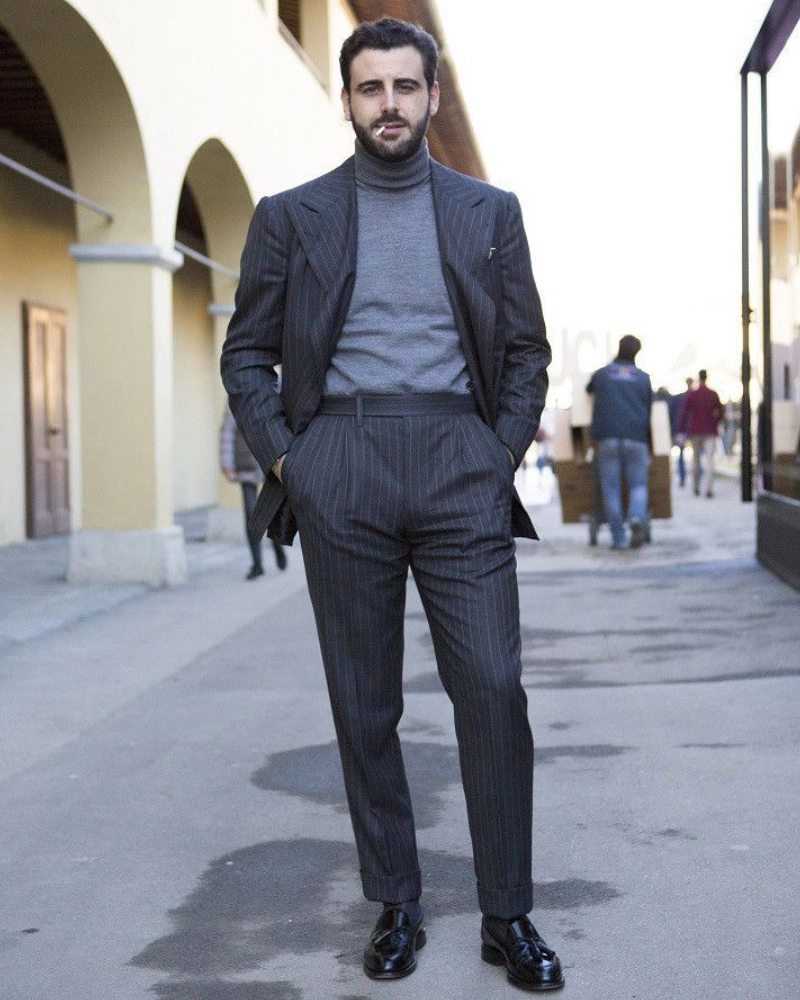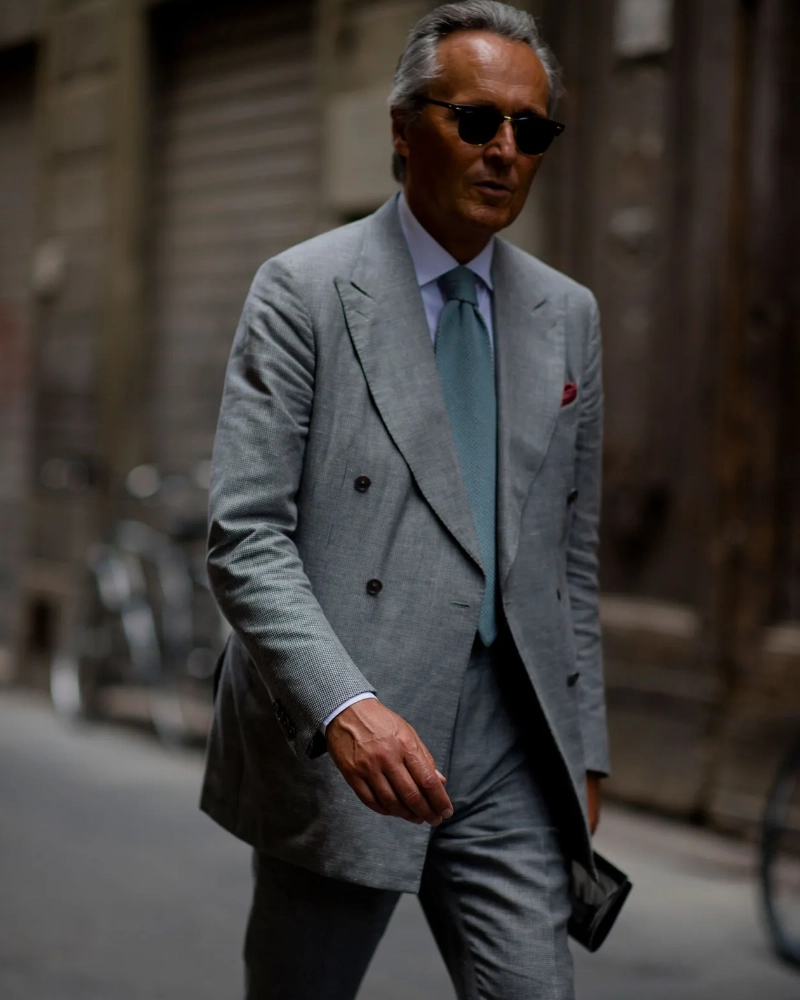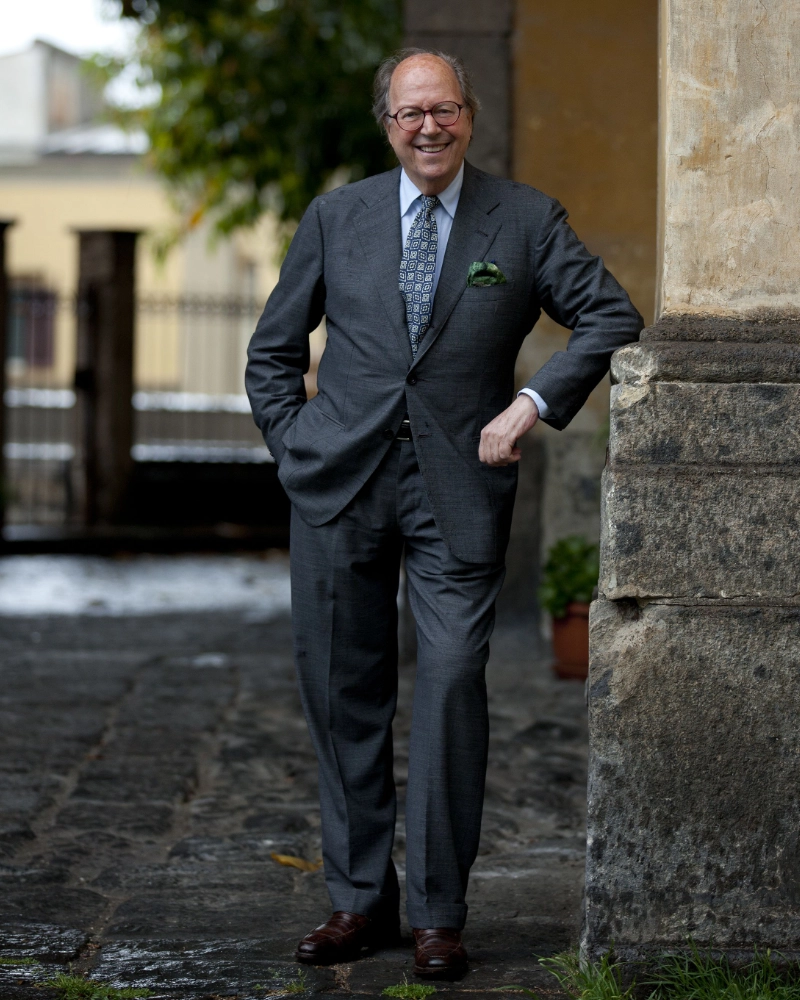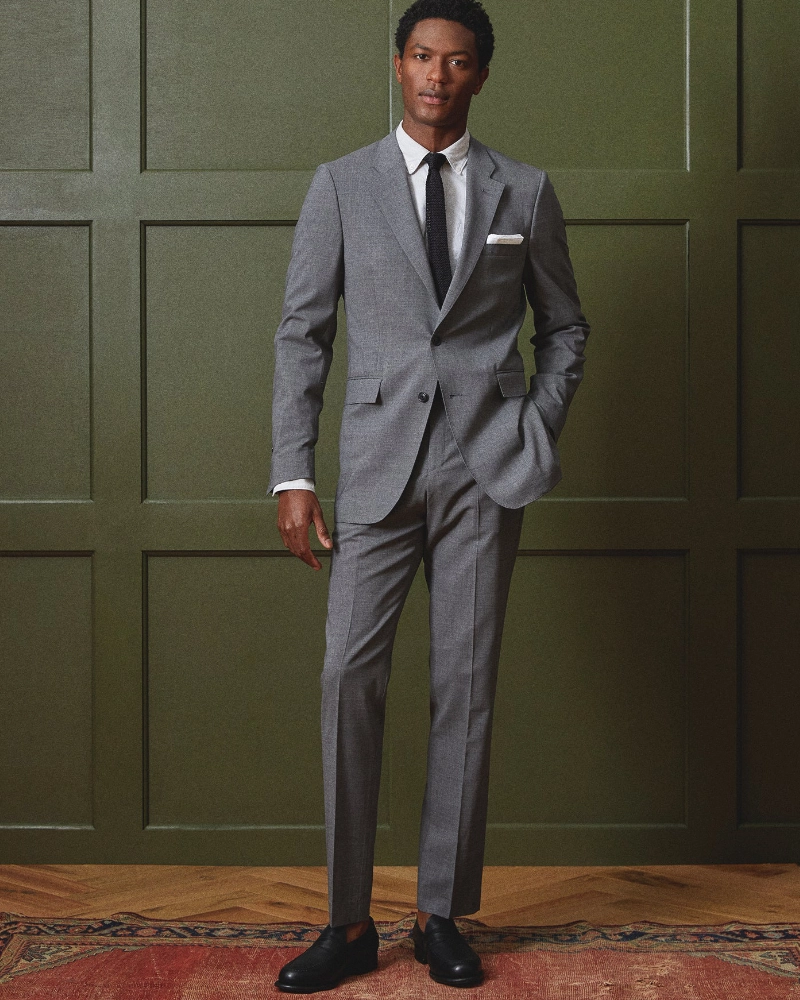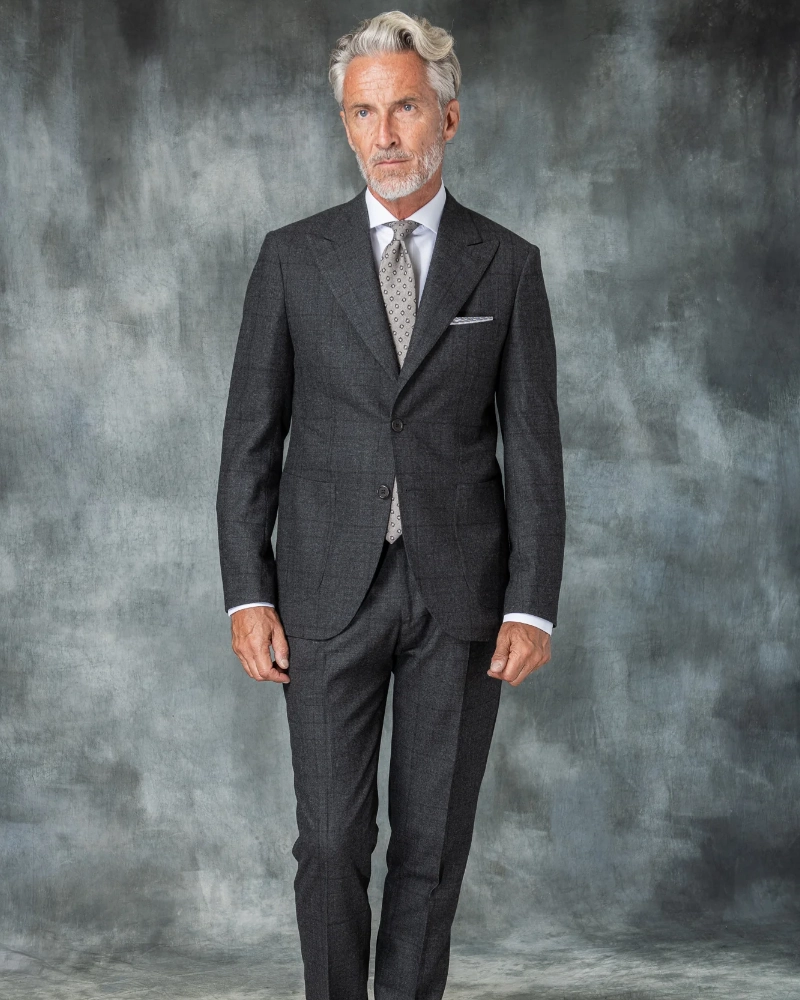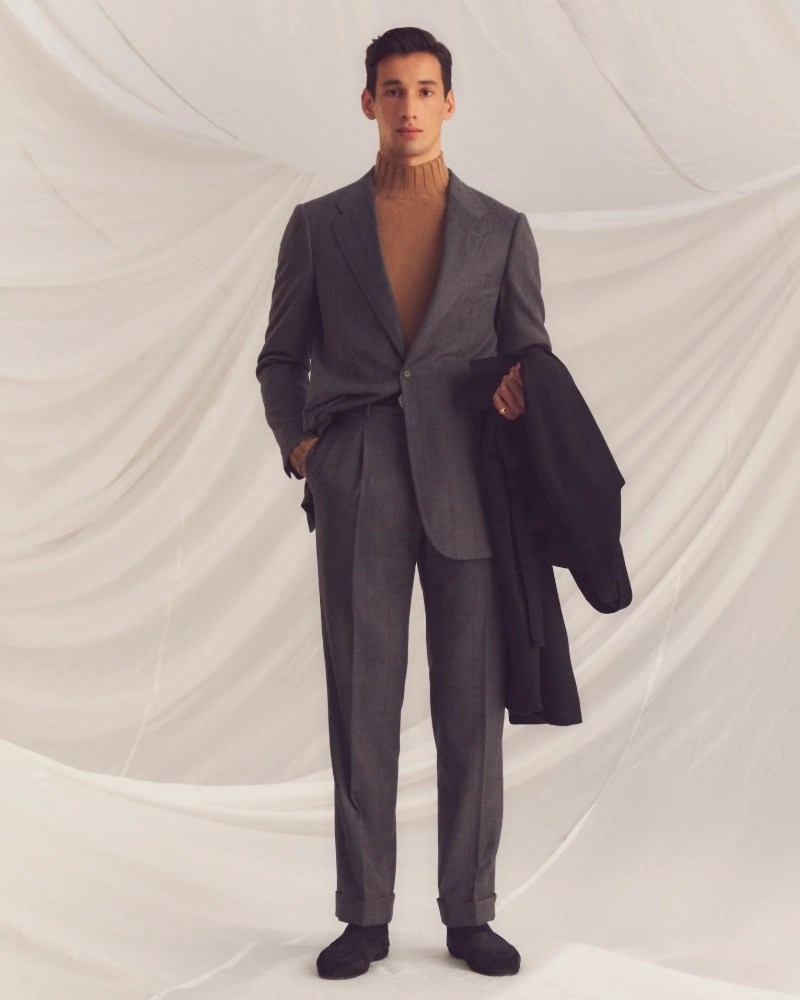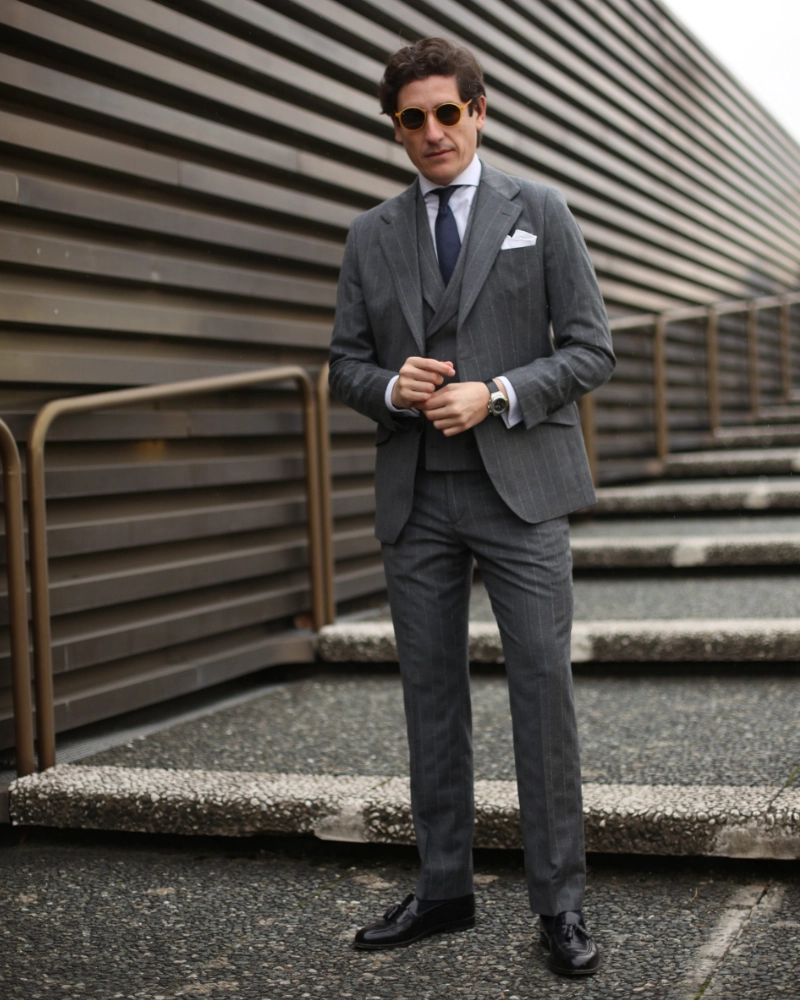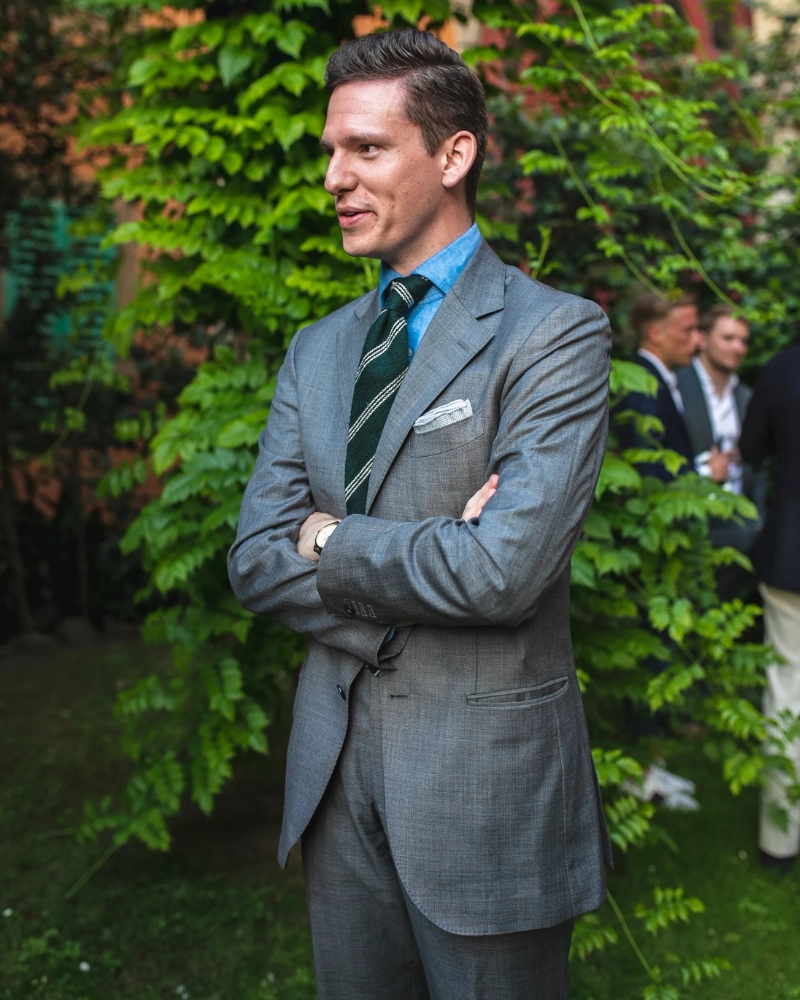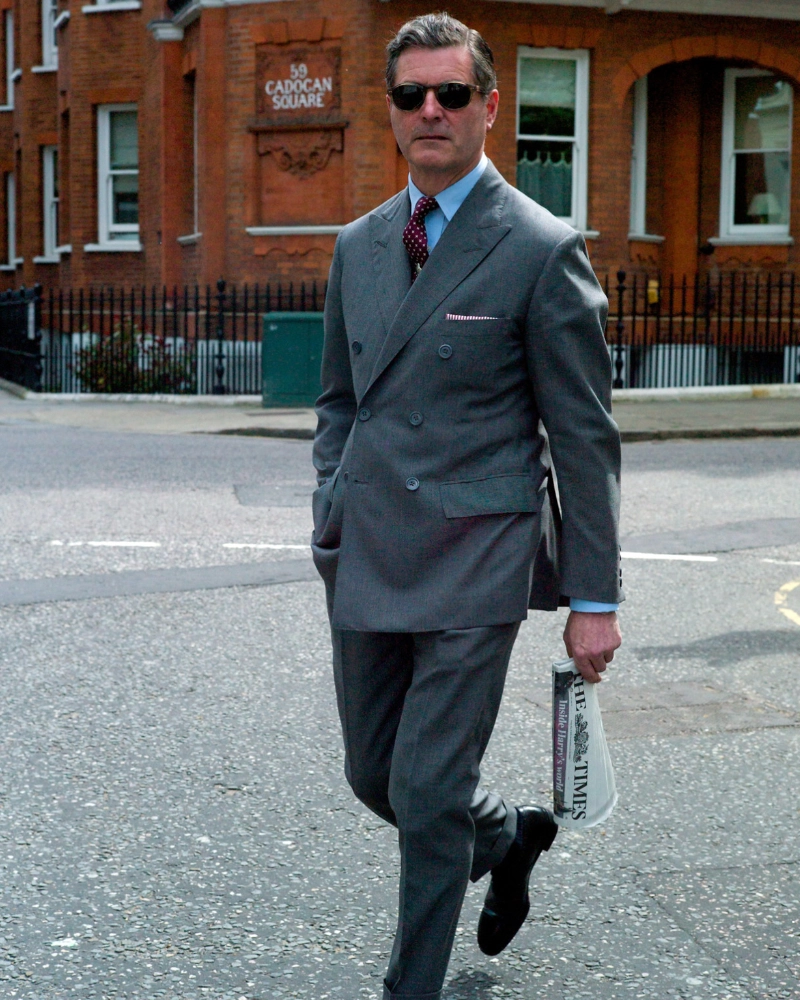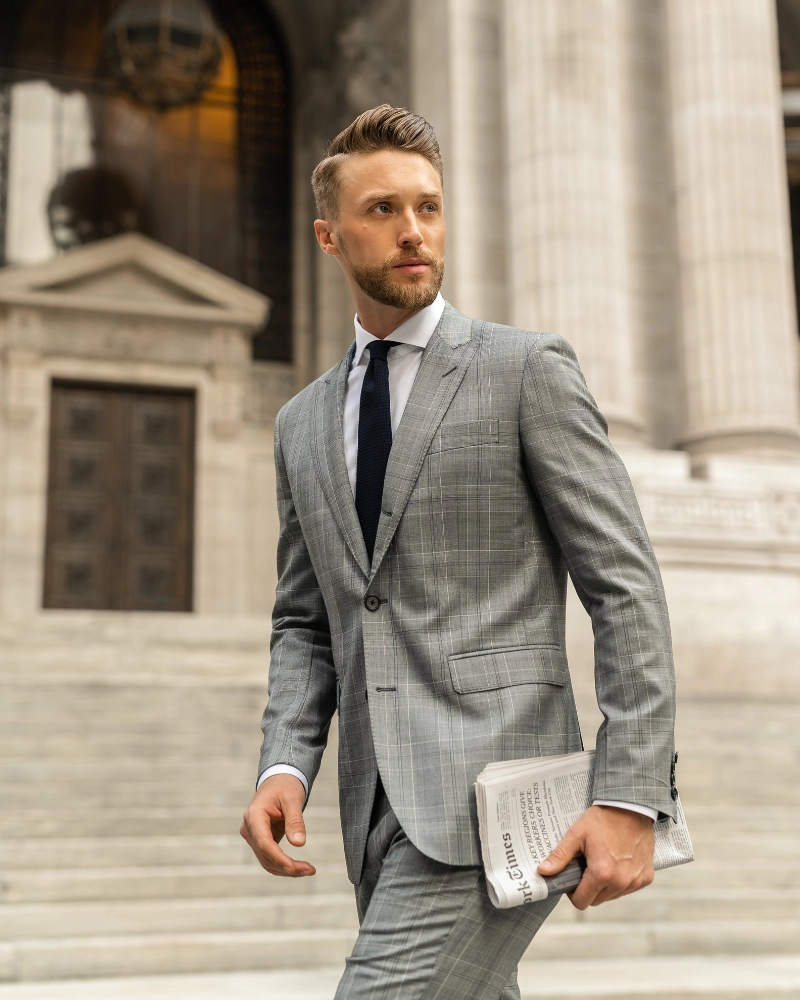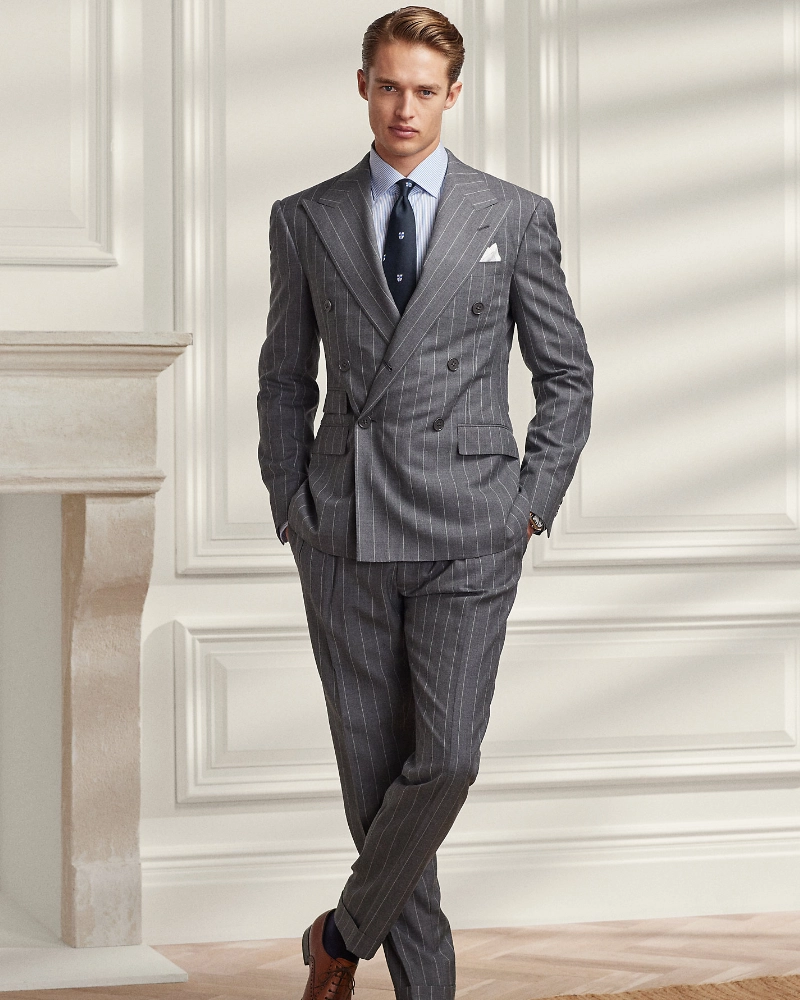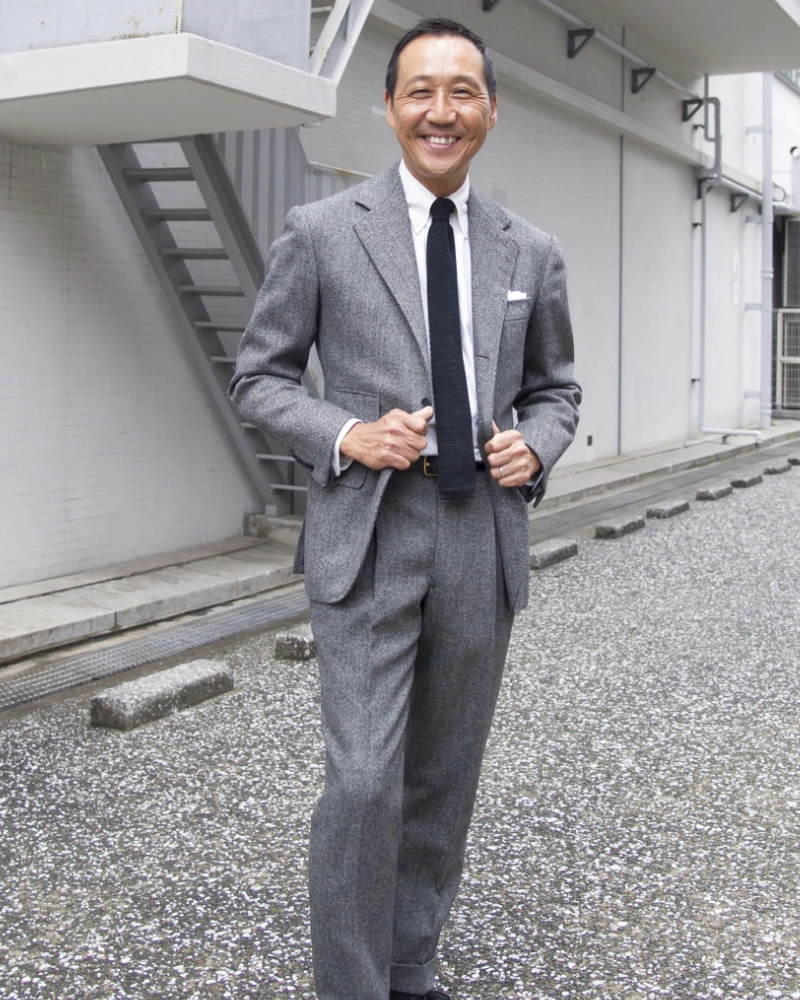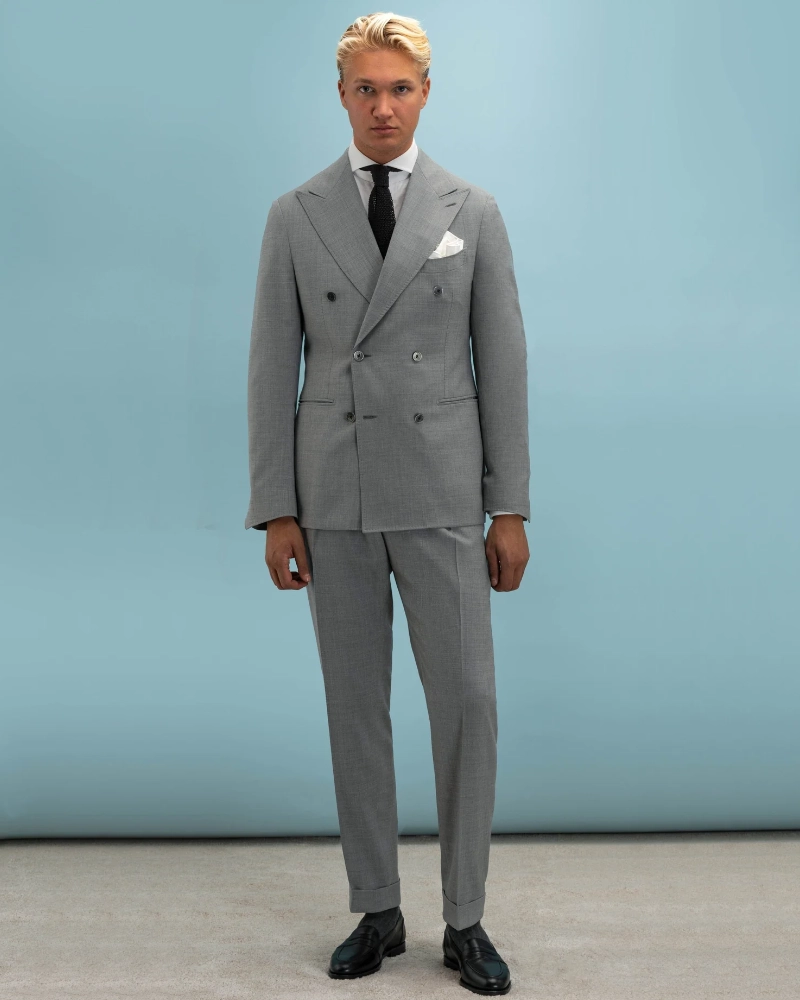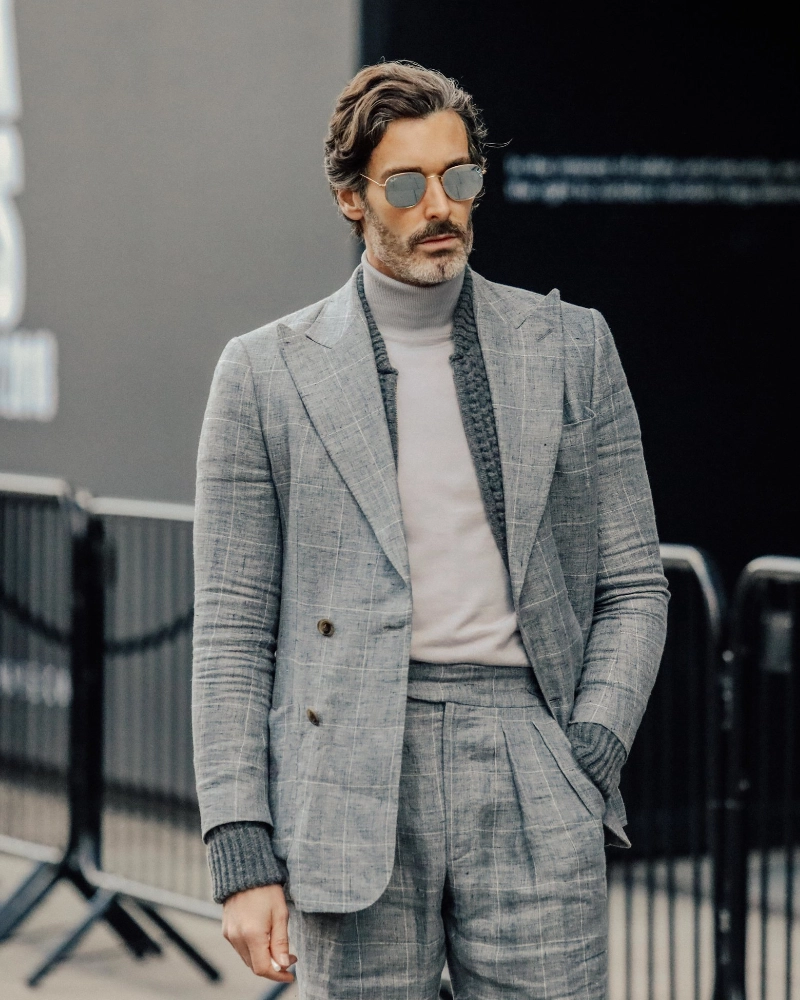 A great pair of sunglasses is for life, not just for summer, and can protect your eyes from harmful UV rays while seamlessly adding a stylish touch to any outfit.
With longer days and a stacked social calendar, don't hesitate to get your hands on a good pair of sunglasses. Yes, they are a key menswear accessory, but as mentioned, they offer vital protection against the sun. So, it is important to focus on frames with a high ability to filter UV rays while being a dependable friend to a wide range of outfits. What we recommend is a timeless aesthetic over a seasonal pair that will provide a costly mistake.
What sunglasses to pick for your face shape
There is an ongoing belief that our face shape and features dictate the sunglasses we should buy. Yes, that is true to an extent. We should always be shopping with our bodies in mind to ensure we aren't disappointed the first time we wear our new purchase. But there is no one-size-fits-all guide when it comes to eyewear. Often, men fall between two or three categories, meaning what works on paper might not work in person.
To give guys the best choice of finding the right sunglasses that complement them. We can't stress enough that you need to try on as many as possible. Only then will you have a better understanding of the frame shape and size that flatters your face.
Should you be armed with the knowledge of your favoured frames, we have brought together a crop of the best sunglasses on the market. From classic styles to sustainable, modern alternatives, there is something for every taste.
1. Mr P Killick Aviator-Style Sunglasses
Created in an aviator style, these sunglasses from Mr P have been updated for summer 2023 with a bold green colourway. Carefully adorned with complementing silver-tone hardware they are a thoughtful choice for the season. With all the style credentials you would expect from the brand, they are sure to be a timeless pick year after year.
2. TBD Eyewear Welt Eco Honey
There is something encapsulating about the sickly sweet honey colouring of these frames from TBD Eyewear. Applying the same level of detail that they do to their bespoke tailoring, the guys at TBD have fused great craftsmanship with a head-turning design. Of course, they had to made on their home turf of Italy, and there is a reason why these are the brand's best sellers. 100% UV protection combined with bio-acetate makes them a winner for sure.
3. GANT GA7219 Norton Sunglasses
Designed with a squarer frame and retro-inspired lens, these sunglasses from GANT channel a vintage vibe. They'd look great with a Cuban collar shirt and shorts, a summer outfit made for relaxing by the pool.
4. Oliver Peoples Gregory Peck Sun
These sunglasses were made in collaboration with the Peck Estate to get the design as close to the originals as possible. Obviously, we are talking about the frames worn by the legendary Gregory Peck in 'To Kill a Mockingbird'. With a higher nose bridge for added comfort, this pair has a narrow fit—something to be mindful of when purchasing based on face shape.
5. Persol 714SM - Steve McQueen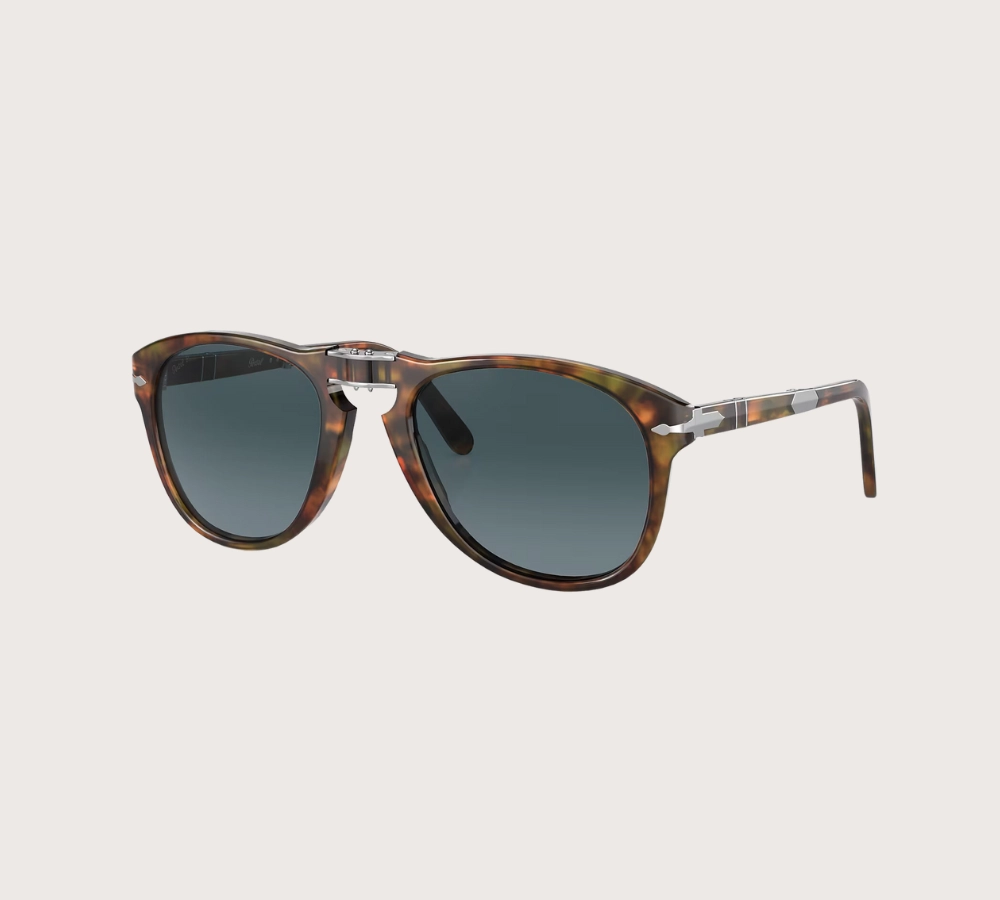 A pair on the hitlist of many a guy. Based on the original sunglasses favoured by the 'King of Cool', Steve McQueen, they are still as relevant today as they were in their heyday. Handmade in Italy, all you'll need is a 1968 Ford Mustang to wear them behind the wheel.
6. Mr P + Cubbitts Cromer Acetate Sunglasses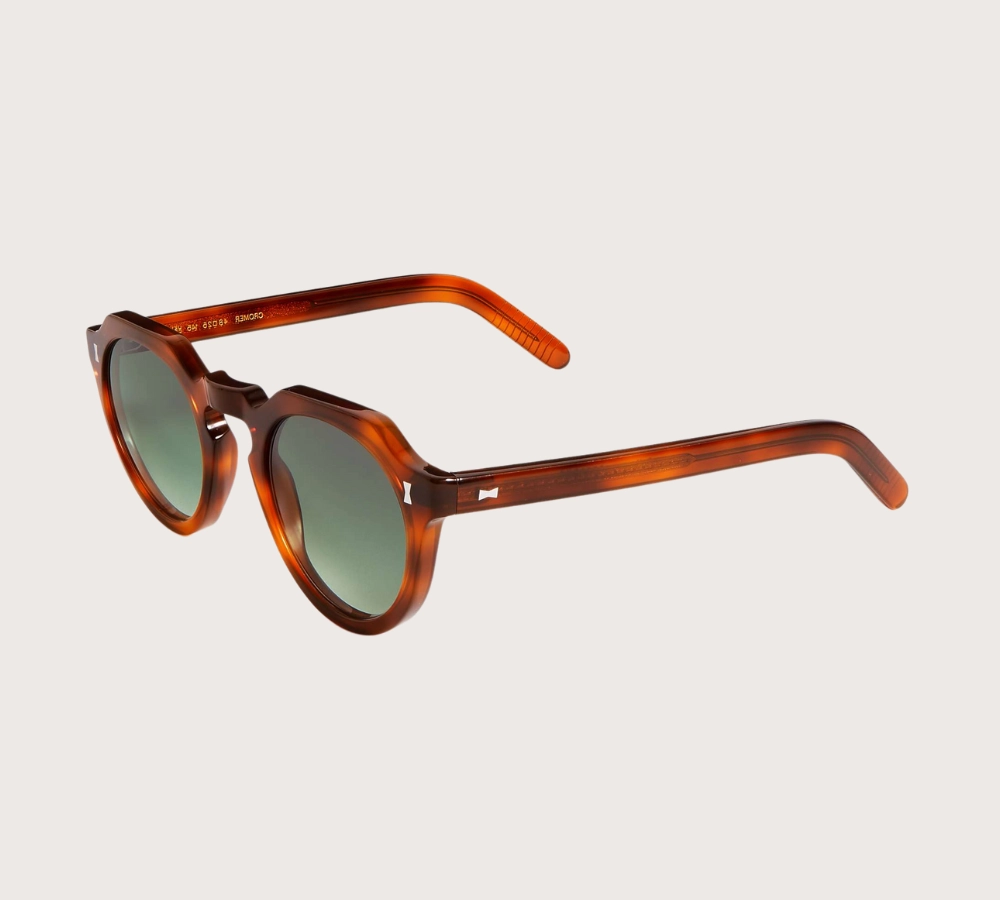 Cubbitts are well known as a specialist in eyewear. This season the British brand has teamed up with menswear stalwart, Mr Porter to create a beautiful range of summer frames. These 'Cromer' sunglasses take their notes from mid-century France and come with an oversized keyhole bridge. Tres magnifique.
7. Massimo Dutti Translucent Sunglasses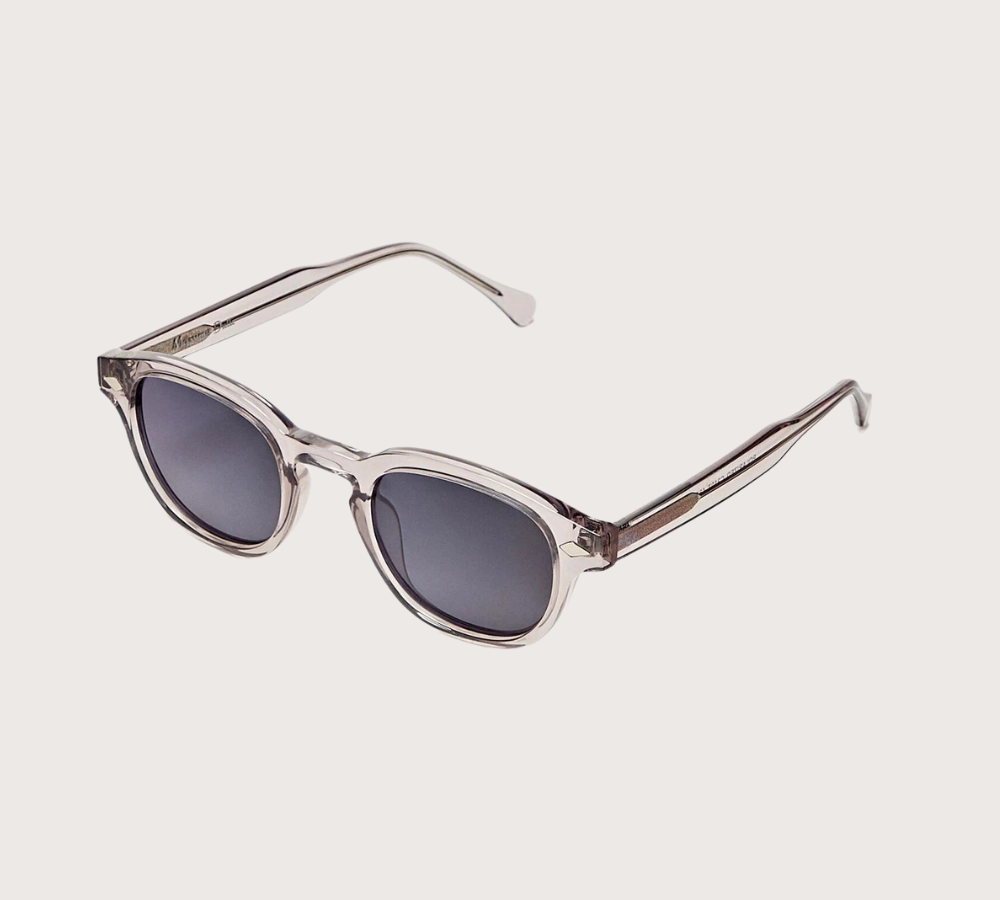 Crafted from 100% recycled acetate, these translucent grey frames from Massimo Dutti are a bold piece of summer eyewear. At an affordable price, there is no reason not to get your hands on these eye-catching frames.
8. Polo Ralph Lauren The Earth Sunglasses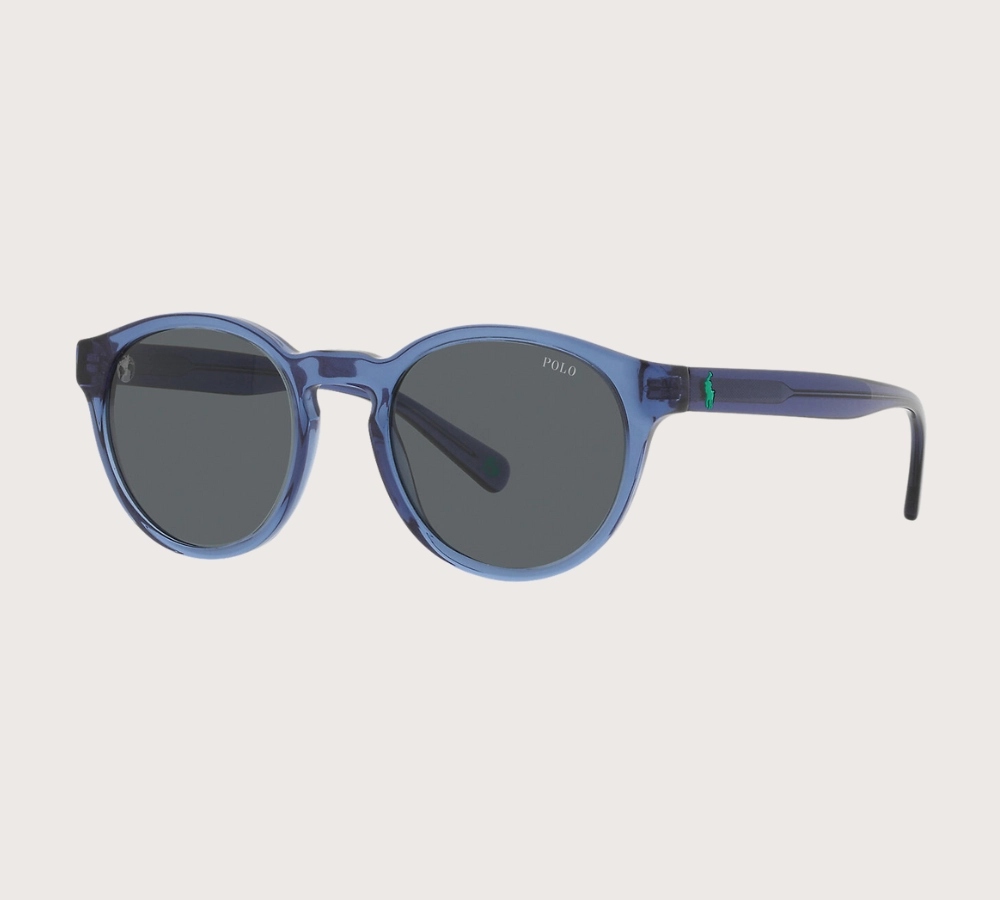 These sunglasses come in a vibrant blue hue and are part of Polo Ralph Lauren's eyewear collection constructed from biomaterials. The frames are made from at least 65% certified bio-based contents while the lenses are 35%. A notable step forward in making menswear more sustainable.
9. Bloobloom The Architect
A softly squared base sets this frame apart from other similar models. Another frame to utilise the premium material that is Italian acetate. These sunglasses undergo a rigorous fifty-step process that includes three days of polishing and wood tumbling. Coming in under £100 without prescriptions these sunglasses have all the foundations of a pair that should be at least twice the price.
10. Kirk Originals Bobby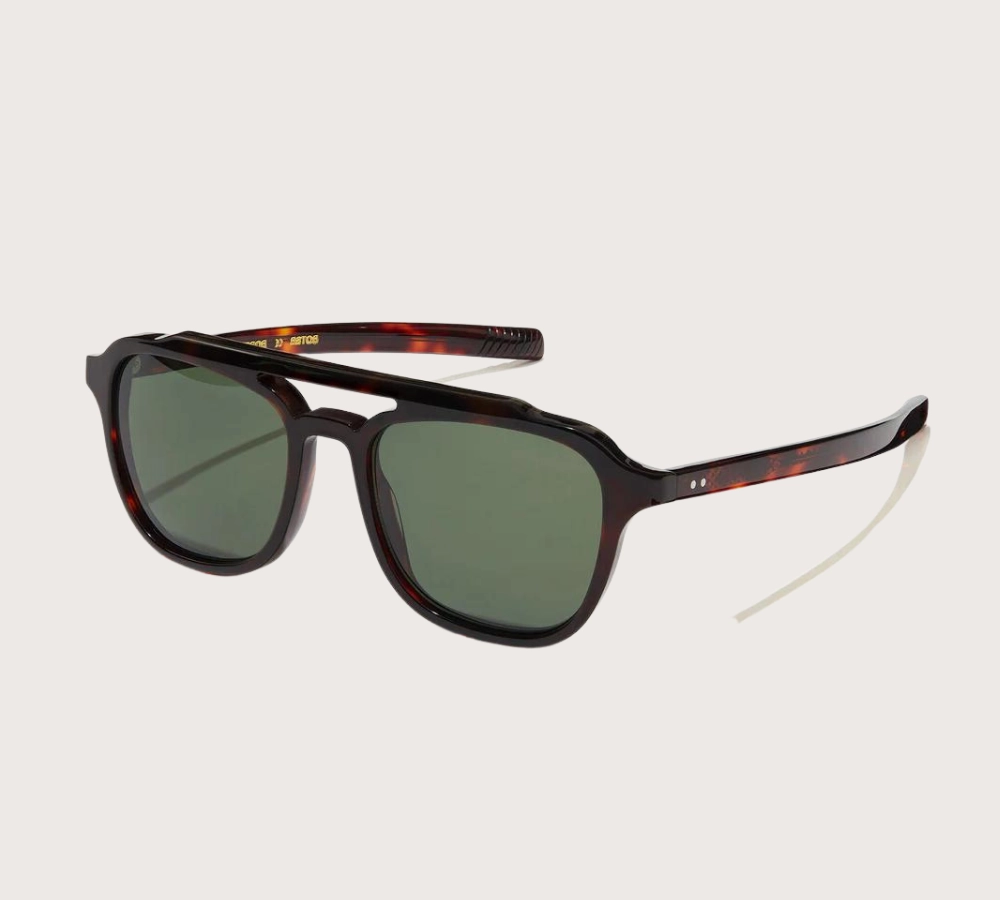 Referencing a classic military sunglasses shape. Kirk Originals has swapped the metal for hand-polished premium acetate. Assembled in their workshop in England, these frames are very importantly fitted with 100% UVA & UVB protection lenses. Ensuring they will protect your eyes while looking effortlessly stylish.
11. Ace & Tate Neil Sunglasses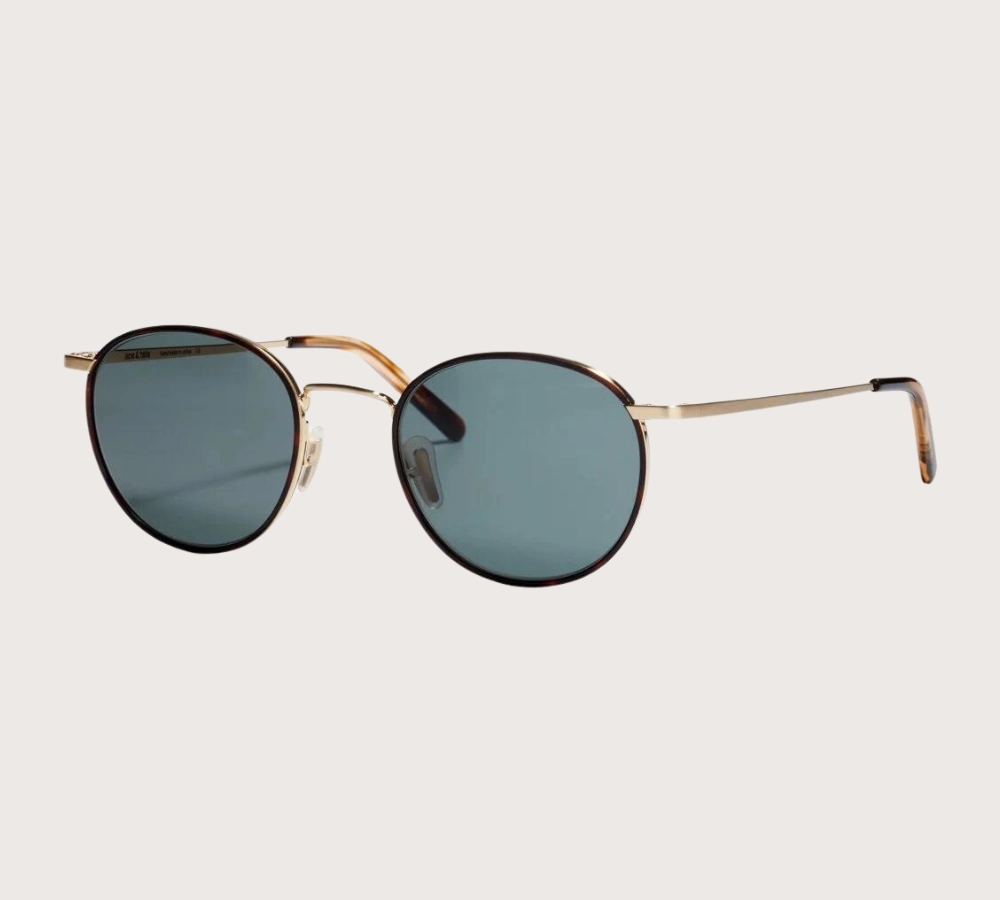 Available in three different sizes, Ace & Tate has understood how unique a man's face shape is and catered to it. The classic design creates a versatile piece of eyewear fitted with an anti-scratch lens coating and comes with a two-year guarantee. This makes them a solid investment if you have as many mishaps with your sunglasses as this menswear writer.
12. Moscot Dahven Polychrome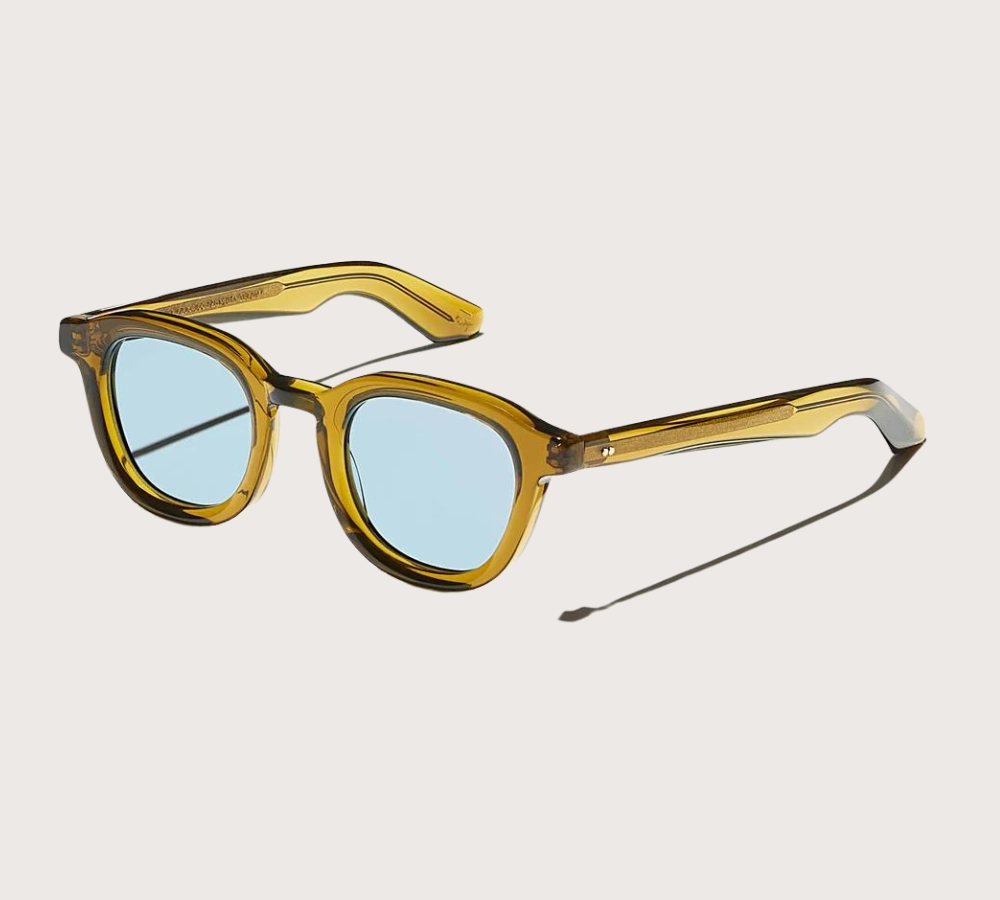 With over 108 years of experience in crafting the very best eyewear, the New York brand has honed premium Italian acetate into a distinctive pair of sunglasses for summer 2023. The olive-brown frame features a five-barrel hinge and a comfortable nose bridge. And we like how the light blue tint of the lens reflects the crystal seas of our holiday destinations.
13. Meller Nayah Fog Olive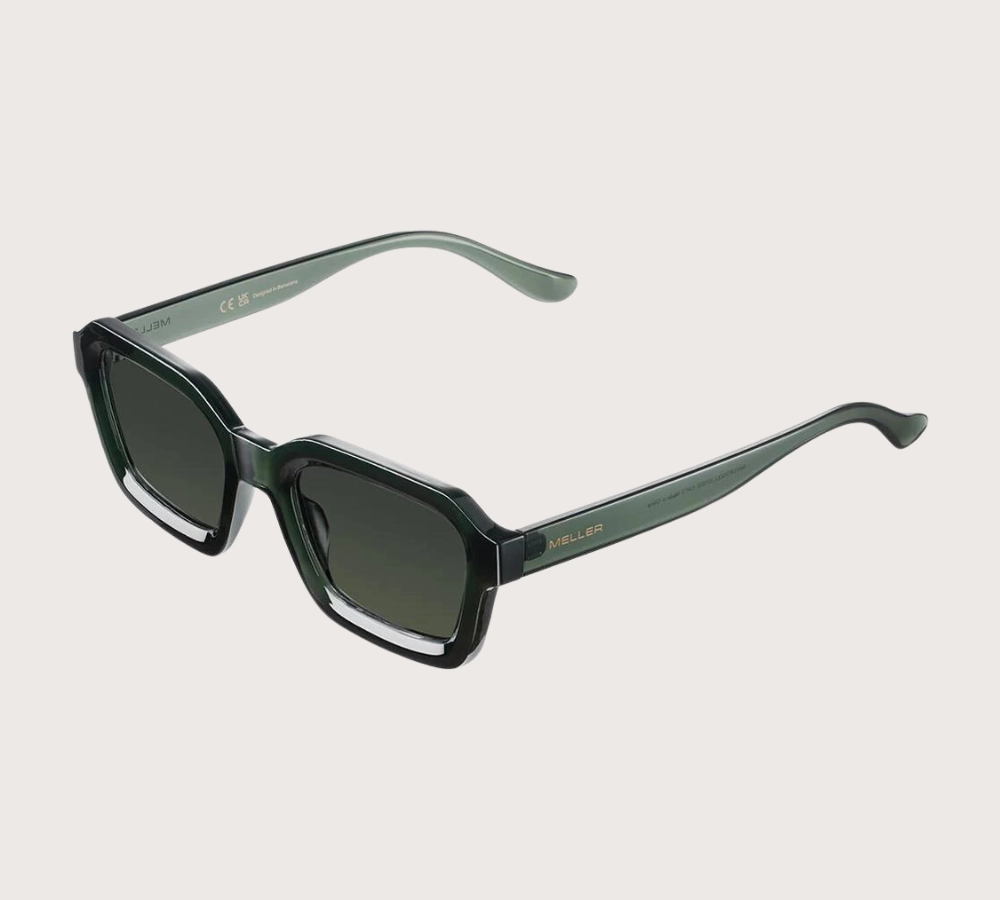 This pair is part of Meller's new range of Bio-based sunglasses. The range includes frames manufactured from 45% naturally based materials, a process that lowers the use of fossil materials and carbon emissions. Inspired by the 70s these sunglasses are full of flower-power vibes to go with their eco credentials.
14. Garrett Leight Brooks II Sun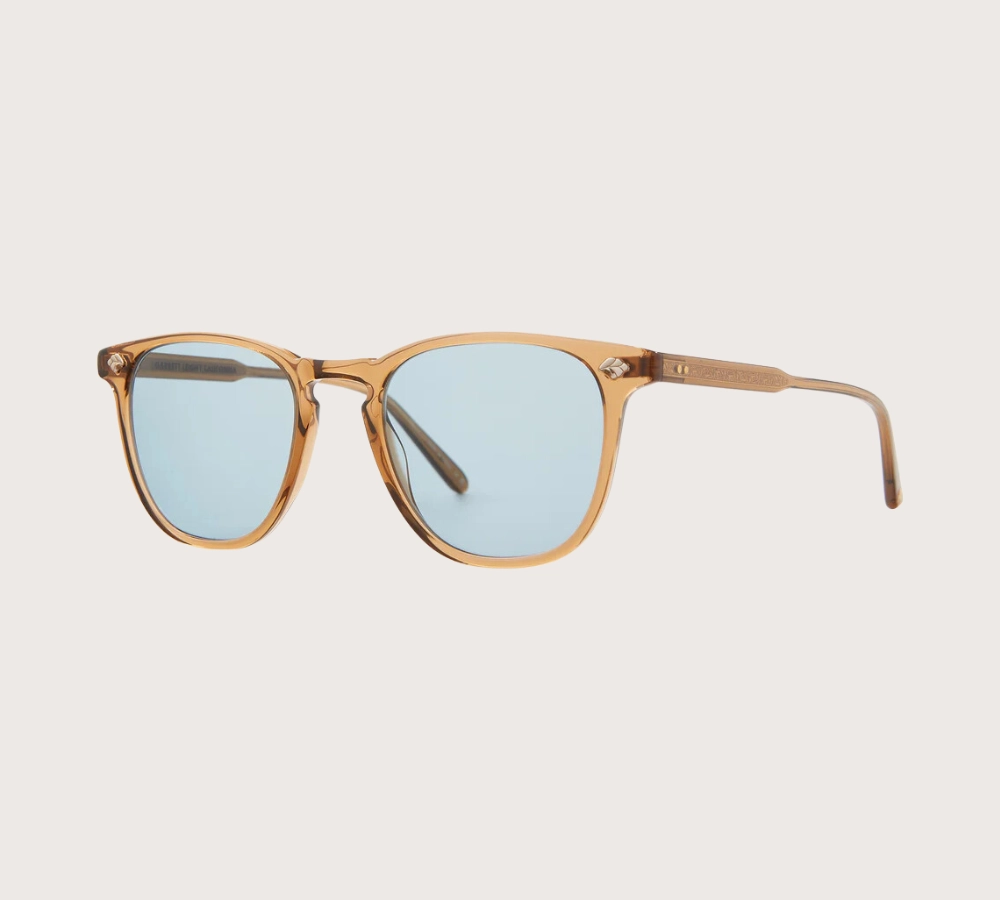 An OG Garrett Leight frame that is still a timeless pick. Though the overall look remains the same, the brand has updated the pair with leaf plaque detailing and premium glass lenses for crystal-clear clarity. In a caramel colourway, these will easily transition into your current wardrobe, able to be worn with a mix of smart or casual pieces.
14. Burberry BE3125 Sunglasses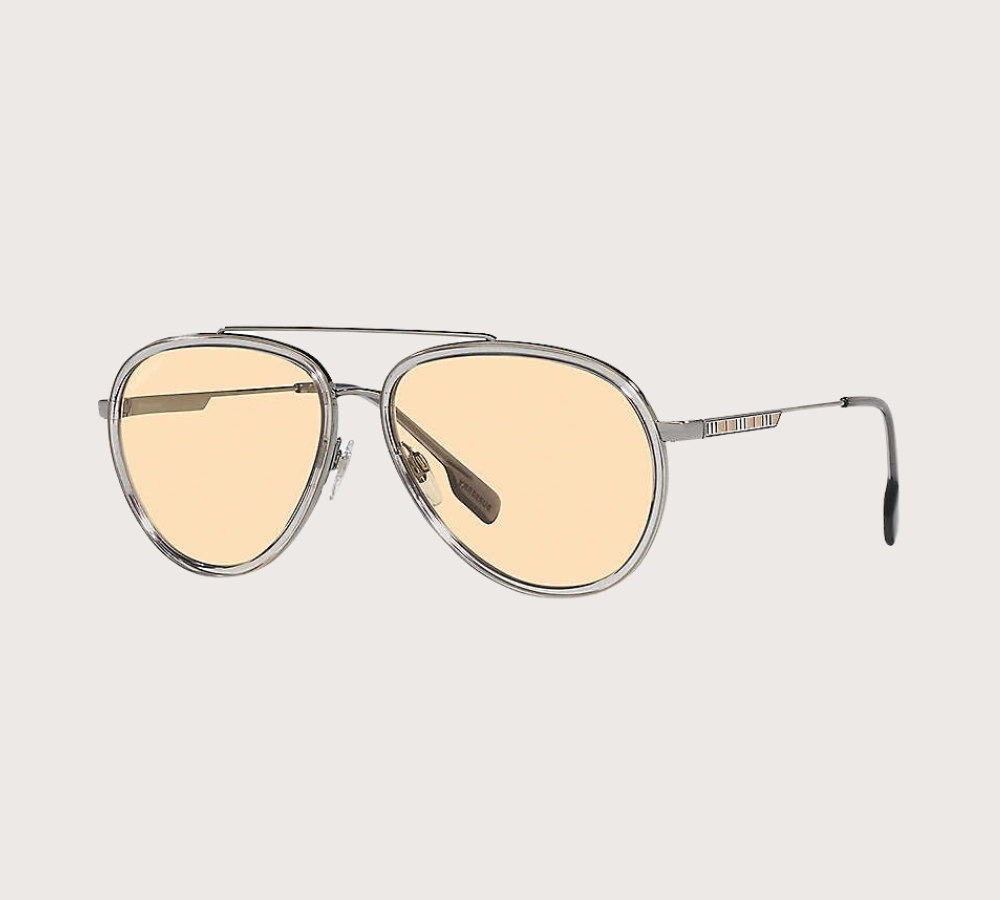 Why not channel your inner Top Gun with these metal aviator frames from the British brand Burberry? A great shape for those men who want some curves to work with, not against their angular face contours. These sunglasses will take your summer up a notch.
We all know sunglasses are a great way to add a new dimension to a summer outfit. Not to mention the protection they offer from harmful UV rays. But, we could be undoing all our hard work if our chosen frames don't complement our face shape.
To make your life easier and ensure your sunglasses work with, not against, your unique features. We have pulled together an in-depth article on identifying your face shape and what sunglasses you should invest in. It isn't an exact science mind, as some men might not fall into one category. So, use this as a top-line guide to finding the right sunglasses for your face shape.
Different Types of Face Shapes
Round Face
Soft, curved lines and equal width and length characterise a round face. Sunglass styles with angular frames are recommended to balance the roundness and add definition. Opt for square or rectangular frames that create the illusion of length and structure. These frames help to elongate your face and provide a more balanced look. Avoid round or oversized frames, as they can accentuate the roundness of your face.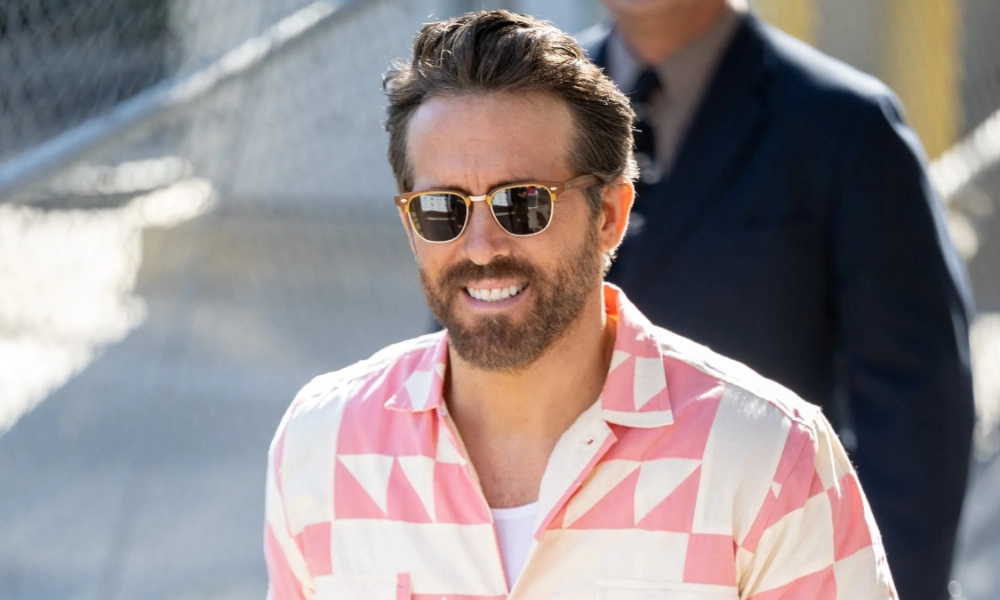 Oval Face
Thankfully, if you fall into this category, you are in luck. An oval face is considered one of the most versatile face shapes, with balanced proportions and gentle curves. Giving you greater freedom to experiment with a wide range of sunglass styles. Just keep in mind the frames' size and scale to maintain your face's natural symmetry.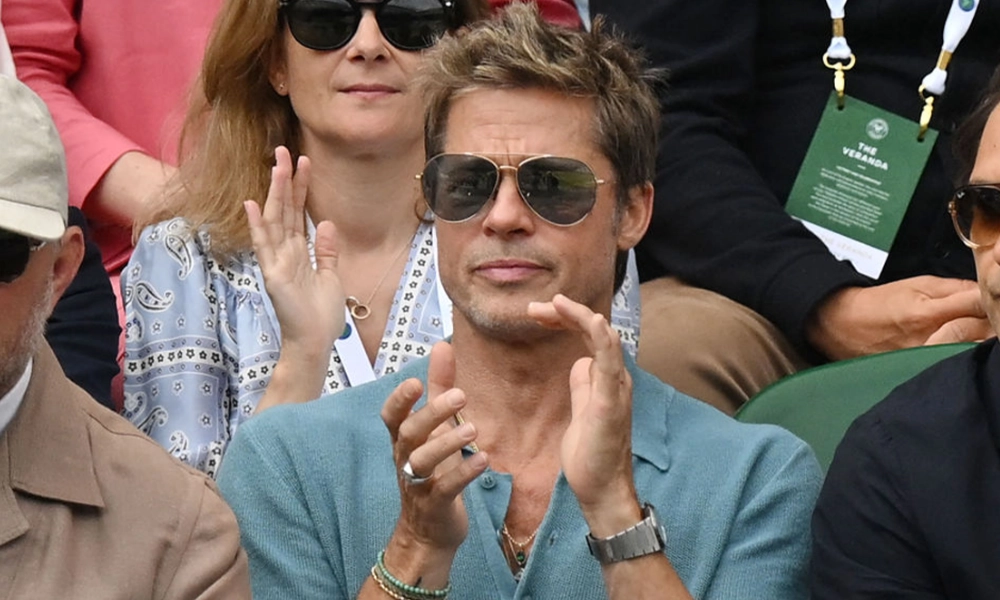 Square Face
Strong jawlines, broad foreheads, and well-defined angles typically characterise men with a square face shape. When selecting sunglasses for a square face shape, the goal is to soften the angular features. Look for rounded or oval frames that help to balance the sharpness and add curves to your face. Steer clear of square or boxy frames, as they can accentuate the squareness of your face. Instead, opt for styles that provide contrast and a touch of softness.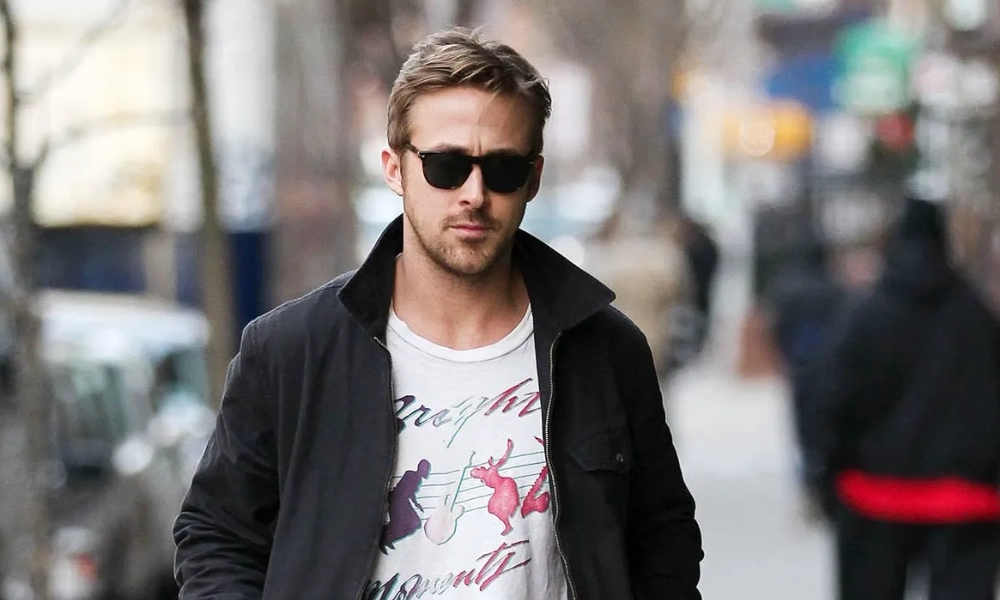 Heart Face
A heart-shaped face typically features a broader forehead and a narrower chin, creating a triangular appearance. The aim for men in this category is to balance the proportions and minimise the width of the forehead. Look for sunglasses with wider frames and lower-set temples to draw attention downward and create a sense of balance. Avoid oversized frames that overpower your delicate chin, and opt for frames that are proportional to your face.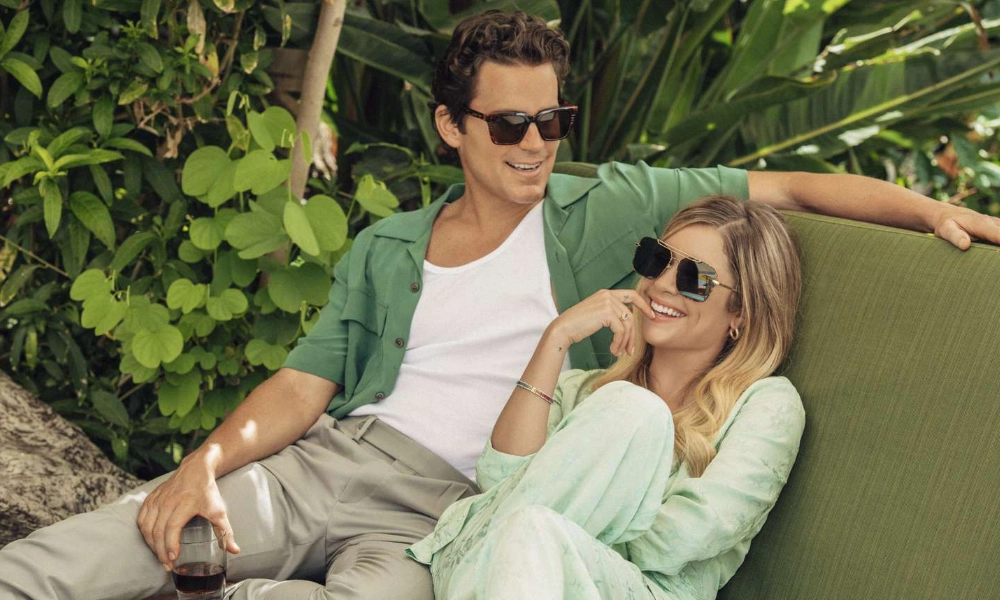 Diamond Face
A narrow forehead, high cheekbones, and a pointed chin characterise the diamond face shape. Opt for sunglasses with oval or square frames to soften the angles and balance the features. These frames help to create symmetry and provide a harmonious look. Avoid narrow or overly angular frames, as they can accentuate the widest part of your face. Look for frames slightly wider than your cheekbones to maintain balance and enhance your overall appearance.
Buying Considerations for Sunglasses
As we mentioned, it is difficult for men to solely have a single face shape. They will have elements of different shapes, like a square jaw, but maybe a wider forehead. As such, there is a better way to shop for sunglasses, considering more generic elements of our faces and working back from there.
Face Width
There is a golden rule for finding the right sunglasses, and that is to work with what you have. If you try on a pair of wider frames than your actual face, it won't look right. This also applies to glasses. Men need a pair that complements their head size to create a balanced look.
Face Length
Similarly to face width, there is a length tip as well. If your length (hairline to chin) is much greater than the width, you need to find a pair of sunglasses with a longer frame. The frame should cover 2/3 of your nose as a rough guideline.
Fit
Sunglasses shouldn't pinch your nose and must fit nicely across the temple and ears. There shouldn't be any marks after removing them. If there is, you might need a frame with a longer arm.
UV Protection
Possibly the most important consideration of all. We could damage our eyes without realising if we are all style and no substance. Men s It needs to be a combination of frame style and UV protection.
Types of Men's Sunglasses
Wayfarer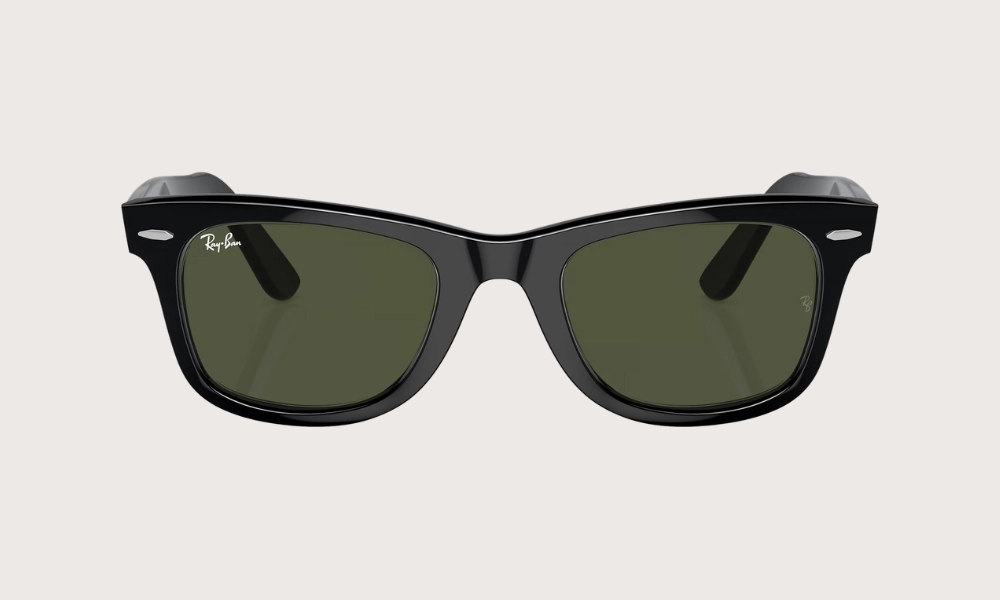 The Ray-Ban Wayfarer has been an iconic choice of sunglasses since its inception in 1956. Part of its longevity has come from its ability to suit a wide range of men. Whether as part of a smart or more casual outfit, this frame pick is a stylish accompaniment.
Aviator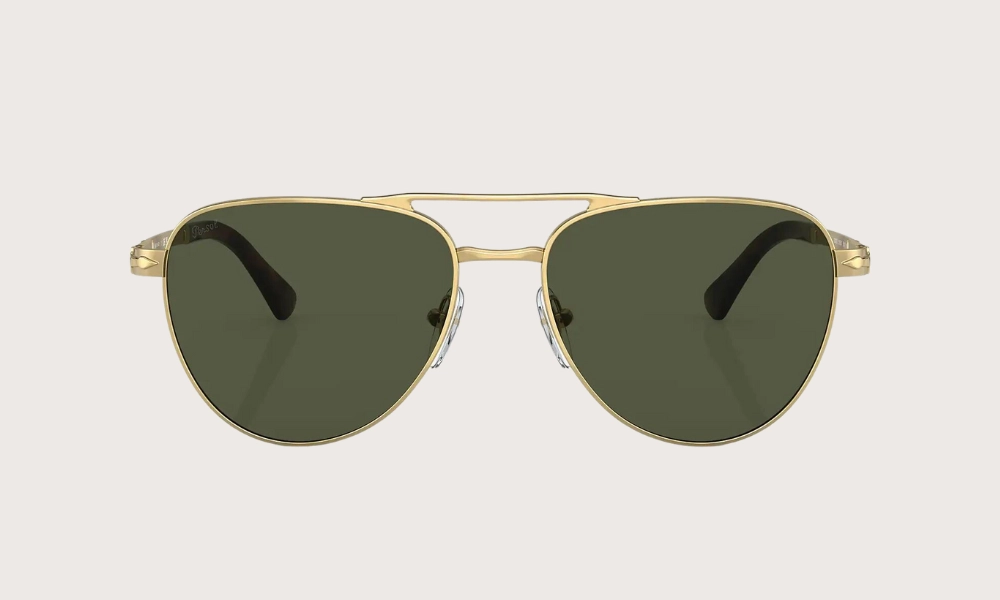 Unlock your inner Top Gun with a pair of Aviator sunglasses. Created for pilots to deter the sun's glare, they became a mainstay in menswear as soon as the wider population could get their hands on them. Ideal for men with a longer face shape, they have a curved frame that is a nice contradiction to a strong jawline or angled cheekbones.
Clubmaster
A great way to introduce a retro vibe to your look. The Clubmaster comes with a notable browline that will be a statement choice. Similar to the Wayfarer, this style will generally complement various face shapes. However, the strong browline might be jarring to some guys.
Round
If you have a squarer face shape, choosing a frame that adds some interest and much-needed curves is a good idea. This is where a round frame can work better than an aviator. Aviators might drown the face, while a round pair gives enough curvature without too much height.
Winter has it easy when it comes to helping men look good. Super-soft knits, multiple outwear picks, and not to mention endless shoe options. In summer, men can feel exposed without that layering comfort zone, yet we probably do more in these warmer months. And therefore depend more on the clothing we own. Holiday getaways, weekly wedding invites and outdoor adventures mean guys need a well-curated wardrobe that combines comfort, versatility and style.
However simple on paper, summer might seem for dressing. Less clothing can often lead to more problems. Men will reset to a t-shirt and shorts outfit almost daily. But there is another way, and it is just about preparation.
Men need to take the time to pick the right clothes and accessories best suited for summer. That means materials with cooling properties and fits that will complement without suffocating. From lightweight shirts to versatile swimwear and breathable footwear, the key pieces on our list will ensure you're prepared for any occasion. Nailing great style whilst staying cool in the sun.
Lightweight Shirt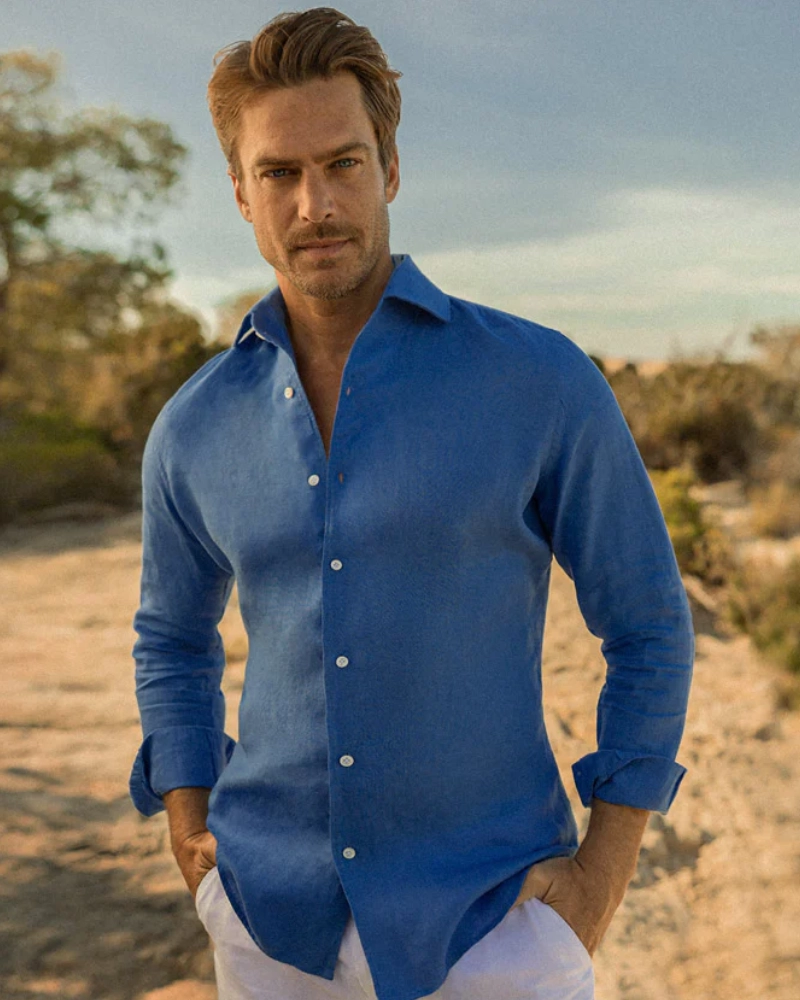 Lightweight shirts are key in a man's summer wardrobe due to their practicality and comfort. They hit the sweet spot in the menswear hot weather Venn diagram of style and breathability. Cooling fabrics like cotton or linen crafted into a semi-formal shirt will become a dependable staple.
Linen, in particular, can hold 20% of its weight in moisture before feeling wet, making it ideal for partnering with a suit if the occasion calls for it. If you fear the creases that come with linen, a cotton-linen blend would be our next port of call. You'll get the refinement of cotton but the breathability of linen.
Choosing a lightweight shirt will pull up a myriad of choices. Further down the casual scale, men can select a Cuban or camp collar short-sleeve option. Perfect for an evening date or weekend stroll. Should you need something slightly more elevated, we recommend introducing your typical Oxford or dress shirt to summer-ready fabrics. Men will still look presentable with the added cooling attributes under the hood—a secret weapon for summer tailoring.
Chino Shorts
It is important to remember that not all shorts are created equal. As men age, they should move away from the youthful long board-short look towards a mid-thigh choice. Mid-thigh is the most flattering of lengths regardless of your age, though it becomes more prevalent to guys who are 30 plus. We can no longer get away with the abandonment of youth when it comes to our wardrobes. The time for experimenting is over, and men must heed what will look best on them.
Shorts are now a crucial component of your summer outfit, not an afterthought. Resort wear has shown us that if we pick the right pair of shorts, they can serve various purposes. Even pool shorts have become so cultivated that men can wear them to the bar and beyond. More on that later. For now, let's focus on the chino short.
The chino shorts will offer the most versatility while holding their own on different occasions. Their clean and simple aesthetic allows them to absorb a mix of pieces on the top half. These shorts are integral to summer dressing, from partnering with a plain t-shirt for a weekend coffee to Oxford shirts for a smart-casual look. Chino shorts are comfort and style personified.
Drawstring Trousers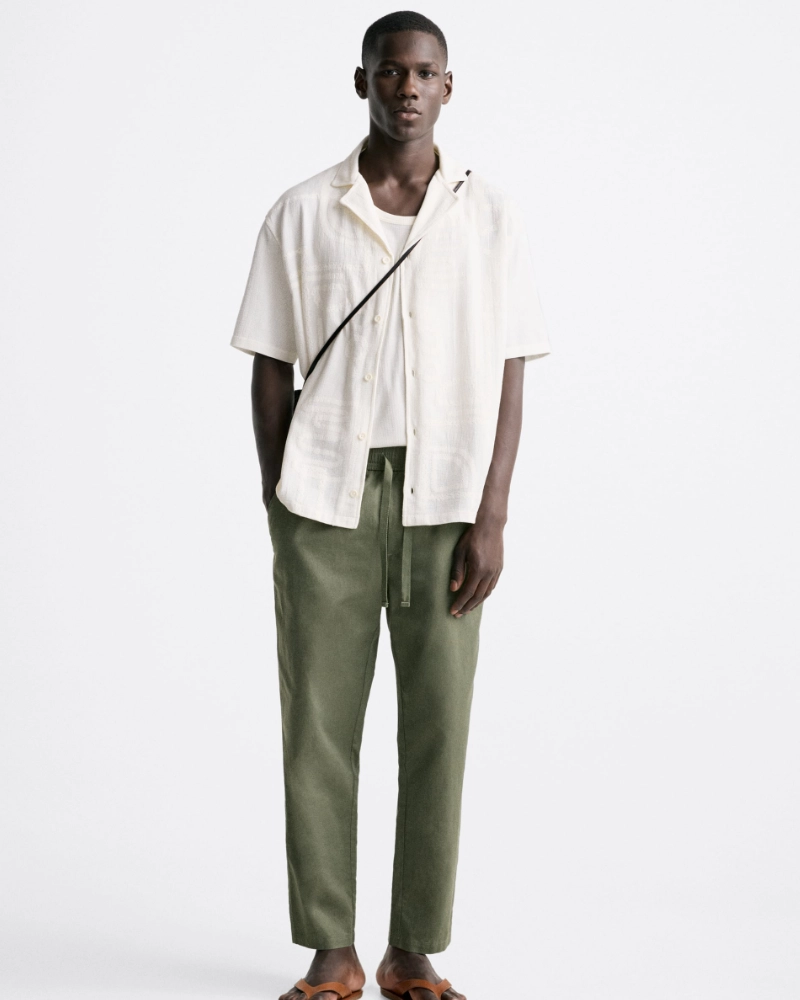 A step down from formal trousers, but a step up from shorts, lightweight trousers with a drawstring waist are a relaxed alternative to chinos. Ensuring you get a fit that isn't too flowy, you'll still get that more fitted silhouette that your top half deserves.
By drawstring trousers, we aren't referring to jogging bottoms. Instead, we are preferably picking out a linen pair that allows the air to circulate. Even in high temperatures, they'll keep their breathability, making them a solid choice for daily rotations.
Some men might fall back on beach inspiration when styling their drawstring trousers. And yes, sandals and a camp collar shirt will deliver a solid outfit made for summer. But, we like to bring our trousers up a notch by partnering with a smart linen shirt and espadrilles. This way, men will get maximum comfort without looking too casual.
Suede Loafers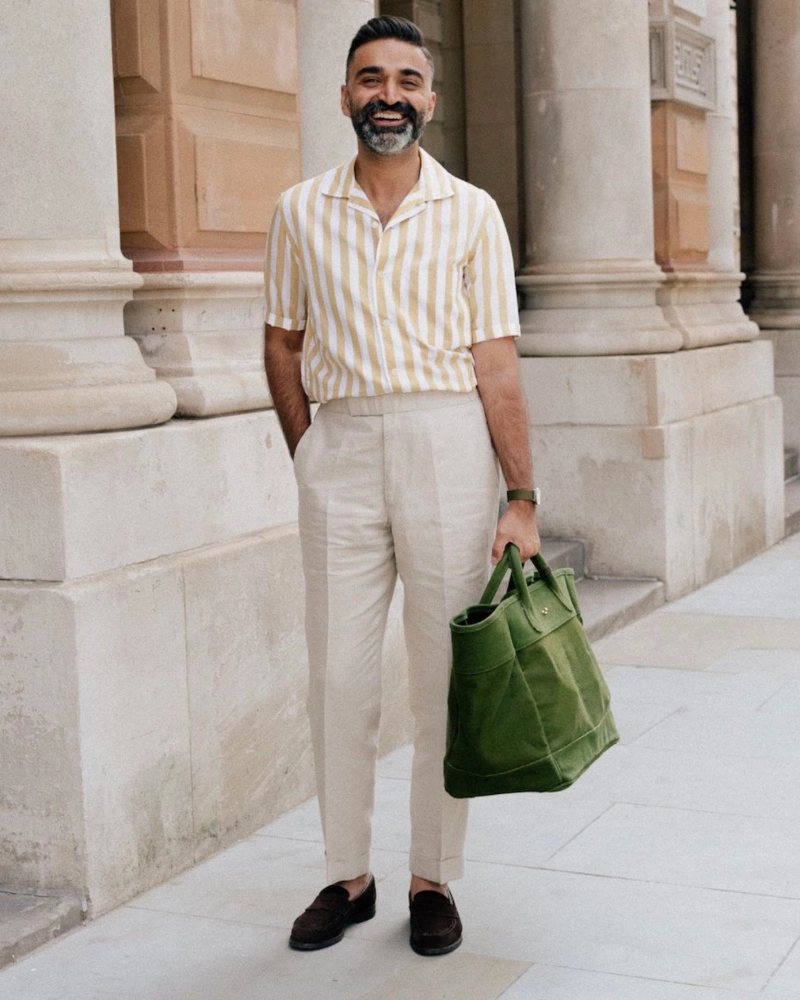 Without getting too deep into the gory details, men's feet have a high concentration of sweat glands. So, if we enclose them in non-breathable footwear, they can quickly become hot and sweaty. Making it important for us to find breathable footwear primed for summer that will avoid unwanted air sniffs in the office.
If you are a guy that wants to bridge the smart casual void, stick to a pair of faithful loafers. Worn with or without socks based on personal preference, this footwear is a favourite for those who need to remain tailored even in summer. However, you can seamlessly rotate your trousers to something a little less formal and still create a finessed finish.
We always like suede as a fabric for warmer periods. Men gain the same aesthetic as a leather alternative but with added texture and interest. Just remember to care for this material before and after wearing them to ensure their longevity and value for money.
Tailored Swim Shorts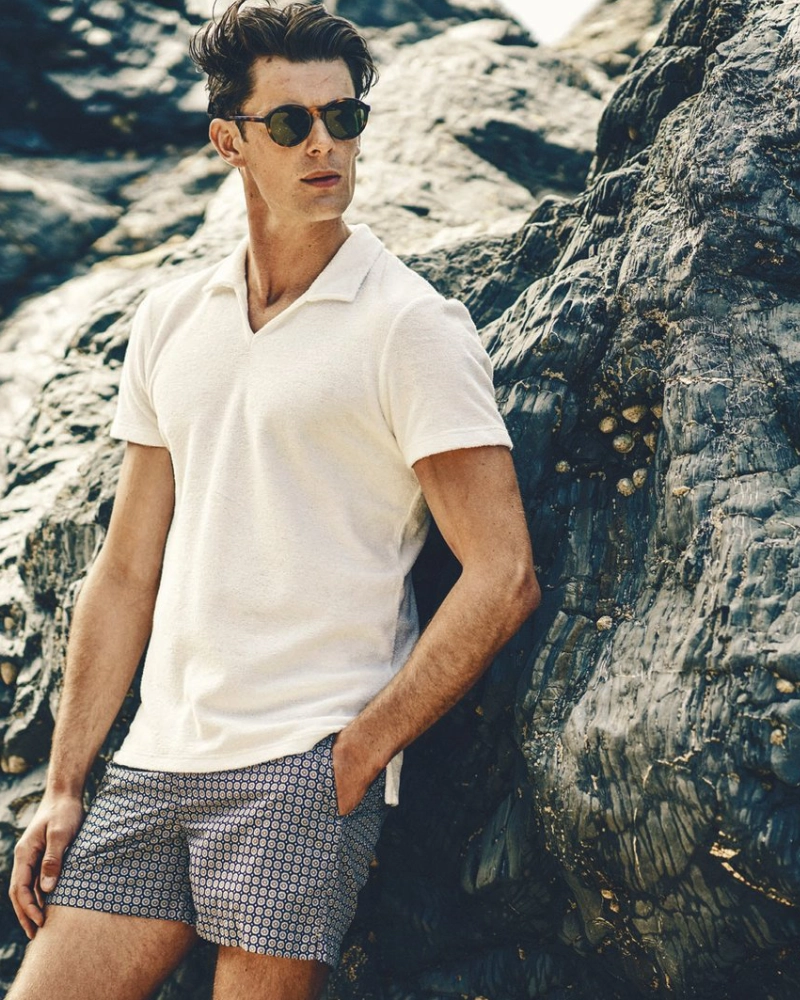 It's time to throw away those budgie smugglers and board shorts. Swimwear has gained a prime position in your suitcase due to an updated focus on its fit and versatility. Brands understand that we want to avoid bringing a stack of clothes in our luggage on holiday. Swim shorts that dry quicker while having a tailored design allow men to wear them throughout the day. Saving valuable travel space and enabling us to partner with a mix of tops.
Unlike a drawstring waist, tailored shorts have a fixed waist, often with side adjustors. This fit creates a less relaxed silhouette reminiscent of chino shorts. As such, men can throw on linen shirts, polo shirts or even an Oxford for post-pool duties.
Brands like Orlebar Brown have led the way in boosting the popularity of this style of swimwear. But now menswear is awash with designer and high street options. Making it even easier for guys to get their hands on a pair.
Summer Suit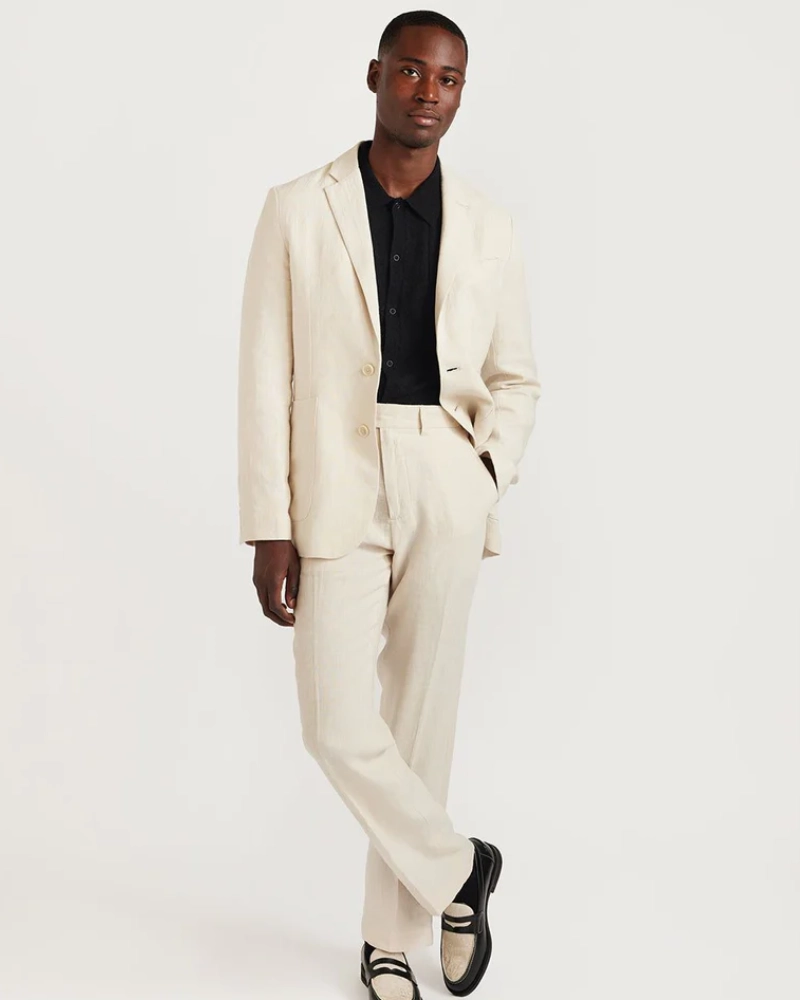 Summer is a time to refresh and rethink your tailoring, as by their nature, suits, with their canvas construction and weighty fabrics, are prone to creating a formal sweatbox.
Picking a suit in a lighter colour will help reflect the sun's rays, helping to keep the wearer a touch cooler. For example, we like to use beige or light blue to update our office wardrobe from colder months. Stepping out of the safe space of navy or charcoal brings a stylish twist to your tailoring alongside the added cooling properties.
Fabrics at any time of year are crucial. Thicker choices in the winter keep out the cold. In summer, we are moving towards linen, seersucker and cotton blends. Like with our other menswear picks, they will allow the air to circulate better with the optimum goal of stopping guys from sweating. Combine these fabrics with suits that have less canvas crafted in them to create a more relaxed but summer-appropriate approach to formal wear.
Sunglasses
Some men might only think of their sunglasses as a warm-weather accessory. Though, beholding them as a daily essential can help to protect your eyes from harmful UV rays throughout the year.
Nothing is more important than our health. So, if we can shield our retinas while providing the right stylish gravitas, surely, this is a win-win. To do this, men must understand how different face shapes determine what sunglasses will complement them. The wrong frame shape and size can make faces appear longer or contrast angular features and jawlines.
There is no one-size-fits-all approach to picking the right pair. Hit the shops and try on as many different styles as possible. Once you find the right shape, you can experiment with frame hues and lens colours to find something that will work nicely with key pieces in your wardrobe.
Lightweight Knitwear
We aren't fortunate enough to live in the tropics. When summer arrives, the sun isn't always beating down from dawn to dusk. Not to mention the surprising downfall we inevitably get. Both points only heighten the reliance on ample preparation at this time and are where a piece of lightweight knitwear can play an important role.
Knitwear doesn't always have to suggest a chunky roll neck. In summer, a cotton version can provide enough warmth to take the chill off without weighing us down. It can also be easily carried and packed away until the sun sets or the air conditioning goes into overdrive.
Much like in colder months, we can use our lightweight knitwear as our final layer, partnering it with a simple tee and shorts for a laidback outfit. Alternatively, wear it over a shirt with formal trousers to keep us warm during those after-work drinks.
Not to sound like a broken record, but the fabric is crucial to delivering an effortless summer layering item that won't overheat us. Cotton, as mentioned, is a stellar choice, or men could go for a linen blend of cashmere for a luxurious touch. Both should do the trick.
Plain T-Shirt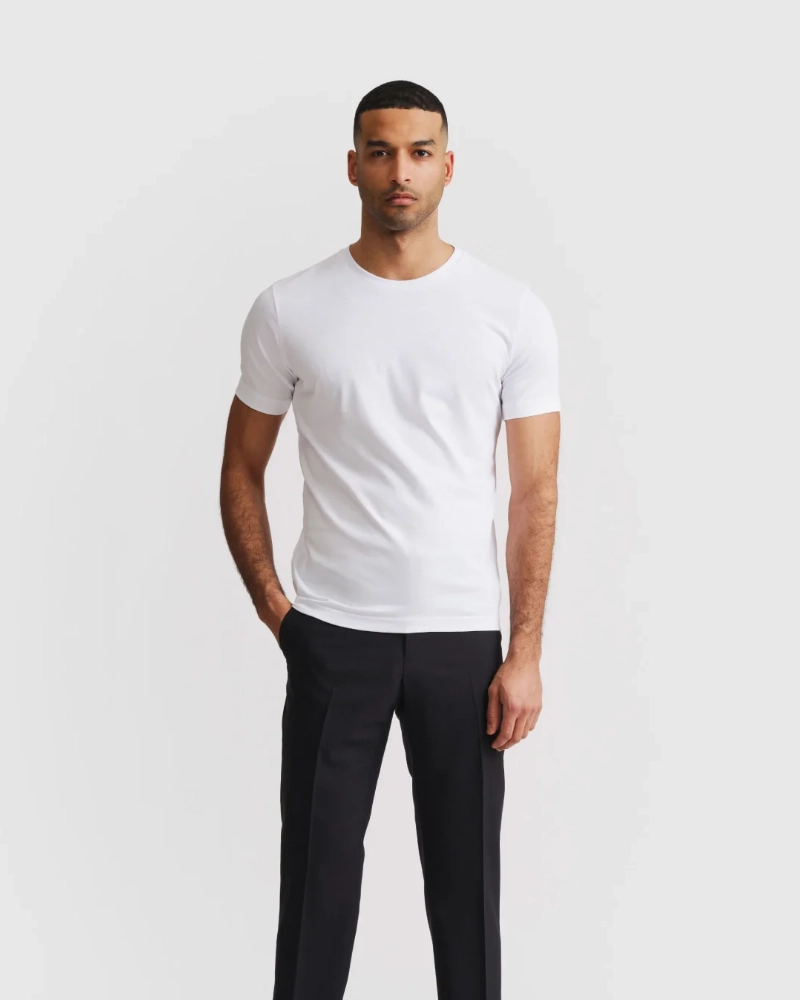 The humble t-shirt might feel a little basic in a list of style essentials. But that is what it is, an absolute necessity. A key layering piece, it serves a noble service in colder times. But we can also bring this former undergarment to the fore while elevating it in summer. By choosing super-soft Supima cotton and focusing on the fit, we can ensure it gets the same love as any other warm-weather piece.
In white, style icons like James Dean and Paul Newman showed how the t-shirt can be a core element in a laidback, rugged look. Its simplicity was able to be the backdrop to a denim jacket or leather jacket. Now we can use that minimalist aesthetic in our summer looks to partner a t-shirt with 5" or 6" shorts for a flattering silhouette.
Stepping away from white, men can introduce softer coloured hues to give us greater options at a lower price than other tops. Then taking our breadth of t-shirts as our base, we can incorporate them under a suit for a contemporary take on tailoring or keep it simple with chinos and trainers.
Polo Shirt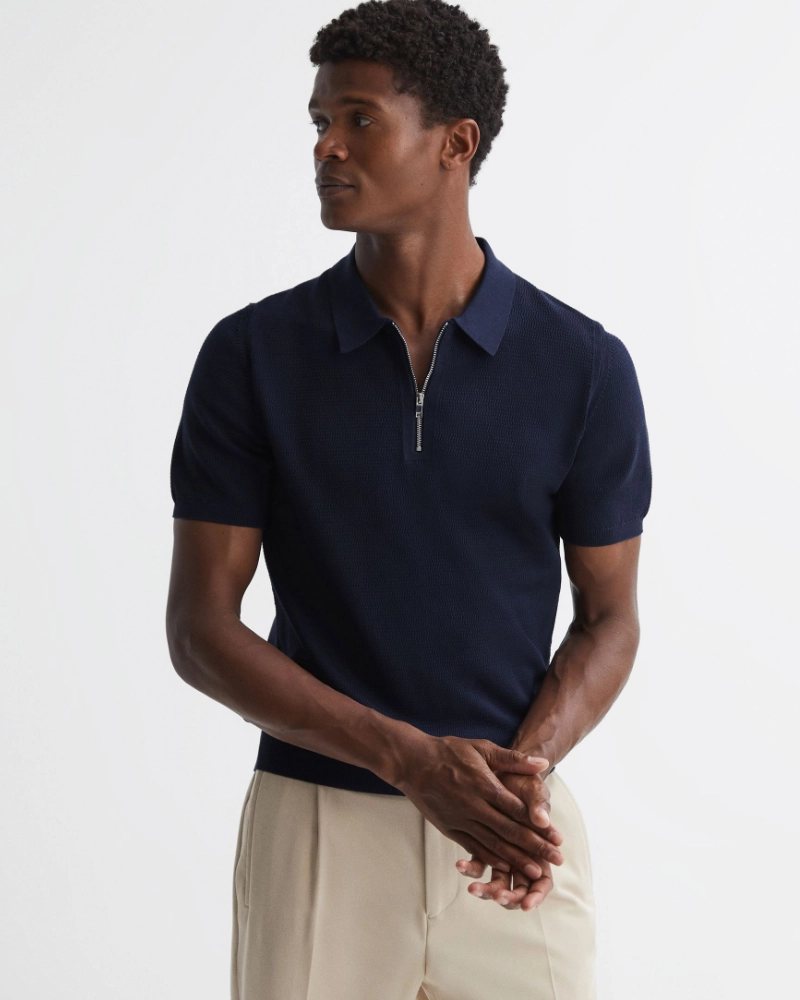 There are always those hot days when we can't face putting on a shirt for fear of the impending wall of heat that will come later. On these days, why not take some style notes from our Italian cousins and reinvigorate our tailoring by adding a polo shirt?
A polo shirt is a great way to add texture and interest in the months when we retreat to basic white shirts daily. Men can wear it within a suited look or as part of a formal separates ensemble. Both ways can switch up your tailoring without becoming too casual.
Aside from the tailored look, a polo shirt can seamlessly be a slightly smarter alternative to a t-shirt. The collar ascends the top into the realms of smart casual attire, a position it excels in. So, if you haven't already, make sure there is a polo shirt in your summer arsenal.
As the temperature rises and the sun shines brighter, it's time to update your wardrobe for the summer season. It definitely isn't all sunshine and rainbows on these shores. So, while the thought of men's jackets may seem counterintuitive in hot weather, it might just be a valuable style get-out-of-jail-free card when the weather changes. Protecting you from an inevitable shower or keeping the chill off once the sun goes down could be vital. In this blog post, we'll explore five essential summer jackets for men that effortlessly combine timeless style and functionality.

The plan when it comes to summer jackets, is to bridge the gap between lightweight and breathable options that can still be depended on for British weather. Through careful use of summer-focused fabrics we can pick jackets that are designed to keep you cool while delivering a pared-back aesthetic. This combination will ensure you're prepared for any occasion, whether it's a casual weekend outing or a normal day at the office.

So, if you're ready to upgrade your summer wardrobe and ensure you're prepared for whatever the season brings, join us as we explore the five must-have summer jackets for men. Get ready to stay cool, stylish, and comfortable all summer long!
Harrington Jacket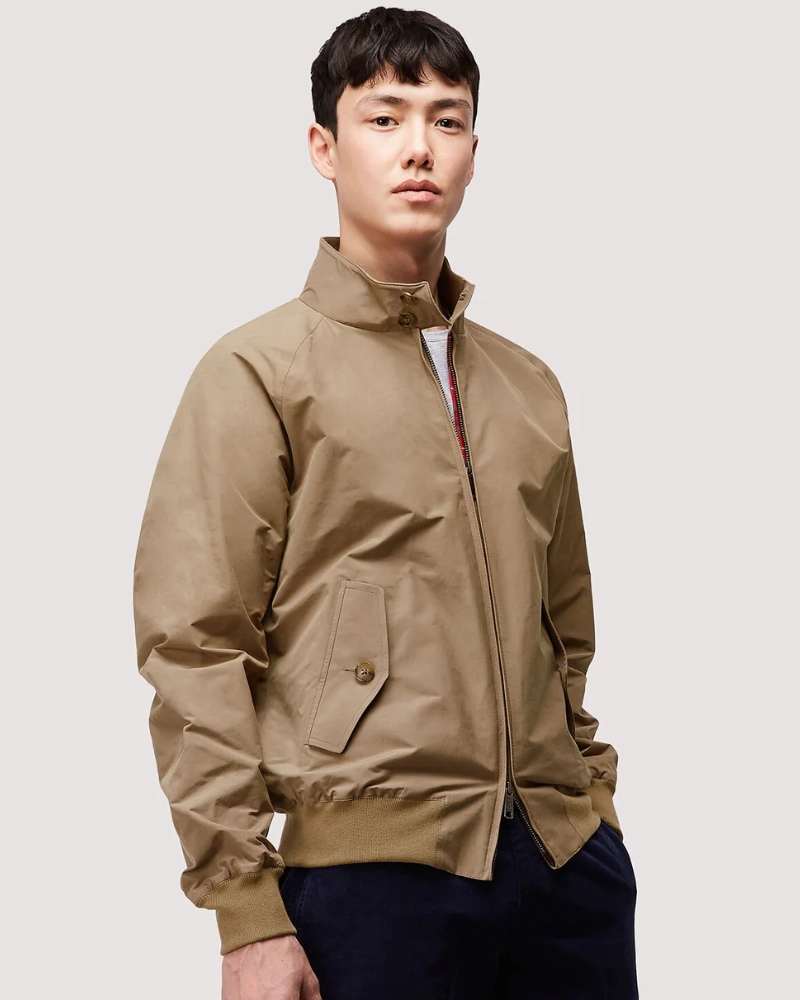 The iconic Harrington jacket boasts a classic and enduring style that has stood the test of time. From its origins in the 1930s to the association with figures like Steve McQueen and James Dean, Harrington jackets have remained a menswear mainstay, transcending passing trends.
Part of the allure of this jacket is its lightweight construction. Harrington jackets are typically made from breathable materials, such as cotton or polyester blends. This make-up allows the jacket to remain comfortable while its overall style delivers a structured aesthetic. It also makes it ideal for being worn through more than just summer, as it can be expertly layered during those tricky transitional months without feeling too warm.
How to style a Harrington jacket
As a versatile piece of outerwear, the Harrington jacket can lend itself to be worn as an element within a variety of outfits without looking out of place.
With a cropped finish, men can easily incorporate this jacket as part of a smart casual look. As such, we might choose to partner it with tailored trousers and loafers for a contemporary office outfit. While at weekends, we can bring the bar down towards a more casual finish. Pairing our Harrington with chinos and Chelsea boots if the weather is looking tumultuous. Or trainers if the sun looks like showing its face. For a nod towards our stylish ancestors, do as James Dean would do and keep the foundation layer a simple plain t-shirt to let the jacket draw the eye.
Whichever way men wear it, there is a wide range of colours to pick from. So, men can be sure there is a Harrington jacket to suit any occasion.
Denim Jacket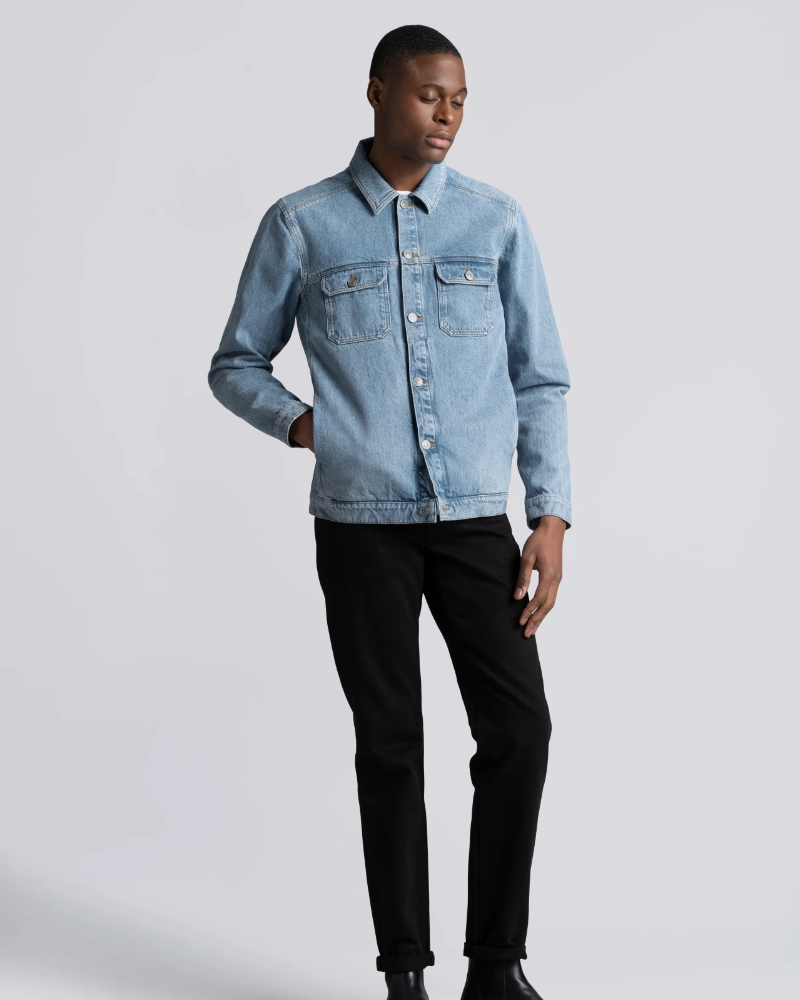 Denim jackets exude a sense of cool, rugged style, making them a great choice for the summer months. It feels like every sub-culture over the years has taken a stab at owning this jacket. Though, it shrugs off the notion that this isn't a jacket that any guy can wear.
Men don't need to seek out anything creative with this jacket. The original and those designs that stay true to this are all you need. By its very nature, denim is a robust fabric. That means if men shop wisely, they can get a jacket that will last a lifetime while developing its own personal patina the more it's worn. This characteristic is a key element of its wide appeal. Knowing that a jacket will not only hold its timeless appeal but look better over time is a unique trait in modern menswear.
How to style a denim jacket
In isolation, it can be easy to pigeonhole the denim jacket within a workwear-inspired look. Obviously, it seamlessly pairs nicely with a t-shirt and contrasting jeans. But that would be doing a disservice to the versatility of the jacket.
Tailored trousers, chinos, and even linen trousers can be effortlessly worn with a denim jacket for a sophisticated summer look. Just make sure the footwear stays in this realm. Something like a suede loafer, for example, would be our top choice. Underneath the jacket, take the opportunity to give your patterned shirt another summer outing or switch for a polo shirt for a take on elevated casual.
Also, as we move into the cold months, we have waxed lyrical previously on how a denim jacket is an underutilised piece of layering. Wear beneath your overcoat for a textured approach to winter dressing.
Bomber Jacket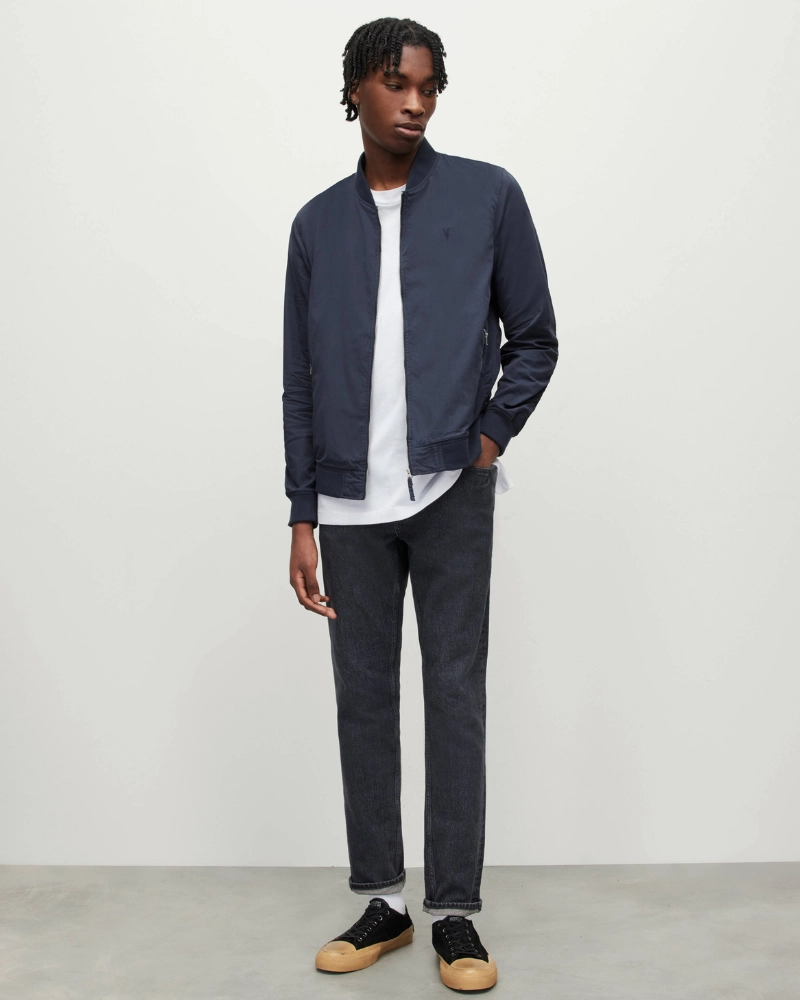 Pilots used the OG bomber jackets to keep them warm in the cockpit. So, to stop us from sweating heavily on the morning commute, men need to get their hands on a bomber jacket that hasn't got the insulation of its predecessors. Stripping out this unwanted warmth will leave us with the celebrated jacket construction but better prepared for the hotter months.
The lack of padding should also do all the hard work of presenting a more refined look. Leaving you appearing less like a member of the National Front and closer to the stylish gent you desire to be.
How to style a bomber jacket
As a jacket that has a wider connotation of being more casual than others on the list, we can lean into this with our outfits.
Simplicity can be our hero here. Wearing our bomber jacket with a t-shirt and slim-fit jeans can present a polished look without appearing too smart. However, men can elevate this slightly and choose to wear their bomber with a chambray shirt and darker denim for an evening out.
Linen Blazer
Ok, this might not technically be a jacket. But the linen blazer gets a ton of time as the last layer of an outfit in summer, so I'm throwing it into the mix. Why does it get so much wear? Because linen is a fabric sent from the gods just for summer. It is light, breathable and can absorb 20% of its weight in moisture before feeling wet, allowing sweat to evaporate quickly.
If you have put together a polished look, men don't want it ruined by becoming a sweaty mess. Harness the attributes of this fabric by using it in blazer form for that important business meeting or while waiting for the bride at those summer nuptials. You can thank me later.
How to style a linen blazer
Naturally, as we have picked a linen blazer, we recommend wearing it with smarter attire. It might be part of a suit or considered separates; either way, men will get the tailored aesthetic they would get from a wool alternative. Just accessorised with less perspiration.
A crisp white shirt is a favourite choice for summer. It would also provide a nice backdrop for a linen blazer should you choose a colour aside from the traditional navy or beige. Hues like green or pastel blue can bring an updated twist to your warm-weather tailoring.
Technical Jacket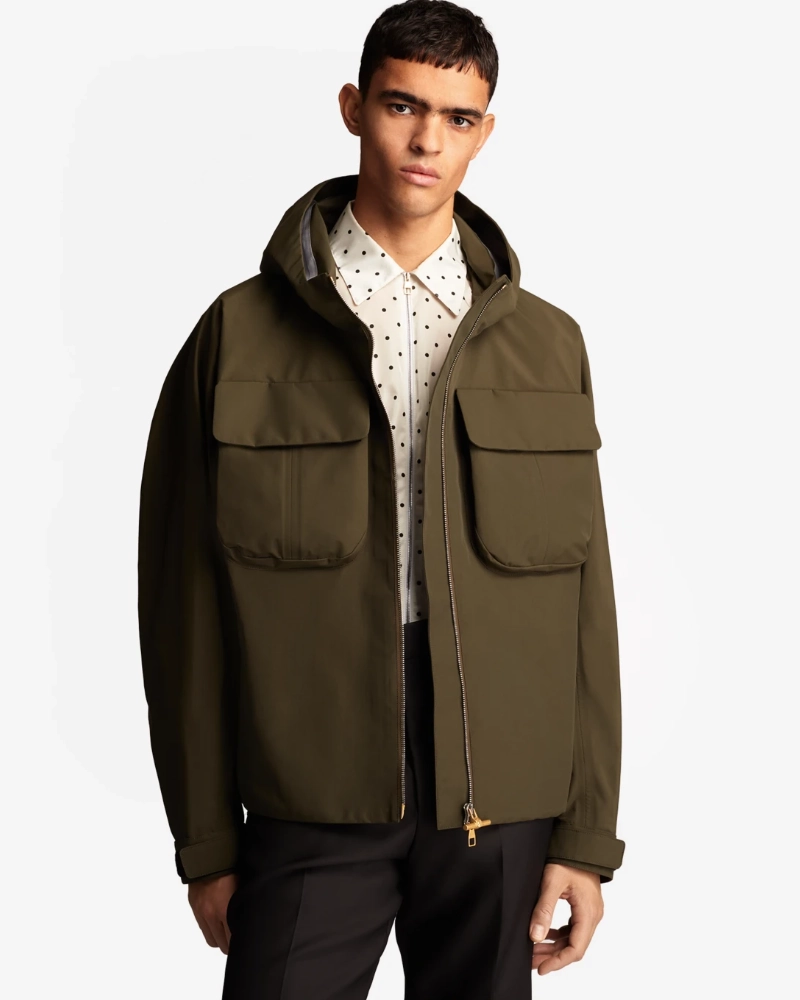 As we alluded to at the beginning of the post, it will rain at points during the summer period. You might want not to heed this warning and eventually get caught out. Or, we can look at how we can prepare ourselves for the inevitable. One way is to get our hands on a technical jacket that is loaded with waterproof and wind-resistant qualities. Packaged in a lightweight summer version, we will refer to this as a technical jacket.
Brands such as Patagonia have ridden the wave of popularity in functional but stylish outdoor clothing. The technical jacket nestles neatly in this space operating as an understated piece of essential kit whenever you are outside. Granted, not the smartest choice, it wouldn't be seen necessarily alongside your suit. But, it is crucial to protect you when the storm clouds start circulating.
How to style a technical jacket
Sure, we could wear our technical jackets like we are heading for a weekend walking the Peak District. Though, we could be enshrining ourselves too much in the hiking stereotype and end up looking ridiculous.
Try to work your technical jacket into your everyday wardrobe. Understand how the pared-back, even sporty vibe could play out when worn with jeans or chinos. Try to choose a technical jacket that has less bells and whistles and more refinement. We want the swathes of technicalities without the multiple pockets and garish colourways.
Darker tones will integrate easier with your current crop of menswear while being a solid pick for the unexpected. Remember, we might only be carrying this jacket in our bag 'just in case', So, we need a colourway that won't clash.
Conclusion
Hopefully, after reading this post, you will better understand the best summer jackets men can wear in these warmer months. The key takeaway is that we are focusing on jackets crafted specifically for this time of year. That means the fit is slightly more relaxed, and the materials have cooling properties.
As always, when recommending what to buy. We would always ask men to pay close attention to the quality of the fabrics and construction. Not only will this give you a better fit, but it will ensure your money is better spent. By investing in higher quality pieces, men can build a wardrobe that caters to a wider range of events while being dependent on year after year.
Ultimately, the choice of summer jackets should align with personal preferences and style while prioritising practicality and adaptability. By selecting weather-appropriate jackets that suit various occasions, men can confidently navigate the summer months whilst always staying prepared for whatever the weather brings.
Summer is here, and it's time for men to shed their layers and embrace the refreshing vibes of the season. Finding the perfect summer shirt is essential when dressing for the sweltering heat. It should keep you cool and comfortable and make a style statement. To help you navigate the plethora of options, we have curated a list of men's hottest summer shirt styles. From classic staples to modern twists, these shirts will keep you looking suave and sophisticated while beating the heat.
The Breathable Linen Shirt
When it comes to summer shirts, linen is the epitome of breathability. This lightweight fabric allows air circulation and wicks away moisture, ensuring you stay cool even on the hottest days. Linen shirts come in various colours and styles, ranging from button-down to mandarin collars, offering versatility for any occasion.
In this warmer period, we tend to gravitate towards lighter shades of blue and green, even pastels. But don't turn a blind eye towards deeper tones like brown or navy. You might find they compliment other lighter areas of your wardrobe whilst partnering nicely with suiting for a wedding outfit.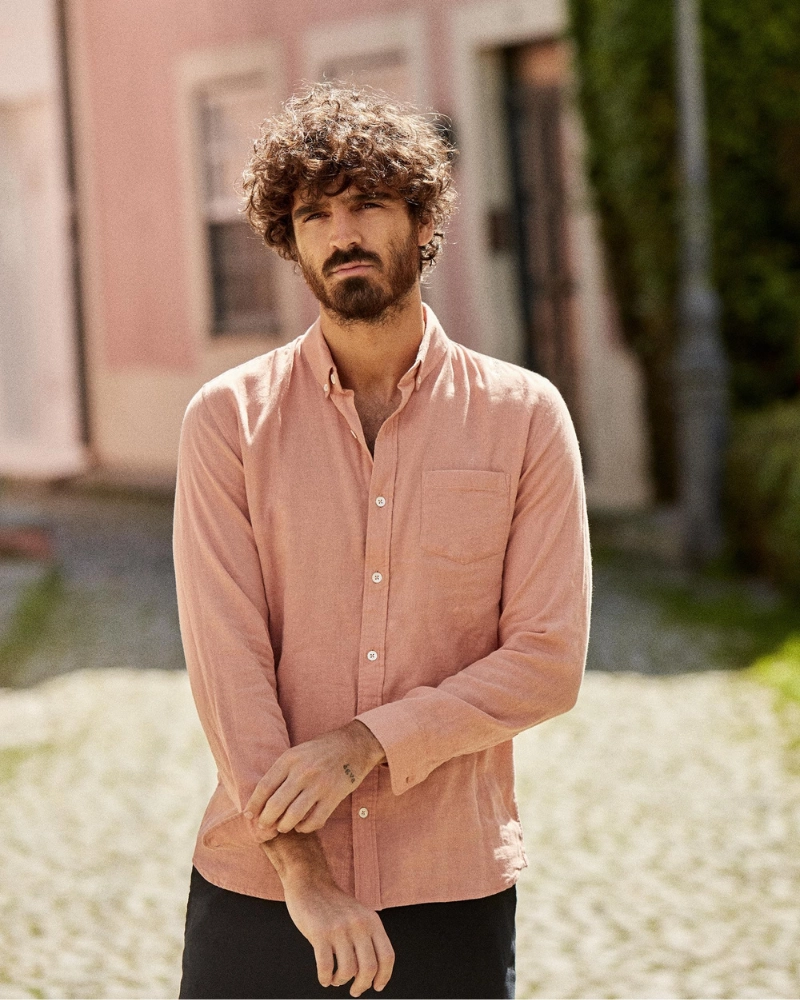 The Classic Oxford Shirt
A timeless staple all year long, the Oxford shirt is a must-have in every man's wardrobe. Crafted from durable and breathable cotton, it effortlessly combines style and comfort. During summer, we know we aren't always basking in the heat, which is where the Oxford shirt's versatility comes into play. Sitting within the realm of smart casual, it brings structure without being too suffocating. And enables guys to dress it up it or down.
As you can go a few different ways with this shirt, it makes it a great pick for both casual outings and semi-formal events. When choosing what to wear with it, stick to lighter shades such as white, or neutral beiges for a fresh summer vibe.
It seems like every brand has an Oxford shirt offering. Try to hone in on the menswear brands that offer a better quality fabric and fit. Considering how much wear you could get out of this garment, it would be worth the investment.
The Hawaiian Shirt
Embrace a tropical flair with the iconic Hawaiian shirt. This relaxed and colourful garment is synonymous with summer and instantly adds a touch of vacation vibes to your wardrobe. With its vibrant floral or geometric prints, the Hawaiian shirt is perfect for a raft of summer dates.
When styling this shirt, try to balance the boldness by pairing it with neutral shorts or trousers. Shorts for that holiday-inspired look or tailored trousers for a contemporary take on tailoring. Either way, men can add some rolled-up sleeves and a few buttons undone for a laid-back, effortless style.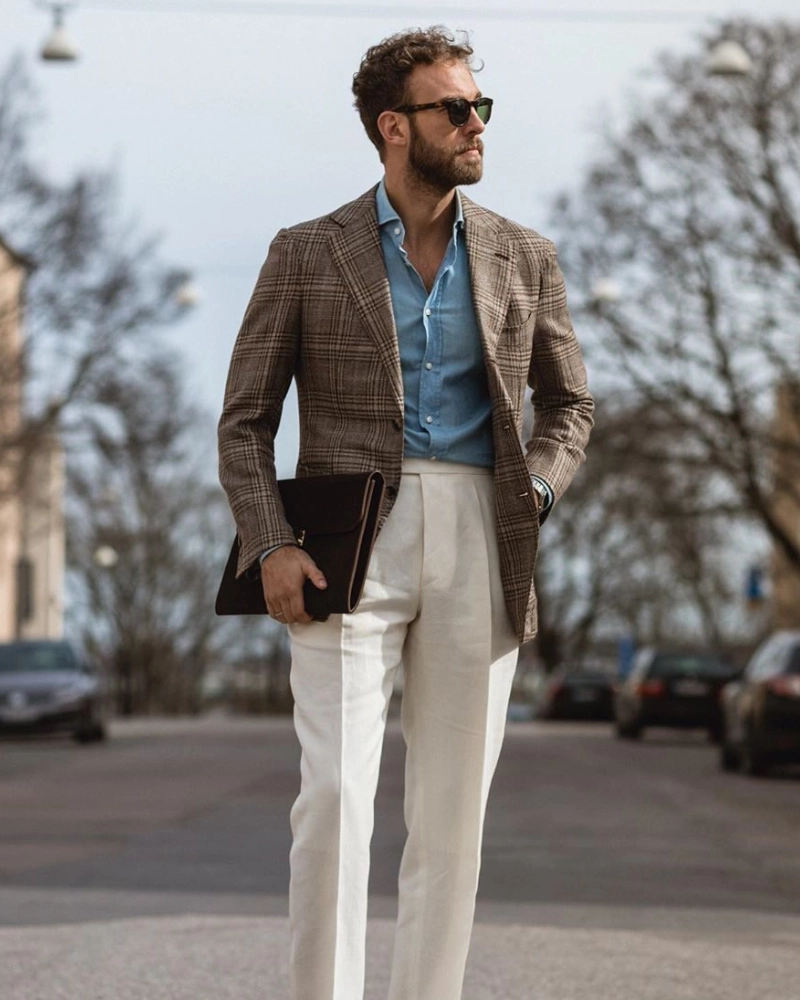 The Chambray Shirt
The Chambray shirt is an underrated top in a man's arsenal. It offers a more casual appearance than a formal shirt but still delivers a refined look. Adept enough to be worn within many of the same outfits that a formal shirt would be present.
Chambray is a lightweight fabric, similar to denim but softer, and offers a versatile option that transitions seamlessly from day to night. The subtle texture and understated colour make it a piece that can be dressed up with chinos and a blazer or worn with a more casual shorts and trainers look.
A slightly more relaxed aesthetic while still giving us that much-needed breathability makes this shirt a key summer piece. And it will add a touch of rugged sophistication to your summer attire.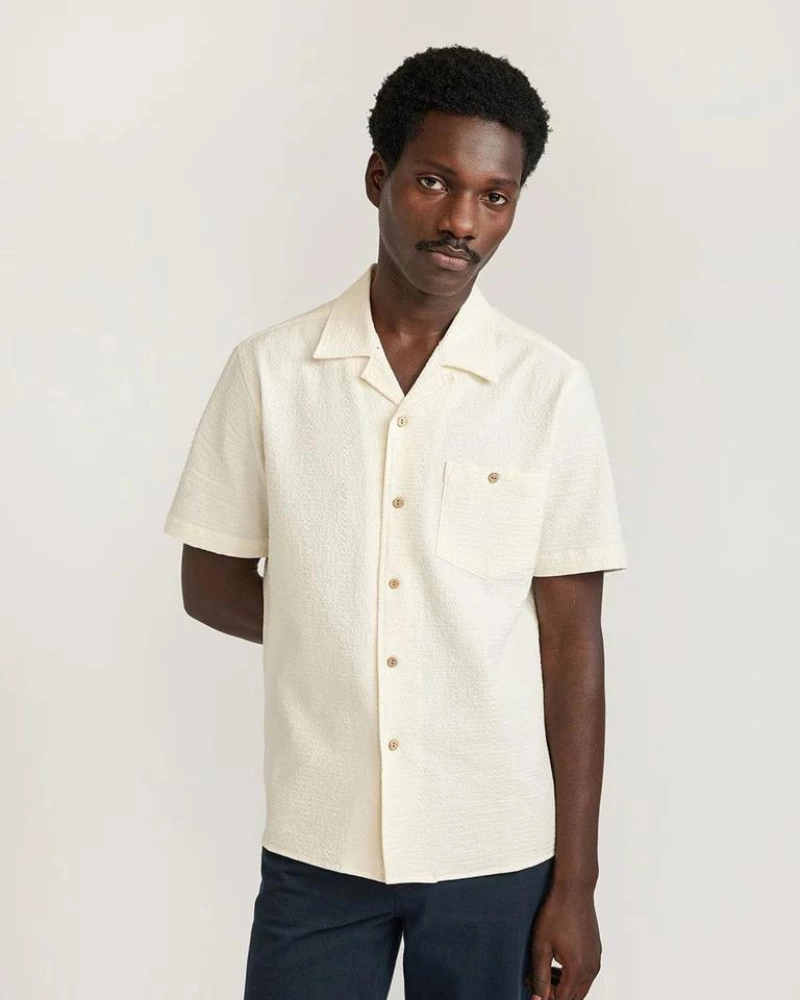 The Short-Sleeve Cuban Collar Shirt
The resurgence of retro fashion has brought the short-sleeve Cuban collar shirt back into the limelight. This shirt (similar to a Hawaiian) features an open, notch-like collar that exudes a vintage vibe with a contemporary twist.
Typically, the Cuban collar shirt has a boxier, more relaxed fit. Made from a lightweight fabric that makes it ideal for warm summer days. A plain option is a dependable staple. But, why not embrace bold prints, stripes, or floral patterns to add a playful touch to your summer outfit?
Dependent on your choice, the Cuban collar shirt will pair nicely with tailored shorts or slim-fit trousers for a modern take on classic summer style.
Conclusion
As the temperature rises, your wardrobe should adapt accordingly. Men's best summer shirt styles prioritise breathability, comfort, and style. From the Oxford shirt's timeless elegance to the Hawaiian shirt's carefree tropical vibes, there's a perfect option for every occasion. Embrace the lightness of linen, the versatility of chambray, or the retro charm of the Cuban collar shirt. Whichever style you choose, remember to stay cool, confident, and effortlessly stylish throughout the summer season.