Our 'In Conversation' series aims to bring our readers interviews with key figures within the artisan menswear world. Showcasing luxury and bespoke brands that are commonly overlooked in our fast-paced fashion world, we hope we fuel our readers passion in learning the true meaning of expert craftsmanship.
Continuing this theme, we threw some questions at Tony Gaziano, co-founder of bespoke shoemakers Gaziano & Girling.
Launched in 2006, what was your drive for creating the brand?
Both Dean and I had been working for different shoe makers for some time already but had found that what we saw wasn't up to what had been done in the past. Unfortunately, the quality of craftsmanship had gone down quite a bit over the course of the last decades. This frustration of British shoes being slightly boring and designed for older men going for the repetitive antediluvian designs all of the time was at us both and we thought let us put our heads together. We were desperate to inject some younger designs and sleeker shapes into shoes whilst keeping the beautiful British making. And there was a niche for years for this to happen at the quality end of the market. Being young and full of energy, our drive was to fill this gap by creating a perfectly balanced shoe, incorporating both great design and sublime quality in a new product.
Who is the Gaziano & Girling man?
There is no Gaziano & Girling man, only Gaziano & Girling men and of course some women since we've launched the ladies collection earlier this year. Our oldest clients are well into their eighties while our youngest ones could be their grandchildren. Interestingly enough, most young people go for the classic designs and shapes while older aficionados appear to be more daring.
Regarding the whole company, me and Dean obviously are at the head and steer of the business and also have the advantage of being craftsmen ourselves, so can direct the product to be exactly as we want it to be. But honestly, our whole team is crucial to the product we produce, myself and Dean cannot and do not want to take all the praise.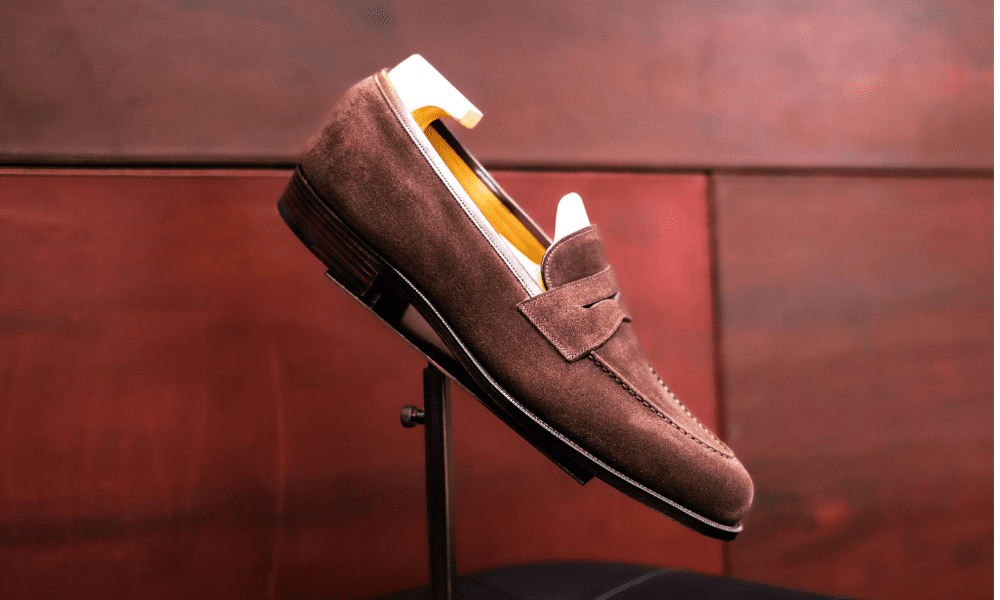 What are the modern day challenges for a bespoke shoe maker like yourselves?
The two most challenging aspects of shoe making in general are finding the right quality of natural raw materials and consistency of craftsmanship. Some people mistake craft work for engineering and expect micro millimeter perfection, which is hard. We cannot ask to a farmer to grow 100 identical calves or expect a craftsman to be on top of his game every single day of his life, so there will always be handcrafted elements and slight imperfections in this kind of product. In an ideal world, a shoe lover would embrace the craft as what it is and understand the work that goes into it.
Do you see an emergence in more men looking for well-crafted products?
Yes, there definitely is a cross over with fashion and luxury at the moment. So many fashion brand buyers are moving over to hand crafted products, whether it is suits, shirts or shoes. And even though this is a trend we do not necessarily rely on, I cannot say we reject it completely as it opens the door for more men to familiarise themselves with the beautiful world of hand crafted products.
How are new technologies playing a part in the industry?
As strange as it might sound, most of the machinery we use is over half a century old. When we set up our own factory, we were fortunate enough to find a lot of old machines on site that were exactly what we needed. There's not a lot that has changed in shoe making over the last decades. However, there are new technologies we use. Our patterns are all designed in the same size and width but then shrunken down or blown up using a computer to keep the proportions. On top of that, we can use laser etching to engrave patterns and designs onto the uppers if someone requests it. Interestingly enough, new technologies cannot replace a holistic knowledge of a craftsman that comes with being and learning in the trade. A 3D scanner can not see what the trained eye sees. Or at least not yet.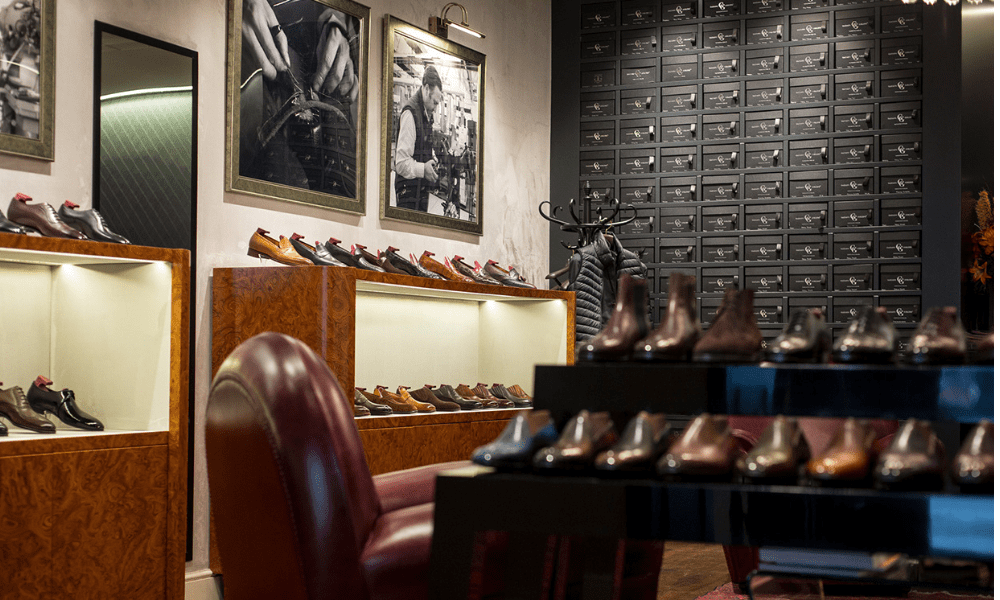 How important is your flagship store on Savile Row in introducing the brand to new customers?
There have been a few stepping stones in our company's young history. The opening of our own flagship store on Savile Row has definitely been one of them. Surprisingly, there's never been a British shoe maker on the Row and we are very proud indeed to be there among the finest tailors in the world. Although we do have walk-in chance customers, the majority of people coming to the shop are loyal friends of the brand that enjoy coming to our shop to have a chat about shoes and enjoy an espresso or tea while taking a break from the buzzing city life around Mayfair.
With the importance in fitting and personal service when it comes to bespoke shoe making. Is e-commerce a secondary thought to a retailer like yourselves?
As all of our different Ready to Wear and Made to Order models and lasts fit exactly the same, the most important thing is to get it right the first time. Once you know your size, you can place order over order online without having the fear of ending up with an expensive item you cannot use or enjoy. This is what most friends of our brand that aren't based in the UK do. So this initial fitting is crucial. On bespoke, there are several fittings. But similar to the RTW and MTO process, you will get an identical fitting pair of shoes with consecutive orders.
What is next for Gaziano & Girling?
The next thing that will happen is that we will put some ladies shoes into the Ready to Wear collection. As of now, the ladies shoes are only available on a Made to Order basis. In some point in time, we will be thinking about another shop as well. But that's in the future's mist. Also, there will be some intriguing specials coming up with Gaziano & Girling's ten year anniversary later this year. So stay tuned for that.
You can visit Gaziano & Girling online at www.gazianogirling.com or head to the store at 39 Savile Row, London, W1S 3QF