As cold weather slowly sets in, it's time to invest in some sartorially appealing jumpers. Make purchasing a jumper something well-thought-out rather than what you fall back on when the weather requires it.
Go for statement pieces and quality jumpers that will last you for years. You will need quality knitwear to see you through some of the harshest weather. While many thermo-regulating fabrics are out there, there aren't many with the right style for the modern man.
Here are some jumper options we feel are always on trend and will look good during cooler months.
Cashmere Crew Neck Jumper
Crew necks are a variant of a pullover sweater with a rounded close-fitting neck. They are a versatile style worn with a collared shirt or a simple tee beneath. By investing in in a material like cashmere, you are restricting that itchy feeling you get with lambswool but not sacrificing warmth.
Crew necks are one of the easiest jumper styles a man can pair up quickly. Plain crew necks in a traditional colour palette are best suited for the office, while bolder colours and even patterns are ideal for more casual occasions.
Often cashmere comes with a significant price. But, if you are looking for something more affordable,, keep an eye on Uniqlo as their prices start from around £80.
Sweatshirt Jumper
The humble sweatshirt might get overlooked in most men's wardrobes partly due to its association with sportswear clothing. If comfort is what you are after though, then you can't go far wrong. We aren't talking about that old uni jumper but a super-soft cotton sweatshirt that allows movement and breathability. Which is ideal when you are throwing on the layers.
From style icons like Paul Newman (Getty Images) to blogger He Spoke Style, it is easy to see how the sweatshirt can be a sartorial friend this winter.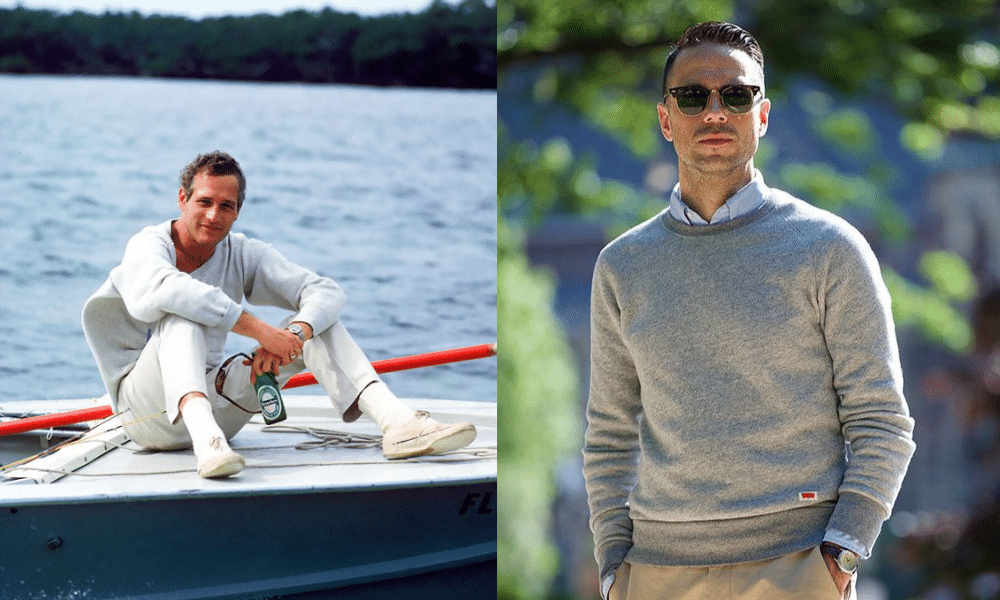 In terms of brands that offer good choices, most high street stores now offer an option. If you are looking for real quality, we highly recommend Sunspel.
Roll Neck Jumper
We have written at length about our love for the roll-neck, which hasn't waned since we wrote that article. Outside the functionality of keeping your neck warm, roll-neck jumpers are extremely versatile. They look great paired with blazers and suits, but equally, they can be dressed down with jeans and white sneakers.
Originally, roll-neck jumpers weren't meant for formal settings. But, over the years, it has evolved a casual vibe as brands embraced different materials and styles.
If you are tired of the regular suit and tie combo, we recommend throwing in a roll-neck jumper for something different. However, you should check at the office or on the occasion to be sure this dress code is acceptable.
This style of the jumper has exploded onto the high street, and again Uniqlo or even COS deliver great low to mid-tier prices. If you require something more luxurious, this cashmere option from Reiss is a winner.
Cable Knit Jumpers
Once reserved for fishermen, like most menswear pieces, it has gone from a rather different background into mainstream appreciation. Having to battle against those high seas and bitter cold. The weave of the jumper is both practical and decorative, offering the fishermen extra warmth.
The jumper moved from maritime to Ivy League prep style during the mid-20th century. Then, like the oxford shirt and polo shirt, it was adapted by well-known fashion brands into their collections and thus imitated on the high street. Fast forward to today, and we see it is an ideal winter warming jumper that transcends trends.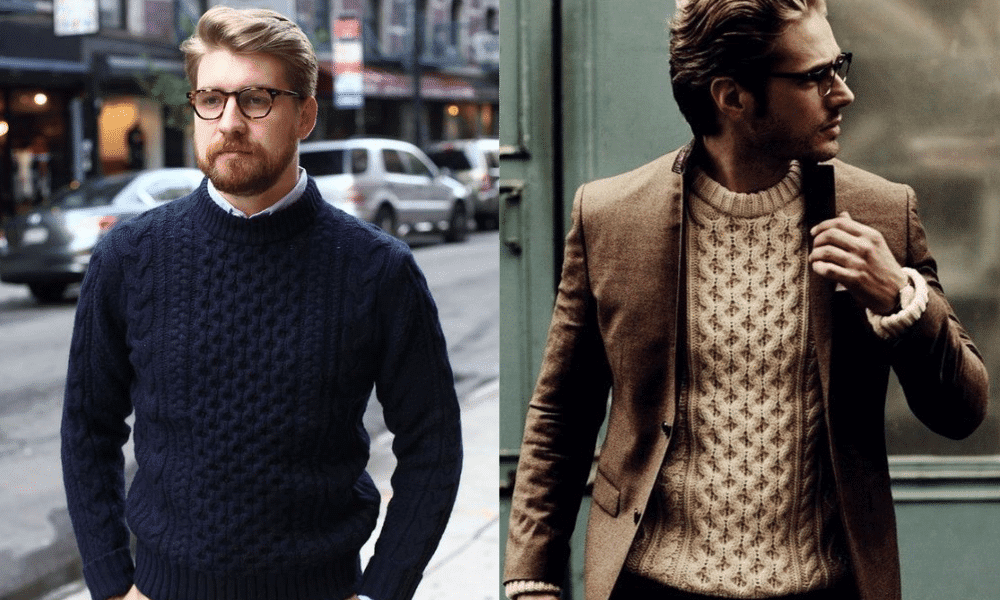 Chunky Cardigans
By opting for chunky, we can take our inspiration from bygone style icons and bring this menswear piece right up to date. Ok, technically, it isn't a jumper, but we are lumping it in here!
Adding a shawl collar offers a statement twist to a more traditional version. Wear it with a chambray or denim shirt to go full, Mr McQueen. Or alternatively, men can pair it with a simple button-down shirt or t-shirt for an ideal casual attire for winter.