Shopping for men that are either taller or shorter than the average guy can be frustratingly difficult. That being said, the average height for men in Britain is five foot nine. So, there are a lot of exasperated guys needing some help.
Height shouldn't give us a complex. Heck, it isn't something we even have any control over. No two guys are the same and what makes us different needs to be embraced. Brands cater to the masses, not the individual. So, for shorter guys, you might just need some useful style tips to ensure you are getting the best out of the clothes you purchase.
In this article, we bring shorter men, 10 style tips that will help to add 'hidden inches', keep everything in proportion and even elongate the body to make it appear taller.
If you follow these rules it will help you make more informed purchases moving forward and ensure you better utilise the products you already own.
The result for the more diminutive guy is a more confident and stylish version of yourself.
1. Trousers are the game-changer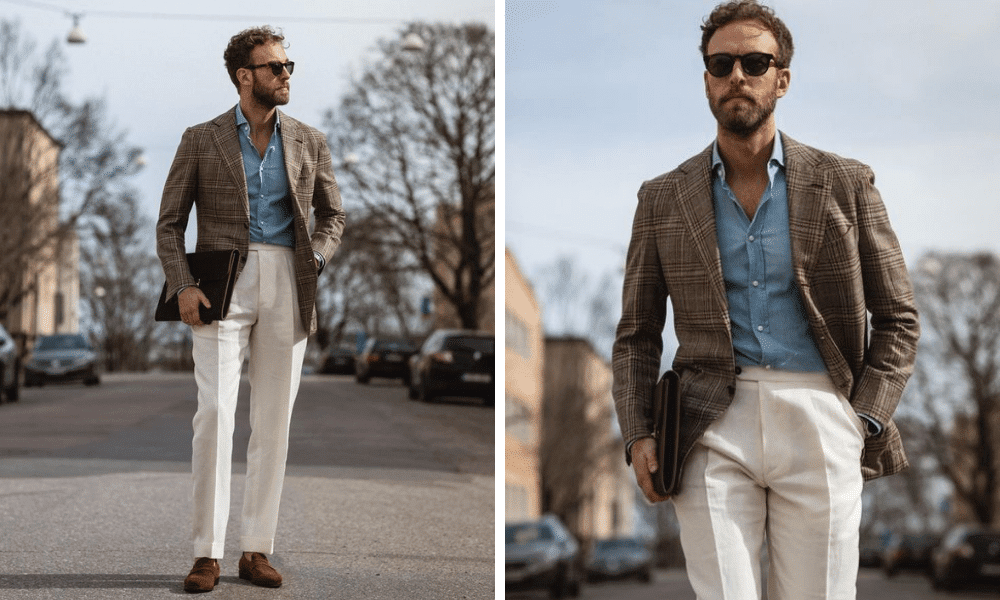 Below average height men will get lost in clothing that doesn't fit correctly. When it comes to fit, I would stress the crucial area to focus on is trousers. Streamlining the look and feel of your bottom half can make your legs appear longer.
Key Considerations For Shorter Men
You can add the necessary inches by purchasing (or getting tailored) trousers that sit further up the hips.
Avoid low-rise trousers that shorten the legs
Lessen build-up at the cuff by opting for no break or a small one (say 1/4)
Visible turned up trouser cuffs can undo all your hard work, make sure these don't show
No pleats, this can distract the eye and ruin the streamlined look
2. Remove eye-catching elements
Imagine someone scans you up and down the body. An oversized feature will catch their eye. This is then used as a reference of scale and can lead to that area appearing smaller than it is. It's the same principle used when we see people standing next to someone or something taller.
So seek out clothes without a large chest pocket or motif for example. It even applies to accessories. Items like oversized watches can have the same detrimental effect.
3. Tone down colours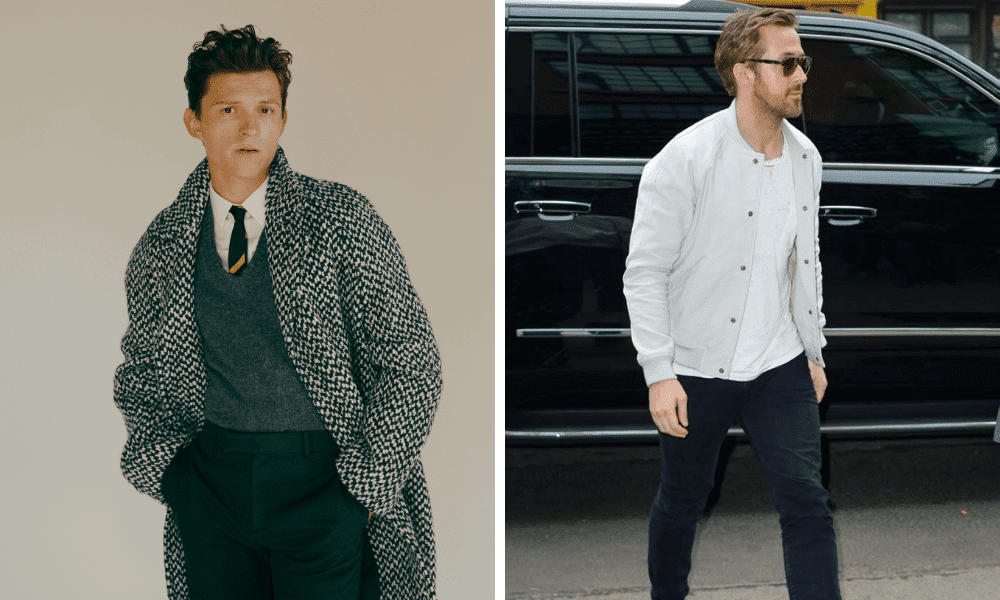 Creating a juxtaposition between the top or bottom half of the body will only enhance any disproportions. Bold colours on top can make your legs seem smaller and the same in reverse.
We always hark on about the subtlety in dressing men and this is the perfect opportunity for this. Find a mix of colours to use as a core foundation for your wardrobe and which will complement each other. Think greys, navy, browns, blacks and whites. They all work nicely together to create seamless outfits and won't offer stark contrasts between individual pieces.
If in doubt monochrome is a great fallback. Some simple black jeans and boots can be worn with a white tee to great effect.
4. Choose vertical patterns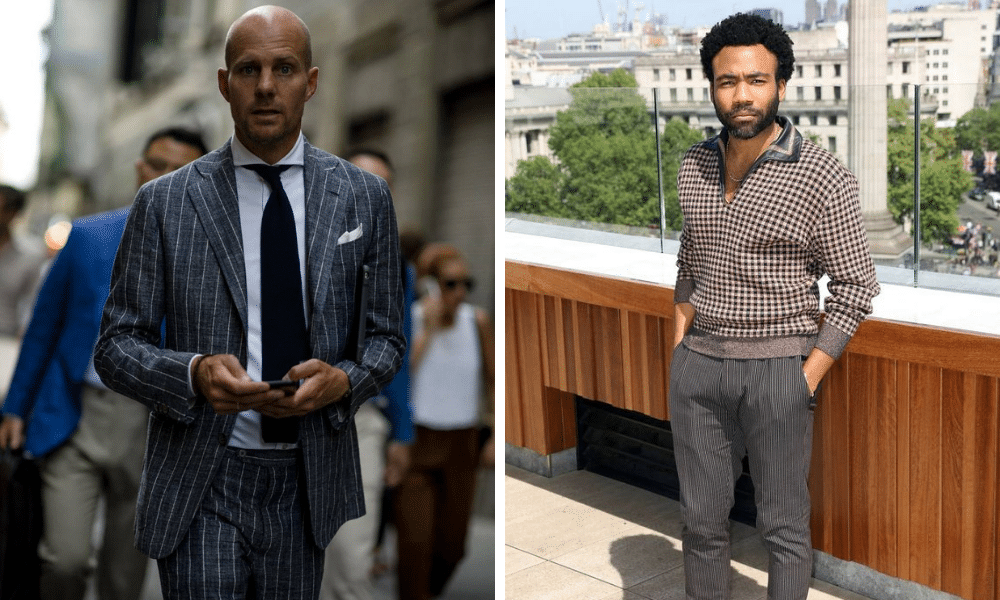 Yes, this is normally a trick for the more robust man. But, it can work wonders for shorter guys too. Wearing a vertical pattern helps to elongate the body as the eye follows the stripe upwards.
There are a ton of different patterns that incorporate this style of vertical pattern, the humble pinstripe being the most basic of all. When looking at patterns though, try not to make the stripes too broad. This can lead to the body appearing slightly wider and making you seem stout.
5. Keep it tucked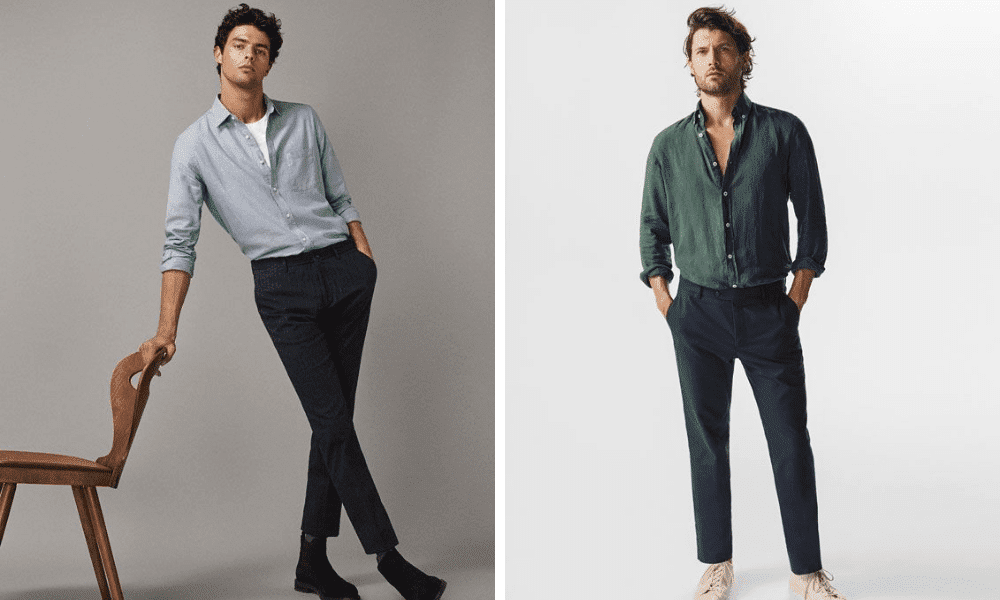 When a man wears a shirt untucked it makes the torso look longer. Great for those taller guys, but shorter men need to keep top and bottom on an even keel. Having your shirt untucked will deliver the appearance of shorter legs as naturally more of the waist and upper leg are covered.
Tuck the shirt in and with smart trousers you'll need to ensure the waistline doesn't sit too low. Accentuate the length of your legs by keeping the trouser waist nicely positioned on the hips.
6. Wear height boosting footwear
We don't recommend shorter men only buy shoes with chunky soles. But, done right you can add some valuable inches to your height with the right footwear.
Chelsea boots are a versatile piece of footwear that we would advise most men to have in their wardrobe. Not only can they work within both casual and smart outfits, but the bigger heel on them also adds height. A win-win in our eyes. Just make sure you never tuck your trousers into them.
Similarly, a running shoe style trainer typically always has a thicker sole. So, choosing these over a standard tennis shoe will add an extra 1-2 inches in stature.
7. Master layering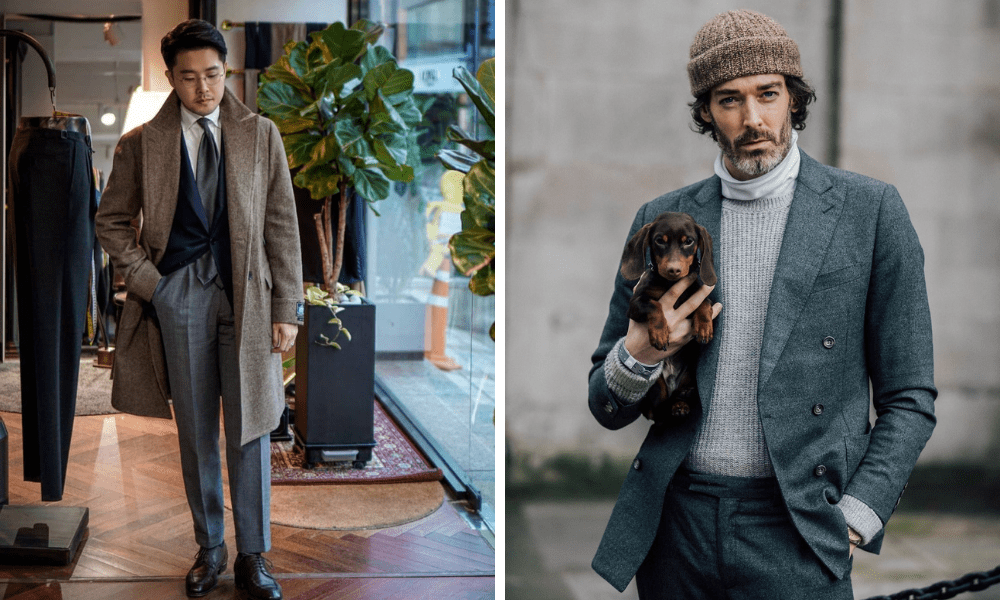 A consistent theme through the majority of these style tips is that you need to keep the eye moving upwards to elongate the body. Layering correctly can help to support this.
Layering is a menswear styling technique that involves adding individual pieces on top of themselves to build an outfit. Think jumpers or cardigans over shirts for layering in its simplest form.
For shorter guys, the key consideration when layering is inverting the colours. That means having brighter hues on the lower layers and adding darker tones on top. This could be a blue shirt under a brown cardigan for example.
By layering in this manner you are drawing the eye up (like we keep mentioning) and lengthening the body. We can also go one further. If you add a jacket on top, the jacket creates two vertical lines on either side of the brighter base colour, pulling the vision upwards even more.
8. Get alterations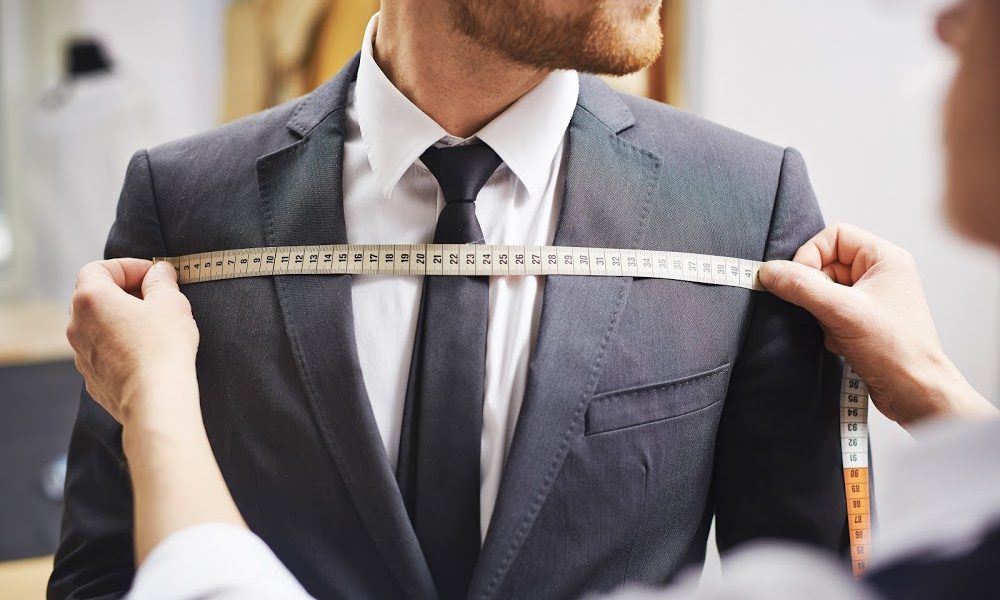 As we mentioned in the beginning, off the rack clothing for men is created from garment templates. Take suits for example. A high street suit simply won't hug your body nearly as well as a tailored one. It's because the tailored one has been crafted to your exact measurements. The same can be said for the majority of clothing available to men. There will be slight variations from brand to brand, but it will rarely be 100% correct for most men.
This is where alterations are key. By using a tailor or dry cleaners you can (fairly inexpensively) change the garments you purchase. It can be as basic as taking your trousers up an inch or two or cinching in the waist. The result though can drastically improve your look.
9. Use accessories wisely
Although we might take accessories for granted, focusing purely on functionality. They can also play a key part in creating hidden inches for shorter men.
Scarves and hats can keep the eye moving towards the top of the body. A scarf which incorporates brighter colours or a bold pattern instinctively pulls the viewer's gaze to it. While a hat can make the wearer appear taller.
If you are someone who likes to wear belts. Do not contrast with the colour of the trousers or tops you are wearing. It will break up the outfit when the goal is to streamline things.
10. Choose the right outerwear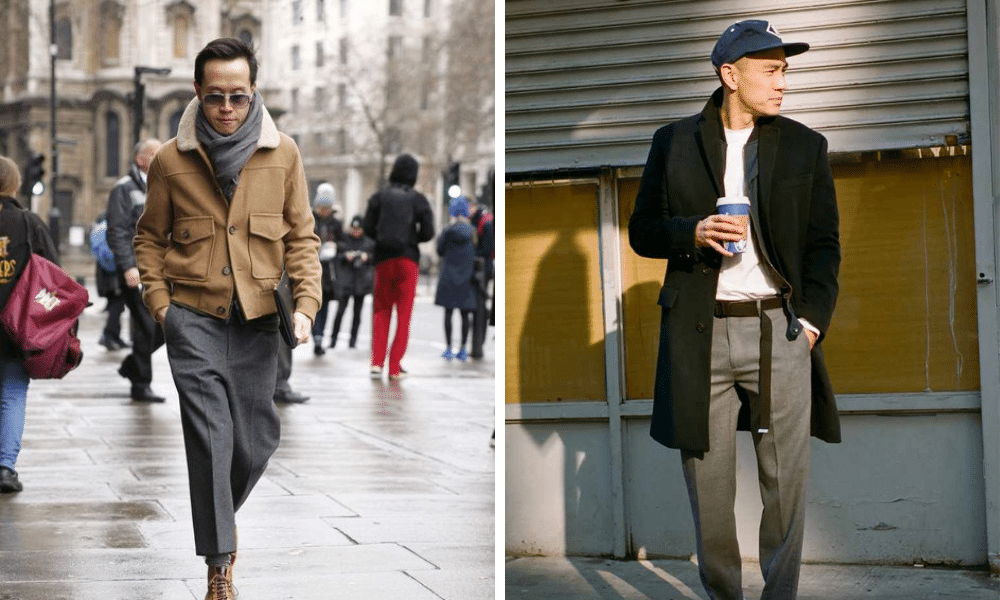 Touching on a few of our previous points, the right outerwear can both elongate the body as well as keep any outfit streamlined.
The fallback for most shorter men is to go for cropped jackets. Harringtons or bomber jackets are ideal for blocking the top half of your look and keeping everything in proportion and are a good choice.
But, don't ignore a longer jacket length. Wearing a jacket that finishes around mid-thigh is great at extending the body and making you appear taller.
A key point to remember with all outerwear is always fit. You don't want clothes that envelop you when you are wearing them. Keep the jacket shoulder lined up with that of your own and ensure the drape delivers a structured silhouette.
Key Pieces For Shorter Guys
Chelsea Boots
Chunky soled footwear although adding a physical inch or two will ground an outfit and draw the eye downwards. In effect, having the opposite result than you intended. If you need a little elevation, the Chelsea boot has a subtle small heel but a paired back appearance which will also elongate the body adding hidden height. For additional refinement, opt for a Chelsea boot in leather material.
High Waisted Trousers
Stylists will always recommend men smaller in stature to try and elongate the legs to present some height. A cunning trick that the most stylish guys will use to put on high waisted trousers. As they sit just below the naval the longer drape fools the eye into believing the wearer's legs are longer than they actually are.
Cropped Jacket
In a similar vein to the high waisted trouser, choosing a jacket that is cropped will raise a man's waistline and give the appearance of longer legs. Pick pieces like a bomber or Harrington. They were favoured by stylish gents like James Dean and Steve McQueen. Both of whom fall under the average height of a modern guy.
Scarves & Hats
Accessories like a scarf or hat draw the eye up to the neckline and head. The key though is in the colour choices. An overly bold choice of pattern or colour will be at odds with the rest of the outfit and therefore bring too much attention. Unassuming colour palettes (think navy, black or grey) naturally raise the eyeline whilst complimenting the rest of the look.