Throughout the biology of evolution, a man's height is likened to their position within society. Being tall asserts a domineering present that sends you up the food chain. What it doesn't do, is give you the needed leg room on a flight or a pair of trousers that fit off the rack.
In a world built for the average-sized man, taller or shorter guys are marginalised. Although, we would say taller men have it harder. Just try squeezing that frame into a sports car.
Menswear at times caters for some of the requirements of tall men. Though, 'big and tall' ranges tend to only help WWE wrestlers as opposed to those that are lofty with a slim body.
Never fear, in this article we want to bring our vertically blessed guys a suite of style rules that they can easily apply to their daily lives. By following these pointers men can get a better foundation for styling their looks and understand what core pieces to look out for.
1. Tailor Everything
We often only think of tailoring in application to our formal clothing. Skilled tailors can apply those same abilities to any manner of items, be it the hem of your jeans or the waist of a jacket.
Length is crucial in dressing tall. On top, always pick pieces that have the right length and then you can have alterations made to cinch in the waist or align the shoulders so it fits your body shape better. With bottoms, there is usually some extra give in the material that will allow them to be lengthened fairly easily.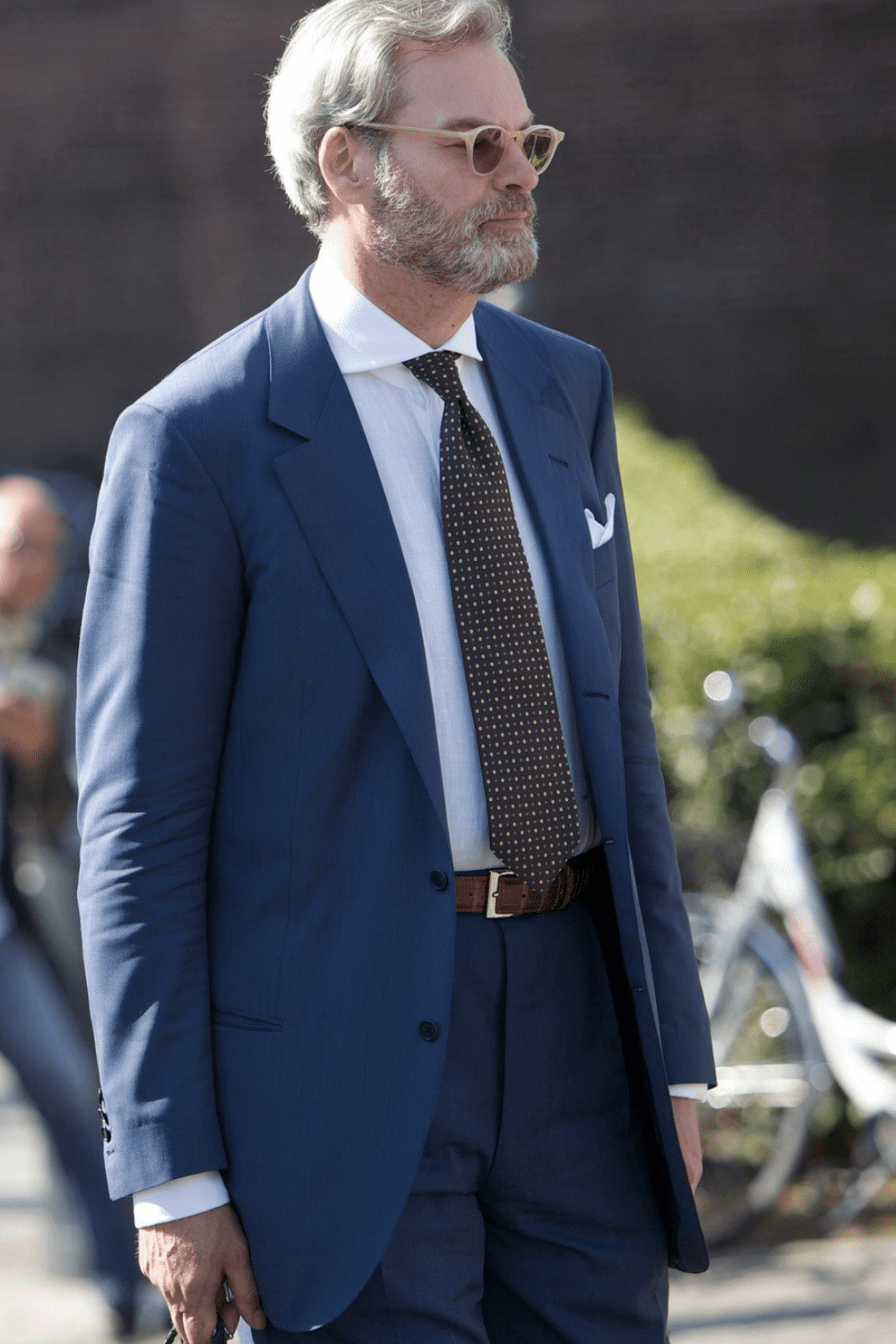 2. Invest In A Belt
Accessories can be a great way to move the eye around a look, thus breaking up the mass of fabric. One accessory we highly recommend for tall guys is a belt.
Belts can clearly define the top and bottom parts of an outfit. This style equator draws the eye to the midsection and works well in combination with a tie for formal attire.
3. Ignore Vertical Stripes
Some prints add much-needed contrast between the top and bottom half of a look. We just have to be careful with which ones we try.
Vertical stripes elongate the body, drawing the eye upwards. In styling circles, this wouldn't be something a tall man would want. So, even though you could possibly get away with a thicker stripe it is a careful balancing act which could easily fail. Best to avoid.
4. Maximise Layers
Those men with a slimmer frame can utilise layers to add some much-needed bulk. The additional pieces stealthily add new proportions and draw the eye.
In the colder months, you want to focus your attention in this part on knitwear or even a gilet. Not only will both add texture but knitwear can also deliver some much-needed fabric inches if selected right.
Layers are a great way to add depth to any outfit and it is this definition that breaks up an outfit.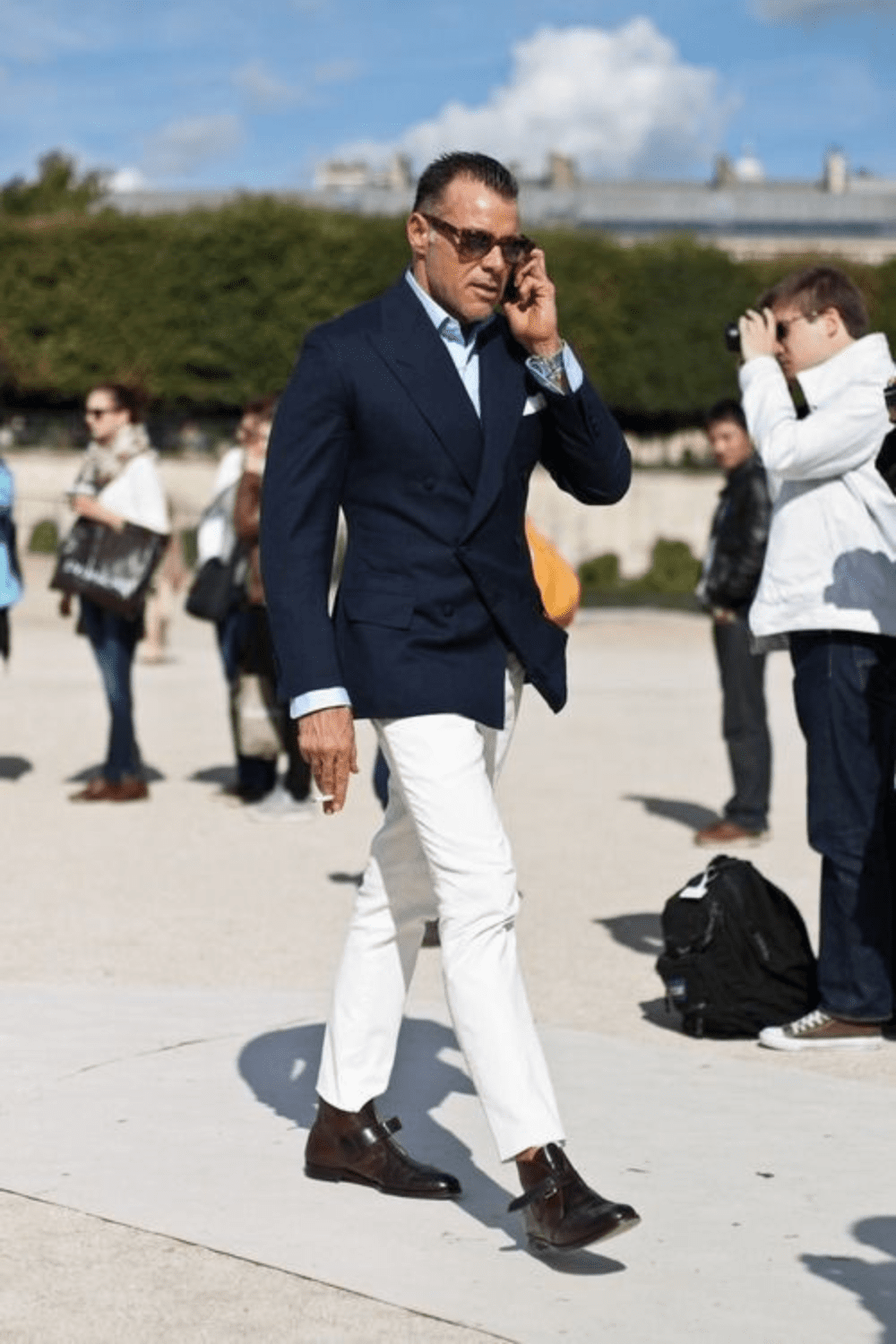 5. Embrace Separates
The traditional suit is going to be uniform in colour and fit on top and below. With tall men we want to break up our outfits and using separates can be an ideal way to do this.
Alternating the blazer we choose with our formal trousers or chinos halts the eye naturally moving upwards and can appear to make the wearer look slightly shorter.
In addition, separates enable men to add some much-needed texture or colour without overpowering the entire look.
6. Go Bold Down Below
Bolder shoe styles and colours might not be to everyone's taste. Sometimes they can appear jarring and can overwhelm an outfit. Despite this, if done right they do an admirable job in drawing the eye downwards.
A peaceful middle ground is to invest in some eye-catching socks. These are much more pliable within most men's wardrobes and do the same job in grabbing the eye of those looking.
Just remember, length is equally important here. Too short and the socks will make your trousers appear to be lacking in mileage, so take a test drive seated and standing to cover all bases.
7. Don't Get Left Short
The devil is in the details and knowing a breadth of tie knots is a great asset to always looking your dapper self.
More complex tie knots though can use more material and thus shorten the length against a taller guy's midriff. If the tie is starting to rise up then it will elongate the body, as we've stressed, this is something we don't want.
Keep an eye out for long-length ties when shopping for accessories and you should be covered no matter the tie knot you feel is the best fit for the occasion.
8. Go Straight Not Skinny
Taller men tend to have slimmer legs and skinny jeans will only accentuate that fact.
Men with longer legs have the natural ability to pull off a more varied range of trouser styles, so use that to your advantage. Embrace a wider silhouette (within reason) that won't gather at the shoe or even worse, fall short.
Remember, your best friend is the tailor. Use them for any tweaks.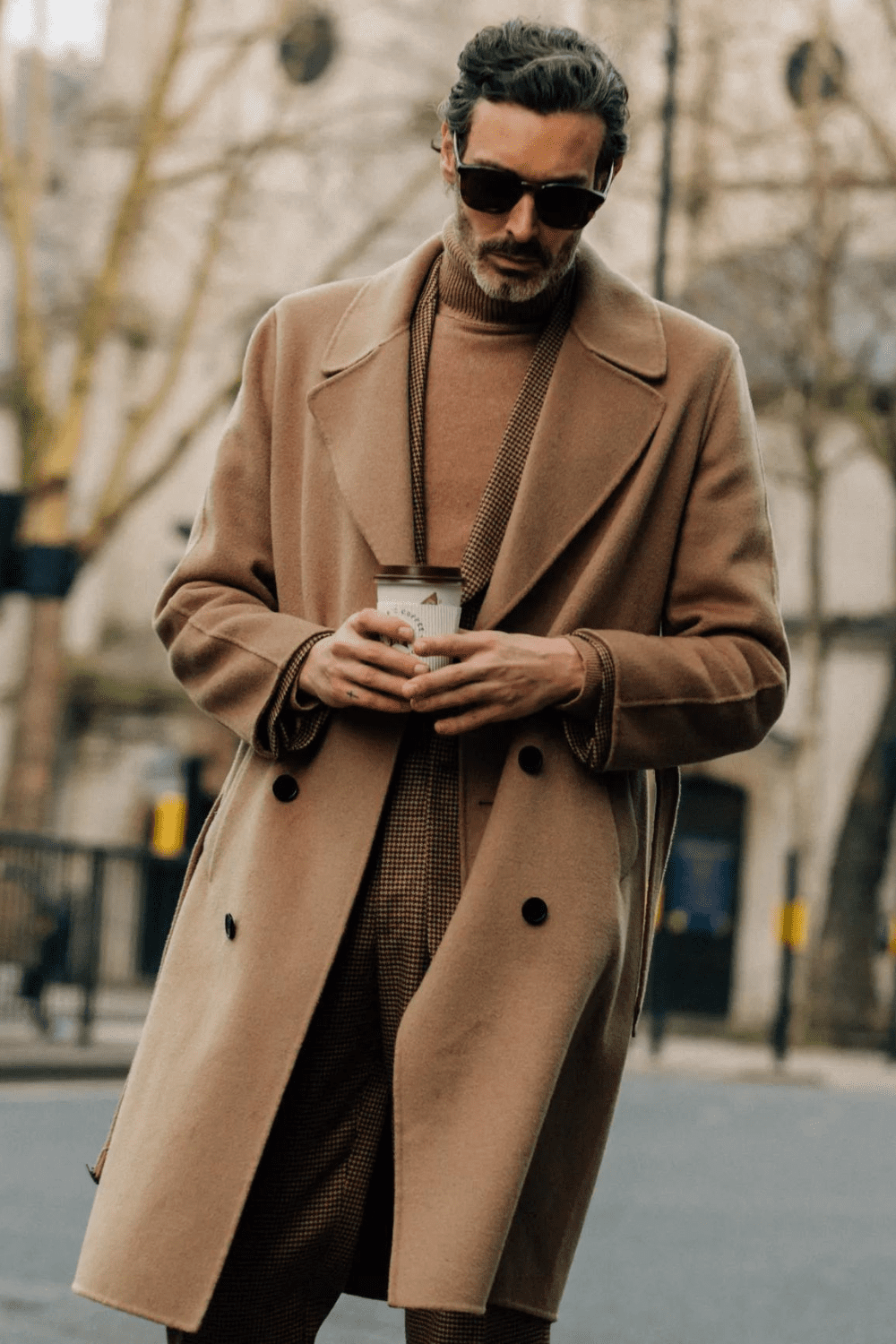 9. Utilise Longer Coats
We always want to make sure the clothes we buy are worn as often as possible. By purchasing shorter jackets tall men risk hoarding pieces that won't look flattering with the majority of their items and therefore get little wear. Try to avoid men's coats that come in thigh or waist-length as they will only emphasise your length.
Key pieces to look out for are longer trench coats or overcoats. The former works (with a belted waist) fantastically well at breaking any outfit up at the midriff.
10. Avoid Low-Rise Trousers
The waistband is a key point in a tall man's ensemble. It works as an anchor which is why we recommend the use of belts in drawing the eye.
When a belt is not required, take note of the rise of your trousers. A low-rise pair of trousers will drop the desired horizontal baseline down and the result will give the effect of making the body look longer
A mid or high-rise trouser will proportion the middle area better and ensure a nicer overall drape.
Key Items For Tall Men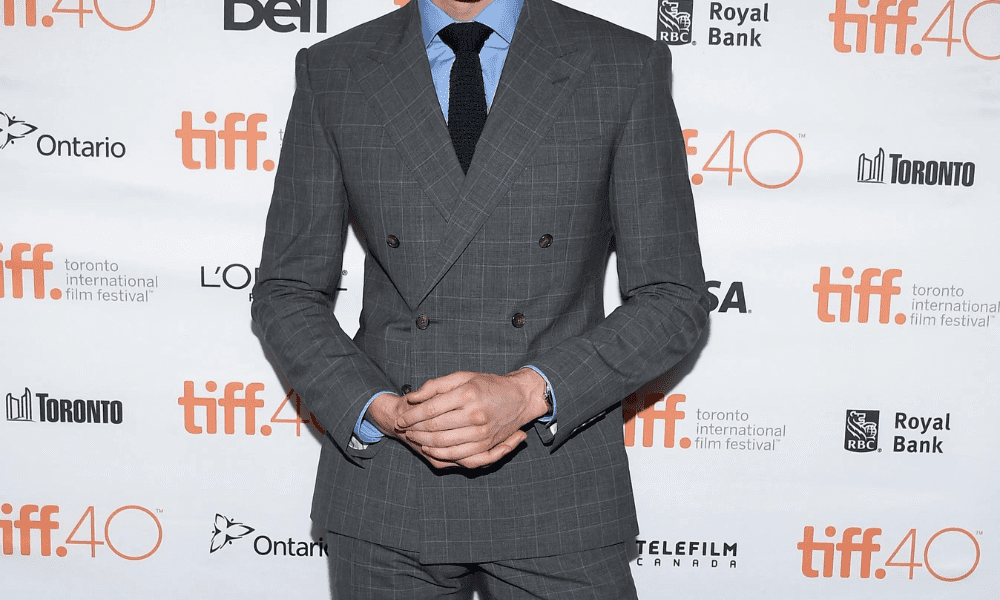 Double-Breasted Jacket
A double-breasted jacket is a neat way to give your torso more shape by giving the impression of a V-shape. Yes, it works well with a run-of-the-mill suit, but embrace it within a separate look for added style kudos.
Trench Coat
When dressing for your height, you do not want the eye to stop halfway, which will happen when wearing short or cropped jackets. A jacket with a long finish like an overcoat or a trench coat will deliver a much better silhouette. Extra points for a coat with a belt as this will cinch in the waist for that desired V-shape.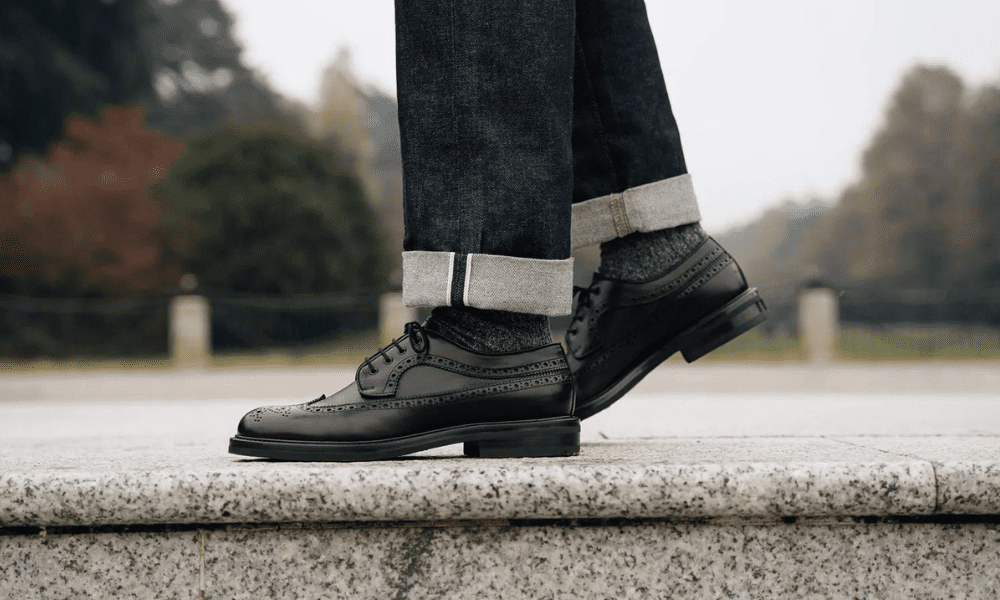 Brogue Shoes
A little detailing on our footwear can again pull the vision downwards. Giving the eye something to focus on like a nice pair of brogues can help to break the vertical line of the wearer's outfit. This can stop the body from looking too elongated like it might with plain Derbys or Oxfords.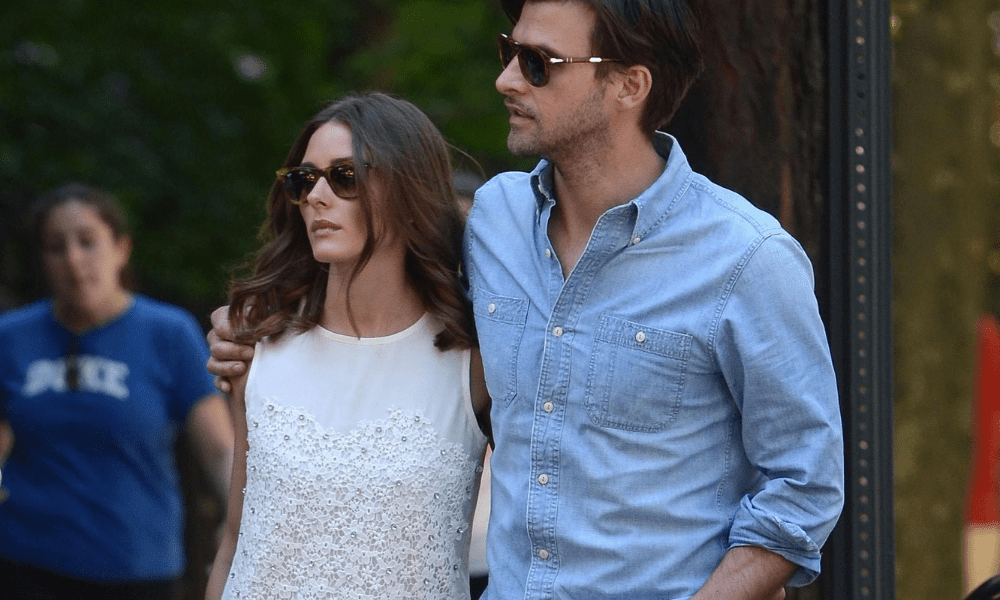 Regular Fit Shirts
Any guy with a slim torso wants to avoid slim or skinny-fitting shirts. This style will only accentuate the body shape and elongate the body while having an annoying habit of constantly coming untucked.
Pick a regular fit shirt that will notably drape better on a slimmer torso.
Bold Socks
Bold socks are a great way to add a dash of personality to any outfit. But, for the sake of tall guys, it also has the ability to draw the eye downwards. These colourful socks are a neat styling trick to add to the repertoire.